6 Options for the Best Plumbers in Dubai
Featured Image Source: Ryk Porras via Unsplash
Running water helps us perform our day to day activities. We need to bathe for work and require water to cook. For plumbing problems, get the services of one of the best plumbers in Dubai.
In this article, we shared some tips on how to select the best plumbers. We've also included a list of some of the best plumbers in Dubai to make your search quicker.
Plus, to prepare you for the cost of plumbing services in Dubai, we've researched their prices and compiled them in the table below.
How Much Do Plumbing Services Cost in Dubai
The table below contains the cost of plumbing services in Dubai per hour. Note that these exclude VAT and material procurement fees. Actual prices may also vary depending on your provider.
| | |
| --- | --- |
| 1 Hour | AED129 |
| 2-3 Hours | AED119/hour |
| 4+ Hours | AED109/hour |
| Inspection fee if service is not availed | AED49 |
How to Pick the Best Plumber in Dubai
To guarantee that your plumbing needs are addressed quickly and effectively, make sure to choose the best plumber in Dubai. Select a reliable provider with the help of these few tips below.
Check their credentials
For repairs at the home, you should get a service provider that has undergone intensive training and have the required licenses to offer their services in Dubai. This applies to carpenters, plumbers, and the like.
Doing this assures you that their work is effective and will last you long.
Similarly, you should check that the whole company has the right licenses to operate their business in Dubai so you know that they are 100% legitimate.
Look for insurance and warranty
The best plumbers in Dubai provide insurance in case of any damages done to your home. They should also offer a warranty to ensure effective plumbing work.
Many plumbing companies may not state these explicitly on their website, but you should make sure to ask as a responsible customer and homeowner.
It may require a bit more work, but this protects you from extra costs in the long run.
Get referrals or read reviews
Ask friends and family for referrals. A plumber they've had constant good experiences with is likely one you can also trust.
If you can't get referrals, you can also check online for reviews from previous clients. This can tell you about the promptness of the plumber's service, work ethics, effectiveness, and rates.
The Best Plumbers in Dubai
With the tips above, you should now be able to select the best plumbers in Dubai for your repair or installation needs.
To get you started on your search, here's a quick list of the best plumbers in the city.
1. Repair Plus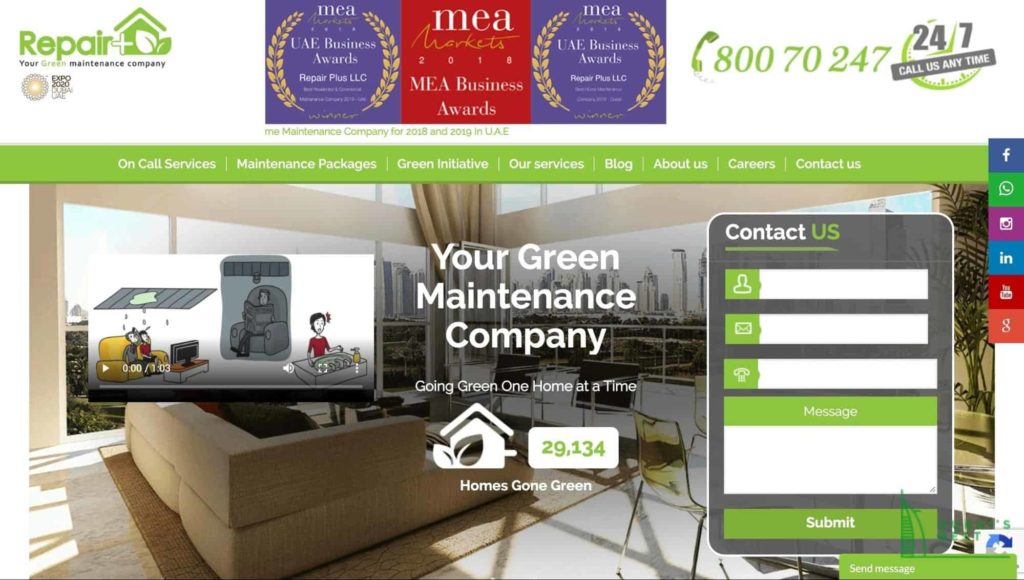 BEST FOR
Environment-friendly plumbing installations
WEBSITE
https://www.repairplus.ae/
ADDRESS
Al Quoz Industrial Area 4, 24th Street, Shed No.1, Dubai, United Arab Emirates
CONTACT DETAILS
+971 80 07 0247


[email protected]

OPERATING HOURS
Saturday – Thursday: 8:00 AM – 6:00 PM
Repair Plus's team of highly-trained professionals offer an array of home maintenance and repair services in Dubai.
Their plumbing services range from fixing leaks to relocating water and sewer lines. Committed to being a green company, they can also install environment-friendly water aerators and flow reducers in your home.
To help you save money while keeping your place well-maintained, they offer several packages to suit different needs.
Among these packages' features are bi-annual plumbing and electrical services and quarterly AC maintenance. They also guarantee a quick response for emergencies and 24- to 48-hour response time for non-emergency repairs.
Besides these excellent services, they also plant 10 trees for every package purchased.
Multilingual staff
Guaranteed quick response for members
Expensive services
Some home maintenance services are not included in their package
Customer Reviews
Previous client G. Chambless reviewed:
"We have used Repair Plus for 3+ years. Very professional business, returns phone calls, on time for scheduled appointments, and very clean when working in our home. Very knowledgeable staff. Crew members are dressed professionally.
When repairs are necessary, parts are immediately available with crew members. The company follows up with a phone call several days later to ensure work was completed correctly."
Maryam Nordien said:
"One of the best maintenance companies. The technicians arrived on time even though I requested them on very short notice. They made sure that our furniture was protected throughout the service and left our place exactly as it was found. No mess.
Would definitely use them again in the future."
2. HomeGenie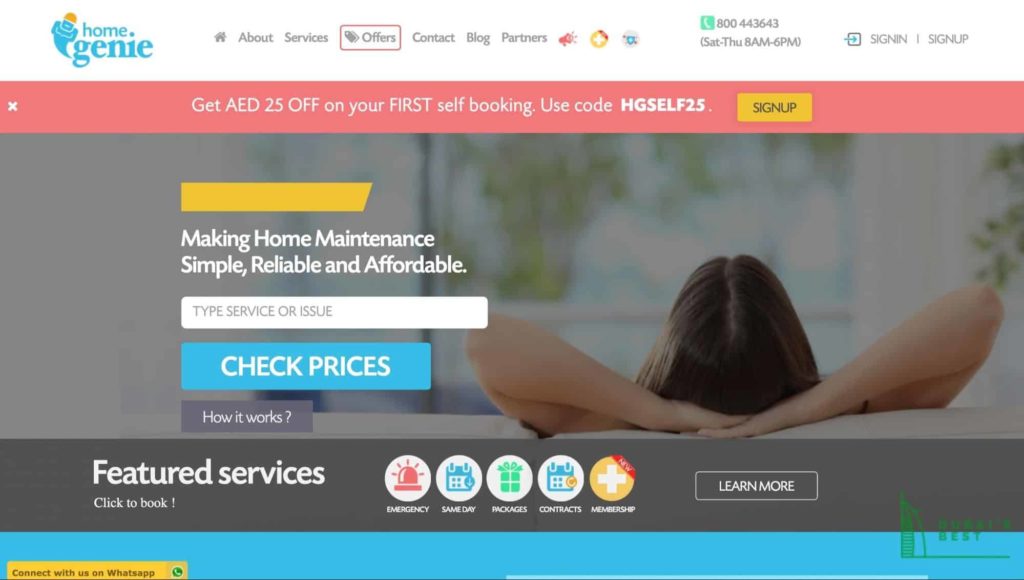 BEST FOR
Deals and discounts
WEBSITE
https://www.homegenie.com/
ADDRESS
Unit 3O-01-2686, Jewellery & Gemplex 3, Dubai, United Arab Emirates
CONTACT DETAILS
+971 4 448 9595


[email protected]

OPERATING HOURS
Saturday – Thursday: 8:00 AM – 6:00 PM
HomeGenie can provide you with top-notch plumbing services in Dubai at the time most convenient to you.
They offer same-day services for no extra charge. Here, you can have your plumbing needs addressed before 6 PM when you book their services before noon.
They also provide emergency plumbing services where a plumber can come to your home within two hours for an additional fee.
Some of their plumbing services are fixed price while some require inspection. However, you can still save more using HomeGenie's services with exciting deals regularly and exclusive offers when you sign up for their mailing list.
Same-day and emergency services
Contract service available
30-day guarantee
Extra charge for emergency services
Customer Reviews
Sapna Thakur was pleased with HomeGenie's service. They said:
"Excellent Service! Would highly recommend HomeGenie for solving any kind of home maintenance issues.
The staff is very professional and skilled and the work is done to perfection. It's truly a one-stop solution. I would recommend this group of professionals to everyone."
Another satisfied client said:
"A one-stop-shop for all my home maintenance requirements. Great website and mobile app! Keep it up. Worth recommending!"
3. We Will Fix It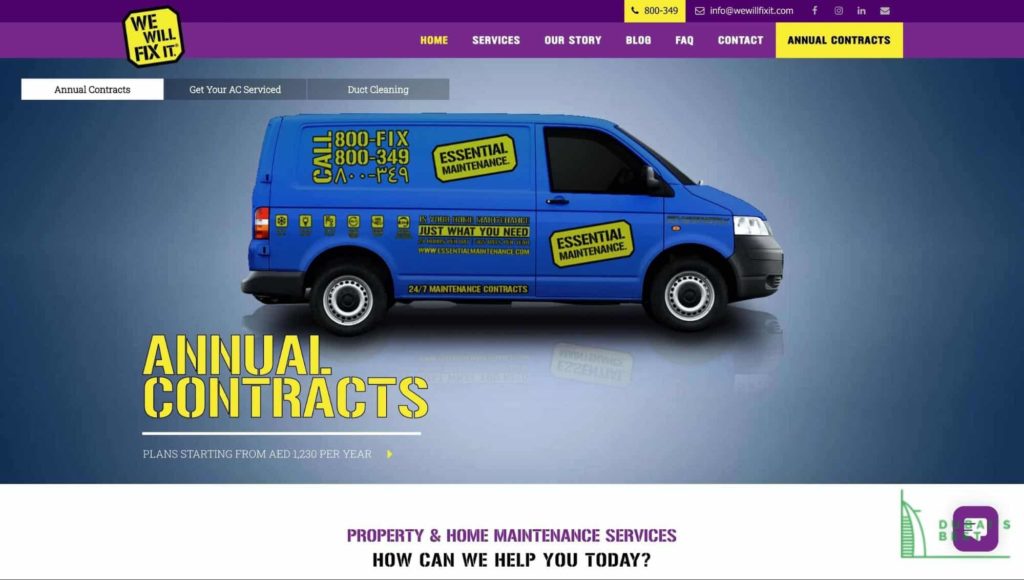 BEST FOR
12-month spare part warranty
WEBSITE
https://www.wewillfixit.com/
ADDRESS
800 349 +971 50 102 7586


[email protected]

CONTACT DETAILS
Al Quoz Industrial Area #4, Dubai, United Arab Emirates
OPERATING HOURS
Saturday – Thursday: 7:30 AM – 5:00 PM
For big or small plumbing works, We Will Fix It is a home maintenance company you can rely on.
Their plumbers carry a wide variety of spare parts to be able to address your plumbing problem in one visit. In case they don't have the specific spare part for your plumbing needs, their team will immediately find it from their chain of local manufacturers.
What's more, these spare parts are covered by a 12-month warranty which ensures you high-quality repairs.
They also offer annual contracts which include an annual plumbing inspection, 24 plumbing and electrical repair bookings, and a quick response time, among many other benefits.
Wide network of local parts manufacturers
Annual contracts available
24/7 call support for annual contract clients
Costly services
No emergency services for one-time clients
Customer Reviews
Rillian Hearst left We Will Fix It a positive review:
"We had our water tank cleaned. Excellent service. Ramon and Arvin were quick, professional, and very thorough. Would recommend them to anyone. Thank you, team!"
Another satisfied client, Laura, shared:
"Raymond and Robin did a fantastic job plumbing in my washing machine. They checked everything, were well-prepared, and walked me through everything they were doing. You pay a bit more but it was worth it for the peace of mind of knowing things have been done properly."
4. Total Property Care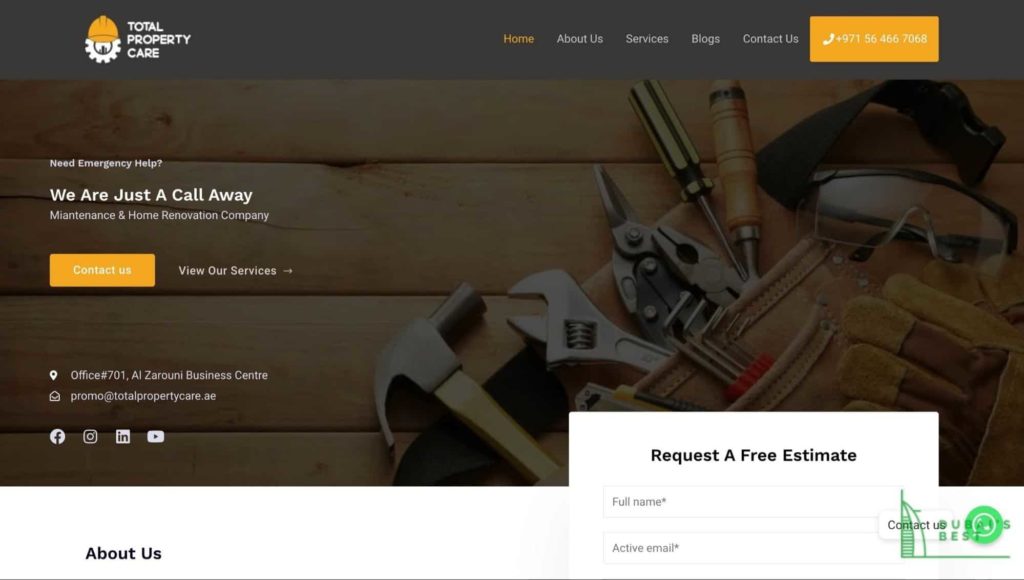 BEST FOR
Contract repair services
WEBSITE
https://totalpropertycare.ae/
ADDRESS
Office #701, Al Zarouni Business Centre, Dubai, United Arab Emirates
CONTACT DETAILS
+971 56 466 7068


[email protected]

OPERATING HOURS
Saturday – Thursday: 8:00 AM – 6:00 PM
Total Property Care's skilled and certified repairmen provide a comprehensive range of home maintenance services in Dubai. Their lines are open 24/7 to provide support to clients.
The company offers different kinds of annual contracts for apartments and villas, all of which entitle customers with access to 24/7 emergency services, 365 days a year.
Besides repair and preventive maintenance plumbing work, Total Property Care also offers packages that include the repair and upkeep of drainages.
24/7 customer support
Maintains and repairs drainages
Doesn't guarantee emergency services
No mention of a guarantee
Customer Reviews
Satisfied client Anthony Joseph shared:
"I had massive leaking issues in my home and I contacted a few companies that couldn't fix it until a friend of mine recommended TPC. They were on point, fixed the issues on the same day, and their prices were very affordable."
Darlene Cueto also reviewed Total Property Care:
"The team are excellent. I have been using them for a few years now. They will do exactly what you instructed them. If you need them urgently, they will come as quickly as possible. Very efficient and kind staff."
5. Vfix Maintenance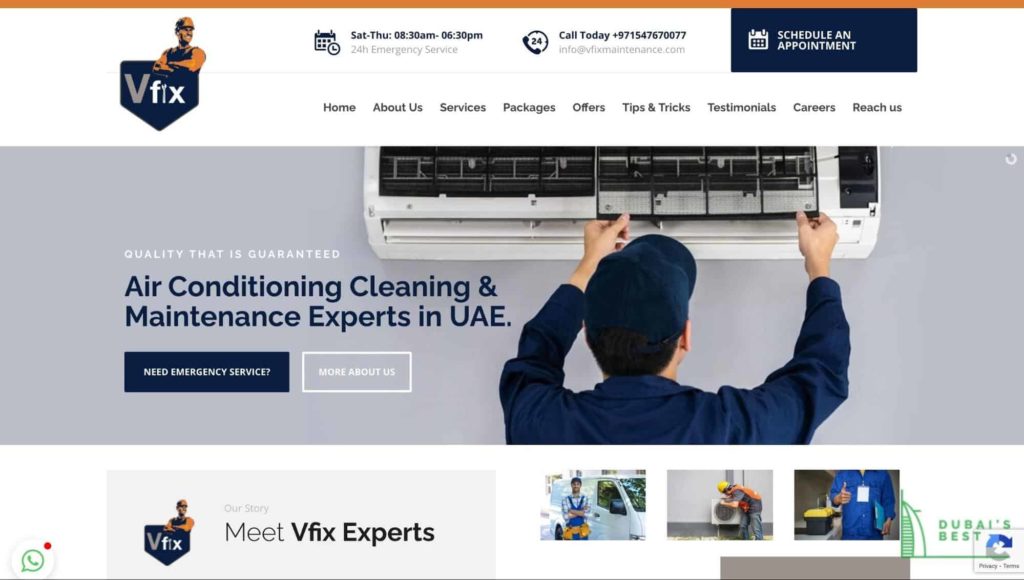 BEST FOR
Commercial repair packages
WEBSITE
https://vfixmaintenance.com/
ADDRESS
Prime Business Centre, Office #402, Block A, JVC, Dubai, United Arab Emirates
CONTACT DETAILS
+971 54 767 0077


[email protected]

OPERATING HOURS
Saturday – Thursday: 8:30 AM – 6:30 PM
Vfix Maintenance offers 24-hour emergency repair services in Dubai. Among their many offerings are a variety of plumbing maintenance and repair services.
These include the installation, repair, or replacement of taps, sinks, showers, pipes, tanks, and drainages. They can also install kitchen appliances that need to be connected to the water pipes.
What makes Vfix Maintenance one of the best plumbers in Dubai, however, are the packages they provide their clients. Besides residential packages, they also offer customised contracts to fit the needs of different business establishments.
On top of these, Vfix Maintenance also provides a 12-month guarantee on their repairs, which ensures lasting results.
24-hour emergency repairs
12-month repair guarantee
No plumbing repair service for cheaper packages
Customer Reviews
Amarpreet Singh Dhillon shared their experience with Vfix Maintenance:
"Vfix provides good service and very response. They reacted fast when tenants in my home needed assistance with leakages and repairs. We Will continue to use them."
Fatii Zaidi also reviewed:
"The person who came to give me the estimate for installation of the water heater was excellent as was the person who came to do the actual installation. Excellent workers, very competent, and I would highly recommend them."
6.   Dubai Handyman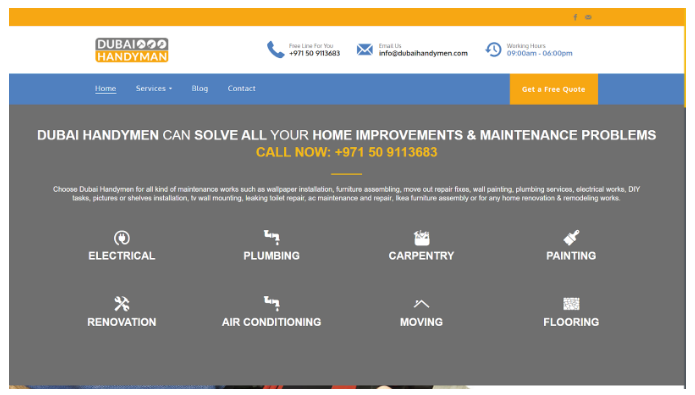 Dubai Handyman offers reliable yet affordable home renovation services. Their workers are highly-skilled and knowledgeable with specific fields that will make your place better according to your wants and needs.
They understand how life can get busy and make renovating tedious. This is why they assure to be fast, reliable, and efficient with their work and make sure you get your money and time's worth.
They make sure to follow the schedule and finish construction on time without suffering quality. For a smooth process, they are also highly collaborative and give suggestions on what might work best for you and your place.
Prompt services
Professional 
Highly knowledgeable
Can work on response times
FAQs about the Best Plumbers in Dubai
---
With the help of one of these best plumbers in Dubai, your plumbing needs will surely be addressed expertly in no time!
Do you know any other plumbing companies we should include in this list? Let us know by sending us a message.
If you're also looking for a provider who can fix your washing machine or dryer, you can check out our list of companies for the best washing machine repair in Dubai.