The 5 Best Dermatologists in Dubai
Clear, glowing skin could be hard to attain with only over-the-counter products. To achieve clear skin quickly and easily, get the services of one of the best dermatologists in Dubai.
This article contains a guide on how to select the best dermatologist for your various skincare needs. We've also listed the best dermatologists in Dubai to make your search more convenient.
Plus, to prepare you for the cost of dermatology services, we've researched and compiled them in the table which you will see below.
How Much Do Dermatology Services Cost in Dubai
Below is a list of the common dermatology services offered in Dubai and their prices. Actual cost may vary depending on your chosen clinic.
Dermatology Consultation
AED420
Laser Hair Removal
AED105 (small area)
AED252 (medium area)
AED525 (large area)
AED735 (full legs)
AED1,365 to 1,680 (full body)
Microneedling
AED2,625 (1 session) AED4,725 (3 sessions)
Mole Removal
AED525
Skin Tags Removal
AED1050
Warts Removal
AED420/cartridge
Wrinkle Removal
AED1,995 to 3,675
Scar Treatment
AED3,150
Face Lift
AED1,575
How to Pick the Best Dermatologist in Dubai
To best take care of your skin, you should be sure to get the services of a certified dermatologist in Dubai.
Select the best dermatologist for your skin care needs using the tips below as a guide.
Get referrals
Ask family and friends for dermatologists they recommend. This is the easiest way for you to find a trusted dermatologist in your area.
If you can't get any referrals, you can also seek reviews of dermatology clinics online. Browse what previous clients have to say to ensure that a certain provider offers the best dermatology services in Dubai.
Check their credentials
Dermatologists can set up their practice right after graduating from dermatology school and receiving board certification.
However, to select the best dermatologist in Dubai, you should look for a practitioner who has undergone additional schooling for their specialisation. This assures you that they have the knowledge and skills to perform the procedure you need.
Know the quality of their services
Once you're decided, schedule a consultation with your dermatologist.
They should entertain your questions and inform you about their available treatment options, explaining the risks and rewards. A good dermatologist listens to their patients' concerns and does not force them to undergo procedures they're not comfortable with.
You should also take this opportunity to look around their clinic and determine whether they are fully-equipped to perform your procedure.
The Best Dermatologists in Dubai
Now that you know what to look for in a qualified dermatologist, you should now be able to choose a practitioner for your procedure.
To make your search easier, we've compiled the best dermatologists in Dubai in the list below.
1.   Dr Matthias Roux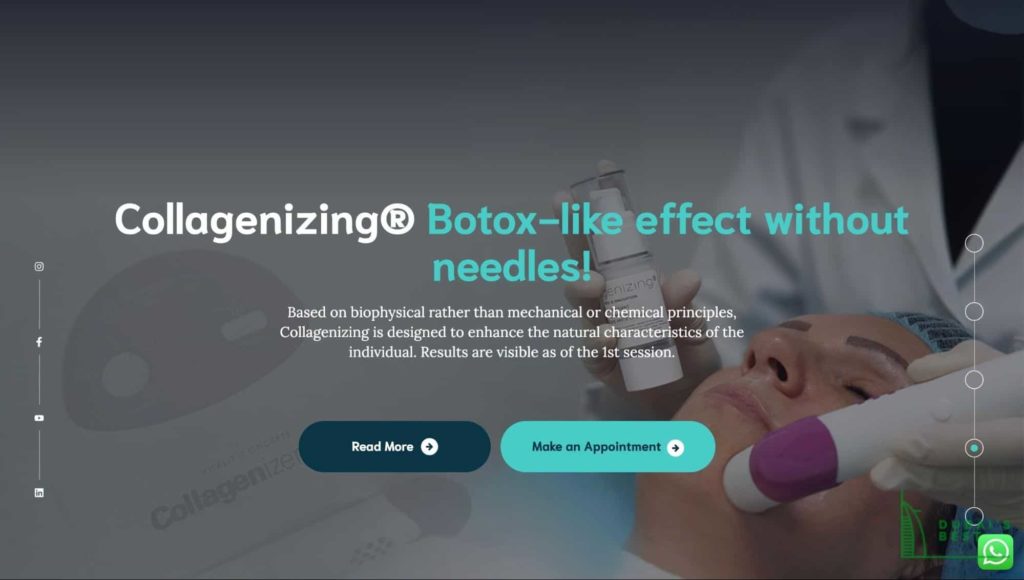 BEST FOR
Own line of skincare products
WEBSITE
https://www.aldasclinic.com/
ADDRESS
Shoreline Bld #10, Palm Jumeirah, Dubai, United Arab Emirates;
The Meadows Souk, The Springs, Al Asayel St, Dubai, United Arab Emirates
CONTACT DETAILS
+971 4 452 9998
OPERATING HOURS
(Palm Jumeirah)
Saturday – Thursday: 8:00 AM – 9:00 PM
Friday: 10:00 AM – 6:00 PM

(The Meadows Souk)
Saturday – Thursday: 8:00 AM – 8:00 PM
Friday: 10:00 AM – 6:00 PM
Al Das Medical Clinic's consultant dermatologist Dr Matthias Roux has performed over 17,000 surgical and laser dermatology procedures.
Apart from addressing moles, warts, and skin tags through these techniques, he helps his patients achieve youthful skin through fillers and lipotransfer.
An expert in laser technology, he's made great contributions in developing innovative laser systems that are now used by dermatologists around the world.
To address a variety of other dermatological conditions, Dr Roux has also created skincare products for acne, hyperpigmentation, skin cancer prevention, and more.
Dr Roux is a German board-certified dermatologist and a member of numerous dermatological societies in Germany, including the German Society of Dermatology and the Berlin Dermatological Society.
Serves in two branches in Dubai
Provides dermatology services daily
Customer Reviews
Nanou Ost reviewed Dr Matthias Roux:
"My husband was very pleased with the expertise of Dr Roux regarding skin mapping and mole removal. Very precise work, no scars afterwards. He is a very confident doctor in a friendly and inviting atmosphere."
Aiser Ibrahim also said:
"Appointment booking very easy with limited waiting time and Dr Matthias was kind, helpful and friendly throughout. Very thankful for their services and would recommend for sure."
2.   Dr Kristina Yevdoshenko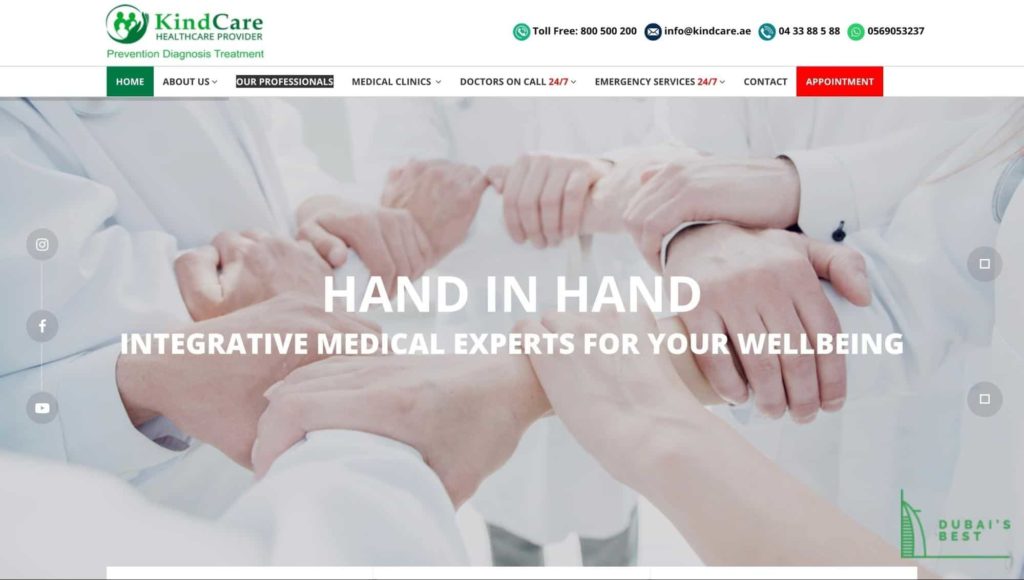 BEST FOR
Laser treatments
WEBSITE
https://www.kindcare.ae/
ADDRESS
Jumeirah St, Umm Suqeim, Jumeirah 3, Dubai, United Arab Emirates
CONTACT DETAILS
800 500 200
04 33 88 5 88
+971 4 338 8588


[email protected]

OPERATING HOURS
Saturday – Thursday: 9:00 AM – 8:00 PM
Dermatologist and venereologist Dr Kristina Yevdoshenko offers an array of procedures at KindCare Medical Center.
Among the services she provides are the treatment of various skin conditions, cosmetology, and surgical dermatology. However, she is best known for her laser procedures.
In particular, Dr Yevdoshenko applies laser technology for the treatment of scars, stretch marks, and spider veins. She also uses lasers to rejuvenate the skin and help patients regain their youth.
You can also reach out to Dr Yevdoshenko for an effective dermatitis treatment, as she has developed and patented two treatment procedures for the skin condition.
Speaks English, Arabic, Russian, and Ukrainian
Child-friendly clinic
Expensive diagnostic procedures
Customer Reviews
Svetlana Vladimirova was pleased with Dr Yevdoshenko's service. They said:
"After a while having a rash on my face and visiting different dermatologists, Dr Kristina was able to find the solution to my problem and offering a very complete service.
She was warm, caring and empathetic. She took a detailed history and performed a thorough examination. Her communication with us was outstanding.
She took the time to explain the treatment course she recommended and gave us ample time to discuss everything and answered all of our queries. We felt very lucky to have been under her treatment and happy to see her again if the need arises."
Xenia Tiraz, another satisfied client, said:
"Dr Kristina helped me to improve my skin condition after a low-quality laser treatment which I got at a very famous clinic in Dubai.
We used good PRP and laser procedures. I'm so inspired by PRP treatment results. KindCare clinic uses the best quality of products for PRP treatment which is extremely important for final results."
3.   Dr Radmila Lukian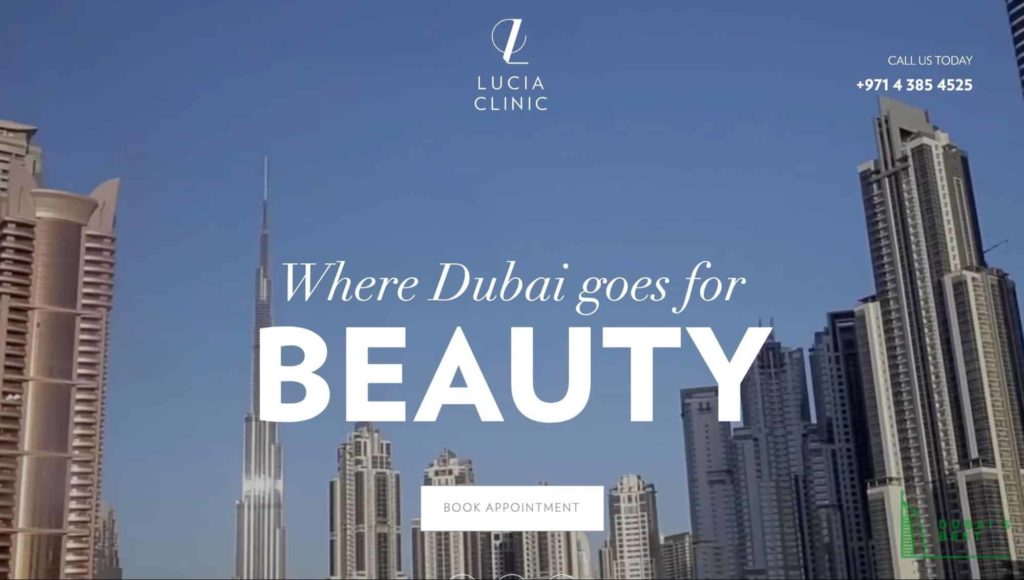 BEST FOR
Anti-ageing treatments
WEBSITE
https://www.luciaclinic.com/
ADDRESS
Jumeirah 2, Jumeirah Beach Road, Villa 323, Dubai, United Arab Emirates
CONTACT DETAILS
+971 4 385 4525
+971 56 115 9194
OPERATING HOURS
Saturday – Thursday: 9:00 AM – 8:00 PM
American and European board-certified dermatologist Dr Radmila Lukian has provided aesthetic treatments in Dubai for over 20 years.
Her speciality lies in anti-ageing techniques and medications. Botox, clear lift, and photorejuvenation treatment are only some of the procedures she offers at her Dubai clinic.
Dr Lukian is so well-known for her beauty treatments that she has gained a global clientele, which includes actresses, models, and beauty influencers from around the world.
To best provide her anti-ageing procedures in Dubai, she has undergone training in various countries, such as France, Switzerland, Italy, Germany, Hong Kong, Singapore and the UK.
Internationally-trained
Provides an array of nonsurgical treatment options
Expensive services
No mention of insurance cards accepted
Customer Reviews
Happy customer Shirin Sheikh reviewed:
"Wow wow wow! I am so pleasantly surprised at how beautifully I was dealt with. I got an appointment with Dr Radmila for consultation.
The doctor was being very thorough but as we were speaking, she had to rush out due to an emergency. The clinic immediately offered me a 500dhs worth of voucher for waiting which I was able to redeem immediately.
The doctor then came back and spent at least 60 minutes more in what was a very delightful and thorough consultation.
I am forever a fan and will surely be using their services in the near future. Everyone at the reception is super duper nice. I am blown away by the thoughtfulness and kindness shown by the clinic!"
Kristina Bogdanovic also said:
"This is the clinic that earns your complete trust with the first visit! Their highly knowledgeable and professional team with the most advanced equipment in the market took care of my skin in such a way that after only one treatment it was glowing!
Big thank you to Dr Lukian and her team. I am definitely coming back!"
4.   Dr Murtuza Bandukwala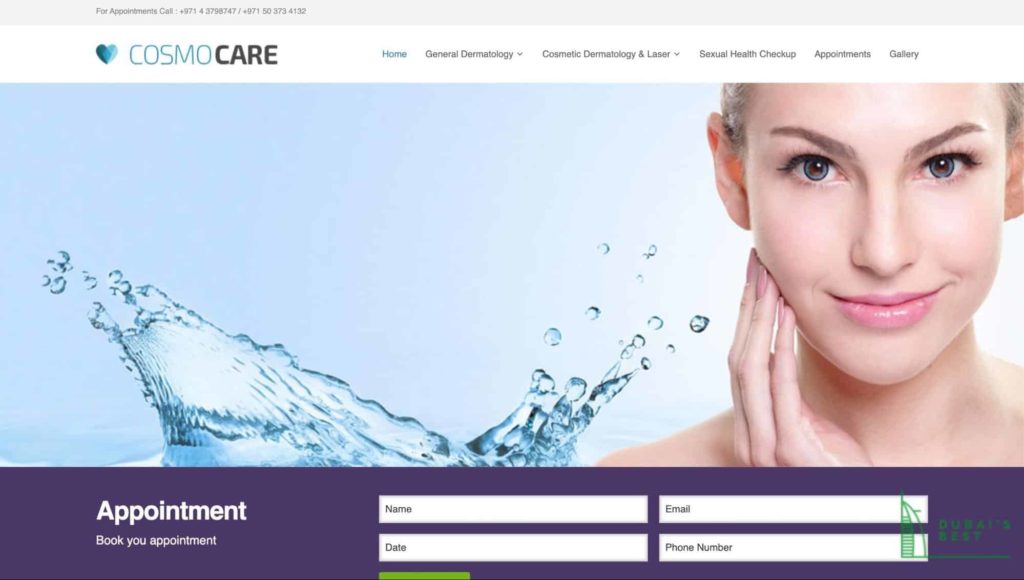 BEST FOR
Treatment for common skin conditions
WEBSITE
https://www.dubaiskinspecialist.com/
ADDRESS
Room No. 08, 1st Floor, Al Satwa Building, 2nd December Street, Satwa, Dubai, United Arab Emirates
CONTACT DETAILS
+971 4 379 8747
+971 50 373 4132


[email protected]

OPERATING HOURS
Saturday – Thursday: 8:30 AM – 9:00 PM
Dr Murtuza Bandukwala is a US and UK-trained dermatologist who provides a comprehensive range of dermatological services in Dubai.
He treats common skin conditions, such as acne, pigmentation, allergies, and eczema. He also offers screening and surgery for skin cancer and cryotherapy as a treatment for skin lesions.
Besides these, Dr Bandukwala performs several cosmetic dermatology services. These include facelift, fractional laser treatment, mesotherapy, and PRP.
Additionally, Dr Bandukwala also specialises in the diagnosis and treatment of genital warts.
Comprehensive range of dermatological services
Online appointment booking
No mention of insurance cards accepted
Customer Reviews
Alex Igonin left Dr Bandukwala a positive review. They said:
"I came to Dr Murtuza several months ago with a lot of anxiety because of some skin dots. Initially, I was thinking about terrible things. The doctor was very reassuring. He helped me to calm down and prescribed a medicine that eased my condition a lot.
Many thanks to Dr Murtuza for both his professionalism and compassion!"
Georgina Foster was also satisfied with Dr Bandukwala's service, sharing:
"Cosmocare Clinic absolutely exceeded my expectations. Dr Murtuza is fantastic. He was such a calm, caring, and knowledgable man. I have returned for a second time because I was so happy with my treatment on my first visit. I am so glad I have found a clinic I can trust!"
5.   Dr Mahaveer Mehta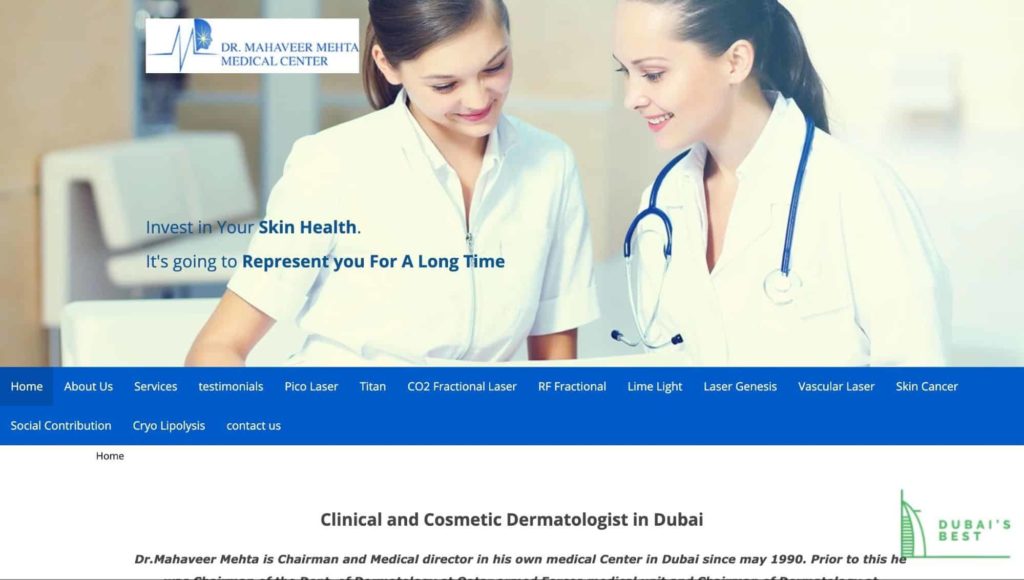 Dr Mahaveer Mehta began his dermatology practice in Dubai in 1990. In fact, he introduced laser as a viable dermatological treatment method in the Middle East.
Today, he uses a variety of laser technologies at his clinic. Some of these are Laser Genesis, Pico Laser, and CO2 Fractional Laser.
Dr Mehta uses these to address dark skin pigmentation, birthmarks, wrinkles, stretch marks, tattoos, and more.
While Dr Mehta is an established dermatologist in Dubai, he keeps himself up to date with the latest advancements in dermatology. For this, he is a member of various dermatological societies, such as the American Society for Laser Medicine and Surgery and the International Association of Dermatology.
Does not offer cosmetic dermatology procedures
Customer Reviews
Previous client Albert Tejana reviewed Dr Mehta:
"Dr Mahaveer Mehta is very professional in dealing with my skin concerns.
From my experience, I can say he has mastery in his field of expertise. He is also very considerate in terms of pricing. He answers all my concerns regarding my skin problem and provides a solution for each of those.
His staff is also very accommodating and explains to me everything I need to know in the procedure. Dr Mehta is a must-go if you have any skin problem. He will definitely solve your problem with the aid of the latest lasers technology.
The clinic, in general, has a very pleasant environment more so with Dr Mehta and his team."
Zainab Yusuf also said:
"I've had acne for almost half of my life. I visited a lot of clinics and used a lot of products. but none seemed to work for me. Dr Mahaveer has shown me that, indeed, my acne can and will be cured. Just 2 sessions with him and I have seen a lot of improvement.
Never met a Dr concerned about his patients' happiness until I met Dr Mahaveer and his staff."
FAQs about the Best Dermatologist in Dubai
---
That's it for our list of the best dermatologists in Dubai! With one of these specialists, you'll surely get clear, smooth skin in no time.
If you know any other dermatologists we should add to our list, send us a message and we'll gladly check them out.
If you're also looking for a plastic surgeon to do your nose augmentation, you can also check out our list of clinics for the best rhinoplasty in Dubai.