5 Best Colleges to Attend in Dubai
Looking for the best colleges to attend in Dubai? We got you covered!
In this article, we'll walk you through common questions such as the cost of studying in Dubai, as well as our list of best schools in the city where you can get your college degree.
How much does tuition cost in Dubai?
The cost of tuition will depend on a lot of factors, such as which school you'll attend, your degree, the number of units you will take, cost of laboratory fees and miscellaneous fees, and so on and so forth.
However, to give you a ballpark price of tuition in Dubai, which is the UAE's most expensive city, tuition fees range from 35,000 AED to 85,000 AED per year.
That sum does not include general living expenses, usually you need to add an average of 2,000 to 4,000 AED for that. So, be prepared!
The Top Colleges and Universities in Dubai
We assessed the following colleges and universities based on these criteria:
1. Zayed University – Dubai Campus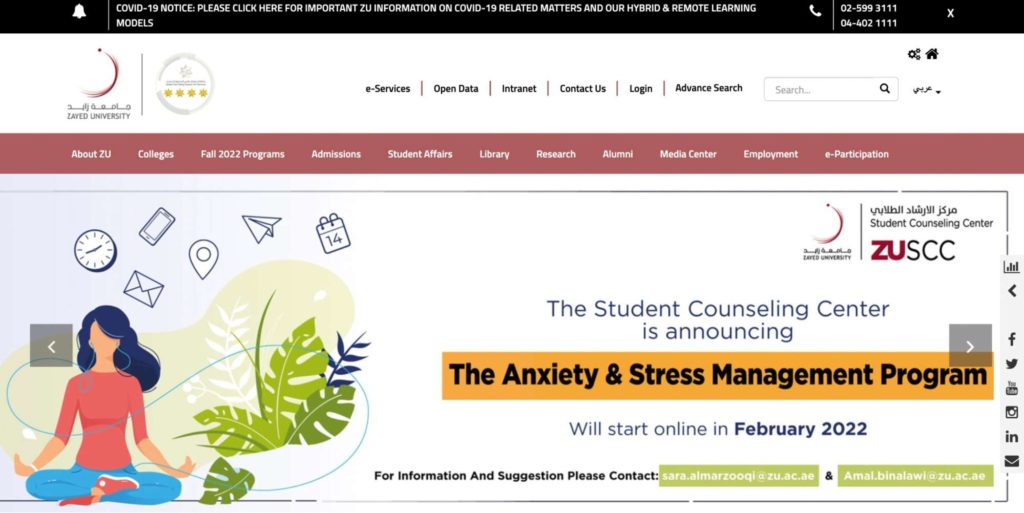 | | |
| --- | --- |
| 1. STUDENT SATISFACTION | ★★★★☆ (4/5) |
| 2. TUITION COST | ★★★☆☆(3/5) |
| 3. CAMPUS AND FACILITIES | ★★★★☆ (4/5) |
| 3.1 Up-to-date resources | ★★★★☆ (4/5) |
| 3.2 Location and amenities | ★★★★☆ (4/5) |
| 4. CURRICULUM | ★★★★☆ (4/5) |
| 4.1 Range of programs | ★★★★☆ (4/5) |
| 4. 2 Quality of classes | ★★★★☆ (4/5) |
Zayed University is an institution established in 1998 and has two campuses in Dubai and Abu Dhabi. The university's stated mission is to prepare bilingual graduates to contribute and advance all aspects of society.
This shows in their curriculum that values hands-on work, meticulous research, and incorporates creative activities and outreach services. Our impression is of an institution that tries hard to make the students' education more holistic.
Their academic program model is outcomes-based and designed by U.S. consultants too, which is still very much in line with their mission to produce graduates that are well-prepared for the increasingly globalized world.
We took a peek at their course catalogs and saw that they offer a collection of diverse and internationally recognized undergraduate and graduate programs that you can check out. Below are the colleges available in their university:
College of Arts and Creative Enterprises
College of Business
College of Communication and Media Sciences
College of Education
College of Technological Innovation
College of Humanities and Social Sciences
College of Natural and Health Sciences
Resources wise, they have an intuitive library system within their website to supplement their physical library.
You'll spend a lot of time doing research, so we like the system. They've basically developed a convenient way for students to have access to the resources they need.
Its modern-looking campus is located in DIAC, a university hubspot in Dubai – a great and convenient location for students, we think. For one, it's near student housing projects, so if you're looking for affordable accommodation options, this might be a strong choice for you.
As for tuition fees, if you are a domestic student, it is within the standard range among other universities. However, it is on the high side if you are an international student, which is something to consider.
Another thing that we really like about this university is that it's very inclusive. In fact, there are accessibility services available for the differently-abled and those with learning difficulties, which we think is very progressive.
Outcomes-based curriculum
Inclusive
Modern looking campus
Intuitive library system
Expensive for international students
Student Reviews
Ranked among the top universities in the Arab region
I applied online through the application portal of the university and paid an application fee of 420. I always wanted to move to a different country for studies. I chose this university because many of my friends did their bachelor's from Zayed University Dubai campus and also it is ranked among the top universities in the Arab region in QS Top Universities. The program of this university also has international accreditation from professional bodies such as AACSB international and ABET for programs related to engineering and technology. -Ankita Singh
Innovative and supportive educational environment
The University has made a name for itself for its innovative and supportive educational environment as well as its national and international accreditation programs. Many of my friends in UAE suggested that I apply here because of its scholarship program and experiential learning opportunities. -Anshu Reddy
2. University of Dubai
Test
Info
WEBSITE
https://ud.ac.ae/
ADDRESS
University of Dubai, Academic City Emirates Road - Exit 49 - Dubai
EMAIL ADDRESS



[email protected]

TELEPHONE NUMBER
+97145566800
TUITION FEE
2300 AED- 330,000 AED
| | |
| --- | --- |
| 1. STUDENT SATISFACTION | ★★★★★(5/5) |
| 2. TUITION COST | ★★☆☆☆(3/5) |
| 3. CAMPUS AND FACILITIES | ★★★★☆ (4/5) |
| 3.1 Up-to-date resources | ★★★★☆ (4/5) |
| 3.2 Location and amenities | ★★★★☆ (4/5) |
| 4. CURRICULUM | ★★★★☆ (4/5) |
| 4.1 Range of programs | ★★★★☆ (4/5) |
| 4. 2 Quality of classes | ★★★★☆ (4/5) |
The University of Dubai is a private university established in 1997 by the DCCI. Their main objective in establishing the academic institution was allegedly to fill the skill gaps in the workforce and serve the business community.
This may well be among the reasons the university now specializes and excels in business courses. The University of Dubai's Business School is actually accredited by the AACSB, which is a distinction they share with Harvard Business School, Stanford University, and UCLA.
That company alone tells you that this accreditation should not be taken lightly: schools are heavily vetted in order to gain this distinction. This shows us the level of quality their program has.
So, if you're looking for a school with a strong business program, this might be a good option for you to consider.
And although a bit pricier than most of the schools in the list, that's not out of the ordinary for schools specialising in business tracks. They also make up for it through a very strong, internationally-at-par curriculum and their campus facilities.
Aside from business, they also specialize in law, engineering, and their IT programs. In fact, their Computing and Information Systems (CIS) degree is ABET-accredited by the Computing Accreditation Commission.
For a run-down of the colleges available in their university, see the list below:
Dubai Business School
College of Engineering IT
College of Law
General Education
We viewed their campus and were impressed by the modern classrooms and fully equipped labs. Students are given full access to resources they need.
As for their location, they are also very accessible and situated in the center of Dubai. However, this means that the living expenses in this area are also expensive, so that's something you have to think about as well.
Their curriculum is also quite balanced. They even have options for seniors to go on student exchange programs, which will help widen the world of the students and expose them to different cultures.
They have various sports programs and extracurricular activities as well. What's more, their programs are very up and coming, and even have two new degree programs just recently available in highly relevant fields: Power and Energy Engineering and Data Science.
So, if you want to be pioneers for these programs, this school might be the one for you. However, since they are new, they may not be the most established degree programs the university has to offer.
Highly accredited
Modern classrooms and fully equipped labs
Prime location
Well-developed curriculum
Expensive area
Some degree programs are very new, so it's not yet established
Student Reviews:
They prepare students to face work challenges
I graduated from UD in 2007 as CIS, the timing for the class gave me the flexibility to work and learn at the same time. The atmosphere of the university was very friendly and the staff was trying to help the best they can. I like the way that they prepare students to face the work challenges and not just to maximize academic strength. -Rani
Wonderful experience mainly due to the support of the faculty
I did finance and banking BBA at the University of Dubai and I graduated in 2012 with honors. It was a wonderful experience mainly due to the support of the faculty, both teaching staff and the administrative faculty. Most of my professors were highly skilled practitioners in their field, which helped me and my colleagues to stay up-to-date with the changes in our respective industries. Socially, it was amazing. I made many good friends whom I'm still in touch with. The fact that students are very diversified in terms of nationality encouraged me to be more active socially and to learn and experience different cultures from my classmates. There are many social clubs and extracurricular activities throughout the year… -Yousr
3. American University in Dubai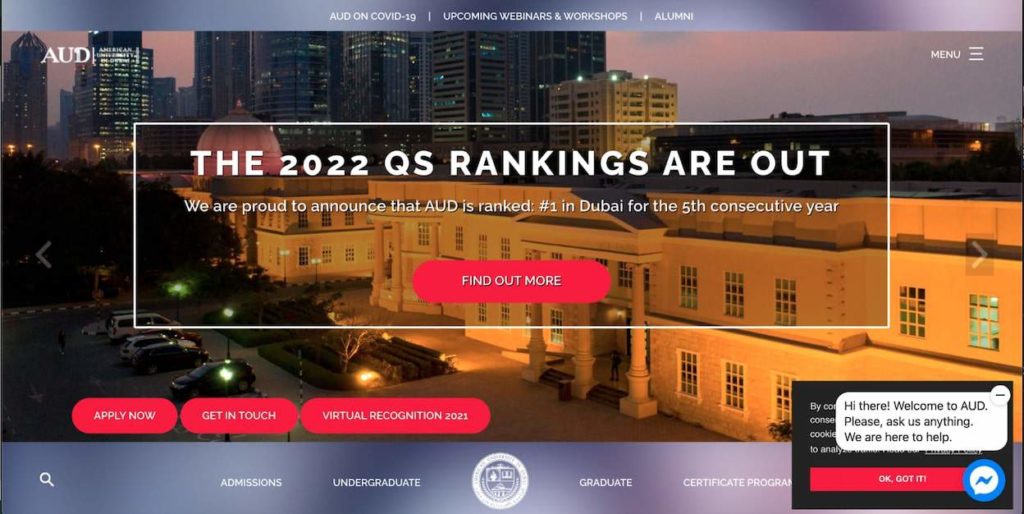 | | |
| --- | --- |
| 1. STUDENT SATISFACTION | ★★★★★(5/5) |
| 2. TUITION COST | ★★☆☆☆(3/5) |
| 3. CAMPUS AND FACILITIES | ★★★★☆ (4/5) |
| 3.1 Up to date resources | ★★★★☆ (4/5) |
| 3.2 Location and amenities | ★★★★☆ (4/5) |
| 4. CURRICULUM | ★★★★☆ (4/5) |
| 4.1 Range of programs | ★★★★☆ (4/5) |
| 4. 2 Quality of classes | ★★★★☆ (4/5) |
The American University in Dubai, also known as AUD, is a private and non-sectarian international institution established in Dubai in 1995.
What sets this university apart is its globally recognized American brand of education. That says a lot in terms of their academic standards and campus culture.
They are located next to Dubai Media City, Dubai Internet City, and the Palm Islands. So the school is situated smack dab in a vibrant and modern environment.
This also means that it is in a pretty expensive area, so be prepared for that if you do choose to go here.
We took a peek at the campus and were impressed by the labs in particular. Aspiring engineering students will be glad to know that they have fully-equipped laboratories and lecture halls.
Another strength of this school is their media program. You can see it in the high quality of their studio, screening room, and even editing rooms fully equipped with Apple computers for students' editing use.
They also have a very active sports program and their facilities are impressive. They have two basketball courts, an indoor swimming pool and gym, tennis and volleyball courts, and even a huge soccer field.
As for the quality of education, AUD is currently ranked #1 in Dubai and #5 in the UAE based on 2022 QS rankings. All of their programs offered are also of good quality because they are accredited by regional and global independent institutions.
Below are some of their accreditations:
UAE Ministry of Education
Knowledge and Human Development Authority
AACSB (Association to Advance Collegiate School of Business) for their Business programs
ABET for their IT program
Accrediting Council on Education in Journalism and Mass Communications
National Association of Schools of Art and Design
As you can see, they're pretty highly regarded by certifying bodies. Getting an education from a school like this comes at a hefty price, however, since their tuition range is on the high side compared to other universities in this list.
A popular criticism of the students is also that the programs are very theory-heavy instead of practical. So that may be something to ponder in terms of their curriculum.
This university prides itself as being very student-centric, which holds up based on our poll of their alumni. We can also see that based on their programs and extracurricular activities, they target the intellectual, personal, and even the professional development of their students.
A lot of students also mentioned that one of their strong points is the diverse and highly educated faculty. The teachers are all respected and distinguished professionals in their respective fields, which makes for a highly satisfying educational experience.
Student-centric programs
All programs are highly accredited
Complete facilities and fully-equipped laboratories and lecture halls
Academically and culturally inclusive
Tuition fee on the high side
Situated in an expensive area
Curriculums are very heavy on theory
Student Reviews
Cultural, international, and life-changing
Studying at AUD has been the most cultural, international, and life-changing experience for me thus far in life. The dynamic nature of classes offered at AUD allowed a thorough understanding for cultural learning and the opportunity to form lifelong friendships. -Samantha Crum
Outstanding professors
Best university experience any student can ask for! Will be taught by passionate, energetic, and outstanding professors. -Shahed Adel
4. Al Ghurair University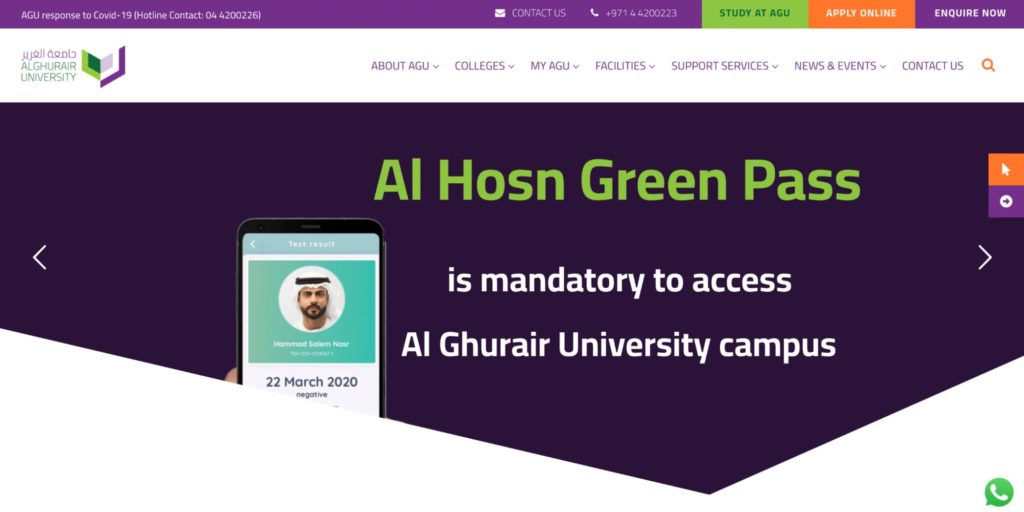 | Test | Info |
| --- | --- |
| WEBSITE | https://agu.ac.ae/ |
| ADDRESS | Dubai International Academic CityDubai, UAE, PO Box 37374 |
| EMAIL ADDRESS | [email protected] |
| TELEPHONE NUMBER | +971 4 420 0223 |
| TUITION FEE | 35,000 AED- 50,000 AED |
| | |
| --- | --- |
| 1. STUDENT SATISFACTION | ★★★☆☆(3/5) |
| 2. TUITION COST | ★★★★★ (5/5) |
| 3. CAMPUS AND FACILITIES | ★★★☆☆ (3/5) |
| 3.1 Up to date resources | ★★★☆☆ (3/5) |
| 3.2 Location and amenities | ★★★☆☆ (3/5) |
| 4. CURRICULUM | ★★★☆☆ (3/5) |
| 4.1 Range of programs | ★★★☆☆ (3/5) |
| 4. 2 Quality of classes | ★★★☆☆ (3/5) |
Al Ghurair University is a private university that has been operating for over 22 years. Since then they have had over 3,614 graduates and a current student body of over 1000 students.
It is among the schools located in Academic City, which is a good location and environment for students. It is near affordable student housing, and is near a lot of shops and businesses catered to students.
For their curriculum, compared to other universities, they offer a limited range of programs. Despite this, they have a very strong engineering program.
All their engineering courses are ABET-accredited by the Engineering Accreditation Commission. So if you're an aspiring engineer, Al Ghurair may be the school for you.
Here are all the colleges they offer for your reference:
Architecture & Design
Business & Communication
Engineering & Computing
Law
As for the tuition, it is within range and is actually one of the most affordable ones in this list. So if you're looking for a more affordable option that does not compromise on education quality, this is a good option.
Their campus facilities may not be as flashy as the others, but they have 17 good laboratories for their engineering students, 7 design studios, a gym, a library, and a studio.
They even have an e-library to supplement the physical library they have, so students can have access to the resources they need for research.
Something noteworthy is that they also prepare their students for fulfilling careers through career planning and strong connections for internship programs. This shows us that they are not just focused on theory but also on hands-on experience.
Good career-planning and internship programs
Good engineering department
Good location
Affordable tuition
Limited range of programs
Campus facilities not as complete as the others
Student Reviews
Reasonable tuition fees
With so many great options in Dubai, AGU was my best choice with the variety of courses it offers alongside the reasonable tuition fees. Little did I know at the time how helpful and friendly it is here! I am proud to call the UAE home; a place where we continuously work internationally across the globe and as such, studying International Business would mean I am able to add value in the UAE Market. -Yasmin Elassadi
Welcome, productive environment
As a 3rd year student, I feel that the steps our university has taken to compensate for the lack of physical classes is great. Moreover, our Professors have been extremely approachable & understanding about the situation, and trying their best to make it a welcome, productive environment during this trying time. The IT department has been very helpful and devoted to making the transition as smooth & seamless as possible. Classes on video calls have allowed us to replicate the same degree of communication from the safety of our homes. It is possible to interact with our professors the same way. Of course, we must accept the shortcomings that come with this for the time being, but I am relieved to say that even during a global pandemic, the quality of education wasn't compromised. -Muneeb Cheema
5. University of Wollongong in Dubai (UOWD)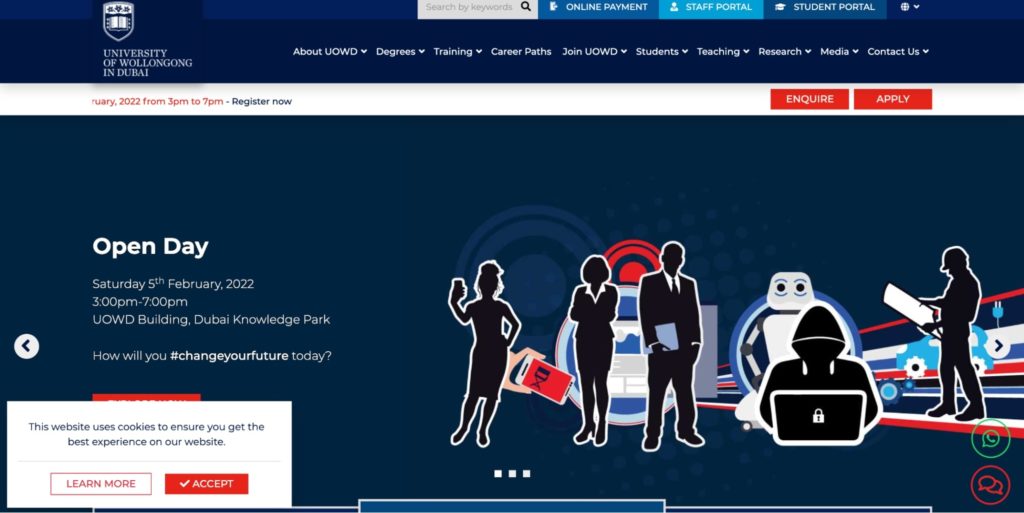 Test
Info
WEBSITE
https://www.uowdubai.ac.ae/
ADDRESS
University of Wollongong in Dubai

UOWD Building, Dubai Knowledge Park

Dubai, United Arab Emirates

P.O. Box 20183

TELEPHONE NUMBER
+971 4 278 1800
TUITION FEE
45,913 AED
| | |
| --- | --- |
| 1. STUDENT SATISFACTION | ★★★★★(5/5) |
| 2. TUITION COST | ★★☆☆☆(3/5) |
| 3. CAMPUS AND FACILITIES | ★★★☆☆ (3/5) |
| 3.1 Up to date resources | ★★★☆☆ (3/5) |
| 3.2 Location and amenities | ★★★☆☆ (3/5) |
| 4. CURRICULUM | ★★★★☆ (4/5) |
| 4.1 Range of programs | ★★★★☆ (4/5) |
| 4. 2 Quality of classes | ★★★★☆ (4/5) |
The University of Wollongong in Dubai is a private university established in 1993. The current student body is over 3,500 students from over 108 countries, so it is a diverse and large community.
As you might have guessed from the name, by the way, UOWD is an Australian university. However, unlike other foreign universities, they are an independent and autonomous body.
Located in Dubai Knowledge Park, they are near a lot of multinational companies, which is great for industry-academic collaborations through internships for the students.
A con to this is that since they are located in the business district, the living expenses can get pretty steep.
The campus facilities are impressive, as they are equipped with the newest technology and the infrastructure to support blended learning. This is important, especially in the time of the pandemic.
However for those inclined to sports, it is unfortunate that they don't have gyms or courts to accommodate that. So, if you're looking for a school with a strong sports program, it might be best to look into other options.
As for their curriculum, the best way to describe it is modern and up to date. It's almost a blend of typical Australian universities' curricula and that of Dubai's.
They also have a lot of clubs and extracurricular activities you can be a part of, so there are ample opportunities for students to work on people skills and leadership skills as well.
You also have the option to transfer to Australia if you attend this institution. Your credits are transferable to University of Wollongong's campuses in Wollongong or Sydney.
They offer both undergraduate and postgraduate degrees. However, the selection is not as wide of a range compared to the other universities in this list.
Below are the undergraduate programs they offer. It is noteworthy, though, that they offer healthcare as one of their programs.
Business
Computer Science
Engineering
Health Care
IT
Media
All of their programs are accredited by the UAE Ministry of Higher Education and Scientific Research (UAE). They are also audited by TESQA of Australia.
Has infrastructures that support blended learning
Impressive campus facilities
Diverse community
Accredited degree programs
Can transfer to Australia
Limited range of programs
No sports facilities
Student Reviews
Multicultural environment
Currently studying at UOWD. There are amazing teachers who are very helpful and we get to learn in a multicultural environment. It provides high quality education with an opportunity to get a degree from Australia once you graduate. -Habiba
Highly recommended if you want to work abroad
It's a great opportunity to study in one of the best universities across Dubai. Great experience to meet and communicate with a multi-national place such as UOWD. Easy transportation, flexible timings, and professional professors. I am having a successful career path because of this place. Highly recommended if you want to work abroad too. -Raham Amir
What do I consider when choosing a college or university?
What programs are available?
Of course an important factor is what you want to study in particular. From there, you can check whether the school offers that program and whether or not that program is considered a distinguished one in that university or college.
Whether you want a degree in business, humanities, medicine, law, or engineering, for example, most schools have specializations. So, make sure to look into their programs and what they specialize in.
What's the faculty like?
You'll be spending a lot of time with your teachers, so it's important that the faculty are distinguished in their fields and can teach the subject matter well. You can even ask previous students about their experience, check for reviews online, etc.
It pays to do research into the learning environment you're going to have. Since you'll spend most of the time in college studying anyway, it's important to know who's going to guide you and the people you will be surrounded with.
What is the campus culture?
Every campus is different and has their own unique culture dictated by the student body, extracurricular activities, and so on. Ideally, you get to tour the campus and get a feel of what it's like to study there before deciding whether you fit in or not.
Look into the different school organizations, clubs, and activities dominant in the school. In order to get the full college experience, you're going to have other activities aside from studying, so make sure to check those out to see if it's the school for you.
How much is the projected tuition and living expenses?
Next, also check how much the tuition is and try to get an estimate of your living expenses within the area. The location plays a big role in how expensive your living expenses will be.
Once you have your list of schools you want to try out for, try to get a rough estimate so you can check the best one within your budget.
How's the location and nearby amenities?
Make sure to check the environment in which your school is located. Try to imagine what it's like to study there already.
You can ask yourself questions like:
What kind of restaurants are nearby? Is there a school cafeteria?
Are there reliable means of transportation to get around? Is the campus conducive for walking?
Is there a hospital nearby in case of emergencies? Is a pharmacy nearby?
Where's the nearest laundromat?
Are there nearby shops for all your school needs?
Do they have dorms or available accommodations should it be far from home?
FAQs About Colleges in Dubai
---
Are there other colleges in Dubai that we missed? Shoot us a message – we'd love to hear what you think.
Want more information about schools and learning opportunities in Dubai? These articles may come in handy: