The 5 Best Window Cleaning Services in Dubai
The hot, humid, and dusty conditions in Dubai are not easy for our windows at home. That is why it is important to have the best window cleaning services in Dubai be one call away!
To help you find the perfect team to keep your windows spotless, we searched for the best window cleaning companies in the city. We have also included factors that we took into considering, a guide, and FAQs about window cleaning.
How much do window cleaning services cost in Dubai?
The cost of having these cleaned can vary depending on how many, how accessible, and how frequently you want your home windows cleaned.
Nonetheless, we made a table that shows the estimated cost of a one-time cleaning for a house in Dubai.
Note that actual price may vary depending on the number of rooms, storeys, and frequency.

| NUMBER OF ROOMS | PRICE |
| --- | --- |
| 3-bedroom home | AED299 |
| 5-bedroom home | AED499 |
The Best Window Cleaning Services in Dubai
Before we get into the entries in our list, take a look at the criteria we used to find them:
1. Dubaiclean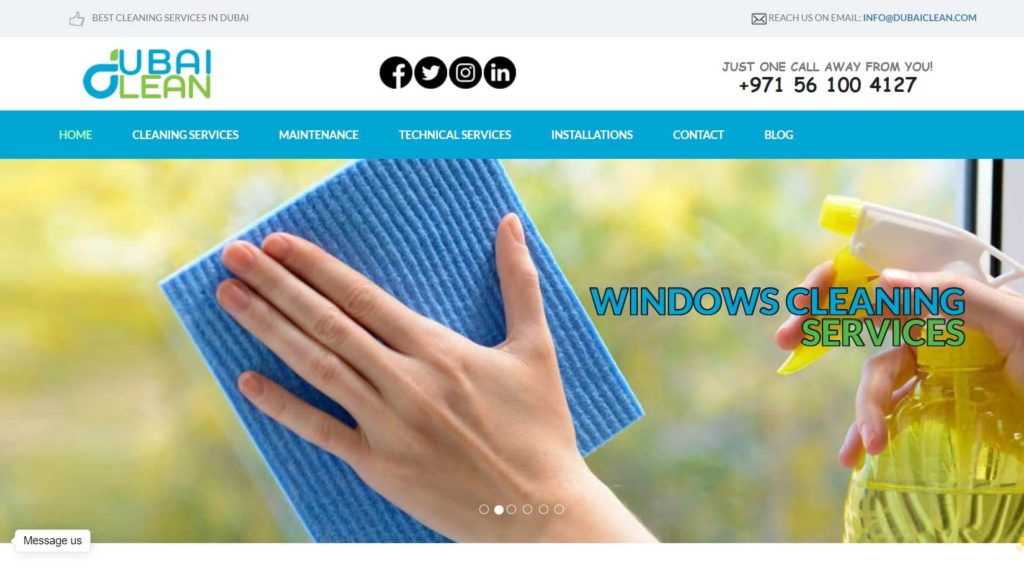 | | |
| --- | --- |
| Criteria | Ratings |
| Experience | ★★★★★ (5/5) |
| Customer Service | ★★★★★ (5/5) |
| Tools | ★★★★★ (5/5) |
| Methodology | ★★★★☆ (4/5) |
With over 43 awards, and approved and licenced by the municipality of Dubai itself, Dubaiclean has cemented itself as one of the most trusted cleaning companies in the city.
While this company is properly about deep cleaning, their window cleaning services are just as good as their actual bread and butter services.
The staff are pre-screened by professionals and trained in-house, and you can definitely see that they clean windows differently from their competitors. We noticed a different level of meticulousness and the attention to detail when it came to cleaning our windows.
Even the ones that are kind of hard to reach received the same amount of attention, which we loved.
This level of meticulousness does not stop with their cleaning: the team is also fully vaccinated, insured, and punctual. They actually arrived 15 minutes before my appointment, all suited up in their PPE, to make sure they didn't waste time setting up.
In addition to this, one of the cleaners told us that the solutions they use to clean windows are all approved by the Environmental Protection Agency (EPA), which is always great in our book.
They also offer flexible routine cleanups on a daily, weekly, bi-weekly, and monthly basis. This is perfect because we can definitely see ourselves getting these guys to clean our windows again.
However, their efficiency needs to be worked on and we do think arriving earlier than the appointment makes more sense.
The workers took their time cleaning all the windows and it took more than an hour, at which point we were already getting impatient with the ruckus the cleaning was making.
Despite that, the results are undeniable. The windows were spotless and remained that way for the next couple of weeks, strong proof that Dubaiclean's attention to detail really does pay off.
Pays attention to detail excellently
Punctual
Eco-conscious equipment
Block scheduling is available
Cleaning windows takes longer than usual
Customer Reviews:
Hassle free and efficient
"Dubaiclean service company in Dubai who always arrives on time, and always deliver to high set standards. What I like with Dubaiclean is the warm and supporting spirit from the front desk, to the guys in the field. Never issues with sourcing the right material, and executing the job with good quality and not creating a mess in the rest of my house.
It is a great pleasure to recommend DubaiClean." – Mona Avoine, Google Reviews
Superb attention to detail
"Dubai clean gave very good cleaning service.The entire crew was incredibly thorough and had so much attention to detail! Our house looked amazing by the time they were done and they did it so quickly!" – Sheldon Smith, Google Reviews
2. Shafaf Building Cleaning Services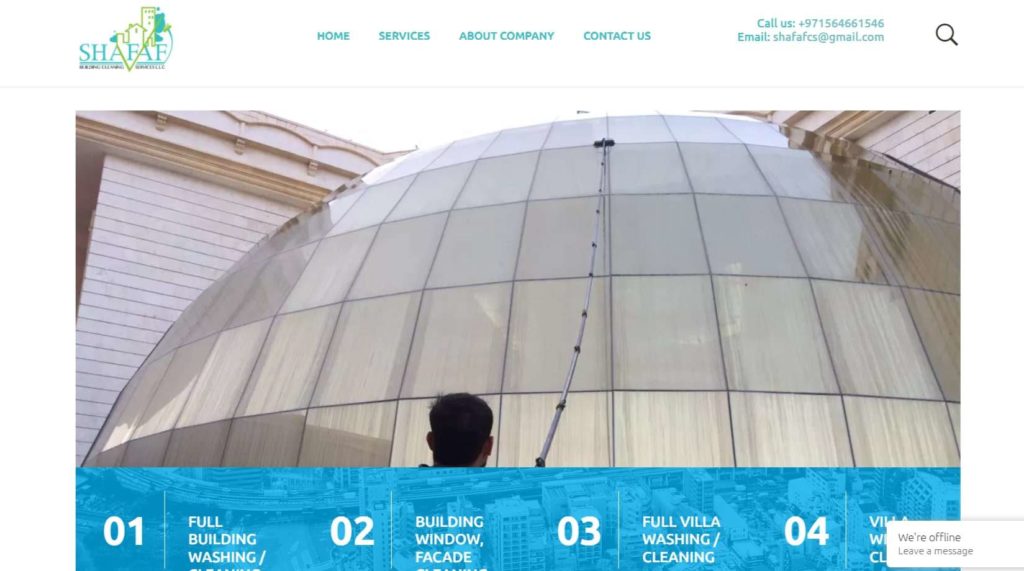 | | |
| --- | --- |
| Criteria | Ratings |
| Experience | ★★★★★ (5/5) |
| Customer Service | ★★★★☆ (5/5) |
| Tools | ★★★★★ (5/5) |
| Methodology | ★★★★★ (4/5) |
From commercial buildings to high-end villas, Shafaf Building Cleaning services can clean windows with efficiency and handle extreme cases of neglect.
This company has partnered with property management companies and has been in the game since 2014. With 218 completed projects and 5 awards under their belt, Sharif Building Cleaning Services is pretty experienced.
What really stands out to us when it comes to hiring Shafif is their impeccable customer service. We think this comes from experience of handling high-end clients and their expensive villas.
Whatever it is, the way their team handles us, as clients, is very assured and confident. They arrived on time, and were responsive to all of our queries before, during, and after the service.
On top of that, they were the most efficient out of all the entries on this list. They finished cleaning all of our windows from the inside and outside in a little more than 30 minutes.
They also waited for us to check it afterwards and even guaranteed us that they could come back to repeat the cleaning process if we were unhappy.
The team used an augmented fed pole system that can remove dirt and stains without the use of solutions, making this entry the most eco-friendly choice in the list!
We were also big fans of the water-fed pole because it basically took out the need for scaffolding and lifting equipment, making the cleaning more efficient and preserved our privacy whenever they were cleaning the bedroom windows.
The cleaning team we had also shared with us that they have a special solution ready if we have not had our windows cleaned in more than a year.
However, the downfall to Shafif is their cost. While one could argue that their service justifies the price, we found that they truly excel in one-time services that really need help.
So if you happen to have windows that are past being saved by your usual window cleaning services, Sharif is the company to call. On a regular basis, you are better off picking a more affordable window cleaning company.
But at the end of the day, they really were efficient, left all of our windows spotless, and were always equipped and ready for more than your usual dirty windows.
Efficient and quick cleaning
Punctual
The most eco-conscious choice in the list
Able to clean windows that have been neglected for years
Costs more than the usual window cleaning service
Better off hired for one-time extreme cleaning
Customer Reviews:
Exceeded expectations
"I'm very satisfied of the cleaning service.
The team came on time, the guys were very nice and friendly. They listened to all of my expectations and they asked the questions.
They cleaned nicely and with focus on details.
I highly recommend your service and for sure I will come back with another cleaning service order.
Thank you." – Wahab Shinwari, Google Reviews
Excellent service
"Thanks again for a great service. Your team is very professional, courteous and helpful. Always a pleasure!" – Muhammad Yaseen, Google Reviews
3. Home Genie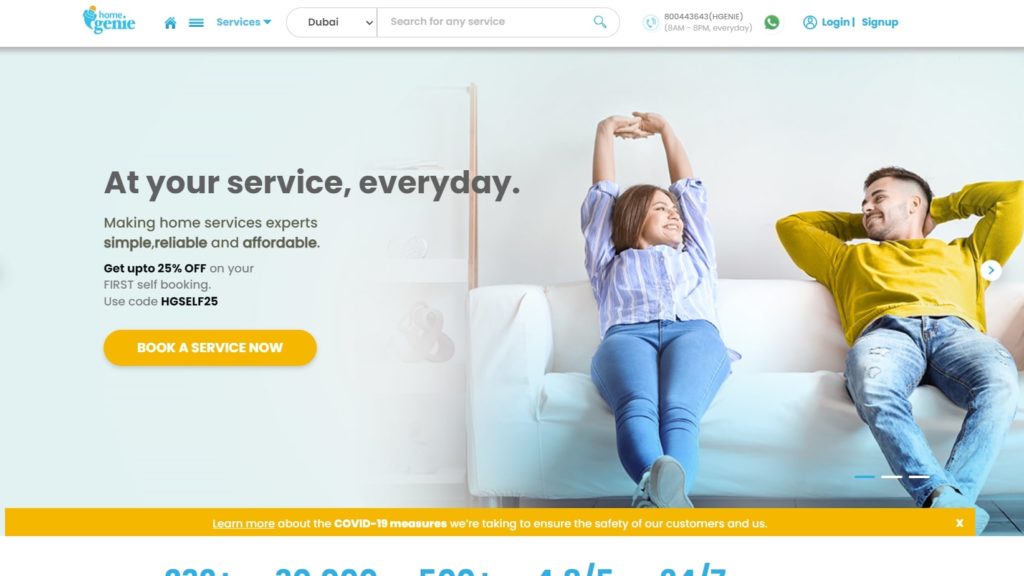 | | |
| --- | --- |
| Criteria | Ratings |
| Experience | ★★★★★ (5/5) |
| Customer Service | ★★★☆☆ (3/5) |
| Tools | ★★★★☆ (4/5) |
| Methodology | ★★★★★ (5/5) |
One of Dubai's premiere cleaning service companies delivers not only on the cleaning-end, but also on the convenience and accessibility their digital platform provides.
Besides their experience in having serviced more than 200 houses, they also shine in their customer service.
We are big fans of their mobile app that has 24/7 customer support. It also acts as a one-stop shop for booking all of their services – from pest control to window cleaning.
It was also nice to know that when you book for a window cleaning, they also include everything that's attached to your house's facade that is made of glass, including glass doors.
However, where they needed improvement the most were the tools that they were using to clean our windows.
They were still using squeegees, instead of more innovative tools like fed pole technology.
Their post-service clean up was also not as good as it could be as we noticed some things by the window were not put back properly.
Besides this, the coordination with the booking team and cleaning experts needs some work. They arrived late because of a home address mix-up that we could have clarified if they noticed the mistake early.
Thankfully, we realized that these cleaning experts' world-class training more than makes up for these in terms of efficiency and effectiveness. The windows themselves were spotless, and the actual cleaning was done faster and more efficiently than most others.
World-class cleaning experts
Easy to access mobile app
24/7 customer support
Cleans glass doors and windows
Outdated tools
Post-service cleaning could be better
Lack of coordination between teams
Customer Review:
Excellent customer service
"They offer a variety of home maintenance service solutions at affordable prices. High quality of service is guaranteed with customer feedback. Customer service is responsive and booking is easy. Highly recommended!" – Chie Retuya, Google Reviews
Great deals and great people
I love this group of people. I'm happy with their coordination and the deal I got from the Company. They truly care about what you need and they make sure I have all the information required. Very satisfied, especially the Customer Service Team! -Vina Ferrer, Google Reviews
4. The Clean Team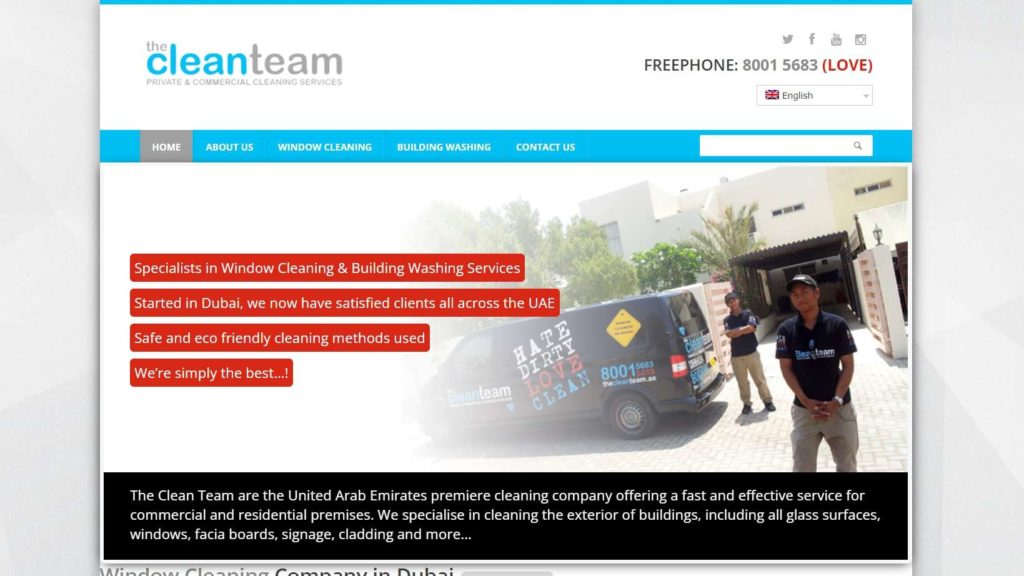 | | |
| --- | --- |
| Criteria | Ratings |
| Experience | ★★★★☆ (4/5) |
| Customer Service | ★★★☆☆ (3/5) |
| Tools | ★★★★★ (5/5) |
| Methodology | ★★★★☆ (4/5) |
The Clean Team has been cleaning windows for both commercial and residential properties all over Dubai, and also specializes in building washing and signage cladding cleaning.
Despite our early doubts of testing them out for the lack of accolades, and certifications in their website, we decided to try them out because of the endlessly positive testimonials we found on the internet.
Booking them was not an easy task. Always fully booked on weekdays, their schedules always shifting due to their willingness to take in emergency cleanings.
We recommend you book earlier than you usually do with other cleaning service companies. We managed to get them on a Sunday after trying again on a Tuesday morning.
What they lack in being available they readily make up for their service. Punctual, polite, and friendly, we felt safe leaving the house to them as we left it for window cleaning.
Besides that, we also noticed how efficient they are and how well the cleaning team worked together. It was like looking at a well-oiled machine with each part knowing exactly what to do.
We noticed how everyone really does this on a day-to-day basis, and really cleaned our windows like it was nothing to them.
More than that, we noticed they were also using a water-fed pole, which is a much safer option than using ropes and scaffolding to reach windows on the second level of the house.
They also explained to us that they use a reverse osmosis mobile water filtration system that basically makes sure the water is purified and doesn't leave residue that could attract particles.
We were big fans of it, especially since we've had cases wherein we spotted some sticky spots on the window that only got dirtier as the time went by.
However, as we looked more into this we discovered that not everyone's house is suited for this filtration system, so it's better to make sure your water system is compatible with this before hiring them.
All in all, despite their lack of certifications and accolades, and the fact that their special filtration system is not readily available for everyone, the Clean Team showed us why they are in high demand.
It's their personable team that works well together that makes the magic and leaves our windows spotless for weeks on end.
Polite and personable team
Quick, efficient cleaning
Unique tools are highly effective
Filtration system is not compatible with all houses
Lack of certifications makes them a doubtful choice for first timers
Customer Review:
Watching them work was a joy!
"Window cleaning day is such a joy for me! I love these guys. The booking is easy and very personable. The team comes equipped with their truck, hoses, ladders… everything. They are proud, polite, thoughtful and do their jobs super well. I am having coffee watching them clean our windows now (it's that relaxing!) and I have to say this is the most hassle-free and efficient company you might find in DUBAI." – Julie Arthurs, Google Reviews
I will keep coming back
"I've used this company twice now and genuinely happy on both occasions. Staff and manager are polite and accommodating. Windows are well cleaned. Honestly can't find any faults with these hardworking guys.
Well done The Clean Team, and keep up the good work!" -Doris Hameau, Google Reviews
5. The Window Cleaner UAE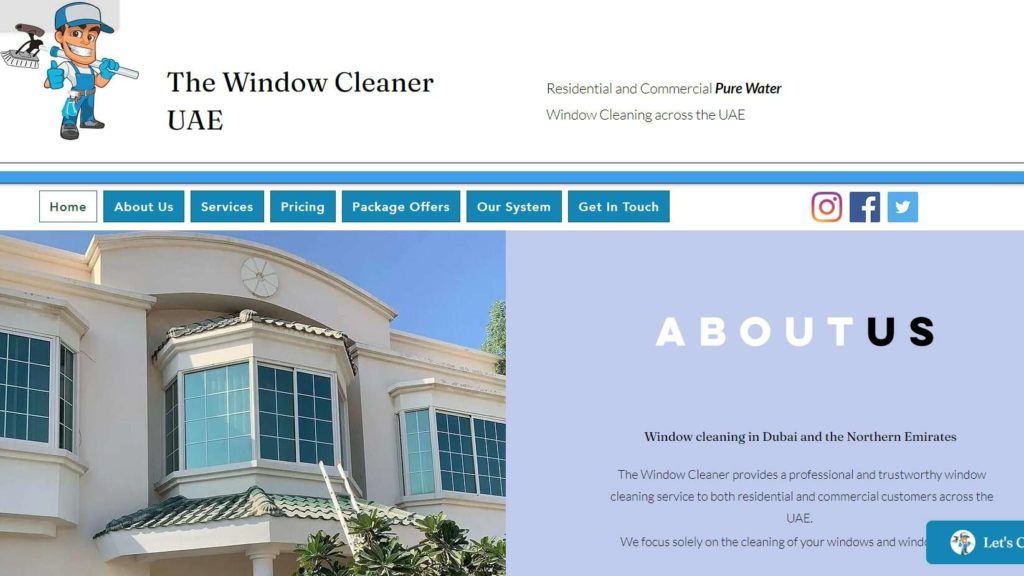 | | |
| --- | --- |
| Criteria | Ratings |
| Experience | ★★★☆☆ (3/5) |
| Customer Service | ★★★★☆ (3/5) |
| Tools | ★★★★★ (5/5) |
| Methodology | ★★★★☆ (4/5) |
The Window Cleaner UAE is our top budget-friendly choice in this list. This family-owned business ensured that each one of our windows was spick and span by the time they were done.
Experienced in cleaning residential and commercial windows of up to three floors high, they're a great choice for your daily window cleaning at home.
They cleaned our windows both from the outside and on the inside, which was a nice little touch for a small company.
They also offered us a guarantee that they would return for a free cleaning within 48 hours if they were not happy with their service. Thankfully, they did a good enough job for us.
Like most of the entries on this list, they also used water-fed pole equipment and coupled it with a soft thistle brush. We appreciated this because it showed an attention to detail.
They utilized a soft-thistle brush to avoid scratching the window glass, and the water-fed pole was perfect for efficiently reaching windows on the second floor.
The team also explained to us that they only use purified water for cleaning to avoid residues that could attract dirt particles to the window once it is dry.
We think that this is better than using the reverse osmosis filtration system, because while it compensates for the water quality this method is accessible to all households. Not to mention it is also an eco-friendly choice.
All in all, we think this is the best budget-friendly window cleaning service you could get in Dubai.
Budget-friendly
Guaranteed customer satisfaction policies
Utilized innovative equipment and methods
Fully licensed, certified and insured
When both the interior and exterior window cleaning are booked, a discounted fee is offered
Customer Review:
Thorough cleaning
"Shout out for fellow BDD Noel Meehan if you need your windows cleaned. I can highly recommend him. He did a thoroughly good job with proper kit (and his own highly filtered very clean water!) at a great price.." – Andy, The Window Cleaner website
Villa windows are spotless!
"Big shout-out to Noel Meehan, the Window Cleaner. Awesome job on my villa, the world looks a lot clearer today! Highly recommend." -Mitchell, The Window Cleaner website
Things to Consider When Picking a Window Cleaning Service Company
Having clean windows can give you better views, and let light in better. Both of these are important for some peace of mind when you are at home.
That is exactly why it's important to consider the factors that we have listed below before choosing a window cleaning company.
Certifications and Licenses
While this may not be readily present to all window cleaning companies, it's important to take note of those who display their achievements and accreditations.
These companies are the ones that have worked hard enough to earn the trust of their clients and organizations that closely monitor high quality service.
That being said, make sure to also check customer reviews and testimonials, because there are some non-accredited cleaning services out there who may be just as good, but have not had the chance to prove that yet.
Flexible Rates and Services
Nobody has their windows cleaned every single day, and window cleaning services know that. That is why it is important to look for companies who are willing to take a look at your house, or at least have you describe it for them, before sending you an estimated quote.
We advise you to also ask what their set up is when it comes to cleaning windows internally and externally, so you can decide whether you need both sides cleaned or not.
Lastly, make sure to check into other window cleaning services for their prices so you can make sure you are getting the most out of your money
Up-to-date Equipment and Methodologies
The water-fed pole is currently the most popular solution to reach windows on the second or third floor of your house, thus we recommended hiring window cleaning services that use this tool.
Also look out for the kind of solutions and chemicals they use to ensure the safety of your health and the environment. Only go for EPA-certified products for your windows.
Of course, don't forget to ask companies what you need to prepare before they start cleaning your windows. They may ask you to let them connect to your water source in order for them to effectively use their own methods of cleaning.
FAQs about Window Cleaning in Dubai
---
If you happen to have a favorite window cleaning service company in Dubai that we have not included in the list, hit us up so we can also review them!
Also, if you're looking to DIY your home maintenance instead, then check out our tips on home maintenance for new homeowners. You can also check out these other resources for home maintenance in Dubai: