The 7 Best Aesthetic Clinics in Dubai
Featured Image Source: Atikah Akhtar via Unsplash
Sometimes, exercise and eating healthy just won't cut it when it comes to looking your best. Luckily, aesthetic clinics are there to keep your physical fitness in check, boost your confidence, and elevate your overall appearance!
If you've been considering having liposuction done for the longest time or simply been needing to get a rejuvenating facial, pick out a clinic from our list of the best aesthetic clinics in Dubai!
But before we get to our list, let's talk about the cost of services in an aesthetic clinic in Dubai.
The Cost of Aesthetic Clinics in Dubai
Some aesthetic clinics offer services and treatments at higher rates compared to others. Their rates are usually based on the experience of their doctors and experts, the technology they use, their facilities, and their clientele.
What you'll spend in an aesthetic clinic in Dubai depends on the kind of services you'll be getting. Here's a guide on the common services aesthetic clinics offer and their starting rates.
| | |
| --- | --- |
| Service/Treatment | Rate |
| Facials | Starts at AED 300 |
| Laser Hair Removal | Starts at AED 50 |
| Laser Hair Loss Treatment | Starts at AED 500 |
| Laser Tattoo Removal | Starts at AED 500 |
| Botox | Starts at AED 40/unit |
| Anti-ageing Treatment | Starts at AED 1,000 |
| Acne Treatment | Starts at AED 450 |
| Warts Removal | Starts at AED 1,000 |
| Liposuction | Starts at AED 10,000 |
| Tummy Tuck | Starts at AED 20,000 |
| Facelift | Starts at AED 20,000 |
| Breast Augmentation | Starts at AED 25,000 |
| Breast Reduction | Starts at AED 28,000 |
| Eyelid Surgery | Starts at AED 7,000 |
In case you're availing of multiple services, be sure to inquire about their packages. Some aesthetic clinics offer deals that won't break the bank!
The Best Aesthetic Clinics in Dubai
Now that you know more about how much you'll spend on aesthetic clinic services in Dubai, you're ready to pick one out from our list of the best aesthetic clinics in Dubai!
1. The Private Clinic Medical & Aesthetic Centre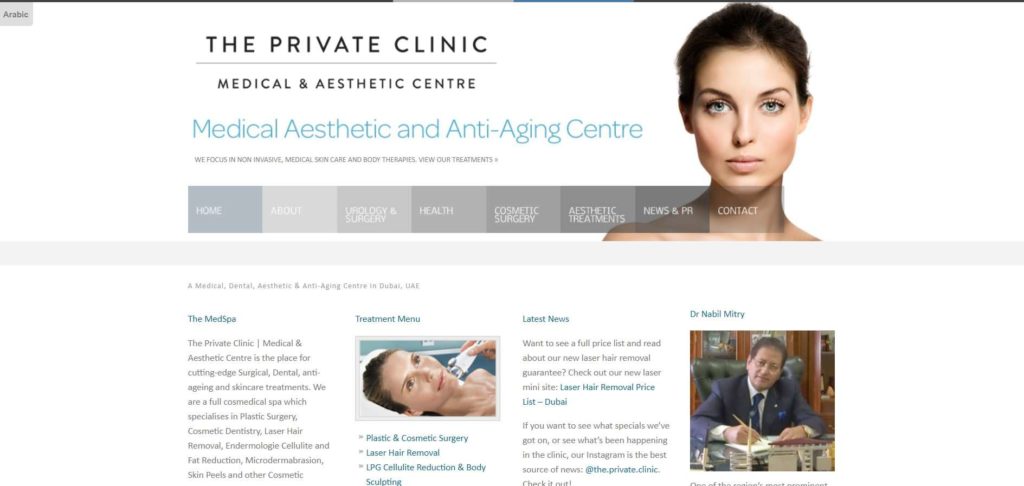 WEBSITE
https://www.theprivateclinic.ae/
ADDRESS
Villa 469a, Jumeirah Beach Road Jumeirah 3 Dubai, UAE
CONTACT DETAILS
+971 04 395 6400
+971 058 169 9822 (via WhatsApp)
SERVICES
Urology & Surgery, Medical Weight Loss, Nutrition & Lifestyle Plans, Botox, Fillers, Breast Augmentation, Breast Lift, Breast Reduction, Liposuction, Tummy Tuck, Butt Lift, Face Surgery, Anti-Aging, Hair Removal, RF Ultra, Cellulite Reduction, Facelift, Slimming, Medspa for Men
Twenty years ago, The Private Clinic was established as Manchester Clinic Medspa, a clinic solely for non-invasive cosmetic treatments. Today, they've rebranded and become one of Dubai's most reputable aesthetic clinics, offering health and cosmetic surgery treatments as well.
Although they've expanded their list of services, their skin care treatments remain some of their best-sellers. From their RF-Ultra Skin Tightening treatment for anti-ageing to Microneedling for environmentally damaged skin, The Private Clinic's loyal clients have been booking these regularly for years.
What we particularly liked is their custom-designed facial treatments that help improve your skin's qualities. After consulting with one of the clinic's skin therapists, they customize a treatment program for you based on what your skin requires.
Their Laser Hair Removal service is also a popular client choice. The Private Clinic uses the Lightsheer Duet, described as the "gold standard in laser technology," which cuts down the traditional treatment duration by more than half!
If you're looking to build a healthier lifestyle, The Private Clinic offers plans for nutrition, diet, and weight management! You can avail of their wellness checks for cancer, diabetes, and heart diseases as well.
Free consultation
Specializes in laser hair removal
Customized facial treatments
Offers programs for nutrition and fitness
Client Reviews
The Private Clinic's loyal clients have left great feedback for their services.
Ahmad Sana Mansoori said: "I visited The Private Clinic for Laser Hair Removal and they were professional and friendly. Facilities were clean and bright. Ria is amazing. She really took the time to explain the process and after care. She is the best! I highly recommend this place!"
Eva Rovithi said:
"I had a facial cleaning in The Private Clinic with Ann a few days ago and I can not emphasise enough how radiating my skin has been since. It was a very relaxing experience overall as it also included a massage of the face, head, and neck. I would definitely do it again. The place was very clean and welcoming. They have complimentary coffee too."
2. Kaya Skin Clinic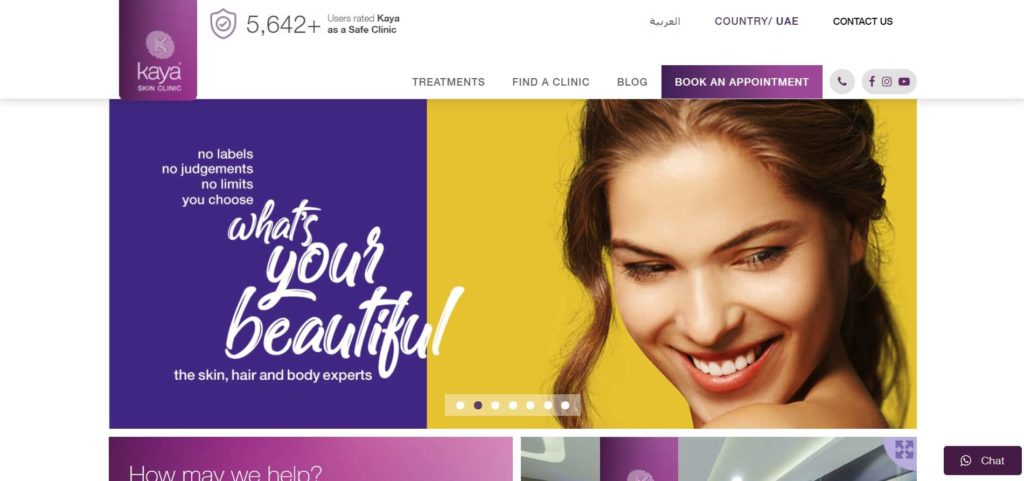 WEBSITE
https://www.kayaskinclinic.com/uae/en/
ADDRESS
Unit No. G06 & G07, I-Rise Tower
Al Thannyah First, Barsha Heights
Dubai, UAE

Level 2
Sharjah Mega Mall
Dubai, UAE

Level 1
Mirdif City Centre
Dubai, UAE
CONTACT DETAILS
+971 600 562 620
SERVICES
Acne and Scar Solutions, Age Control, Dark Circle Solutions, Hand & Feet Rejuvenation, Laser Luxe Hair Removal, Lip Enhancement Solutions, Pigmentation Solutions, Skin Glow Face Therapies, Skin Rejuvenation, Volume Filling & Augmentation, Warts Removal
With branches all around the Middle East, Kaya Skin Clinic opened its doors in 2003 in hopes of bringing advanced dermatological solutions to men and women. Promising to make you feel your "beautiful best at every stage of life," the clinic offers treatments for your skin, hair, and body.
While Kaya Skin Clinic has 6 highly rated branches in Dubai, their branches in Barsha Heights, Sharjah Mega Mall, and Mirdif City Centre are its most visited clinics.
Although not their speciality, Kaya Skin Clinic also offers plastic surgery. These include liposuction, blepharoplasty, rhinoplasty, tummy tuck, and breast augmentation.
Like other clinics on our list, skin care is also Kaya Skin Clinic's strength. We personally like their Kaya Detox Face Therapy, which is a luxurious facial that infuses vitamins into your skin through nanotechnology.
It's also great that Kaya Skin Clinic has bespoke packages for special needs and occasions. If you've just given birth and need some pampering, try their Kaya Mommy Makeovers package!
Their Mommy Makeovers package provides you with solutions for dark circles, pigmentation, and hair loss. They also help you with your postpartum body through body contouring solutions like Cryolipsis and RF.
Specializes in skin care and hair treatments
Offers bespoke packages
Multiple branches in Dubai
No free consultation
No nutrition and fitness services
Client Reviews
Many clients have left rave reviews for Kaya Skin Clinic and their staff.
Je-Ann Gutierrez said: "My favorite clinic! Great service and very accomodating staff, you'll feel completely safe there. Big thanks always to Ann for taking good care of me whenever I visit."
Beverley Watmore said:
"Dr Maha Abou Zeid is an artist with her needles and a true magician! I can highly recommend her for facial aesthetic procedures. She takes so much time at consultation to listen and to achieve a fantastic final result. She is gentle, caring, and I felt very confident in her hands. I would not hesitate to book another appointment. The Clinic is spotlessly clean, managed very welI & I was extremely well looked after by all the staff here."
3. Biolite Aesthetic Clinic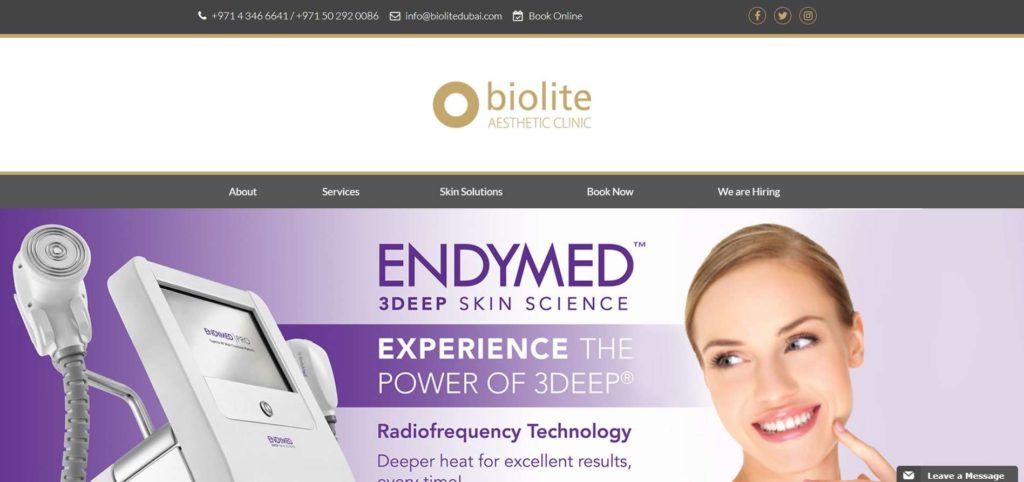 WEBSITE
https://www.biolitedubai.com/
ADDRESS
Villa 57, Al Thanya Road Umm Suquiem 2 Dubai, UAE
CONTACT DETAILS
+971 4 346 6641


[email protected]

SERVICES
Plastic Surgery, Surgery Consultation, Mole Removal, Mesotherapy, Nail Disorders, Wart Removal, Lips Fillers, Facials, Frax Flash, PRX T33, Fotona 4D, Pressotherapy, Aquagold Fine Touch, RF, Skin Rejuvenation, LipoCryo, Hair Loss Treatment
Originally established in the UK, Biolite came to Dubai in 2007 with services for clinical and aesthetic dermatology and plastic surgery. The clinic boasts of the latest technology, modern techniques, and internationally licensed staff.
One of the things that first impressed us is their clinic's location and interiors. The chic and upscale design of the clinic is perfectly complemented by a view of the famous Burj Al Arab hotel.
When it comes to their services, like many of their clients, their Silk Peel Dermalinfusion wowed us with the instant results that you get. Through diamond tip exfoliation, the treatment hydrates your skin and improves your skin's brightness and texture with no downtime!
Many clients also like their LipoCryo treatment, which drastically reduces your body's fat tissue through fat freezing. This is perfect if you've been trying to get rid of love handles or saddlebags for the longest time but don't want to go under the knife.
If you're a frequent traveller, their BioFlight treatment will appeal to you. Aiming to fight the negative effects of travelling such as jet lag, fatigue, and dehydration, BioFlight offers a two-phase treatment you can take before and after you fly.
While most of their services are for women, the clinic offers a longer list of services for men compared to others. These include Laser Hair Removal, Instant Weight and Inch Loss, Radio Frequency, and Acne Treatment.
Best for LipoCryo
Free consultation
Offers BioFlight
Client Reviews
Clients are happy with the quality of service they get from Biolite.
Nada Sharafi said: "Great facial and skin feels so much smoother and glowing. Mona was amazing and gave a lot of valuable advice. Will definitely be back."
Mohammed Sultan said: "I have been going to Biolite for over 6 years & there is no other aesthetic clinic on this planet that has taken my skin from strength to strength. Definitely my first recommendation to anyone and everyone. You leave the clinic feeling comfortable and extremely confident."
4. Aestheticon®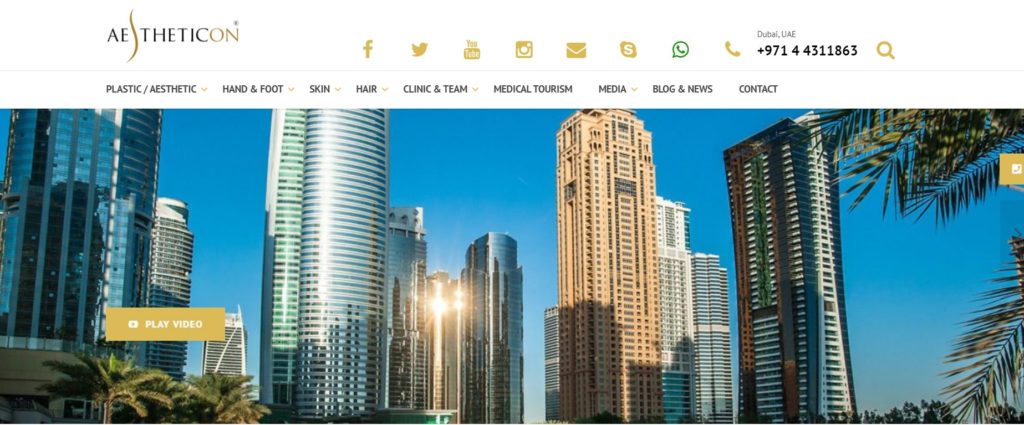 WEBSITE
https://www.aestheticon.ae/
ADDRESS
Swiss Tower, Unit 2202
Cluster Y3, Jumeirah Lakes Towers (JLT)
Dubai, United Arab Emirates
CONTACT DETAILS
Tel: +971-4-4311863 / +971-52-9843498
WhatsApp: +971-52-9843498
Fax: +971-4-4313084
Email:

[email protected]

SERVICES
Comprehensive aesthetic/ plastic surgical and non-surgical procedures from top to toe, including face lifting, lip shaping, anti-wrinkle treatments, nose shaping, eyelid & eyebrow lift, all-round breast surgery, tummy tuck, liposuction, fat transfer, body lift, BBL, skin & scar procedures, a huge range of skin care treatments, laser hair removal, hair loss treatment, treatment of extensive sweating, hand & foot procedures.
Aestheticon® is a clinic that specializes in plastic and aesthetic services in various areas of the body such as the arm, thigh, breast, face, and head among others. They offer a wide range of similar services as well such as skincare treatments, injectables, skin surgery, and advanced laser hair removal among others.
Highly acclaimed to be very welcoming and eager to attend to the needs of the clients, they pride themselves on being able to provide both proven and safe surgeries and treatments and are internationally renowned to do so. They have acquired the trust of many clients globally due to their excellent services and equally sincere and warming customer service as well.
Inaugurated back in 2012 in Dubai, the clinic prioritizes the perfection of its services for the utmost benefit of clients who choose to avail of their services. They are also renowned to offer specific surgeries that only a few clinics worldwide offer such as composite facelifts, specific breast surgery, tummy tuck methods, and other specific hand surgeries among others.
We recommend this clinic for clients looking for outstanding and trustworthy aesthetic services since they also utilize state-of-the-art equipment and facilities and a carefully selected team of professionals that work well together to produce optimal results.
If you're still looking for someone who can help you, Aestheticon also recommends Dr. Ghofrani. He has a super-specialization in breast and face surgery and is welcoming patients from all over the world.
Accredited by the Dubai Health Authority and the Dubai Multi Commodities Center
Accommodating customer services
Offers particular services only few clinics offer
Client Reviews
Here are some reviews from their clients:
"HIGHLY RECOMMENDED !! Whenever you need medical advise or urgent help, Dr Afschin Ghofrani and his team will be there! He will provide the best cure / treatment for your personal medical problem – as customized solution. There is no standard / general procedure. He will listen careful to your problem and advise the correct treatment for your case." – Karin Buerger
"For a long time, I had comparing myself with some posh ladies and models as a fashion and imagined it would be impossible for me and I had been lost my self-confidence, but after communicating with Aestheticon's clinic and the unique experts , especially International professional doctor, Dear Dr. Ghofrani and my experience of his unique operations such as abdominoplasty, Breast and eyelids surgery and the beauty treatments of their great specialists, all my dreams have came true…!!! Dr. Ghofrani and their popular team are absolutely unique in all over the world … !!!Good Luck…!!!" – Ra Taheri
5. Lucia Aesthetic Clinic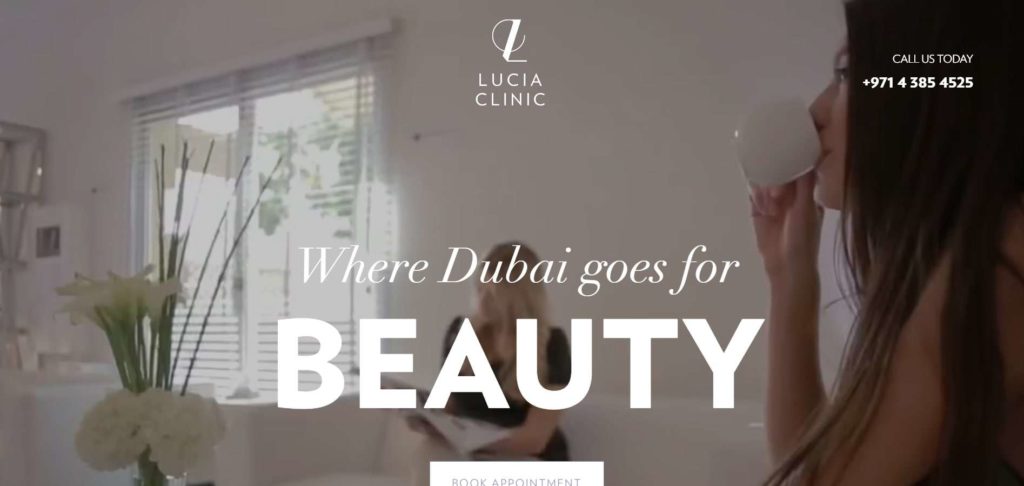 WEBSITE
https://www.luciaclinic.com/
ADDRESS
Villa 323 (Opposite Four Seasons Resort) Jumeirah Beach Road Dubai, UAE
CONTACT DETAILS
+971 4 385 4525
+971 56 115 9194
SERVICES
Facial Procedures (Acne, Injectables, Lifting & Tightening, Pigmentation, Skin Improvement), Body Procedures (Body Contouring, Cellulite Reduction, Fat Reduction, Firming & Tightening, Hand Rejuvenation, Laser Hair Removal, Stretchmarks), Plastic Surgery, Dermatology, Treatments for Men
If you're wondering which aesthetic clinic in Dubai is most frequented by celebrities and influencers, we've found it! Located near Dubai's iconic Burj Khalifa, Lucia Aesthetic Clinic is the most luxurious clinic on our list.
Offering non-surgical and surgical services, Lucia Aesthetic Clinic was founded in Dubai by the world-renowned dermatologist and anti-ageing specialist, Dr. Radmila Lukian.
Among the services they offer, their Botox treatment is a client favourite. Though it's been around for many years, Botox remains a no-fail, minimally invasive treatment for smoothing out wrinkles and fine lines.
Their Ultherapy treatment is also one of the most booked. Clients like how Ultherapy lifts skin on hard-to-treat areas without the need for surgical procedures.
In case you don't know what service you want to avail of yet, we recommend setting up an appointment so they can give you advice on what's best for your skin or any part of your body you'd want to enhance.
Lucia Aesthetic Clinic uses a 3D Skin Analysis Camera for skin health evaluation, simulation of procedures and an accurate before/after visual.
Lucia Aesthetic Clinic is also known for their list of high-profile clients from all over the world. Their celebrity clients include Joan Smalls, Marion Bartoli, Huda and Mona Kattan, and Nikki Galrani.
Best for botox
Free consultation
Easy website booking
Celebrity approved
Client Reviews
Lucia has received positive feedback from their celebrity clients
Supermodel Joan Smalls said: "When I am in Dubai, Lucia Clinic is the must-visit beauty destination."
Huda Kattan, renowned makeup artist and founder of Huda Beauty, said: "Lucia Clinic has the best team and treatments in Dubai. Dr. Radmila Lukian with her tailor-made program has transformed my body and face completely."
6. Skin111 Medical & Aesthetics Clinic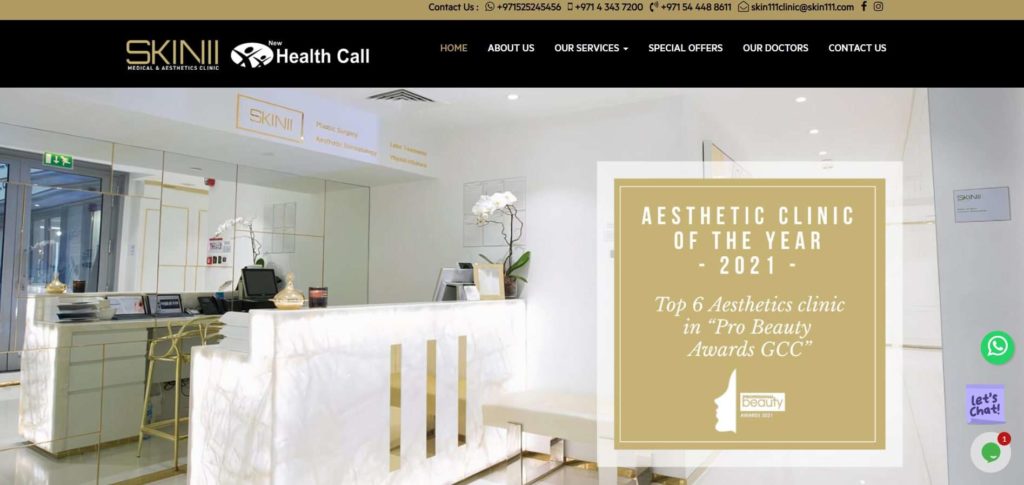 WEBSITE
https://skin111.com/
ADDRESS
Unit GO2, Building #5 The Gate Village 5, DIFC, Road 312 Dubai, UAE
CONTACT DETAILS
+971 54 448 8611


[email protected]

SERVICES
Plastic Surgery, IV Vitamin/Detox Drips, Glutathione & Vit C, NAD + IV Therapy, Aesthetics Dermatology, BBL, Laser Hair Removal, Facials, Oxygen Therapy, Wellbeing Specialist, Diagnostic & Lab Tests, Botox, Fillers, Thread Lift, Acne Treatment, Skin Tightening, Body Contouring, CRYOTherapy, Lymphatic Drainage
With branches in the UAE and the UK, Skin111 has been providing aesthetic and medical services in Dubai since 2007. Named Aesthetic Clinic of the Year in 2021, clients repeatedly visit the clinic for their first-class treatments and warm customer service.
Their customized IV Vitamin / Detox Drip treatments are their top-selling services. Among IV therapy's benefits are rehydration, radiant and glowing skin, immune system boost, and detoxification—all depending on the infusion the doctor recommends for you.
We're also fans of their Glutathione and Vitamin C Drip! On top of improving your skin's tone and texture, its antioxidant and detox qualities are ideal for maintaining your well-being as a whole.
If you'd like to find out about the status of the vitamins and minerals in your body, Skin111 uses Oligo Scan, the latest non-invasive technology that helps you figure out which treatments your body needs. If you're availing of their IV Drip treatments, you can enjoy this service for free!
While they mostly specialize in aesthetic services, Skin111 also offers medical diagnostic and lab tests to ensure holistic wellness. You can opt to get tested for diabetes, elevated cholesterol, anaemia, and food intolerances and allergies.
Best for IV Drip
Multilingual specialists
Website chat support available
Free valet parking
Offers free consultations
Can be difficult to book a session due to full schedule
Client Reviews
Skin 111 has been given excellent reviews by clients.
Sunil Mashari said: "Such a fantastic and professional service at Skin111. I went for an IV Drip post a big night out and the effects were immediate. Boosted energy, instant hydration. and hangover cure."
Abdalla Al Suwaidi said: "I usually do my IV drip every month and it is my first time to do it here and I had a very positive experience. Doctor and nurses are very accommodating and knowledgeable, especially this guy Kenzo who assisted me during the whole treatment. Definitely recommend it and keep coming back."
7.   HealthCall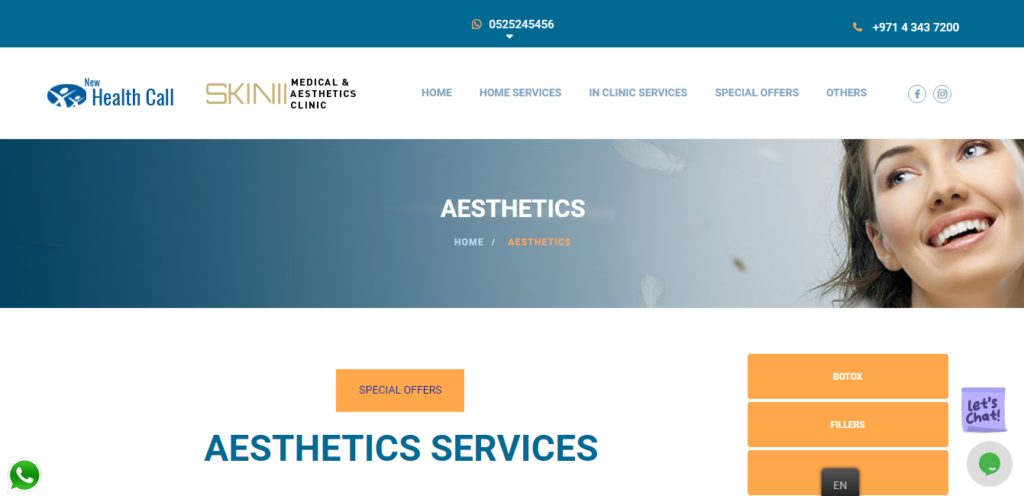 WEBSITE
https://healthcall.ae/aesthetics-in-dubai/
ADDRESS
Unit G02, Building #5, The Gate Village 5, DIFC, Road 312 – Dubai
CONTACT DETAILS
04-3437200 /

[email protected]

SERVICES
IV Vitamin, Glutathione, Blood Diagnostic Test, Health Check-Up, Oxygen Therapy, Body Contouring, Aqua Peel, Cyro Therapy, Lymphatic Drainage, Oligoscan, Laser Hair Removal
HealthCall is the one to call for all of your aesthetic and medical needs. Equipped with state-of-the-art facilities and equipment, their main priority is your safety and satisfaction during, before, and after your experience with them.
Helping you support your self-esteem and confidence, they utilize client-centered approaches to better suit your needs. They are among the pioneers of multidisciplinary clinics in the area and have been delivering consistent services for you since day one.
Make sure to get in touch with them if you intend to avail of any of their services. They are available 24/7 should you have any queries and hesitation regarding any treatment that is within their scope and services.
Bringing you customized services down to the IV drip you receive, they are a must to consider bringing out your natural look of youth.
Informative services
Accommodating nursing team
Amazing IV drip services
Some services can be improved
Client Reviews
Here are some reviews from their clients:
"Lovely friendly staff. Managed to get an IV vitamin drip booked for the same day and at an affordable price. Leading IV drip provider in Dubai. Would highly recommend!" – Shinu Das
"I would highly recommend healthcall dubai for all IV Vitamin and Gluta Drips.They are professional, warm and caring. They are the leading in the industry by owning two super brands. Not the cheapest option,but worth paying a little extra for the service and confidence that you are in excellent hands. Also clinic is located in the heart of DIFC and free valet parking available." – Abdul Rahman
Tips on Choosing an Aesthetic Clinic in Dubai
Pick out a clinic that matches your budget but still provides you quality service.
Your physical health and wellness is an investment. While the budget that you set definitely matters, the quality of the service you're availing of matters just as much, so don't choose a clinic just because they offer cheap rates.
Inquire about their rates and ask for a final quotation before you commit.
While many aesthetic clinics publish their rates online, a lot of their rates still remain subjective because many services are customized according to a client's needs.
Research on their facilities and the technology they use.
Some aesthetic clinics aren't as updated when it comes to their facilities and technology. Pick a clinic that can provide you with the best overall experience where you can feel safe and confident.
Look at their reviews.
Don't rely on their website alone and read about what their past clients have to say about them. If you find a lot of negative feedback, best to move on to your next potential aesthetic clinic.
FAQs on Aesthetic Clinics in Dubai
---
Treat yourself to a luxurious facial, book an appointment for an IV drip, or finally try out that Ultherapy treatment your friends have been gushing about! We hope our list of the best aesthetic clinics in Dubai helped you decide where to go!
Know of other excellent aesthetic clinics in Dubai that we should include in our list? Let us know by sending us a message!
If you're looking for a clinic that specializes primarily in Laser Hair Removal, check out our list of the best laser hair removal services in Dubai!