The Most Highly Recommended Speech Therapists in Dubai
It is estimated that approximately 18.5 million people in the world suffer from a speech impediment.
Fortunately for you if you're among them, the best speech therapists in Dubai can help you correct speech disorders. And we reviewed the top therapists for this article!
Before we proceed to the list of therapists, though, let's first talk about how much speech therapy is going to cost you and what you can do to plan ahead or lessen the costs.
Speech Therapy Costs in Dubai
Speech therapy costs vary, usually based on the experience of the therapist. This table shows you the current estimates for rates:
| | |
| --- | --- |
| Service | UAE Dirham Rate |
| Initial Assessment | 370-920 |
| Per Hour Charge | 370-920 |
| Additional Costs | 75-370 |
It's worth checking if your insurance covers it, by the way. This is because a fair number of people will find that their speech therapy is covered by their insurance.
It varies by policy, of course, but generally, your therapy may be covered if it arose out of an illness, acute injury, or congenital defect (like a cleft palate).
Here are other things to note about cost:
The sessions don't always have to be one hour long. You can always ask the provider if they have 30-minute or 45-minute options, to bring down costs.
Additional costs may mean materials necessary for the session of that day. These may include toys, books, or any items needed for activities.
Always ask if there are group therapy sessions, or if you or your child may avail of those. Group sessions are more affordable.
Home visits may be another option. While there are some who believe that this is the best option as the home is where the child is most comfortable, this is the most expensive choice.
There will be a travel fee to think about, and that may stack up over time.
There is also the option to have the therapy session online, though there are children who don't respond well to it.
You can always ask for a written report about the session or the initial assessment. Bear in mind that this will cost extra.
Now that we have that out of the way, let's check out the best speech therapists in Dubai.
The Options for the Best Speech Therapists in Dubai
Taking the right step towards healing is going to be the first of many, but healing does not have to be a challenging journey. Luckily for us, some of the best speech therapists could be found in Dubai.
Read on below and find the perfect one for you.
1. Sensation Station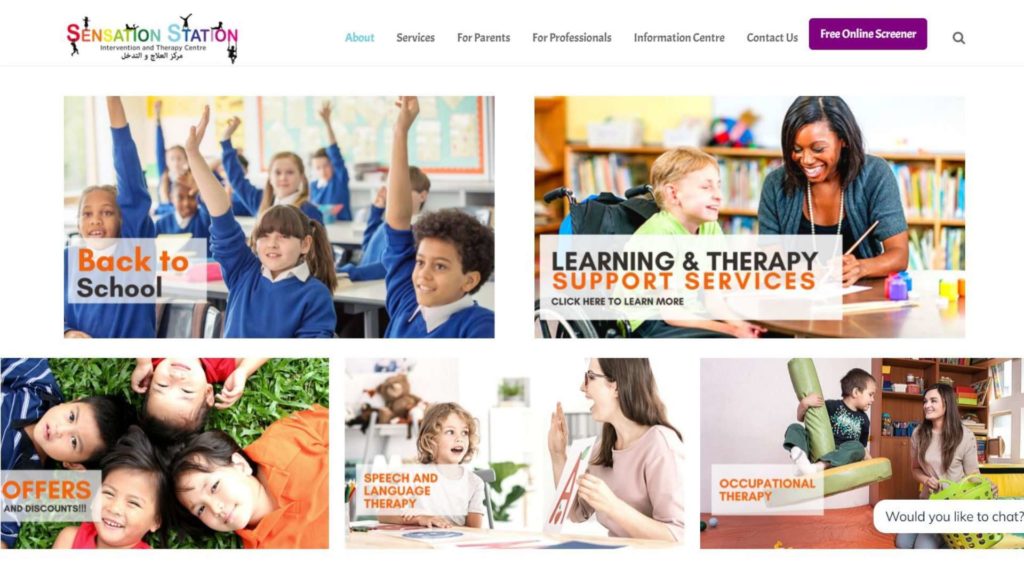 Address:
Ibn Battuta Gate Offices, Ground Floor, No. G03 / G05, Dubai, UAE
Website:
https://sensationstation.ae/
Contacts:
+971-42776769 |

[email protected]

Services Offered:
Speech and Language Therapy, Occupational Therapy, Learning and Therapy Support Service, Parent Consultations, E-Therapy, Trainings and Workshops
Starting this list is a multi-disciplinary therapy center conveniently located near the Ibn Battuta Mall in the Jebel Ali area. The Sensation Station team believes that therapeutic services should be safe, stimulating, and fun.
A great part of what makes this center stand out is its collaboration with a team of therapists and their outreach programs that support teachers and students with Special Educational Needs.
Their professional speech pathologists and therapists employ a wide range of techniques that are aimed to help children with special speech, language, and communication needs. Some of their interventions include Colorful Semantics, Hanen Program, Nuffield Dyspraxia Program, and PROMPT.
All of these professional interventions are meant to encourage social interactions, increase the child's ability to follow verbal instructions, support reading and literacy, and educate teachers and parents on how to handle children with speech impediments properly.
Sensation Station appears to have everything a child may need to be in an environment that is conducive to learning and healing. We also noticed that the facilities were clean, well-equipped, and divided into areas that function differently from each other.
They have individual and group sessions too, which we like. Different people prefer different setups, so having this choice is useful.
They also offer an intensive learning program called Able-Me that's aimed at children with developmental delays, learning difficulties, or specific therapy needs.
It's done 4 hours a day, 5 days a week, essentially replacing a daycare or a day school. It is an alternative for children who would benefit from a therapeutic setting.
The only downside? They only handle children, so if you're an adult seeking help, you'll have to look elsewhere.
Employs a wide range of techniques
Has outreach programs held in schools where a direct referral can be made
Offers training and workshops
Offers free screening every few months or so
Only handles children
Able-Me program runs from Monday-Friday
Closed on Sundays
Customer Reviews
Their concern and love for us are to be praised!
"I highly recommend this centre. Their staff is very friendly and understanding. I personally love my daughter's speech and OT therapist. My daughter's been attending this centre and we've been loving this since then. The concern and love they've given to us are to be praised! More power and success to you guys! 2 thumbs up!" –Bienna Ermino
Excellent workshops and informative coffee mornings.
"The team at Sensation Station are the best. Very Passionate and professional. Everyone is a superhero in their own rights. The owner created an amazing and safe place for these children. The Managing Director is leading the team with such integrity that it really has made its mark in the industry. I can highly recommend Sensation Station if you are looking for the right intervention & therapy Centre for your child, or as an outreach partner for your school/nursery. The Centre organizes excellent workshops and informative coffee mornings for parents, teachers, and other professionals. Do check them out and give them a call." –Eva Carola Muths
2. Inspire Therapy
Address:
Office 309, One Lake Plaza, Jumeirah Lakes Towers, Dubai, UAE
Website:
https://inspiretherapy.ae/
Contacts:
+04-5135568 |

[email protected]

Services Offered:
Speech and Language Therapy, Occupational Therapy, Applied Behavior Analysis, Outreach Programs, Online Therapy, Registered Behavior Technician Training
Next on our list is Inspire Therapy, a diverse team of professionals coming from different parts of the globe.
The first thing we liked about them was that they offer material about their techniques as free courses that any parent, guardian, or teacher can avail of. Their programs are also affordable, with some discounts applied if you purchase by bundles they call "blocks".
As far as procedure, they're pretty standard about taking in new patients. Your child will be assessed on the first appointment to determine their strengths and weaknesses, so they can see how to address the child's diagnosis.
Once there, the therapist will ask questions about you and the child's background, specifically about what could have caused the child's condition.
Anticipate questions about your family history, the child's medication list (if there is any), and if the child has had their hearing checked.
Your child may also be asked to play, so the therapist can observe their social and motor skills.
After this, you will be given feedback about your child's assessment. This report should give you an idea about your child's strengths and weaknesses—a holistic image of your child's abilities.
However, here's something that may put some off. To make sure that the child's progress is maintained and furthered, parents are asked to commit to a minimum of 10 therapy sessions.
Furthermore, like our previous entry, this center only caters to children. The Able-Me program actually only allows up to a maximum of 7 years old.
Has a diverse team of professionals with up-to-date training and techniques
Offers free courses for others on speech therapy
Affordable packages
Only handles children
Parents will be asked to commit to at least 10 therapy sessions
Customer Reviews
Take your child to the professionals who will give them exactly what they need.
"I have seen great improvement since I started taking my daughter to Kate Grimes for therapies. She is someone who will never take you round and round in circles but will reduce your anxiety and frustrations as parents with Special needs kids always get in dealing with Therapy centres.
Her dedication and aim is centered on the child. Her honesty is commendable.
I can vouch for her work. I will strongly recommend Inspire Therapy and Kate Grimes and her team if you want to take your child to a place where the professionals will give your child exactly what they need and as a parent you will have that peace of mind." –Syeda Fatima
The material was really practical and well explained.
"'I really enjoyed the sensory play workshop that was run at Inspire Therapy. The material was really practical and well explained. I'm looking forward to getting some new toys to try out some of Liya's recommendations!'" –Helen
3. Bridges Speech Centre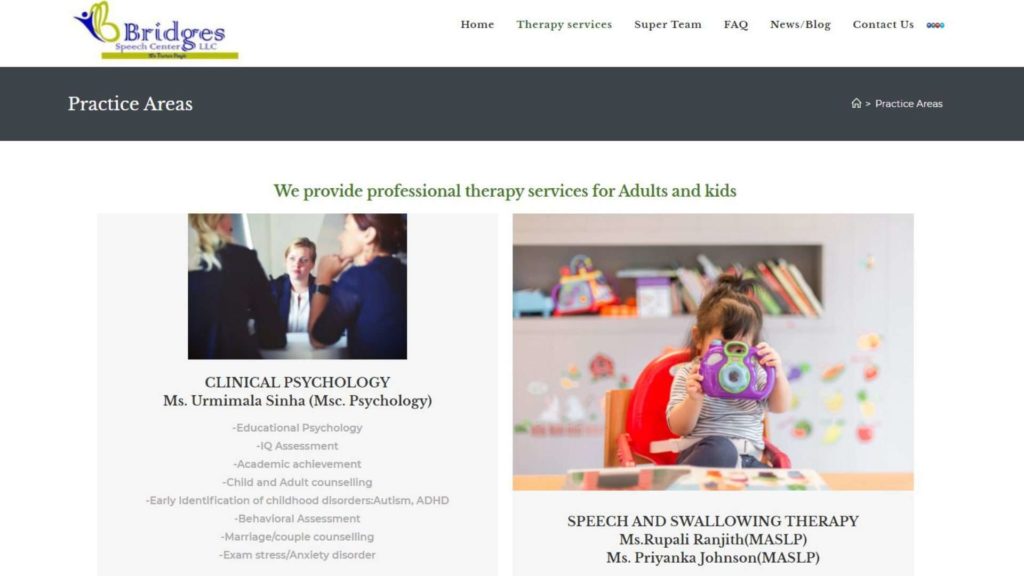 Address:
803, 8th floor, Aspin Commercial Tower, Near Financial Metro station, Sheikh Zayed Road
Website:
https://bridgesspeechcenter.ae/
Contacts:
+971-43581115 | +971-505226054 |

[email protected]

Services Offered:
Psychological Assessment, Educational Psychology, Speech Therapy, Occupational Therapy, Behavioural Therapy, Special Education, Outreach services, Training programs
Bridges Speech Centre believes in providing quality service that's also cost-effective. They have plans that can be modified according to your needs, so you save not only your time but also your money.
All of their therapies follow an Open Door policy. Parents, caregivers, and/or guardians are encouraged to participate in the sessions.
Their doors are also open to varying patients no matter the age – obviously a plus for adults! They don't offer any group sessions, though.
The team of specialists in Bridges Speech Centre is headed by Ms. Rupali Ranjith, the medical director; Ms. Urmimala Sinha, the clinical psychologist; and Mr. Amol Utalkar, the occupational therapist.
Like many of the best speech therapists in Dubai, Bridges Speech Centre utilizes only the latest therapy techniques in an environment where clients can feel safe and cared for.
In addition, they also offer training programs that are done in schools and nurseries. They believe that being able to identify problems at a young age plays a vital role in managing or treating disorders as early as possible.
Parents and caregivers are also provided support by giving them access to home training plans, the center's library, and free monthly training sessions so they can actively participate in therapy.
Finally, this center also provides counseling services on top of their other therapeutic sessions.
Handles patients across all age groups
Open-door policy
Free access to their library
Free home training plans
15 therapists currently working within the centre in different departments
Does not offer group sessions
Customer Reviews
My daughter is now able to communicate fluently.
"I recently had the pleasure of consulting you regarding the complexities with the speech development of my daughter Reem. I really appreciate the effort you took in diagnosing 'Adenoids' which has been hindering the speaking abilities of my daughter. She is now able to communicate fluently with our family members and friends and forms full sentences without any mistakes. It's amazing to see a remarkable improvement in her. We must say that she thoroughly enjoyed your therapy sessions and you have taught her how to express herself. " –Sajida Imran Sange San
My son has improved a lot and will improve more with intensive therapy.
"We did not know what was wrong with our son. It was like walking in a dark tunnel until we got his diagnosis. We really prayed for the right people to help us deal with our son's issue. And God showed us Miss Simi, our son's behavior therapist.
Now my son has improved a lot. Now we know how to block some behaviors that are repetitive and some behaviors that need to be corrected. We are simply humbled by how Miss Simi is helping us and guiding us in our journey with our son. I believe my son will improve more and get better with the intensive therapy she is providing." –Maffin Ishak
4. High Hopes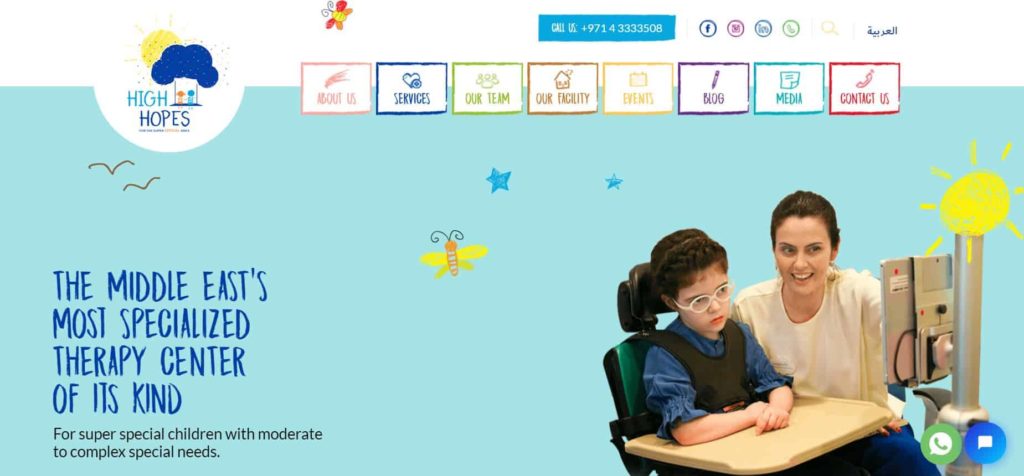 Address:
Jumeirah, Al Safa 1, Street 13, Villa 31A Dubai, United Arab Emirates
Website:
https://www.highhopesdubai.com/
Contacts:
+971-43333508/09 | +971-551770770 |

[email protected]

Services Offered:
Physical Therapy, Speech and Language Therapy, Telesessions, Hydrotherapy Visiting Intensives, Occupational Therapy
High Hopes is a non-profit organization that creates a personalized program for every child who walks through its doors. Nothing is too difficult for this team of professionals who handle special and complicated cases.
The entrance to the center alone should put any child at ease. With their colored pencil gate and a bright front, children could be made to believe that they're walking into a play place.
Each child is placed in a warm environment where they are put through programs that are modified to fit according to their needs and their diagnosis.
Children enrolled in High Hopes have a wide range of medical conditions including but not limited to genetic disorders, delayed developmental milestones, and neuromuscular disorders.
This center also makes use of an interdisciplinary approach where the therapists from different departments and specialties collaborate. We love that, as it often opens up other treatment modalities and approaches when necessary.
But what sets this center apart from the rest is their Hydrotherapy Visiting Intensive program, where the children are immersed in water to help them learn basic movements.
Every session contributes to the cardio-respiratory health of the child while developing their muscle strength, coordination, balance, and functional capacity.
Sadly, though, it looks like the center only has two authorized and licensed specialists for this. It may not be that easy to book an appointment.
Handles pediatric patients with complex special needs
Spacious, child-friendly environment
Can be hard to book at times
Customer Reviews
My daughter can now finally call me "Mama".
"Over the last 18 months, our daughter has worked with several other therapy centres in Dubai, but none of the SLP therapists were as effective, knowledgeable, and professional as Ms. Emanuela. Her knowledge of CAS, PROMPT, and a range of other techniques she has used with our daughter meant that Lily can now finally call me 'Mama' which has been such a wonderful joy." –Lily's Mom
My son has had significant improvements in his communication abilities.
"Our son has benefited greatly from the expertise at High Hopes. Most recently we've been focused on Speech Therapy and can confidently say that the support he's experienced at the centre has led to significant improvements in his communication abilities." –Emilio's Mom
5. The Developing Child Centre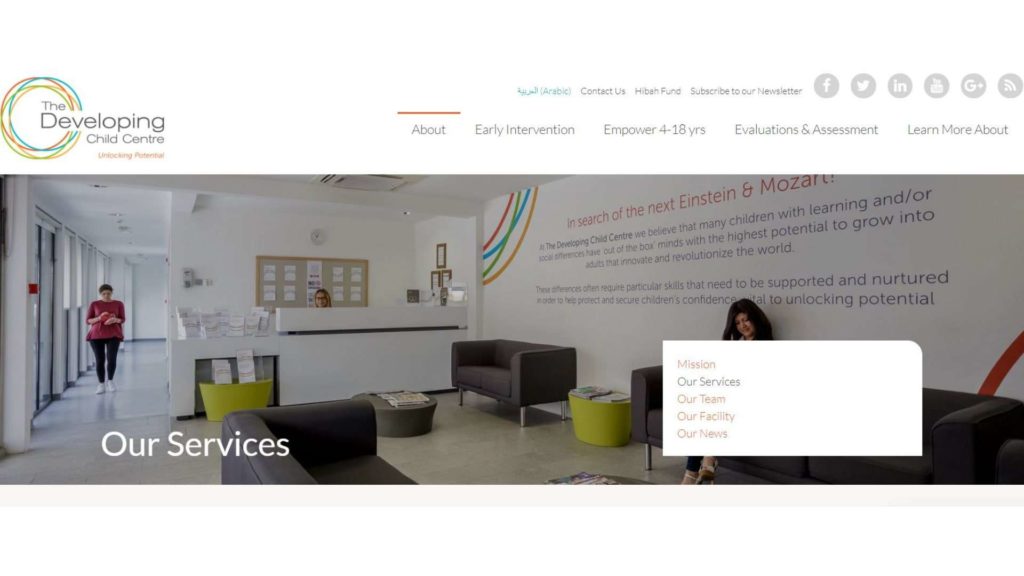 Address:
Al Manara, Umm Suqueim Dubai, United Arab Emirates
P.O Box 478527, Dubai, UAE
Website:
https://www.tdcc.ae/
Contacts:
+971-43011900 |

[email protected]

Services Offered:
Speech, Language, and Communication Therapy; Fine and Gross Motor Skills Therapy; Social Skills Development Program; Behavior Management Therapy and Support; Parenting Support
The Developing Child Centre lives by its name—many of the programs they offer are designed to assess, intervene, and support children in achieving age-appropriate milestones.
Part of what makes them one of the best speech therapy centers in Dubai is their proactive approach in handling speech-related or developmental disorders.
They have an educational program that runs from 8 AM to 1 PM daily. During these classes, teachers and therapists collaborate to provide your child with a structured learning environment that enables them to unlock their potential.
These classes also help the therapists in assessing the children. The observations help determine whether or not your child may need therapy, or what kind of programs they are going to need.
Perhaps one of the best services the center offers is the Multi-Disciplinary Assessment, where your child will be evaluated by a team of psychologists and special therapists in order to define the right individualized program right for them.
As this is a collaborative task and will require time for accuracy, the whole assessment may take anywhere from 2 to 3 weeks to accomplish.
They entertain clients up to age 18, with programs that are fitting for their age and learning needs. There are also sessions designed to be accomplished with the parents, so as to encourage their participation in the child's development.
The center also offers the Hibah Fund for families who are unable to afford their services, by the way. The financial grant will be given to families that meet the criteria.
Handles young clients up to age 18
Has programs specifically designed to support parents
The option between private and group sessions
The multi-disciplinary assessment takes almost a month to finish
Customer Reviews
Absolutely amazed at my son's progress.
"My son has been with TDCC for two years now and we are absolutely amazed by his progress. Special thank you to Kavina who has worked with him and helped him progress as far as he has" –Mirna Zahraman
Forever grateful.
"Will be forever grateful for all the help this center has given me." –Jeneve Ercillo
FAQs About The Best Speech Therapists in Dubai
---
And that concludes our list! Speech disorders may be a tough challenge to beat, but it doesn't mean that it's impossible. We're hoping that our list helps you in choosing the best provider for yourself or for your child. Be sure to check out the best neurologists in Dubai next.