The 5 Best Places with Voice Lessons in Dubai
Singing is not just a talent, it is a skill that is attained through practice and proper technique, two things that can only be acquired by taking voice lessons.
Dubai has molded a lot of great singers thanks to its music schools and studios found throughout the city.
So, in this article, we give you the best places with voice lessons in Dubai. We also included the factors we considered in choosing.
Lastly, we answered some frequently asked questions about voice lessons.
How much does taking voice lessons in Dubai cost?
The cost of voice lessons varies depending on the instructor's education and performing level, years of teaching, location, lesson length, and whether they are in-person or online.
To give you a starting point, voice lessons range from AED75 per hour up to AED1260 per hour.
The Best Places with Voice Lessons in Dubai
Before we get right into our top picks for the best places with voice lessons in Dubai, here are the factors we considered for our entries on this list:
1. Melodia Voice Studio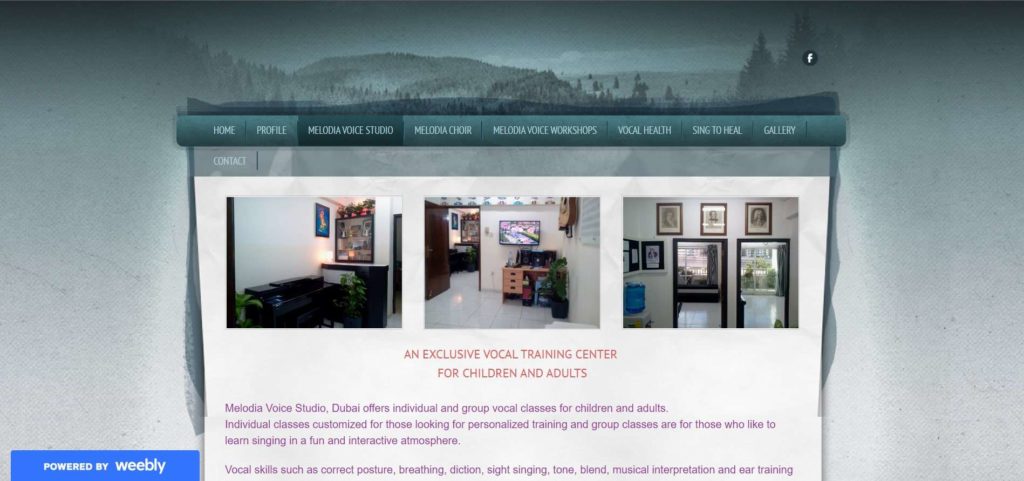 | | |
| --- | --- |
| Criteria | Rating |
| Accreditations | ★★★★☆ (4/5) |
| Range of Styles | ★★★★★ (5/5) |
| Setup | ★★★★☆ (4/5) |
| Teaching Style | ★★★★☆ (4/5) |
Offering both individualized and group voice lessons for children and adults, Melodia Voice Studio is one of our best picks because of its teacher, Joseph Moras.
He has over 30 years of experience as a singer, teacher, composer, and choral director. Joseph Moras has done it all, and it shows in his teaching.
Of course, he would not get this far without a solid educational background. Joseph is qualified with an Associate and Licentiate Diploma from Trinity College London wherein he earned an advanced specialization in vocal music.
On top of that, we love that Joseph is a certified holistic voice facilitator, helping people use their voices for health and relaxation.
However, as a music studio, it really does not have any prestigious accreditations and affiliations that would help students get to the next step of their musical careers.
We also love that his range of styles is not really constrictive. He would tailor the singing style to each student's musical development, and current vocal awareness and needs.
On top of that, we love the fact that he teaches choral singing which focuses on the singer's ability to blend and balance their voices.
His lessons also focus on having a solid foundation of basic singing techniques such as breathing, phonation, resonation, and articulation.
Offers group and individualized voice lessons
Highly experienced and qualified teacher
Tailors singing style to each student
Teaching style focuses on technical proficiency
The music studio itself does not have any accreditations and affiliations
Teaching style lacks focus on artistic expression
Customer Reviews
Always learning new things here
"Been a student in Melodia for over 7 years and have always been learning new things since then. The ambiance is very relaxing and serene and motivates you to enhance your skills in singing, as an individual and in a choir. Sir Joseph is a very experienced and a very professional music teacher and always brings out the best in his students. if you're in search of individual lessons or even choir sessions I would 10/10 recommend." – Viv Silva, Google Reviews
I personally vouch for this institution
"I have been a regular student at Melodia Voice Studio since 2013 and my musical journey has nothing but been fine-tuned & refined by Lanita NoronhaMr Joseph Moras. He believes in providing quality attention to his students and I have witnessed 100s of students who have come out as better singers due to the training they undergo at Melodia.
Apart from individual vocal training, Melodia provides choral training which enables students like me to well-equip myself in a harmony.
I personally vouch for this training institution if you are looking to improve and develop as a vocalist." – Lanita Noronha, Google Reviews
2. Dubai Music School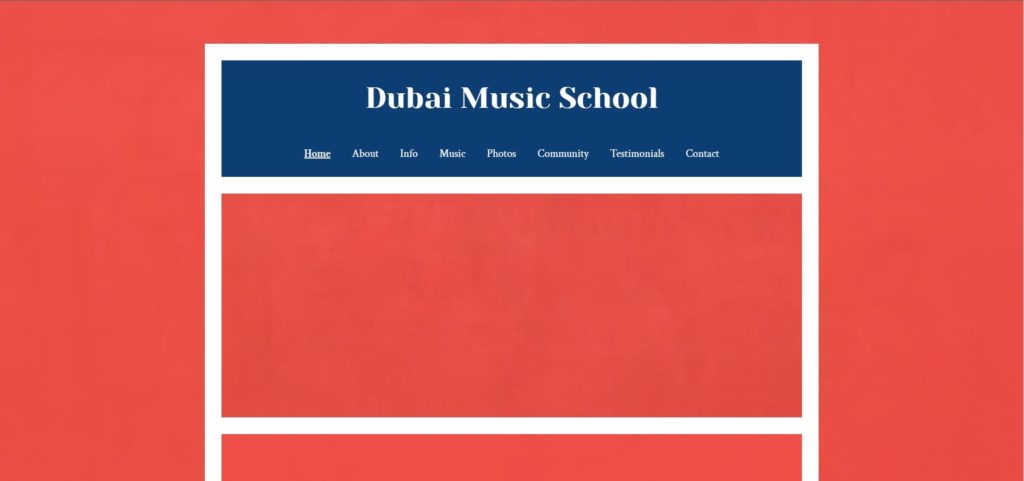 | | |
| --- | --- |
| Criteria | Rating |
| Accreditations | ★★★☆☆ (3/5) |
| Range of Styles | ★★★★☆ (4/5) |
| Setup | ★★★☆☆ (3/5) |
| Teaching Style | ★★★★☆ (4/5) |
Established in 1979 by pop star Glenn Perry, Dubai's first music school has become an environment for the best possible learning experience for music.
The school was founded by Glenn Perry, who has won 4 American Music Awards, the Akademia "Artist Vision Award of the year 2020", and Akademia "Artist of the year 2019".
However outside of its founder, the teachers nor the school really has its own standalone accreditations and affiliations, which is quite disappointing.
We were expecting it to have some accolades in its four decades of running this music school since a pop star should know all of the factors that come into play in creating an environment conducive to developing your musical talents.
And when it comes to the range of styles it teaches, it definitely focuses more on contemporary singing, and less on the technical proficiencies that classical or choral singing teaches.
This also bleeds into its teaching style. We love that its teachers have a combination of qualifications, which include many years in the professional playing field with many of music's great artists.
This means that the encouragement to artistically express beyond the techniques taught is strong and constant. But we do recommend that, when sending your child here, they already have a sense of the basic singing techniques.
Founded by an American pop star
Focuses on artistic expression and finding singing style
No accreditations and affiliations
Lacks focus on technical proficiencies
Customer Reviews
Grateful for the amount of knowledge they taught me
"I can certainly say that choosing to study at the Dubai Music School was one of the best decisions I've ever made because I've been there for almost a year. The institution provides excellent tuition in music theory and technique, and its programs are designed with both beginners and serious amateurs in mind. I am really grateful for the wealth of knowledge I have gained in such a short amount of time." – Shelley Pierce, Google Reviews
I would suggest this institution
"I've attended Dubai Music School for more than two years, and I'm confident in saying that it ranks among the greatest music colleges in the area. The teachers are all fervent music lovers, and the instruction is of the highest caliber. They strive arduously to assist their students in achieving their objectives and genuinely care about them. To anyone looking for music education in Dubai, I would suggest this institution." – Joseph Floyd, Google Reviews
3. Brooklyn Melodies Music Center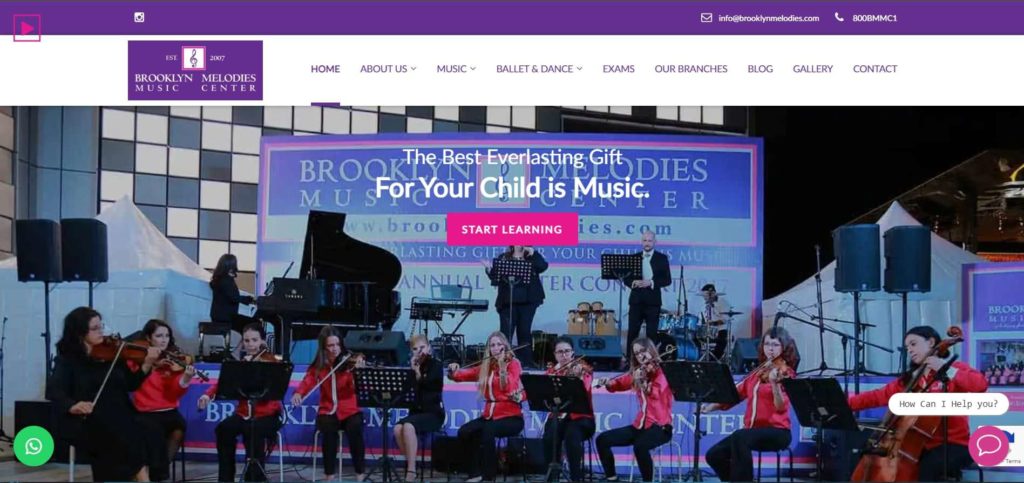 SERVICES
Voice lessons, musical instrument lessons, dance lessons, ballet classes
WEBSITE
https://www.brooklynmelodies.com/
ADDRESS
Building # BS-08 Al Qudra Road, Dubai – United Arab Emirates
CONTACT DETAILS
800BMMC1

80026621

OPERATING HOURS
Monday to Friday: 11 am - 9 pm

Saturday: 10 am - 9 pm
| | |
| --- | --- |
| Criteria | Rating |
| Accreditations | ★★★★★ (5/5) |
| Range of Styles | ★★★★☆ (4/5) |
| Setup | ★★★☆☆ (3/5) |
| Teaching Style | ★★★★★ (5/5) |
Brooklyn Melodies Music Center is one of the leading music schools in Dubai and has one of the largest numbers of branches conveniently found across the city.
Don't let its quantity fool you because this music school is not just all about having the most presence.
It actually also holds the record for the most number of students presented in the Associated Board of the Royal Schools of Music and RSL Rock school International Exams.
The Associated Board of the Royal Schools of Music is the UK's largest and world's leading authority in music assessment, since 1889, while Rock school is the world's leading graded exam syllabus for popular music, since 1991.
We also love that its voice lessons are arranged by age group, so that the training is adjusted to suit the students' developing vocal cords.
However, we were disappointed to learn that it does not offer individual voice lessons, which is something that we think should be a staple because some students might have started late or too early.
When it comes to the range of styles, we love that the teachers change up the styles every year, to suit the student's vocal range, interest, and appreciation for different types of music.
This gives the students a chance to try out different genres and find the one that suits their style, capabilities, and passion.
Highly accredited music school
Students get to try different singing styles depending on age and experience
Teaches based on the highest global standards
Does not offer individual lessons
Group classes mean students can't focus on the singing style they want
Customer Reviews
One of the best institutes
"This is one of the best institutes! The staffs and teachers are nice, friendly, and approachable. If you're looking for a school where you can enroll your kids to learn music, this is the perfect place for them. Learning while having fun at the same time.😊😊" – Kathy Desierto, Google Reviews
Highly recommend them
"We have had a very pleasant experience at Brooklyn Melodies, especially the Studio City branch. Our daughter has been learning here for a long time and really looks forward to the lessons each week. The key positives for us have been personalized coaching, exposure by way of concerts, and opportunities to pursue highly regarded certifications like ABRSM & NATD. Highly recommended." – Rejoy Kurup, Google Reviews
4. VASALIVE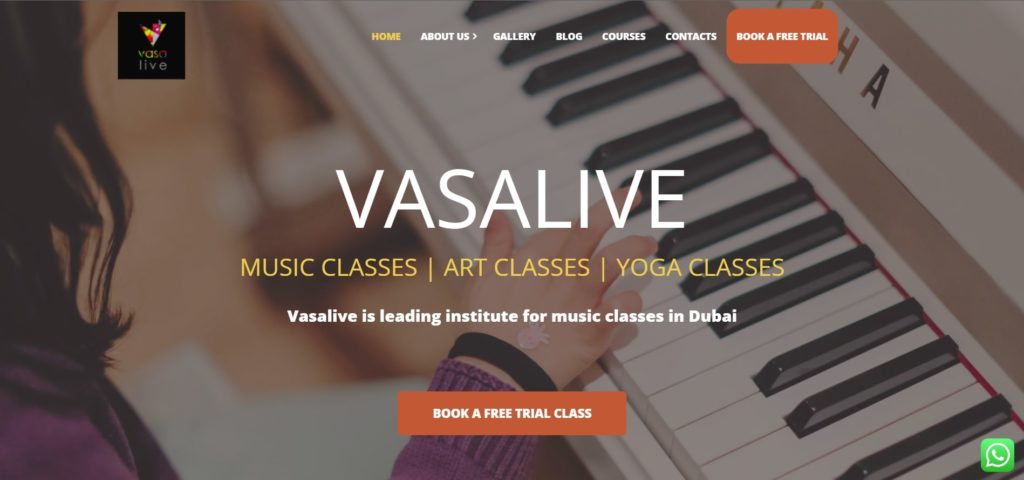 | | |
| --- | --- |
| SERVICES | Voice lessons, musical instrument lessons, art classes, yoga classes |
| WEBSITE | https://vasalive.com/ |
| ADDRESS | 1208, DAMAC Executive Heights, Jebel Ali Race Course Rd - Barsha Heights |
| CONTACT DETAILS | +971 503162756 |
| OPERATING HOURS | Monday to Saturday: 11 am - 9 pm |
| | |
| --- | --- |
| Criteria | Rating |
| Accreditations | ★★☆☆☆ (2/5) |
| Range of Styles | ★★★☆☆ (3/5) |
| Setup | ★★★★★ (5/5) |
| Teaching Style | ★★★☆☆ (3/5) |
Incorporating the International Proven Teaching Methods with an individually tailored approach for each student, VASALIVE maintains a strong balance between teaching theories and practical knowledge in music.
Utilizing proven techniques for improving a singer's voice, its voice lessons focus on establishing or correcting singing techniques to make the most out of anyone's talents.
However, this teaching style does restrict students from venturing into different singing styles without a guide. If left unattended, this could lead to the damaging to the vocal cords.
And speaking of styles, its curriculum is structured in different levels of difficulty complemented by appropriate genres so that students get to try out different singing styles as they progress.
This means, however, that students will not be able to focus on one style of singing as the curriculum dictates them to progress through different ones as they continue on with their progress.
We do like its different setup offerings, though. It offers classes for choir singing, individual private voice lessons, and short-term voice lessons.
This is perfect because whatever the student's intention is, there will always be a setup that will suit them.
However, one of its weakest points is its lack of affiliations and accreditations. While its teachers are highly experienced in teaching, it is not enough.
Wide range of voice lesson setups
Structured curriculum fosters linear growth
Different singing styles are taught as students progress
No affiliations and accreditations
Curriculum doesn't allow students to focus on one singing style
Customer Reviews
Thanks to the super nice staff
"It's been almost a year now and my son is still hooked to it translates to the amazing work that the institute is doing. Thanks to the super nice staff who are very accommodating😊" – Seema Goyal, Google Reviews
It's very exciting learning with them
"With kids at school I'm finally making time for myself, and Simon is being so patient and our lessons are giving me such joy. Each week I'm getting closer to being a real guitar player. It's very exciting! Small steps every day. He's so knowledgeable and kind, I can't imagine a better teacher." – Leonie Pitts, Google Reviews
5. Melodica Music Center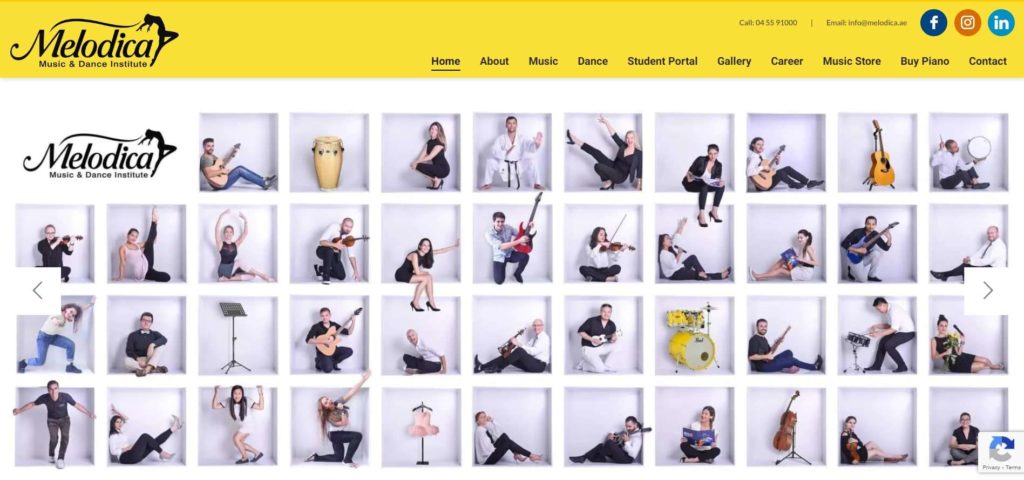 | | |
| --- | --- |
| SERVICES | Voice lessons, musical instrument lessons, dance lessons |
| WEBSITE | https://melodica.ae/ |
| ADDRESS | Meadows Town Center, Dubai, U.A.E |
| CONTACT DETAILS | 04 558 9664 |
| OPERATING HOURS | Every day: 9 am - 10 pm |
| | |
| --- | --- |
| Criteria | Rating |
| Accreditations | ★★★★★ (5/5) |
| Range of Styles | ★★★★☆ (4/5) |
| Setup | ★★★★★ (5/5) |
| Teaching Style | ★★★★★ (5/5) |
With 18 locations all over the UAE and more than 10 thousand students, Melodica Music Center is the largest music school in the country and was founded by pop star Afshin.
It is also one of the few music schools in Dubai to be registered with significant exam boards including the Music Teachers Board exam.
This board exam is one of the most well-known global board exams for musicians and singers and is a must when they want to teach their craft.
We love that Melodica Music Center goes out of its way to really help its students get to the next step of their artistic career, whether as performers or as future fellow teachers.
However, it definitely lacks the focus on the styles of singing it wants to teach to its children. Rather than teaching different styles, the teachers at Melodica uses different songs as vocal exercise.
While this is an ingenious way to develop singing techniques while also exploring different styles, we think it would also be great if they let students focus on the styles they want as well.
And speaking of teaching, we love that it really has a great balance between building a strong foundation for the technical aspect of singing as well as the artistic aspect of it.
We love that Melodica Music Center also offers songwriting classes, to help students put their emotions and expression to good use.
It also offers online and in-person voice lessons, which are great because it remains a great flexible option.
Registered for the Music Teachers Board exam
Offers online and in-person classes
Focuses on attaining a strong grasp of singing fundamentals
Lacks focus on teaching different singing styles
Customer Reviews
Melodica is a music institute par excellence
"Melodica is a Music Institute par excellence! My children have been learning music at The Villa branch for over a year and we are very happy. The music teachers are well-qualified and teach with dedication.
The management is very organized and the reception staff is extremely polite and helpful. The cancellation and re-booking procedure is very streamlined making the process very easy for parents.
A huge Thanks to all the staff at Melodica!" – Rubecca Coutinho, Google Reviews
They have a great team of competent teachers and staff
"We chose Melodica because it was highly recommended and now both my children study music here. I am very happy with our decision. My children enjoy learning music here. They have a great team of competent teachers and staff who are very friendly." – Rajashree Nair, Google Reviews
FAQs about Voice Lessons in Dubai
---
We hope this helped you in finding the right place with voice lessons in Dubai. Also, if you're looking for other music guides, then check out these articles: