The 5 Best Acting Schools in Dubai
Acting looks easy. We see people embrace and become new, fictional characters that follow specific story beats and dialogue.
However, while one can break through with talent alone, most of the actors in the industry have received some form of training to be better.
With that being said, if you're interested in learning how to act, here are our top recommendations for the best acting schools in Dubai!
How Much Do Acting Classes Cost
Classes are usually charged depending on how long you are going to take them. Some schools would charge per session, which is great for people who just want to test the waters.
On the other hand, some would provide fees like an actual academic school. We're talking about multiple semesters and years, which are the most expensive.
With that being said, the following table displays the estimated cost of fees for acting classes depending on the duration:
| Duration | Cost |
| --- | --- |
| One Academic Year | AED 73,460 - 220,380 |
| One Session | AED 147 - 367 |
| One Semester | AED 51,422 - 55,095 |
| One Month | AED 1,010 - 1102 |
The Best Acting Schools in Dubai
We've used the following in assessing the schools we've included in this article:
1. Centre Stage Speech and Drama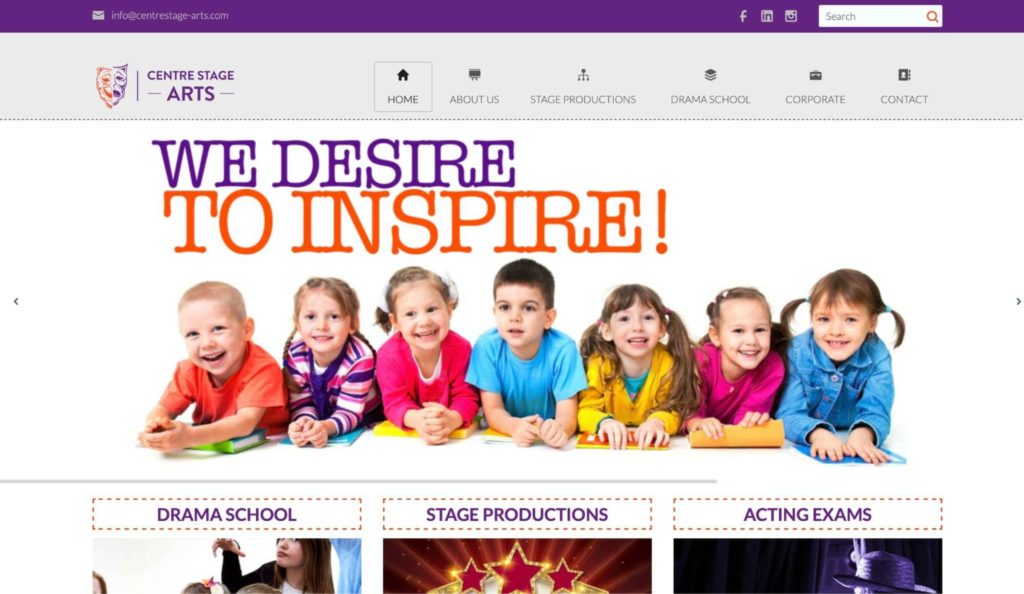 | | |
| --- | --- |
| Criteria | Ratings |
| Experience | ★★★★★ (5/5) |
| Credentials | ★★★★★ (5/5) |
| Classes | ★★★★☆ (4/5) |
| Facilities | ★★★★☆ (4/5) |

Opened in 2006, Centre Stage Speech and Drama is a learning establishment that specializes in teaching children.
They also provide classes for adults, but their focus lies more on giving various acting classes for children aged 5 to 16 years old.
Students are sorted into these classes depending on their age. After that, they are put in an environment where they can learn and hone their confidence, communication, and more.
What's interesting is that the basic topics covered are pretty much the same for all class levels, with more topics introduced as the level increases.
Aside from basic acting, the school offers a separate class for kids who would want to try musical theatre. This is great for those that want to specialize in that particular field instead.
Now, while their main focus is children, Centre Stage Speech also offers acting classes for adults. These classes mostly help the students adapt into any character through improvisation, characterisation, and more.
Another good aspect about this school is that they can offer accreditations for actors. To be more specific, they are registered exam providers of The London Academy of Music and Dramatic Art (LAMDA) accredited acting examination.
Overall, we recommend this school for parents who would like to have their kids learn about acting. This is because Centre Stage Speech and Drama provides more expansive classes for their age!
Caters to both children and adults
Offers London-based examinations
More expansive classes for children
Uniform required
Customer Reviews:
Amazing Teachers
"My daughter absolutely loves the classes at Centre Stage Speech & Drama. Helena is an amazing teacher and is adored by all the children. Classes are small and everyone there is so friendly. My daughter has blossomed and gained so much confidence since starting with them. The children get to do external exams with LAMDA at the Courtyard Playhouse and my daughter was awarded a distinction, so we know the teaching is outstanding. My husband and I highly recommended them!" – Caryn Mizar
Good Educational Service
"The classes at Centre Stage Speech & Drama are fantastic, my son spends the whole week looking forward to them. He absolutely loves the stage and has become more articulate and expressive since he attends. They are fun and active and the children learn whilst engaged in imaginative and creative play. Highly recommended!" -Noelia Corte
2. Drama Scene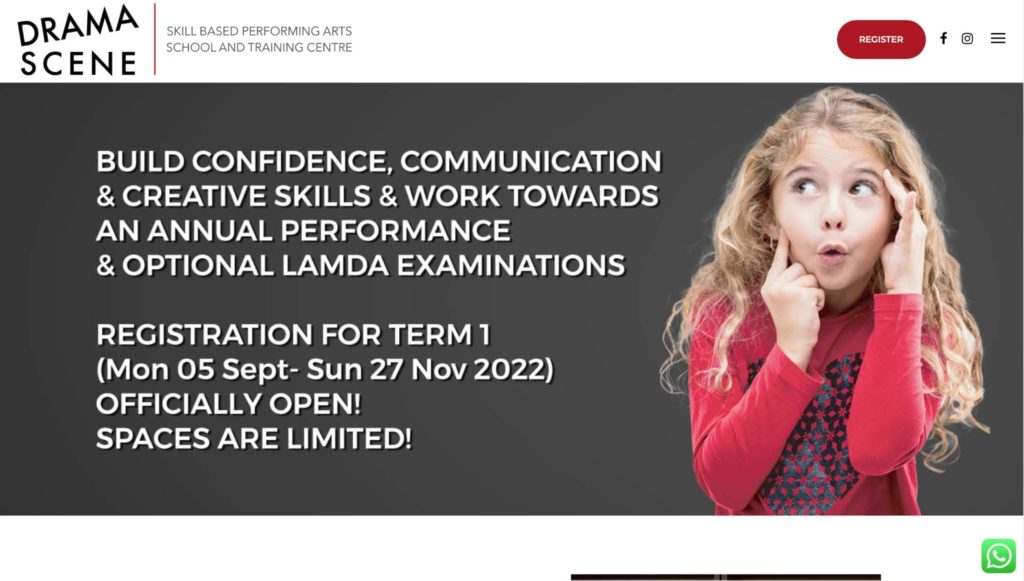 Test
Info
SERVICES
Acting Classes, Musical Theatre Classes, Public Speaking Classes, Workshops
WEBSITE
https://dramascene.com
ADDRESS
The Mall - Jumeirah St - Umm Suqeim - Umm Suqeim 3 - Dubai - United Arab Emirates
CONTACT DETAILS
Phone: +971 55 310 0984

E-mail: [email protected]

OPERATING HOURS
10:00 AM - 8:00 PM (Monday - Friday)

10:00 AM - 12:00 PM (Saturday)

9:00 AM - 6:30 PM (Sunday)
| | |
| --- | --- |
| Criteria | Ratings |
| Experience | ★★★★★ (5/5) |
| Credentials | ★★★★★ (5/5) |
| Classes | ★★★★★ (5/5) |
| Facilities | ★★★★☆ (4/5) |
Drama Scene is a performing arts school that opened in 2008. They offer classes and workshops for adults and kids.
Here's the thing about Drama Scene's classes: they are very much catered towards somebody who's aiming to get a certification. For example, the adult students are put into classes that focus on staging, improvisation, and scene work, to name a few.
These can appear on the LAMDA accreditation exam, which by the way, the school is a certified examiner of this performing body.
What's great about this company are their teachers. Some of the faculty have been performing internationally for 10 to 20 years, and are sharing their experience towards a new generation of aspiring actors.
In addition, some of them actually received a college degree for theatre and musical theatre, which makes them more credible and academically experienced.
What's unique about this establishment is that they offer themed weekly and seasonal workshops for children. These sessions work on a specific performance on stage that will be shown to the public.
Drama Scene is a learning establishment that caters to both adults and children. With their wide spaces for learning the act of performance, as well as their experienced faculty, this school gets a spot on our list of recommendations!

Can accept kids and adults for students
Offers specific classes for musical theatre
Large studio spaces for classes
More options available for children only
Not much seating for classes
Customer Reviews:
Great Teachers
"Marta is attending Drama Scene 5 for -only- half a year and she enjoys a lot…in everything…You all have such a good and positive energy! Thank you, Courtney, for being an excellent Drama teacher! Just follow that way in the future time!" – Natalija Mustapic
Great Educational Experience
"My daughter Alysha has been with drama scene since she was 4 years old starting with acting and has now moved onto musical theatre. It is unbelieveable how far she has reached in confidence, communication, social skills and ofcourse singing, acting and dancing. The teachers are amazing and my daughter would hate to miss a single class. She is addictted to her class and teacher and i have never seen a class that brings so much happiness to my child. She works hard with so much dedication and passion and the same has reflected in school. I look forward to see her grow further and will definitely enroll her younger sister tooo. Definitely recommend drama scene for your little ones." – Deeya Muthe
3. Courtyard Playhouse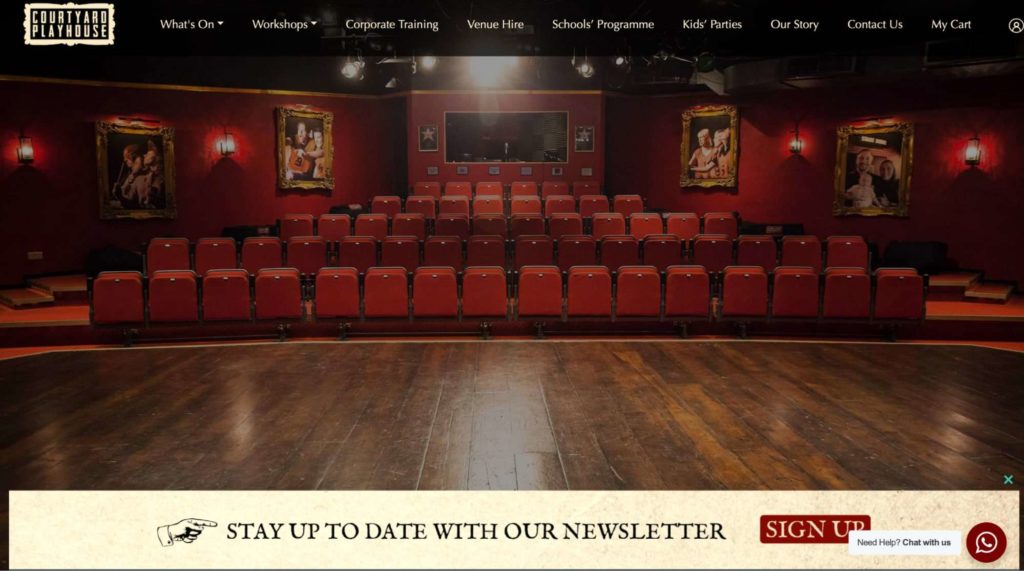 Test
Info
SERVICES
Workshops, Corporate Training, Classes
WEBSITE
https://courtyardplayhouse.com
ADDRESS
The Courtyard - 4 B St - Al Quoz - Dubai - United Arab Emirates
CONTACT DETAILS
Phone: +971 50 986 1760

E-mail: [email protected]

OPERATING HOURS
10:00 AM - 7:00 PM (Monday - Friday)
| | |
| --- | --- |
| Criteria | Ratings |
| Experience | ★★★★★ (5/5) |
| Credentials | ★★★★★ (5/5) |
| Classes | ★★★★☆ (4/5) |
| Facilities | ★★★★★ (5/5) |
Courtyard Playhouse, opened in 2013, is a KHDA-licensed improvisation theatre and training center. Their classes are centered around improvisation workshops for actors regardless of any age.
This school is also very workshop-focused. Classes here are usually one-shot classes or sessions, which is convenient for those who only want to take a few sessions.
So we recommend this learning establishment if you'd like something that won't take up too much of your entire calendar. Courtyard Playhouse is also a place we advise going to when you just want to see how acting works.
Students who decide to enroll in their classes can expect to experience being part of the theatre staff during screenings. They might also act out screenplays and join theatre sports tournaments.
Another great aspect of the Playhouse is their facilities. They generally hold their sessions in a big theatre hall, which we absolutely love.
While they only have limited rooms, students can fully immerse themselves in acting and learning in an actual theatre. Space and seating wise, everything is spacious and comfortable for students as well!
Interested parties can register and enroll for classes on their website or by calling them on their official channels. You do need to pay them in full before they can officially put you as part of a class.
We recommend booking classes here if you'd like to learn only for a short period of time. For example, one-time classes or events with your kids or companies.
Caters to kids and adults
Amazing facilities
Very workshop-focused school
No make-up sessions for missed classes
Customer Reviews:
Good Staff and Teachers
"What a wonderful fun experience we had at the Showcase! Amazing vibrant kids of all ages and we loved the varied interesting aspects performed across all ages. A big round of applause to you and all the instructors and staff❤️😊🎉🙌 My child says the most exciting part of the camp is the interesting games played. And of course the performance today😊😊
Quickthinking/Drama/ Improvise and oodles of fun in here🙌" -Priya Iyengar
Quality Service
"Best thing you can do in Dubai with family and friends. Classes are life changing for kids, mind blowing for adults. Great community that you can be a part of and the only artistic venue in Dubai with multiple shows every week for kids and adults. They also have corporate training for companies which has helped me a lot in business." –Arman Gharavi
4. Diverse Performing Arts and School and Entertainment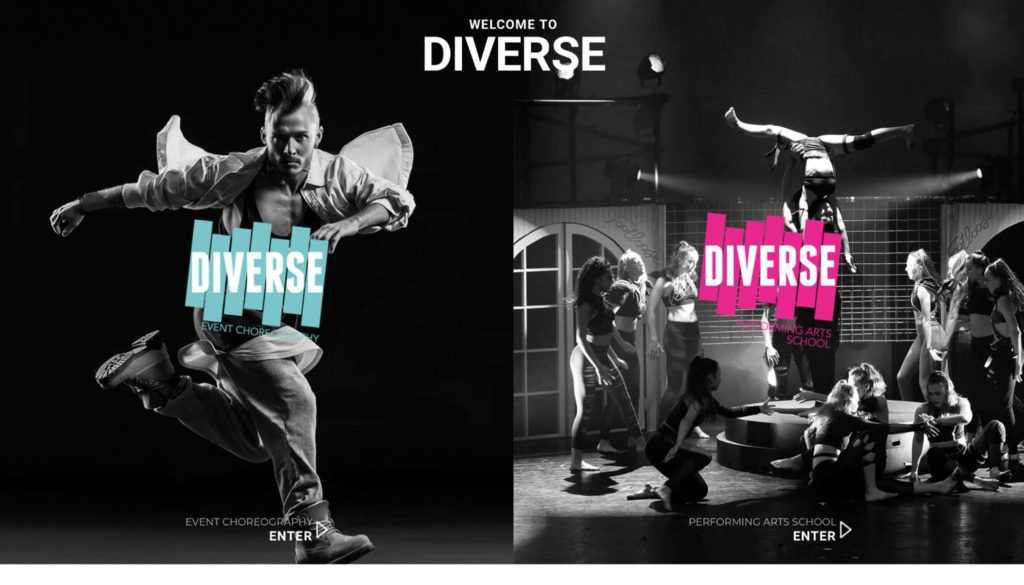 Test
Info
SERVICES
Classes, Camps, Workshops
WEBSITE
https://www.diversechoreography.com
ADDRESS
Building The Curve Building (Entrance A - 4th St - Dubai - United Arab Emirates)
CONTACT DETAILS
Phone: +971 4 330 7338

E-mail: [email protected]

OPERATING HOURS
9:00 AM - 9:00 PM (Sunday - Wednesday)

9:00 AM - 7:00 PM (Thursday)

9:00 Am - 5:00 PM (Friday)
| | |
| --- | --- |
| Criteria | Ratings |
| Experience | ★★★★★ (5/5) |
| Credentials | ★★★★★ (5/5) |
| Classes | ★★★☆☆ (3/5) |
| Facilities | ★★★★★ (5/5) |
Diverse Performing Arts was established in 2008 as a school that offers training and classes in all aspects of dance and performance arts.
In terms of acting classes, we believe that it isn't the main focus of this school. The establishment leans more on making sure to provide varied classes for all the subcategories of the performing arts.
With that being said, we'd say that they're more on the performance side of things. We're talking about dancing, singing, performing well, and acrobatics.
Acting-wise they offer group drama lessons and acting in musical theatre. Yes we know, there aren't a lot of diverse options here.
However, we would recommend going here if you're interested in getting the holistic skills needed for musical theatre or general performing acts with a little acting on the side.
Now, when it comes to their interior, the school holds classes in studio-type rooms. These locations have a wide amount of space and good lighting.
Depending on the class, do take note that you might not have seats. But, students can take a break in the school's comfy and cosy lounge areas that have couches, tables and chairs for eating and drinking as well!
Moving on to the faculty members of the school, we've observed them to have a lot of experience in starring in roles and performances. Some have starred in popular West End musicals and shows for years.
Rest assured that your children (or yourself) will be taught by capable professionals in the field!
Spacious and comfortable facilities
Experienced teachers
Certified examinators for various international boards
Acting classes not the main focus
Requires further contact for more info
Customer Reviews:
Expert and Caring Teachers
"I have been at diverse since I was 6 years old and it has changed my life. Not only have I been able to train by the best teachers but I've made a family for life. Scott and Lisa are the most loving teachers you could have and will look out for you like family." – Jasmine Scott
Great Quality Education
"I have been a student at Diverse for up to 7 years and love every moment of me training there. Not only are we provided with extremely talented and creative teachers but also with many opportunities with performing in up to 3 shows a year. I will always have Diverse very close to my heart and will cherish being a part of the 'Diverse Family' and attending classes with kind, loving students who are always supportive of each other. If you wish to do dance, sing or act as an after-school hobby or wish to pursue it as a career I 100% recommend to go to Diverse." -Ella Afghahi
5. Ds2dio Performing Arts Academy Town Square Dubai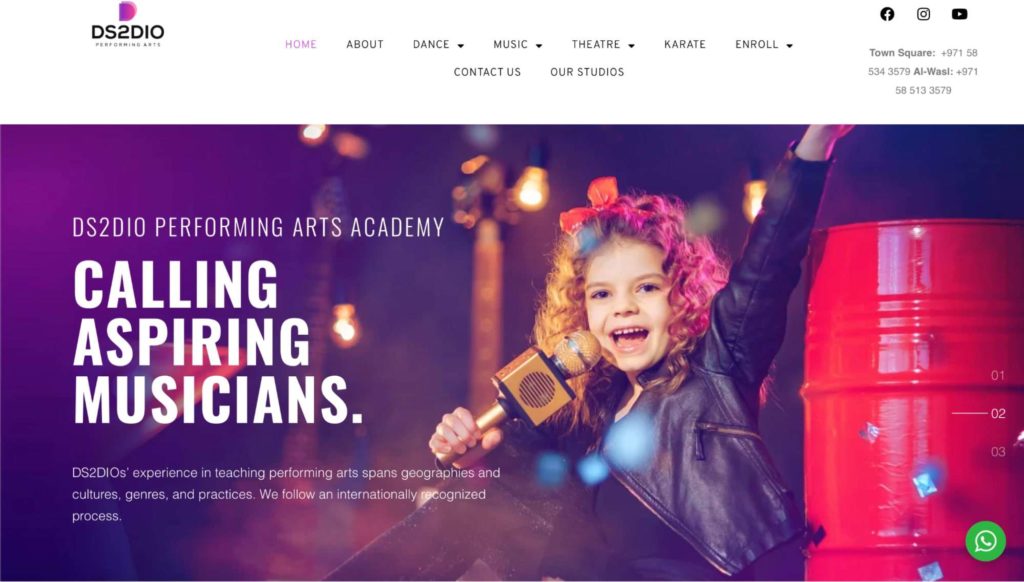 | Test | Info |
| --- | --- |
| SERVICES | Dance Classes, Music Classes, Musical Theatre Classes, Drama Classes, Karate Classes |
| WEBSITE | https://ds2dio.ae |
| ADDRESS | Town Square - Dubai - United Arab Emirates |
| CONTACT DETAILS | Phone: +971 58 534 3579 |
| OPERATING HOURS | 8:00 AM - 10:00 PM (Monday - Sunday) |
| | |
| --- | --- |
| Criteria | Ratings |
| Experience | ★★★★★ (5/5) |
| Credentials | ★★★★☆ (4/5) |
| Classes | ★★★★☆ (4/5) |
| Facilities | ★★★★☆ (4/5) |
D2Studio Performing Arts Academy offers various classes to hone a student's talent in music, dancing, acting, and more.
We'd like to note that this school is an accredited examiner for international boards. These include LAMDA and London-based Trinity College.
This means that the classes they teach, such as on-stage acting and on-screen acting, will help students ace these said exams.
Now, the academy offers three different levels of classes. Students are sorted into these classes depending on their age.
We observed that these sessions are focused on teaching children, some even as young as six years old. However, most of their levels are catered for children around 7 to 13 years old and above.
A great aspect of this school is that they offer learning packages. For example, the academy can offer a student a chance for them to not only take acting classes but also other performing arts sessions.
They can also take karate classes on the side– which is by the way, quite an odd addition to the establishment's class roster. But hey, variety!
Another thing that we loved about this school are their facilities. First, parking will not be an issue for parents or individuals, as they have multiple and free spaces for cars.
Second, the classes are held in multiple rooms around the campus. They are spacious, wide, and well-equipped with the right teaching materials for acting classes.
We advise enrolling here to avail of their multiple disciplinary classes, just so your child can experience learning about various performing arts aside from acting!
Offers learning packages for students
Offers international examinations and accreditations
Large parking spaces
Multiple classrooms available
Acting not their main focus
Focuses mostly on children
Customer Reviews:
Great Offers, Good Teachers
"My daughter loves the studio and spends more time there than at home! She s gotten their fabulous package which allows her to attend hip hop , ballet, musical theatre , contemporary and acting! The staff and the teachers there are amazing and so nurturing. I'm not moving out of townsquare only because of this amazing studio! Oh and I love my bollyhop and belly dancing classes there too! My daughter and I get our dance fix at Ds2dio townsquare 💖" – Rubaina Mamoo
Professional and Friendly Teachers
"Ds2dio is the best Performing Arts in Dubai, they got Passionate teachers, all staff were professional and has a friendly attitude. The classes they got has a high energy. It's simply the best in Dubai!" -Aldrin Yabut
FAQs About Acting Classes in Dubai
---
We wish you good luck on your journey to become the next big movie star! If you're interested in looking up other specialized classes, here's are the best dance studios where you can learn in Dubai!