The 5 Best Turkish Restaurants in Dubai
We love Turkish food because it is a mix of Mediterranean, Balkan, Middle Eastern, Central Asian, and Eastern European cuisines.
It is diverse, yet perfectly mixed to encompass this amazing balance between its flavors and health benefits.
Fortunately, Dubai's Turkish community has resulted in the growth of restaurants that cook and serve dishes from this cuisine.
So we tried some highly recommended spots to give you our favorite Turkish restaurants in Dubai!
How We Picked the Best Turkish Restaurants in Dubai
Before we get right into our best Turkish restaurants in Dubai, here are the factors we considered for our entries on this list:
1. Baba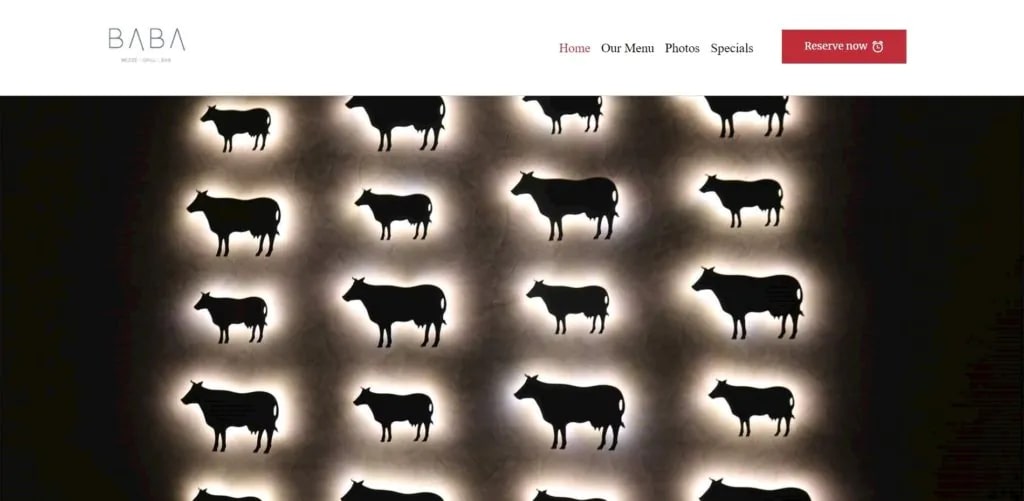 Test
Info
MENU ITEMS
Steaks, soup, salads, seafood
WEBSITE
https://www.baba-dubai.com/
ADDRESS
The Westin Dubai Mina Seyahi Beach Resort & Marina, Dubai Marina, P.O. Box 213084, Dubai, 213084
CONTACT DETAILS
+971 4 511 7373, +971 56 501 0507
OPERATING HOURS
Sunday to Thursday: 6 pm - 11 pm

Friday: 6:30 pm - 10 pm

Saturday: 1 pm - 4 pm & 7 pm - 12 am
| | |
| --- | --- |
| Criteria | Rating |
| Menu | ★★★★☆ (4/5) |
| Service Quality | ★★★★☆ (4/5) |
| Ambiance | ★★★★★ (5/5) |
| Authenticity | ★★★★☆ (4/5) |
Turkish steaks are often overlooked for American-style and Brazilian-style steaks, but Baba proves time and time again that the Turks know how to cook it, as it has been on the scene for some time now.
Its menu offers a wide range of the most popular cuts like rib eyes, striploin, and bone-in porterhouse, with a couple of different meats like the Black Angus and Wagyu.
However, the menu does make it unclear whether it wants to be a Turkish restaurant or a steakhouse. It offers some Turkish favorites for its side dishes and even kebabs, but it also has other well-known offerings that are definitely not part of the cuisine.
Another problem we had with Baba was the relatively slow service that we got during our dining experience.
Not only did the staff take too long preparing our table for us, but we also had to keep asking for everything we needed. The lack of attention was frustrating and haunted us for the rest of the night.
Despite that, you can really tell that Baba did not spare any expense in sourcing high-quality cuts of meat. Each piece is butchered to perfection, and the cooking only seeks to elevate it.
On top of that, the alfresco dining was such a redemption for the restaurant. The Turkish lamps that hung overhead, the weaved rattan chairs, and the food that presented to look like a feast uplifted the energy of our table.
Offers Turkish-style steaks
Al fresco dining & beautifully decorated space
Big portions
Slow customer service
The menu is unclear on the focus of the cuisine
Does not fully showcase Turkish cuisine
Customer Reviews
Had the most amazing meal here
"We had the most amazing meal here. The food was absolutely delicious, Radha took good care of us and was so engaging with my two young boys. The service was top-notch!
I highly recommend the Saturday Baba evening 4-course menu. The portions were massive.
The lamb Adana was literally melting in your mouth!
Oh and the rice pudding at the end was lush!!!" —Danielle Owens, Google Reviews
Unexpectedly amazing steak from a Turkish restaurant
"The entire experience was great at this restaurant from the service to the food quality.
I loved the steak 🥩 and never expected a Turkish restaurant could be able to serve me a steakhouse-quality steak. Definitely worth the try.
I also loved the appetizers and in general, I can say that the food quality was super high" —Faezeh Jafarian, Google Reviews
2. Sultan Saray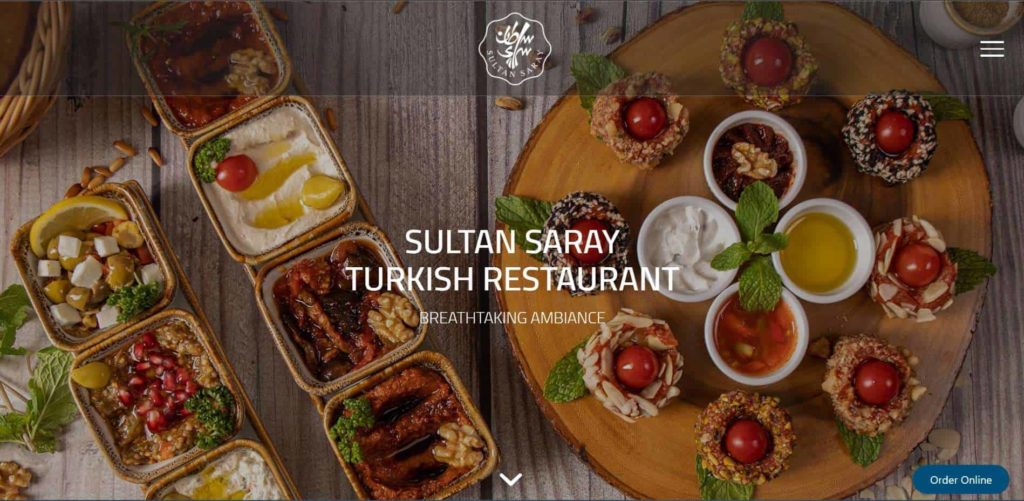 | Test | Info |
| --- | --- |
| MENU ITEMS | Biryani, kebabs, doner, kibbe, Pides, Fakharat, salads, mezza |
| WEBSITE | https://sultansaray.ae/ |
| ADDRESS | Beside Metropolitan Hotel, Shop No 5, Al Thanya St Sh. Zayed Road, Dubai - Sheikh Zayed Rd - Dubai - United Arab Emirates |
| CONTACT DETAILS | +971 4 229 0600 |
| OPERATING HOURS | Everyday: 8 am - 1 am |
| | |
| --- | --- |
| Criteria | Rating |
| Menu | ★★★★★ (5/5) |
| Service Quality | ★★★★☆ (4/5) |
| Ambiance | ★★★★★ (5/5) |
| Authenticity | ★★★★★ (5/5) |
Blending the classic charm and contemporary taste of Turkish culture, Sultan Saray serves all-time favorites in an extravagantly sophisticated setting.
We love that we can tell the menu is really an ode to classic Turkish cooking with all the staples found front and center. From Boreks and Kibbes to Fakharats and Pides, this restaurant is definitely our go-to if we are looking for pure Turkish food.
We also love its Doners that are supposedly good for one person, but the portions are good for 2-3 people if we are being realistic.
The staff were friendly and attentive, which was something quite noticeable from the way they paid attention to their body language.
However, when a crowd of customers came in shortly after us, we immediately felt that the quality went down and that they were overwhelmed by it.
When it comes to its ambiance, Sultan Saray definitely has a flair for the dramatics. The space is lavishly decorated with contemporary pieces.
But unlike the contemporary style, we love how this restaurant does not shy away from colors. We love how tastefully done the whole space is.
The food presentation played such a big part in the ambiance as well. Served in big plates, and composed beautifully, the food felt like such a performance and we definitely felt the effort and care put into making it.
Serves authentic Turkish food
Attentive and friendly service
Lavish and contemporary ambiance
Great food presentation
Service slows down during busy hours
Customer Reviews
We really enjoyed our experience
"Had a wonderful breakfast and enjoyed the overall experience of the restaurant. The restaurant is beautifully decorated, the staff was very nice and attentive, and everything we had was delicious. We really enjoyed our experience." – Kari "Coffee and an Adventure", Google Reviews
The variety of food was incredible
"I had a blast. Big breakfast from every single thing at a reasonable price
The tea service was ongoing all the time with "unlimited refills". The variety of food was incredible with so many different tastes. We celebrated birthday breakfast and they were so generous with all types of desserts for the bday girl." – Huda AlSh., Google Reviews
3. Sirali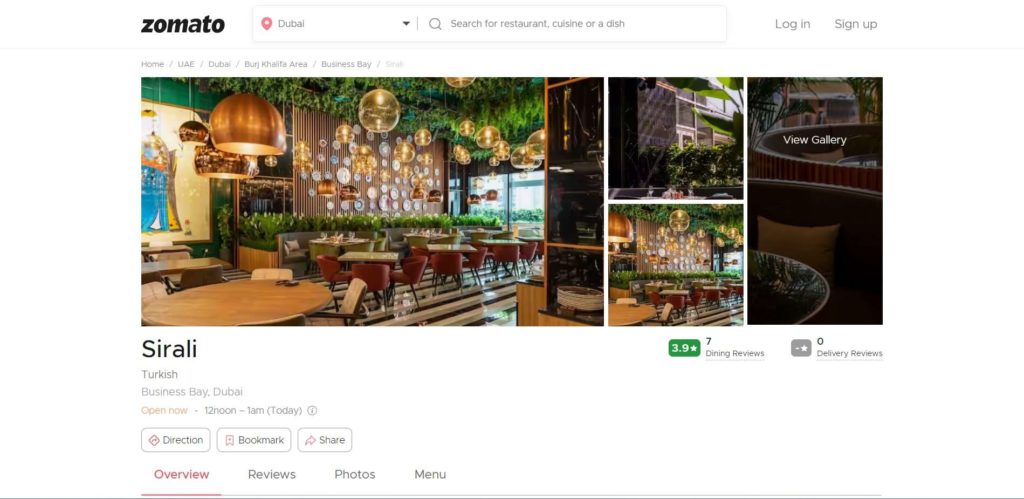 Test
Info
MENU ITEMS
Soups, salads, Mezzes, shakshouka, kibbe, kebabs
WEBSITE
https://www.zomato.com/dubai/sirali-business-bay
ADDRESS
Ground Floor, Meera Tower, Al Habtoor City, Business Bay, Dubai
CONTACT DETAILS
+97145841087
OPERATING HOURS
Monday to Friday: 12 PM - 1 AM

Saturday to Sunday: 10 AM - 1 AM
| | |
| --- | --- |
| Criteria | Rating |
| Menu | ★★★★★ (5/5) |
| Service Quality | ★★★★★ (5/5) |
| Ambiance | ★★★☆☆ (3/5) |
| Authenticity | ★★★★☆ (4/5) |
Sirali promises and delivers dishes made with time-honored recipes from Turkish chefs who understand how to innovate classic favorites while also honoring their roots.
We love how our meal starts with a warm selection of sesame-strewn simit bread and three different kinds of flavored butter. The warmth of the bread and the richness of the butter really helped us relax and appetized for the main course.
We love its rolled Adana kebab that was perfect for sharing. The yogurt and butter sauce that was on top was so addicting, that we definitely had no trouble cleaning that plate.
These were just some of the dishes that we had, and we loved how Sirali mixes a little bit of a twist into each one to keep it fresh while also keeping the dish's identity.
However, if you are a purist, then you might find the innovative touches something not to your liking, but you really can't deny that the food is delicious.
The service was near perfect. The staff was efficient, friendly, and undeniably accommodating to all of our needs.
The ambiance was okay. What really brought it down for us was the fact that is air conditioning system was set at such a high temperature that we were slightly sweating even before the food arrived at our table.
Serves Turkish classic with innovative twists
Friendly and accommodating service
The restaurant was too hot
Technically not 100% authentic because of the slight changes in the recipes
Customer Reviews
One of the best Turkish places I've been to in Dubai
"One of the best Turkish places I've been to in Dubai. The lentil soup was so good and I highly recommended the mixed grills, it was perfectly seasoned and juicy! I'd recommend this place for a fine dining experience rather than a casual one." – Fahima, Google Reviews
Sirali is definitely a must-visit restaurant
"Sirali is definitely a must-visit restaurant. If you enjoy Turkish cuisine this place will astonish you not only with the whole vibe but also the great-tasting food.
I highly recommend trying the pumpkin dessert which was delightfully delicious. They import their potatoes from Turkey no wonder the crisps were so unique tasting. The meat is also imported hence it is so tender and flavourful, I am in love with the place 😍" – Hooked on Hena Google Reviews
4. Asil
| Test | Info |
| --- | --- |
| MENU ITEMS | Mezzes, salads, soups, seafood, lamb, tagine, grilled meats |
| WEBSITE | https://www.asilrestaurant.com/ |
| ADDRESS | Asil Restaurant, Rixos Premium Dubai, Jumeirah Beach Residence, The Walk, Dubai, United Arab Emirates |
| CONTACT DETAILS | +971 4 520 0055, WhatsApp +971 52 160 0333 |
| OPERATING HOURS | Every day: 1 pm - 2:30 am |
| | |
| --- | --- |
| Criteria | Rating |
| Menu | ★★★★☆ (4/5) |
| Service Quality | ★★★★★ (5/5) |
| Ambiance | ★★★★★ (5/5) |
| Authenticity | ★★★☆☆ (3/5) |
Translating to noble in Turkish, Asil takes this to heart with a palatial space decked out in rich fabrics, grand chandeliers, and a scenic outdoor terrace that offers picture-perfect views across the Arabian Gulf.
While it offers the typical Turkish fare on its menu, it also shares tables with Moroccan and Lebanese dishes for a more diverse dining experience.
But because of that, Asil's menu is somewhat unfocused and we think that it could turn out better quality dishes if it kept to one cuisine.
Also, the authenticity of its Turkish dishes is muddled as recipes kind of meld into each other, and its recipes borrow flavors from other cuisines.
However, we still recommend that you guys don't leave Asil without trying its extra creamy hummus, and its signature Köpoğlu—fried aubergine cubes served with buffalo yogurt dip and candied jam.
Its service remains efficient and friendly even when a crowd of customers comes through its doors at once. We cannot deny that the staff and their skills are highly commendable.
When it comes to ambiance, we love the luxurious Turkish vibe that it has with its red velvet booths, dark patterned wooden floors, and intricate lamps that hang on its ceilings.
The traditional sharing style in the way its dishes are served is also very reminiscent of old-world Turkey, which we appreciate.
Serves typical Turkish fare, along with Moroccan and Lebanese favorites
Excellent service quality
Luxurious Turkish decor
Dishes are for sharing
The menu is unfocused with too many cuisines included
Flavors are inauthentic because its been influenced by other dishes on the menu
Customer Reviews
We had an awesome experience at Asil!
"We had an Awesome experience at Asil!
I got my henna painted, watched the belly dancing during dinner and the food was super great!
Attendant Mohcin was superb as he took care of the food serving and our requests during the night.
It was an unforgettable experience indeed!
Definitely coming back." – Marianne, Google Reviews
Asil, you never disappoint!
"Asil, you never disappoint! The best brunch in town just got even better! Delicious new menu of beautifully presented food, excellent entertainment, and amazing service from
our waiter, Mohcin, and all the team. See you again soon…" – Fiona Temple-Smith, Google Reviews
5. Hayal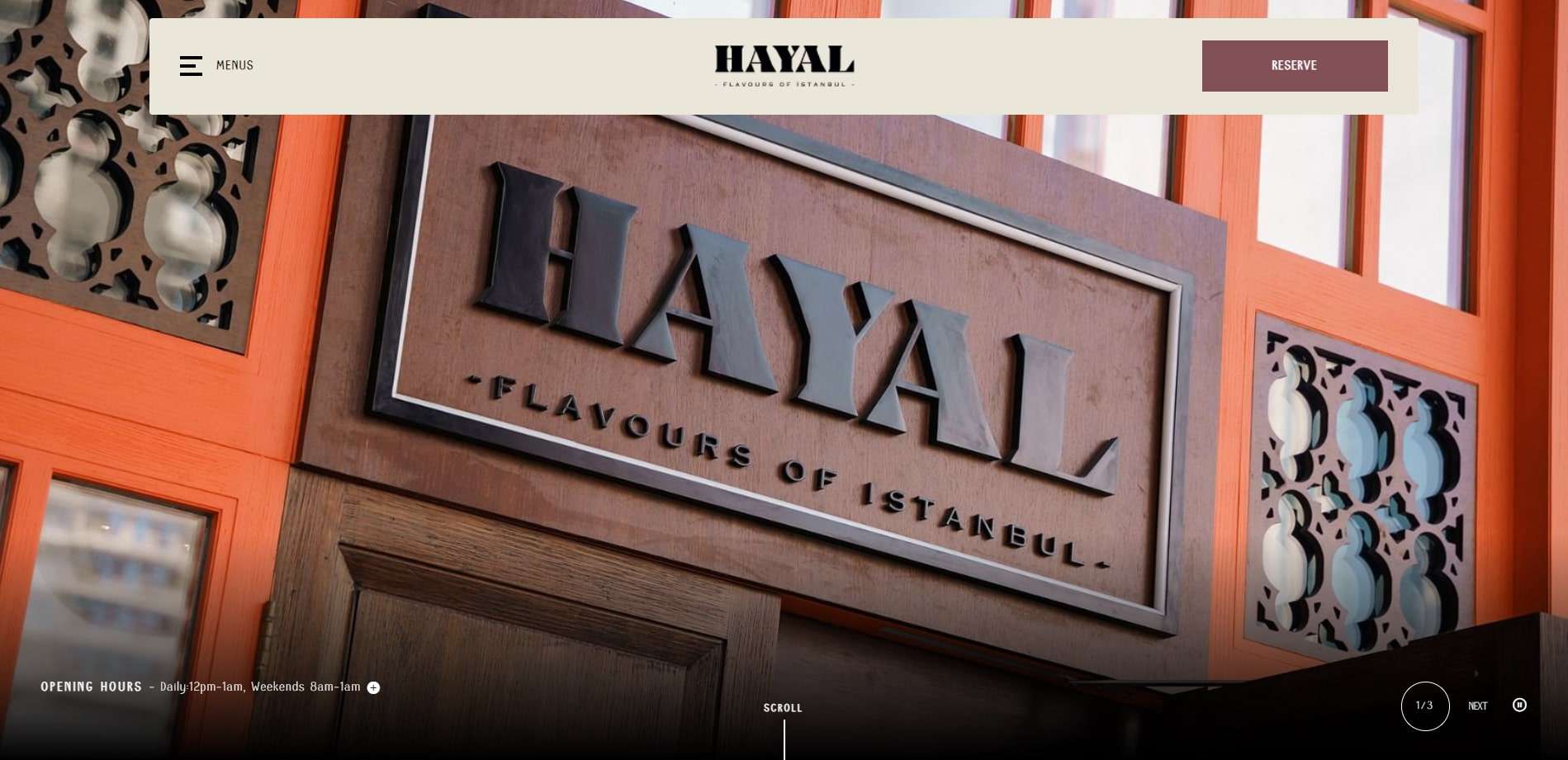 Test
Info
MENU ITEMS
Kofta, biryani, masala, kebabs, naan, salad, Pide, Tawook
WEBSITE
https://www.hayaldubai.com/
ADDRESS
Marasi Drive, Dubai, United Arab Emirates, 191984
CONTACT DETAILS
+971 4 220 0418, +971 4 271 7555
OPERATING HOURS
Monday to Friday: 12 pm - 1 am

Saturday to Sunday: 8 am - 1 am
| | |
| --- | --- |
| Criteria | Rating |
| Menu | ★★★★☆ (4/5) |
| Service Quality | ★★★★★ (5/5) |
| Ambiance | ★★★★★ (5/5) |
| Authenticity | ★★★☆☆ (3/5) |
Promising a fine dining experience, with live entertainment, and Turkish dishes with a twist, Hayal brought us through a journey of vibrant fresh flavors, and eclectic energy.
It is definitely a love letter to Turkish food and the buzzing streets of Istanbul with the classics on the menu such as baba ganoush, different kinds of Pide, kebabs, and Tawooks.
However, even we have to admit that when we tasted the food, the flavors were not authentically Turkish. The way these were cooked, the chefs definitely took into consideration a palette that would appeal to a wider range of customers.
And while it was disappointing for us, we still cannot deny that the food tasted good despite it not reaching the standards of what we consider Turkish food.
Another problem with the food is that its portions are too small. We ordered enough for 4 people, but we were surprised that the servings barely satisfied 2.
Despite all this, the service remained excellent and professional. We experienced nothing but friendliness from the moment we arrived up until we left.
When it came to its ambiance, we loved its dedication to a beige color palette that was reminiscent of the colors of Istanbul.
The tapestries on the upholstery and rugs took us to Turkey, while the lighting kept the whole space cozy and welcoming.
Turkish fine dining experience
Offers classic Turkish dishes with a twist
Friendly and professional service
Amazing ambiance and decor
Flavors have been modified to appeal to a wider customer range
Food is not authentically Turkish
Customer Reviews
I visited Hayal for an incredibly amazing breakfast offer!
"I visited Hayal for an incredibly amazing breakfast offer!!! The food was very diverse and yummy. The staff was extremely polite, professional, and helpful. Especially Babilyn who was very sweet and treated us with a fruit plate. Highly recommended to visit with friends or family!!!" – Natalie Grigorovich, Google Reviews
The staff was super friendly and helpful with everything we needed
"Outstanding chicken Biryani with double masala, I experienced first time here at Ramadan that was so amazing, the queue of waiting people was too big and the restaurant was full before iftar time.
FAQs about Turkish Restaurants in Dubai
---
We hope this helped you find your favorite Turkish restaurants in Dubai. Also, if you're looking for other restaurant recommendations, then check out these articles: