A Taste of the World: Dubai Food Festival
Think of this: The sun sets in Dubai, casting a golden sheen on the city's legendary skyline. The air is alive with rich, mouth-watering aromas, a testament to the symphony of flavors preparing to play on your palate.
Welcome to the Dubai Food Festival, a place of cultural fusion where traditional spices and cutting-edge cooking techniques mix.
Are you interested in exploring a diverse city and eager to do so? Come and celebrate the Dubai Food Festival with us. Prepare to set out on a unique culinary excursion!
What is the Dubai Food Festival?
The Dubai Food Festival is an annual culinary extravaganza spanning two and a half weeks, featuring diverse gastronomic delights.
The Dubai Food Festival is a citywide event that offers a variety of culinary experiences in different locations, from fancy restaurants to street food vendors. Not all restaurants in Dubai participate in the festival. Only those that have registered. 
Over 500 restaurants, from casual to high-end, participate in the festival each year. The festival offers various promotions and discounts, providing an excellent opportunity for establishments to attract new customers and promote their business.
The Dubai Festivals and Retail Establishment (DFRE), a government agency in charge of planning and promoting festivals and events in Dubai, established the Dubai Food Festival in 2014.
The festival was created to showcase the city's diverse culinary offerings and attract visitors from around the world. It features a range of events, including food tastings, cooking demonstrations, and live entertainment.
Since its inception, the Dubai Food Festival has been a resounding success. In 2019, it attracted over 2 million visitors and generated over $1 billion in revenue. The festival has also received critical acclaim for its innovative and creative events.
The festival usually happens from February to March, making the city a dream place for food lovers for about a month.
Things to Expect at Dubai Food Festival
Beach Canteen
The Beach Canteen is a top-rated annual Dubai Food Festival dining event. It's Situated at Jumeirah Beach, right behind Sunset Mall, and the event finds its home on the famous Kite Beach.
The primary objective of this event is to showcase the diverse and vibrant food scene in Dubai. During the Beach Canteen, you can savor various delectable Dubai food favorites.
From traditional local dishes to modern culinary creations, something suits every palate. The event attracts residents and tourists who seek to explore the city's rich flavors and gastronomic offerings.
Apart from the food offerings, the Beach Canteen also features entertainment and activities provided by the local community. Attendees can enjoy live performances by local musicians and dancers, adding a cultural touch to the experience.
Additionally, families can partake in various activities, such as getting henna designs, face painting, and building sandcastles, making it a family-friendly affair.
The Beach Canteen is a significant part of the Dubai Food Festival, which spans 17 days of food-centric festivities.
Its emphasis on showcasing local culinary talents and engaging the community through entertainment and activities makes it a cherished event in the city's social calendar.
Miele Dubai Restaurant Week
Miele Dubai Restaurant Week is a unique event during the Dubai Food Festival. During this event, 15 of Dubai's top luxury restaurants offer a special, limited-edition three-course set menu for only AED 199 per person.
Some participating restaurants include renowned names such as Social by Heinz Beck, Rhodes W1, and Marina Social.
A German appliance manufacturer named Miele is the event's sponsor. Miele is known for its high-quality appliances, and the company uses the opportunity to showcase its products to potential customers.
Miele Dubai Restaurant Week is an excellent opportunity to try new restaurants and dishes at a fraction of the usual price. It's also a great way to experience the best of Dubai's culinary scene.
Hidden Gems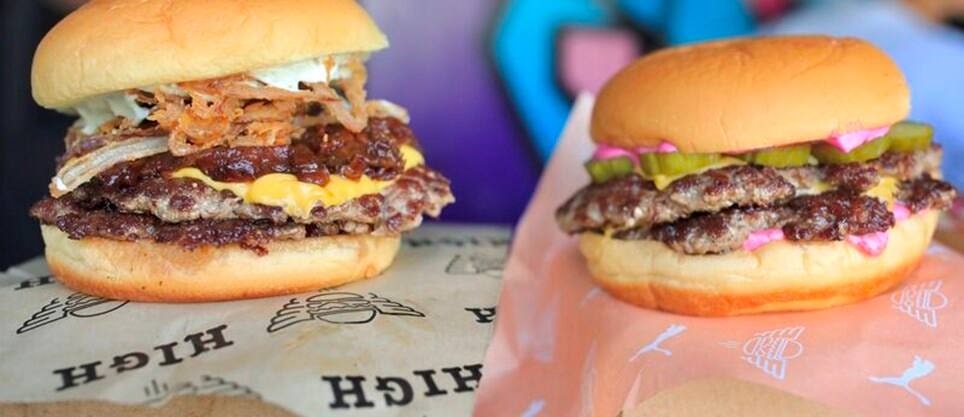 Hidden Gems is an event that occurs during the Dubai Food Festival. It allows food enthusiasts to explore some of the city's best-kept culinary secrets.
Rather than being a restaurant, Hidden Gems is a curated list of lesser-known restaurants and eateries considered hidden treasures.
Anyone can participate in this event by visiting the featured restaurants and sampling their cuisine. You can expect to discover new and exciting flavors from various cultures within Dubai.
Here are some examples of hidden gems that have been featured in the past:
Waffee Street: Known for its decadent waffles.
112 Main St. Bakery: It offers homemade cakes.
Papaya Salad: Serves authentic Pho. Authentic pho is a Vietnamese noodle soup made with beef broth, rice noodles, thinly sliced beef, and fresh herbs.
Al Qbabh: Offers fresh seafood.
Tent Jumeirah Restaurant: Serves Emirati Lugaimat.
Homegrown Dining Concepts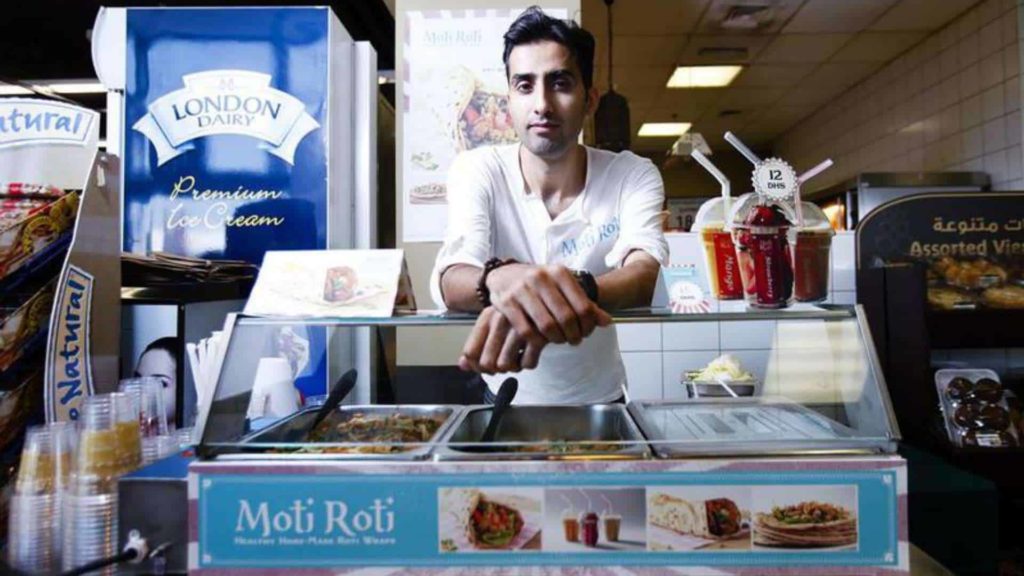 The Dubai Food Festival features homegrown dining concepts, which refer to restaurants owned and operated by local entrepreneurs.
This particular part of the festival aims to support and celebrate independent, local restaurants that showcase the finest culinary talent in Dubai, offering a dining experience that is truly unique and distinctive.
Among the standout features of these homegrown dining concepts at the Dubai Food Festival are:
Authentic Flavors: These restaurants pride themselves on serving authentic dishes from their home countries. As a result, diners can savor the rich and diverse flavors of various cultures without traveling far.
Creative Interpretations of Traditional Dishes: Homegrown chefs are known for their boldness in experimenting with traditional recipes.
Casual and Welcoming Ambiance: Homegrown restaurants exude an informal and friendly atmosphere. This ambiance makes them perfect for diners looking to unwind, relax, and enjoy a good meal with friends or family.
Affordable Dining Options: Homegrown restaurants typically offer more budget-friendly dining choices than international establishments. This affordability makes them an attractive option for diners seeking quality, reasonably priced meals.
Foodie Experiences
These events go beyond just eating. They offer immersive experiences that let visitors delve deeper into the world of food. People attending can join cooking classes, food tours, and chef's table experiences.
Foodie Experiences are a part of the Dubai Food Festival, providing unique and unforgettable dining experiences. With over 100 different Foodie Experiences to choose from, there's something that will catch your interest.
Here are some of the most popular Foodie Experiences:
Cooking lessons with famous chefs: Learn how to cook like a pro from well-known chefs in the city. You can see Gordon Ramsay, Akira Back, Massimo Bottura, Vineet Bhatia, and Jason Atherton.
Private room dining: Enjoy a fancy meal in a private room away from the busy city. Some of the restaurants that have offered private dining include Bread Street Kitchen by Gordon Ramsay and CÉ LA VI.
Cooking classes: Learn how to make traditional Emirati dishes or dishes from other countries. You can join Vineet Bhatia's Masterclass, Emirati Flavors Cooking Experience and there's even a Kids' Cooking Fun Time: designed for young aspiring chefs.
Food tours: Although not an official event, there are local guides that lead food tours which last 2 to 4 hours. They include visits to various restaurants and eateries, and some focus on specific cuisines or neighborhoods.
For example, Frying Pan Adventures offers a range of food tours in Dubai, including a Middle Eastern Food Pilgrimage, a Little India Food Tour, and a Dubai Souks and Creekside Food Walk.
Street Nights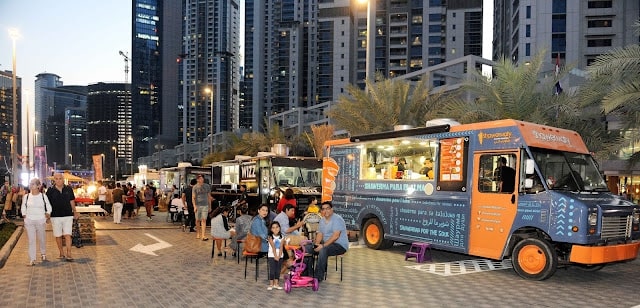 At Street Nights, you can expect to find an array of delightful experiences, including food trucks dishing out delicious eats, live street art adding splashes of creativity, dance performances, and musical entertainment that sets the mood just right.
Plus, there's a night bazaar to explore, offering various captivating goods.
This festival celebrates street culture while fostering a sense of community. For visitors, it promises an unparalleled and exhilarating experience that showcases the uniqueness of this cultural movement.
With live music and dance performances, the energy is infectious! The streets come alive with tantalizing food and mesmerizing art, making it an unforgettable event.
Dine & Win
At the Dubai Food Festival, food enthusiasts can participate in the "Dine and Win" promotion, where they can win fantastic prizes, including a shiny new car!
Taking part is easy – just head to any participating restaurants, indulge in a delightful dining experience, and make a minimum spend of AED 50. This enticing promotion is an annual event, adding even more excitement to the festival for all the foodies! *
In return, you'll receive a scratch card and a raffle coupon. The scratch card offers a chance to win a three-month Zomato Pro membership, while the raffle coupon enters you into the draw for the grand prize of a brand-new car.
The Dine and Win promotion is an enjoyable way to explore new restaurants and have a shot at winning exciting prizes.
Cooking Competitions
Various cooking competitions are held to show off the skills of both professional chefs and amateur cooks. These competitions allow participants to display their talents, creativity, and cooking expertise.
The cooking competitions at the Dubai Food Festival include a wide range of categories and themes. Some of the popular contests include:
The Emirates Salon Culinaire: This renowned international cooking competition attracts top chefs from all over the world. Pastry, chocolate, and ice carving are divided into various categories.
The Young Chefs Competition: This contest is for young chefs aged 12 to 18. Participants are required to prepare a three-course meal that is not only delicious but also visually appealing.
The Street Food Challenge: This competition is open to amateur chefs passionate about street food. Participants must create a tasty and authentic dish for the street food experience.
The MasterChef Challenge: This contest is designed for amateur chefs who want to test their skills against the best. Competitors face various challenges to determine who will be crowned the MasterChef of Dubai.