The 5 Best Taxi Services in Dubai
Dubai is a huge city that can be hard to navigate, especially if you're a newcomer or a tourist.
Riding a taxi can definitely help with that struggle, but Dubai has numerous taxi services available due to its high demand.
So we tried out several of these to give your our top picks.
We're also sharing with you the factors we considered in choosing, and answering some FAQs about taxi services in Dubai.
How much do taxi services in Dubai cost?
The cost of taxi services in Dubai can vary depending on your destination and starting point, the kind of vehicle you need, and the taxi company's rates.
To give you a starting point, the starting fare of a common taxi in Dubai is AED12, and the additional price per kilometer is AED1.82.
If you're planning to charter a taxi, the usual rate is AED30 per hour.
The Best Taxi Services in Dubai
Before we get right into our top picks for the best taxi services in Dubai, here are the factors we considered for our entries on this list:
1. Arabia Taxi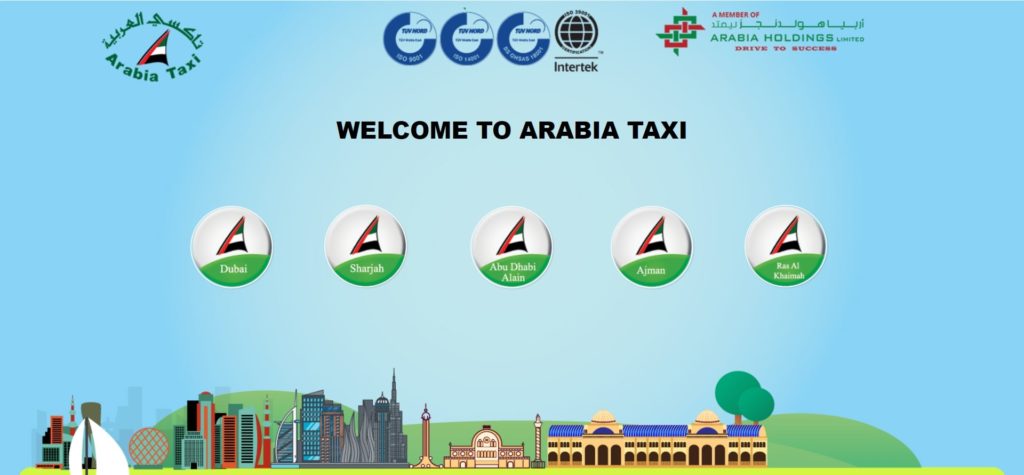 | Test | Info |
| --- | --- |
| WEBSITE | http://www.arabiataxi.ae/ |
| ADDRESS | 69H3+QRM - Al Rebat Street, Opp Festival City, Umm Ramool Area - Dubai - United Arab Emirates |
| CONTACT DETAILS | +971 4 285 5111 |
| | |
| --- | --- |
| Criteria | Rating |
| Accessibility | ★★★☆☆ (3/5) |
| Service | ★★★★★ (5/5) |
| Range of Vehicles | ★★★★☆ (4/5) |
| Benefits | ★★☆☆☆ (2/5) |
With almost a thousand taxis operating under its name, Arabia Taxi's fleet is has garnered multiple awards over the years with its excellent service and sustainability choices.
Arabia Taxi likes to go old school when it comes to contacting its taxis. Already in 2022, this taxi service only has a telephone number for booking.
But having its taxis roam around the city does help with getting one without having to dial a number or open an app.
Its flexibility with hiring and chartering is also dependent on the drivers and the passengers, so it's totally okay to negotiate — perfect for tourists.
The drivers we had were overall nice and quiet for the most part of our trips. But even though they were generally quiet, they never failed to be courteous and polite.
As for its vehicles, Arabia only has a couple of vehicles that can fit 4 to 6 passengers at a time. But what really makes its vehicles special is that they're all hybrid.
Hybrid vehicles run on twin-powered engines that use gasoline engines and electric motors. This means that Arabia Taxi uses environmentally friendly cars.
This conscious decision has earned the company multiple awards throughout its time of service and continues to be an example for the transportation industry in Dubai.
However, the benefits you get from using Arabia Taxi are truly one of its weakest points. Besides it being an eco-friendly decision, it doesn't really offer any other benefits to booking its taxis.
Uses eco-friendly cars
Available for bookings via phone call
Flexible prices for chartering
Courteous service
Doesn't have an app for easier booking
No added benefits to using its service
2. Penguin Taxi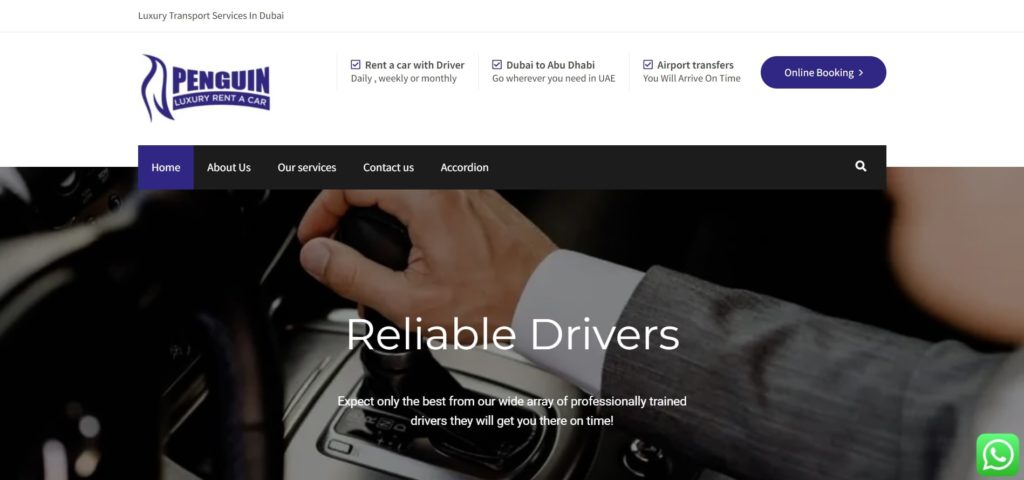 | Test | Info |
| --- | --- |
| WEBSITE | https://penguin.taxi/ |
| ADDRESS | Office 3503 tower X2, cluster X PO BOX 393582 Dubai, UAE |
| CONTACT DETAILS | +971 50 428 1612 |
| | |
| --- | --- |
| Criteria | Ratings |
| Accessibility | ★★★★★ (5/5) |
| Service | ★★★★☆ (4/5) |
| Range of Vehicles | ★★★☆☆ (3/5) |
| Benefits | ☆☆☆☆☆ (0/5) |
Whether it's for trips, an important occasion, or you just want to go around in style, Penguin Taxi offers affordable luxurious taxi services for everyone.
We love that it has online bookings and bookings that can be done over the phone.
Obviously, it's not the kind of taxi service that we can just hail from the sidewalks, but the customer service over the phone and online was really efficient and polite.
The service is amazing. We love how the drivers we had were all very accommodating and took the initiative to ask us if there was anything else we needed during the trips.
The company also has a meet and greet service, so that customers coming from the airport won't have any trouble finding a taxi — perfect for important guests and tourists.
It also has a great range of vehicles in its repertoire. From the 4-seater Infinity Q70 to the 7-seater Mazda cx9, Penguin Taxi ensures that there's space for each passenger.
Not only that, these cars are luxury brands guaranteed to not only look good but feel good too.
However, the problem with Penguin Taxi is that it doesn't really have any other added benefits to availing its services.
We think that there's a missed opportunity here to have members that can get discounts and deals for their continued patronage.
Has online and phone bookings
Accommodating and efficient service
Has a meet and greet service
Wide range of luxury cars available
No added benefits to using its service
Customer Reviews
Choosing them is choosing luxury
"Highly recommended, their prices are highly competitive and affordable compared to others, their cars are very luxurious, their service is on point
Choose Penguin to choose luxury" —Rami Khairallah, Google Reviews
Professional and respectful staff
"Penguin luxury is just as stated in the name- luxurious. The process is professional and easy-going. The staff is well put together and respectful. I highly recommend." —Wael Fady, Google Reviews
3. Altair Chauffer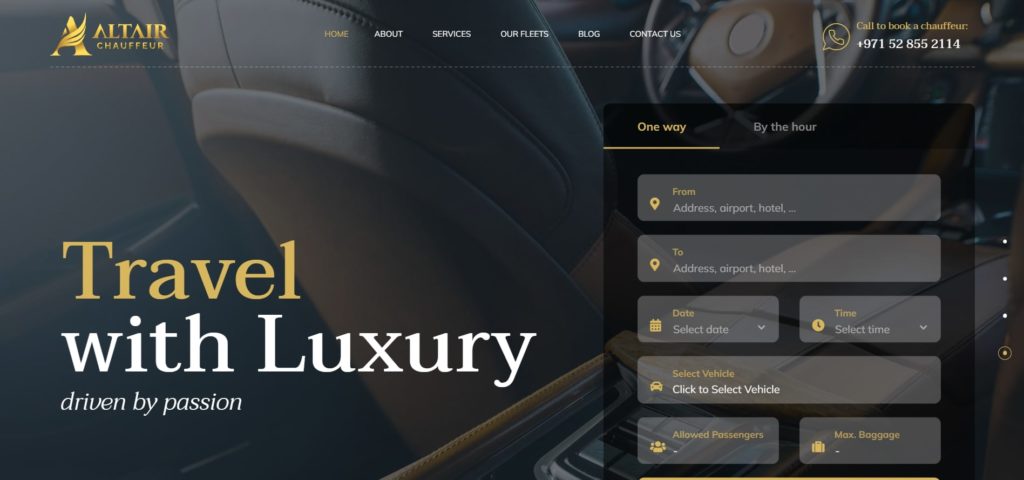 Test
Info
WEBSITE
https://www.altairchauffeur.com/
ADDRESS
M 07, Samhan Building,Garhoud, Sheikh Rashid Road, Dubai UAE
CONTACT DETAILS
+971 52 855 2114

(+971) 4 227 7137
| | |
| --- | --- |
| Criteria | Rating |
| Accessibility | ★★★★★ (5/5) |
| Service | ★★★★★ (5/5) |
| Range of Vehicles | ★★★★★ (5/5) |
| Benefits | ☆☆☆☆☆ (0/5) |
Another luxury taxi service provider, Altair Chauffer accepts corporate transportation, intercity, airport and port transportation, limousines services, and many more.
Available around the clock, the company can accept and manage orders 24/7 through email, live chat, and the phone.
The service is one of the best we've experienced. Our driver was attentive, friendly, and spot-on with his treatment to us from start to end.
We were also impressed by the efficiency of the fleet management staff. They got us a quote within 15 minutes after we talked to them.
Whether it's just the two of you, or if you need to move 49 people to another venue, Altair Chauffer has got you covered.
With luxury cars like Lexus and Audi, it utilizes high-end vehicles to provide luxury and comfort during trips. The difference compared to a common car is quite apparent.
The leather upholstery felt so good on the skin, the car smelled clean with a scent that's not overpowering, and the exterior was obviously shimmering even from a distance.
That being said, we were surprised it doesn't have 4-seaters in its fleet. We found this weird because a 4-seater is such a common choice for most group passengers.
Altair Chauffer also does not offer any added benefits, deals, and discounts to regular customers, to our surprise.
This would have been a perfect opportunity to earn the patronage of jet setters, frequent travelers, and high-ranking white-collar workers in Dubai.
Accepts jobs 24/7 via online and phone
Attentive and efficient service
Wide range of luxury cars
Cars are all well-kept
No added benefits to using its service
Customer Reviews
I want to give it 6 stars!
"If it was possible to give 6 stars ⭐️ ⭐️⭐️⭐️⭐️⭐️ then I will. This company from start to finish was excellent, from the moment of contacting them to the airport pick up, Hotel, it was flawless.
The choices of cars are pretty great. The Drivers were well dressed and groomed
This is an unbiased review coming from a man that runs a luxury car business in the Middle East and Beverly Hills and London, with constant inventories/services ranging from brands such as RR to Bugattis and Bentleys. It was great to see a company in Dubai that matched the international standards that I am accustomed to.
I will highly recommend this company any day any time" – London's Finest Detailing, Zomato
Satisfying service
"Our company used the services of Altair throughout the EXPO. We were really satisfied with the service, drivers, and vehicles (btw they have a huge park). Our manager Kiran is a professional, always in touch. We definitely will advise using this company's service. Look forward to working with Altair Global Chauffeur again!" – Dinara Salykova, Google Reviews
4. Dubai Taxi Corporation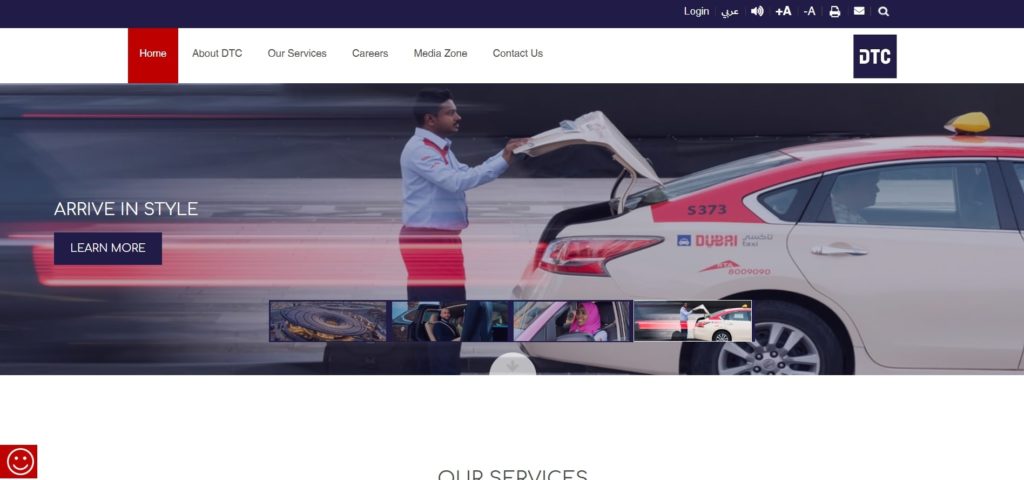 | Test | Info |
| --- | --- |
| WEBSITE | https://www.dubaitaxi.ae/ |
| ADDRESS | First Floor, Main Building, Amman Street, Al - Dubai - United Arab Emirates |
| CONTACT DETAILS | 800 88088 |
| OPERATING HOURS | Every day: 9 am - 12 am |
| | |
| --- | --- |
| Criteria | Rating |
| Accessibility | ★★★★★ (5/5) |
| Service | ★★★★★ (5/5) |
| Range of Vehicles | ★★★★★ (5/5) |
| Benefits | ☆☆☆☆☆ (0/5) |
One of the most widely used taxi service in the city, Dubai Taxi Corporation modernizes its services by expanding on the accessibility of its vehicles.
It is the most accessible taxi service in Dubai yet. With its very own DTC app, passengers can book and pay for the fare much more easily.
We think it's amazing that the booking process can be done within three steps, and instantly pairs the passenger to the nearest vehicle of their own choosing.
And since passengers are always paired up with vehicles in the area, we love that the arrival of the drivers never takes too long.
We also like how considerate the drivers are. They always feel our energy first before they carry on with small talks, which is great especially if we don't have the energy to be in one after a long day.
As for the range of its fleet, DTC has common taxis, limousines, school buses, people of determination taxis, commercial buses, and many more.
However, DTC doesn't have any added benefits to using its taxi services or its app, which we think is a missed opportunity since it is widely used.
Having discounts can really help to save money on fares.
Bookings can be done via phone and through its app
Considerate and accommodating service
Wide range of vehicles in its fleet
No added benefits to using its service
Customer Reviews
We only use DTC
"We almost exclusively used DTC when on holiday in Dubai. They are largely Toyota Camry cars so easily fit a family of four. All journeys are metered and you can trust the meter as they are DTC regulated.
The drivers themselves vary, we had some journeys in silence and some with chatty types. Driving style also varies, some are laid back and relaxing, and others attack the traffic to get you there asap!
All good, no issues at all." – Stewart Waugh, Google Reviews
Reliable taxi service
"Thank you so much for making our journey beautiful. Our child Rivansh wants to Thank You to all the teammates & Dubai government who makes his journey comfortable ……yes, I can vouch for the Dubai government on taking care of POD" – Geeta Sachdeva Google Reviews
5. Sun Transfers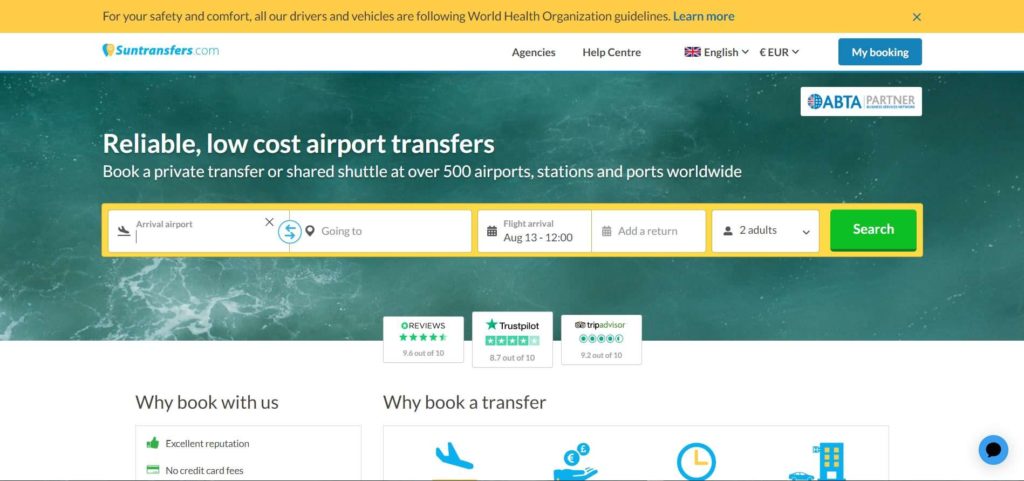 | | |
| --- | --- |
| Criteria | Rating |
| Accessibility | ★★★☆☆ (3/5) |
| Service | ★★★☆☆ (3/5) |
| Range of Vehicles | ★★★★★ (5/5) |
| Benefits | ★★★★★ (5/5) |
One of Europe's favorite taxi services has quickly expanded into the UAE, giving Emirates swift and reliable service with added benefits.
While Sun Transfer taxis can't be hailed from the sidewalk, Sun Transfer makes it easy to book via its website. We do wish that it accepts booking via phone calls, too, for more accessibility.
Another weak point is that Sun Transfer only accepts pick-ups and drop-offs to and from airports, train stations, and ports.
This severely cuts down on its accessibility to a certain niche. And while this is useful for certain passengers, we think that it's a missed opportunity for them not to offer its services around the city.
The service was okay, nothing notable, nothing special. The driver was polite but didn't really take the initiative to make small talk.
It felt like the driver was there just to do the job, and move on. It was fine because it didn't really bother us.
The car we had was very well-kept and smelled clean and light on the nose, and the exterior looked like it was fresh from the car wash.
When it comes to its fleet, that's where Sun Transfer shines. From 4-seater taxis to shuttles and coaches, it can accommodate couples and big groups with no problem.
And the great thing about Sun Transfer is its convenient benefits. Using its services means you can use it in multiple countries in the Middle East and Europe.
You can also guarantee your safety because of its meet-and-greet services, and the drivers always ensure you get to your destinations safely.
Easy bookings via its website
Wide range of vehicles in its fleet
Available in multiple countries
Meet-and-greet services are reliable and safe
Mediocre service
Does not accept phone bookings
Only does airport transfers
Customer Reviews
Overwhelmed by the courtesy and friendliness
"I was absolutely overwhelmed by the courtesy and friendliness and professionalism of my drivers. The cars were spotless. The driver offered us bottled water as she felt we may be dehydrated in the heat. An absolutely fabulous service experience and this is a genuine post. I will definitely use this service again." – Vincent, Trustpilot
Faultless
"Driver was there to meet us at the airport and collect us from our hotel. The staff was great and the vehicles good. Can't fault the service and will definitely use it again." – Paul Kayh, Google Reviews
FAQs about Taxi Services in Dubai
---
We hope this helped you in finding a suitable taxi service in Dubai. If you're looking for other transport services, then check out these articles: