The 5 Best Places for Ice Cream in Dubai
Dubai is known for its high temperatures and arid landscape, so what's a better way to cool it down than with some ice cream?
And with a gastronomical city like Dubai, there are endless choices for places to get ice cream from. So we scoured the city to give you the best shops for ice cream in Dubai.
We're also sharing with you the factors we considered in choosing, and answering some FAQs about ice cream in the city.
How much does ice cream in Dubai cost?
The cost of buying ice cream in Dubai can vary depending on the brand, the flavor, the size, and the toppings available.
To give you a starting point, the price range of quality artisanal ice cream is around AED18 – AED25 per scoop.
The Best Places for Ice Cream in Dubai
Before we get right into our top picks for the best places for ice cream in Dubai, here are the factors we considered for our entries on this list:
1. Morelli's Gelato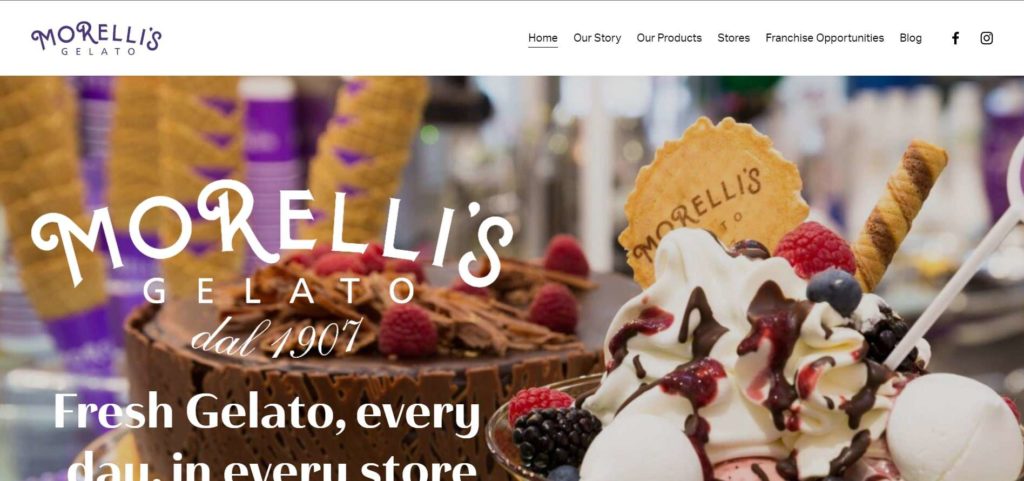 Test
Info
WEBSITE
https://www.morellisgelato.com/
ADDRESS

Shop #2104 - Al Mamsha St - opposite JBR - Dubai Marina - Dubai - United Arab Emirates




Has 2 more locations in the city

CONTACT DETAILS
+971 4 580 0930
OPERATING HOURS
Monday to Thursday: 10 am - 12 am

Friday to Sunday: 10 pm - 1 am
| | |
| --- | --- |
| Criteria | Rating |
| Flavors | ★★★★☆ (4/5) |
| Ingredients | ★★★★★ (5/5) |
| Texture | ★★★★☆ (4/5) |
| Location | ★★★★★ (5/5) |
Tracing its roots all the way from the UK, Morelli's Gelato specializes in Italian-style ice cream that is amazingly made fresh every single day.
With classic flavors like Pure Pistachio, Kilimanjaro Coffee, and its iconic Dulce de Leche Caramel, Morello's sticks with the traditional favorites.
And while that may sound boring to some, it's the ingredients that really drive home the excellence of its soft serves.
Although, it would have been great to see some creative flavor profiles, especially ones that are familiar to people who grew up and live in Dubai.
With ingredients sourced from all over the world to give us the essence of each flavor, Morello's makes its gelato fresh and uses 100% natural ingredients.
However, this means that the quality, especially the texture, is often inconsistent.
While most of the time the texture is smooth and soft, there were times when we ordered and got a serving that felt a little bit sandy due to the ice crystals present.
Morello's has 3 locations all over Dubai, but our absolute favorite branch is the one on Jumeirah Beach. The sea, sun, and sand are just the perfect combination to enjoy ice cream with.
Even though we would have liked for the location to be right next to the beach, the short walk to the shore wasn't so bad with an ice cream in hand.
Serves gelato in classic flavors
Uses natural ingredients
Ice cream is made fresh daily
Has 3 locations in Dubai
The texture can be inconsistent
Doesn't have seasonal unique flavors
Customer Reviews
The menu has great options
"Beautiful place to visit, the menu has great options. We tried Old flame with cherries n strawberries replaced with bananas. It tastes yummy. Also tried Vienna cappuccino with whipped cream. The staff is pleasant and adorable. Thank you!" – Vidisha Panicker, Google Reviews
Great place to enjoy the sunshine and gelatos
"Great place to enjoy the bright sunshine and tasty cool gelato on the beach. The heavenly taste of Pistachio Delight and yummy Chocolate Sundae. Friendly staff." – Inaya, Google Reviews
2. Ice Cream Lab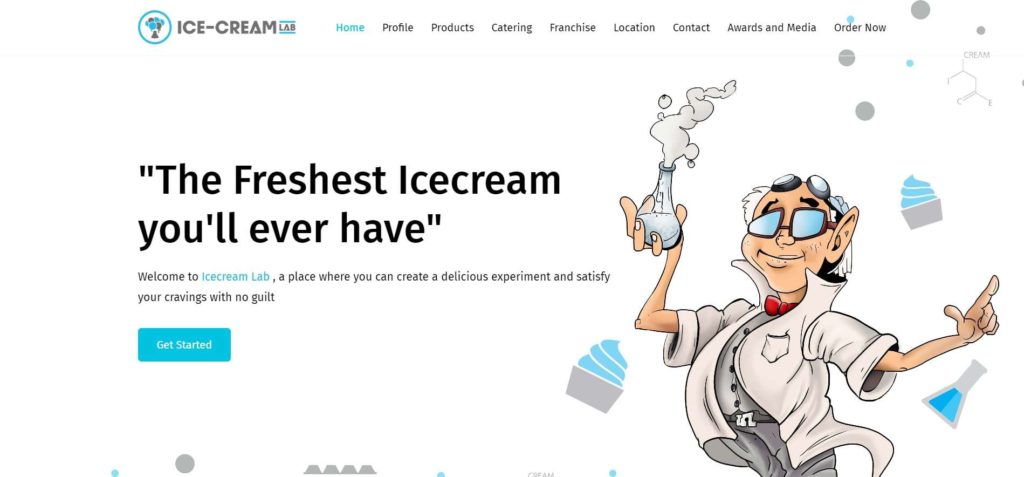 | Test | Info |
| --- | --- |
| WEBSITE | https://www.icecreamlab.ae/ |
| ADDRESS | Unit SF - 130 - 09 - Financial Center Rd - Downtown Dubai - Dubai - United Arab Emirates |
| CONTACT DETAILS | +971 4 330 8831 |
| OPERATING HOURS | Every day: 10 AM – 1 AM |
| | |
| --- | --- |
| Criteria | Ratings |
| Flavors | ★★★★★ (5/5) |
| Ingredients | ★★★★☆ (4/5) |
| Texture | ★★★☆☆ (3/5) |
| Location | ★★★★☆ (4/5) |
Ice Cream Lab mixes the art of ice cream making with science to create a fun-filled experience that lets you mix and match and have the actual ice cream freeze before your eyes.
We love its popular and unconventional Blue Velvet. But its set of classic flavors with great twists, like the Mix Fruit Bosco Strawberry and Vanilla Croke Chocolate, shines the most, in our opinion.
That being said, most of its ingredients are either pre-made or synthesized, excluding the toppings that come with its menu items.
The on-the-spot freezing of the ice cream requires the cream to be made beforehand, thus needing synthesized ingredients for longer shelf life.
However, the freezing method brings out more of the natural sweetness that comes from the cream, so it doesn't have the extra sugar that other ice creams have.
Ice Cream Lab makes up for it with high-quality fresh toppings, like berries and fruits.
And speaking of on-the-spot freezing, Ice Cream Lab's state-of-the-art liquid Nitrogen machine ensures that the ice cream is frozen at the optimal freezing temperature to give it that silky texture.
Not having to keep it in a freezer also stops the ice cream from getting ice crystals that ruin its texture, and ensures that the soft serve is actually soft on the palette.
Unfortunately, Ice Cream Lab only has one location in Dubai. On top of that, it's located inside a mall, which, for us, isn't the best strategic choice.
We'd prefer it located in a popular outdoor spot, to really drive home the point of having ice cream on a sunny day.
However, it does accept catering jobs, which makes it more accessible during fairs, festivals, and other outdoor events.
Uses Nitrogen machine to serve freshly frozen ice cream
Toppings are fresh
Soft and silky texture
Accepts catering jobs
Only has one location
Ice cream's ingredients are not fresh
Customer Reviews
Great ice cream spot
"I personally visited them at Dubai Mall Food court and I was surprised to know that their ice creams are fewer CALORIES, NO SUGAR ADDED AND ALL NATURAL FLAVORS! I love it!
I tried their Blue Velvet ice cream which is very yummy and tastes like heaven! 😍
I also had their Dragon's breath which is so fun to eat.
They also served me an Affogato Milkshake which was kinda sweet but still satisfied my thirst!
This is a must-try place! Especially for those health conscious!
I am highly satisfied with the experience" —Michelle Espiritu, Google Reviews
One of a kind dining experience
"Fresh Ice cream made with love
Highly recommend at Dubai mall Food Court.
Do try the Dragon 🐲 Breath it's a new twist and fun to watch them make it in front of you. Kids super enjoy this when the smoky clouds r made.
A fun way to eat ice cream.
They have new flavors with a twist and the fruity ones are very fruity." —Unnati Shivraj, Google Reviews
3. Nouq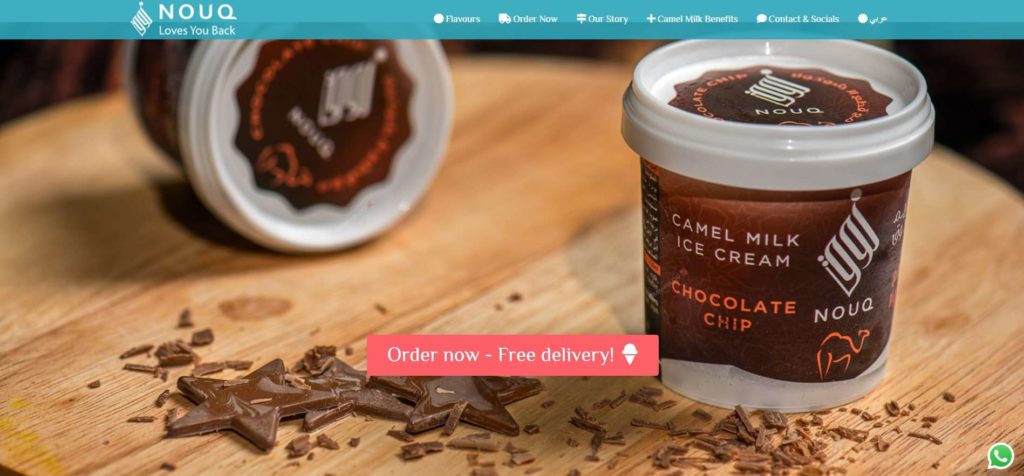 | | |
| --- | --- |
| Criteria | Rating |
| Flavors | ★★★★★ (5/5) |
| Ingredients | ★★★★☆ (4/5) |
| Texture | ★★★☆☆ (3/5) |
| Location | ★★★★☆ (4/5) |
Found in grocery stores all over Dubai, Nouq is a locally-made ice cream made from camel's milk — a healthy alternative to cow's milk.
Nouq currently only has 9 ice flavors, but we do like the balance between traditional flavors and options inspired by local sweet treats.
We love the spicy and rich Honey Saffron ice cream, and the crunchy and nutty Baklava ice cream with actual crushed nuts.
Nouq especially shines in its ingredients. Sourced locally, its ice cream benefits from always tasting amazing due to the high-quality ingredients it uses.
Not only that, the camel milk is packed with nutrition, is lactose-free, and contains way fewer calories compared to cow's milk.
That being said, this gelato is being distributed in many grocery stores along with its delivery services, so the ice creams aren't freshly made.
That being said, having it being widely distributed means that the quality control is high and the texture of its ice creams is consistent.
And by consistent, we mean that widely distributed ice cream has this hard and frozen quality to it that we all know.
Nouq also doesn't have its own physical stores, which was enough for us to be sad about, but it more than makes up for it with its own delivery services that cover the entire city of Dubai.
Nice balance of classic and locally-inspired flavors
Uses healthy camel's milk
Uses locally-sourced high-quality ingredients
Allows deliveries
Does not have a physical store
Ice cream is not made fresh daily
Has that hard and frozen texture like store-bought ice cream
Customer Reviews
Great range of different flavors!
"Camel milk has been recognized for its unparalleled nutritional content and low-calorie count. Also safe for lactose intolerant people and hormone-free. Introducing @nouqdubai , camel milk gelato🐫 made in UAE.🇦🇪 Rich, dense and creamy like true gelato. #nouq
Ice creams are easily digestible and tasty too. They have a range of different amazing flavors" – Samrah Khan, Zomato
Camel milk is amazing for ice creams!
"Camel milk ice cream. Never heard of it. Planned on trying it. Tried it. Didn't regret it. Utterly delicious. I purchased the chocolate chip, alphonso mango, and baklava ice cream. They came in cute little containers and were just divine. I loved each and every spoonful. My favorite was the chocolate chip ice cream. It was sweet with bitter chocolate chip and was super creamy. The baklava was quite sweet but it was good. The mango tasted of fresh mangoes and was rich and tasty. Can't wait to try the other flavors." AB, Google Reviews
4. Coldstone Creamery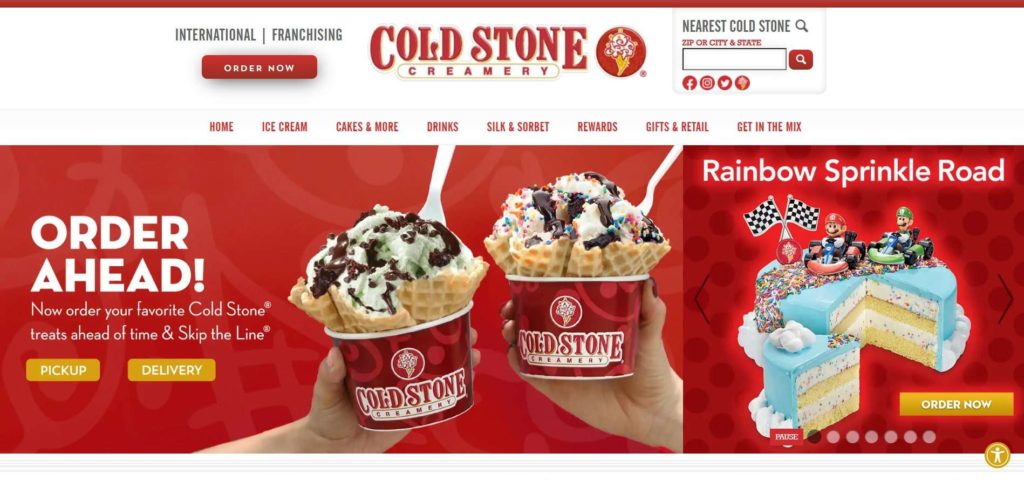 | Test | Info |
| --- | --- |
| WEBSITE | https://www.coldstonecreamery.com/ |
| ADDRESS | Unit SF - 143 - Financial Center Rd - Downtown Dubai - Dubai - United Arab Emirates |
| CONTACT DETAILS | +971552136400 |
| OPERATING HOURS | Every day: 9 am - 12 am |
| | |
| --- | --- |
| Criteria | Rating |
| Flavors | ★★★★★ (5/5) |
| Ingredients | ★★★★☆ (4/5) |
| Texture | ★★★★★ (5/5) |
| Location | ★★★☆☆ (3/5) |
With ice cream made fresh in its stores and churned on a frozen granite stone, Coldstone Creamery's global success has made it one of the best places for ice cream.
One of the best things about Coldstone is we get to pick our own mix-ins to pair up with its wide range of base flavors, essentially letting us make our own ice cream creations.
But when it comes to its pre-made ice cream options, we can never go wrong with anything cookie-dough flavor and its iconic Birthday Cake Remix served on a waffle cone bowl.
But while it's made and churned fresh in the store every day, the cream still needs some preservatives to give it a longer shelf life while it's not frozen, so the ingredients in the ice cream itself are not all natural.
However, having the ice cream made fresh every day and churned right before it arrives at our table means it is always soft and smooth.
On top of that, we love Coldstone's signature thickness of its ice creams. Its chewiness allows us to savor every bit.
Sadly, Coldstone only has one branch in Dubai, and it's at the Dubai Mall. While it's definitely handy when shopping on the weekends, imagine having a Coldstone ice cream while walking at a park or by the beach.
Has a great range of flavors that you can mix and match
Made and churned fresh in-store
Thick and smooth texture
Only has one location
The ice cream isn't all-natural
Customer Reviews
You can never go wrong with them
"One of the most enjoyable little havens you can find in the mall.
They produce a great service of mixing up your chosen ice cream (from a variety of great flavors) to have it spun, thrown, and land on an iced tray for whatever toppings you would like to be mixed into your ice cream in front of you.
They really do put on a show with their scoop skills and control of ice cream balls!
Aside from the entertainment while being served, the flavors are a genuine surprise!
You can't go wrong, it's like a must-visit anytime I come to Dubai mall. Feel like 'ah now I can handle shopping'." – Mohamed Abdulkarim, Google Reviews
One of my favorites
"One of my favorite ice cream points in UAE.
Apart from ice cream tried their Oreo milkshake. Must try such a wow taste… Also salted caramel ice cream also must try" – Thamar Mon, Google Reviews
5. Scoopi Cafe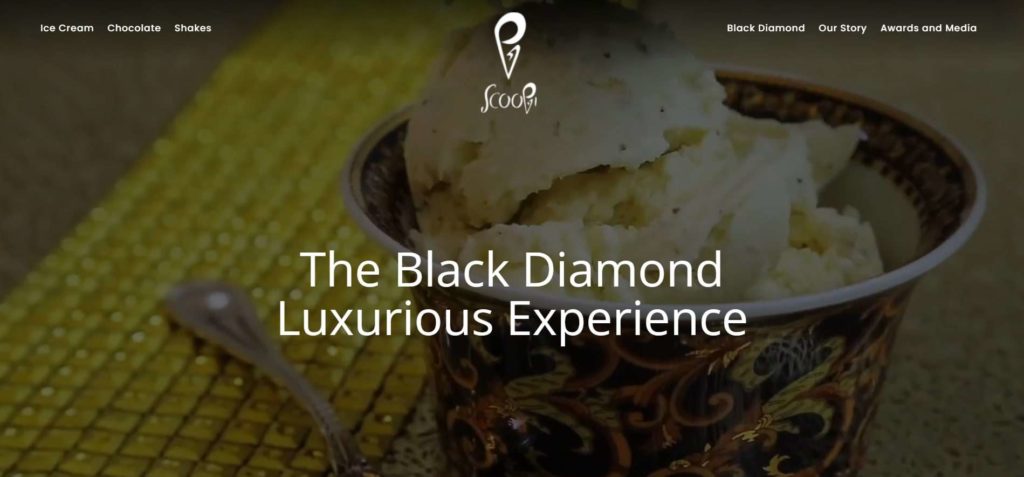 Test
Info
WEBSITE
https://scoopicafe.com/
ADDRESS

523 Jumeirah St – JumeirahJumeirah 3 – Dubai – United Arab Emirates




Has 1 more location in the city

CONTACT DETAILS
+97 150 113 8497
OPERATING HOURS
Thursday to Saturday: 3 pm - 2:30 am

Sunday to Wednesday: 2 pm - 1:30 am
| | |
| --- | --- |
| Criteria | Rating |
| Flavors | ★★★★★ (5/5) |
| Ingredients | ★★★★★ (5/5) |
| Texture | ★★★★☆ (4/5) |
| Location | ★★★★★ (5/5) |
One of the top 10 most expensive ice creams in the world, Scoopi is known for its luxurious range of ice creams that are handcrafted using high-quality ingredients.
From amazingly thought-out ice cream flavors to super refreshing sorbets, Scoopie takes ice cream to another level by infusing exotic ingredients with it.
From excitingly unconventional flavors such as the Rose and Chili ice cream and Coconut Ash to luxurious classics like Madagascar Vanilla and the simple and indulgent dark chocolate, Scoopi knows the kinds of ice creams it wants to serve.
Being a luxury brand, Scoopi only uses high-quality all-natural ingredients to craft its ice cream. The result is ultimately noticeable with flavors bursting through the seams with every bite.
And the flash-freezing method with liquid nitrogen ensures that the ice cream served is made fresh, soft, and silky.
That being said, unlike Ice Cream Lab, Scoopi does the flash freezing by hand, so it often suffers from inconsistency — such is the curse of artisanal products.
Currently, this ice cream place has 2 shops all over Dubai, and both have excellent locations.
Found by the beach and in an outdoor market in Dubai downtown, Scoopi cafe knows how to make its ice cream shine, and that's when it is consumed under a sunny sky.
Serves luxurious and exotic ice cream flavors
Uses the flash freeze method to serve freshly-made ice cream
Has multiple branches
Flash-freezing can lead to texture inconsistencies
Customer Reviews
Great variety of ice creams
"Scoopi Cafe has been a great new addition to the city of Dubai. The variety of ice creams they serve is great and the quality is good. Surprisingly they serve the world's most expensive ice cream costing AED 3,000, which comes along with the gold plated bowl. The ambiance is lovely and the service was great." – Muhammad Waleed Sadiq, Google Reviews
The quality is on another level
"The menu is quite different from others and the ice cream's quality is really tasty and quantity too also, on the other hand, the staff is very good and friendly." – Bhawna Dulgach, Google Reviews
FAQs about Ice Cream in Dubai
---
We hope this helped you in finding the perfect place for ice cream in Dubai. Also, if you're looking for other dishes and snacks, then check out these articles: