The 5 Best Gyms for Spinning Classes in Dubai
The strobing lights, the pounding party music, and the extra motivational coach, all of these make for a super energizing spinning class that gets us pumped and fit.
We love going to spinning classes not only because of the party vibe, but also because of the community, and it is a great way for us to stay in shape.
Thankfully, Dubai is not a stranger to these, and with the amazing studios in the city, it's sure to stick around for a long time.
To find out which ones are truly amazing options, we went and asked around the city to give you Dubai's best places for spinning classes.
How much does it cost to go to a spinning class in Dubai?
The cost of going to a spinning class depends on the studio's pricing structure. The number of classes you will be attending per month, and the amenities that come with it also affect the rate.
To get you started, the estimated rate of a session ranges from AED50-100, while monthly memberships that include around 10-25 classes cost around AED1000-AED2000.
How We Picked Dubai's Best Places for Spinning Classes
Before we get right into our list of Dubai's best places for spinning classes, here are the factors we considered for our entries on this list:
1. Gym Nation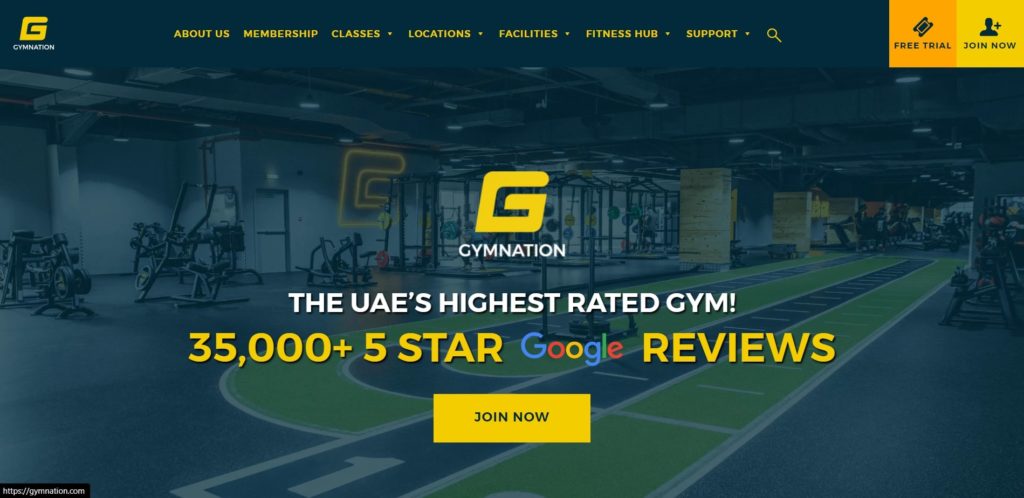 Test
Info
CLASSES
Spinning classes, CrossHIIT, Jumpnation, Bollynation, yoga, Zumba, Muay Thai
WEBSITE
https://gymnation.com/
ADDRESS
Sheikh Khalifa Bin Zayed St - Al Mankhool - Dubai - United Arab Emirates

Has 13 more locations throughout the city.

CONTACT DETAILS
OPERATING HOURS
Open 24/7
| | |
| --- | --- |
| Criteria | Rating |
| Studio Quality | ★★★★☆ (4/5) |
| Amenities | ★★★☆☆ (3/5) |
| Coaches | ★★★★☆ (4/5) |
| Accessibility | ★★★★★ (5/5) |
Guaranteed to have you burning up to 600 calories once you get on one of its saddles, GymNation is one of the more welcoming spinning classes in the city as it lets its spinners control their own pace.
However, if you are the type to push yourself at every class, then look no further as its typical spinning session involves hill climbs, sprints, and flats in the span of an hour.
We also love how the coaches' spinning style welcomes this sense of community during the sessions, which makes it easier to feel motivated about joining the group pacing, making the whole experience more of a journey rather than a race.
We do think, however, that the coaches could use a bit more force and control throughout the class, as it is easy to just not push yourself because the pacing is fully dependent on you.
The studio is not anything that special, either. While its LED lights bring that nightclub energy, the sound system can often feel overwhelming, to the point that the loudness of it is numbing.
Despite that, its accessibility is arguably unrivaled. While it does not have as many locations (it still has a lot despite that), it definitely is a contender with the number of classes in a day.
It has around 25 spinning classes spread throughout its many locations and has a healthy balance between in-person and virtual sessions.
However, the amenities and the overall physical look of the gym definitely need some improvement. Besides a separate space for its women's gym, it does not have anything special to offer.
Spinning classes are flexible for all levels
Has around 25 spinning classes scheduled every day
The lighting design for the studio is great
Nothing special with its amenities
Spinning style could use more control from the coaches
Customer Reviews
Such an awesome gym!
"Such an awesome gym! From the facilities, equipment, classes, and staff.
All staff are superb – diligent and courteous. Special mention to Abid at the reception who effortlessly balanced providing assistance to multiple individuals, ensuring that each person received the attention they needed.
With this exceptional gym and great service by your side, you'll feel motivated, supported, and confident – ensuring every workout counts! Making your fitness journey a seamless and enjoyable experience." – Ann Neo Celeste, Google Reviews
I like this gym very much
"I like this gym very much. The staff and trainers are very friendly and approachable. The overall ambiance of this place gives me more positive vibes every day. There is a wide variety of equipment and large spaces for training. The thing I like most is the group classes. They are providing Zumba, Yoga, BollyNation, and other group training sessions free of charge for the members." –
Ranjini V K, Google Reviews
2. 1Beat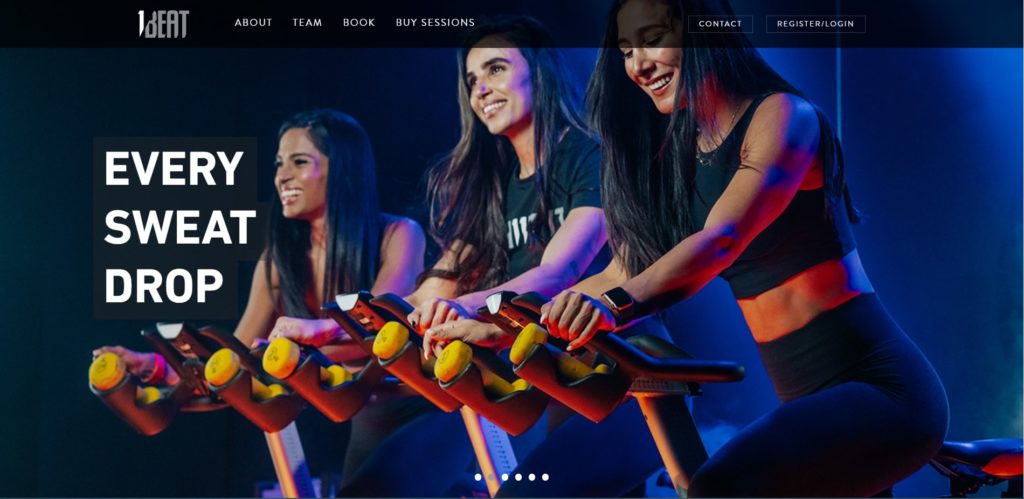 Test
Info
CLASSES
Spinning classes
WEBSITE
https://www.1beatdxb.com/
ADDRESS
he Offices 2, One Central Dubai World - Trade Centre - Dubai - United Arab Emirates
CONTACT DETAILS
+971 4 259 3333
OPERATING HOURS
Tuesday to Thursday: 7:30 am - 10:30 pm

Friday: 6:30 am - 10:30 pm

Saturday: 8 am - 12:30 pm

Sunday: 9 am - 9:30 pm
| | |
| --- | --- |
| Criteria | Rating |
| Studio Quality | ★★★★★ (5/5) |
| Amenities | ★★★★☆ (4/5) |
| Coaches | ★★★★☆ (4/5) |
| Accessibility | ★★★★☆ (4/5) |
If the first time you heard of spin cycle is through Ariana Grande's Side by Side, and you have dreamt of having your own music video moment, then look no further than 1Beat studio.
Go through a 1-hour journey of dynamic, challenging, and ultimately enjoyable interval training experience. We love how the coaches here guide us the entire time, which got us feeling like spin cycle pros.
It was also amazing to experience choreographed sessions which really helped in fighting through the burn that our legs were feeling. However, if you are a beginner to this, then expect a tough battle ahead of you.
Of course, our session here would have been a lot more painful and challenging if it were not for its chic urban space and state-of-the-art equipment.
Both of these things really elevate the quality of 1Beat's studio, which makes it obvious it takes its spin classes seriously.
On top of that, the cold lavender-scented towels handed post-session and fresh cycling shoes add a really great touch to the whole experience. Although, besides that, there isn't much to add when it comes to its amenities.
And while it only has 1 branch in the city, we love that its schedule really shows that it wants to adapt to the majority of its clients' daily schedules as seen in its intricate yet comprehensive timetable.
State-of-the-art studio and equipment
Offers fresh cycling shoes and cold towels every session
Spinning classes are fun because of the choreography
Strategically planned schedule
Nothing special about its other amenities
Classes can be difficult for beginners
Only has 1 branch
Customer Reviews
I love this place, a boutique spin studio located in the heart of DIFC
"I love this place, a boutique spin studio located in the heart of DIFC. The place is centrally located in the One Central building and it offers a range of classes from Spin to their signature L1ft class (just like climbing a mountain)
There is plenty of parking (don't forget to validate your ticket) and they have washrooms and changing rooms/showers available.
Great instructors with amazing bikes, add this to your next spin adventure!" – Adam D Google Reviews
Loved it!
"Loved it! I have been to 2 rides with 2 instructors – Ilim and Sheida and both are amazing! Highly recommended" -Maryam Alexandrova, Google Reviews
3. GFX Dubai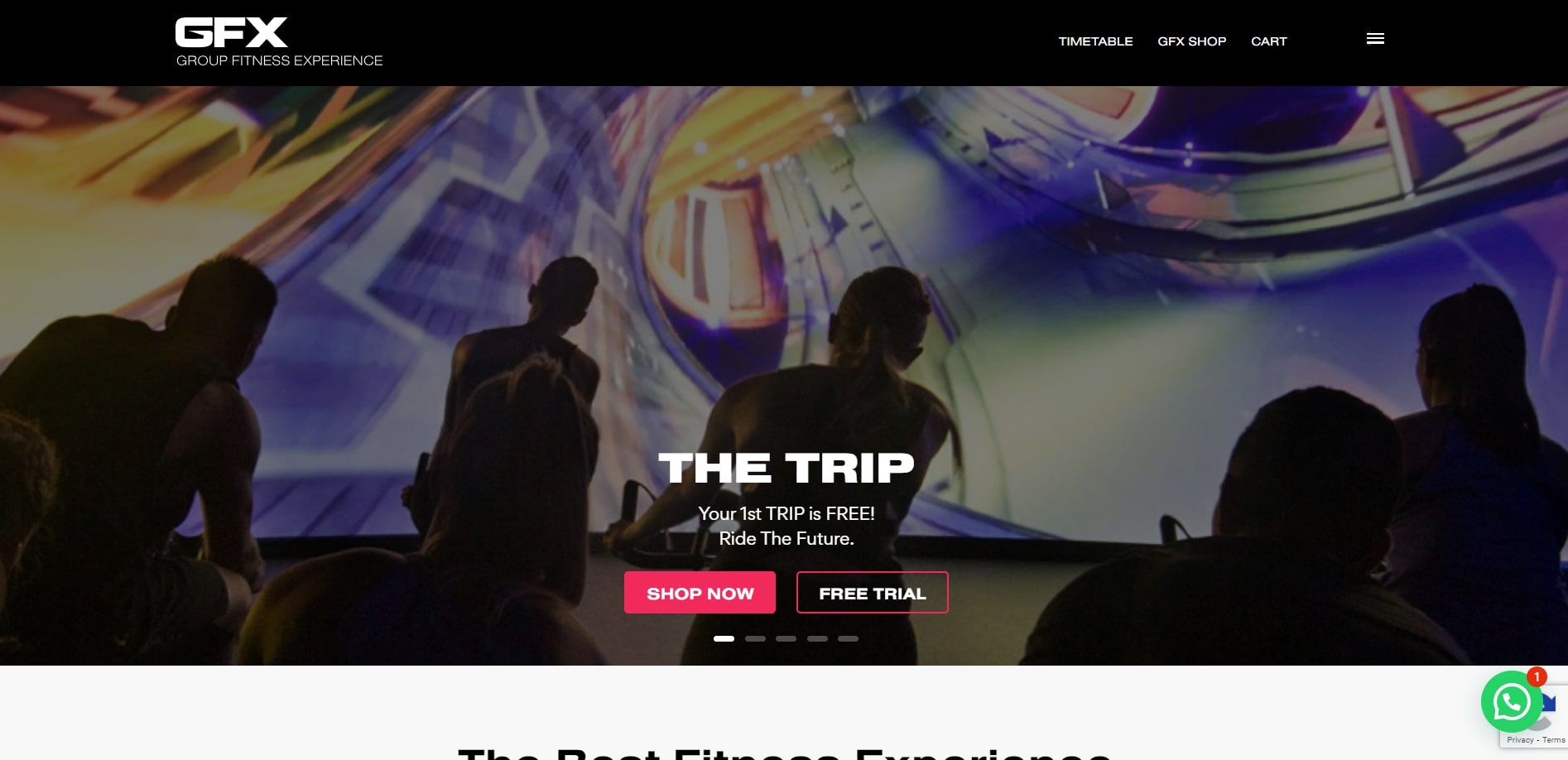 Test
Info
CLASSES
Spinning classes, Zumba, Bollyfit, Afrofit, Pilates
WEBSITE
https://gfx.ae/
ADDRESS
Al Amaal Street, Business Bay Bay Avenue Mall, Executive Towers Entrance 6 Shop No. F52 - Mezzanine Floor - above Starbucks - Dubai - United Arab Emirates
CONTACT DETAILS
+971 4 425 5940
OPERATING HOURS
Monday to Friday: 6:30 am - 10 pm

Saturday: 9 am - 8 pm

Sunday: 9 am - 5 pm
| | |
| --- | --- |
| Criteria | Rating |
| Studio Quality | ★★★★★ (5/5) |
| Amenities | ★★★★☆ (4/5) |
| Coaches | ★★★★☆ (4/5) |
| Accessibility | ★★★★☆ (4/5) |
When GFX Dubai said that they were offering a spin cycle experience, they were not joking about the last part. Equipped with virtual reality tech, this studio brings an immersive take to spinning classes.
We love how its 40-minute spin sessions are a vigorous ride involving a multi-peaked workout via digitally created worlds displayed through an enormous 30m-wide cinema-scale screen and sound system.
We were so immersed that we did not feel that our legs were giving up on us until we actually finished the session. Although, not everyone may find the virtual reality aspect welcoming as some of us felt nauseous and dizzy at some points.
Also, beginners beware because its 40-minute session involves some crazy High-Intensity Interval Training which is not always welcoming for those looking to start off their journey.
Despite that, the quality of the workout, despite it being only 40 minutes, is something to look forward to. Led by Les Mills' coaches, each spin session here is assuredly a world-class workout.
However, we did have trouble booking a class because it was always full. Because of this, we slowly realized that it is more of an experience rather than something we can do normally.
It didn't help that it has fewer classes than other spinning class studios in Dubai.
Spinning classes led by Les Mills coaches
Virtual tech makes for an immersive spin cycle session 
The coaching style is entertaining
Virtual tech experience may lead to nausea and dizziness
HIIT cycling is not friendly for beginners
Smaller number of classes than other studios
Customer Reviews
I love heading to GFX each day for my daily fix of Cardio
"I love heading to gfx each day for my daily fix of Cardio. Every class has been amazing- from Zumba, Bollyfit, Afrofit, and Pilates. I have yet to try out their yoga class and body pump which looks so popular.
What I appreciate mainly is that at times I feel lazy and don't book a class, and am sent a personal WhatsApp message to enquire if I am attending the class that I normally do- that way I don't tend to skip it lol.
Special shout out to Enzo and Mili whose classes I regularly attend. The vibe at these classes is so good, friendly, and inclusive." – N G, Google Reviews
GFX is an amazing gym that offers group classes for all ages and abilities!
"GFX is an amazing gym that offers group classes for all ages and abilities! I've been a member for a while and am always looking forward to the classes they offer and what they will offer next!
I've attended both the under-18 classes (including karate and ballet), the personal training (boxing), and group adult classes (Yoga, Zumba, Afro-Fit, Body Pump, and Body Combat) and I have always enjoyed the classes! The instructors are all helpful and knowledgeable in their respective specialties and always are willing to help out with making the sessions better and more suited to the students and take the time to discuss ways to improve the classes.
The staff and owners of GRX are always welcoming, helpful, and supportive making sure that queries and issues are sorted out as soon as possible. Furthermore, the warm and helpful nature makes me look forward to attending the classes and not mind asking questions or providing feedback if needed! Additionally, motivated to help achieve my health goals!" -Kani Ahmadpour, Google Reviews
4. Motion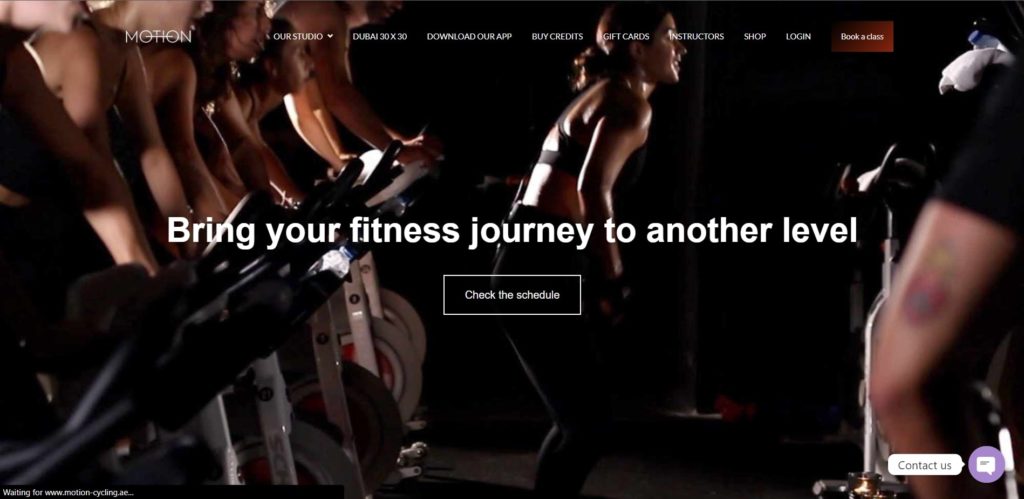 Test
Info
CLASSES
Spinning classes
WEBSITE
https://www.motion-cycling.ae/
ADDRESS
Anantara Downtown Dubai, Business Tower - Floor 18, Office 04 - Dubai - United Arab Emirates
CONTACT DETAILS
+971 4 875 5104
OPERATING HOURS

Sunday to Thursday: 6:30 am - 9 pm

Friday: 8 am - 7 pm

Saturday: 8 am - 9 pm
| | |
| --- | --- |
| Criteria | Rating |
| Studio Quality | ★★★★☆ (4/5) |
| Amenities | ★★★★★ (5/5) |
| Coaches | ★★★★★ (5/5) |
| Accessibility | ★★★★☆ (4/5) |
On the other side of the spectrum of spinning classes, Motion is a no-frills spin cycle studio that challenges us to push beyond our mental and physical capabilities.
Away from the glitz of LED lights and distracting technology, the spinning classes here are amazingly held in a candlelit room that opens up to an amazing view of the city.
Our 45-minute session here was memorable because of how unplugged the whole experience was, it almost felt like a yoga session… if yoga was supposed to kill our legs and leave us entirely breathless.
Not only that, the coach made sure that it was not all just lower-body. We ended up being challenged with our entire body, which is an excellent workout in our book.
On top of that, its unapologetically stripped-down studio really took us by surprise. But once we got over it, we were forced to really dig deep, both mentally and physically, and we ended up feeling very accomplished afterward.
However, its insistence on a simpler experience is not true for its amenities. We enjoyed the view of the Burj Khalifa in its seating room, along with coffee and its signature protein shake, which are both available on the premises.
When it comes to accessibility, however, it only offers 4-5 classes every day. This is disappointing because this means it was harder for us to find one that fit all of our schedules.
Stripped-down spinning classes that improve focus and mental strength
Offers coffee and a signature-style protein shake
The studio has an amazing view of Burj Khalifa
Studio may be too simple for some
Has fewer classes per day
Customer Reviews
Very cool boutique studio!
"Very cool boutique studio! The space and facilities are really nice and clean, the staff is super friendly, and more importantly, the spinning class was a killer 💪🏽 Great music, feels, and an instructor that pushes you to your full potential 🙌🏽" – Yasmine Ferdjani, Google Reviews
Amazing place to get fit, charge your energy battery, and get some positive vibes!
"Amazing place to get fit, charge your energy battery, and get some positive vibes! Coaches are professional and have a very good taste of music!
Additional kudos to the interior designer of the whole studio and the women's changing rooms in particular! Such attention to detail makes the overall experience even greater!" – Dariia Nemyrovych, Google Reviews
5. Crank Fit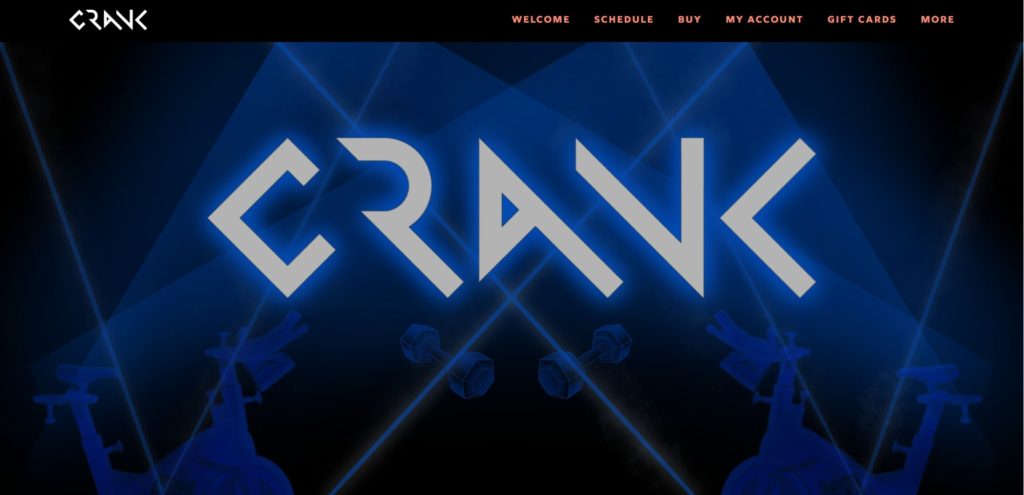 Test
Info
CLASSES
Spinning classes
WEBSITE
https://www.crank-fit.com/
ADDRESS
Unit 43, Al Serkal Avenue - 8 B St - Dubai - United Arab Emirates
CONTACT DETAILS
+971 4 321 2095
OPERATING HOURS
Sunday to Monday, Wednesday, and Friday: 6:30 am - to 9:30 pm

Saturday: 8 am - 2 pm

Tuesday: 6 am - 9:30 pm
| | |
| --- | --- |
| Criteria | Rating |
| Studio Quality | ★★★★★ (5/5) |
| Amenities | ★★☆☆☆ (2/5) |
| Coaches | ★★★★★ (5/5) |
| Accessibility | ★★★★★ (5/5) |
Get your adrenaline and muscles pumping at Crank Fit where heavy climbs and power sprints punctuate its coaches' signature ride sessions.
The intense spin cycle sessions here are challenging, but not to the point where beginners will faint from their saddles. The beat-pumping tracks can also really put us into a high that gets us through the hard parts of the 45-minute session.
The state-of-the-art light and sound system also helped a lot. We enjoyed how both of these really enhanced the energy of the room and made us all feel like we were just at the club.
We also love that it has different coaches that offer two different spinning styles.
Ride classes are for heavy climbs and powerful sprints, while Shape classes combine high-intensity interval training and functional movement skills designed to challenge, burn, and shape selected muscle groups.
However, the studio severely lacks amenities that could really help out spinners before and after classes. Besides an in-house shop, we found it hard to stick around the studio because there was nothing else to do there.
It is brought up by the fact that Crank Fit pushes out nonstop classes every day at its studio. With around 17 classes daily, we love that we can just come in anytime without having to worry about not having space for us.
Varied spinning classes to choose from
State-of-the-art studios
High number of classes happening daily
Customer Reviews
Great place for a lively spin class
"Great place for a lively spin class. Quick 45 minutes high calorie burning intense workout guaranteed.
I personally can burn at least 500 in 45 minutes but I am sure results can vary. Some folks burn less while others burn more than 750 calories in the same amount of time.
The instructors are engaging and the atmosphere is upbeat. I have enjoyed classes with Nuno, Jarret, Nelson, Holly, and Amy (in no particular order)" – Ahsun Jilani, Google Reviews
What a RIDE it was!
"What a RIDE it was! Great energy in the room, with amazing tunes, and the instructor, Nuno Fernandes, made all the difference. Cycling shoes are provided at the studio, bring your refillable water bottle and pre-order your post-workout shake for your (car) ride home!" – Anne-Fleur Heisele, Google Reviews
FAQs about Spinning Classes in Dubai
---
We hope this helped you find your place for spinning classes in Dubai. Also, if you're looking for more fitness recommendations, then check out these articles: