The 5 Best Restaurants in Dubai Marina
Known to be an affluent neighborhood with areas for leisure and relaxation right next to The Beach, we also love visiting Dubai Marina for the amazing restaurants located in the area.
With alfresco dining and seaside views that transition into the cityscape, our dining experience here is always memorable.
So we visited some of the highly recommended places to give you our top restaurants in Dubai Marina!
How We Picked the Best Restaurants in Dubai Marina
Before we get right into our best restaurants in Dubai Marina, here are the factors we considered for our entries on this list:
1. Indego by Vineet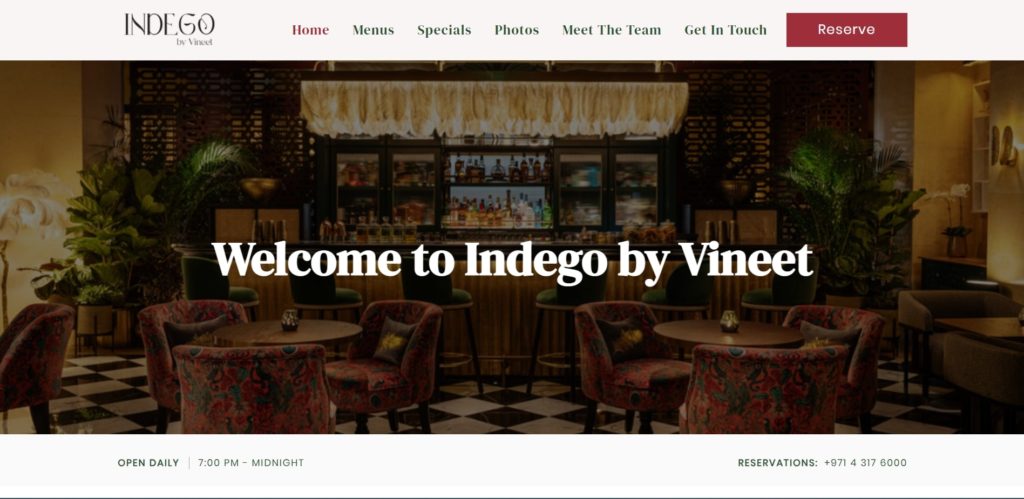 | Test | Info |
| --- | --- |
| MENU | Chaat, tikka masala, kebabs, lamb chops, curry, butter chicken, biryani, desserts |
| WEBSITE | https://www.indegobyvineet.com/ |
| ADDRESS | Grosvenor House, a Luxury Collection Hotel, Al Emreef Street, Dubai Marina, Dubai |
| CONTACT DETAILS | +97143176000 |
| OPERATING HOURS | Every day: 7 pm - 12 am |
| | |
| --- | --- |
| Criteria | Rating |
| Menu | ★★★★★ (5/5) |
| Service Quality | ★★★★★ (5/5) |
| Ambiance | ★★★★★ (5/5) |
| Acclaim | ★★★★☆ (4/5) |
Indego by Vineet was created by the face of modern progressive Indian cuisine, Vineet Bhatia, and honors Indian street food by reimagining the classics to their fullest gourmet potential.
The menu is authentically and unapologetically Indian despite its gourmet acclaim. It is known for preparing its dishes on tawa or griddle, tandoor or clay oven, sigdi or grill, and handi or stew pot.
The restaurant follows a strong principle when it comes to Indian food, and that is preserving the playfulness found in the harmony of spices and flavors and matching it with a playful elegance in their plating.
When it comes to its service, it is just as you'd expect when it comes to a fine dining restaurant—professional and efficient while maintaining that friendly and warm demeanor.
As for its ambiance, the Grosvenor House at Dubai Marina completes the whole luxurious aspect of it. The whole place feels opulent and classy, which complements its ritzy nautical area.
Its alfresco area offers incomparable views of the city skyscrapers and the neighborhood itself. We are big fans of this backdrop because it elevates the ambiance and makes for some very intimate moments.
The interior mixes traditional and contemporary luxury, which can be quite polarizing. Some of us found it timeless, while some of us found it a bit gaudy.
However, despite its original gourmet approach to Indian street food, Indigo by Vineet has yet to really receive significant accomplishments. But that's not really the priority when its founder is the face of modern progressive Indian cuisine.
Serves gourmet traditional Indian street food dishes
Exceptional service
Beautiful ambiance and backdrop
The restaurant itself has not won any awards yet
Customer Reviews
One of the best Indian restaurants out there
"Indego restaurant is one of the best Indian restaurants in Dubai. The food and presentation are Amazing..we ate the starter and dessert and it was very good; the rest of the food and decoration is also very good; the second thing is the staff and the manager is also very good so I will tell everyone that you must try it out!!! I guarantee that you will enjoy it a lot." —Meena Sharma, Google Reviews
Amazing service, amazing food
"I visited the newly refurbished Indego by Vineet for dinner recently and the venue looks stunning. It is an Indian fine dining restaurant located in Grosvenor Hotel, Dubai Marina. Their drinks and food menu offer great options. We had many dishes along with their signature cocktails. The presentation, the plating, the flavor, and the taste of the food were impressive. And the exceptional service complemented the food and drinks." —Meghana Rao, Google Reviews
2. Observatory Bar & Grill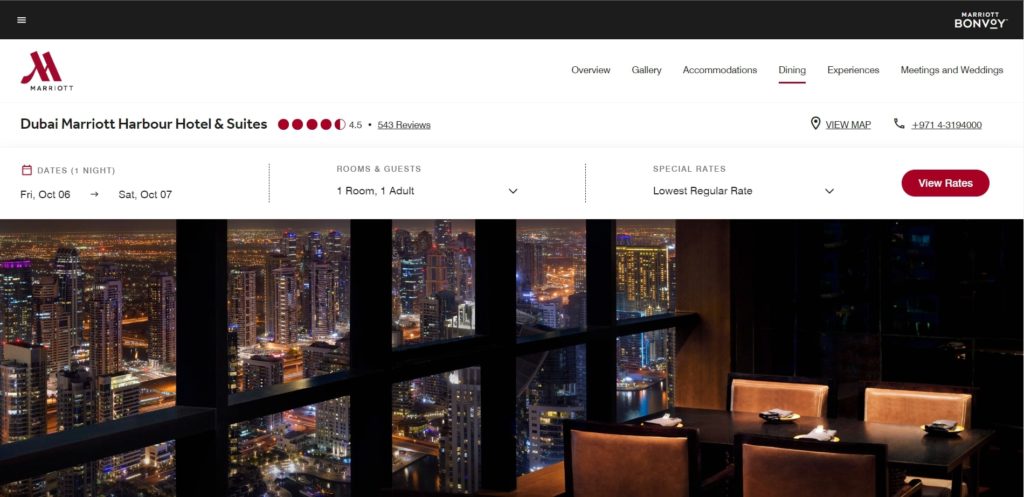 | | |
| --- | --- |
| Criteria | Rating |
| Menu | ★★★★☆ (4/5) |
| Service Quality | ★★★★★ (5/5) |
| Ambiance | ★★★★★ (5/5) |
| Acclaim | ★★☆☆☆ (2/5) |
Bask in the beauty of the Dubai skyline and the coast of The Gulf with the Observatory Bar & Grill.
Located on the 52nd floor of the Marriott, the restaurant is clad in elegant black chic and leather seating, along with the panoramic view of not just the Dubai Marina, but also the Palm.
We recommend coming here during sunset and witnessing the sun slowly take shelter behind the horizon as the skyscrapers mirror its power for the evening. Needless to say, it is quite romantic.
When it comes to its menu, we wish that it took some more creative risks, but what you see is what you get. We enjoyed our time there with prime cuts of steak and meat-based signature dishes that were all grilled to perfection.
And any meat-lover knows that potatoes are an amazing partner to these kinds of dishes. The Observatory features an extensive offering of starches, from truffle fries to mashed potatoes.
But again, we really wished The Observatory worked to diversify its menu just to balance out the richness of the meats and the starches.
It is not the most critically acclaimed restaurant out there either. While it definitely has the views and the meats going for it, it remains to be an outlier in the gourmet world.
The service, though, was excellent and very close to perfection. We loved the friendliness and efficiency of the entire team, from walking us to the table up to the moment we said goodbye.
Has amazing views of Dubai Marina and The Palm
Chic and sleek ambiance
Excellent service
Doesn't offer much beyond grilled meats and starches
No awards and accomplishments
Customer Service
What a view!
"What a view! I have eaten that multiple nights now because the food was quite enjoyable with a good quantity of servings. The service has been pretty good but not over the top.
They did consult with me well on the menu and my food allergies to gluten, egg, and dairy. They were very concerned about cross-contaminations, which is incredibly nice but I had to tell them 3 times it's not an issue. That's my issue and likely not yours if you are reading this.
The buffalo wings are very nicely sized and delicious. The first day they were perfect but the second day they were a little too wet, they were nice enough to provide gloves for me to eat then I enjoyed getting my hands all messy. A++ for that.
Lastly, the sweet potato fries are perfection, cooked crispy on the outside but soft inside with a great flavor profile. Yum yum." -Paul Drew, Google Reviews
Rare times I rate 5/5, but this one surely deserves it
"Rare times I rate 5/5, but this one surely deserves it! Loved their brunch, which comprised of a variety of courses, super hearty yet so diverse in flavors. Got so busy munching food down that I forgot to take photos. I was stuffed by the end of it but with delight! With an ever-so beautiful view & hospitable staff 🌸
Will be coming back for brunch soon, without a doubt!" -Sundus Gari, Google Reviews
3. Cafe Society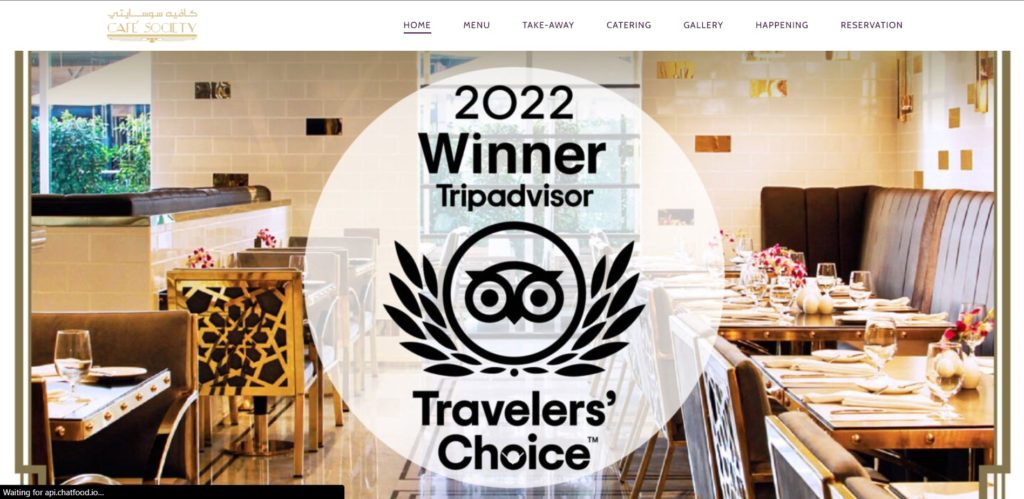 | Test | Info |
| --- | --- |
| MENU | Brioche, waffles, crepes, pancakes, fish, meat, risotto, tea & coffee |
| WEBSITE | https://cafesociety.ae/ |
| ADDRESS | Tamani Hotel Marina - King Salman Bin Abdulaziz Al Saud St - Dubai Marina - Dubai - United Arab Emirates |
| CONTACT DETAILS | +971 4 318 3755 |
| OPERATING HOURS | Every day: 9 am - 11 pm |
| | |
| --- | --- |
| Criteria | Rating |
| Menu | ★★★★★ (5/5) |
| Service Quality | ★★★★☆ (4/5) |
| Ambiance | ★★★★☆ (4/5) |
| Acclaim | ★★★★★ (5/5) |
Drawing inspiration from the glamorous 1920s, Café Society aims to deliver a vintage-feel, Manhattan-style cafe with its Art Deco style furnishings and cozy tables where people are encouraged to socialize with each other.
As for the menu, Café Society goes back to the old-school bistro-style menu, as well as some quick-to-prepare, quick-to-consume dishes that are meant to be enjoyed with a nice hot or cold beverage.
Its breakfast menu is quite versatile in our opinion, managing to cater to a wide range of tastes. It has French brioche, waffles, and pancakes, for those who like their breakfast sweet, and bacon and eggs on toast for something more savory to start your day.
Its lunch menu is amazing as well, adopting a more international approach that can accommodate all sorts of cuisines. It also has vegan and vegetarian options for those with dietary restrictions.
When it comes to the service, we love how well-trained the staff is at handling a throng crowd every breakfast and lunch rush. We love seeing them unbothered by the busyness of the peak hours.
However, you better make sure to make reservations because it really does get full. And because of this, peak hours can be noisy and overwhelming to the senses for some.
But the fact that it is often full is proof as to why they won Tripadvisor's Travelers' Choice award for both 2021 and 2022.
Diverse cafe-style food and drinks
Travelers' Choice awardee for two years straight
Composed and professional staff
Elegant vintage-style ambiance
Peak hours can get noisy and overwhelming
Reservations are needed during peak hours
Customer Reviews
Decent food and service
"Decent food and service. I visited twice, and I felt welcome and well taken care of.
I ordered a number of things here. My favorite would be the spinach and artichoke dip with chips. It's just so tasty. Their drinks (non-alcohol) are also very good. Overall, the experience here has been great so far. The staff are well trained and friendly. Highly recommended 👌🏻
The parking could be the only problem in this place. There is none outside the building. Therefore, you need to park inside the building, and the security guard has to open the barrier manually for you. Which means sometimes you could be waiting a little bit.
Vegetarian options: Plenty of salads and vegetarian options" – Ali Tal, Google Reviews
Everything is perfect
"We had an iftar dinner at Cafe Society with my two friends. The restaurant is magnificently designed. Their food was delicious. Customers looked happy. Being able to use the hotel's car park is a great advantage. So there is no parking problem. The staff are friendly. Everything is perfect. Thank you." – Muaz Kalayci, Google Reviews
4. Kimura-Ya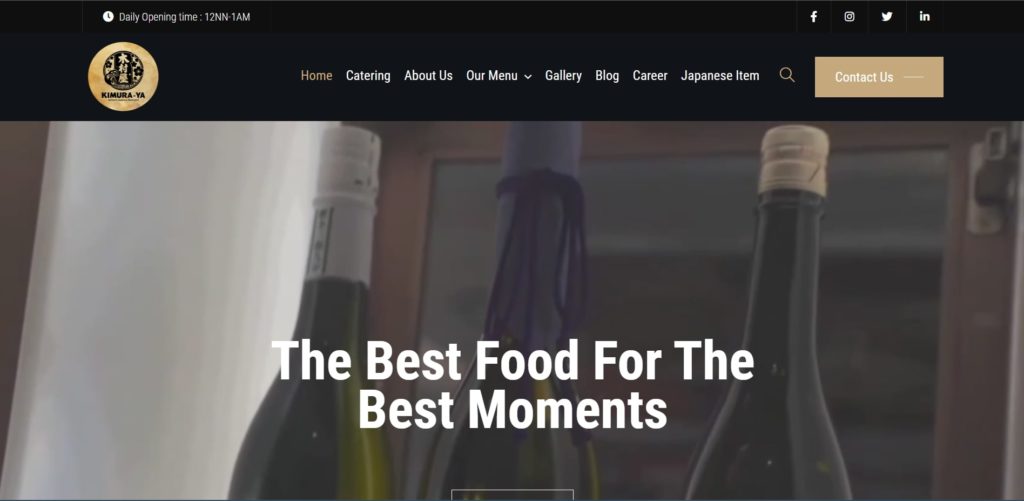 | Test | Info |
| --- | --- |
| MENU | Salads, sashimi, seafood and meat yakitori, sushi rolls |
| WEBSITE | https://kimurayadubai.com/ |
| ADDRESS | Ground Floor, Habtoor Grand Resort - Al Falea St - Dubai - United Arab Emirates |
| CONTACT DETAILS | +971 56 671 3079 |
| OPERATING HOURS | Every day: 12 pm - 1 am |
| | |
| --- | --- |
| Criteria | Rating |
| Menu | ★★★★★ (5/5) |
| Service Quality | ★★★★★ (5/5) |
| Ambiance | ★★★★☆ (4/5) |
| Acclaim | ★★★★★ (5/5) |
Do Japanese food and brunch sound like a good combination to you? Because it does to us, especially when it is at Kimura-Ya!
This dining destination is one of the best places to eat fresh sushi and sashimi here at the Marina.
We love that its menu is authentically Japanese with an amazing range of offerings that include tempura, yakitori, udon, soba noodles, and sushi rolls.
We also appreciate that the food is served quite fast, requiring very little wait times which makes it perfect for a weekday brunch. However, that's not the only thing we liked about Kimura-Ya.
If you're lucky, you might be able to come in at a prime hour where you're able to get unlimited food and drinks from lunchtime up to dinner, starting at around 12:00 PM and lasting up to 9:00 PM.
And if we are talking about authenticity, then look no further than the decor and the architecture of the space. Kimura-Ya definitely feels like a typical old-school Japanese restaurant that you can find in Kyoto, albeit a little more posh.
However, it does make the space feel quite old and dated. We feel that a little update on the decor could really change the atmosphere.
And when it comes to awards, this restaurant has a handful. It won Time Out's Restaurant award in 2021 and has a near-perfect rating on Google, Zomato, and TripAdvisor.
Serves authentic Japanese food
Great brunch deals
Has multiple awards
The decor is outdated and feels old
Customer Reviews
Amazing Japanese food with excellent and attentive service staff
"Amazing Japanese food with excellent and attentive service staff. Reasonable wait for piping hot food. Raw food was fresh and tasty!
I enjoyed it so much that I patronized them two days in a row. Hope to be back again one day.
Vegetarian options: available
Parking: parking coupon available
Kid-friendliness: yes
Wheelchair accessibility: no. flight of stairs before the restaurant." – James Pee, Google Reviews
I would definitely recommend the place
"It was our first time to visit this Japanese restaurant. Our food selection was delicious, the ambiance was amazing, you'll love the full experience, and the staff were friendly, especially Princess. I would definitely recommend the place." – Yasmin Chello, Google Reviews
5. Black Tap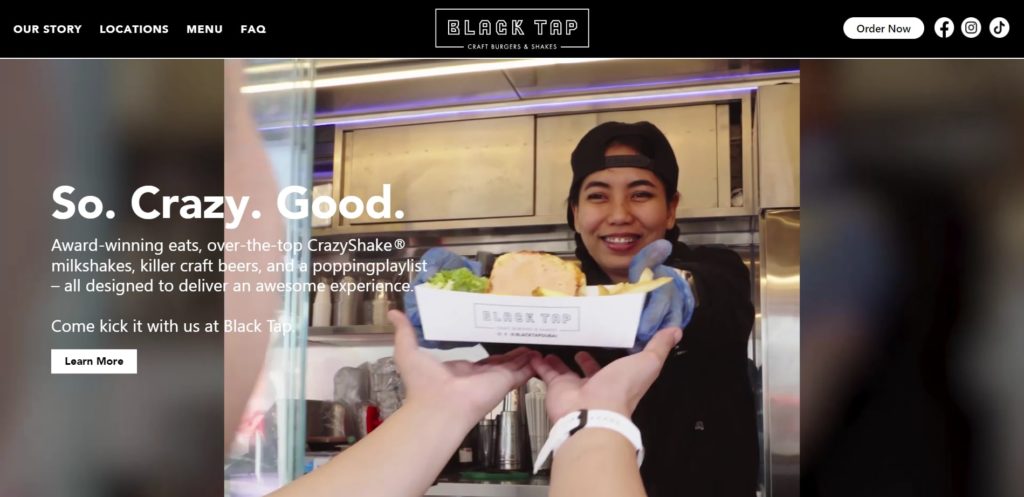 | Test | Info |
| --- | --- |
| MENU | Burgers, milkshakes, beer |
| WEBSITE | http://blacktapme.com/ |
| ADDRESS | Rixos Premium Hotel - JBR Ground Level - Dubai - United Arab Emirates |
| CONTACT DETAILS | +971 4 3305103 |
| OPERATING HOURS | Every day: 12 pm - 1 am |
| | |
| --- | --- |
| Criteria | Rating |
| Menu | ★★★★☆ (4/5) |
| Service Quality | ★★★★★ (5/5) |
| Ambiance | ★★★★★ (5/5) |
| Acclaim | ★★★★★ (5/5) |
Head on over to Black Tap if you want to go back all the way to SoHo in the '80s and '90s. This fun burger joint brings back the beauty of New York hip-hop hop in its own way — burgers with patties cooked on a griddle, never on a grill.
Its award-winning burgers are made not without the freshest and highest quality ingredients.
Our personal favorite is the Pear Bacon Burger, which consists of pear and bacon jam, crispy kale, and truffle aioli. It is simply a rich combination of sweet, savory, and fatty.
Besides its burgers, we love pairing these up with its large selection of craft hops — on tap or by the bottle.
Its internet-viral milkshakes can also help round up the outrageousness of its burgers. Although the milkshakes are more of a spectacle rather than a special beverage in our opinion.
On top of that, the milkshakes are too expensive for the taste that they offer, and the portions are simply too much for even two people.
Its service, though, remains excellent. The staff are quite accommodating and friendly throughout our entire dining experience.
When it comes to its ambiance, we really appreciate the sports bar vibe mixed with some retro hip-hop graffiti art. It says what needs to be said about the restaurant's playfulness when it comes to its food.
Award-winning burgers
Excellent service
Fun and playful ambiance
Milkshakes look better than it tastes
Milkshakes are too expensive for the quality
Customer Reviews
Great halal burger option!
"Nicely juicy halal burger loved it to the most. Wonderful hospitality and service. The person who talked might be a chef or the owner of the place. He was pleasant and took care of us. Shared the best dish and gave us the best view of the water fountain presentation at the Dubai Mall. Overall great place to be"—Mushir Ahmed Basheer, Google Reviews
Great American burgers are served here
"Black Tap the New York import to UAE is a great spot for American comfort food, especially the burgers and shakes. The interiors are cool and funky and their outdoor seating area has amazing views. Love their burgers, truffle fries, onion rings, teriyaki broccoli, and crazy shakes. The service is impressive." —Meghana Rao, Google Reviews
FAQs about Restaurants in Dubai Marina
---
We hope this helped you find your restaurants in Dubai Marina. Also, if you're looking for other things to do in Dubai Marina, then check out these articles: