The 5 Best Spas for Men in Dubai
Everyone deserves a spa day, especially us men who need specialists for our harder muscles, and grooming experts for our facial and body hair.
Thankfully, Dubai knows what men want, and spas for men are just as popular as women's.
To find out which ones are truly amazing options, we went and asked around the city to give you Dubai's best spas for men.
How much does it cost to go to a spa for men in Dubai?
The cost of going to a spa for men in Dubai depends on the kind of services you will be availing. Spas for men often provide grooming services alongside massages, and some of these services often come in packages.
To help you get started, we made a table of the price range of each service commonly found in these spas.
| SERVICE | PRICE RANGE |
| --- | --- |
| Massage | AED375 - AED525 |
| Haircut | AED100 - AED150 |
| Manicure & Pedicure | AED90 - AED200 |
| Face Care | AED160 - AED750 |
| Hair Waxing | AED60 -AED 655 |
How We Picked Dubai's Best Spas for Men
Before we get right into our list of Dubai's best spas for men, here are the factors we considered for our entries on this list:
1. Anantara Spa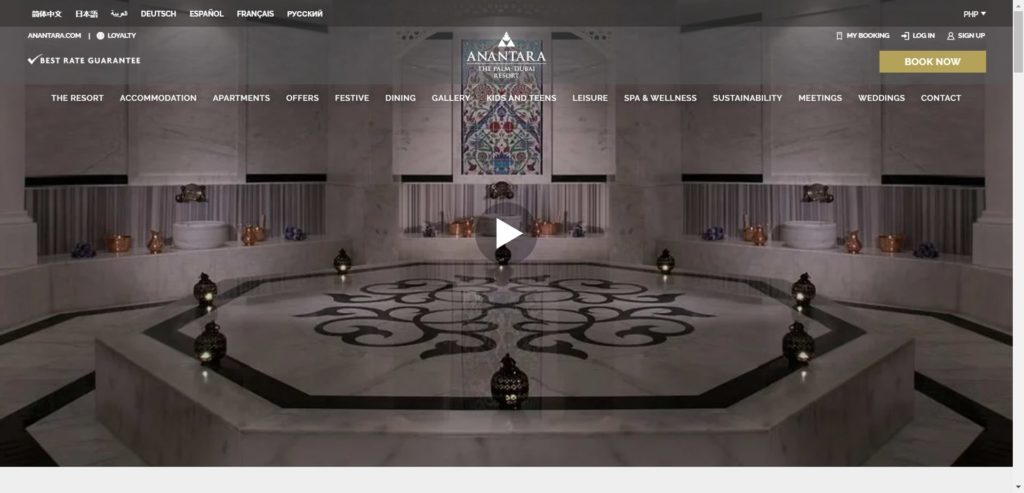 | Test | Info |
| --- | --- |
| SERVICES | Massage, hammam bath, sauna |
| WEBSITE | https://www.anantara.com/en/palm-dubai/spa |
| ADDRESS | P.O. Box 71607, East Crescent, Palm Jumeirah, Dubai, United Arab Emirates |
| CONTACT DETAILS | +971 4 567 8140 |
| OPERATING HOURS | Every day: 10 AM–10 PM |
| | |
| --- | --- |
| Criteria | Rating |
| Ambiance | ★★★★★ (5/5) |
| Customer Service | ★★★★★ (5/5) |
| Range of Services | ★★★☆☆ (3/5) |
| Products | ★★★★★ (5/5) |
While technically welcoming to both genders, Anantara Spa is a favorite among men because of its Turkish hammam facilities.
With an interior styled to combine the beauty of East Asia, Southeast Asia, Turkey, and Arabia, the spa gives off a sense of exotic royalty.
This is very notable in its hammams, which felt like they were made for Ottoman royalty. The bathhouse helps purify the body and skin with the subtle heat coming off from their marbled tiles.
Its shared facilities include an aroma steam room, which is just perfect for all the men who love aromatherapy. But this sometimes gets too full for comfort.
That's okay though because we decided to wait it out and tried out their bamboo sauna and herbal bath services, which were just completely rejuvenating.
However, while most of its treatments were great, we were disappointed that it does not really have anything to offer for men's grooming. Haircuts, shaving, waxing, and the like, are all absent from its menu.
This felt like such a loss and a waste of time because it would have been a perfect holistic experience for both men and women if it had grooming services available.
But what was an unexpected highlight during our time here was their Thai massage, which was just on another level. It was both tolerably painful and satisfying as we got our limbs and joints stretched.
We also liked that the staff took the time to explain each massage oil in their repertoire, so we ended up enjoying testing and picking out our oils for our Thai massage.
We are also big fans of the magnesium products that they used in our body wrap called Slimming Magnesium Booster.
A luxurious interior makes for a great ambiance
Great Thai massage treatment
Excellent quality products
No grooming services are available
Customer Reviews
Money well spent!
"An incredible experience in an incredible spot!
I booked a one-hour massage and I have to say that it's the best hour I've spent in Dubai. It's no doubt a 5-star experience from the arrival until the end." —Terence Jong, Google Reviews
What a treat!
"Lovely experience in this Spa! Went with some friends as a day treat.. highly recommend it. The staff is very knowledgeable. Loved the product Natura Bliss they used for my facial – I was glowing with rehydration. Definitely an amazing experience – I was so happy I ended up buying a gift certificate for a friend's birthday. Big Thank you to the Spa Team!" —Tanya Engvig, Google Reviews
2. Jazz Lounge Spa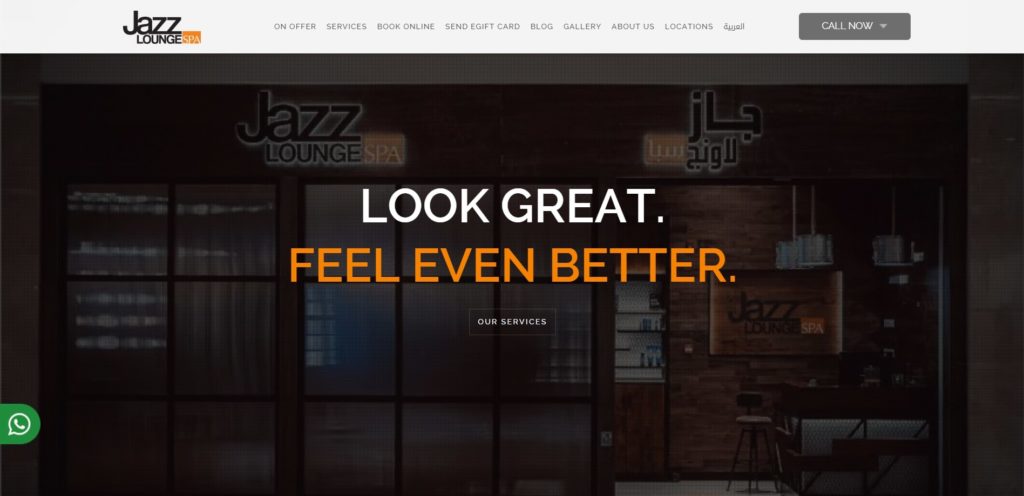 | Test | Info |
| --- | --- |
| SERVICES | Massage, haircut, mani-pedi, facial treatments, body treatments |
| WEBSITE | https://jazzloungespa.com/ |
| ADDRESS | Palm Jumeirah, Golden Mile Galleria 1, Dubai |
| CONTACT DETAILS | +971 4 241 1424 |
| OPERATING HOURS | Every day: 10 am - 10 pm |
| | |
| --- | --- |
| Criteria | Rating |
| Ambiance | ★★★★☆ (4/5) |
| Customer Service | ★★★★★ (5/5) |
| Range of Services | ★★★★★ (5/5) |
| Products | ★★★★☆ (4/5) |
Jazz Lounge Spa is just like every spa for men with its haircuts and spa treatments, alongside massage, but what makes it unique is that it is also a party with alcohol being served to guests while they enjoy its offerings.
With marble flooring, white walls, and wooden trimmings, Jazz Lounge feels like a typical spa, but we nerve judge a book by its cover.
While the seemingly too simple interior lends itself to a more serene and relaxing atmosphere, it is the alcoholic aspect of the service that really puts a different spin on the spa's vibe.
And speaking of service, we love how the staff is really invested in providing an escapist experience that makes us truly forget the world outside of the premises.
They were all accommodating, and the barbers were even more than willing to work with us to achieve the haircut we wanted.
And we can't find fault in the range of treatments it provides. Massages, haircuts, mani-pedis, and facial & body treatments are all available.
It is too easy to spend a day here with the number of things we can do.
With the unique range of services, there is no better place to enjoy first-class spa treatments and styling all year round.
However, there really is not anything special with any of the products it uses. While the quality is by no means terrible, Jazz Lounge Spa could still use a little improvement from this end.
Offers alcoholic drinks while for guests
Accommodating and enthusiastic service
Has a wide range of massage and grooming services
The space feels too simple and generic
Nothing special about the products
Customer Reviews
I love this place, a boutique spin studio located in the heart of DIFC
"Excellent spa and highly recommended for massage and haircut and manicure and pedicure. The staff is so nice and welcoming, and the therapist and stylist are great, I will be coming back definitely.
Book before you come, it's better to not wait. I did my hair twice there, once with Bassel and once with Ola, both are very good!" – Saleem El Deek, Google Reviews
Loved it!
"The best gentlemen's salon especially kids. My 4 and 6-year-old sons look like men with their amazing haircuts!
I am so glad someone randomly on the mall gave me the name of this Man Spa 🧖‍♂️ always on time and super kind to my little ones! Thanks so much! …" -Ninoska Ayala, Google Reviews
3. Naturelife Spa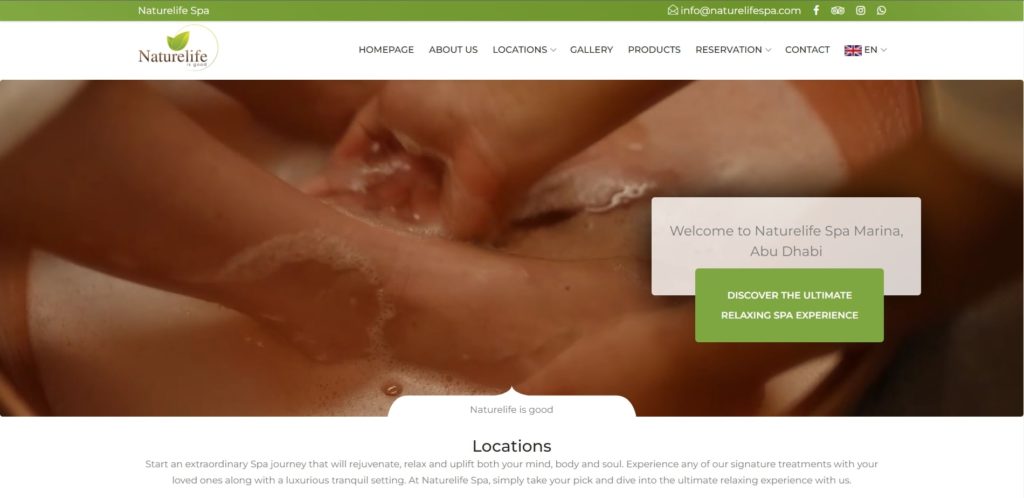 | Test | Info |
| --- | --- |
| SERVICES | Massage, hammam bath, facial treatments, mani-pedis |
| WEBSITE | https://naturelifespa.com/ |
| ADDRESS | The Walk Rixos Premium Dubai - Al Mamsha St - Jumeirah Beach Residence - Dubai - United Arab Emirates |
| CONTACT DETAILS | +971 4 520 00 33 |
| OPERATING HOURS | Every day: 10 am - 10 pm |
| | |
| --- | --- |
| Criteria | Rating |
| Ambiance | ★★★★★ (5/5) |
| Customer Service | ★★★★☆ (4/5) |
| Range of Services | ★★★★☆ (4/5) |
| Products | ★★★★★ (5/5) |
Located on the 3rd floor of Rixos Premium, The Nature Spa is a hidden gem in one of the prime locations in the city that aims to please even the most discerning traveler.
A world-class spa with views to match, we love getting our massages here because if we're not dozing off, then we can simply open our eyes and look out the window where breathtaking views of Ain Dubai and the Dubai Marina are found.
The interior is just as luxurious. Marbled tiles and walls are elevated even more by the beautiful lighting design that makes the space feel like a cocoon.
The views alongside the interior make for a delectable combination that truly elevates what a spa day means for us. The balance between luxury and coziness is perfectly handled.
We also loved the receptionist and how accommodating she was. She really helped put us all in the mood to unwind.
However, the massage therapist needs improvement when it comes to control. Our session with her felt rushed, and the technique was not as good as the other spas we tried.
On top of that, we were disappointed that the range of services it only offers are hammam baths, massages, facial treatments, and mani-pedis. For such a luxurious destination we expected it to cover all of its bases.
However, its products are completely amazing. Exclusively only using Maria Galland for its facial treatments, we immediately felt amazing afterward because of it.
Has beautiful interiors and breathtaking views of the city
Great receptionist
Exclusively uses high-end products for its facial treatments
Lacks many grooming services
Massage therapist lacks technique
Customer Reviews
Nature Life Spa is a must-visit luxurious spa in Dubai
"Nature Life Spa is a must-visit luxurious spa in Dubai. The ambience is so upstanding with a great sea view. The technicians are quite professional. I had a Bali traditional massage and it was so relaxing. After that, they served me a snack plate with tea. While resting I was enjoying the food and view. If you looking for a great massage and spa place. Nature Life Spa is a must-visit for you all. Highly Recommended." – Tamanna Sultana, Google Reviews
Highly recommended and easily the best spa
"The best spa experience I've ever had!
Reception (Ahmed) was very warm, Samiya took me to a mini spa tour before my treatment and was extremely accommodating.
My therapist Arista put me into absolute relaxation and zen – the massage was good and targeted all my pressure points. Super professional and I wish it didn't end!
Highly recommended and easily the best spa" -Kani Ahmadpour, Google Reviews
4. 1847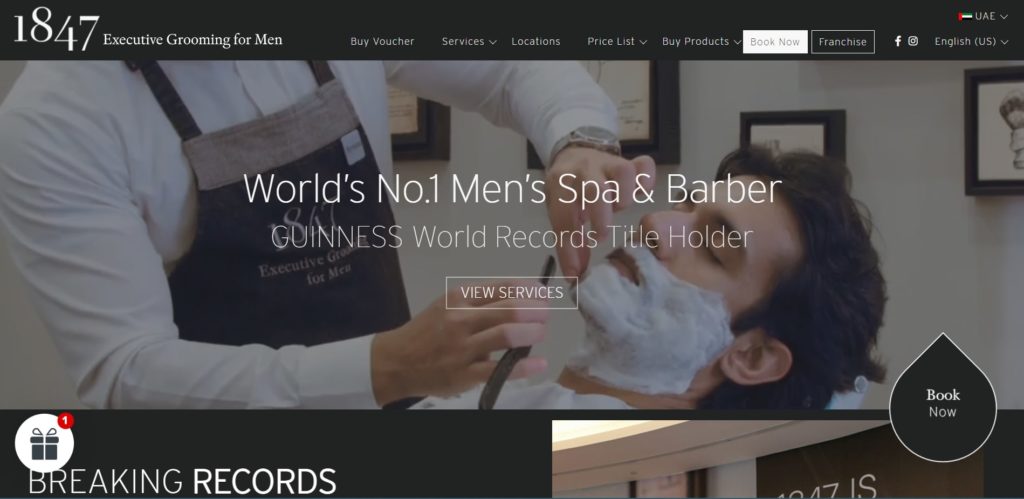 Test
Info
SERVICES
Massages, mani-pedis, facial treatments, waxing services, hair replacement
WEBSITE
https://1847formen.com/
ADDRESS
4th Floor, Grosvenor House Hotel, Tower 1, Al Sufouh Road.

Has 13 more locations throughout the city

CONTACT DETAILS
+9718001847
OPERATING HOURS
Every day: 9 am - 10 pm
| | |
| --- | --- |
| Criteria | Rating |
| Ambiance | ★★★★☆ (4/5) |
| Customer Service | ★★★★★ (5/5) |
| Range of Services | ★★★★★ (5/5) |
| Products | ★★★★☆ (4/5) |
Looking sharp and feeling refreshed are the two things you mainly want out of a spa experience for men. 1847 does that with all the extra attitude and pizzazz to elevate the experience we got from them.
Playing with that sense of exclusivity, the entrance at JBR is private and discreet, easily mistaking it for just any other door for the staff.
When you enter, you are welcomed by a beautifully design gentleman's club with magazines, great barber chairs, and lounge areas. It has all the energy of an old-world club where aristocrats and men of power go to smoke cigars.
The only problem with it is that it is not a very spacious spa, so it feels cramped on busy days such as weekends.
Despite that, the service we got, which was nothing short of perfect, helped alleviate this. The staff are friendly and attentive, and they went out of their way to make us feel important during our visit.
The range of services it provides is complete, accommodating any kind of needs we men need for both grooming and massaging. We literally have no critiques for this aspect of 1847.
And when it came to its products, we appreciate that it has a wide range of products that the staff uses, including many worldwide brands.
However, we would have appreciated it more if it really settled with one excellent brand for each of its services just to really hone in on its focused results.
Beautifully decorated space
Excellent service
Complete set of massage and grooming services
Space is too small for busy days
Too many products are being used
Customer Reviews
It's so easy to ask them what I wanted
"I generally don't enjoy going to the barbers because it is so hard to communicate and get what you really want. However, Ali has cut my hair twice now, once for my wedding and another just recently, I appreciate how he's able to understand what I'm asking for and does it well, he's also very kind, very welcoming, and we've had great conversations. Thank you, Ate Ali 😉 haha" – Rohan Verghis, Google Reviews
I will return again without hesitation
"This morning I was fortunate to visit 1874 in JBR on the off chance I could get a pedicure.
I ended up getting a first-class pedicure from Jackie who was so polite and great at her job.
I then decided to try the new facial they were doing and it was fantastic.
Mimi who administered the facial was excellent and made me feel so comfortable.
I would recommend 1847 to anyone it is a great place very clean and hygienic and I will return again without hesitation." – Richard Harper, Google Reviews
5. The Burj Club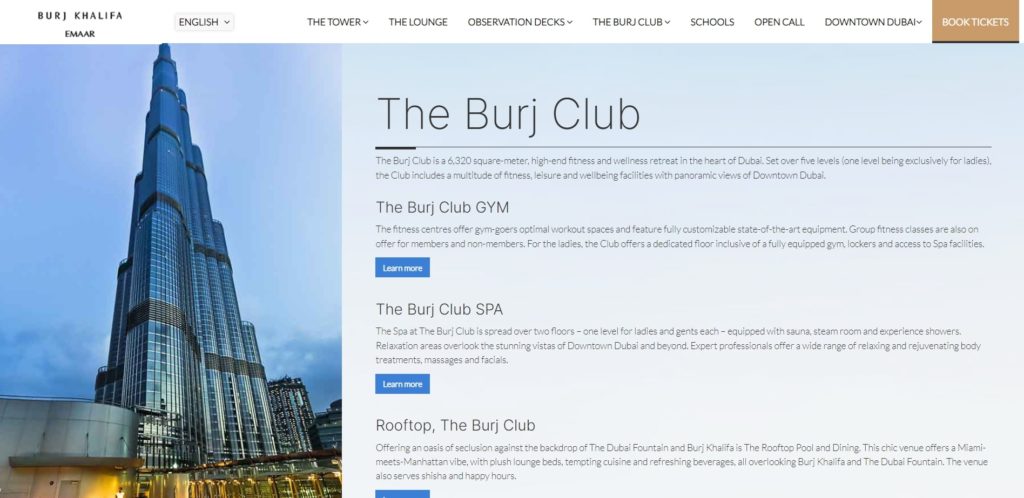 Test
Info
SERVICES
Massage, body treatments, facial treatments
WEBSITE
https://www.burjkhalifa.ae/en/the-burj-club/
ADDRESS
Burj Khalifa - Sheikh Mohammed bin Rashid Blvd - Downtown Dubai - Dubai - United Arab Emirates
CONTACT DETAILS
+971 4 888 3900
OPERATING HOURS
Monday to Friday: 10 am - to 10 pm

Saturday to Sunday: 10 am - 12 am
| | |
| --- | --- |
| Criteria | Rating |
| Ambiance | ★★★★★ (5/5) |
| Customer Service | ★★★★☆ (4/5) |
| Range of Services | ★★★★☆ (4/5) |
| Products | ★★★☆☆ (3/5) |
A comforting oasis in the middle of the city, The Burj Club has all the makings of an elite private gym, including a beautiful overlooking view of The Dubai Fountain.
With its Balinese-inspired decor, and premium facilities including a steam room, sauna, and multiple experience showers, it is not hard to feel like the king of the world when we are here.
Getting a massage while looking out the stunning vistas of Downtown Dubai and beyond was definitely an experience we are not going to forget anytime soon.
While the service that we experienced was excellent, including how our therapists blew our minds with their Balinese massages, we just wish that service extended into maintaining this place.
We noticed that its pool had a little bit of flooding around it, and some toilets were not flushing, so these were disappointing to see.
On top of that, while it definitely has an amazing gym, a sauna, and some steam room for its guests to use, we were disappointed by the lack of grooming services.
We think that by having these, The Burj Club could really offer a high-end holistic spa experience for men that is almost unrivaled.
Another problem we had is that for a spa that is on the upper end of the spectrum, its products do not show that. While the quality is great, it all feels and smells generic in our opinion.
Amazing Balinese ambiance
Has an amazing view of the Dubai Fountain
Amazing therapists
Has many amenities to offer
Place lacks maintenance
Does not offer grooming services
Customer Reviews
One of the best moments of my life swimming in the Burj Club pool
"One of the best moments of my life swimming in the Burj Club pool from 5-8 pm saw the golden skyscrapers all around and adorable views of Burj Khalifa from its feet, the night Dubai fountain, and the towering beauties and lukewarm water with almost nobody around since it was off-season. Had VIP access to the pool and the experience was top-notch. Had a tough time finding the entry by walk from Dubai Mall. Search for the spa and enter through it upon permission. It is a heavily guarded area." – Prof Senthil P Kumar, Google Reviews
A perfect experience
"Always very polite staff on reception in person and over the phone, very friendly. I had a 1-hour massage with Lizzy and she was fantastic, great technique and a perfect experience with the scented oils, ambiance, and general feeling of relaxation. Thank you." – Jemma Gardner, Google Reviews
FAQs about Spas for Men in Dubai
---
We hope this helped you find your favorite spa for men in Dubai. Also, if you're looking for more recommendations to unwind, then check out these articles: