The 5 Best Shops for Office Supplies in Dubai
The availability of office supplies in the workplace is critical, and so is having your own wherever you go. Pens, notepads, and many other tools are a working man's companion in the office.
That is why scoured the city for the best shops for office supplies in Dubai. We're also sharing with you the factors we considered in choosing, and also answered some FAQs about office supplies below.
How much do office supplies in Dubai cost?
The cost of office supplies in Dubai can vary depending on the item, the brand, and the amount that is going to be bought.
To give you a starting point, we made a table of the price range of the most commonly purchased office supplies.
| Office Supplies | Price Range |
| --- | --- |
| Pens | AED2.50 - AED1,368 per piece |
| Printing Paper | AED12 - AED169 per ream |
| Executive Notebooks | AED19 - AED120 per piece |
| Correction Fluid/Tape | AED5.50 - AED9.50 per piece |
| Printers | AED830 - AED5,800 per machine |
The Best Shops for Office Supplies in Dubai
Before we get right into our top picks for the best shops for office supplies in Dubai, here are the factors we considered for our entries on this list:
1. Almasam Stationery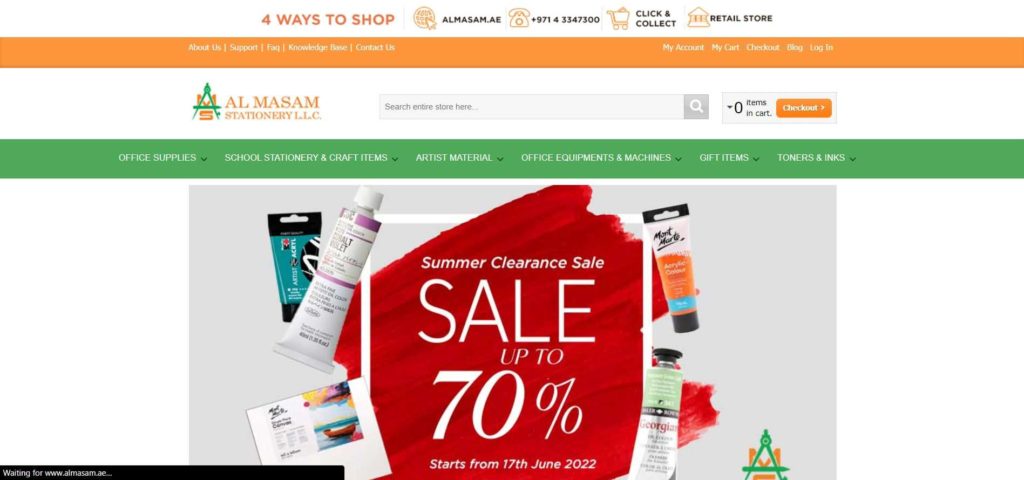 | Test | Info |
| --- | --- |
| WEBSITE | https://www.almasam.ae/ |
| ADDRESS | Zaabeel Street, Lahej Khalifa Al Basti Building, Shop #1 & 2, Ground Floor, Main Road, Closest Landmark Karama General Post Office, Dubai, U.A.E |
| CONTACT DETAILS | 04 3347300 |
| OPERATING HOURS | Every day: 8 am - 8 pm |
| | |
| --- | --- |
| Criteria | Rating |
| Inventory | ★★★★★ (5/5) |
| Customer Service | ★★★★☆ (4/5) |
| Accessibility | ★★★★★ (5/5) |
| Digital Platform | ★★★☆☆ (3/5) |
Almasam is one of the leading stationery providers in UAE, with world-class service quality and competitive prices.
One of the strongest points this shop has, for us, is its wide range of supplies on hand. Besides its complete and comprehensive office supplies, Almasam also has corporate gifts and art supplies.
We love how it's keeping the art of physical networking alive through its inventory of corporate gifts, and expanding its reach by also providing art supplies.
We also love the customer service we experienced both online and in the store. The staff is always accommodating and patient, helping us find the brands we preferred.
However, their penchant for accommodating every customer's request does slow down the service time when the store gets busy.
But that doesn't apply to its delivery turnaround times. Its delivery services, which are free for purchases above AED300, always arrive on time.
And when it comes to its website, we like how the sales and discounted items are at the front. However, its dropdown menus can become overwhelming with all of the words appearing all at once.
A menu that can be scrolled down would be better to help and guide the eyes to look for the type of items we're looking for.
Wide range of items for sale
Customer service for online and physical stores is accommodating
Punctual and efficient delivery service
Website is too text-heavy
Service in stores can be slow
Customer Service
Amazingly quick delivery service!
"That was fast. I got a confirmatory email immediately after I paid for the order online. Thereafter, I was actually expecting the products to arrive the following week since I ordered two days before Eid Al Adha and I live in a different emirate. Not even 24 hours later, I received a message stating that it was already near my area and was out for delivery. Nevertheless, I received the items in pristine condition (cutting through all that packaging tape is totally worth it). Will definitely recommend it. Thank you." – Marona Julabar, Google Reviews
Ordering from them was such a great experience
"We are very pleased and impressed with the quality of service provided by Mohammed and the Team. Flexible and customized solutions in addition to prompt responses and timely completion of work resulted in a great experience.
We truly appreciate the efforts and look forward to continuing our business relationship." – Shilpa Kumar, Google Reviews
2. Cion office Innovations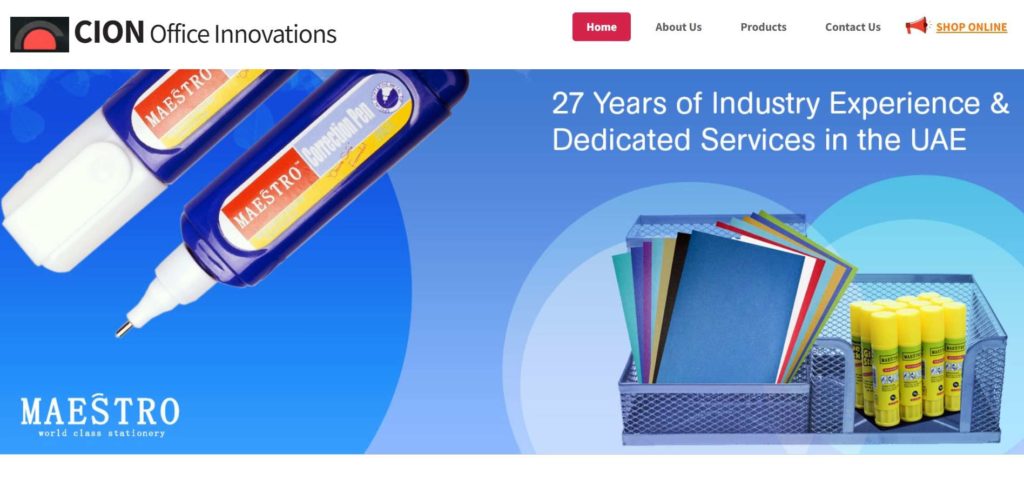 Test
Info
WEBSITE
http://cionbusinessgroup.com/#
ADDRESS
Shop 8 & 31, Al Maskan Building, Karama, Near Lulu hypermarket
CONTACT DETAILS
04- 370 6175

04- 370 6275

04 3318348

+971 50 655 3126

OPERATING HOURS
Monday to Saturday: 8:30 am - 8 pm
| | |
| --- | --- |
| Criteria | Rating |
| Inventory | ★★★★★ (5/5) |
| Customer Service | ★★★★☆ (4/5) |
| Accessibility | ★★★★☆ (4/5) |
| Digital Platform | ★★☆☆☆ (2/5) |
An office equipment supplier that also accepts special projects, such as office design, office equipment maintenance, and many more, Cion Office Innovations has the technical know-how on the best office supplies in the business.
Besides the office products that fill up every person's desk, art materials, and school stationery, we also love the fact that it supplies office equipment.
Literally, we think that with the inventory that Cion has, you can have a fully equipped office with one delivery from its shop.
It also has its own product, the Easy Citie, which is a portable sticky whiteboard film that can be handy for meetings anywhere.
What we like about Cion is despite the largeness of its shop — it's literally the size of a small warehouse — the staff moves so efficiently that the service is quick.
However, it doesn't have a refund or exchange policy in place, which becomes a complicated situation especially when there are big purchases for office equipment happening all the time.
As for its delivery service, it's okay. It's a necessity with the kind of supplies they sell, and its fleet all over the UAE is doing just enough to get deliveries on time.
The website isn't all that spectacular, either. Its catalog is only accessible via a separate pdf file that has its own set of challenges when accessed through a smartphone.
There really aren't that many details provided on its home screen, either, besides the range of items the company sells. There are missed opportunities here because, with a little bit of improvement, it could display the number of items it can provide to potential customers.
Wide range of office supplies
Quick and efficient customer service
Delivers nationwide
Does not have a refund or exchange policy
Website lacks details and a better interface
Customer Service
One of the best stationery centers in Dubai
"One of the best office stationery centers in sheik Zayed Road Dubai. Good quality items. Reasonable prices. Office delivery is available. Printing binding, etc. Pickup and delivery of documents. Good service." – Jayaraj DPillai, Google Reviews
All kinds of office supplies are available
"Excellent place for stationery and selections. All types of whiteboards and office equipment… All kinds of stationery available with good price & service.👍." – Vaishnavi Sai, Google Reviews
3. Office One
| Test | Info |
| --- | --- |
| WEBSITE | https://www.officeoneuae.com/ |
| ADDRESS | 1 4 B St - Al Quoz - Dubai - United Arab Emirates |
| CONTACT DETAILS | +971 4 380 4009 |
| OPERATING HOURS | Every day: 8:30 am - 6 pm |
| | |
| --- | --- |
| Criteria | Rating |
| Inventory | ★★★★★ (5/5) |
| Customer Service | ★★★★☆ (4/5) |
| Accessibility | ★★★★★ (5/5) |
| Digital Platform | ★★★★★ (5/5) |
Started in 2007, Office One has quickly risen to become one of the most reliable suppliers for office equipment with the willingness to fulfill small and large orders.
With a 5000 square feet store that holds around 5000 items, Office One is a center for all kinds of office supplies.
And with over 100 brands, the choices for every kind of office supply are endless. On top of that, it also has janitorial supplies on hand.
The staff is helpful and always ready to give us a proficient answer whenever we need it. However, what turned us off is the noticeable price hike compared to other shops.
This price range is almost double what we see elsewhere, which is concerning because this shop also sells the brands that are also available in other places.
However, it does free deliveries for orders worth AED300 and above. The great thing about it is that it is so efficient that we can always expect it to arrive the next day or the same day we ordered it.
Another great thing about Office One is its website. On top of having featured products for extra exposure, it also has a section about the shop's top brands and their products.
The dropdown menu is also great because, despite the heavy text appearing, it takes up enough space that we weren't distracted by anything else on the website.
Wide range of items with over 100 brands
Helpful staff
Efficient deliveries
Website is well-designed
Price range of the shop is significantly more expensive than others
Customer Service
The delivery is always quick and efficient
"The least I can say about these guys is that they are AMAZING, just amazing. I deal mainly with Shyn and Dell, but they are all amazing people. The staff go beyond their way to please their customers, delivery is always the next day. I placed an order at 11 pm on a Thursday night once and was shocked when they called me at 9:30 am Friday saying they were on the way to deliver. If an item is not available, they will move mountains to ensure they find it for you. Phone support is also remarkable, and you can always hear their voices speaking with a smile on their face. Not only are the customers lucky to have such a team, I believe Office One management should be thrilled to know how blessed they are to have such amazing staff." – Rula Atallah, Google Reviews
Great customer service
"The customer service is very responsive. Once you call, they keep you updated with the status of your delivery and more.
This is one of the best call centers I dealt with in Dubai for online shopping and because of them, I ordered twice in 2 days. Always arriving on time. Office One is a service that I will keep using for a long.
This is how customer service should be everywhere." – Waleed Elbadry, Google Reviews
4. Altimus Office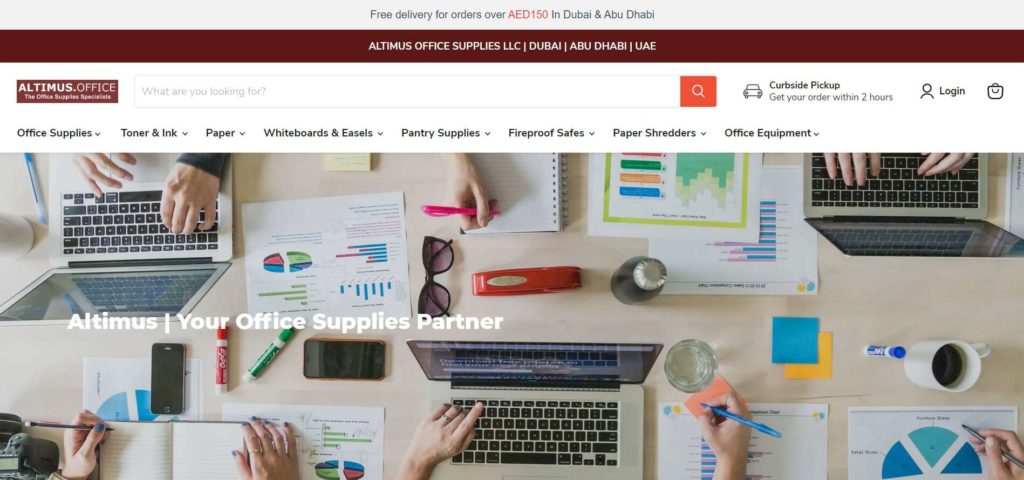 | Test | Info |
| --- | --- |
| WEBSITE | https://www.altimus.ae/ |
| ADDRESS | Altimus Office Supplies LLC, Unit 11, Ground Floor, Al Nasr Plaza, Street 10, Oud Metha, Dubai - UAE |
| CONTACT DETAILS | +971 4 396 7730 |
| OPERATING HOURS | Monday to Friday: 9 am - 5:30 pm |
| | |
| --- | --- |
| Criteria | Rating |
| Inventory | ★★★★★ (5/5) |
| Customer Service | ★★★★★ (5/5) |
| Accessibility | ★★★★★ (5/5) |
| Digital Platform | ★★★★☆ (4/5) |
Having the largest product range in the country, Altimus Office has over 100 brands, providing a complete solution for all office needs.
From the most basic of office supplies like whiteboards and easels to fireproof safes and office machinery, Altimus Office is fully capable of equipping an entire office with its inventory.
And the service is just as good. The staff is always helpful and knowledgeable about what they have and don't have.
Whenever an item is unavailable, they always recommend alternatives found within their store, and they can get back to us in a quick manner.
When it comes to its accessibility, the company has an online and a retail store, so we can shop however we want.
Deliveries are free for orders worth AED150 and above, and we think that it's amazing that we can always consistently expect deliveries in Dubai to come in the next business day.
It also has a curbside pickup for those who need some on-the-spot supplies.
We also love its website, because of the many features it has. Product features, discounts, and sales can be found on its homepage.
However, the dropdown menus are faulty and disappear whenever we try to navigate through them which causes some inconvenience.
The largest product range in the country
Helpful and knowledgable staff
Quick deliveries
Well-designed website
Website's dropdown menus are faulty
Customer Service
I'm very happy with their service
"I ordered a toner with Altimus Office Supplies for the first time and was very happy with the service provided by them. Upon placing the order online a team member called me to reconfirm my order and also advised me that they will be delivered the very next day.
They delivered as promised with an extra special tailor-made gift which I adored. Very nice touch. I will be ordering again for sure 😊thank you team x" – Verona Ah-Kong, Google Reviews
Cooperative staff
"Very cooperative Team especially Ms. Lea. Whenever you have ordered, they make sure to assist you in a quick response and if ever they don't have the order that you are looking for, they always give you the better alternative option or if not, they'll get back to you when they have the product. Keep it up Team!" – Carolyn Tan, Google Reviews
5. Office Rock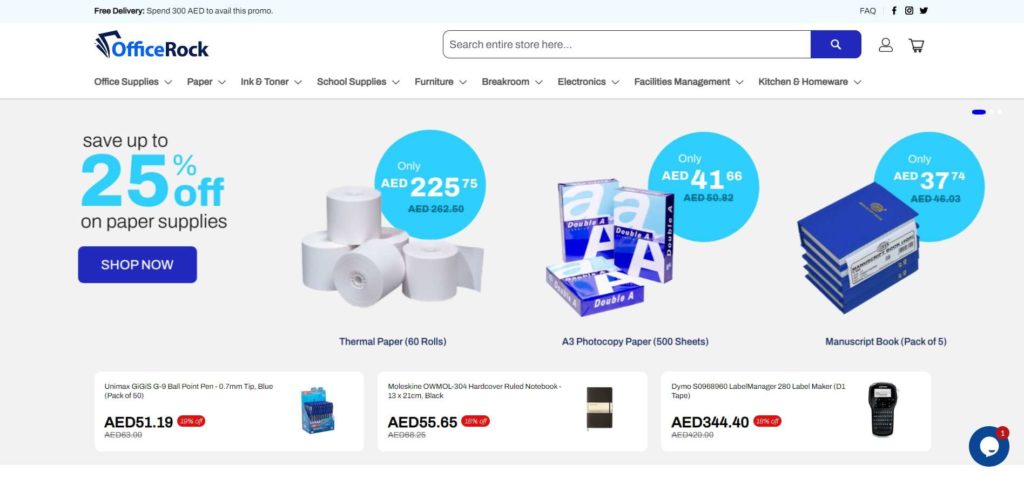 | Test | Info |
| --- | --- |
| WEBSITE | https://www.officerock.com/ |
| ADDRESS | Al Quoz - Al Quoz Industrial Area 3 - Dubai - United Arab Emirates |
| CONTACT DETAILS | +97144069745 |
| OPERATING HOURS | Monday to Friday: 8 am - 6 pm |
| | |
| --- | --- |
| Criteria | Rating |
| Inventory | ★★★★★ (5/5) |
| Customer Service | ★★★★★ (5/5) |
| Accessibility | ★★★★☆ (4/5) |
| Digital Platform | ★★★★★ (5/5) |
A one-stop-online-shop for office supplies, stationery, and many more, Office Rock provides an excellent digital space for the procurement of necessary office equipment in the UAE.
The e-store has expanded into electronics, kitchenware and homeware, and even facilities management, so expect more than just your typical office supplies when browsing through its website.
And we admit that procuring office supplies, especially the more expensive ones, may be theoretically risky. But Office Rock goes above and beyond to address our qualms about it.
The people we talked to addressed all of our concerns and replied to our inquiries promptly and without hesitation.
And when we had an issue with the printer we purchased, its sales representative immediately handled its replacement for us smoothly and quickly.
Of course, an e-store wouldn't be effective without great delivery services — and Office Rock is no exception.
While it may not be the quickest, it sure is always on time in the context of the estimated date of the order's arrival.
However, we cannot simply ignore the fact that the lack of a retail store makes Office Rock less accessible, especially for those who would prefer to see the actual item before purchasing.
But when it comes to its website, we love its entire interface.
Its dropdown menus are limited to a few list items to prevent the customers from being overwhelmed, main item categories are presented comprehensively and creatively, and featured and discounted products are displayed at the front for convenience.
Offers more than just office supplies
Accommodating and helpful service
Punctual delivery service
Excellently designed website
No brick and mortar store
Delivery times are not the fastest
Customer Service
Awesome place
"This company has a great selection of products covering everything you need for an office. Most importantly the customer service is awesome. I had an issue with a product and received a call back from Cherrie within 30 minutes. It was great to get a human being and not an email to help me resolve my problem in less than 24 hours. Easy to deal with. Trustworthy. Stand behind their products. highly recommended." – Qais Al Jobour, Google Reviews
A lovely spot for coffee and work
"Wide range of products right from a small "Pin" to large "Refrigerator" that we use on a daily basis at our office. Excellent Customer service and quick delivery." – Syed Aarif, Google Reviews
FAQs about Office Supplies in Dubai
---
We hope this helped you in finding the perfect store for office supplies. Also, if you're looking for office services, then check out these articles: