The 6 Best Places for Coffee in Dubai
What do mornings and catching up with friends have in common? Both go very well with a cup of coffee.
From traditionally brewed cups to imported beans, Dubai has a multicultural coffee scene. So we scoured the city for the best places for coffee in Dubai.
We're also sharing with you the factors we considered in choosing our entries, and also answered some FAQs about coffee in Dubai.
How much does a cup of coffee in Dubai cost?
The cost of a cup of coffee in Dubai can vary depending on the type of drink, the brew method, the beans used, and the size.
To give you a starting point, we made a table of the price range of coffee drinks for each of our entries on this list.
| Coffee Shop | Price Range |
| --- | --- |
| Alchemy | AED20 - AED40 per cup |
| Drop Dubai | AED23 - AED45 per cup |
| Casette  | AED16 - AED26 per cup |
| The Grey | AED24 - AED62 |
| Nomad Day Bar | AED18 - AED30 |
The Best Places for Coffee in Dubai
Before we get right into our top picks of the best places for Cofee in Dubai, here are the factors we considered for our entries on this list:
1. Alchemy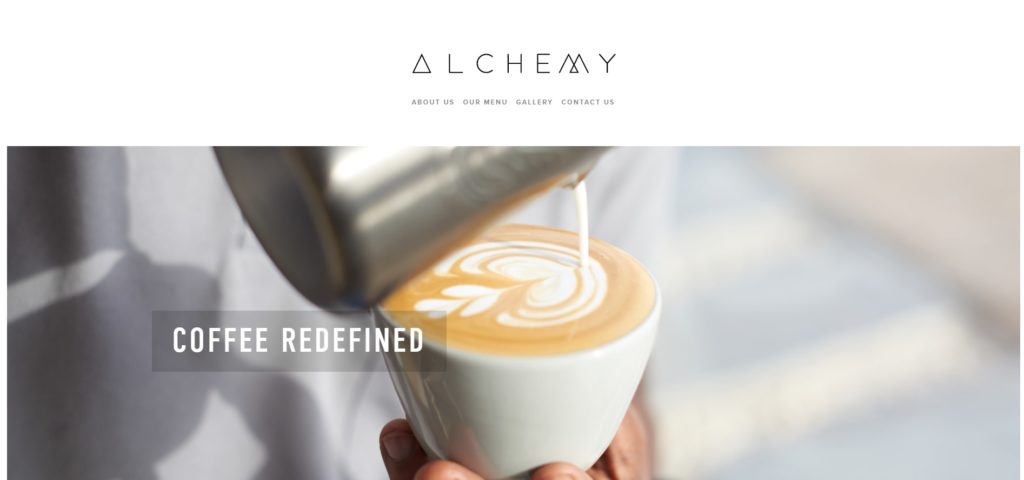 Test
Info
WEBSITE
https://www.alchemydubai.com/
ADDRESS
37 39 B St. on Al Wasl Road, Opposite to Dar Wasl Mall
CONTACT DETAILS
+971 4 344 2466
OPERATING HOURS
Sunday to Thursday: 8 am - 10 pm

Friday to Saturday: 8 am - 11 pm
| | |
| --- | --- |
| Criteria | Rating |
| Coffee | ★★★★★ (5/5) |
| Atmosphere | ★★★★★ (5/5) |
| Food | ★★★★☆ (4/5) |
| Amenities | ★★☆☆☆ (2/5) |
Sourced from ethical single coffee farms and roasted to impeccable perfection, Alchemy consistently delivers cups perfect to get us into the zone.
From a good old shot of espresso and the class latte to specialty coffee like the Kalita wave and cold brews, this coffee shop is never short on choices.
However you want your coffee made, the baristas can do it — and they do it excellently. The proportions of coffee, milk, and water are always on point.
And to round that off are its artisanal pastries, like its rich fudgy caramel brownies and the more experimental miso cookies.
However, we can tell that its pastries aren't baked fresh daily. And while we don't have a problem with that, for sustainability's sake, the decrease in quality is noticeable.
As for the shop's atmosphere, we like the sleekness in the outdoor and indoor seating areas that are reminiscent of the simple long blacks it serves.
We also think that it's a great decision from the shop for offsetting the sharp corners and harsh lines of the furniture with cozy lighting and upholstery.
On top of that, the poolside outdoor area proves to be a great setting for a relaxing afternoon hangout with friends. Pair this up with a glass of cold brew, and you're good to go.
And while the shop may not have many amenities besides your basic wifi and charging stations, we do like that the styling is reminiscent of offices and coworking spaces that can help find the focus needed for work.
Wide range of coffee choices
Sourced from ethical farms
Artisinal pastries
Sleek yet cozy atmosphere
Pastries are not baked fresh
No special amenities
Customer Service
Great ambiance!
"An aesthetically appealing cafe, potentially one of the best I've seen during my caffeine excursions. Constructed within a villa Alchemy takes the best of minimalism and makes a cafe that can attract any crowd.
The pool outdoors provides an outdoor ambiance that despite the heat makes you want to sip on a coffee outdoors, while the wood and white tones indoors make it cozy enough to study inside.
This is a cafe I wish would come to Bahrain and show what true decor can be for a cafe without having to go overboard. Doesn't have to be an abundance of florals and vibrant colors. Neutral tones make it all the more appealing sometimes.
The coffee tasted superb, would definitely visit and study here again if I got the chance." – William Junior Khalil, Google Reviews
Worth the visit for coffee lovers
"Alchemy is an interesting little place, located on the side of a busy road and yet it feels far away from the chaos. There is no kitchen, so you won't be coming here for breakfast, but the coffee is tremendous! The furnishings are simple but work well in the space. There is a pool outside (which doesn't get used) and the glass doors slide open in the winter to make a nice open environment.
If you're a coffee lover, it's worth a visit and is reasonably priced too!
Enjoy 😊
Oh and excellent wifi, so a great spot to get some work done too!" – Zaven Jordan, Google Reviews
2. Drop Coffee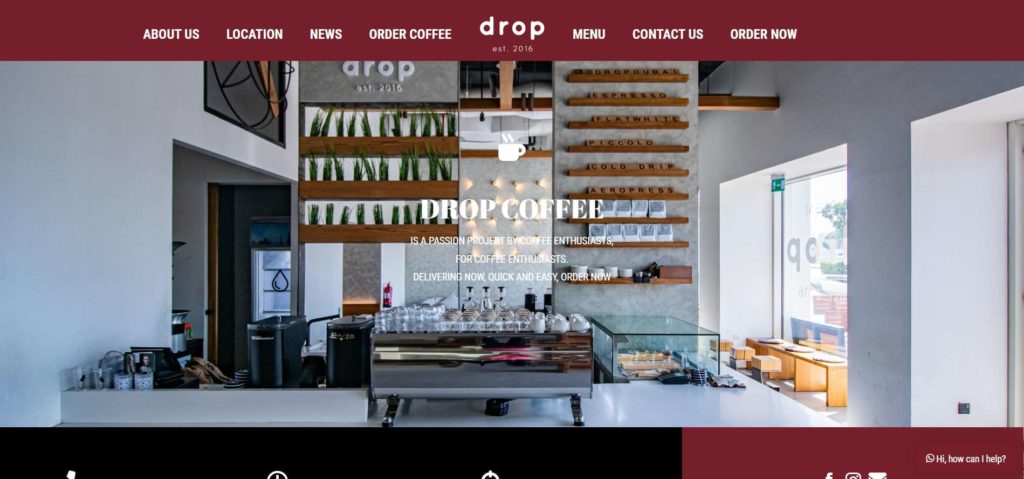 Test
Info
WEBSITE
https://www.dropdubai.ae
ADDRESS

Entrance 3, Shop 72, Dar Wasl Mall. Al Wasl.




Has 1 other location in the city.

CONTACT DETAILS
052 556 8780
OPERATING HOURS
Every day: 10 am - 11 pm
| | |
| --- | --- |
| Criteria | Rating |
| Coffee | ★★★★★ (5/5) |
| Atmosphere | ★★★★★ (5/5) |
| Food | ★★★★☆ (4/5) |
| Amenities | ★★☆☆☆ (2/5) |
Composed of world-class baristas from all over the world, Drop serves specialized coffee that offers a completely different caffeinated experience while still keeping the beauty of coffee that speaks to all.
From staples, like the flat whites and americanos, to the more advanced brews for the discerning coffee lovers, such as the Kyoto Slow Drip and the Cortado, Drop boasts its in-depth knowledge of coffee unapologetically.
We love how its baristas go above and beyond, jumping deep into their codex of coffee knowledge to serve us some amazing cups of coffee for an amazing experience.
The food was okay. The pastries aren't baked fresh, and the quality suffers because of that.
However, the taste is good enough to partner it with its otherwise great cups of coffee. We especially like its Pasteis de Nata.
We also like the minimalistic industrial style the shop has. The high exposed ceilings and the sleek wooden furniture, paired with the soft buzzing of stray conversations had us in a trance throughout our time in the shop.
The large windows let so much natural light in, which made for an energetic vibe to the space too.
As for its amenities, besides the basic wifi and charging offerings, there isn't much to it. We think it's a missed opportunity because the space seemed big enough for a rentable meeting space.
Serves specialized coffee
World-class baristas
Minimalistic industrial interior with lots of natural light
Pastries are not baked fresh
Only has the basic amenities
Customer Service
Stylish space with unrivaled coffee
"One of the stylish cafes you can find in Jumeirah and especially you can find many of those in Al Wasl area. This Drop Cafe is having very sophisticated interior design and a great taste in brewed coffee. I ordered V60 and also cheese danish. Both tasted unrivaled." – Jun Amano Khalil, Google Reviews
Amazing coffee
"Excellent! The coffee was great. The latte was on point and the Americano was pretty good. It is a great little third-wave style coffee shop in Dubai with beans locally roasted on site. The presentation and service were top-notch. Super friendly and knowledgeable Baristas. If you're looking for good coffee this is worth the stop. A little out of the way, but worth it." – Brad Bichsel, Google Reviews
3. Cassette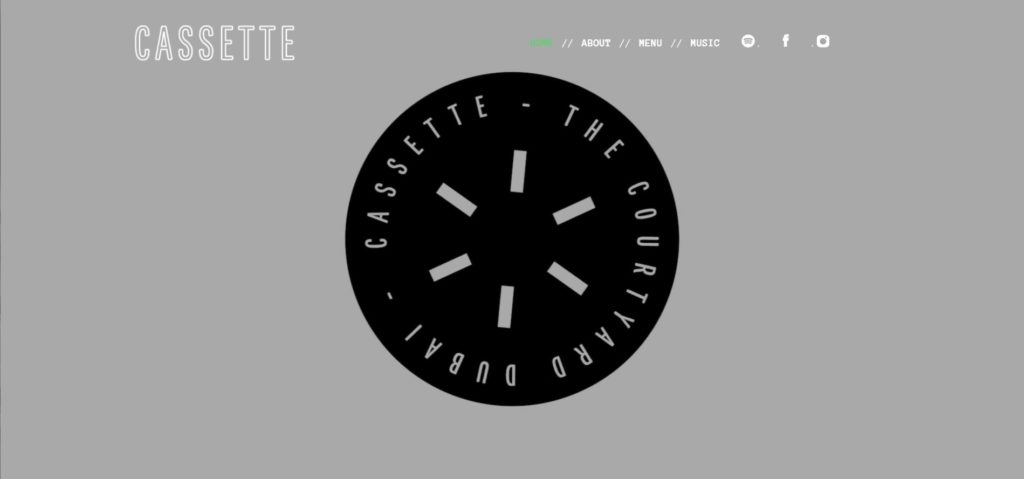 | Test | Info |
| --- | --- |
| WEBSITE | http://cassette.ae/ |
| ADDRESS | The Courtyard, 4B Street, Al Quoz Dubai, UAE. |
| CONTACT DETAILS | +971 04 349 1966 |
| OPERATING HOURS | Every day: 8 am - 6 pm |
| | |
| --- | --- |
| Criteria | Rating |
| Coffee | ★★★★☆ (4/5) |
| Atmosphere | ★★★★★ (5/5) |
| Food | ★★★★★ (5/5) |
| Amenities | ★★★★★ (5/5) |
Cassette is more than just a coffee shop with a carefully curated vibe and thoughtfully brewed coffee. It's is a creative hub that serves Modern Parisian dishes and coffee in the industrial and contemporary Al Quoz.
Enjoying our coffee while listening to its vinyl collection is one of our favorite past times in Dubai. We came in for the food and coffee we've heard so much about, and we went out inspired and happy.
And while its coffee selection holds nothing special in terms of brewing methods and beans, Cassette pulls off the basics with skill and great taste.
The food menu is an endless list of Parisian dishes innovated and elevated to fit in with contemporary times.
With vegan and keto options and an impressive dessert menu, Cassette never runs out of partners for the coffee it serves.
The space is something akin to an art studio, with stark white walls, colorfully painted ceiling braces, and tastefully curated furniture.
The dark wooden flooring provides a great artsy contrast to the contemporary French windows and indoor potted plots.
In short, the space is chic and trendy, without being overly tiresome. However, it does feel a little bit crowded, if not lively.
When it comes to its amenities, we love how the coffee shop expresses its love for music. The staff promotes new music by curating monthly playlists that play over its speakers.
The space is open to hosting events as well. And in a picturesque area such as Al Quoz, the offer is mightily tempting.
Excellent classic brews
Numerous modern Parisian food
Chic and artsy atmosphere with great music
Open to hosting events
Does not offer specialized coffee
Customer Service
The palace was jammed and rightfully so
"We came for a quick brunch on Sunday and absolutely loved the food. The place was jammed packed so we didn't get a seat inside in the nicest area – the overall experience was great nonetheless. Friendly staff and reasonable prices.
Shoutout to the owner/manager who took our request changes tables as it was too hot there, and went above & beyond to accommodate us.
If coming on a weekend, do come on the earlier side. After 12pm, there was a big queue for a table." – Nikita Kanji, Google Reviews
One of the hottest breakfast spots in Dubai
"One of the hottest breakfast spots in Dubai. Cassette is always buzzing so if you're looking to catch weekend breakfast, you better arrive early.
The eggs benedict is always a great choice but my heart belongs to the Truffle Potato Lyonnaise – a must-try.
The staff is always friendly and welcoming and will try to get you a table as soon as possible." – Getter Moor, Google Reviews
4. The Grey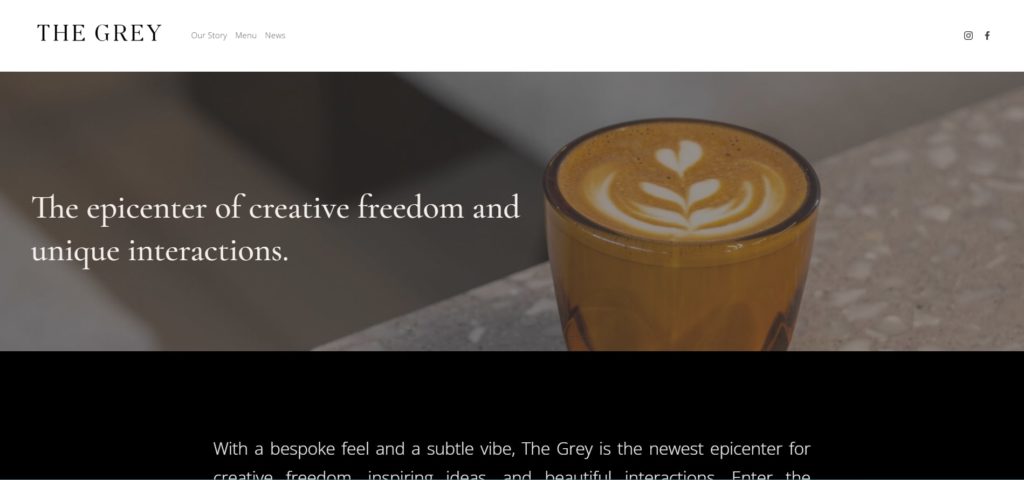 Test
Info
WEBSITE
https://www.the-grey.co/
ADDRESS
9 A Street, Al Wasl Road, Dubai, UAE
CONTACT DETAILS
+971 54 582 6779
OPERATING HOURS
Sunday to Thursday: 7:30 am - 11 pm

Friday to Saturday: 8 am - 12 am
| | |
| --- | --- |
| Criteria | Rating |
| Coffee | ★★★★★ (5/5) |
| Atmosphere | ★★★☆☆ (3/5) |
| Food | ★★★★★ (5/5) |
| Amenities | ★★★★☆ (4/5) |
The Grey is a space where coffee, culture, design, creativity, and people particular about quality meet in perfect harmony.
With classics like Americanos and cappuccinos and its own selection of specially brewed concoctions like its Charcoal Oat Latte, The Grey's coffee menu is a carefully curated list that holds the beauty of its cups in the subtle notes and proportions of the ingredients.
Its food menu is quite well-rounded, with breakfast options, salads, burgers and sandwiches, and entrees. The Grey has a coffee partner for every kind of customer that comes in at any time of the day.
We also love how the outside of the coffee shop is a seemingly small home with manicured shrubbery and potted palms.
However, the interior styling feels cold. With dark grey walls and solid black chairs and tables, the space felt a little bit too corporate.
We did find solace in the warm lighting that came through its glass windows, and the greenery we can see from the inside.
As for its amenities, we do love the fact that it has 3 separate spaces to accommodate the different kinds of customers that comes and goes.
It's got a high bar for quick fuss-free coffee visits, an indoor dining space for leisurely gathering, and a lounge-style sitting area in the garden.
However, besides that, it doesn't really offer any collaborative amenities for a coffee shop that aims to gather like-minded people.
Serves excellent classic and specialized brews
Well-rounded food menu
Great outdoor area and exterior
Has 3 separate seating areas
Interior styling is cold and dark
Customer Service
The service is impeccable
"Loved and enjoyed The Grey and all its different shades. Diana has always been superb and lights up the room. Ronald was always the gentleman. The service is class. The ambiance is calm and elegant. The crowd is beautiful and their Butterscotch latte is something that awakens your senses, only if you enjoy the sweet things in life." – Ali AlAnsari, Google Reviews
The quality of the coffee and food are amazing
"Delightful cafe where I enjoyed having brunch there over the weekend. Will definitely come back because the quality of their coffee and the taste of food was seriously good." – Khalid M., Google Reviews
5. Nomad Day Bar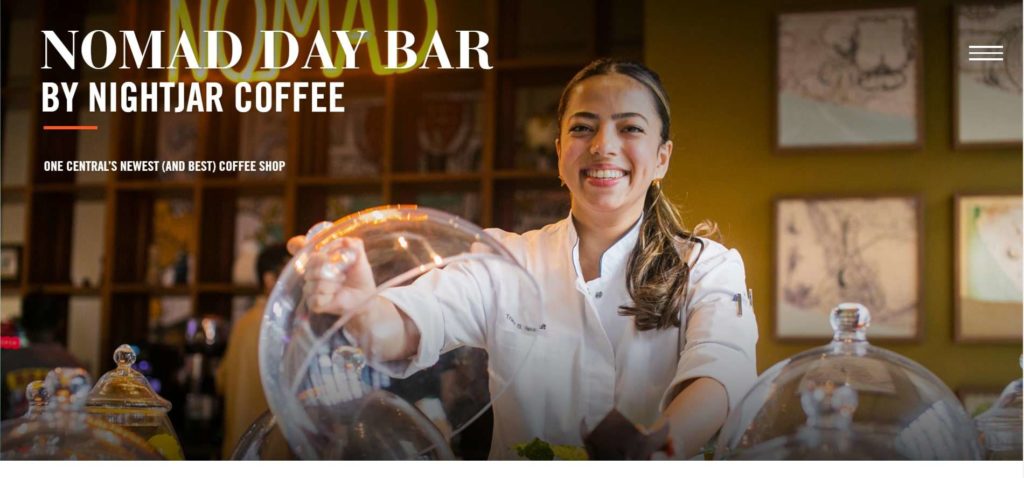 | Test | Info |
| --- | --- |
| WEBSITE | https://www.nomaddaybar.com/menu |
| ADDRESS | Nomad Day Bar, 25hours Hotel One Central, Trade Center Street, PO Box 9895, Dubai, UAE. |
| CONTACT DETAILS | +971 4 210 2522 |
| OPERATING HOURS | Every day: 6 am - 9 pm |
| | |
| --- | --- |
| Criteria | Rating |
| Coffee | ★★★★★ (5/5) |
| Atmosphere | ★★★★★ (5/5) |
| Food | ★★★★☆ (4/5) |
| Amenities | ★★★★★ (5/5) |
Operated by award-winning baristas from Nightjar Coffee Roasters, Nomad Day Bar keeps its customers happy and caffeinated as they fall into deep focus working in its co-working space.
Nomad covers all the classics, such as espressos and Spanish lattes, as well as pour overs brews like the v60 and the Chemex.
Honestly, we can never go wrong with any of the coffee items on its menu. Each drink is brewed to perfection, with just enough idiosyncrasies to the notes in the flavor to really differentiate itself from other competitors.
And the food isn't just delicious, they also look great. Its freshly baked croissants and rustic shakshouka are the stuff of our dreams.
It also has chocolate tarts that are made with 69% Valrhona chocolate, which are just so indulgent and perfect for the darker coffee brews like a long black.
We also love how cozy the styling is. With eclectic carpets laid out on the outdoor seating area and wicker woven chairs, the whole space has a buzzing, creative, and freeing energy around it.
However, the space does feel a bit cluttered because of the dozen shelves with knickknacks and books, the endless wall decor, and the combination of bohemian furniture with the building's corporate contemporary architecture.
And when it comes to its amenities, it is endless. It has a coworking space along with the coffee shop's indoor and outdoor seating areas.
It also has around 10,000 books available for anyone to read while enjoying their coffee, flexible seating arrangements, and an open pantry.
Award-winning baristas
Great food menu
Eclectic and bohemian atmosphere
Has a coworking space with numerous amenities
The interior styling is somewhat cluttered
Customer Service
Awesome place
"Awesome place and I love the 25hours hotel concept.
I have to start by mentioning the incredible design of Arab mixed with the urban European touch to create a business and lifestyle hotel hub.
The staff is so friendly and attentive all the way through as they welcome you to farewells. (Hani at the Nomad café is lovely)
The coworking space is perfect and fits quite a big group. They have many other spaces for you to enjoy and work in more private and spacious spots.
The food is fresh and healthy. Super presentation and ingredients.
I loved this place and I truly recommend it!" – Zoé Gotti, Google Reviews
A lovely spot for coffee and work
"Such a lovely spot to enjoy good, specialty coffee and work from! We come here regularly as the place has super comfortable seats, a lot of good daylight, and the staff is super friendly
Also, their burger is out of this world!" – Agnieszka Kurzawa, Google Reviews
6. The Hamptons Cafe
| Test | Info |
| --- | --- |
| WEBSITE | https://hamptonsdubai.com/ |
| ADDRESS | Jumeirah St - Umm Suqeim - Umm Suqeim 1 - Dubai - United Arab Emirates |
| CONTACT DETAILS | Phone: +971-4-331-5118 |
| OPERATING HOURS | Monday - Sunday: 08:00 AM - 12:00 AM |
| | |
| --- | --- |
| Criteria | Rating |
| Coffee | ★★★★★ (5/5) |
| Atmosphere | ★★★★★ (5/5) |
| Food | ★★★★★ (5/5) |
| Amenities | ★★★★☆ (4/5) |
The Hamptons inspire the Hamptons Cafe's distinct and elegant style in New York. It's popular for its tasty and presentable breakfast options, contemporary meals, and reinvented classic dishes.
This cafe serves a wide variety of coffee and tea alongside macarons and other snacks.
Some of the hot coffees they serve include espresso, ristretto, americano, and many others, which we found convenient so that customers are not limited to a few options.
Customers can also customize their coffee at The Hamptons Cafe by adding an expresso shot, whipped cream, sweeteners, and other options.
We also liked that they have healthy beverage options, such as their red beet latte made with nutritious beetroot, which is perfect for those looking for a healthy caffeine fix.
They also have turmeric and matcha green lattes, which you can get alongside your snacks.
Despite their limited in-store capacity, we found their interior quite appealing as they have a well-lit, modern-style restaurant.
However, we recommend booking a reservation to secure seats as they have limited in-store capacity.
All in all, we thought The Hamptons Cafe deserved a spot on our list because they offer a comprehensive, customizable coffee menu and a variety of healthy beverage options.
New-York inspired cafe
Comprehensive all-day meal selection
Wide selection of coffee drinks
Customizable coffee drinks
Offers healthy beverage options
Well-lit and modern restaurant
Limited in-store capacity
Relatively higher prices
Customer Service
Gorgeous interior and outdoor setting
"Very nice place and atmosphere. I loved the interior and the outdoor sitting. the food is fresh and tasty, staff is warm welcoming. I just enjoyed my late breakfast." -Yulduz I.
Clean atmosphere and good views
"Amazing French toast and coffee. Very clean atmosphere and good views. I always enjoy the warm hospitality and service. My default venue to catchup with fellows." -Tayyab A.
FAQs about Coffee in Dubai
---
We hope this helped you in finding the perfect cup of joe for you. Also, if you're looking for other places to eat and drink, then check out these articles: