The 6 Best Services for Babysitting in Dubai
Moms and dads deserve date nights, especially after busy work weeks. Thankfully, there are babysitting services in Dubai to help the load off of busy couples.
So whether it's for date nights or you have important meetings, we share with you the best services for babysitting in Dubai.
We're also sharing with you the factors we considered in choosing, and also answered some FAQs about babysitting in the city.
How much do babysitting services cost in Dubai?
The rates of a babysitter can vary from company to company and the duration of the service. However, the standard rates for this usually start from AED55 per hour and can go as high as AED70 per hour.
The Best Services for Babysitting in Dubai
Before we get right into our top picks for the best services for babysitting in Dubai, here are the factors we considered for our entries on this list:
1. Marinelys Babysitting Center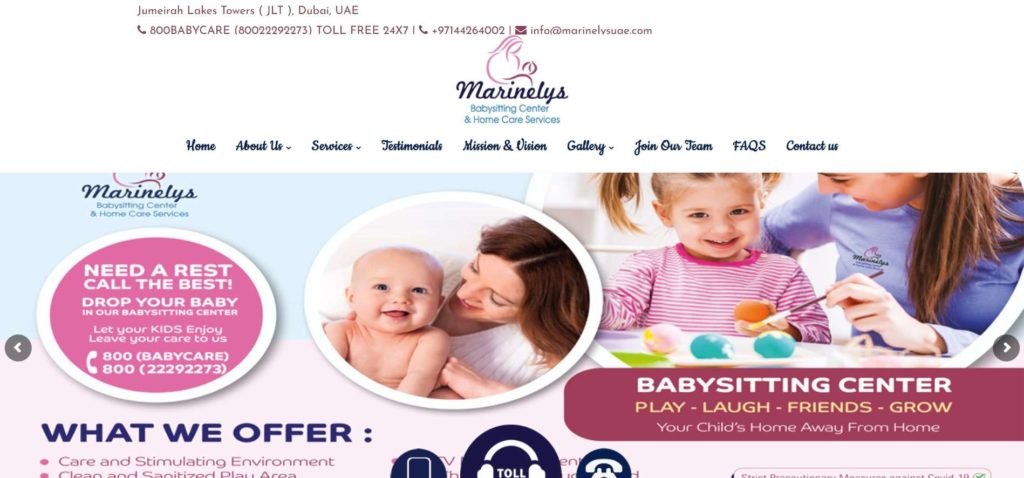 Test
Info
WEBSITE
https://marinelysuae.com/
ADDRESS
Jumeirah Lakes Towers ( JLT ), Dubai, UAE
CONTACT DETAILS
800BABYCARE (80022292273)

+97144264002

OPERATING HOURS
Every day: 7 am - 10 pm
| | |
| --- | --- |
| Criteria | Rating |
| Qualifications | ★★★★★ (5/5) |
| Flexibility | ★★★★★ (5/5) |
| Approach | ★★★★☆ (4/5) |
| Achievements | ★★★☆☆ (3/5) |
With a team that consists of nurses, midwives, teachers, and caregivers, Marinelys Babysitting Center provides excellent holistic caring services for babies, toddlers, and twins.
Not only is the team trained in Pediatric First Aid and Basic Food Safety & Hygiene, but they are also qualified to train people who are interested in it too.
Another great about the company is that it is quite flexible with its services. Its babysitters can watch over children both in their homes, or have parents drop them off at its daycare center.
On top of that, its babysitters also offer sleep training and daytime routine establishment services depending on the parents' preferences and requirements.
When it comes to the company's approach, it's all about matching its babysitters with the parent's and child's needs.
Samantha, who has been getting her babysitter from Marinelys, appreciated that she was able to receive profiles of staff that matched her requirements.
She also got to meet the staff before she confirmed anything. We like the fact that the company takes great lengths to make sure the parents and the children are comfortable before anything else, as this can be an anxiety-inducing task.
However, we do think the matchmaking setup can prove to be the parents' detriment because it's not all the time that they know what's best.
We think it's also important for the babysitters to guide and share their knowledge rather than just fulfilling the parents' requirements.
And while it lacks in the awards department, the recommendations for Marinelys Babysitting Center from parents can't get any better.
Some have shared with us how their child was able to come out of their shell and got better at expressing themselves after spending a month at the daycare center.
Highly trained staff and babysitters
Has a matchmaking process to fulfill the parents' requirements
Goes to great lengths to help parents and children get comfortable
Comes in with great recommendations from parents
Strictly follows parents' requests rather than providing advice and recommendations
No awards
Customer Reviews
Our son is better thanks to them
"We are grateful that we were able to find a suitable environment for our son. Our son has only been with Marinelys Babysitting Center for four months, but we've noticed a significant difference in him. He has a greater ability to express himself and can sing a variety of songs in a short period of time. He has improved more of his communication skills, he started having an interest in making arts and crafts and coloring too. I am very grateful to send my son their. I will totally recommend you to all my friends." – Tim Davis, Google Reviews
They accept walk-ins
"I've been dropping my kids at Marinelys babysitting center many times already and what I love the most is we can even go without booking as they also accept Walk In. My child thoroughly enjoyed himself & played with everything. He comes home with activity always and enjoys playing and dancing with other kids too. Would definitely recommend dropping your child here!" – Daniel Bryan, Google Reviews
2. Malaak Mama & Baby Care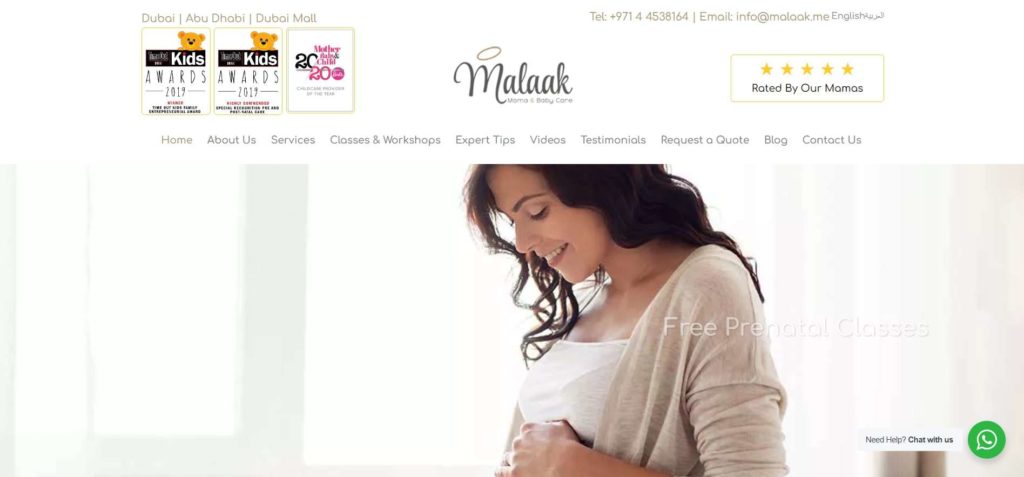 Test
Info
WEBSITE
https://malaak.me/en/home/
ADDRESS
Times Square Center - Al Quoz - Dubai - United Arab Emirates
CONTACT DETAILS
+971 4 4538164

+971 52 6442318

OPERATING HOURS
Monday to Friday: 9 am - 6 pm
| | |
| --- | --- |
| Criteria | Rating |
| Qualifications | ★★★★★ (5/5) |
| Flexibility | ★★★★☆ (4/5) |
| Approach | ★★★★★ (5/5) |
| Achievements | ★★★★★ (5/5) |
An expert in providing services needed for every step of a parent's journey, multi-award-winning Malaak Mama & Baby Care offers bespoke childcare service unlike any other.
From first-aid and prenatal care to sleep routine establishment, Malaak nannies are certified to operate and teach the necessary skills to help a baby grow and keep them safe.
While the wide range of bespoke services is great, the company only offers services for in-house setups.
It doesn't have a daycare center for parents who are iffy about leaving their child and a stranger alone in their own homes.
Nonetheless, we love how the services are fully customizable depending on the parents' requests and goals.
According to Marcia, she loves the daily consultations they get with the nanny assigned to them. It has really provided her insights she wouldn't have gotten without an expert's help.
We also love that while the parents do get to set the goals and objectives they want out of the service, the nannies are there to also guide the parents and let them know how to approach them best.
As for its achievements, Malaak Mama & Baby Care has recently won a few awards such as the Time Out Kids Entrepreneurial Award and the Special Recognition for Pre and Post-Natal Care Awards in 2019.
On top of this, it also won the Childcare Provider of the Year award in 2020.
Highly-trained staff
Bespoke childcare services
Has won multiple awards
Customer Service
Our nurse gave me the confidence to take care of my baby
"My nurse was so amazing with our first newborn! She taught me how to handle my baby, helped me gain confidence, and gave me the much-needed opportunity to rest and recuperate. Always ten steps ahead, she took care of all the daily baby tasks that we didn't even know we had to do and taught me all the baby hacks that completely changed my parenting journey. Malaak is incredible!" – Leen Al Zaben, Google Reviews
Professional and adaptable staff
"We used Malaak with both our children and cannot overstate how professional, knowledgeable, and caring the team is. The nurses were great at adapting to my personal style and preferences. They were loving and attentive and were up-to-date on the latest recommendations for feeding, sleep and all things related. They were equally attentive to me and my needs as a new mother. Malaak is exceptional in every way and the service truly lives up to its name – a team of angels when you most need it." – Zein Malas, Google Reviews
3. Babies & Beyond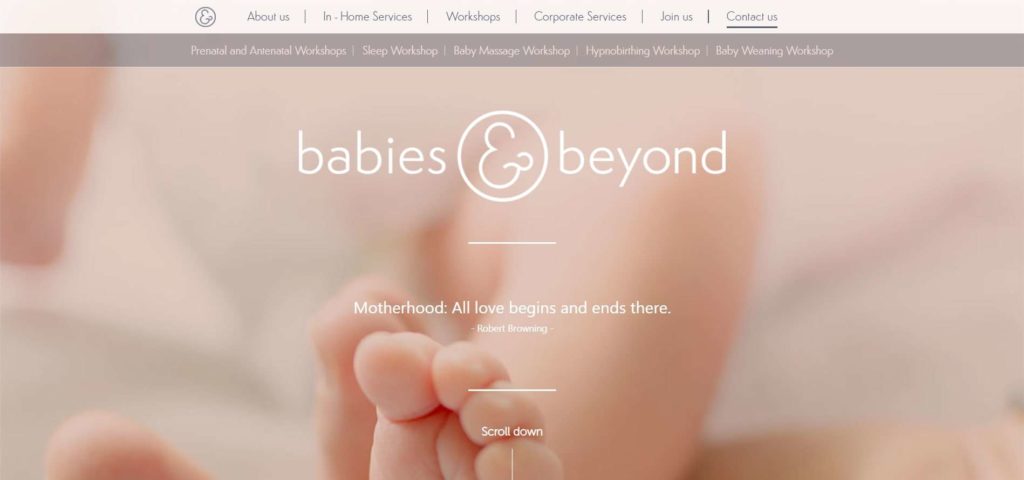 | Test | Info |
| --- | --- |
| WEBSITE | https://www.babiesandbeyond.ae/ |
| ADDRESS | Ibn Battuta Gate - Office 302A - Dubai - United Arab Emirates |
| CONTACT DETAILS | +971 (0)4 430 8900 |
| OPERATING HOURS | Sunday to Thursday: 9 am - 6 pm |
| | |
| --- | --- |
| Criteria | Rating |
| Qualifications | ★★★★★ (5/5) |
| Flexibility | ★★★★☆ (4/5) |
| Approach | ★★★★★ (5/5) |
| Achievements | ★★★★★ (5/5) |
With experts on maternity and parenting, Babies and Beyond assists parents in every step of the journey from pregnancy to parenthood.
The team has undergone extensive training under clinical guidelines based on UK NHS best practices.
On top of that, each member holds a valid accredited certificate in pediatric first aid and basic life support and has undergone a full UAE-government-approved background check.
Suffice to say, we love that Babies and Beyond is fully equipped and accredited to offer services, knowledge, and guidance when it comes to childcare services.
Its maternity experts visit its clients' homes to watch over the children, as well as provide health checks and assistance during pregnancy and after the child is born.
That being said, it also does not have daycare centers. We definitely recommend you put that in mind as this requires arrangements, especially with your household.
Where Babies and Beyond shines is in its Child Development and Care services.
More than just an education babysitting experience, its specialist early years educator works with parents to customize a curriculum to nurture the child's learning skills for pre-school.
Cherie also shared with us that the nannies keep a log book of the child's activities so that parents can still get to know their interests even if they're busy.
Overall, we love this personalized educational approach it has because parents can gain insight into the child's behavior in this phase of development.
And while it doesn't have awards, its world-class accreditation and credibility prove to us that it's only a matter of time before it gets one or two.
World-accredited staff
Offers a personalized educational approach for babysitting
Maternity experts do home visits to provide assistance pre and post-natal
Customer Service
Excellent help with my 3 children
"The service I received from Babies and Beyond helps me with my 3 children (5, 2 and 4 months) was excellent. May Ann and Blessing bonded with my 2-year-old immediately and spent the day playing with her, carrying out different activities. They also guided and helped me establish a routine with my 4 month old that I am now implementing today. They also helped me during bath time and gave me some good advice on how to sleep train my eldest. I felt very comfortable leaving them with my 3 children while I got some much-needed rest. Thank you very much for all your help, it was invaluable." – Christina Harding, Google Reviews
Knowledgable staff
"I've had a great experience with Babies and Beyond. I call them whenever I need help with my twins and they have been nothing more than incredible. Their staff are very knowledgeable and have provided us with a ton of advice.
Being a mother of twins, it was important for me to find an agency with the needed expertise and know-how to not only be able to handle twins but also to work closely with me and my husband in order to care for our newborns.
I would highly recommend them to my friends and family." – Deena Omar, Google Reviews
4. Peekaboo Nannies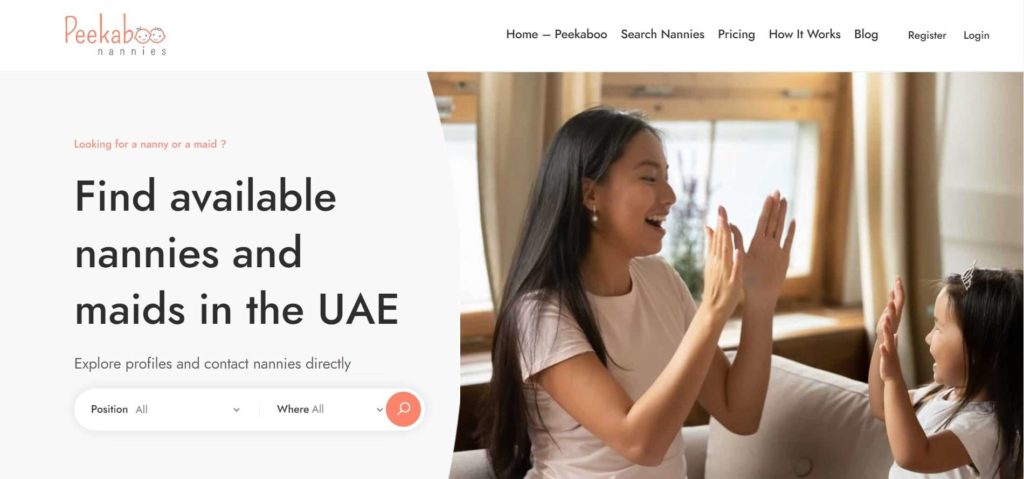 | | |
| --- | --- |
| Criteria | Rating |
| Qualifications | ★★★★☆ (4/5) |
| Flexibility | ★★★★★ (5/5) |
| Approach | ★★★★☆ (4/5) |
| Achievements | ★★☆☆☆ (2/5) |
More than a center, Peekaboo Nannies is Dubai's number one nanny platform that was created by a couple who went through the struggle of finding a nanny.
The great thing about Peekaboo Nannies is that whether you care about training and experience or not is up to you.
With over 600 profiles of nannies ready to work with a family and their child, we get to pick whether their personal experience is more relevant than accreditations and training.
And this kind of model is great for its flexibility, too. Nannies who are available in a live-in or live-out setup, as well as those who are willing to work full-time and part-time are all available on Peekaboo Nannies.
But the problem with this kind of setup is that the company only loosely picks nannies, choosing experience over philosophy.
And while the numerous profiles we've seen show that it holds a wide variety of nannies with differing approaches, we can see that some parents may have a hard time, especially if they don't know what they want.
However, Martina enjoyed the flexibility of it all. She shared with us that landing on the right nanny took a lot of back and forth from her end, but when she picked one, she knew this setup would work well with her.
And while we think this platform may have a harder time winning awards for childcare quality, we do think it is innovative and an ingenious solution for parents having difficulty looking for a babysitter.
Has over 600 profiles of nannies to choose from
Babysitting setup is as flexible as you want it
Some nannies are open to doing more than just babysitting
Convenient and accessible way of looking for a babysitter
No awards
Doesn't offer anything else other than babysitting
Customer Service
I highly recommend this platform
"Highly highly highly recommend Peekaboo Nannies! We found our nanny in less than 2 weeks. With new profiles added almost daily, it was a much more positive experience than going through an agency. Plus you get to talk to potential candidates directly. The business reps also contact you to check how your search is going and send you additional profiles. Very happy with the overall experience, thank you!" – Maria M., Google Reviews
A very efficient and stress-free experience
"We went for the premium service, where Peekaboo staff did their pre-screening of potential candidates and arranged interviews for us. It was a very efficient process and stress-free for us. We were also lucky to hire the first person who came for the interview. The process has taken 3 days for us and we were very satisfied." – George Link, Google Reviews
5. Twinkle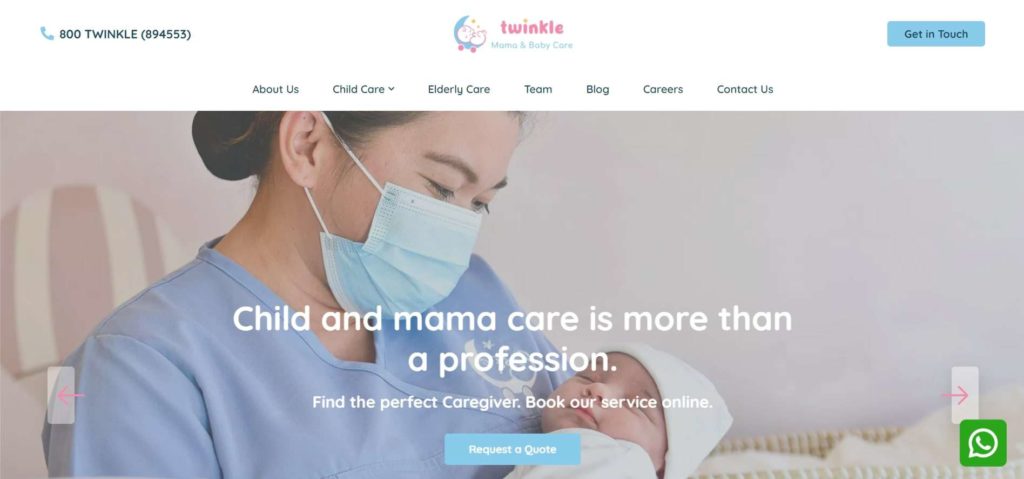 | Test | Info |
| --- | --- |
| WEBSITE | https://greencitymaid.com/service/babysitting-service/ |
| ADDRESS | Al Ittihad St – Al Rashidiya 1 Horizon Tower, Office #1702 D Block Ajman Markets & Co Operative Society Building – Ajman |
| CONTACT DETAILS | +971508030221 | +971507623073 | +971502377715 | +971508610033 | +971563604266 |
| OPERATING HOURS | Contact for more information |
| | |
| --- | --- |
| Criteria | Rating |
| Qualifications | ★★★★★ (5/5) |
| Flexibility | ★★★★★ (5/5) |
| Approach | ★★★★☆ (4/5) |
| Achievements | ★★★★★ (5/5) |
Twinkle more than just understands the flexibility needed when it comes to a couple's lifestyle nowadays.
The babysitters here have at least 2 years' worth of experience, a required induction process with its clinical manager and childcare services manager, and an in-depth in-house training program.
The staff is fully equipped to handle childcare based on the standards of the company. However, it is undisclosed whether the curriculum of the program follows international standards.
But when it comes to flexibility, Twinkle has no problem adhering to the required setup of any parents.
With only a 4-hour minimum requirement for bookings, Twinkle can provide on-the-spot babysitting services for emergencies.
Besides that, it can also provide night care for babies to ensure that the parents can get some much-needed rest.
And when it comes to its approach, we love that Twinkle puts a focus on forming a bond with the children and the family.
Twinkle babysitters ensure a long-lasting relationship with its clients by proving to them that the skills and experience its babysitters have are worth the investment and the trust.
And while it doesn't have any awards yet, we can definitely see it climbing up the ranks quickly with the kind of service it offers.
Carefully selected babysitters
Team is trained in-house
Highly flexible babysitters
Personal and bond-focused approach
In-house training may not adhere to international standards
No awards
Customer Service
Amazing emergency nanny
"We needed an emergency nanny for 3 days. Twinkle sent a nanny to my house in less than 1 hour!!! We had a lovely nanny called Merebel who was engaging, loving, and fun with my 2 children. Her health and safety knowledge seemed great and she even did the washing up and tidying whilst the kids watched the telly. Thanks so much, twinkle!! I would highly recommend this service to any family in need of a nanny service!!!" – Nicole Louise Thompson, Google Reviews
Supportive, attentive, and organized nanny
"I'm really happy I chose twinkle Home Health Care to look after my 2 toddlers in the absence of my nanny. Marabel took care of my children like her own, she is very kind, supportive, attentive, and very organized. I would definitely use twinkle service again and would recommend their services also Marabel nurse 100%" – Thulara Fonseka, Google Reviews
6. Green City Maids
| Test | Info |
| --- | --- |
| WEBSITE | https://greencitymaid.com/service/babysitting-service/ |
| ADDRESS | Al Ittihad St – Al Rashidiya 1 Horizon Tower, Office #1702 D Block Ajman Markets & Co Operative Society Building – Ajman |
| CONTACT DETAILS | +971508030221 | +971507623073 | +971502377715 | +971508610033 | +971563604266 |
| OPERATING HOURS | Contact for more information |
| | |
| --- | --- |
| Criteria | Rating |
| Qualifications | ★★★★☆ (4/5) |
| Flexibility | ★★★★☆ (4/5) |
| Approach | ★★★★☆ (4/5) |
| Achievements | ★★★★☆ (4/5) |
Green City Maids is a professional agency with 7 years of experience, and they offer high quality babysitting services in UAE.
We like that they always strive to provide parents a trustworthy and easy way to find reliable, experienced babysitters.
What's great about them is how they take the time to recruit and match. We like how careful they are to ensure that they give parents only the best people to take care of their most prized possessions.
They know how tedious it can be—and has to be—to do the groundwork so we like how they do it all for you from background checks, verification of required certificates to taking care of all required legal documentation.
One thing we'd like to comment on is how the rates aren't available for their babysitting services. We think it would be more convenient for potential clients if they had an idea of the rates prior to inquiry.
We also think that it would be great if they placed more information about their services on their website.
All in all, we find that they're worth considering for babysitting services!
Careful selection of babysitters
Provides an easy way to find reliable, experienced babysitters
Does all the groundwork for less hassle
Rates unavailable
Limited information about their service
FAQs about Babysitting in Dubai
---
We hope this helped you in finding the perfect babysitting services. Also, if you happen to be looking for a school for your child, then check out these articles: