Top 5 Movie Theatres in Dubai
Due to restrictions caused by the pandemic, the movie theatres in Dubai have been closed for some time. Fortunately, as the vaccines were administered and the restrictions lifted little by little, things changed: movie theatres are now allowed to operate.
For you to conveniently try various cinematic experiences, we reviewed the top movie theatres in Dubai.
How much do movie tickets cost in Dubai?
If you want to watch a movie in a cinema, you'll have to buy tickets online or at any cinema ticket counter.
The table below shows our picks' current rates for movie tickets. Note that these are just the prices for the common cinematic experiences they offer.
Test
Info
MOVIE THEATERS
TICKET PRICES
Reel Cinema
Standard - 36.75 AED - 47.25 AED

3D Cinema - 55 AED - 65 AED

Dine-In Cinema - 50 AED - 160 AED

Dolby Cinema - 50 AED - 75 AED

MX4D - 90 AED

Premier- 55 AED

Roxy
Silver Plus (Front Row) - 36.75 AED

Silver Plus (Back Row) - 50 AED

Gold Plus - 60 AED

Platinum Plus (The Beach & City Walk Branch) - 140 AED

The Roxy (Boxpark Branch) - 140 AED

Diamond Plus (Al Khawaneej Branch) - 85 AED

VOX Cinemas
Theatre Packages - 225 AED to 265 AED

Gold - 75 AED

Kids - 42 AED

Standard - 36.75 AED

Outdoor - 90 AED - 368 AED

Novo Cinemas
Starts at 31 AED
Cinema Akil
Starts at 57 AED
The Best Movie Theatres in Dubai
To ensure that customers can have a great cinema experience, we assessed each movie theatre on this list based on these key factors:
1. Reel Cinemas (Dubai Mall)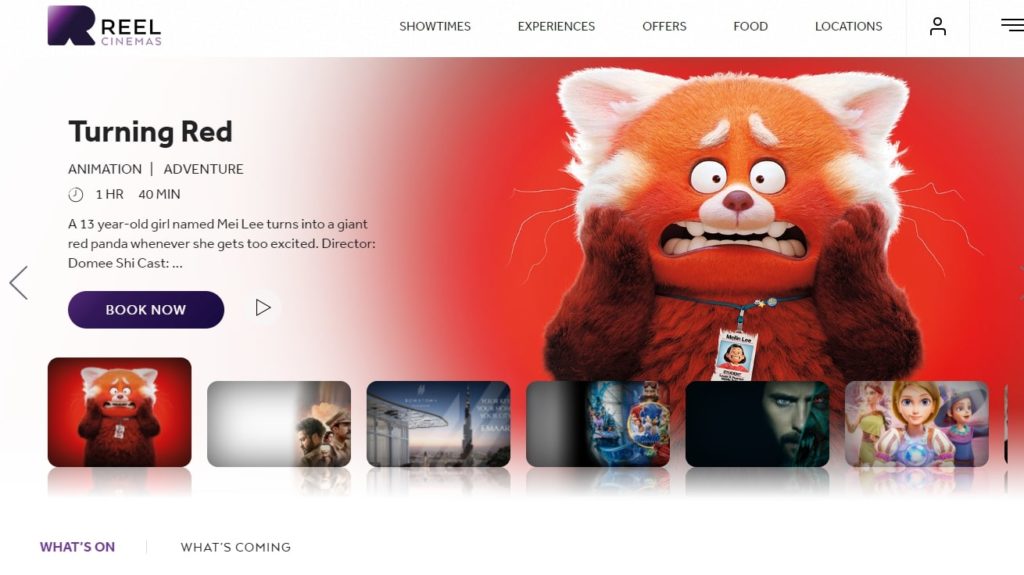 Test
Info
SERVICES
Private Screening Reel

Platinum Suites Reel

Dine-In

Reel Boutique

Reel Premier

Reel Junior

Reel Cinemas

ScreenXDolby

CinemaMX4D Cinema

WEBSITE
https://reelcinemas.com/en-ae/
ADDRESS
Level 2, The Dubai Mall - Dubai - United Arab Emirates
CONTACT DETAILS
+971 800 382246255
| | |
| --- | --- |
| MOVIE EXPERIENCES | ★★★★★ |
| TICKET RATES | ★★★★☆ |
| FACILITIES | ★★★★★ |
| SEATS | ★★★★★ |
| SCREENS | ★★★★★ |
| CUSTOMER FEEDBACK | ★★★★★ |
| CUSTOMER RATING | ★★★★☆ |
| AMBIANCE | ★★★★★ |
Reel Cinema is one of the most popular movie theatres in the city. This megaplex branch in Dubai opened in 2009.
This branch now features 22 screens, a 100-seat Picturehouse, 4 Platinum Suites, two halls with digital and 3D cinema capability, and a THX-certified cinema.
Another notable aspect of Reel Cinema that makes it stand out from others is its wide scope of movie experiences.
Besides that, they have offerings that no other cinemas can provide. For example, if you plan to hold a private screening at one of their Platinum Suites, you can opt for catering services.
With this service, you'll be served classic movie treats, including popcorn, nachos, and hotdogs.
You can also have a buffet with all the comfort foods and restaurant-prepared delights you prefer at their Reel Dine-In cinema. With its dinner-style seating and lighting, you can munch on your meal without taking your eyes off the screen.
However, given this cinema's premium facilities and movie experiences, you can expect the movie tickets to be slightly higher than others.
The good news is that Reel Cinemas is currently offering tons of discounts and deals in partnership with the major banks in the city. Some of their partner banks are RAKBANK, Emirates Islamic Bank, Emirates NBD, HSBC, and Mashreq.
All told, we recommend Reel Cinemas for people who wish to have a unique and luxurious movie experience.
Features various movie experiences
Offers various discounts and deals
Has four Platinum Suites
Offers dine-in style cinema
Has comfy seats with extra legroom
Features online booking
Higher prices than other cinemas
All tickets are non-returnable and non-refundable
Customer Reviews
Everything about it was top quality
"Had a great time at Reel cinema, we opted for the platinum suite and it was honestly amazing. Everything about it was top quality, even managed to get food mid film. You just don't see this anywhere else and we really enjoyed it, we watched the new Purge film, which was great! Well worth watching at this cinema. We booked all the tickets online, didn't need to use the machine or wait at the desk, so it was a total breeze." – Ross Jenkins
Can book and choose seats online
"I love this cinema because they follow the social distancing, can book and choose seats online and nice attendants. I also like their promo every Monday because it is always buy 1 ticket and get 1 free. That saves bucks and can make couples or family watch for more other movies. And dont be shy to bring your unfinished Extra large popcorn. Note: The temperature inside their cinema is cold so don't forget to bring shawl/jacket or any to keep you warm." – Annielyn Floro
2. Roxy Cinemas (City Walk)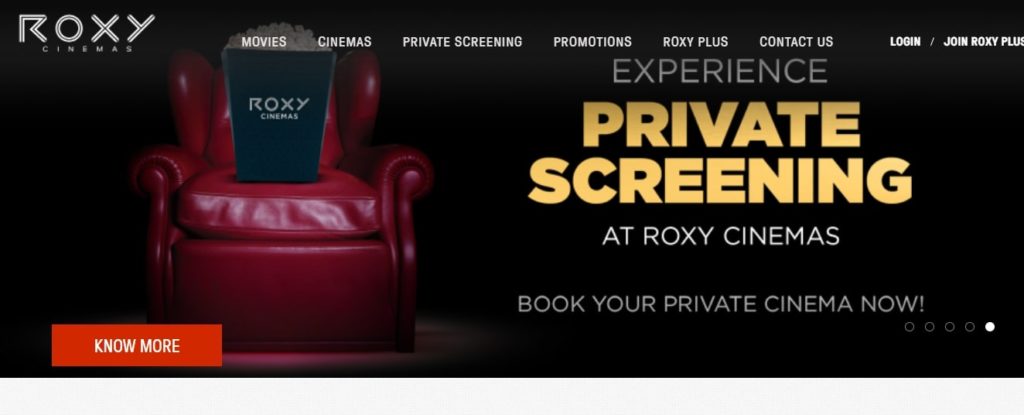 Test
Info
SERVICES
Private Screening

Platinum Plus

Gold Plus

Silver Plus

WEBSITE
https://theroxycinemas.com/now-showing
ADDRESS
City walk - Al Wasl - Dubai - United Arab Emirates
CONTACT DETAILS
+971 800 7699
| | |
| --- | --- |
| MOVIE EXPERIENCES | ★★★★★ |
| TICKET RATES | ★★★★★ |
| FACILITIES | ★★★★★ |
| SEATS | ★★★★★ |
| SCREENS | ★★★★★ |
| CUSTOMER FEEDBACK | ★★★★★ |
| CUSTOMER RATING | ★★★★☆ |
| AMBIANCE | ★★★★★ |
After strolling the malls in City Walk, you might as well visit Roxy Cinemas to watch the latest films and blockbuster movies with your family.
Patrons can enjoy a range of cinema experiences in Roxy Cinemas.
Get the Platinum Plus Ticket if you wish to have a fancy movie experience, complete with a reclining seat, a pillow, a blanket, and an on-call waiter to serve you a gourmet meal.
Alternatively, Gold Plus Ticket and Silver Plus Ticket is a good option for families and groups of friends because it has stadium-style seating. Since the seats are higher than the row in front of it, there is more legroom and less obstruction of view.
Note that you can choose from various food and beverages combos with a Silver Plus Ticket.
They also have a new offering, Roxy Plus, that can benefit movie buffs. What's good with this offer is that you can join for free, and it comes with a Roxy Plus card.
Roxy Plus is a loyalty program that lets customers get points every time they spend in Roxy Cinemas. For example, if you buy a ticket, food, or beverage, you'll get one Roxy Plus point for every dirham you spend.
Collecting and tracking all your Roxy Points is also easy because they have a mobile-friendly application.
Once you've gathered enough points, you can use them to get Silver Plus, Gold Plus, and Platinum tickets. Furthermore, you can also use the points to purchase food and beverage.
Offers various cinema experiences
Affordable movie tickets
Offers private screening
Features Royalty Plus
Has an array of food and beverage combos
Free parking is only available for four hours
Limited showing time
Customer Reviews
Absolutely amazing!
"Went to the Platinum Cinema and it is absolutely amazing! The reclining chair is so comfortable, the menu is extensive and the food I ordered tasted so good, the temperature is great and there's a blanket for each chair, and the sound system inside is just right. I loved that it's not crowded or in a crowded area, the bathroom was clean, and the staff are all super friendly. Will definitely be going back." – Deema Khuffash
I love the ambiance
"Roxy cinema located in citywalked with the view of Burj Khalifa is really a wonderful place where you can watch a movie with friends, family or colleagues. The place is so nice and comfortbale to stay with, from their waiting area up to their screening place. I love the ambiance and all the staff who not hesitated go help you all the time." – Ranil Gallardo
3. VOX Cinemas (Mall of the Emirates)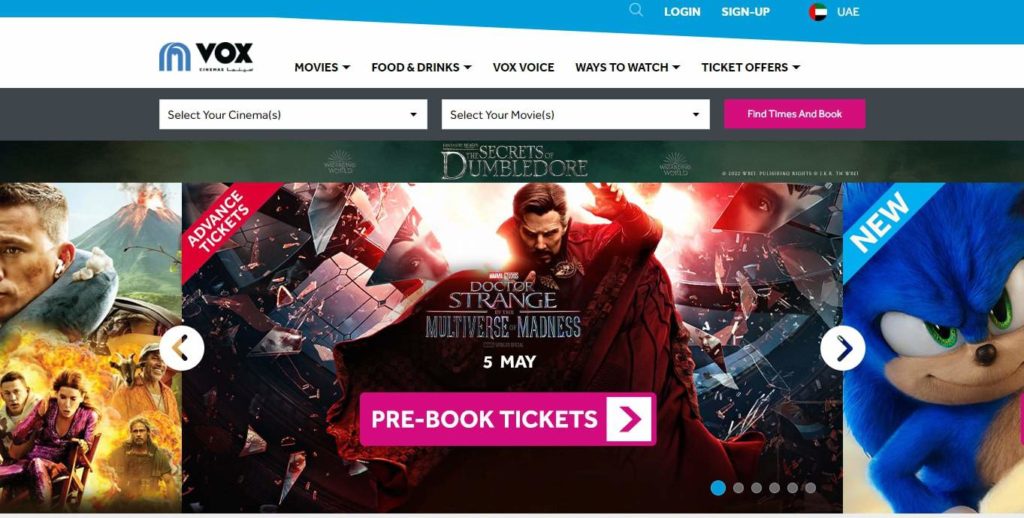 Test
Info
SERVICES
Zeman Awwal

VIP Cinema

Snow Cinema

Sensory-Friendly Screening

Private Cinema

IMAX

MAX GOLD Theatre

Kids Cinema

4DX

WEBSITE
https://uae.voxcinemas.com/
ADDRESS
Mall of Emirates - Level 2 - Sheikh Zayed Rd - Dubai - United Arab Emirates
CONTACT DETAILS
+971 600 599905
| | |
| --- | --- |
| MOVIE EXPERIENCES | ★★★★★ |
| TICKET RATES | ★★★★☆ |
| FACILITIES | ★★★★★ |
| SEATS | ★★★★★ |
| SCREENS | ★★★★★ |
| CUSTOMER FEEDBACK | ★★★★★ |
| CUSTOMER RATING | ★★★★★ |
| AMBIANCE | ★★★★★ |
VOX Cinemas is one of the most easily recognized cinema chains in the region. Now it has over 58 cinema complexes.
VOX Cinemas in the Mall of Emirates offers 24 screens to give customers various cinematic experiences. As you can see, this cinema offers the most varied choices for cinematic experiences.
If you want to try something new whenever you watch a movie, VOX Cinemas can be a great pick.
For people who want to have a multi-sensory movie experience, you can opt for their 4DX movie theater. You see, since this cinema is equipped with motion chairs as well as wind, water, light, and water effects, you'll have a more intense and enhanced movie experience.
If you want to have a fine dining experience while watching a movie, VOX Cinema also offers Theatre Packages.
Although this option is a bit costly, we think it's still worth it because of the gourmet meals prepared by Michelin-starred chef Akira Back and other internationally renowned chefs.
In contrast to 4DX, IMAX, and other standard movie experiences they offer, we also commend their Sensory-Friendly Screenings.
This screening features adjustments to the usual movie experience to ensure that people with sensory needs can still enjoy watching their favorite movies.
Among other things, this cinema also offers an array of discounts of deals in partnership with major banks in the UAE. Here are some of them:
Emirates NBD
HSBC
Citibank
FAB
CBD
ADCB
RAKBANK
Arab Bank
Sharjah Islamic Bank
Mashreq
That's why if you want more points or get a discount every time you watch a movie, we suggest that you look into their ticket offers.
Offers a diverse range of cinematic experiences
Has Sensory-Friendly Screenings
Provides deals and discounts
Has 58 branches throughout the region
Has well-equipped cinemas
Theatre Packages are expensive
Does not issue cash refund on tickets
Customer Reviews
Well recommended
"Very relaxing and comfortable cinema with wide variety of food, it is very convenient to book tickets online, no long line, no printed tickets, just scan the code and ready to go in short no hassle. The audio and video are so clear. Well recommended." – Danica Diana Diaz
It was the most comfortable cinema experience we've ever had
"First time trying Theatre option at Vox and have to say it was fantastic. From entering the lounge and selecting the food the staff were extremely attentive and polite (especially Tracy). They even surprised my daughter with a birthday cake with a personalised message! In terms of comfort, it was the most comfortable cinema experience we've ever had. It felt like business class. Great measures in place for social distancing. Blankets are super comfy. Will be back." – Kasim Lasi
4. Novo Cinemas (Dubai Festival City)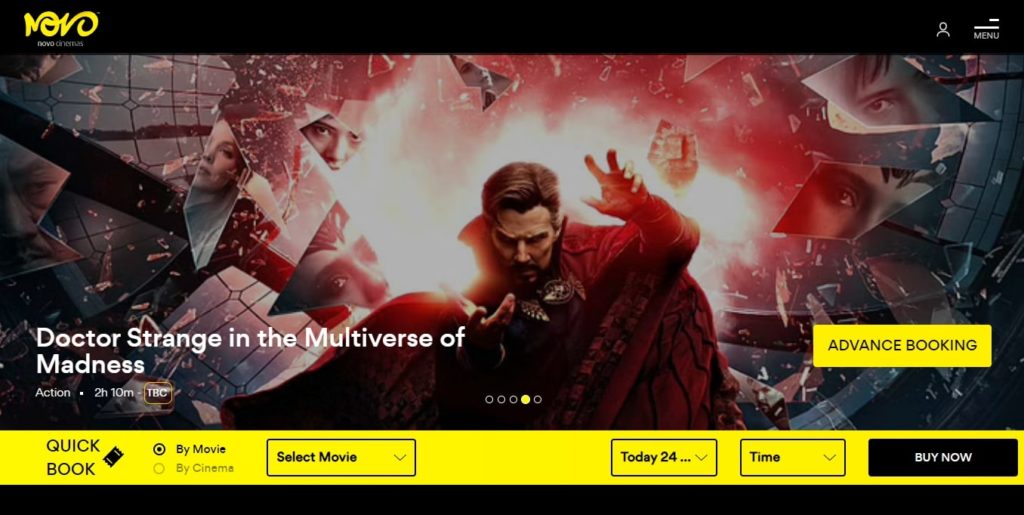 Test
Info
SERVICES
2D Cinema

3D Cinema

MX4D

IMAX7-Star

VIP Suites

Novo Kidz

Outdoor Cinema

WEBSITE
https://uae.novocinemas.com/
ADDRESS
2nd Floor Near Fitness First - Dubai - United Arab Emirates
CONTACT DETAILS
+971 600 503328

+971 4368 8995
| | |
| --- | --- |
| MOVIE EXPERIENCES | ★★★★★ |
| TICKET RATES | ★★★☆☆ |
| FACILITIES | ★★★★★ |
| SEATS | ★★★★★ |
| SCREENS | ★★★★★ |
| CUSTOMER FEEDBACK | ★★★★★ |
| CUSTOMER RATING | ★★★★☆ |
| AMBIANCE | ★★★★☆ |
Novo Cinemas is also one of our top picks because its cinemas are equipped with innovative technologies to give its customers various movie experiences.
It was established in 2014, and since then, it has become one of the biggest cinema chains in the Middle East. Besides that, it also won the Best Middle East Cinema Theatre Franchise in 2019.
Well, this award, together with the other ten awards they received in 2019, just shows how well-equipped their cinemas and movie experiences are.
For starters, Novo Cinemas features a good range of cinematic experiences to suit the tastes and preferences of their customers.
Aside from MX4D and IMAX, which offers multi-sensory movie experiences and luxurious 7-star VIP Suites, patrons can also enjoy various treats, Haagen-Dazs signature milkshakes, and gourmet menus.
Should this not be enough, Novo Cinema also has a loyalty program for cinephiles. When you join Novo Premiere Club, you'll get exclusive discounts, bonuses, and deals.
Bear in mind that movie sessions in newspapers or printed schedules may differ from the actual timings at the box office. That's why it's better to check the movie schedules at the box office or on their website.
All in all, this cinema is a good go-to choice. We just noticed a few complaints about the efficiency of their online booking.
According to the customer reviews, you still have to queue, scan the QR code, and print the ticket before entering, even if you already booked your tickets online.
Offers many movie experiences
Won the Best Middle East Cinema Theatre Franchise in 2019
Features exclusive discounts, bonuses, and deals
Has various treats and gourmet menus
All Novo Cinemas are wheelchair-enabled
Tickets rates not stated on the website
Complaints regarding inefficient online booking
Customer Reviews
It's a great experience
"Went there last week for a movie. Back to the big screen after almost a year. It was a lovely experience. Novo cinema has taken all the precautionary measures for the public to watch the movie safely. They have different types of experiences from a normal 2d movie to a 7 star movie experience. They also have a wide range of movie selection to choose from. Overall, it's a great experience." – Joe Stalon
Best theatre I have been to in UAE
"This is best theatre I have been to in UAE. Great sound effects, super comfy lazyboy seats pampered with pillow and a blanket. Wide range of dishes which can be ordered at the tip of our fingers and served on a large side tray." – Jerry Manuel John
5. Cinema Akil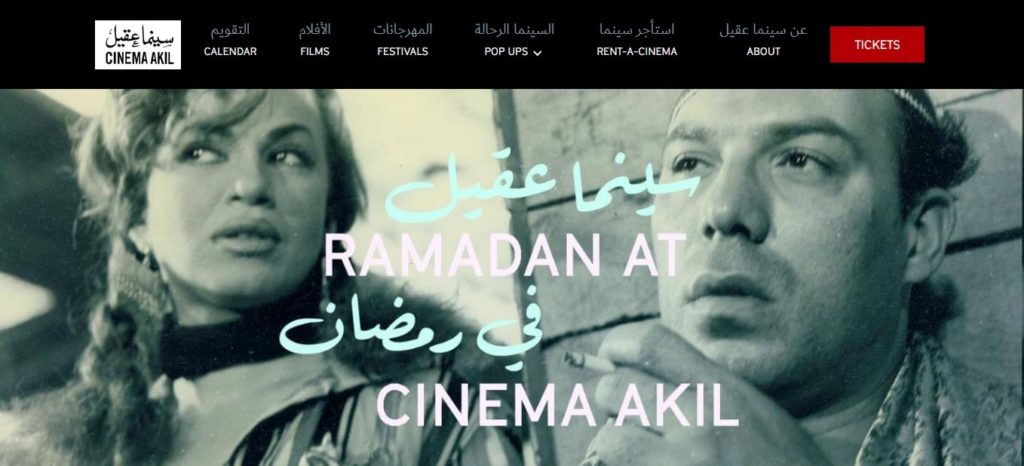 Test
Info
SERVICES
Indie Film Screening

Festival Film Screening

Rent-A-Cinema

Pop-up Cinema

WEBSITE
https://www.cinemaakil.com/
ADDRESS
Warehouse 68, Al Serkal Avenue, Dubai, UAE - Dubai - United Arab Emirates
CONTACT DETAILS
+971 58 909 7798
| | |
| --- | --- |
| MOVIE EXPERIENCES | ★★★★☆ |
| TICKET RATES | ★★★★☆ |
| FACILITIES | ★★★★★ |
| SEATS | ★★★★★ |
| SCREENS | ★★★★★ |
| CUSTOMER FEEDBACK | ★★★★★ |
| CUSTOMER RATING | ★★★★★ |
| AMBIANCE | ★★★★★ |
Among the cinemas on this listicle, Cinema Akil is the only independent art-house cinema.
We like this cinema because it offers movie experiences that are different from the usual cinemas and theaters.
Cinema Akil features independent and pop-up films that may not be for everyone, but we still recommend it for people who crave a unique viewing experience.
The management also carefully handpicks every movie, so you can expect to view award-winning and culturally diverse films. Their ticket price starts at 57 AED.
This might seem a bit higher than the standard ticket price, but we think this is still reasonable because they feature cinematic gems not typically shown on the screens.
You can also rent the cinema if you want to have private film screenings, panel discussions, corporate activations, product launches, or workshops.
Here are Cinema Akil's rates for cinema rental:
2-hour rental – 7,000 AED ( Peak Time), 3,500 AED (Off-Peak Time)
4-hour rental – 12,600 AED (Peak Time), 6,300 AED (Off-Peak Time)
8-hour rental – 23,800 AED (Peak Time), 11,900 AED (Off-Peak Time)
12-hour rental – 28,000 AED (Peak Time), 14,000 AED (Off-Peak Time)
In conclusion, there's so much to like about Cinema Akil. In fact, the limited seating capacity is the only problem we see in this cinema.
Since this cinema is quite small compared to others on this list, we recommend that you book in advance or come early to secure good seats.
Features award-winning and culturally diverse films
Offers indie films, film festivals, and pop-up cinemas
Provides chai and snacks
Offers cinema rental for different events
Limited seating
Expensive ticket price
Doesn't offer latest movies
Customer Reviews
Loved the old retro cinema vibes!
"We watched an old film and had a great time! Loved the old retro cinema vibes! But please make sure to come early because there are no ads and the film starts right away, we were 10 minutes late and didn't have time to get snacks and properly choose our seats since it was already lights out." – Noaf Alblooki
A hidden gem located in Al Serkal Avenue
"Cinema Akil is a hidden gem located in Al Serkal Avenue. It was my first time watching a movie here and I must say I loved and enjoyed the experience. They play quality films that can be watched here only. It's a cute little setup with comfortable couches and cinema type seating. If you are looking for a good watch, this is your cinema. They have refreshments by the amazing Project Chaiwala as well." – Henna Saleem
FAQs About Movie Theatres
---
Know other scenic movie theatres worth visiting? Tell us your experience so our team can look into these cinemas too!
On the other hand, if you wish to pamper yourself after getting your much-awaited paycheck, you can also read our article on the ways to treat yourself on payday.