The 5 Best Companies for Hiring a Notary in Dubai
It goes unnoticed, but notaries are present in everyone's milestones in life. From the deed to your first house, to the will you make when you get old — all of these documents need to be notarized.
That's exactly why we tested out some of the best companies for hiring notaries in Dubai. We explain the different factors we considered in choosing them and answer some FAQs about notaries in Dubai.
How much does getting a document notarized in Dubai cost?
The cost of getting documents notarized can vary depending on the professional fee of private notaries. However, the price per signature is mandated by the Dubai courts.
To give you a starting point, we have made a table of the most commonly notarized documents along with their corresponding prices per signature and the average professional fees.
| Test | Info | Professional Fee |
| --- | --- | --- |
| Document | Price per Signature | Professional Fee |
| Establishing a Business | AED100 | AED750 |
| Trademark Registration | AED100 | AED550 |
| Assignment of shares; selling of shares | 0.5 % of the value to a maximum of AED15,000 | AED1,250 |
| Declaration of Residency | AED200 | AED750 |
| Real Estate Rental Dispute | AED100 | AED550 |
| Inheritance | AED100 | AED1500 |
| Assignment of Intellectual Right | AED300 | AED950 |
The Best Companies for Hiring a Notary in Dubai
Before we get right into our list of the companies for hiring a notary in Dubai, here are the criteria we considered in choosing them:
1. POA Dubai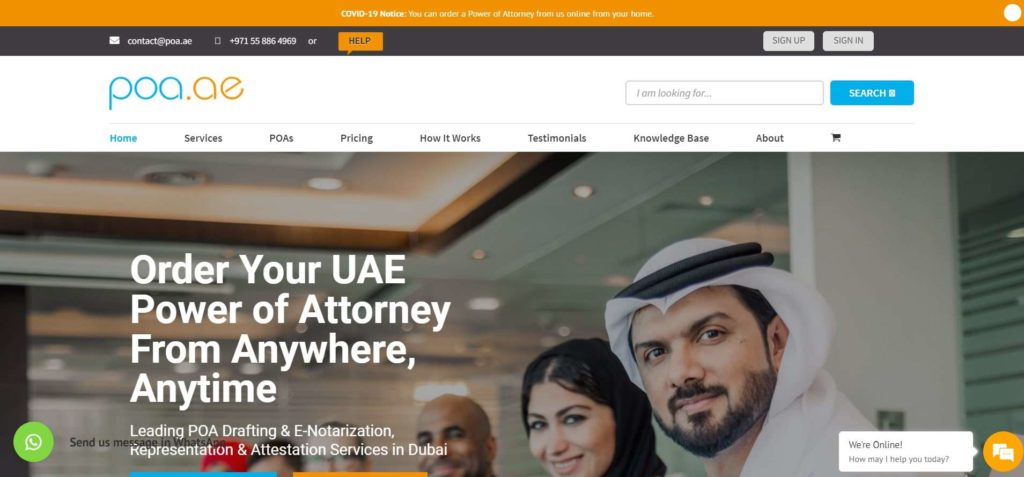 | Test | Info |
| --- | --- |
| WEBSITE | https://poa.ae/ |
| ADDRESS | Office 5-225, Building 5, Gold & Diamond Park - Dubai - United Arab Emirates |
| CONTACT DETAILS | +971 55 886 4969 |
| OPERATING HOURS | Monday to Friday: 8:30 AM–5 PM |
| | |
| --- | --- |
| Criteria | Ratings |
| Customer Service | ★★★★☆ (4/5) |
| Specialization | ★★★★☆ (4/5) |
| Range of Services | ★★★★☆ (4/5) |
With the intention of digitizing notarizing and other legal services in the UAE and in the world, POA Dubai uses the latest technologies to simplify this inevitable part of life.
It offers POA services, including POA drafting, POA representation, documents clearing, company formations and attestation services, and, of course, notarizing documents.
Its POA forms are prepared by expert lawyers in respective jurisdictions who give careful consideration to your requirements and tailor your POA to your specific needs.
And to legalize and formalize POA forms, it also notarizes these themselves, making it a one-stop service for everything related to legal documents.
We love how its customer service is all about streamlining and simplifying a necessary process that involves every important decision for every person.
Olivia, a real estate agent, has been using POA Dubai to draft and notarize important legal documents when she makes a sale.
She shared with us that the best part about the company is that she doesn't have to put in the effort to meet up with someone and spend time going over the same documents repeatedly.
We love that it's as easy as ordering one of the packages that suit your needs, providing the information needed for approval, and the company returns it to you after its e-notarization process.
However, we think that the automation of this service prevents clients from asking questions and guidance throughout the process.
The only time they actually get to meet someone is when they get on a digital call with the notary lawyer for the notarization.
POA Dubai, just like what its name says, specializes in providing services related to giving powers of attorney.
It's a service that gives an agent the authority to represent or act on another's behalf in private affairs, business, or some other legal matter.
And while it's just one aspect of the many purposes of notarization that the company covers, POAs actually have a gamut of uses ranging from personal cases to businesses.
All in all, POA Dubai is such a great choice for all your notarizing needs because of the digitally automated process that makes the whole experience carefree and efficient. It's as easy as ordering something online!
Digitally automated notarizing process
Documents are drafted and reviewed by expert lawyers
Specializes in POA documents
The process prohibits clients from asking questions and guidance
Only offers notarization for POA documents
Customer Reviews
A service like no other
"My experience with POA.ae has been exceptionally good. The team was very responsive especially the Customer Service representatives Ms. Julia and Ms. Donia looked through the entire process and gave me sufficient comfort that my documents were in safe hands.
Despite the pandemic situation, I have now received all docs through email and well-attested via e- notarized.
Thank you so much :)" —Jessa Cortez, Google Reviews
This company knows what they're doing!
"100% recommend ! 5 stars all the way
Had to make 2 noticed POA urgently and the process was fast, easy, and smooth, thanks to Maria. She was there from the start to the end, her assistance and professionalism were amazing, without mentioning that everything is online, you do this from the comfort of your home.
Thank you very much, Maria! You are one of a kind." —Cherif Ragnarson, Google Reviews
2. Notary Dubai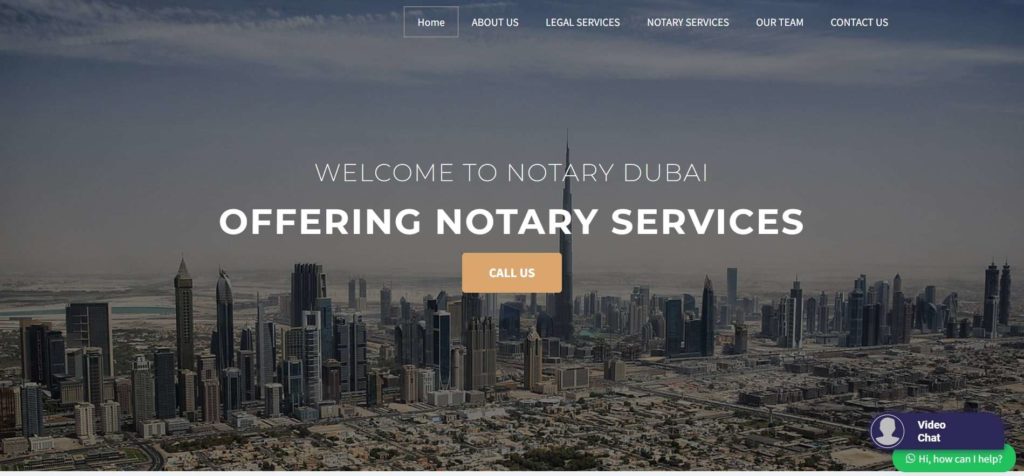 | Test | Info |
| --- | --- |
| WEBSITE | https://notarydubai.com/ |
| ADDRESS | Al Reem Tower, Dubai, UAE |
| CONTACT DETAILS | +971503041127 |
| OPERATING HOURS | Sunday to Friday: 8 AM–5 PM |
| | |
| --- | --- |
| Criteria | Ratings |
| Customer Service | ★★★★★ (5/5) |
| Specialization | ★★★★★ (5/5) |
| Range of Services | ★★★☆☆ (3/5) |
With over 20 years of experience, Notary Dubai has been giving notary services under the umbrella of both UAE and international law.
With a policy to offer full transparency no matter the cost, the company has established itself to have an excellent track record amongst the legal community and its client base.
From the fees to the process to the drafting of documents, it aims to operate with integrity and assist you to the best of its abilities.
Jonathan has been working with Notary Dubai for years. He buys and sells cars for a living and always needs to get deeds of sale notarized to complete the whole process.
He shared with us that he's always grateful for the company because it guided him and gave him advice when he was just starting out — he loved that he could trust it.
For a team of three people, we also love the fact that the company covers a wide range of legal services. Its specialists specialize in areas like real estate, intellectual property, commercial and corporate, and many more.
Although we can imagine that a team of that size can only handle so many clients at once and their efficiency may get hindered because of that.
As for the company's range of services, well, it doesn't really have anything else other than providing legal assistance and notarizing documents.
Not that there's a need for it, but it does lack services that could make its business more accessible and convenient.
All in all, Notary Dubai has built itself as a company of trust and integrity. With full transparency, it's easy for clients to approach the team and ask them questions without the fear of being taken advantage of.
Full transparency policy
Excellent track record and reputation
Specializes in a wide range of legal services
Doesn't have any other services for convenience & accessibility
3. Takhless Government Services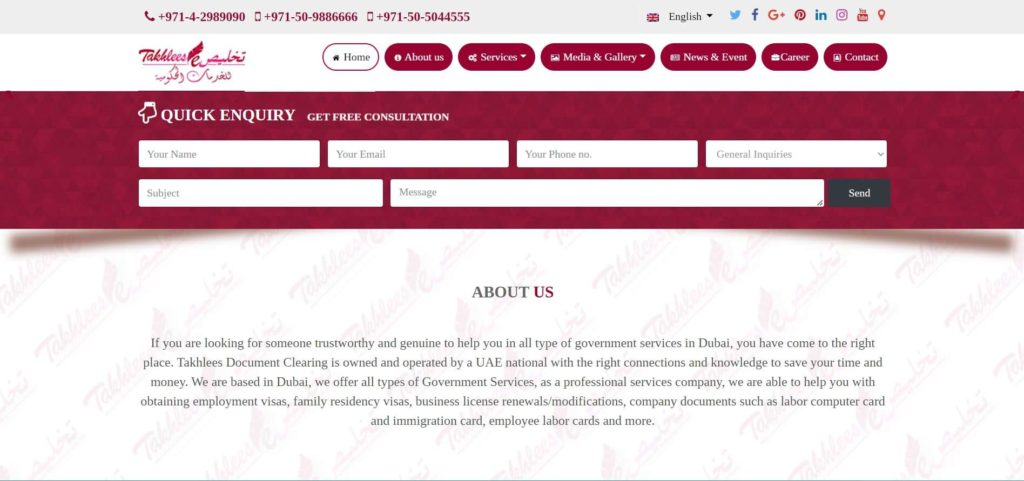 Test
Info
WEBSITE
http://www.takhlees.ae/index.php
ADDRESS
Ground Floor, Creek Tower, Beside Land Department, Baniyas Road, Deira - Dubai.
CONTACT DETAILS
+971-50-5044555

+971-50-9886666

+971-4-2989090

OPERATING HOURS
Sunday to Thursday: 8 AM - 7 PM

Sat: 9 AM - 2 PM
| | |
| --- | --- |
| Criteria | Rating |
| Customer Service | ★★★★★ (5/5) |
| Specialization | ★★★★☆ (4/5) |
| Range of Services | ★★★★☆ (4/5) |
Starting way back in 2006 to link all government authorities together and hasten the execution of applications either for departments and clients, Takhless has long since then grown into a company of more than 60 employees.
Meena started her career as a government employee thanks to the help of Takhless Government Services.
She shared with us that the company helped her process her employment requirements, including notarizing important legal documents that were required from her.
We love that focus on public notaries, from contracts to affirmations to power of attorney. It has really carved out a niche for itself by connecting with government departments.
However, while it is not limited to public notaries, this is its specialty and main focus. Because of this, we'd recommend our other entries in case you have non-public notary needs.
But what we think is this company's strongest point is its range of services. Besides public notaries, they also do Dubai court services, Ejari and land services, and even tourism services.
And while some of these don't really promote any kind of convenience or accessibility, they do come in handy for other legal services that others might be looking for.
All in all, while Takhless Government Services may provide a niche in legal services that remains to be untouched in this industry, its wide range of services makes up for that lack of versatility.
And the fact that it chooses to focus on the needs of government employees and government services means that it is well connected and knows its way around the laws of Dubai.
Specializes in public notary services
Focuses on government work legalities
Wide range of services
Notaries outside of government dealings are weak
Some services don't really affect notarizing process
4. Notary Services Dubai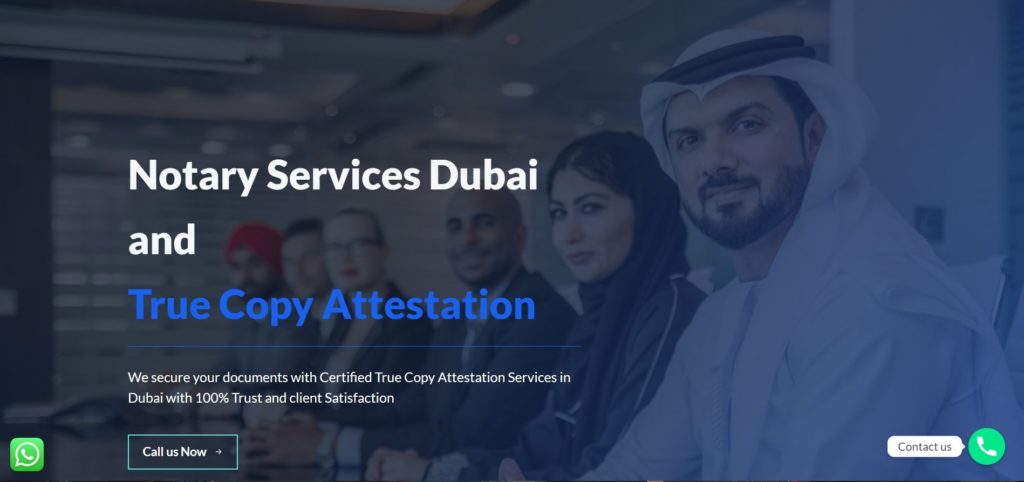 | Test | Info |
| --- | --- |
| WEBSITE | https://notaryservicesdubai.com/ |
| ADDRESS | The H Dubai – 1 Sheikh Zayed Rd – Trade Centre – Trade Centre 1 – Dubai |
| CONTACT DETAILS | +971529475935 |
| OPERATING HOURS | Monday to Friday: 9 AM–6 PM |
| | |
| --- | --- |
| Criteria | Ratings |
| Customer Service | ★★★★★ (5/5) |
| Specialization | ★★★★★ (5/5) |
| Range of Services | ★★★☆☆ (3/5) |
Notary Services Dubai is a pioneer in providing certified true copy attestations, legal attestations, document legalizations, and notarization services.
With experience working with over 100 businesses in Dubai, it knows how to handle all types of legal procedures, legal documents, legal attestation, and certification services.
Krista, a small business owner, has been working with Notary Services Dubai to have all her legal documents for her business notarized every since she started her venture.
She shared with us that the main reason she chose the company is the array of options on how she wants to get documents notarized.
We agree. We love that its clients can choose whether to have documents notarized online to save time or if they have questions or are curious to know how it works, they can also have it notarized in person.
On top of that, the company can also offer notary public services, which is uncommon. Usually, private notaries either focus on private dealings or public notaries, not both at once.
The fact that it offers both sides of the spectrum means that it is very knowledgeable about the many aspects of notarizing.
We also love that its range of services includes providing true copy attestations, which are important in business dealings and personal cases.
To put it into context, a certified true copy is a copy of a document that a lawyer or Notary attests as a true copy of an original document.
Attesting and notarizing go hand-in-hand as notarized documents are usually the ones that are being copied and will need to be attested.
By having this service, clients can stop wasting time looking for another company that attests copies if they need it. However, besides this, there is no other service being offered by the company.
All in all, Notary Services Dubai's strongest trait is being able to handle all kinds of legal procedures. It also offers flexibility on how clients want to get documents notarized.
Handles private and public notarizing
Can notarize online and in person
Offers true copy attestations
Efficient and speedy service due to accessibility
Limited range of services
Customer Reviews
Great same day processing
"Notary services Dubai. Great true copy Attestation copy. Attesting copies of Passport, degree, utility bill same day." —Ayub Khan, Google Reviews
Professionalism at its best
"I applied for immigration to Canada and I was advised for notarization of declaration, degree, diploma, and my school certificate. Notary services Dubai Certified and notarized my declaration the same day.
Excellent service. Professional team." —Hangout Leathers, Google Reviews
5. TAM Private Notary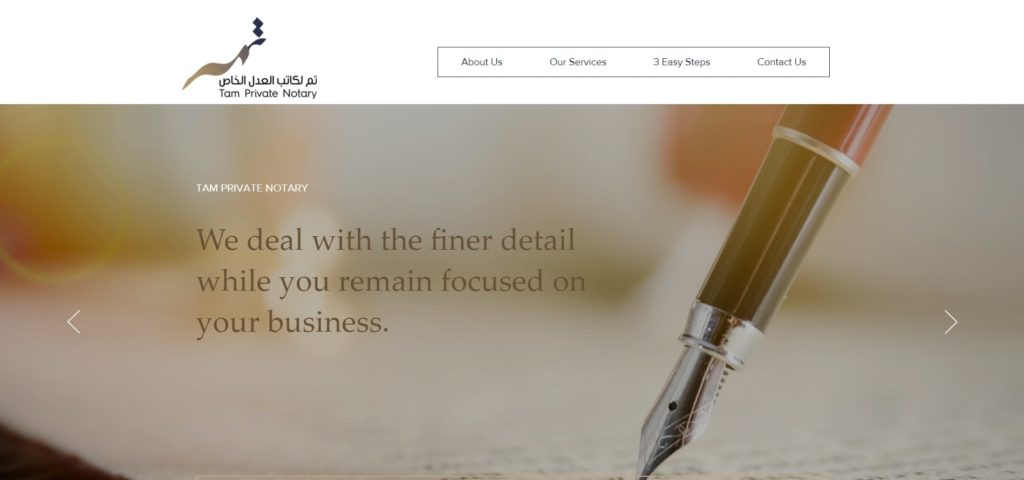 Test
Info
WEBSITE
https://www.tamnotary.com/
ADDRESS
Mezzanine Floor, Coastal Building Next to Al Twar Centre, Dubai
CONTACT DETAILS
+971 5 668 74040
OPERATING HOURS
Monday to Thursday: 9 AM–6 PM

Friday: 8:30 AM – 12 PM & 4 PM – 7 PM
| | |
| --- | --- |
| Criteria | Ratings |
| Customer Service | ★★★★★ (5/5) |
| Specialization | ★★★★☆ (4/5) |
| Range of Services | ★★★☆☆ (3/5) |
Approved and authorized by Dubai Courts, TAM Private Notary has notarized, legalized and affirmed over 45,000 business documents.
Whether it be in person or via a digital call, it can notarize your documents however you want. Its flexibility is one of its strong points.
Ahmed, who recently got a deed of sale notarized by TAM Private Notary, shared with us that with the help of his grandson, the company did the virtual notarization in three steps only.
We love how streamlined and flexible its customer service is. It allows clients to discuss their notary needs via email or in person at its office.
And then all the client has to do is prepare the relevant documents along with their Emirates ID and Passport for verification and leave the rest to the company.
It specializes in handling business-related legal procedures like company management & legal admin services, affirmations and declarations, and legal notifications.
However, besides these, there's not much else that it specializes in. We were disappointed that it doesn't really handle personal documents for notarization.
Another problem we have with it is that it doesn't have any other services, whether related to legal services or otherwise.
It is pretty much a straightforward private notary firm that sadly does not do anything besides that.
Despite that, TAM Private Notary excels in what it does and that is handling business documents and providing a streamlined accessible process for anyone who needs notarizing.
Can notarize online and in-person
Specializes in handling and notarizing business documents
Limited specialization in notarizing
Limited range of services
FAQs About Companies for Hiring a Notary in Dubai
---
We hope this helped you find services for a notary in Dubai. If you're looking for other legal assistance, then check out these articles: