The 5 Top Counseling Services in Dubai
Sometimes we might need a helping hand. This doesn't just have to be in the form of assisting you with physical or technical tasks – we can ask for help for our own mental health.
If you're struggling with personal issues or trauma, one of the things that we can recommend to help you get through them is to seek a specialist.
There's nothing wrong with asking for advice or counseling, as it is just a more healthier way to cope and deal with personal issues. Here are our recommendations for the top counseling services in Dubai!
How Much Do Counseling Sessions Cost
Actually, there are some organisations that provide free counseling sessions. These are usually backed by the government, although they might offer specific help with issues such as dealing with the pandemic, anxiety or depression.
If you'd prefer to go to therapy at your own time and pace, then you might need to pay for the sessions that you will avail at your chosen clinic. Here's a brief estimate of how much you can spend per meeting with a counselor:
| Service | Cost / Session |
| --- | --- |
| counseling | AED 350  - AED 1,200 |
The Best counseling Services in Dubai
Here's what we considered as we assessed the different healthcare centres in this list:

1. ClearMinds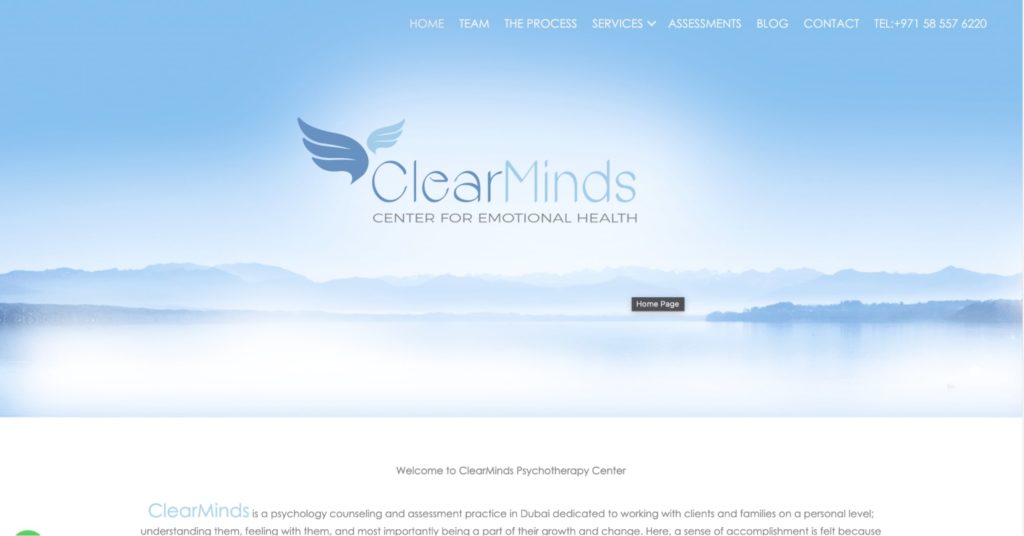 Test
Info
SERVICES
Psychotherapy, EMDR Therapy, Couples Therapy, Play Therapy
WEBSITE
https://www.clearmindscenter.com/
ADDRESS
Jumeirah Lakes Towers (JLT), Cluster M, HDS Business Center, Office 2904 - Dubai - United Arab Emirates
CONTACT DETAILS
Phone: +971 58 557 6220

E-mail: [email protected]

OPERATING HOURS
9:00 AM - 6:00 PM (Monday - Friday)

9:00 AM - 1:00 PM (Saturday)
| | |
| --- | --- |
| Criteria | Ratings |
| Expertise | ★★★★★ (5/5) |
| Price | ★★★★☆ (4/5) |
| Facilities | ★★★★★ (5/5) |
| Support | ★★★★☆ (4/5) |
ClearMinds Psychotherapy Centre is a clinic in Dubai that provides counseling and assessment for a wide variety of people. The clinic can provide assistance to men, women, and children.
ClearMinds has quite a good range of various psychological therapies that are available for people with different issues. They deal with anxiety, depression, and also help children with different developmental or psychological ailments.
One thing we noticed about this company is that their focus mostly relies heavily on psychotherapy or providing counseling to groups and couples.
We believe that it's best if you book an appointment here if you are a pair struggling with some issues or a lone individual who would want help with healing or coping with trauma.
The roster of experts here are composed of specialists that have 5 to 10 years of experience. Additionally these professionals are also licensed by the Dubai Health Authority and some even carry licences from the USA.
We think that this centre is a good healthcare establishment for a person's counseling needs if they would want to deal with anxiety or depression. It's also a good option for couples who are seeking to mend their relationship or go through a traumatic experience together.
Caters to men, women, and children
Has separate services for helping with depression or anxiety
Experienced team
Appointment required
Focuses more on individuals and couples
2. Vivamus
Test
Info
SERVICES

Counseling, CBT, Dialectical Behavior Therapy, EMDR, Bipolar Disorder, Coronavirus Counseling, OCD




For the full list of services, go here.

WEBSITE
https://vivamus.me/
ADDRESS
Building 49 Dubai Healthcare City - Suite 202 - Dubai - United Arab Emirates
CONTACT DETAILS
Phone: +971 4 440 3844

E-mail: [email protected]

OPERATING HOURS
8:30 AM - 8:30 PM (Monday - Saturday)
| | |
| --- | --- |
| Criteria | Ratings |
| Expertise | ★★★★★ (5/5) |
| Price | ★★★★☆ (4/5) |
| Facilities | ★★★★☆ (4/5) |
| Support | ★★★★☆ (4/5) |
Vivamus is a centre that offers quite a variety of psychological and counseling services for individuals and corporations in Dubai. With that being said, we did notice that this centre leans more toward providing their services to expats.
Vivamus offers three different kinds of counseling services. These are individual, marriage, and relationship counseling sessions .
Generally what patients can expect during these sessions is that the specialist can help them deal with their issues or challenges such as stress, relationship difficulties, depression, anxiety, panic attacks, and more.
We did also notice that they offer specific services in dealing with postnatal depression and challenges during and after pregnancy for women.
Part of seeking help is also making sure that the specialist that will help you in your journey is qualified. This centre has a team of experts ready and available for those who will need them.
In terms of expertise, the specialists here have around 5 to 10 years of experience and most have postgraduate degrees in psychology or social work. They're all licensed with the Dubai Health Authority so you know that you're in good hands .
The clinic does encourage patients to book more than six sessions to get a good result. Usually these sessions happen for around 50 minutes and only once a week.
We think that Vivamus is a good option for expatriates and corporations in the city, especially if you need a team that can support you as you navigate around a work and life balance.
Expert specialists available
Can cater to one or more people
Appointment required
Encourages patients to book more than six appointments
3. ATIC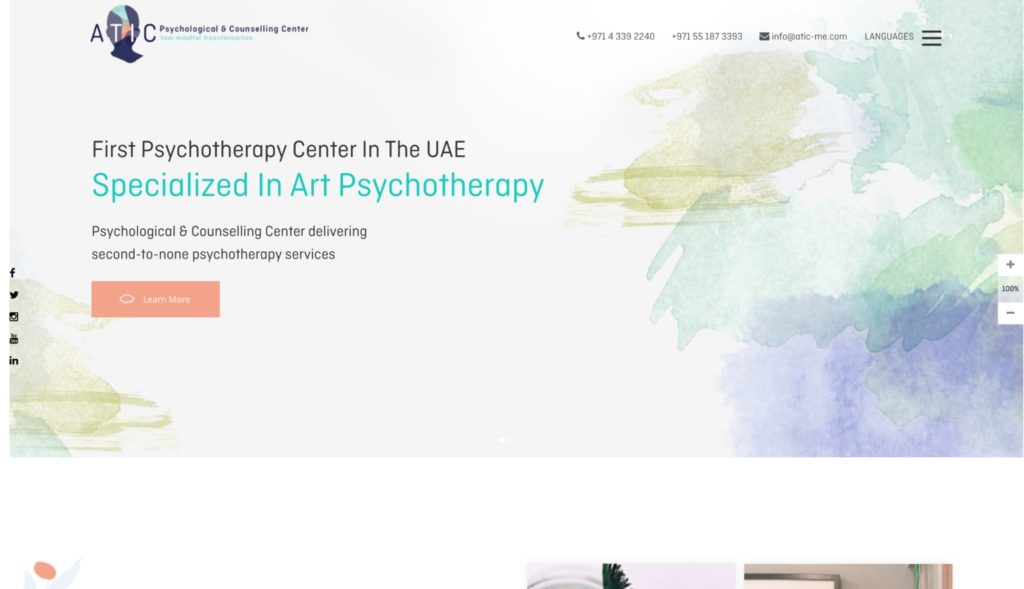 Test
Info
SERVICES

Individual Therapy, Couples Therapy, Family Therapy, Art Psychotherapy, Group Therapy, Online Therapy




For a full list of their services, go here.

WEBSITE
https://atic-me.com/
ADDRESS
Al Safa 1, Mardoof Building, Block A, 102, 104 & 105 - Sheikh Zayed Rd - Dubai - United Arab Emirates
CONTACT DETAILS
Phone: +971 4 339 2240

E-mail: [email protected]

OPERATING HOURS
9:00 AM - 8:00 PM (Saturday - Thursday)
| | |
| --- | --- |
| Criteria | Ratings |
| Expertise | ★★★★★ (5/5) |
| Price | ★★★★☆ (4/5) |
| Facilities | ★★★★★ (5/5) |
| Support | ★★★★★ (5/5) |
ATIC is a psychology and counseling centre that was initially opened in Singapore in 2010.

After opening a branch in Dubai in 2014, the company has given their assistance and expertise to assist people in dealing with their issues and experiences.
Licensed by the Community Development Authority (CDA) of Dubai, the centre also ensures that the specialists that will handle their patients are all knowledgeable and experienced.

The experts here are what we call a team of master degree holders, as they all have obtained their post-graduate degrees. Additionally, their practices are all licensed and approved by the Dubai Health Authority (DHA).
These experts can help children and older individuals facing issues such as abuse, anger management, anxiety, depression, eating disorders, gender identity, OCDs, and many more.
Aside from the regular therapy or counseling sessions ATIC can also provide their expert assistance towards couples, families, groups and individuals. There's also an online therapy session for those who can't go to their clinic.
We think the most unique thing that sets this center apart from its competitors is that they have art psychotherapy, where patients undergo art sessions to help them heal.
Another great thing about this centre is that they can handle sessions of varying numbers of people. So you can come here on your own, with your partner, or with a group.
Has different kinds of therapy sessions
Caters to men, women, and children
Can handle individual, group, and couple sessions
Center has licensed and experienced psychologists
Appointment required
Primarily offers one kind of therapy (art therapy)
Customer Reviews:
Professional Staff, Great Therapist
"ATIC is hands down one if the best clinics in Dubai. They have been professional from day one and made me feel comfortable as I started my healing journey. Everyone I have interacted with made me feel welcome and understood however I have to give all my thanks to Khulood, my therapist. She has been nothing but a blessing with her insight and calm demeanour, she helped me navigate a lot of my personal trauma and anxiety and I feel like a different person after 2 years of seeing her. I will continue to use ATIC services even now after moving from Dubai." – Bakinam Sherif
Quality Care and Services
"Learned a lot about art therapy during our sessions. I was apprehensive to try at first but they made me at ease from the start. Felt very welcome and enjoyed my journey thru rediscovering my love for creating art from the simple, unexpected things. Surely an enlightening and therapeutic experience." – Alda Alcala
4. LifeWorks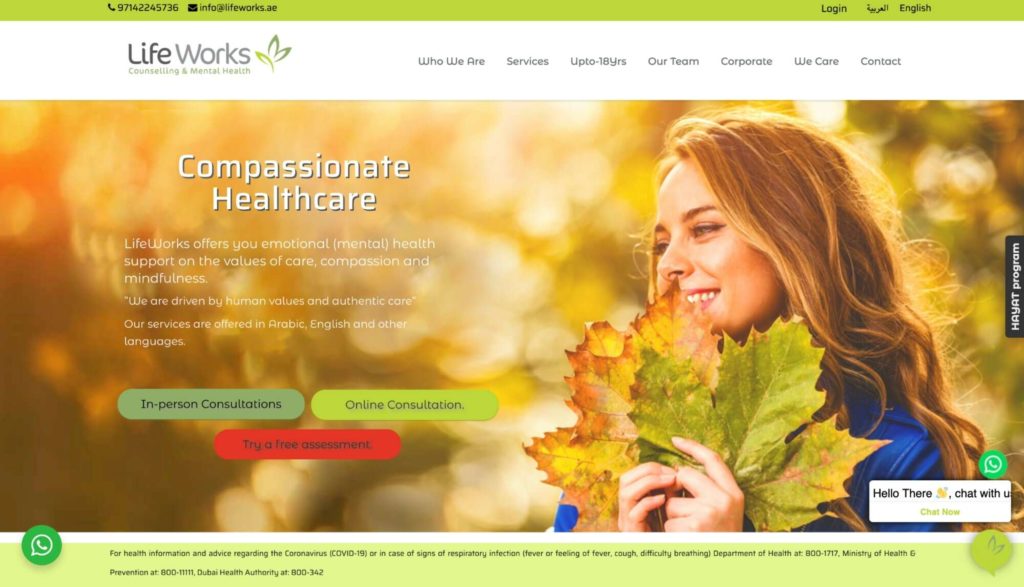 Test
Info
SERVICES

Adult and Child Psychology, Adult and Child Psychiatry, Elderly Care, Crisis Intervention, Adoption Assistance, Aviation Medicine




For a full list of their services, check here.

WEBSITE
https://www.lifeworks.ae/
ADDRESS
1230 Al Wasl Rd - Umm Suqeim - Umm Suqeim 2 - Dubai - United Arab Emirates
CONTACT DETAILS
Phone: +971 54 400 2698

E-mail: [email protected]

OPERATING HOURS
8:00 AM 9:00 PM (Sunday to Thursday)

8:00 AM 9:00 PM (Friday to Saturday for appointments only)
| | |
| --- | --- |
| Criteria | Ratings |
| Expertise | ★★★★★ (5/5) |
| Price | ★★★★☆ (4/5) |
| Facilities | ★★★★★ (5/5) |
| Support | ★★★★★ (5/5) |
LifeWorks is a DHA and CDA-licensed healthcare centre that provides mental health assistance for the residents in Dubai.
In terms of services, this clinic has an interesting range. They go from psychological assistance to aviation medicine, which we think is unique.
Looking at their counseling services, the clinic provides sessions that help children and adults. The experts in the clinic can help their patients with problems such as depression, anxiety, addiction, and post traumatic stress disorders (PTSD).
The counseling sessions are available for individuals, families, couples, or groups. The duration of each meeting, which is held once a week, will last for about 30 to 50 minutes.
LifeWorks doesn't have a minimum number of sessions you need to take, which is quite nice. They can cater to short-term or long-term sessions, depending on how long the patient would want to meet up with their therapists.
Video consultation is also available for those who will be unavailable for face-to-face meetings with therapists. The company does require patients to let them know in advance if a scheduled session will be via video instead.
Overall, while LifeWorks doesn't necessarily add something new to the table when it comes to consultations, we like that they offer flexibility in terms of scheduling for their patients.
Also, we recommend this healthcare centre if you want to get some counseling with somebody or a group of people!
Has licensed and experienced specialists
Offers other services aside from counseling
Video consultation available
Booking encouraged
No walk-ins on Friday and Saturday
Customer Reviews:
Great Therapist, Quality Service
"Nashwa was a life changer for me. She is an incredible therapist who utilizes the time effectively in the session to make you feel like you are getting a ton out of each session. I think that everyone should see her! She is amazing!" – Kennedy Mascarhenas
Easy to Work With Experts
"This is a great place to go for counseling support. Dr. Bassem and his team of awesome therapists are easy to work with and seriously committed to helping their clients." – Margie Torrefiel
5. OPENMINDS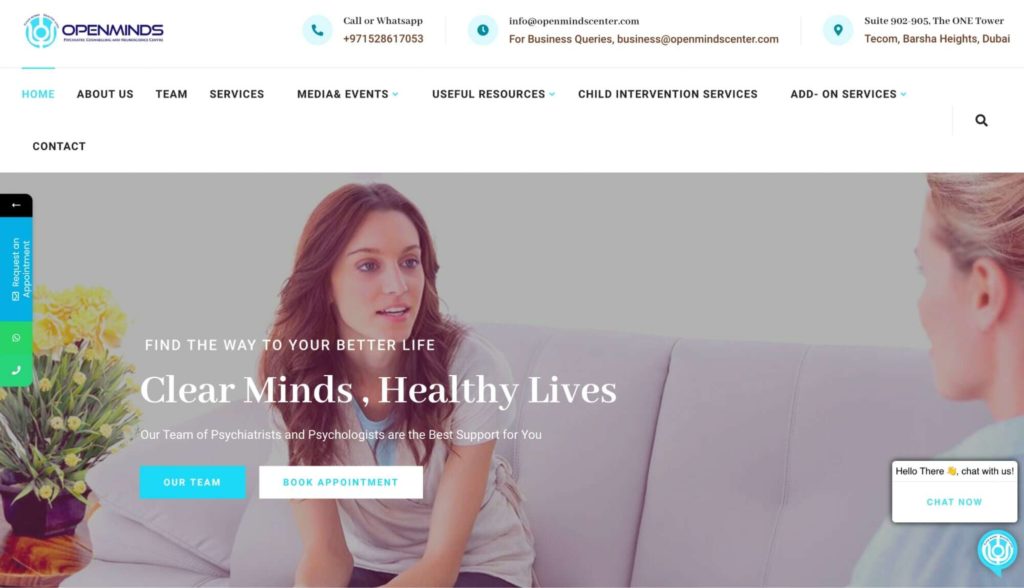 Test
Info
SERVICES

Psychology, Psychiatry, Employee Assistance Program, Assessments, Eating Disorder Treatments, Child Intervention Services, Marriage Counseling




For a full list of services, check here.

WEBSITE
https://www.openmindscenter.com/
ADDRESS
The One Tower - Barsha Heights - Dubai - United Arab Emirates
CONTACT DETAILS
Phone: +971 4 876 1444

E-mail: [email protected]

OPERATING HOURS
8:30 AM - 8:30 PM (Monday - Sunday)
| | |
| --- | --- |
| Criteria | Ratings |
| Expertise | ★★★★★ (5/5) |
| Price | ★★★★☆ (4/5) |
| Facilities | ★★★★☆ (4/5) |
| Support | ★★★★☆ (4/5) |
OpenMinds Centre is a psychiatry, counseling, and neuroscience centre in Dubai. The establishment offers multidisciplinary treatments for people regardless of age and gender.
They cater to children, adults, and seniors, helping them with mental and physical health concerns. Their therapists or counselors assist patients in dealing with issues such as eating disorders, PTSD, OCD, stress, tauma, and relationship problems.
Their specialists are all licensed and very experienced as well. We've observed that they all have around 10 to 20 years of experience, so you know that you'll be assisted by someone who's been in the business for a long time.
For their sessions, OpenMinds only offers individual counseling. These meetings can last from 30 to 60 minutes, depending on what the patient agreed upon booking.
Speaking of booking, we liked that the clinic accepts billing services for insurance policies from multiple companies. These include NextCare, MetLife, OMAN INSURANCE COMPANY, AXA, MedNet, NAS, and many more.
Depending on the policy you have, you can get some of the sessions discounted if it is covered by your provider. Regardless, we like this aspect of their paying process, and we're sure that it would be of help to those who have the necessary plans.
Lastly, they offer add-on services for their patients who come in for counseling. These can be in the form of giving them access to support groups or education and training services.
Overall, we recommend OpenMinds Center for their expert specialists as well as their wide range of issues they can help patients with!
Licensed and experienced specialists
Accepts multiple insurance policies
Appointment required
Individual sessions only
Customer Reviews:
Helpful and Effective Treatment, Expert Therapists
"Dr Anna and Dr Shankar have been really helpful and effective in diagnosing and treating my condition. They are very knowledgeable and understanding. I wouldn't hesitate to continue attending my sessions with them as I feel that I'm way better as compared to my first session. Kudos to the receptionists and nurses as well, for always being patient, kind, and organized. I will be forever grateful to the Openminds team, you are really are a life changer!" – Socorro Bitas-Cuyos
Great Service and Treatment
"New to the country with no job and extreme anxiety and stress. I was taken great care of by the whole clinic and Dr. Shankar. My economic situation was understood and taken into consideration. Thank you for helping me through this new phase of my life." – William El Khazen
FAQs About counseling Services in Dubai
---
If you're looking for mental health assistance, here's our top picks for the best clinics for such issues in Dubai!