The 5 Best Restaurants for Biryani in Dubai
Whenever our families gather, there is one thing that is never absent from our table, biryani. Yes, a big plate of delicious rice mixed with all kinds of Indian spices, vegetables, and meat.
Dubai is lucky to have such a large South Asian community that has brought all kinds of biryani recipes to the city for all of us to enjoy.
So we went and tried out some of the most recommended spots in the city to give you Dubai's best restaurants for biryani.
How We Picked Dubai's Best Restaurants for Biryani
Before we get right into our list of Dubai's best restaurants for biryani, here are the factors we considered for our entries on this list:
1. Bombay Brasserie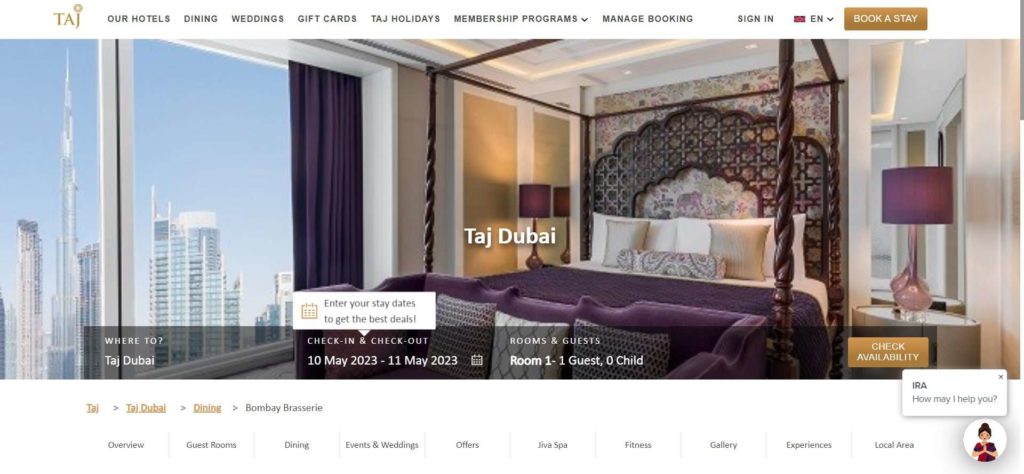 | | |
| --- | --- |
| Criteria | Rating |
| Authenticity | ★★★☆☆ (3/5) |
| Menu | ★★★★★ (5/5) |
| Service Quality | ★★★★☆ (4/5) |
| Ambiance | ★★★★★ (5/5) |
India is home to a diverse range of regional specialties, making this cuisine one of the most eclectic in the world, and this is exactly what Bombay Brasserie shows with its menu.
From seafood coconut curries and slow-cooked vegetable biryanis to a delectable cocktail selection, this restaurant brings out the sophistication in Indian cuisine.
We love its modern spins on biryanis such as the Tikka Kebab Biryani that combines Arabian kebabs with the classic rice dish, and the indulgent Mutton Boti Biryani that we get for special occasions.
That being said, authenticity in its recipes is not its strongest suit. Most of it has been tweaked for the sake of "elevation" and "gourmet".
However, we do love that Bombay Brasserie is really committed to making space in the gastronomical world for Indian cuisine with its food and its ambiance.
And speaking of ambiance, its beautiful murals, live open kitchen, and botanical bar concept all come together to create a space that you can call a fully functioning stylish restaurant.
It is only made better by the fact that it is neighbors with Burj Khalifa, with the restaurant's floor-to-ceiling windows offering a high vantage point of the area.
Dinners here are elevated to another level with views of the glittering city lights, beautiful architecture, and strategic location.
Amazing restaurant space
Has amazing views of the surrounding Burj Khalifa area
Excellent service
Great menu
Dishes are not authentically Indian
Customer Reviews
It is been a time long since I had real Indian cuisine
"It is been a long since I had real Indian cuisine. We went there for our anniversary and it was a great success, I would highly recommend you their mushrooms, chicken biryani, prawns curry, chaat and most importantly their dessert lychee… staff are friendly and helpful in recommending the best dishes" —Sue Q, Google Reviews
The best restaurant we have eaten at during our entire stay in Dubai.
"We had dinner here, this is the best restaurant we have eaten at during our entire stay in Dubai.
The dishes are authentic and traditional.
The service was exceptional, the waiters helped us adjust the dishes to our flavor and took care of us throughout the meal.
Highly recommended restaurant, we will definitely be back here! 5++" —Omri Ashkenazi, Google Reviews
2. Memsaab Curry & Tandoor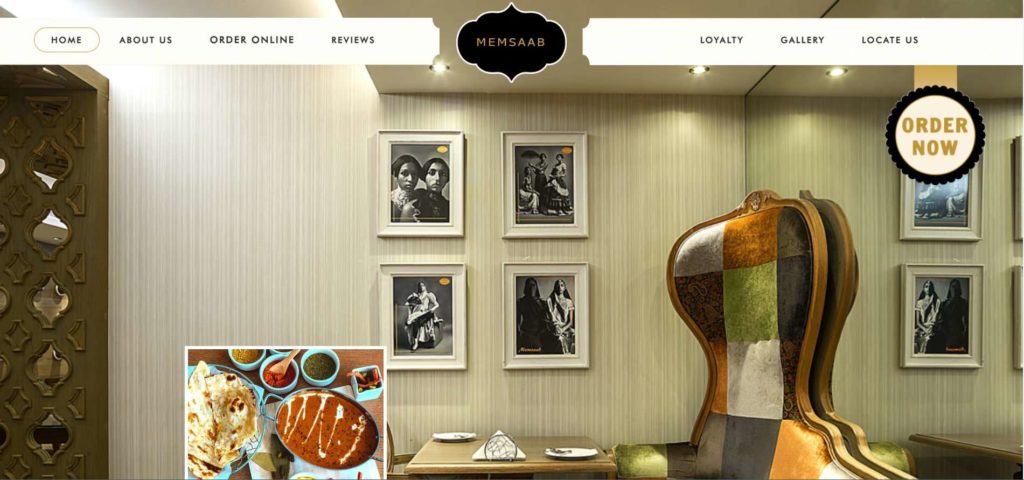 Test
Info
MENU
Biryani, kebabs, tikka masala, curry
WEBSITE
https://memsaabfood.com/
ADDRESS
J2 Tower, Cluster J, Shop 32 & 33 - Jumeirah Lake Towers - Dubai - United Arab Emirates
CONTACT DETAILS
044429816
OPERATING HOURS
Saturday to Wednesday: 11 am - 11 pm

Thursday to Friday: 11 am - 11:30 pm
| | |
| --- | --- |
| Criteria | Rating |
| Authenticity | ★★★★★ (5/5) |
| Menu | ★★★★☆ (4/5) |
| Service Quality | ★★★★★ (5/5) |
| Ambiance | ★★★★☆ (4/5) |
Known for its delicious food, reasonable portion size, and impeccable service, Memsaab Curry & Tandoor brings authentic Indian and Pakistani flavors to Dubai.
Its popular offerings when it comes to biryani include vegetable biryani, vegetable Chaman biryani, mutton, and chicken Chaman biryani.
We also love that its menu includes additional different flavors through its sides such as the cucumber dill raita, a popular Indian condiment made with vegetables and yogurt.
When it comes to its authenticity in relation to its menu, this restaurant's dishes are only inspired by recipes passed down from generations of the finest chefs of India which lovingly reflects the diversity of taste and culture of South Asia.
However, our biggest issue is the fact that its offerings besides the biryani were of average quality.
The service was quite courteous and accommodating. The staff always served us with great smiles and a friendly demeanor throughout our time dining here.
We also loved the entire ambiance of the restaurant. The clear glass tables, coupled with extravagantly upholstered seats, and minimalistic Indian wall decor, all made for an elegant dining space that elevated the experience.
The lighting took a little bit of the fantasy, though. The overhead lighting situation made it unflattering for both the dishes and the people we dined with.
Authentic Indian and Pakistani biryani
Great range of side dishes
Excellent service
Beautiful decor and ambiance
Dishes beyond the biryani were average
Lighting is unflattering
Customer Reviews
Undoubtedly a top spot for north Indian food
"Undoubtedly a top spot for north Indian food in Jlt for both dine-in and take away. We first tried them out in health care city and this branch maintains equally good standards in terms of food and has decent seating capacity as well. We tried out mango lassi(5/5), lemonade(4/5), tandoori murgh(5/5), sufiana pulao(4/5), chicken tikka masala(5/5), butter chicken(5/5) and lal maas(4/5). We were already very full so didn't have space for desserts but everything we tasted in starters and main course was fantastic. The look n feel of the place is good, the service was decent and the pricing is affordable as well. Overall loved this place and can't wait to return." – Cherian Peter
One of the best places in Dubai for Indian food
"One of the best places in Dubai for Indian food. Great preparation, taste, and ambiance. I also liked the interiors, the music, and the fancy chair that the owner sits on. My favorites were Fish ajwain, chicken tikka, and the complementary Jaljeera." – Tushar Sem
3. Jaffer Bhai's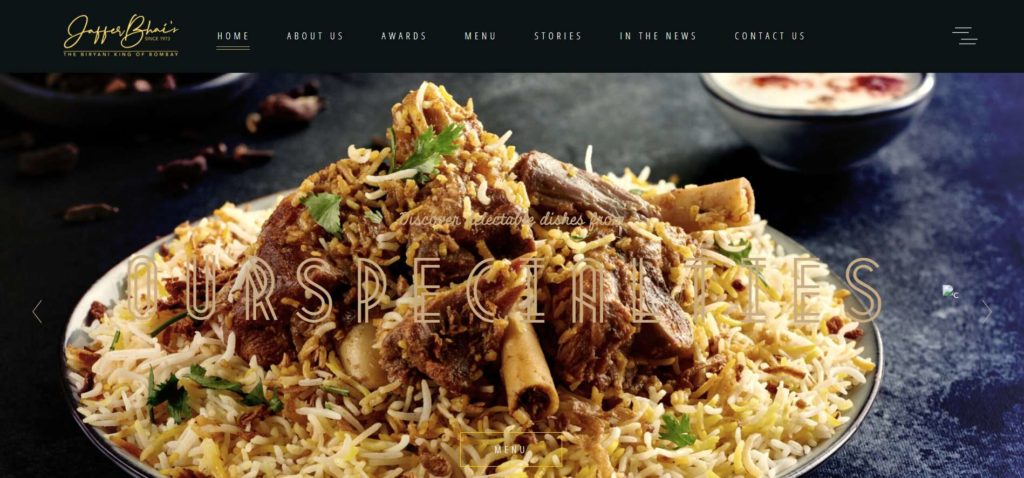 Test
Info
MENU
Biryani, kebabs, tikka masala, curry, butter chicken
WEBSITE
https://jafferbhais.ae/
ADDRESS
Shop 5, 1094 Building, Al Ramth Street, Dubai

Has 3 more locations in the city

CONTACT DETAILS
+971 4 547 4618
OPERATING HOURS
Sunday to Thursday: 11:30 am - 12 am

Friday to Saturday: 11:30 am - 12:30 am
| | |
| --- | --- |
| Criteria | Rating |
| Authenticity | ★★★★★ (5/5) |
| Menu | ★★★★★ (5/5) |
| Service Quality | ★★★★☆ (4/5) |
| Ambiance | ★★★☆☆ (3/5) |
From the streets of Mumbai, Jaffer Bhai's famous biryani is renowned all over the world, especially so in Dubai.
Its rich dishes are full of the flavors of saffron, ghee, and caramelized onions. These, coupled with its great service, impressive portions, and authentic Indian flavors have won it a massive fan following in Dubai.
What makes its biryani stand out from the others in Dubai is that it only uses long-graned rice, giving it the authentic texture and flavor that you can only find in Mumbai.
Some of our favorites are the mutton biryani, chicken Hyderabadi biryani, and the historical and legendary 1952 Gosht biryani which is cooked in a traditional dum with burned and hot charcoal from a wooden fire.
The staff was amazingly courteous and accommodating, but the busyness of the restaurant really pulls its efficiency down. Our dishes came to our table a little bit later than we expected.
However, the ambiance feels cheap and cold especially when compared to the warm and rich presence of its biryanis.
The overhead fluorescent lighting and the cheap, shiny wooden tables cast a sheen over the place that is reminiscent of fast food chains more than restaurants.

Despite that, the place still feels casual and relaxed enough that we are able to enjoy each other's company and big plates of biryanis easily.
World-renowned authentic Indian biryani
Authentic Indian biryani
Courteous and accommodating staff
Cheap-looking space
Busyness slows down service
Customer Reviews
Superb delicious food
"Superb delicious food, the real taste of Hyderabadi biryani, vegetarian food also had good taste as we ordered Barbeque mushrooms too. the ambiance is so nice, overall price little high but food quality is good." – Neelam Basit, Google Reviews
One of the best mutton Kheema I have ever had in my life
"One of the best mutton Kheema I have ever had in my life. Polite and kind staff. My friend praises the spring roll and the lamb chops. Make sure you have enough space in your tummy to indulge in sumptuous dishes at Jaffer bhai." -Tarun Bassi, Google Reviews
4. Sthan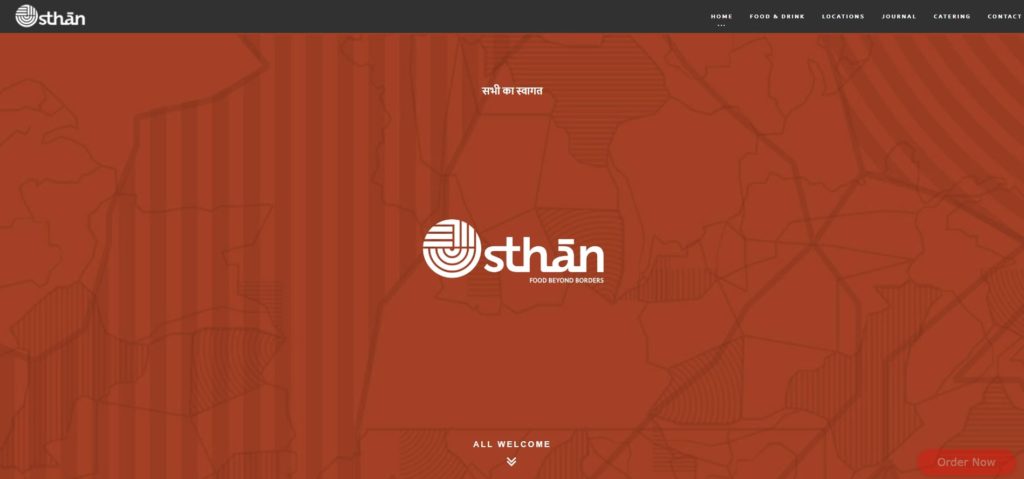 | Test | Info |
| --- | --- |
| MENU | Biryani, naan, roti, tikka, tandoori, curry, kebab |
| WEBSITE | https://sthan.com |
| ADDRESS | Zabeel Road, Al Karama, Dubai, UAE |
| CONTACT DETAILS | 04 399 7775 |
| OPERATING HOURS | Every day: 12 PM - 12 AM |
| | |
| --- | --- |
| Criteria | Rating |
| Authenticity | ★★★★★ (5/5) |
| Menu | ★★★★☆ (4/5) |
| Service Quality | ★★★★★ (5/5) |
| Ambiance | ★★★☆☆ (3/5) |
Offering multiple cuisines such as North Indian, Mughlai, and Pakistani, Sthan offers an amazing range of biryanis, some of which are completely new and unique compared to other restaurants that also serve biryani.
Its menu consists of great dishes such as paneer biryani, sabzi biryani, achari biryani, and, our favorite, Nalli biryani which consists of juicy shanks of lamb marinated in spices and herbs.
We love how its menu is authentic and honors many different cooking traditions from different South Asian regions. Sthan is one of our favorites when we want to try something new.
However, the other menu items outside of its biryani selections are limited and relatively unremarkable.
The service was excellent. The staff was quite efficient, and they did everything with a smile and a great personality.
We also love how, despite it being busy during the time we ate there, the entire team never slowed down.
However, our dining experience was brought down by its ambiance. While the place was beautifully decorated, it was dead silent.
There was no sound system installed so the whole place felt empty, despite it being filled with customers.
On top of that, the air conditioning was not working well and we really started feeling the heat halfway through our meal.
Serves biryani from different South Asian regions
Excellent service
The place is beautifully decorated
Nothing remarkable on the menu outside of biryanis
No music
The air conditioning was malfunctioning
Customer Reviews
Excellent quality with value for money
"Excellent quality with value for money but the service stands out amazing. Went in around 10:30 pm and the place was still buzzing with people. First time for us in there to explain to them. Very attentive service and didn't lose smile when asked about small condiments more than once. Had Pahari kabab with tandoori paratha and has Sindhi mutton biryani with their new jale aam ka panna ( raw mango juice with spices) enjoyed all and were satisfied." – Pooya Ranjbar, Google Reviews
What an amazing place with amazing food
"What an amazing place with amazing food ❤️ I loved every bite of my food 🤩
Biryani is so finger licking, I loved their kadak palak chaat sprinkled with beetroots, mashed potatoes, and pomegranate 💫
Chapli kabab was okay, but Haleem 😍😍😍 so delicious and full of flavors, it is a must-try place if you want delicious finger-licking food. Excellent service" – Wendy Benitez, Google Reviews
5. Pak Liyari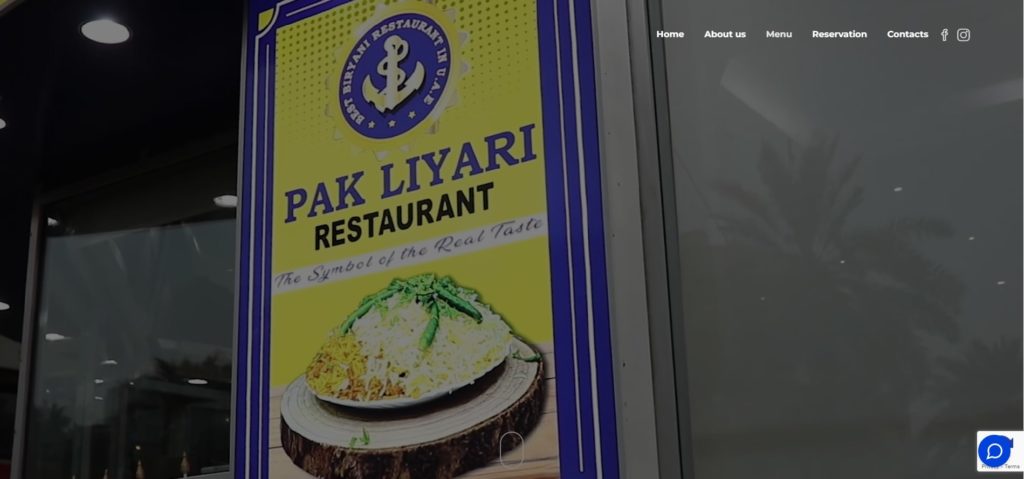 | Test | Info |
| --- | --- |
| MENU | Biryani |
| WEBSITE | https://pakliyarirestaurant.com/ |
| ADDRESS | Al Talal Tower 1, Opposite Sahara Center 13th Street, Al Nahda 1, Dubai – Al Nahda |
| CONTACT DETAILS | +971 4 220 0418, +971 4 271 7555 |
| OPERATING HOURS | Every day: 11 am - 1 am |
| | |
| --- | --- |
| Criteria | Rating |
| Authenticity | ★★★★★ (5/5) |
| Menu | ★★★★☆ (4/5) |
| Service Quality | ★★★★★ (5/5) |
| Ambiance | ★★★★☆ (4/5) |
Specializing in Pakistani-style biryanis, Pak Liyari offers the most delicious, tangy, and flavourful mutton biryani that awaits everyone who has done a long day of shopping at the Meena Bazaar.
Its amazing chicken and mutton biryani are well-loved as seen by a neverending flow of biryani enthusiasts, from all around the city and all around the world, that visit this place.
We can see why this is. Its authentically Pakistani recipe is what makes this restaurant really special as it has also become the go-to restaurant for the Pakistani community in Dubai.
We also love that it has a strong well-rounded menu with other specialties including mutton tikka, brain masala, channa daal, and keema.
When it comes to its service quality, we love that you can tell that this staff has withstood the test of time and has served thousands of customers. They all move efficiently and we always get our orders on time.
The ambiance is something that relatively brings this place down. While we can see the charm of the snug seating arrangement, and the noise from both the customers and the people from outside the bazaar, it can also be quite overwhelming.
Serve authentic Pakistani biryani
Well-rounded menu
Efficient service
Noisy and tight restaurant space
Customer Reviews
This place has the best Pakistani food and definitely the best biryani
"I have walked past this place so many times in the last 2 years and I regret not going in earlier. This place has the best Pakistani food and definitely the best biryani. I've been there twice now in 3 days and I've tried the Mutton Paya and the Biryani and I can't wait to go back for more. Definitely do try this restaurant. Paya was AED 12 and Biryani was for 17 (February 2023)." – Hosh Jehangir, Google Reviews
The staff was super friendly and helpful with everything we needed
"Outstanding chicken Biryani with double masala, I experienced first time here at Ramadan that was so amazing, the queue of waiting peoples are too big and the restaurant was full before iftar time.
I enjoyed a lot here with tasteful dishes and amazing food.
Biryani was super tasty" – Manmoji 81, Google Reviews
FAQs about Biryani in Dubai
---
We hope this helped you find your favorite restaurant for biryani in Dubai. Also, if you're looking for more restaurant recommendations, then check out these articles: