The 5 Best Centers with Audiologists in Dubai
Our hearing is one of the most sensitive sense organs that we have. It's also one that we use a lot more than we think.
So it's important that if we encounter hearing loss, we go to see an audiologist so they can help us manage it.
So we scoured the city to give you the best centers with audiologists in Dubai. We're also sharing with you the factors we considered in choosing.
Ultimately, we answered some FAQs about audiologists in Dubai.
How much does seeing an audiologist in Dubai cost?
Seeing an audiologist depends on the hospital and the audiologist's fee, as well as the cost of the audiogram test.
Seeing one and getting an audiogram test usually costs around AED1300 to AED1800.
The Best Centers with Audiologists in Dubai
Before we get right into our top picks for the best centers with audiologists in Dubai, here are the factors we considered for our entries on this list:
1. Dr. Rami Hamed Center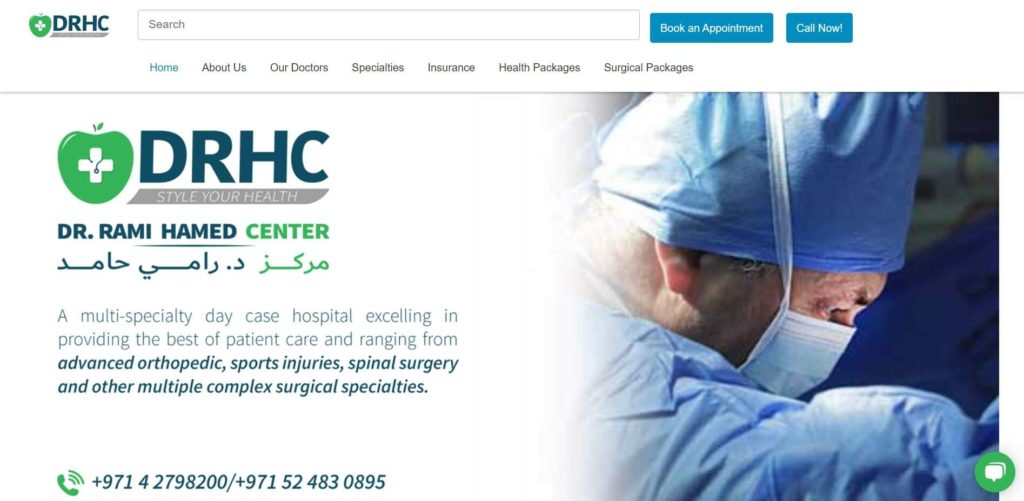 Test
Info
SERVICES
Audiology, Otolaryngology, General Medicine, Pediatrics, Healthcare
WEBSITE
https://www.drhc.ae/medical-center-in-dubai
ADDRESS
Building 52, Dubai Healthcare City, Dubai, UAE
CONTACT DETAILS
+97142798200

+971524830895

OPERATING HOURS
Every day: 8 am - 9 pm
| | |
| --- | --- |
| Criteria | Rating |
| Credibility | ★★★★★ (5/5) |
| Competence | ★★★★☆ (4/5) |
| Procedures | ★★★★☆ (4/5) |
| Equipment | ★★★★★ (5/5) |
Dr. Rami Hames Center is a multi-specialty day case hospital that has a wide range of patient care options coupled with the latest technologies and innovative approaches to healthcare.
Its ENT department is headed by Dr. Hatem Eliwi, who has 25 years of experience working as an otolaryngologist.
We love that he is considered one of the top audiologists in Dubai because of his strong track record of over 700 surgeries successfully done.
He is proof that experience and wisdom gained through working are often better than having a global educational background.
Dr. Eliwi graduated and trained in his home country, Syria, and only move to Dubai to work. It was here that he proved that he is amazing at what he does despite his humble beginnings.
And what's amazing about DRHC's ENT department is that it utilizes speech therapy with its hearing loss management program to improve the patient's quality of life.
However, we do wish that they offered more non-invasive treatments for patients with minor hearing problems.
Sadly, the ENT department only offers surgeries and allergy tests, so getting a hearing aid will have to be done outside of the medical center.
The department is also equipped with the most advanced audiology equipment to provide all kinds of solutions to different causes of hearing loss.
Headed by a well-experienced ENT specialist
Integrates speech therapy with audiology
Has advanced audiology equipment
No special training and educational background
No non-invasive treatments
2. Ear Care Medical Center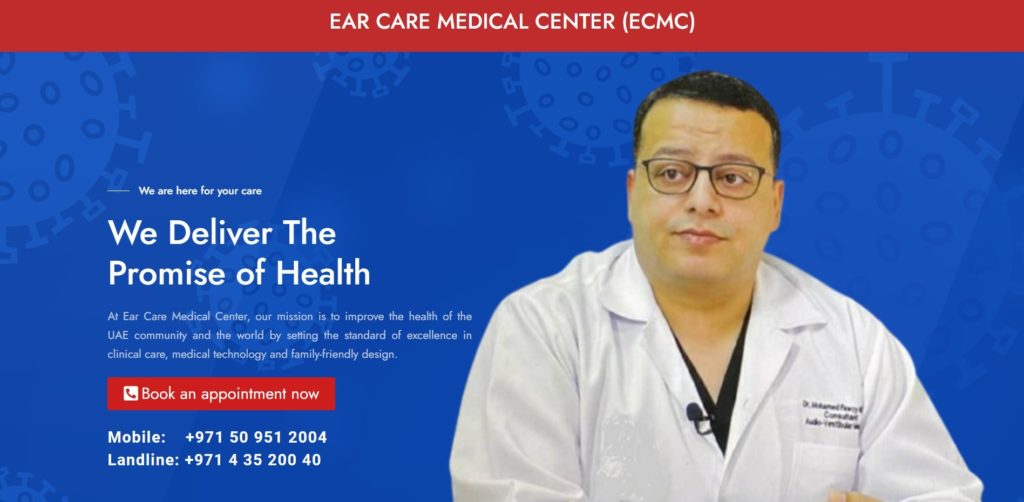 Test
Info
SERVICES
Audiology, ENT Treatment, Dental Services, Physiotherapy, Speech Therapy
WEBSITE
https://ecmcweb.com/
ADDRESS
ECMC - Jumeriah 1, Opposite Al Ghazal Mall Dubai, United Arab Emirates
CONTACT DETAILS
+971 43 52 0040

+971 509 51 2004

OPERATING HOURS
Sunday to Wednesday: 11 am - 8:30 pm

Thursday: 11 am - 6:30 pm

Saturday: 10 am - 6:30 pm
| | |
| --- | --- |
| Criteria | Rating |
| Credibility | ★★★★★ (5/5) |
| Competence | ★★★★☆ (4/5) |
| Procedures | ★★★★★ (5/5) |
| Equipment | ★★★★★ (5/5) |
Delivering state-of-the-art healthcare, Ear Care Medical Center covers the entire process of managing and solving hearing problems, from assessments to treatments.
The department is composed of highly trained specialists, doctors, nurses, and technicians who all have global medical experience.
We also love that because of this, Ear Care Medical Center is a regional referral center for ENT-related diseases, proving that they are more than enough to handle complex medical cases.
However, we do wish that the department has more awards to show for it since it is hailed as a regional center for audiology and other ENT-related treatments.
And speaking of handling medical cases, this center actually offers comprehensive patient treatment plans for adults and children.
This includes surgical and non-invasive treatments for the ears. From sinus and reconstructive surgeries to diagnostic and therapy services, such as hearing tests and speech therapy.
Its equipment complements the mastery of its team. The department has state-of-the-art medical equipment and technology that helps its team detect, prevent, and treat ENT disorders and issues.
All in all, Ear Care Medical Center is a great well-rounded audiology center that certainly earns its status as a regional center for this specific specialization.
On top of that, its equipment and the team all operate at a global standard that undeniably turns out excellent results on top of being able to accommodate complex medical cases that not many centers can do.
The team is composed of medical specialists with global experience
Hailed as a regional center for audiology
Has surgical and non-invasive treatments for the ears
State-of-the-art equipment
Customer Reviews
My mom is very thankful for Dr. Francis
"Mr. Francis is excellent, friendly, and really knows what he's doing when it comes to adjusting and fixing hearing aids. He's very patient and really cares about his patients. He always goes over and above to make sure all working fine, well maintained, and cleaned, and explains all the technicalities of why and what he's doing. Really appreciate you, Mr. Francis, thank you for everything you do for mom." -Nermeen Negm, Google Reviews
Great service
"Doctor Irene made me feel at complete ease. Very professional. I was initially nervous about attending a foreign clinic, as I'm from the UK. But the staff were very helpful, easygoing and informative of the treatment. Very good customer service from the reception also. Highly recommend! Thanks !" -Hamza Jahangir, Google Reviews
3. Advanced Hearing & Balance Center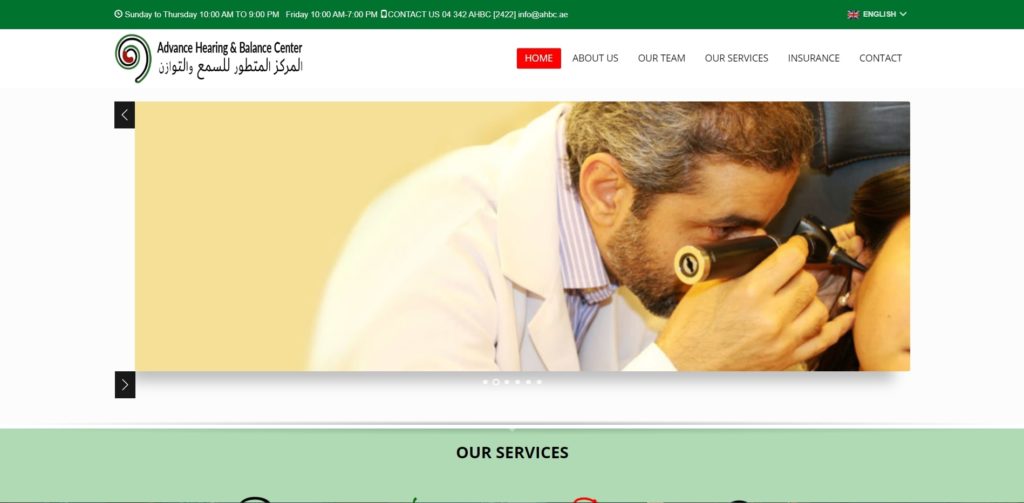 Test
Info
SERVICES
Audiology, ENT Treatment, Vestibular Testing, Hearing Aids, Allergy Testing
WEBSITE
https://www.ahbc.ae/
ADDRESS
Shop 107, First Floor Wafi Shopping Mall - Oud Metha Road Dubai - UAE
CONTACT DETAILS
04 342 AHBC [2422]
OPERATING HOURS
Sunday to Thursday: 10 am - 9 pm

Saturday: 10 am - 7 pm
| | |
| --- | --- |
| Criteria | Rating |
| Credibility | ★★★★☆ (4/5) |
| Competence | ★★★☆☆ (3/5) |
| Procedures | ★★★★☆ (4/5) |
| Equipment | ★★★★☆ (4/5) |
The only clinic in the region with a range of advanced tests for advanced hearing and balance, Advanced Hearing & Balance Center is the best place to get diagnosed by an audiologist.
The senior audiologist, Sarah Darwish, has 25 years of experience under her belt and got her masters from The University of Western Australia.
The other audiologist, Faiz Anwar, however, only has 6 years of experience which is certainly a noticeable gap between the two.
While we usually look past it, the center only has two of these audiologists, so we definitely feel an imbalance between the two with Sarah seemingly being more capable with her work.
But what's great about this center is that it performs all the assessments, treatments, and rehabilitation according to the complete care plans it creates for each patient.
We love how it understands no one condition is the same as everyone else's, so it's really important that it formulates accurate plans to ensure that the patient is healed, or at least is able to manage symptoms.
On top of that, the center has state-of-the-art technology and world-class facilities that are ready for minor surgeries and procedures that require a local anesthetic.
However, we're disappointed to learn that Advanced Hearing & Balance Center doesn't do major surgeries because its equipment doesn't allow it to.
The only clinic in the region with complete tests for hearing and balance
Senior audiologist has 25 years of experience
Provides complete care plans for each patient
State-of-the-art equipment and facilities
Only two audiologists with the other only having a few years of experience
Equipment is not enough for major surgeries
Customer Reviews
Wonderful experience with AHBC
"Wonderful experience with Advance Hearing and Balance Center the doctors were wonderful, and the staff was always helpful and kind. They ensured I had a smooth prep, surgery, and follow-up. I am so glad I chose Advance Hearing and Balance Center and would highly recommend it to anyone.
thanks again for all of you." -Dima Alborai, Google Reviews
Very professional and kind
"Welcoming and helpful reception staff, I was also greeted by a very caring nurse and technician. I had a consultation with Dr. Nasser, who treated me and patiently explained the condition I suffered from and applied the correct treatment. The Clinic has state-of-the-art equipment for an accurate and time-efficient diagnosis. The clinic is conveniently located in Wafi Mall." -Johanna Gonzalez, Google Reviews
4. Houri Hearing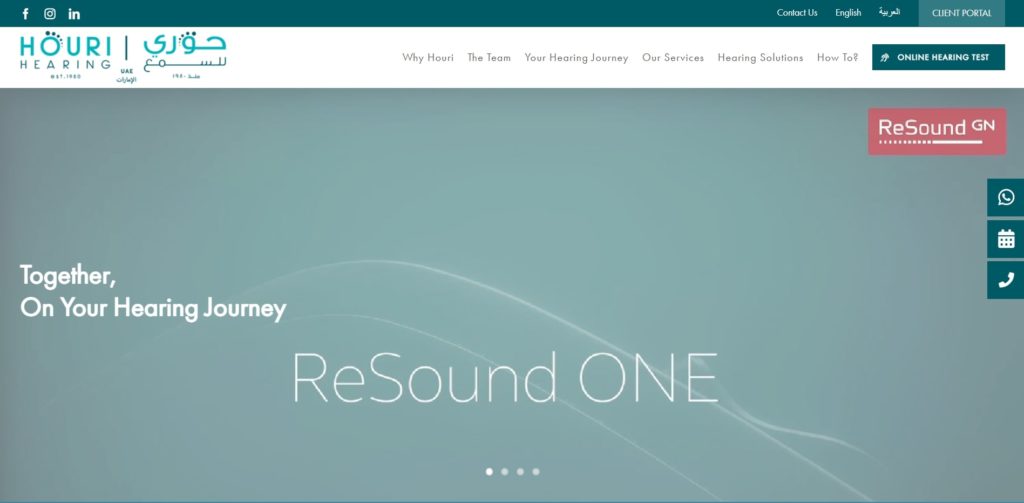 Test
Info
SERVICES
Audiology, Adult & Pediatric Rehabilitation, Tinnitus Therapy, Real Ear Measurement, Hearing Aids
WEBSITE
https://www.hourihearing.ae/
ADDRESS
Commercial Villa V-6, Al Manara, Al Wasl Road, Umm Suqueim
CONTACT DETAILS
+971 4 239 0572
OPERATING HOURS
Monday to Friday: 9 am - 6 pm

Saturday: 9 am - 2pm
| | |
| --- | --- |
| Criteria | Rating |
| Credibility | ★★★★☆ (4/5) |
| Competence | ★★★★★ (5/5) |
| Procedures | ★★★★★ (5/5) |
| Equipment | ★★★★★ (5/5) |
With 42 years of experience in the business, Houri Hearing is one of the first hearing centers in the entire MENA region.
It has also been the main representative of many hearing aid manufacturers and suppliers in the world throughout the years and has attended to tens of thousands of patients.
On top of that, we love that this center is very selective with its team and trains them according to the highest standards.
Its audiologists are also specialists in their own diverse hearing care skill sets that cannot be found just anywhere.
So while Houri Hearing may not have prestigious awards nor membership to exclusive associations, it does have longstanding relationships with many hearing aid providers and decades of experience that cannot be taught anywhere else.
When it comes to its procedures, Houri Hearing has a complete range of audiological evaluation tests. Along with it are hearing rehabilitation, therapy, and even 3D printing hearing aids.
We love that all of its procedures are complete, comprehensive, and, most of all, accompanied by high-quality equipment that gives out accurate results.
And speaking of equipment, this center only uses equipment and technologies that are considered to be the gold standard of the industry.
It's also the first center in the region to employ 3D ear scanners and 3D printers for mold and shell manufacturing.
Has been in the industry for 42 years
Team is trained to the highest global standards
Complete range of evaluations and treatments
Gold standard equipment
Customer Reviews
Bravo, Houri!
"The center is very organized and well equipped. The administration is flawlessly led by Samara…Last but not least, Dr. Hanya is such an angel, she listens carefully to her patients' backgrounds before running the test, and she is very smart and very accurate in what she is doing.
Overall, the pleasant experience makes your hearing journey way easier. Bravo Houri!" -Takwa Messawi, Google Reviews
The best place to go for a hearing test
"Absolutely wonderful experience if you need a hearing test to speak and ask for Hana best place to go!! Knowledgeable and explained so you actually understand" -Toby Mishon, Google Reviews
5. Star Key Hearing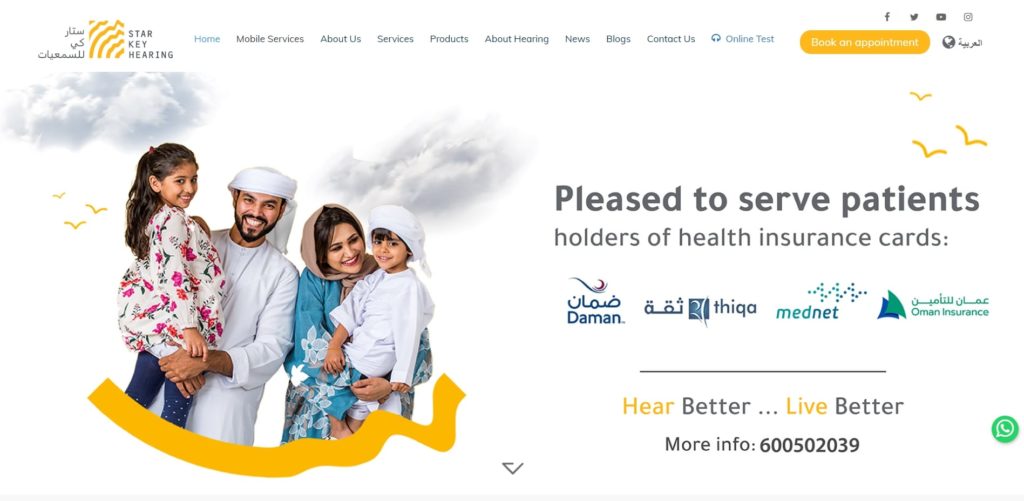 | Test | Info |
| --- | --- |
| SERVICES | Audiology, Tinnitus Therapy, Hearing Protection, Hearing Aids |
| WEBSITE | https://www.skh.ae/en/ |
| ADDRESS | Ruby 2 Building, Floor 2, Opposite the Mall of Emirates, Sheikh Zayed Street, Jumeirah - Umm Al Sheif |
| CONTACT DETAILS | +971 600 502039 |
| OPERATING HOURS | Monday to Friday: 9 am - 6 pm |
| | |
| --- | --- |
| Criteria | Rating |
| Credibility | ★★★★★ (5/5) |
| Competence | ★★★★☆ (4/5) |
| Procedures | ★★★★★ (5/5) |
| Equipment | ★★★★★ (5/5) |
Equipped with excellent hearing evaluation services and cutting-edge technology, Star Key Hearing provides holistic methods for its audiology services.
Starting not so long ago back in 2015, Star Key Hearing has quickly built itself up to be quite the presence in the industry.
So much so that the hearing center is the winner of the Annual Health award for two consecutive years, from 2018 to 2019.
And it is affiliated with world-renowned companies as suppliers of their equipment, hearing aid technology, and other concerns about hearing management.
That being said, the staff doesn't really have anything special when it comes to training and education. While certainly competent, audiologists are mostly without a global educational background or training.
As for its procedures, it doesn't necessarily have the widest range of offerings in the entire city, but it does cover a large base.
It has got a great set of diagnostic tests for both adults and children. In fact, it has a specialized test for children called the Auditory Brainstem Response test.
This checks the child's response to sound to monitor their hearing. The test is completely painless and conducted while the child is asleep.
It's also got a couple more treatments alongside its services to help find patients the perfect hearing aid for them.
Award-winning hearing center
Has specialized diagnostic tests for children
Cutting-edge technology and hearing aids
No special education and training for staff
FAQs about Audiologists in Dubai
---
We hope this helped you in finding the right center with audiologists in Dubai. Also, if you're looking for other medical guides, then check out these articles: