The 5 Best Private Schools in Dubai
Featured Image Source: Katerina Holmes via Unsplash
If you're on the search for a great private school that can fully tap into your child's potential, our list of the best private schools in Dubai will narrow down your choices!
But before we get into our list, let's talk about how much you can expect to spend on the best private schools in Dubai.
The Cost of Private Schools in Dubai
At present, there are over 200 private schools in Dubai. As far as tuition fees go, a private school in Dubai will cost you around AED 5,000 to AED 85,000 per year.
Tuition fees are usually lowest in kindergarten or your child's first year in school, and as your child moves up, tuition fees increase as well. This means your child's 12th year will likely cost the most.
Before you start paying for tuition, you'll also have to pay for application and assessment fees, acceptance fees for new students, and re-enrolment fees. Application fees usually cost around AED 500 to AED 600, while acceptance and re-enrolment fees vary per school.
Other things you'll have to spend on are books, school uniforms, and transportation services. Laboratory fees, library fees, medical fees, and other miscellaneous fees are usually charged on top of tuition as well.
Some schools also charge extra for special school trips and other co-curricular and extracurricular activities your child may participate in. Because some of the best private schools in Dubai are international schools, you can expect some international excursions that'll cost more.
Most private schools have flexible payment schemes too. Instead of paying in full at the beginning of the school year, schools give you options such as paying bi-annually or every term.
The Best Private Schools in Dubai
Now that you're up to speed on the cost of private schools in Dubai, it's time to choose a school for your child.
Here are our picks for the best private schools in Dubai!
1.   Kings' School Nad Al Sheba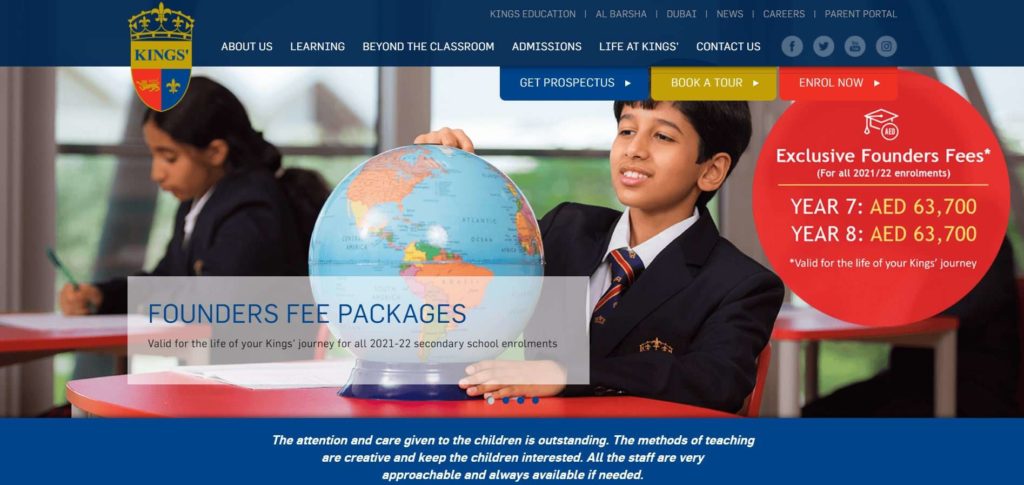 Part of the prestigious group of Kings' schools, Kings' School Nad Al Sheba continues to be trusted by parents because of the high-quality and well-rounded international education that they offer.
Although only established in 2014, the school has consistently been given high ratings by the Knowledge and Human Development Authority (KHDA). Their most recent rating, 'Very Good', means that the quality of their performance exceeds expectations.
At Kings' School Nad Al Sheba, they follow the National Curriculum for England as the learning framework. Through creativity and forward-thinking, the school aims to produce students who are independent, resilient, and self-motivated.
Parents are often impressed with the advanced technology that the school employs for learning. Each classroom is equipped with interactive whiteboards and an Apple TV, the campus is fully wireless, and every student makes use of a laptop and iPad.
The sports and performing arts facilities are also superb. On top of a gymnasium, football field, and swimming pools, they also have an auditorium, Black Box drama studio, and music recording facilities.
While pricier than other schools, Kings' School Nad Al Sheba's holistic and modern approach to education and stellar facilities are worth the investment.
Diverse and inclusive student body
British curriculum
State-of-the-art learning facilities
Only offers education for Years FS1 to Year 6 (Ages 3 to 11)
Reviews
Many parents who have enrolled their child in Kings' School Nad Al Sheba believe they made the right choice.
Barbra-Joy Willemse said: "Our son just joined FS1 and we're very happy with this school. The teachers are lovely, and the school's vision of education is great. Our son doesn't feel comfortable easily, but he does here. He's having so much fun, and learning a lot at the same time. I can definitely recommend this school."
Another parent, Sahar Taheri, said: "The attention and care given to the children is outstanding. The methods of teaching are creative and keep the children interested. All the staff are very approachable and always available if needed."
2.   American School of Dubai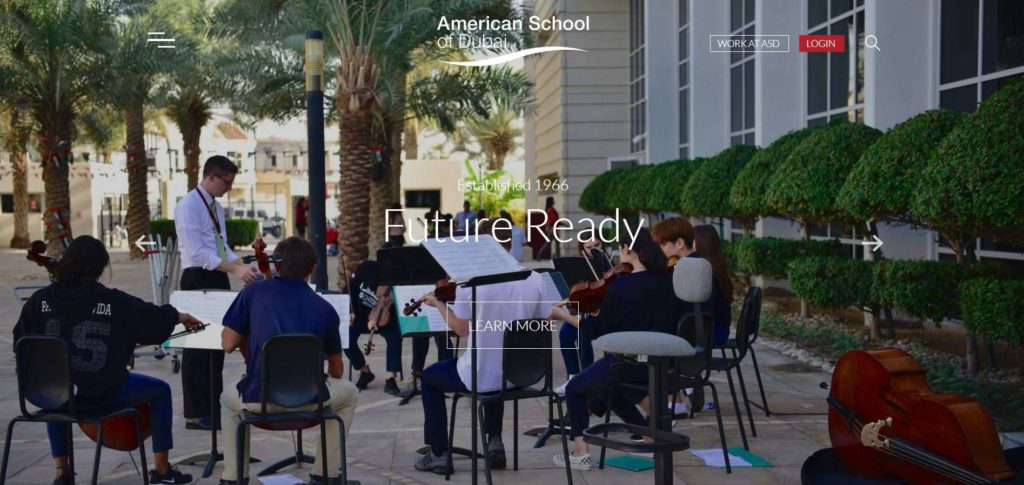 Established in 1966, the American School of Dubai (ASD) is considered to be one of the oldest international schools in Dubai. Following the same curriculum as in the US, ASD admits students from Pre-Kindergarten up to High School.
As part of the Early Learning Program, with students between 3 to 5 years old, ASD uses a student-centered approach that focuses on inquiry-based learning. Through exploring and thoughtful intentional teaching, children learn the basics in math, science, language, music, and other subjects through actual experience.
When students reach high school, they are given the opportunity to learn beyond the classroom walls and grow into global citizens through ASD's Inspire Trip. Students have previously been sent overseas to places like Nepal, Jordan, and Europe.
ASD's campus provides a wide space for learning with facilities like 2 libraries, a 630-seat performing arts theater, a Black Box theater, swimming pools, soccer fields, tennis courts, a fitness center, and a broadcast studio.
The ASD community has also elevated the school's sustainability initiatives over the years. Around the campus, you'll see recycling and sorting stations, water refilling stations, composting, solar arrays, and sustainable gardens.
Massive campus with several sustainability initiatives
Not-for-profit school
Higher tuition fees compared to other schools on the list
Reviews
Despite ASD's costly tuition fees, parents are still willing to send their children to the school.
One parent said: "Best school in the region. Great teacher, community, and facilities. Perfect institution but expensive."
Another parent said: "One of Dubai's old gems! Best American school in the region with a state-of-the-art campus! If you're lucky enough to get your kids admitted here, you will not look back!"
3.   Uptown International School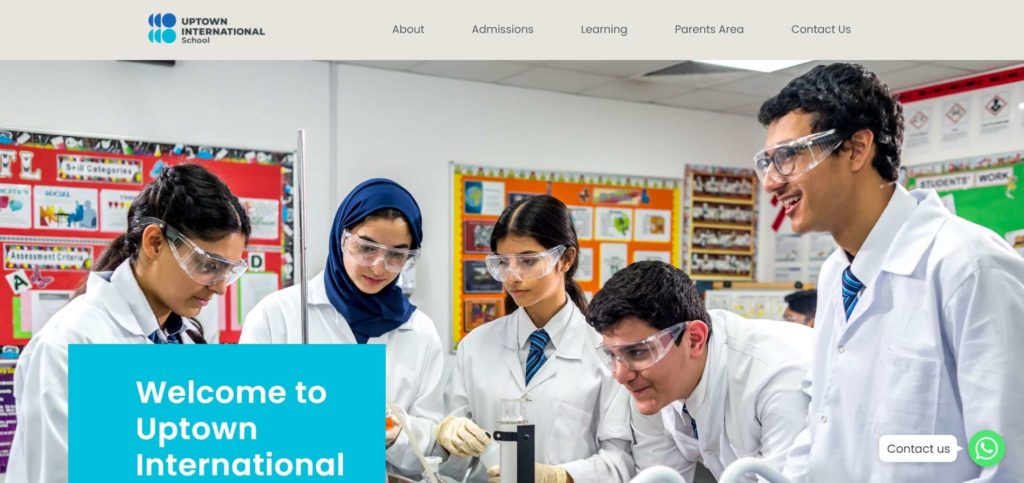 WEBSITE
https://uischool.ae/
ADDRESS
Uptown International School Tripoli Street corner Algeria Road Dubai, UAE
CONTACT DETAILS
+971 (0) 4 251 5001


[email protected]

TUITION FEE
AED 40,500 to AED 72,500
A member of the Taaleem group of schools, Uptown International School (UIS) is best known for their International Baccalaureate (IB) Curriculum. Promising world-class learning for students of all ages, UIS offers three IB programs: the Primary Years Programme, Middle Years Programme, and the Diploma Programme.
If you're wondering about the benefits of an IB Curriculum, UIS explains that this particular curriculum aims to develop students into a learner with a "broad range of human capacities and responsibilities that go beyond academic success."
On top of academic excellence in the basic school subjects, UIS encourages its students to develop skills in music, visual art, foreign language, sports, and other activities through their regular School Enrichment Programs.
Students are also given multiple opportunities to learn from the world outside campus. Other than annual excursions and residential trips, outstanding students participate in academic trips like the World Scholars and Model United Nations conferences.
Ensuring an environment that's highly conducive to learning, the school's facilities include 7 fully-equipped science laboratories, libraries, ICT integrated classrooms, and gym and pool facilities.
IB curriculum
Free Stay and Play sessions for children in early years
Provides several trip opportunities for students
Fewer facilities compared to other schools on the list
Client Reviews
Parents of some of Uptown's students have left good feedback.
One parent said: "Uptown school is an amazing school. My child is learning a lot. It's always clean, modern, and spectacular. I recommend going to this school!"
Another parent said: "Uptown International School is a kid-friendly school . Class teachers are great. They are improving each year."
4.   Nord Anglia International School of Dubai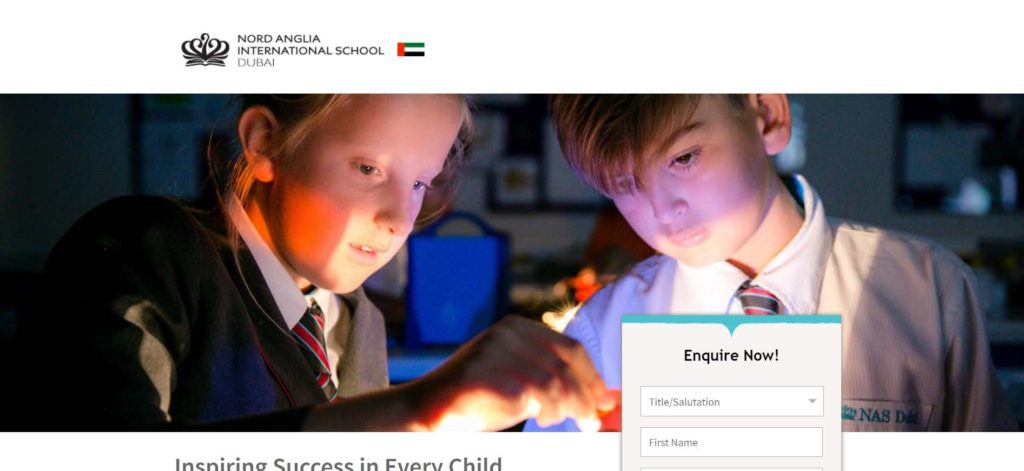 Aiming to provide high-class learning to their students in Dubai, Nord Anglia International School incorporates both the English National Curriculum and the IB Diploma Programme into their contemporary methods of teaching.
Providing their students with several avenues for growth through academic and extracurricular activities, Nord Anglia pushes their students to be ambitious. Hoping that they develop a good sense of grit and determination, Nordic Anglia keeps their standards high and expects no less than excellence from their students.
Through the school's curriculum, which is mostly based on the UK system, once the students complete their primary and secondary programs, students take the International General Certificate of Secondary Education (IGCSE) exam. They will then transition to IB or A Levels in the following years.
Giving importance to a holistic education, Nord Anglia puts a premium on excelling beyond academics, which is why co-curricular and extracurricular activities come in no shortage. The school gives students ample opportunity for local and international learning excursions and multiple platforms to showcase their talents.
On top of their curriculum, parents appreciate that Nord Anglia prioritizes the wellbeing of the students. In order to keep track of their students' wellbeing, they assign "go-to people" to check on students, use internal and external surveys for monitoring, and bring in pastoral teams to engage with them.
Offers virtual classes
Performing arts program with ties to Juilliard
Inclusive and diverse student population
Prioritizes students' mental health and wellbeing
Connections to several top universities around the world
Offers virtual classes
Performing arts program with ties to Juilliard
Inclusive and diverse student population
Prioritizes students' mental health and wellbeing
Connections to several top universities around the world
Reviews
Nord Anglia has received superb feedback from many proud parents.
Alexandra Jones, a mother of one of the students, said: "Could not be happier with the education my children receive alongside all of the sports and arts activities available to them. They are also very happy and enjoy school and learning!"
Another parent said: "Best school in Dubai with connections to the Juilliard School and MIT."
5.   Regent International School Dubai
| | |
| --- | --- |
| WEBSITE | https://www.risdubai.com/ |
| ADDRESS | The Greens, Emirates Living Community First Al Khail Street Dubai, UAE |
| CONTACT DETAILS | +971 4 360 8830 |
| TUITION | AED 45,000 to AED 56,900 |
For over three decades, Regent International School (RIS) has been striving to provide the kind of education that empowers children to be the next change-makers. Unlike the other schools on the list, RIS veers away from curriculums from the UK and the US.
Dabbling into more innovative approaches, RIS has designed their own Signature Programmes and makes use of Positive Education. Through these, they combine academic and personal achievement with wellbeing and character development.
Another aspect that sets RIS apart from other schools is their Virtual Reality (VR) Programme. Through immersive technologies, the school is able to bring students back in time to study history, fly to outer space to study the planets, or visit the famous Louvre to study art.
RIS also raises their students' awareness of environmental issues through their Environment and Sustainability Programme. Through nature-based discovery and exploration, children are made to learn about the importance of preserving the Earth and its resources.
Progressive curriculum
Provides VR learning
Offers live chat support on their website
Less international connections compared to other schools on the list
Client Reviews
Regent International School Dubai has gotten excellent feedback from students' parents.
A former RIS parent said: "With an amazing senior leadership team and experienced educators, a Regent education is interactive and collaborative. They truly make school a rich and memorable experience."
A current RIS parent said:
"Possibilities are infinite at Regent for a child. There are no limits to let my child's imagination grow at Regent. He has become extremely ambitious in his thinking and outlook and what he believes he can do, which is great. Children are encouraged to take chances, try anything, and not be afraid."
Tips on Choosing Private Schools in Dubai
Need a little more help choosing a school from our list? Here are some tips you can use:
The years of experience don't always matter.
Don't pick a school just because it's been around for decades. Even if a school hasn't been operating for a long time, their progressive curriculum, excellent teachers, and impressive facilities may be a better offer.
That said, experience still counts for something. Research on the school's track record and see if the quality of education has stayed the same or improved over the years.
Choose a school that matches your child's personality and interests.
Some methods of teaching may work better for your child. Be sure to pay attention and gauge whether or not a school's curriculum and teaching methods would allow your child to thrive.
Look into your child's interests as well. If your child dreams of becoming an artist one day, find a school that offers good art programs and provides opportunities for your child to further develop his or her skills.
An expensive tuition fee doesn't make the school the best.
Instead of looking at the cost alone, look at which school gives you the best value for your money. There is no point spending so much if your child won't get to maximize his learning.
Weigh every possible factor. Other than a school's curriculum and teaching methods, consider their facilities, their student population, their extracurricular activities, successful alumni, and even their efforts towards inclusion and sustainability.
FAQs on Private Schools in Dubai
---
Invest in your child's future by giving them quality education! We hope our list of the best private schools in Dubai helped you decide!
Are there any great private schools you'd like to share with us? Shoot us a message and we'll see if we can include them on our list!
Thinking of going back to school yourself? Consider getting your MBA degree from the best schools for MBA in Dubai!