The 7 Companies with the Best Personal Trainers in Dubai
Featured Image Source: Seniv Petro via Freepik
Like most people, you've probably realized that good health and overall well-being is one of the best investments you can have these days. And this is why we perfectly understand your need to find the best personal trainer in Dubai.
Whether you're a local, a long-time resident, or have just moved to the UAE, we've gathered the fitness companies that provide the best personal training in Dubai. From costs, specialties, and reviews, to contact details–we've got all the necessary facts for you!
How to Choose the Best Personal Trainer in Dubai
Every personal trainer works differently. Your best friend's personal trainer may not necessarily be the finest choice for you.
So first, you need to determine who and what type of personal trainer in Dubai suits you best.
Here are some important questions you need to ask yourself before getting yourself a personal trainer.
1. What are your fitness goals?
Whether you're a fitness fiend or a total newbie when it comes to working out, your fitness goal determines the type of personal trainer that you should go for.
Do you want to gain muscles and weight? Would you like to train before joining a marathon?
Or perhaps you simply want to improve your overall fitness level and would like to learn the proper way?
Every personal trainer has their own discipline or specialty. For instance, you wouldn't want to spend hours with a bodybuilding personal trainer when all you want is to lose those pesky last 5 kilograms.
2. What is your fitness style?
Do you enjoy HIIT sessions and crossfit style training? Or are you more of a pilates and yoga kind of person?
Just as we all have our own fitness style, personal trainers also come with their own specialties.
If you don't know your fitness style yet, we suggest contacting the companies on our list. Most of them will be happy to answer your questions. Or even better, give you free sessions!
3. Does the Company Provide Free Training Sessions?
Before sweating it out, why not give it a try? Most personal trainers offer packages that include several hours of training per week, depending on your schedule.
If you're going to sign up for this kind of fitness commitment, it pays to know whether you and your trainer will jive. Every trainer has a different personality and teaching style so it would be good to see whether you are compatible.
4. Does Your Trainer Have a Certification?
This is the last question but likely the most important one to consider when looking for a personal trainer in Dubai. Dubai is an international arena of working professionals from all over the world.
So it's important to know what's needed in order for one to legally work as a trainer in Dubai.
In Dubai, the entry-level qualification is a Level 3 Diploma in Personal Training.
They also need to be a member of UAE's REP (Register of Exercise Professionals). This indicates that they are trained properly and are kept up-to-date with UAE's safety training standards.
How Much Does a Personal Trainer in Dubai Cost?
The cost of hiring a personal trainer in Dubai depends on several factors. Experience, popularity and location are just a few factors that can affect a personal trainer's rate.
The cost of a personal trainer in Dubai varies a lot, but on average, sessions can range between AED 150 – AED 350 per session. It's best to contact your chosen company as costs are also dependent on your fitness program and the training package you get.
Here's a quick price comparison guide to the personal training companies on our list:
The Body Lab
AED 199.00 / month (unlimited sessions)
Elevation Fitness
AED 350.00 / session AED 3300.00 / 12 sessions AED 6000.00 / 24 sessions AED 11040.00 / 48 sessions AED 12900.00 / 60 sessions
Ultimate Performance
Online Personal Training rates: AED 1628.00 / month AED 2788.00 / 3 months AED 4688.00 / 6 months
Dubai Personal Training
Rates and pricing undisclosed online
DiFit Lifestyle
AED 249.00 / session AED 2250.00 / 10 sessions
Revolution Fitness
AED 700 / 4-week online program
AED 1200 / 8-week online program
Fly High Fitness
Rates start at AED 375 for adults
Companies to Choose from for the Best Personal Trainer in Dubai
Now that you know what to look for in a personal trainer, let's have a look at these companies that offer the best personal training services in Dubai.
1. The Body Lab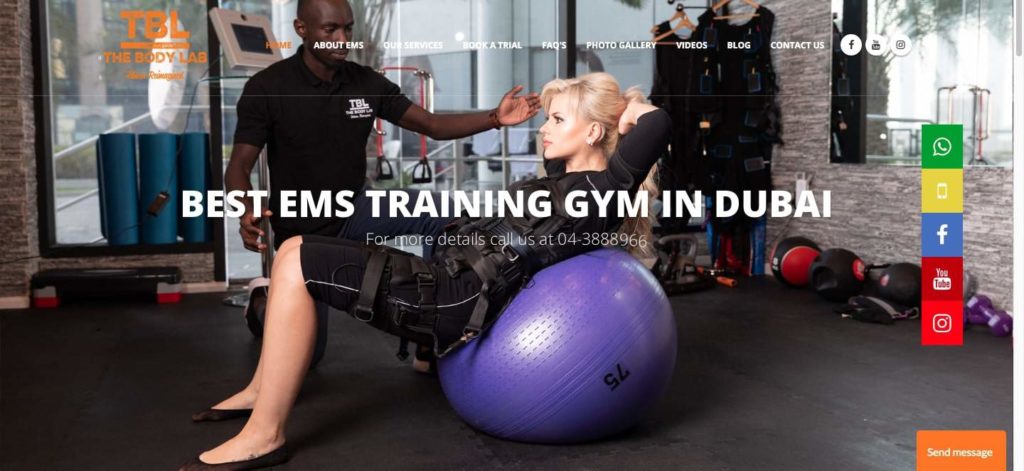 BEST FOR
Quick workout sessions
WEBSITE
http://www.thebodylab.ae/
ADDRESS
Unit P4-29, Park Towers – DIFC – Dubai – United Arab Emirates
CONTACT DETAILS
+971 52 323 2789 04-3888966


[email protected]

OPERATING HOURS
Monday – Sunday: 08:00 AM – 22:00 PM
The Body Lab specialises in EMS Training (Electrical Muscle Stimulation). This involves the attachment of an EMS device in specific body parts, stimulating muscles with tiny electrodes.
Also known as electric myostimulation, the EMS method of emitting low frequency currents is said to increase natural muscle contractions in the body. This is what makes working out with EMS more effective in a short amount of time.
As such, The Body Lab prides themselves in providing quick results. They claim that a 20-minute session with them is equivalent to 90 minutes of high intensity workout in a regular gym.
The Body Lab's fitness centre is located at the Park Towers in DIFC, but they also offer EMS Training at home. Their home service training is available in the following areas: Arabian Ranches, Mudon, Arjan, City Walk, and Greens Dubai.
The Body Lab offers trial sessions and have regular promotions so it's advisable to contact or check their site regularly.
Flexible home training sessions
Trial sessions available
Only EMS training available
Limited areas available for home sessions
Customer Reviews
The Body Lab has a fair amount of reviews on Google. The latest is from their client named Dolly who rated them 4 out of 5 stars:
"Clean and Professional environment. Organized, knowledgeable and friendly trainers Najeeb and Olga. The sessions were great and flexible appointments available. They have great packages and amazing workout deals! Recommend it and Looking forward to a great transformation."
2. Elevation Fitness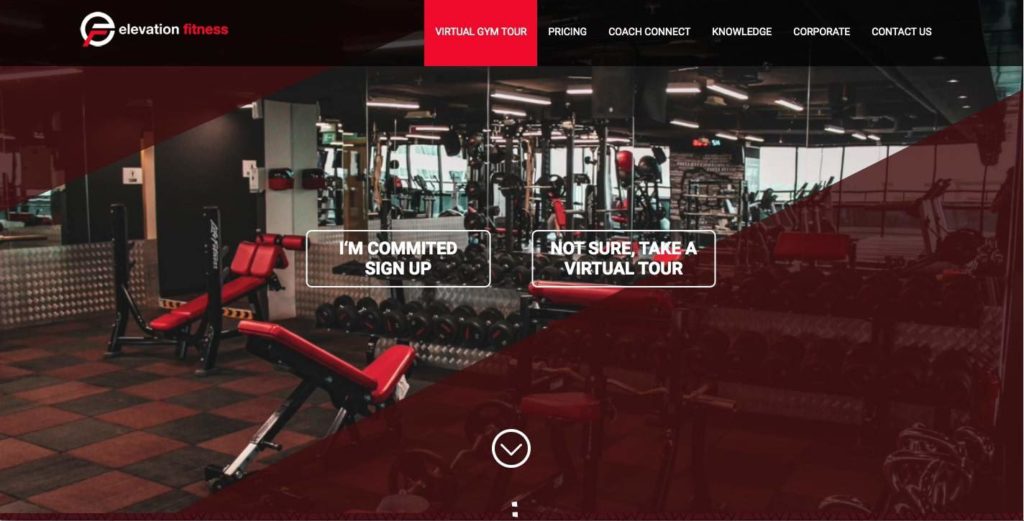 | | |
| --- | --- |
| BEST FOR | Weight loss |
| WEBSITE | https://elevationfitness.ae/ |
| ADDRESS | Jumeirah Lake Towers, W Cluster Dubai |
| CONTACT DETAILS | +971 50 595 0738 [email protected] |
| OPERATING HOURS | Saturday-Thursday: 06:00 AM – 23:00 PM Friday: 09:00 AM – 09:00 PM |
Elevation Fitness has been operating for over five years now, making it one of Dubai's most solid fitness centres that offer personal training. They seem to have already established a broad base of clients of all body shapes and ages.
Elevation Fitness boasts of their clients' results, posting inspiring before and after photos on their site. Their location at Jumeirah Lake Towers also offers modern and clean fitness equipment, which online visitors can get a view of via a virtual tour from their website.
Long hours of operation
Straightforward rates
Provides training and fitness equipment
Personal trainer profiles are not available online
No free or trial sessions available
Customer Reviews
As Elevation Fitness has been in Dubai for over five years, there are plenty of client reviews available. Here's one of them.
Ellen, a client and also a certified Level 5 Google local guide says:
"I never ever thought that one day I would start liking the gym.
Gosh I hated any sports or exercise.
Tried many times, without exactly knowing what I was doing or with personal trainers who behaved as if we were in the army.
Just because I want to stay healthy, I decided to sign up with Elevation Fitness.
One hour 1-on-1 sessions, three times per week, focus on muscles. Not the cheapest gym I know, but sometimes you have to invest in your health.
And guess what: I have liked it since the first day! Amit is an amazing trainer, very passionate and patient as well. It's been just a month and we already notice the results: more energy and more strength.
My muscle mass went up with almost 1 kg. Now I understand that you simply need the right guidance, realistic goals, and a gym with all equipment.
Based on my experience I can highly recommend Elevation Fitness."
3. Ultimate Performance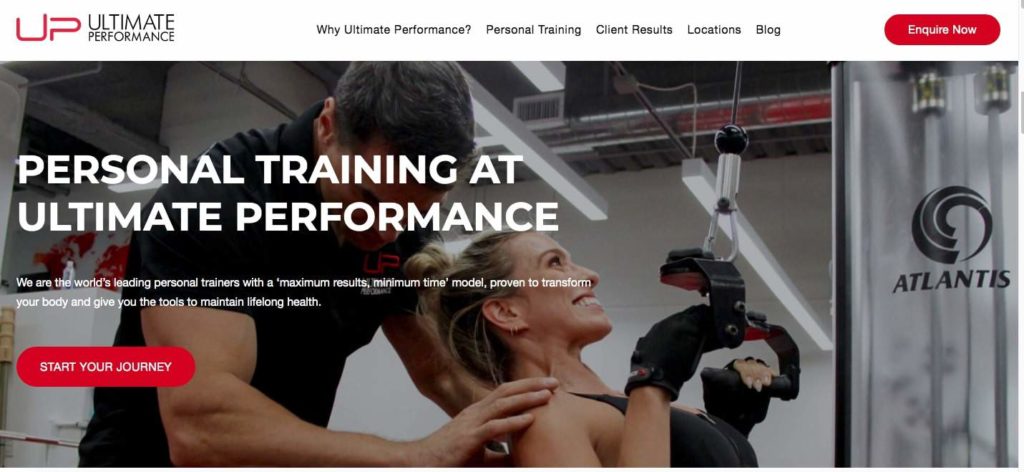 BEST FOR
Online personal training
WEBSITE
https://ultimateperformance.com/ae/
ADDRESS
Emirates Financial Towers 5. Al Sukook St Dubai
Dubai Marina Floor 23, Media One Hotel Dubai
CONTACT DETAILS
+971 4431 9004
+971 4431 9007


[email protected]

OPERATING HOURS
Sunday – Thursday: 06:00 AM – 20:00 PM
Friday: 06:00 AM – 15:00 PM
Closed on Saturdays
Founded in London in 2009, Ultimate Performance is an international fitness company with 18 locations around the world. They have two fitness centres in Dubai: One at the Emirates Financial Towers, and one at the Dubai Marina.
Although there are no personal trainer profiles on their site, they claim to have headhunted the best personal trainers worldwide and are known to relocate trainers across their gyms worldwide.
Their training seems to be focused more on either muscle building or weight loss. They proudly display on their site that to date, all their clients have lost an accumulated 301,837 lbs and a total client muscle gain of 146,285 lbs.
What's great about Ultimate Performance is that they offer both in-gym and online personal training. This is great for people constantly on the go so you can still get your personal training no matter where you are.
Two locations in Dubai
Several locations worldwide
Limited hours / closed on Saturdays
No personal trainer profiles available on site
No free or trial sessions available
Customer Reviews
Glowing reviews about Ultimate Performance in Dubai are abundant. Here's a recent and comprehensive one by Imran Sheikh:
"UP is more than a gym, it embodies a complete lifestyle. From the moment you get started, the gym, the trainers, the environment takes you on your journey to be the best physical and mental representation of yourself.
I was lucky to be paired with Niko, who without a doubt is one of the best trainers in the UAE. I have trained with many trainers over the years both in the UK and UAE and can confidently say that his dedication, knowledge, passion and professionalism are exceptional and he is truly the epitome of the perfect coach.
I experienced one of the fastest transformations taking my health, body and mind to levels I did not think would be possible in such a short time.
Since starting I have recommended UP and particularly Niko, to numerous friends and colleagues and will continue to do so. Thanks to the amazing team for creating such a great friendly environment."
4. Dubai Personal Training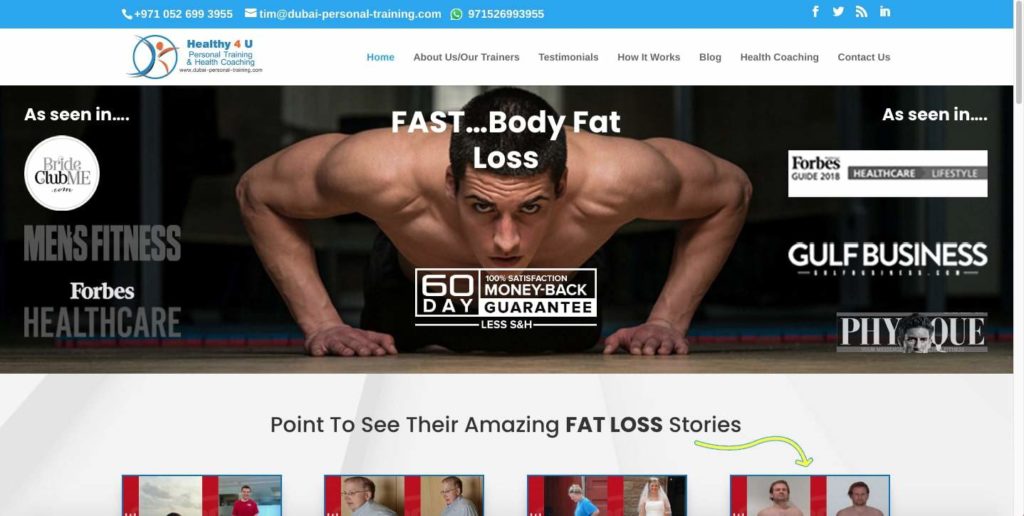 Dubai Personal Training may be a small team of 2-3 personal trainers but they seem to have a very hands-on personal approach to their clients. Their trainers also have a cumulative 30 years' professional experience.
Although their focus is mainly on weight loss, they also claim to transform clients' lives through long-term lifestyle changes.
They currently have three personal trainers: one focusing on healthy eating and lifestyle coaching, one in kickboxing, and another in pilates and yoga.
On their site, Dubai Personal Training strongly claims that there's no other personal training company in Dubai that has as many success stories as them. They back up this claim by having an entire page of customer testimonials.
Personalised approach
Training hours flexible
They offer a free trial session
Limited types of training
Only three personal trainers
Programs heavily focused on weight loss
Customer Review
Dubai Personal Training's reviews are quite personal, presented in screenshot format on their site.
This particular one is a message from their client Claire, to Tim, one of the trainers and founders:
"Hi Tim, I wanted to help you as you have helped me a lot already. Was getting nowhere with doctors and therapists. I believe you have to go through something to help other people, and you are the only ones who know what to do. The doctors need to read your book and gain knowledge from you as it would help their patients no end! If only I met you a year ago and got this estrogen out of me then I would have thicker hair and no goiter."
5. DiFit Lifestyle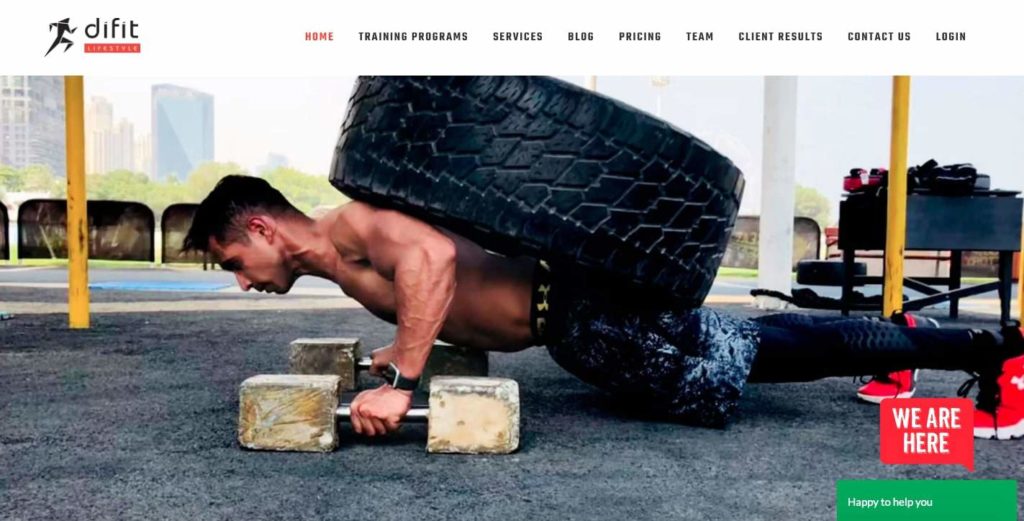 BEST FOR
Holistic fitness programmes
WEBSITE
https://difitlifestyle.com/
ADDRESS
Aspin Commercial Tower Sheikh Zayed Rd Trade CentreTrade Centre 1 Dubai
CONTACT DETAILS
+971 50 540 2829
+971 56 149 7149
+971 4235 0256
OPERATING HOURS
Saturday – Thursday 06:00 AM – 22:00 PM
Closed on Fridays
DiFit Lifestyle takes on a holistic approach when it comes to personal training. They incorporate a wide variety of physical training, including swimming and jiu jitsu in their client's workouts.
They have a detailed three-phase clients' roadmap when they sign up for personal training. This includes a physical assessment, postural analysis (focusing on a healthy spine), and a tailor-made nutritional plan.
DiFit Lifestyle also offers online private personal training, and a semi-personal training program where you only get trained once a week.
Long operating hours
Wide range of training available
Option to go for online or semi-personal training available
No personal trainer profile available
Closed on Fridays
Customer Reviews
DiFit Lifestyle has an impressive 5-star review on Google (out of 48 reviews). Here are a couple of them:
Venessa Isa, a client of DiFit, has this to say about them. She also highlights communication, professionalism, and quality as the best points about DiFit Lifestyle:
"It was a great experience with DiFit lifestyle for the personal training session. It was a great experience to be with a great personal trainer in Dubai.
You guys are really providing quality service in the most comprehensive manner. I never found any Fitness Trainers providing this much dedicated trainer in any other Fitness Training center in Dubai. Appreciate that."
Another client, Soja Jacob, rates DiFit 5 stars saying:
"Took 3 days weekly class with Shihab. He has been very patient and understanding with workouts and plans. Also suggested diets which can match with my food taste. Thank you for the support."
6. NutriFit Level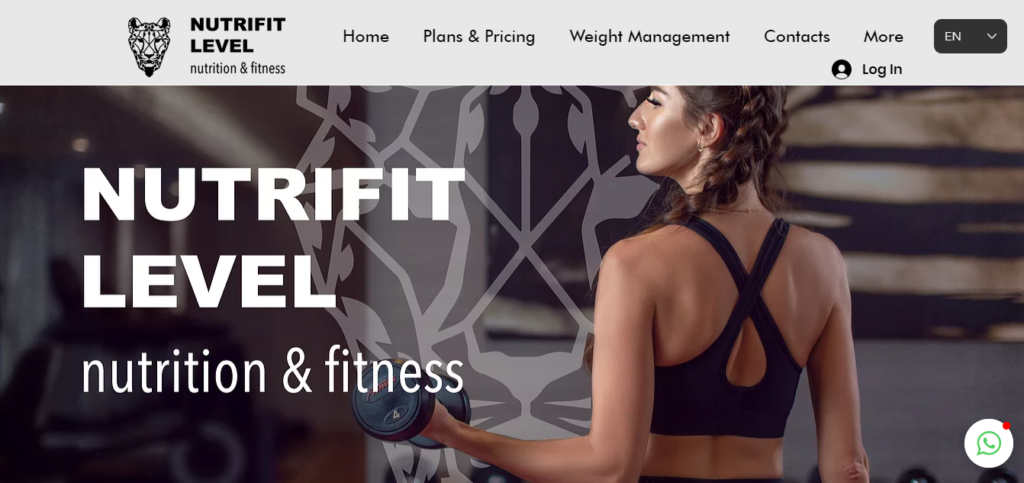 BEST FOR
Different Types of Training
WEBSITE
https://www.nutrifitlevel.com/
ADDRESS
Sobha Ivory 1, 406, Business Bay, Dubai, UAE
CONTACT DETAILS
Phone: +971 54 369 7737
Watsapp: +971 54 369 7737
E-mail:

[email protected]

OPERATING HOURS
Contact for more information
Do you already want to achieve your fitness goals? Well, you are in luck because we present to you NutriFitl Level, a gym that offers personal training, group training, and even online training.
Whether you are just starting with your fitness journey or already a gym rat, having a personal coach or trainer can help you push even further. Availing this can help you enjoy exercising more than you ever thought.
A benefit of this is that you can choose your own location and your preferred time as long as it complies with the schedule of your trainer. Additionally, having professional help can help you achieve your goals faster but still in a healthy way.
Their fitness trainers are REP members, which means that their personal training, advanced nutrition and, and exercise management techniques are top notch. To top that off, they are also first aiders.
Aside from this they also do group training wherein you will burn calories with your newly met friends. About their online training, can provide you health and fitness resources wherever you are, without requiring access to the gym or fitness studio.
Rates are available on their website
Also offers stretching, pilates, high-intensity cardio, and exercise to music
Competitive pricing
Has weight management products
No information about their trainers
7. Fly High Fitness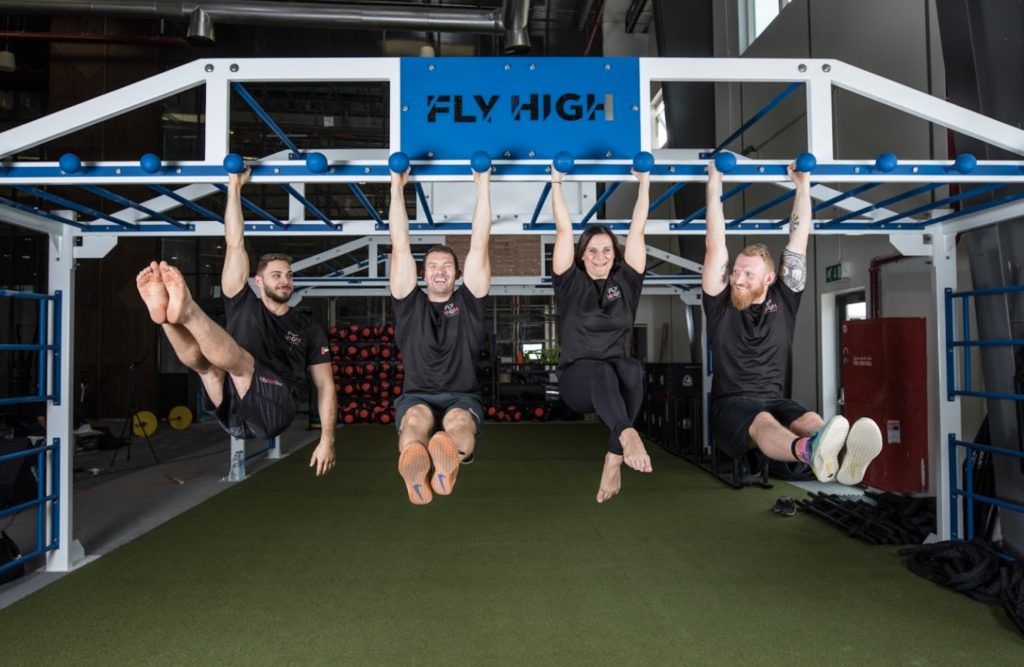 BEST FOR
Gymnastics
WEBSITE
https://www.flyhighfitness.org
ADDRESS
72nd Street, Dubai Investment Park – 1 – Dubai – United Arab Emirates
CONTACT DETAILS

[email protected]


+971 58 508 6122
OPERATING HOURS
Monday to Friday 6 AM to 10 PM; Saturday & Sunday 7 AM to 7 PM
Fly High Fitness is one of Dubai's premier gyms fit for all your training needs. They offer different sets of activities for kids and adults.
What we like about this gym is the diversity in its activities. If you're looking for a family gym where you can leave your kids and get a workout at the same time, this is a good choice for you.
Fly High Fitness specializes in gymnastics and dance for kids. Their repertoire ranges from pilates and yoga to circuit training and weightlifting for adults.
People who are looking for personal trainers are more than welcome here. Not only do they have the best state-of-the-art facilities for their customers, but they also have a great and courteous staff.
Beyond their amenities, they also have a sauna, steam, and plunge pool. They also offer lockers for their patrons to secure your things while you work up a sweat.
Since Fly High Fitness is located in the busier parts of the area, expect traffic when going to your appointment.
All in all, Fly High Fitness is a great family-friendly choice. And if you're unsure if you like their services, they also offer free assessments so you'd know what you're getting if you decide to join their members.
Free assessment available
Kids and Adult activities available
Wide variety of services and activities available
Customer Reviews
Here are some reviews from their clients:
"My two daughters have loved every moment of their gymnastics classes here. The facilities are amazing. Everything is so well organized. A special thanks to our two coaches Emanuel and Liviu – your patience and kindness has blown me away. My kids have felt so welcome. The progress I have seen in one term has been incredible. Thank you!!"
"I have just joined this gym and it is by far the best I have seen in Dubai. They have everything from cross fit, martial arts, gymnastics etc. Their changing rooms and facilities are 5 STARS. I highly recommend to anyone. I live in in Springs and it is a 10 minute drive, well worth it"
FAQ's About The Best Personal Trainers in Dubai
---
And that concludes our list of companies where you can get personal training in Dubai!
We hope you found our list and information useful in your fitness journey.
Have we missed anything? Do you know of other companies that offer great personal training in Dubai? Send us a message!
Before you go, you may also want to check out our list of spas for the best massages in Dubai. There's nothing better than rewarding yourself with a long massage after a good workout session!