The 6 Best Gym Memberships in Dubai
Are you planning to lose weight or improve your muscle strength? Going to a gym can do wonders for either of those goals.
While it's alright to just avail of daily passes every time you're visiting, gym memberships offer different perks and benefits that you might be more inclined to have.

That said, we've listed the gyms with the best membership offers in Dubai!
How Much Do Gym Memberships Cost
Now, each gym will have different methods of charging members. Some have various tiers available, each better than the last.
To help you prepare for how much you'll have to pay in availing this kind of offer, we've listed the estimated range of the price of gym memberships depending on how often you'll be charged:
| Billing Method | Cost  |
| --- | --- |
| Monthly | AED 200  - AED 1,000 |
| Every 3 - 6 Months  | AED 2,000  - AED 3,000 |
| Annually  | AED 2,500 - AED 6,000 |
The Best Gyms in Dubai
The following criteria is what we've used in assessing the establishments in this list:
1. The Warehouse Gym
Test
Info
SERVICES
Memberships, Crossfit Training, Circuits, Ladies Crossfit, Ladies Cycle, Blackbox, Cycle, Kids Boxing, Boxfit, Grit, Ladies Circuits, Ladies Abs & Glutes
WEBSITE
https://whgym.com/
ADDRESS
Ind.3 - Warehouse No.23, Umm Suqeim Road, Opp. Lulu Hypermarket - Al Quoz - Dubai - United Arab Emirates
CONTACT DETAILS
Phone: +971 4 340 5555

E-mail: [email protected]

OPERATING HOURS
Open 24 hours. (Monday - Sunday)
| | |
| --- | --- |
| Criteria | Ratings |
| Space | ★★★★★ (5/5) |
| Equipment Variety | ★★★★☆ (4/5) |
| Accessibility | ★★★★☆ (4/5) |
| Membership Flexibility | ★★★★☆ (4/5) |
The Warehouse Gym, which opened in 2013, is an establishment that offers classes, and different kinds of equipment for its patrons.
What's interesting about this company is that they have a lot of different branches scattered around Dubai, with some of them for ladies only. They have a gym for all genders as well.
They have different sections dedicated to a specific type of exercise equipment, such as cardio, strength, and stretch equipment.
The Warehouse Gym offers a lot of classes for their clients. They have group exercise sessions such as CrossFit, Cycling, Boxing, and more!
People can choose to avail daily passes each time they visit, but for more frequent customers, two kinds of memberships are offered.
The Light Membership offers access to different facilities such as their Immersive Studio and classes that include Circuits and Cyling. You can avail this tier for a specific period with options ranging from 1 to 12 months.
The next option is called a Standard Membership which provides even more access to other locations and facilities of the Warehouse Gym. Additionally, you have unlimited access to all of the gym's group classes.
If you want to test the waters, we recommend grabbing the Light Membership, as you can choose to avail of it for just a month (and avoid paperwork if you'd like to cancel it in the future).
However, if you really like Warehouse Gym's membership plans, we recommend upgrading to their highest tier called Premium Plus. This offers access to all locations, facilities, and branches of the company.
Also, you get unlimited access to all classes as well as recovery treatments twice a month for free.
Cheap rates 
Offers services even outside of memberships 
Free classes for membership tiers 
Variety of membership packages to choose from
Mostly focuses on catering to the ladies 
Limited parking space 
Customer Reviews:
Spacious Gym, Lots of Equipment Available
"This gym is AMAZING, in many ways the best gym I've trained in. It's gigantic, it has an endless supply of barbells, loads of platforms and some really funky machines that I've hardly seen anywhere else. Their leg press in particular is fantastic. The ambience is great, people are friendly, the equipment feels clean and high quality. I'll be moving to Dubai soon and when I do, this will be the gym I train at. Also love the protein shake bar on the first floor to get a good dose of protein straight after your workout (and cheaper than a Starbucks latte)" -Isabelle Schreuder
Great Ambience, Well-Maintained Equipment
"Neat gym with a unique ambiance- this branch of WH Gym is just really nice. The machines are well maintained, space is plenty, and the atmosphere is just nice. Modeled off of an industrial feel, the gym fits well in Al Quoz. The street art, incredible lighting, and weight selection all come together really nicely. Only downsides would have to be that the parking situation can get a bit tricky when packed. Also feels a little sketchy at night cus the narrow path gets dark towards the end. Other than that, this branch really is my favourite of all the WH Gym branches. Just really nice." – Ahmed, via Google Reviews
2. Gym Nation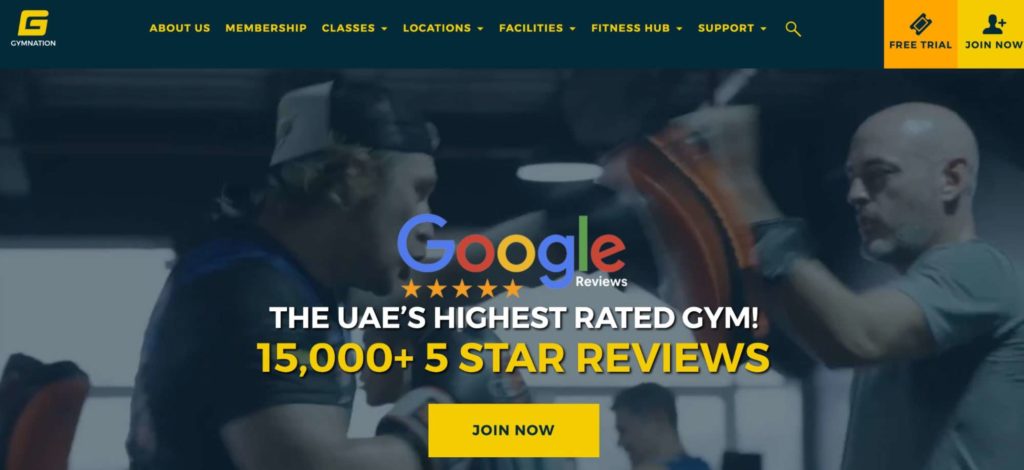 | Test | Info |
| --- | --- |
| SERVICES | Memberships, Les Mills Bodyattack, Body Balance, Les Mills RPM, Les Mills GRIT, Jumpnation, Bolly Nation, Step, Yoga, Pound, Zumba, Muay Thai Muppets, Amir Khan Academy |
| WEBSITE | https://gymnation.com/ |
| ADDRESS | Sheikh Khalifa Bin Zayed St - Al Mankhool - Dubai - United Arab Emirates |
| OPERATING HOURS | Open 24 hours. (Monday - Sunday) |
| | |
| --- | --- |
| Criteria | Ratings |
| Space | ★★★★★ (5/5) |
| Equipment Variety | ★★★★☆ (4/5) |
| Accessibility | ★★★★☆ (4/5) |
| Membership Flexibility | ★★★★☆ (4/5) |
Gym Nation looks and feels like a regular fitness center you see in malls. Although they may not have a lot to offer in terms of aesthetics, we do see that they maintain an organized and equipped location.
There are two options for this gym, namely Fixed Term and Gymnation Plus.
Fixed Term is priced around AED 199 per month. Under this membership, you can get unlimited 24/7 access to the gym. Additionally, you can attend 400 classes for free every month.
These classes include the likes of Zumba, Muay Thai, Yoga, and more. For members of the Fixed Term, we like that you can use the gym's dedicated combat zone as well.
We do have to note that the fixed term is for 12 months, and it can be very difficult to cancel. We observed that the company only accepts cancellations for medical or relocation purposes.
The other choice is the Gymnation Plus, which retails for around AED 299 a month. What sets this apart from the previous tier is that you now have access to all branches of the gyms under this company.
Aside from getting the perks offered in the fixed-term membership plan, you can also grab a free nutrition consultation once a month.
We believe that the Gymnation Plus tier is the better option – not only do you get more value for money, but it also has a more flexible membership plan.Cancellations are easier as well.
To sum up, we'd highly recommend this place for its affordable rates as well as its 24/7, 365 days accessibility!
Has free parking 
Has a separate area for ladies 
Affordable rates 
Offers free trial 
Open 24/7, 365 days a year
Limited membership options 
Primarily offers their PLUS package 
Can get crowded 
Customer Reviews:
Great Facilities, Spacious Parking
"24/7 very comfy, parking facilities inside the M square building though for 2 hours with validation, classes start from 8:30 am till 9:30 pm, thanks to Tom at the desk)))" – Ermek Djekshenaliev
Friendly Staff, Clean and Tidy Interior
"Great gym. The best part about this gym is the ambient atmosphere. The lightings are great which sets the mood for great workout. People and staff are very friendly. Clean and tidy all the time. A bit crowded at the beginning of the weekdays. The classes like RPM, body pump, body combat are really great." – Preetham Italo Paul
3. Fitness First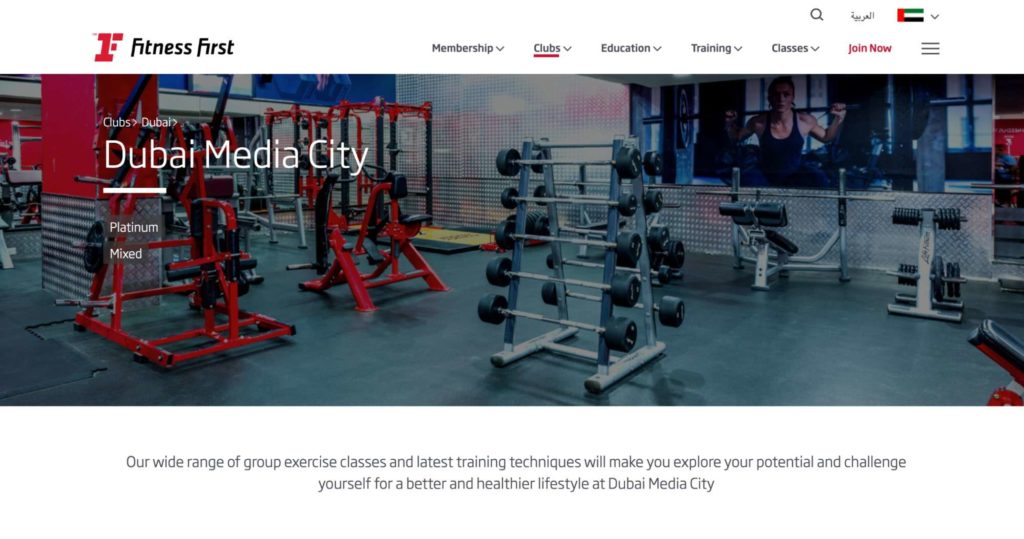 Test
Info
SERVICES
Classes, Memberships, Personal Training, Group Exercise Classes, Les Mills Virtual Classes, Kids Classes
WEBSITE
https://uae.fitnessfirstme.com/
ADDRESS
Business Central Towers A, Level 7 & 8 - Dubai - United Arab Emirates
CONTACT DETAILS
Phone: +971 4 424 3999
OPERATING HOURS
5:30 AM - 11:00 PM (Monday - Friday)

7:00 AM - 9:00 PM (Saturday - Sunday)
| | |
| --- | --- |
| Criteria | Ratings |
| Space | ★★★★★ (5/5) |
| Equipment Variety | ★★★★☆ (4/5) |
| Accessibility | ★★★★☆ (4/5) |
| Membership Flexibility | ★★★★☆ (4/5) |
Ah, yes, an international classic. Fitness First is a company that has branched out in multiple parts of the world, Dubai included.
Their space is quite impressive. We've observed a lot of rooms with big spaces dedicated to different kinds of equipment – strength, cardio, free weights, and more.
What's unique about them is that they have a sauna included in their gym. That's actually surprising for us here, as we usually expect having a shower is enough.
Additionally, they also have a dedicated juice bar if you get thirsty.
You'll be getting access to these amenities without the extra charge if you avail of their membership plans. Their offers come in three tiers: Plus, Platinum, and Platinum Plus.
The best option is Platinum Plus of course because it grants you access to all facilities and amenities of Fitness First.
In terms of price though, expect to pay around AED 3,000 to AED 5,000 for the first three months – and that is without the admin fee. You can avail of any of the membership plans for 3, 6, 12, or 18 months.
We think that while the rates for these membership plans are a bit expensive, we like that there are set options on how many months they cover. This means that you can pay that big amount and have the plan for a specific number of months only.
Since you have to pay the fee upfront, you can't really cancel for a refund though. Fitness First requires evidence, such as recent work termination or relocation, but you also have the option of freezing your membership for three months if needed.
For the variety of the membership plans available as well as the amenities you can access, we recommend trying Fitness First if you're in the market to get a gym membership!
Separate sections for equipment types
Has a sauna and a juice bar 
Offers free Wi-Fi
Spacious facilities
A bit expensive 
Cancellation can be difficult 
Customer Reviews:
Great Classes
"Love the gym and the classes. It is so much fun and super convenient for me since I work in Media City. The Group Excercise manager Ahmed Hyasat is very lovely, friendly, encouraging and most importantly attentive to our needs. Overall a great experience and highly recommended 💪❤️" – Hala Khaled
Friendly Staff and Trainers, Great Equipment
"The staff here are so friendly, the trainers are so helpful even if you don't pay for personal training sessions. The equipments are always well maintained and the gym is never fully packed no matter what time you come." -Priyanka Nayak
4. Fitness HQ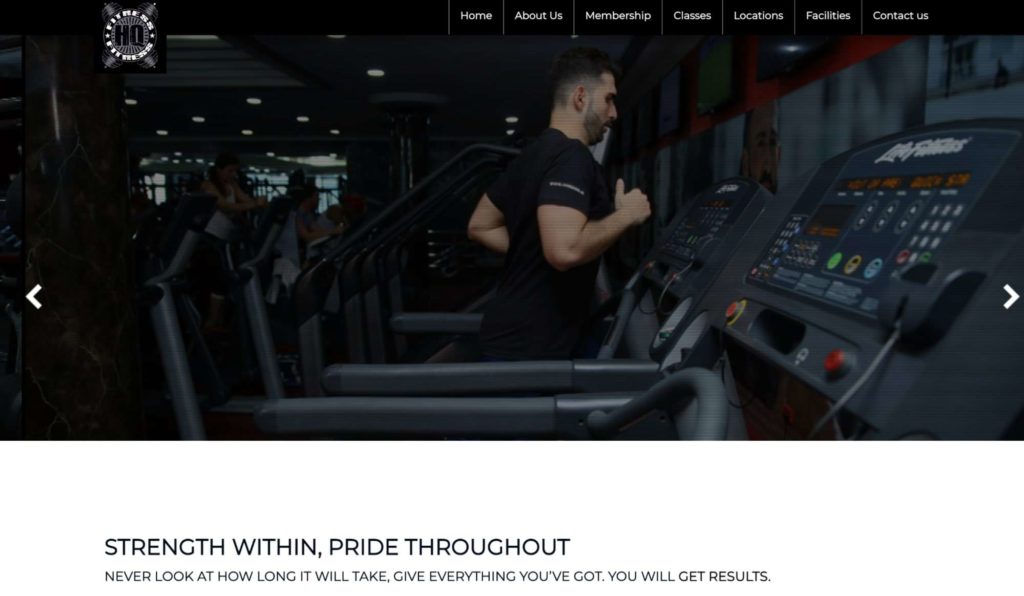 Test
Info
SERVICES
Memberships, Classes, Personal Training
WEBSITE
https://www.fitnesshq.ae/
ADDRESS
Umm Suqeim St - Al Barsha - Al Barsha 2 - Dubai - United Arab Emirates
CONTACT DETAILS
Phone: +971 4 395 0050

E-mail: [email protected]

OPERATING HOURS
5:00 AM - 11:00 PM (Monday - Friday)

7:00 AM - 10:00 PM (Saturday - Sunday)
| | |
| --- | --- |
| Criteria | Ratings |
| Space | ★★★★★ (5/5) |
| Equipment Variety | ★★★★☆ (4/5) |
| Accessibility | ★★★★☆ (4/5) |
| Membership Flexibility | ★★★★☆ (4/5) |
Fitness HQ is a recently established gym in Dubai that aims to offer a wide variety of exercise equipment for its customers.
The first thing we notice is the interior: it's pretty plain but quite spacious. As it is a one-floor location, we notice that they laid out every piece of equipment available in different sections of the establishment.
Now, this gym only has one membership plan priced at AED 395, which you'll have to pay upfront for a minimum of one month. This isn't the most expensive we've seen, but considering the benefits it offers, we've seen other gyms do better.
Speaking of benefits, availing of Fitness HQ's membership plans provides free access to all of their group classes as well as access to their spinning studio.
The membership allows 1 month of free access to their exclusive Crossfit Dropzone. They also allow you to use their showers and workout towels if you need them.
We like that you can even avail a free day pass just to see what being a member will be like!
We will say that this kind of membership is a good option if you want free access to their Crossfit gym aside from Fitness HQ's regular facility.
Spacious gym 
Offers free classes as part of membership plans 
Has free parking 
No joining or admin fees
Encourages contact for more information
Upfront payment 
Customer Reviews:
Great Interior, Clean Space
"Perfect place for a good workout, the locker rooms, washrooms and changing areas are always kept clean. They are much cheaper than any of the top gyms around the area.
Love working out here" -Alston Cabral
Organized Space, Lots of Equipment
"Fitness HQ is a well rounded club. On the ground floor it's a body builders dream with a wide selection of hammer strength plate loses machines and Dumbbells up to 60kg. There are also a broad range of cardio machines. Go downstairs and you will find Crossfit Dropzone the friendliest crossfit box in Dubai with 3 great coaches. Groups exercise people will not be disappointed by the large well equipped studio and spin studio." -Aaron White
5. Fitness 360
Test
Info
SERVICES
Classes, Training, Membership
WEBSITE
http://fitness360.me/
ADDRESS
Ground Floor, Arabian Center, Al Khawaneej Road, Mirdif Between Dubai Royal School and Dubai Modern School - Dubai - United Arab Emirates
CONTACT DETAILS
Phone: +971 4 236 2111
OPERATING HOURS
7:00 AM - 12:00 AM (Saturday - Wednesday)

7:00 AM - 11:00 PM (Thursday)

9:00 AM - 9:00 PM (Friday)
| | |
| --- | --- |
| Criteria | Ratings |
| Space | ★★★★★ (5/5) |
| Equipment Variety | ★★★★☆ (4/5) |
| Accessibility | ★★★★☆ (4/5) |
| Membership Flexibility | ★★★★☆ (4/5) |
Opened in 2010, Fitness 360 is a gym that offers its space to exercise enthusiasts. Additionally, they also offer various types of fitness classes for interested individuals.
It's quite a small facility but there's enough room for walking around as long as its not fully packed. Additionally, it might also be difficult to get hold of any of the equipment during its peak hours.
In terms of equipment, you'll find the usual here that include cycling, cardio, some free weights and more.
This gym has a membership program if you don't want to avail their day pass every time you visit. However, the only perks are instant access to the branch of your choice and free admission to their classes.
Now, what we like about this gym is its unique classes. These include dancing in heels, partner yoga, and more.
The cost is around AED 3,000 for one year. There are discounts available for students, and sometimes this gym will offer seasonal promotions.
You can avail of a 3 to 7-day free trial to test the waters with this gym if you'd like. If you will proceed, we do have to note that there will be no refunds (unless under specific circumstances such as medical-related issues).
The gym however allows people to freeze their membership in case of traveling, injury, or they just want a break. There's no set limit on how many months they can freeze, which is nice.
Fitness 360 is a good secondary option, we'd say. We mainly recommend this gym for their flexible membership rules and its unique fitness classes!
Offers unique classes such as dancing in heels 
Free trial available 
Membership can be frozen 
Student discount available 
No refunds for cancellations 
Small facility 
Customer Reviews:
Great Machines, Helpful Staff
"I really like it! I recommend to workout here for sure…they have perfect machines and all You need is there for perfect trening… Receptionist are very helpful and friendly with warm smile 👏🤗I appreciate they hard work with the cleaning as well…" – Monika Klobusika 
6. Fly High Fitness
SERVICES
Kid activities, adult activities, and gym memberships.
WEBSITE
http://flyhighfitness.org
ADDRESS
72nd Street, Dubai Investment Park – 1 – Dubai – United Arab Emirates
CONTACT DETAILS
[email protected]
+971 4 224 9075
OPERATING HOURS
Monday – Friday, 6:00 AM – 10 PM
Saturday, Sunday, 7:00 AM – 7 PM
Fly High Fitness is the most engaging and lively sport and workout idea in the UAE. Their primary aim is to create an inclusive, varied, and supportive community committed to enhancing quality of life through the pursuit of optimal physical and mental health.
Their purpose is to create an atmosphere that reflects their vision – a location that provides their community with the options, knowledge, and motivation to help them realize their inner athlete. They seek to enable their community to attain their full athletic potential and use it to improve all parts of their lives.
They are adamant that fitness is for everyone, that it is a rite of passage through life that benefits everyone. Exercise keeps us physically fit and energized, as well as cognitively sharper, calmer, and more positive.
It brings us together and strengthens their character, preparing them for life after sports. Exercise fosters community. It brings us together by recognizing the work, perseverance, and discipline necessary to stay true to their sports goals, fostering trust and loyalty among their teammates and coaches.
Everyone is welcome, regardless of where they come from, their age, or their degree of talent. They urge you to find your actual potential and be motivated to reach new heights.
Great facilities
Experienced coaches
Convenient location
Customer Reviews
Best facility I have ever seen!
"Best facility I have ever seen! I am a high level gymnast in the US and when I went to visit Dubai, Fly high fitness was the perfect place to go! The gymnastics equipment is world class for both men and women and is perfect from training and competition practice. I was welcomed with open arms and all the staff were helpful and well informed. The coaches there are greatly experienced and tremendously knowledgeable in all areas of the sport. I recommend Fly High to anyone both in Dubai and outside to visit and see for themselves. Thank you!!" – Anna Ferguson
Probably one of the biggest gymnasium centers I've ever seen in the UAE
"Probably one of the biggest gymnasium centers I've ever seen in the UAE. With a huge space for weights & machines, a massive gymnastics centre, various rooms for spinning and yoga as well as cafe. There's free parking in the shopping center car park too." – Sarah Nossy
FAQs About Gym Memberships in Dubai
---
We hope that you'd get to pick any of the gyms we recommended. If you'd like to build your own gym at home instead, check out our picks for the best fitness equipment in Dubai!