The 5 Best MRI Services in Dubai
Medical examinations are a way for experts to check the condition of your health. There are multiple ways for doctors to go about this process, and patients have a wide array of screening and testing.
One of the processes they can ask you to get is Magnetic Resonance Imaging (MRI). So, if you're in need of one, here are our top picks for the best MRI services in Dubai!
How Much Do MRI Services Cost
An MRI usually examines a patient's interior organs, tissues, and skeletal system. It scans and creates images to help doctors wih diagnosing a patient's condition.
Now, when it comes to the amount of money you'll be spending for one MRI session, it will entirely depend on two things: the part of the body that needs to be scanned, and whether or not you'd need contrast for the imaging.
Contrast is a material that's injected into the bloodstream so that the resulting imaging will be brighter. This is usually optional and may come on as an add-on for your costs.
The table below shows a brief estimate of how much you can spend on getting an MRI scan:
| Body Part | Cost |
| --- | --- |
| Full Body | AED 7,000 - AED 8,000 |
| Abdomen | AED 3,000 - AED 4,000 |
| Pelvis | AED 3,000 - AED 4,000 |
| Neck | AED 2,000 - AED 3,800 |
| Brain | AED 2,000 - AED 3,800 |
| Face | AED 3,000 - AED 3,500 |
| Breast | AED 3,000 - AED 4,000 |
| Spine | AED 2,500 - AED 3,300 |
| Hips | AED 2,500 - AED 3,300 |
The Best MRI Services in Dubai
The following criteria were used in assessing the centers featured in this article:
1. Healthchecks360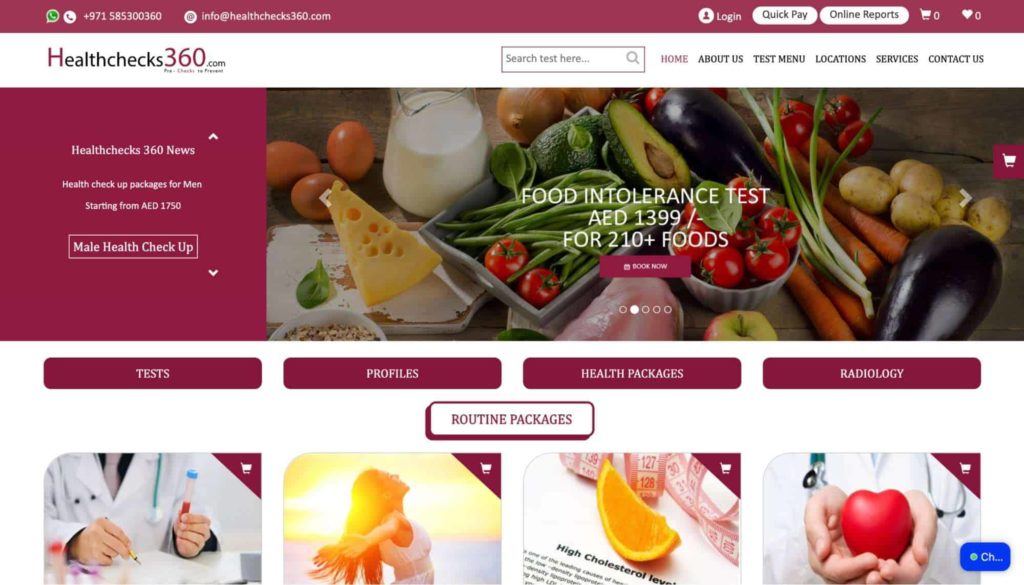 Test
Info
SERVICES

Breast MRI, Brain MRI, Orbit MRI, Pituitary MRI, TMJ MRI, Neck MRI, Thyroid MRI




For a full list of their services, check here.

WEBSITE
https://www.healthchecks360.com/index.php
ADDRESS
Arif & Bintoak - Building Near Karama Market - Umm Hurair Rd - Al Karama - Dubai - United Arab Emirates
CONTACT DETAILS
Phone: +971 58 530 0360

E-mail: [email protected]

OPERATING HOURS
8:00 AM - 9:00 PM (Monday - Sunday)
| | |
| --- | --- |
| Criteria | Ratings |
| Expertise | ★★★★★ (5/5) |
| Price | ★★★★★ (5/5) |
| Facilities | ★★★★☆ (4/5) |
| Support | ★★★★☆ (4/5) |
Opened in 2013, Healthchecks360 is a center that specializes in a wide variety of health screening programs. From personal care to company health assessments, this testing area has got your back.
Out of all the companies we've looked at for this piece, we've found Healthchecks to have one of the most variety of services of MRI scans available. They can provide scans for almost all parts of the body if needed.
Additionally, patients will also have the option of getting a contrast for their procedure for a more obvious result. Note that the company will charge you extra for getting one.
We like that it isn't a default option for the MRI scans though, and you can only get them if necessary.
We do have to point out how Healthchecks work. Essentially, it serves as a sort of one-stop shop where you can order or avail of multiple health checks.
If you need, for example, an MRI scan, expect that you won't have it done in their location, but in any of their partner clinics and testing centers.
Even if you'll be moved to a partner location for your MRI, the places are still licensed and accredited by the Dubai Health Authority and the Ministry of Health. So rest assured that you'll still get quality results from them.
We believe that one of their best aspects is the rates they charge for their scans. The prices for their MRI range from around AED 1,500 to AED 1,800.
Comparing this to the usual price on the market, we think it's less expensive. If you're looking for a cheaper option for MRI scans, then we recommend getting an MRI from Healthchecks360.
Add-on contrast for MRI available
Good prices
Has discounts for group tests
Does not have their own space for scans
Leans more on screening and testing packages outside of MRI
Customer Reviews:
Professional and Efficient Staff, Transparent with their Services
"Healthchecks360 is Highly recommended service. Very professional and fantastic experience with them. The teams are very helpful in organizing end to end things. They are very clear on their test and packages. I am extremely happy about the service and recommending for those who want to do the test with affordable price." -Sheeba B
Prompt Response, Efficient Service
"Great and professional service. Very responsive and they quickly follow up from the beginning till the end to make sure all your needs are covered. Highly recommended. Fast and efficient service and not to mention the very competitive pricing." -Ghassan Mazloum
2. American Upright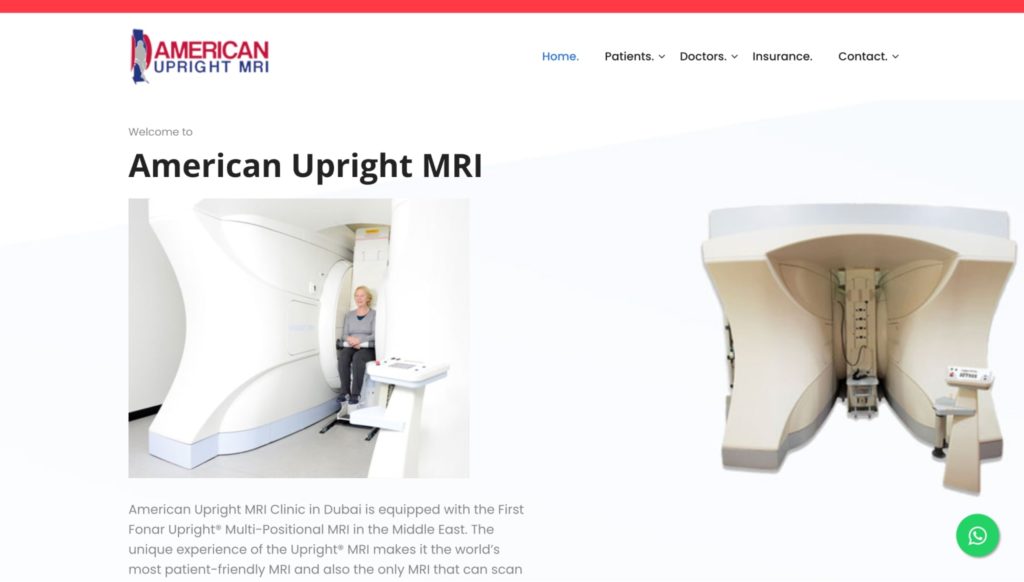 | Test | Info |
| --- | --- |
| SERVICES | Lumbar Spine MRI, Cervical Spine MRI, Brain MRI, Shoulder MRI, Foot MRI, Knee MRI, Pelvis MRI |
| WEBSITE | https://www.aumri.ae/ |
| ADDRESS | Granite 3 street - Dubai - United Arab Emirates |
| CONTACT DETAILS | Phone: +971 4 885 3838 |
| OPERATING HOURS | 9:00 AM - 6:00 PM (Monday - Saturday) |
| | |
| --- | --- |
| Criteria | Ratings |
| Expertise | ★★★★★ (5/5) |
| Price | ★★★★☆ (4/5) |
| Facilities | ★★★★★ (5/5) |
| Support | ★★★★★ (5/5) |
American Upright is a diagnostic center that primarily focuses on providing MRI services.
The center offers only one kind of MRI machine. Known as an open MRI, their Fonar Upright machine allows patient mobility and ease during their scan.
If you're looking for a more traditional scan, then we're afraid that this location isn't for you.
American Upright's open MRI machine actually allows patients more options to relax. It's also the ideal option for those who have claustrophobia, or get uncomfortable lying down in a very enclosed space in closed MRIs.
Additionally, patients have the option of watching television while the scan is happening, so that's nice.
In terms of what they can scan, we noticed that American Upright usually leans on scans for the spine and nervous system. We think that it's best to head here if you need an MRI for your brain, spine, or the aforementioned system.
We do have to note that to get your scan with them, you will need to do things: the first is to book an appointment, and obtain a doctor's referral or order.
Overall, we think American Upright is the best option for those who require an open MRI scan!
Unique MRI machine
Patients can watch TV with ease during the process
Company primarily specialized in MRI only
Allows companions during the scan
Appointment required
Doctor's order needed before booking them
Customer Reviews:
Smooth MRI Process
"The MRI is easy and non scary, its fully opened in front, in other words the patient just need to be sit and rest calm untill its done. The location is a bit far but still fine to be reached by car. I recommend it for evewho needs to do MRI for the spine. Thanks to them to bring in this technology its much more comfortable that the closed ones." -Bassoom Alshaibani
Comfortable Process
"I had an MRI before and had to stop the machine three times, since I have COPD and was in a lot of pain due to the awkward positioning. This time in the upright MRI I was comfortable and lasted a whole hour with barely any pain. The staff was professional and accommodating. Thank you American Upright MRI – Dubai." -Johaina Idris
3. Mega Scan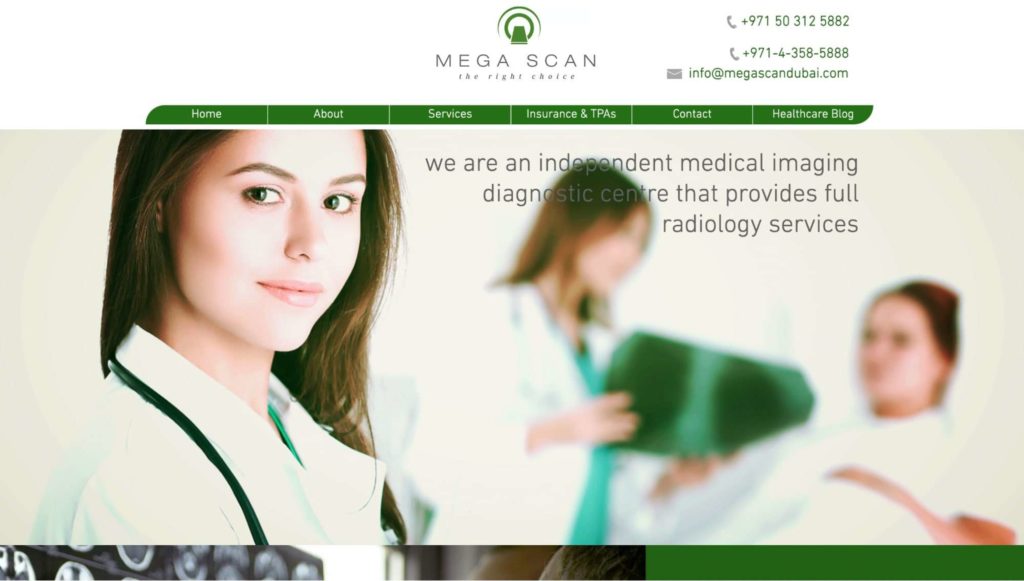 Test
Info
SERVICES

MRI, Laboratory Tests, CT Scan, Mammography, Ultrasound, X-Ray, Cancer Screening




For the full list of their services, go here.

WEBSITE
https://www.megascandubai.com/
ADDRESS
Mezzanine Floor, Atrium Centre, Khaled Bin Al-Waleed Street, - Dubai - United Arab Emirates
CONTACT DETAILS
Phone: +971 4 358 5888

E-mail: [email protected]

OPERATING HOURS
9:00 AM - 9:00 PM (Monday - Sunday)
| | |
| --- | --- |
| Criteria | Ratings |
| Expertise | ★★★★★ (5/5) |
| Price | ★★★★☆ (4/5) |
| Facilities | ★★★★★ (5/5) |
| Support | ★★★★☆ (4/5) |
Mega Scan is a medical diagnostic center that offers various radiology and health-related scans. Patients can avail services such as MRI, CT Scan, and Ultrasound, to name a few.
What we like about this place is that their MRI machines can do images of various parts of the body. These include brain, spine, bones, joints, muscles, as well as any internal organs.
Additionally, their MRI machine is of the open variety. So this means that their services are a great match for those who are claustrophobic or those who have difficulty with closed MRI machines.
For those who will have their companions with them, the center actually allows a companion – but only outside of the MRI room. The hospital provides free access to Wi-Fi while waiting for the patient, so they wouldn't really be bored.
What's interesting is that this center also offers a second opinion for patients. People can come in, get a scan, and also ask for one of the center's experts for their opinion.
We do have to note that this is an extra charge outside of the payments you'll make for your MRI scan.
In terms of payments, the center accepts insurance and TPA cards. We like that there's a lot of companies that they partnered with include Cigna, Oman Insurance Company, NextCare, Almadallah, Amity, Daman, and more.
We believe that the Mega Scan is best for people who are looking for another option for open MRI services. With their wide variety of scans available and multiple insurance policies they can accept, we think that this center is a good option!
Experienced radiologists and staff
MRI services varied
Accepts multiple insurance policies
Has free Wi-Fi
Booking required
Extra payment needed for second opinion
Customer Reviews:
Polite and Efficient Staff
"Came here to do an MRI. They were punctual and staff was very polite.
Radiologist doing MRI was very caring and patient making the whole procedure (I did 2 40 minute MRI's back to back) very peaceful. Highly recommended." – Raju Bulchand
Great Staff, Quality Medical Service
"I must say this is one of the best Medical Centre in Dubai.. Dr. Afifi is very hands on with his patient. Each staff will make you comfortable, especially when I told them that I am scared with the MRI procedure since i have Titanium in my leg due to an accident months ago. They made sure and explained that they have the safest machine for an MRI. They do care, excellent medical service with a heart..Thanks for everything." -Mary Ann Mendoza
4. Dr. Rami Hamed Center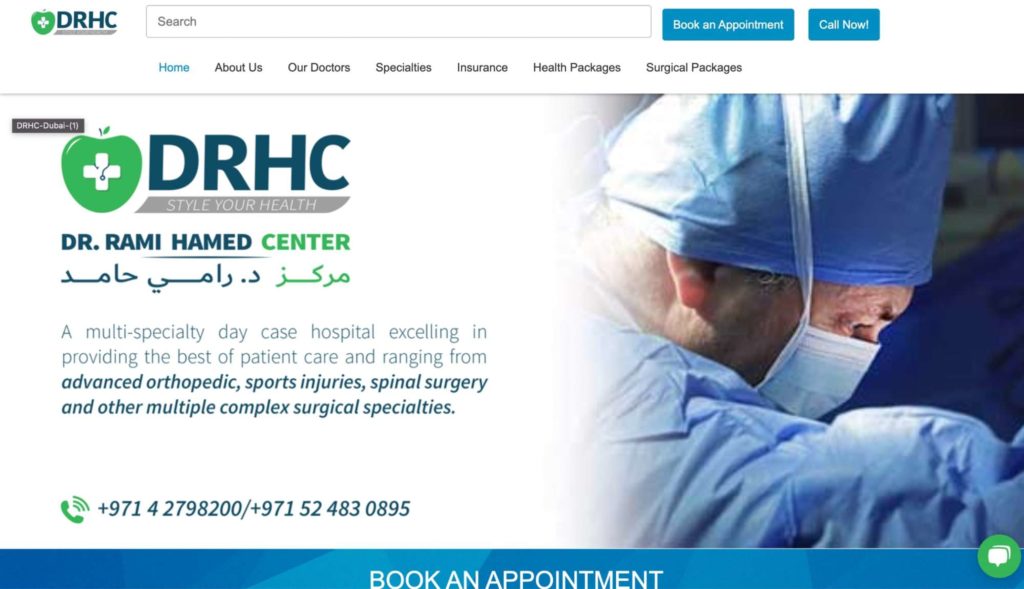 Test
Info
SERVICES

MRI Scan, Radiology, Cardiology, Pediatrics, Dentistry, Dermatology, Gastroenterology




For a full list of their services, go here.

WEBSITE
https://www.drhc.ae/medical-center-in-dubai
ADDRESS
Building No. 52, Dubai Health Care City - Dubai - United Arab Emirates
CONTACT DETAILS
Phone: +971 4 279 8200

E-mail: [email protected]

OPERATING HOURS
8:00 AM - 9:00 PM (Monday - Sunday)
| | |
| --- | --- |
| Criteria | Ratings |
| Expertise | ★★★★★ (5/5) |
| Price | ★★★★☆ (4/5) |
| Facilities | ★★★★☆ (4/5) |
| Support | ★★★★★ (5/5) |
Dr. Rami Hamed Center, opened in 2014, is a multi-specialty hospital that provides different medical treatments for their patients. Part of their wide variety of services includes their radiology and health-related scanning options.
The attractive aspect of this center is the fact that they have same-day results for MRIs. This is not the default option for their services though incurs a higher fee.
Nevertheless, they can provide imaging for various body parts such as the spine, brain, breasts, and the liver, to name a few.
They also have a whole body MRI option for those who need it, which is quite a unique option compared to some of the places that we've looked at.
Also, the center can also do imaging for younger patients. We do have to note that the nurses will have to sedate your children to help them be comfortable during the scan.
If you're interested in availing their services, you will need a doctor's referral to get an MRI scan from the center.
Additionally, for payments, we like that the hospital accepts multiple insurance companies such as NextCare, AXA, NAS, Saada, Saico Health, Dubai Insurance, and many more.
Please take note that the hospital only accepts certain policies from these companies, so double check if your policy is part of them.
We think that it's best to head to Dr. Rami Hamed Center if the doctor who needs an MRI scan from a patient is also part of the hospital.

But, if you're coming from another health care facility, we recommend this hospital for the insurance coverage, as well as the same-day results for their MRI.
Offers same-day result MRI services
MRI with contrast available
Can scan children and adults
Accepts multiple insurance policies
Booking required
Doctor's request needed
5. Global Hawk Imaging and Diagnostics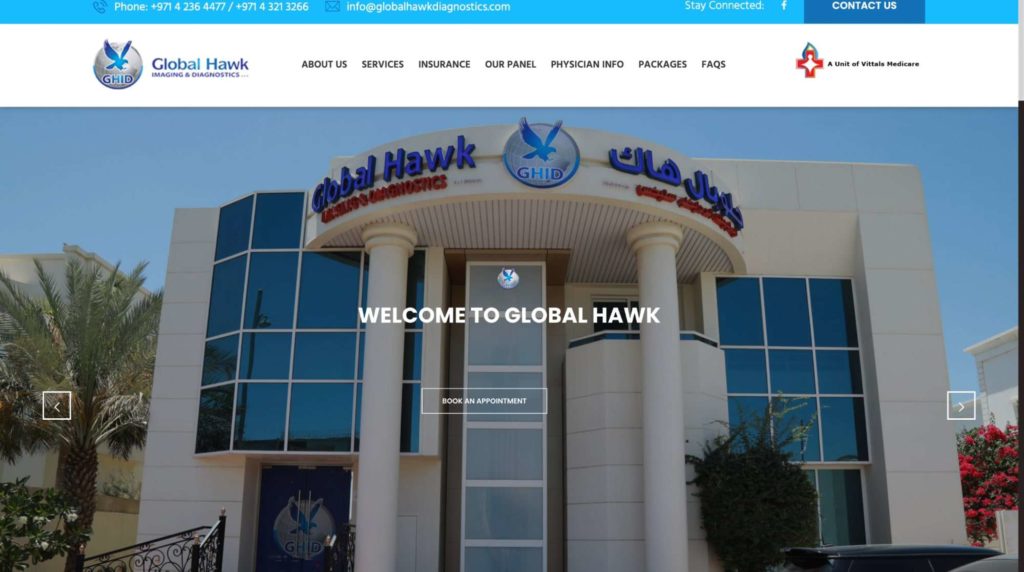 Test
Info
SERVICES
Open MRI, Closed CT Scan, Medical Lab, Digital Mammogram, 4D Ultrasound, Digital X-Ray
WEBSITE
https://www.globalhawkdiagnostics.com/
ADDRESS
Villa No 612, Jumeirah Beach Rd, Ummu Suqeim 1, Jumeira 3 - Dubai - United Arab Emirates
CONTACT DETAILS
Phone: +971 4 321 3266

E-mail: [email protected]

OPERATING HOURS
9:00 AM - 7:00 PM (Saturday - Thursday)

4:00 PM - 7:00 PM (Friday)
| | |
| --- | --- |
| Criteria | Ratings |
| Expertise | ★★★★★ (5/5) |
| Price | ★★★★☆ (4/5) |
| Facilities | ★★★★★ (5/5) |
| Support | ★★★★★ (5/5) |
Opened in 2011, Global Hawk Imaging and Diagnostics is a diagnostic center that specializes in providing medical imaging services as well as other laboratory processes for patients in Dubai.
What's great about this place is that out of all the imaging centers we've looked at, this is the only location that has both closed and open MRI machines. We like that patients can pick from these two types of machines.
They also have other tests and imaging aside from MRI, such as CT and 4D ultrasound.
For their MRI services, the place caters to both children and adults. Additionally, patients can expect that the results will be automatically sent to your doctor within 24 hours, at the least.
Note that unless you or the doctor specifies how the center will send the results, you'll receive these via fax only. Make sure to tell them if you'd like it to be sent over through email or just be handed the physical copy.
What we noticed is that their MRI services are usually availed by patients who have neurology, oncology, or cardiology issues.
Global Hawk also has a very considerate policy for women. They have female specialists for female patients, which can put their patients at ease.
Moving on to payment, the center accepts Insurance policies from Aafiya, ADNIC, Al Buhaira, Alico Metlife, AXA, Dubai Insurance, and more.
We like that there is no policy restriction on what they accept, but it's best to double-check your policy to see if MRI scans are covered.
Overall, we recommend going to Global Hawk and Imaging for their open and close MRI machines. Additionally, this place is great for women who would want to be assisted by specialists of the same gender.
Has opened and closed MRI
Female specialists for female patients
Accepts multiple insurance policies
Results will be sent within 24 hours at least
Appointment required
Results will be sent by fax by default
Customer Reviews:
Supportive and Helpful Staff, Good Service
"All I can say it was very supportive from Miss Indu and the technician person Mr Janki ram . Iam very thankful to both the staff and I believe they are good and very respectfully , motivating towards patient . I wish them all the good luck to Miss Indu and thankful though I was very scared of the machine . But Miss Indu and Janki ram sir helped me to do the MRI . Appreciated their work . God bless" -Kunal Kampanure
Friendly and Accomodating Staff, Quality Service
"Went to this branch for my MRI, the staff and technician are very friendly and accomodating plus the environment of the the diagnostic centre is good and not crowded. It feels like you are a VIP patient. Thanks global hawk for nice experience." -Sonam C, via Google Reviews
FAQs About MRI Services in Dubai
---
And that's a wrap! We hope that any of these MRI centers can be of help to you in the near future.
Interested in more medical articles? Check out our picks for the best audiologists in Dubai!