The 5 Best Midwife Clinics in Dubai
Pregnancy is a significant time for any woman. Ensuring a successful birth and the health of both the mother and the baby are the highest priority.
A midwife is a healthcare professional with special skills to assist women during this event in their lives. That said, in no particular order, here are our recommendations of the best midwife clinics in Dubai!
How Much Does Hiring a Midwife Cost
In Dubai, midwives don't help women give birth at home. That's illegal.
What they can do, however, is to provide care, education, and comfort before and after the pregnancy. They can also provide their expertise and assistance during labor, provided that it must happen in hospitals, nursing homes, or clinics.
A midwife can provide different services, as listed in the table below. We've also provided an estimate on how each would cost so you can prepare your budget:
| Services | Cost |
| --- | --- |
| Classes | AED 1,800 - AED 3,000 |
| Prenatal or Postnatal Care | AED  3,000 - AED 4,000 |
| Labor and Delivery | AED 5,000 - AED 7,000 |
The Best Midwife Clinics in Dubai
The following criteria were used in assessing the professionals featured in this article:
1. Genesis Healthcare Center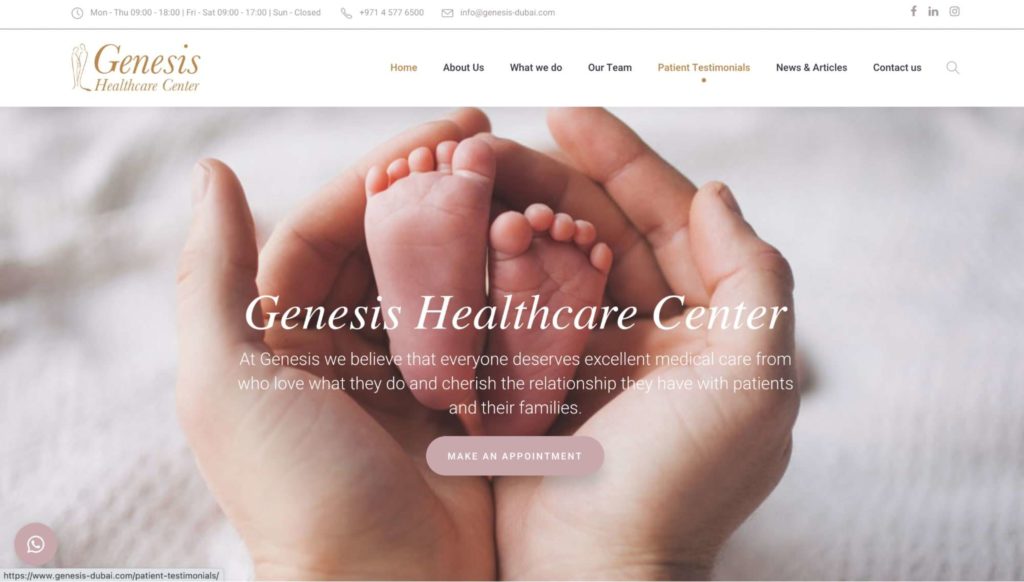 Test
Info
SERVICES
Obstetrics, Gynecology, Fetal Medicine, Antenatal Care, Prenatal Care, and more!
WEBSITE
https://www.genesis-dubai.com/
ADDRESS
Office 205, Second floor, Building 49, Healthcare City - Dubai - United Arab Emirates
CONTACT DETAILS
Phone: +971 4 449 8446

E-mail: [email protected]

OPERATING HOURS
9:00 AM - 6:00 PM (Monday - Thursday)

9:00 AM - 5:00 PM (Friday - Saturday)
| | |
| --- | --- |
| Criteria | Ratings |
| Expertise | ★★★★★ (5/5) |
| Price | ★★★★☆ (4/5) |
| Facilities | ★★★★☆ (4/5) |
| Support | ★★★★☆ (4/5) |
Genesis Clinic is a healthcare establishment that specializes majorly in pregnancy care. The hospital focuses both on the medical care of pregnant women (such as gynecology and obstetrics) and also the newborn child.
While their focus is more on providing treatment and care, the hospital also has a midwife clinic for those in need of assistance. Their professionals provide primarily three services: classes, breastfeeding services, and assistance.
We do have to note that these services focus on providing education and awareness for women who are with children. These include classes where they can learn the dos and don'ts during their pregnancy.
There is also assistive care, where the midwives will help patients with breastfeeding or take care of their patients during the first 24 hours after their delivery.
One thing we do have to point out is that while there are different kinds of services up for grabs, the scheduling might be difficult. This is because Genesis Clinic only has a few midwives on its team.
Even though they are few, they are very experienced. The two midwives are trained and certified professionals and have 5 to 10 years of experience.
We recommend booking their services as early as possible, especially the clinic's assistive care.
Overall, we would recommend this clinic for their midwives, especially if you ask for their services and give birth in the clinic.
This is because you'll have more access to their assistive care this way, especially the one that's available only for the first 24 hours post-delivery.
Offers assistance for first 24 hours at home post delivery
Experienced midwives available
Wide variety of assistance offered
Appointment required
Limited number of midwives available
Customer Reviews:
Great Service, Helpful and Caring Midwives
"We had an incredible experience with Dr George and the Entire genesis team with our first baby. Dr George's knowledge attentiveness and energy made us feel very very well taken care of. The Genesis team including the nurses and midwives were incredible and so caring throughout the pregnancy and delivery. It truly felt like a second home. We will definitely be coming back to Genesis for future pregnancies." – Shiza Khan
2. King's College London Hospital Dubai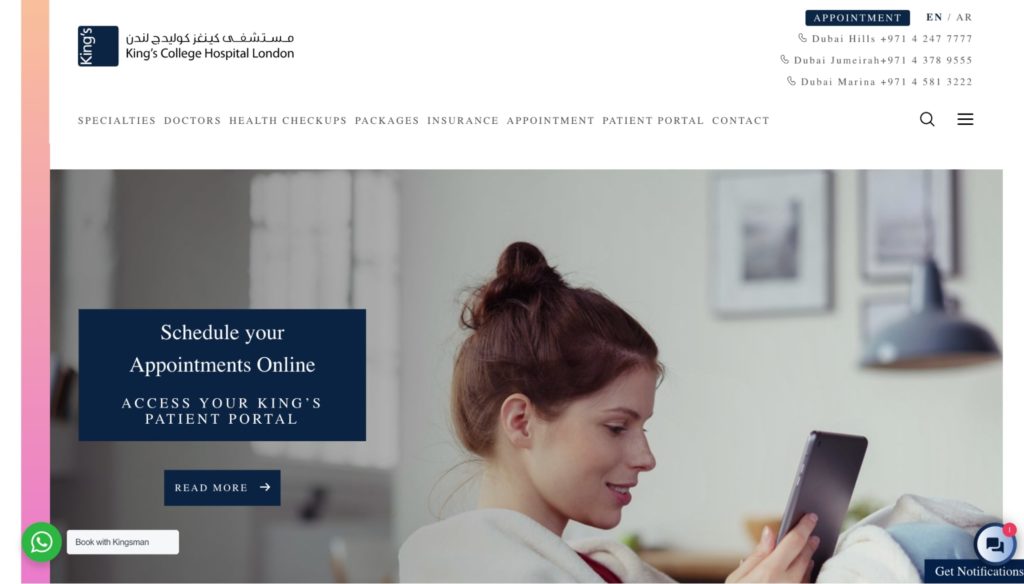 | Test | Info |
| --- | --- |
| SERVICES | 24/7 Emergency Department, Anaesthesiology, ENT, Cardiology, Aviation Medicine, and More! |
| WEBSITE | https://kingscollegehospitaldubai.com/ |
| ADDRESS | Kharbash Building - Jumeirah Beach Road Umm Suqeim 1 Billqetair Street (37B street - 2nd Floor - Dubai - United Arab Emirates |
| CONTACT DETAILS | Phone: +971 4 519 9999 |
| OPERATING HOURS | 8:00 AM - 8:00 PM (Monday - Sunday) |
| | |
| --- | --- |
| Criteria | Ratings |
| Expertise | ★★★★★ (5/5) |
| Price | ★★★★☆ (4/5) |
| Facilities | ★★★★☆ (4/5) |
| Support | ★★★★★ (5/5) |
Initially opened in London in 1840, Kings College Hospital London (Dubai) is a multi-specialty healthcare facility that caters to a lot of patients with different ailments, issues, and concerns.
Here's the thing about this hospital: there isn't exactly a midwife clinic where you can fully schedule visits. However, they do have them on call for assistance during your pregnancy.
You will get to have their aid, especially during your labor, and other procedures that require their assistance and expertise.
We like that their midwives are all UK-trained and have around 5-14 years experience. There are also a lot of them so you don't have to be worried about lack of staff to assist you during birth and other procedures.
Heads up though, if you decide to give birth here or ask for assistance for you and your baby in this hospital, we do have to note that the parking here is quite limited. Get ready to look for another location where to park your car just in case.
Moving away from that, let's talk about something practical: payment. Let's say that you are satisfied with their services– this hospital caters to a lot of insurance providers.
Some of them include ADNIC, Aetna, Almadallah, AXA, and many more! We certainly hope that your provider is one of them.
Aside from that, you can also pay in installments– so that's pretty convenient!
Overall, we recommend going here for their aid for the midwives' expertise, as well as the flexible payment options this hospital provides.
UK-trained midwives
Offers installment plans for payment
Partnered with multiple insurance providers
No specific midwife clinic for visits
Limited parking space
Customer Reviews:
Expert Medical Team, Great Post-Delivery Care
"I had my prenatal care and delivered my baby boy here. The medical team was exceptional – providing clear and unbiased advice, and the nursing care I received post delivery was excellent. Everyone was so warm, caring and kind and I am so grateful to have been so well taken care of." -Genna Lee
3. Simply Birth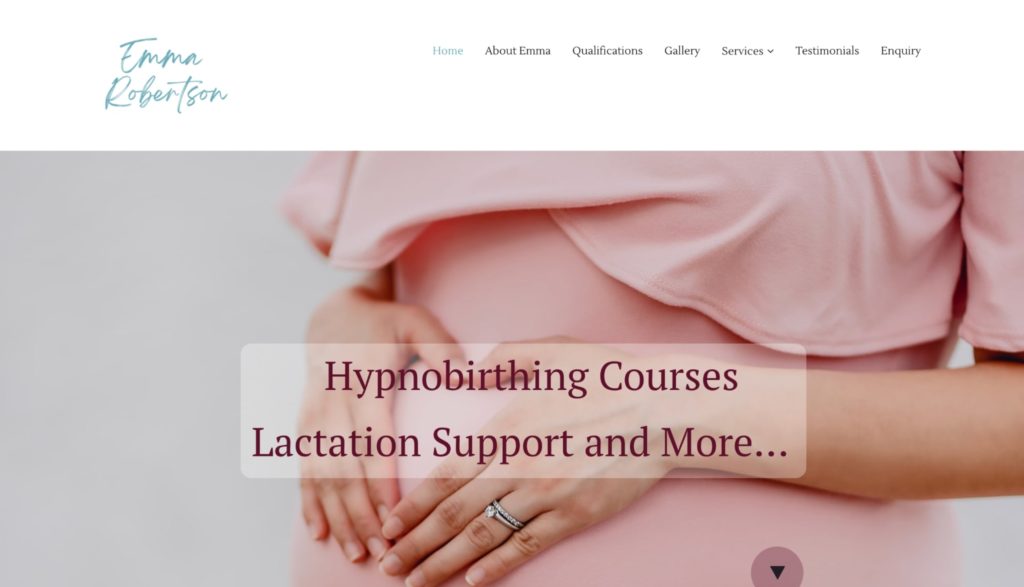 | Test | Info |
| --- | --- |
| SERVICES | Hypnobirthing, Lactation Support, Baby Massage, Antenatal Classes |
| WEBSITE | https://simplybirth.ae/ |
| CONTACT DETAILS | Phone: +971 52 377 8090 |
| OPERATING HOURS | 9:00 AM - 6:00 PM (Monday - Friday) |
| | |
| --- | --- |
| Criteria | Ratings |
| Expertise | ★★★★★ (5/5) |
| Price | ★★★★☆ (4/5) |
| Facilities | ★★★★☆ (4/5) |
| Support | ★★★★☆ (4/5) |
Simply Birthing is a privately-owned pregnancy center run by one professional named Emma Robertson.
Before we talk about her, let's talk about the services her clinic provides. Simply Birthing offers non-clinical support services for pregnant women and their partners.
These include antenatal classes that help raise the knowledge and education of individuals, which help them carry their pregnancy better and safer (knowledge is key, after all).
One of these classes is called Hypnobirthing, which allows parents to learn about pregnancy, labor, and birth and provides them with the facts and realities of childbirth.
Other services include lactation support. This is for women post-delivery who are taking care of their newborn.
Robertson will gladly step in and teach you how to breastfeed, help you resolve breastfeeding difficulties as well as assist mothers with the expression of breast milk.
With all of those services out of the way comes the pressing question: why should you trust her and her clinic?
Well, Robertson is experienced and certified. She obtained her required degrees in midwifery and a hypnobirthing diploma from the UK.
She is also a UK-certified birth doula, which means she is qualified to provide pre-natal and post-natal care for women and babies.
We recommend seeking her services for her expertise and mostly for her antenatal classes, which is what most of the other customers we've talked to also went to her for.
Experienced midwife
Private and group courses available
Booking required
Only one midwife available
Customer Reviews:
Experienced Midwife, Great Educational Courses
"My husband and i really benefited from Emma's classes. Her experience as a midwife is such an added value, she explained exactly what to expect during the labor process." – Rasha Hallak
Professional and Caring Midwife
"I am fortunate to have Emma as my midwife. I love her personal care and positive atmosphere. She is professional, caring, wise and would ensure your pregnancy-related needs are met at all times."-Shruti Jain
4. Belly Baby Mom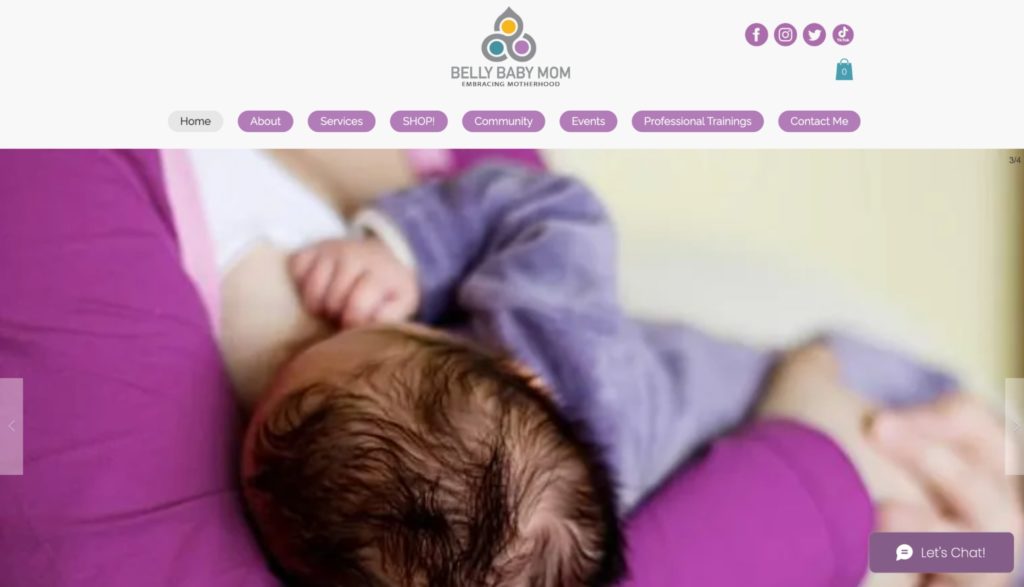 Test
Info
SERVICES
Doula Care, Hypnobirthing, Brand Consultations
WEBSITE
https://www.bellybabymom.com/
ADDRESS
Dubai Hills - Dubai - United Arab Emirates
CONTACT DETAILS
Phone: +971 55 963 9633
OPERATING HOURS
8:30 AM - 2:30 PM (Friday)

8:00 AM - 6:00 PM (Monday)

8:30 AM - 6:00 PM (Tuesday - Thursday)
| | |
| --- | --- |
| Criteria | Ratings |
| Expertise | ★★★★★ (5/5) |
| Price | ★★★★☆ (4/5) |
| Facilities | ★★★★☆ (4/5) |
| Support | ★★★★☆ (4/5) |
Belly Baby Mom is a company that provides their assistance and services on-location. This means that the staff and the midwives go to where the patients will need them the most.
This company specializes in birth and postpartum support. Ran by Shereen Zarroug, this certified and trained birth doula offers courses, care, and surprisingly, brand consultations for clients.
Now that's quite a variety. Interestingly enough, Zarroug's background as a marketing professional is why she offers consultations as an additional service.
However, Belly Baby Mom shines in the birth and post-partum support department. The company provides a package deal of sorts, priced at AED 5,000 which has a lot of things included in it.
These include a free initial consultation, prenatal sessions as well as postnatal home care or visit. What's great about the birth doula service is that your designated midwife will be available on-call 24/7 before your due date.
The company does encourage potential patients to book 4-5 months before your estimated due date to ensure that they can provide a midwife for you.
This center also provides private, 1-on-1 antenatal classes for couples who don't want their struggles and difficulties aired out in group classes!
We primarily recommend Belly Baby Mom for their extensive birth doula services. If you need a midwife to be available 24/7 weeks before your due date, this is the place to go!
Certified birth doula
Offers support packages for clients
Also offers brand consultancy services
Appointment required
Encourages booking 4-5 months before the due date
5. HealthBay Clinic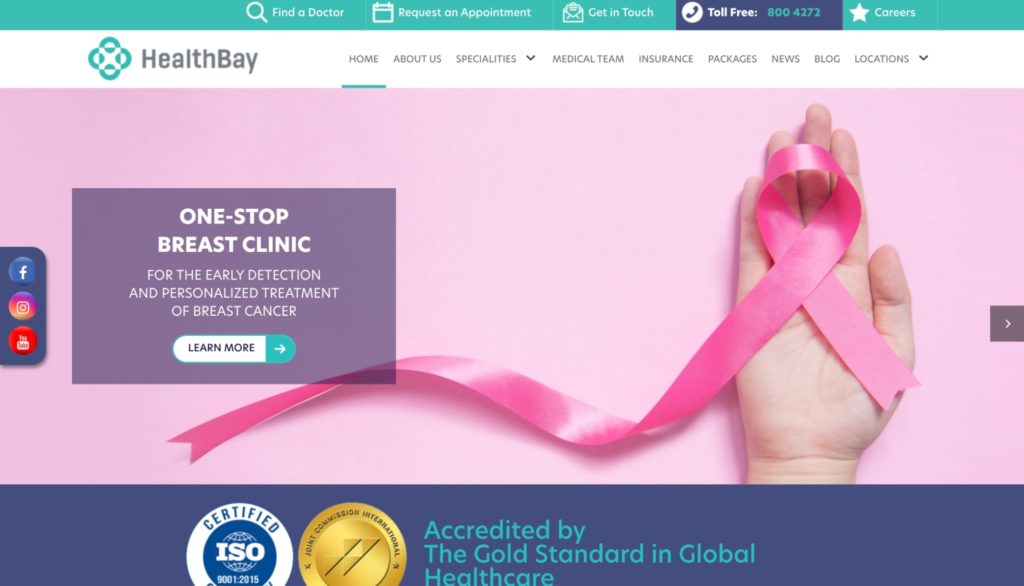 Test
Info
SERVICES
Family Care, Pediatrics, Antenatal Classes, Lactation Clinic, and more!
WEBSITE
https://healthbayclinic.com/
ADDRESS
Unit G04, House, - Detroit Rd - Dubai - United Arab Emirates
CONTACT DETAILS
Phone: +971 800 4272

E-mail: [email protected]

OPERATING HOURS
8:00 AM - 6:00 PM (Sunday - Friday)
| | |
| --- | --- |
| Criteria | Ratings |
| Expertise | ★★★★★ (5/5) |
| Price | ★★★★☆ (4/5) |
| Facilities | ★★★★☆ (4/5) |
| Support | ★★★★☆ (4/5) |
Opened in 2008, HealthBay clinic is a multi-specialty medical center that provides a wide range of services in different medical fields. With over ten years in the industry, this hospital has its share of experience handling different patients.
One of the primary groups of people that they cater to is women and children. Out of all the hospitals we've seen, this clinic has quite an extensive list of specialties and services available for them.
Midwives in this clinic can provide support and care such as community postnatal visits, where the clinic's professionals will visit you in your home post-delivery to take care and ensure you and your baby's well-being.
During pregnancy, we like that this clinic can also help you with their antenatal classes and morning tea support groups. These services are the opportunities where women can ask questions, and express (and have) their anxieties quelled.
In terms of newborn care, HealthBay offers a dedicated Well Baby Clinic that provides vaccinations and helps with how to take care of and introduce your child to solid foods.
Another great thing about this clinic is that they have a dedicated lactation clinic for women who need help with learning how to breastfeed.
Overall, we believe that HealthBay is the right place to seek the aid of midwives not just for mental and educational support. They can also take care of the baby and the mother during and after pregnancy via their home visits!
Experienced and certified midwives
Offers multiple services
Has a separate lactation clinic
Booking required
Limited parking space
FAQs About Midwife Clinics in Dubai
---
We hope that any of these clinics or establishments can help you or your partner during pregnancy.
Interested in availing more healthcare services? Here's our list of the top doctors in Dubai!