The 7 Best Mattresses in Dubai
Featured Image Source: Ty Carlson via Unsplash
What differentiates a good night's sleep from a restless night is sometimes the quality of your mattress. To wake up refreshed and re-energised in the morning, consider getting one of the best mattresses in Dubai.
This article contains a guide on how to choose the best mattress in Dubai. We've also included a list of the best quality mattresses you can find in the city to make your search easier.
So you're prepared for the cost of buying a new mattress, we've even researched the prices of mattresses in Dubai which you will see in the table below.
How Much Do Mattresses Cost in Dubai
Here are the prices you can expect for different mattress sizes in Dubai. Actual price may vary. The cost can also go up significantly for luxury mattresses.
| | |
| --- | --- |
| Single | AED259 to 3,820 |
| Queen | AED459 to 6,400 |
| King | AED529 to 6,840 |
| King XL | AED669 to 8,400 |
How to Pick the Best Mattress in Dubai
To guarantee you a good night's rest, you should make sure that you purchase a good quality mattress. Be guided in selecting the ideal mattress for your specific needs with these few tips below.
Consider your Budget
When purchasing a mattress, don't go with the cheapest option. The tendency is that inexpensive mattresses are also made of poor quality materials, which means they won't last you long, won't be comfortable to sleep on, and may even cause you skin irritation.
At the same time, a more expensive mattress doesn't always equate to the best quality.
If you want a good-quality mattress that's still economical, it is best to go for the ones around the average price for your mattress size. This can help you compare mattresses easier and judge them according to your specific mattress requirements.
Know your usual sleeping position
Your sleeping position actually determines the firmness of the mattress you should get.
Back- and stomach-sleepers should go for medium to medium-firm mattresses. Side-sleepers, on the other hand, should opt for mattresses with soft to medium firmness.
Following this tip can help you prevent discomfort as well as back pain.
Look at the different types of mattresses
The effect of a mattress is determined by the materials it is made of—namely, the foam and the springs.
Memory foam is body-hugging. It helps relieve joint pain but tends to be hot to sleep in. Meanwhile, latex is bouncy, naturally-cooling, and is also a more environment-friendly option.
As for springs, innerspring mattresses are bouncy yet firm and are great for support. On the other hand, the newer hybrid mattresses also provide a significant amount of support while relieving your pressure points.
The Best Mattresses in Dubai
Now that you know how to select a mattress that best suits you, here are a few choices you can look at to help make your search for the best mattress in Dubai faster.
1. Magnistretch 9 by Magniflex
Price: AED 5,090 to AED 11,300
As a pioneer in mattress technology, Magniflex has discovered a way to incorporate stretching into the world of sleep to improve wellbeing. Endorsed by the American Chiropractic Association, the Magnistretch 9 mattress is a unique and innovative mattress that gently stretches your spine while you sleep.
With its patented design, Magnistretch 9 uses the pressure applied by the body to distribute weight across the entire mattress. As a result it gently stretches your spine from the lower back up to the neck and down to the feet. Such movement increases space between vertebrae to relieve muscle tension, improve circulation, and help alleviate neck and back pain.
The Magnistretch 9 provides firm support with no springs, and also features Memoform to relieve pressure points and provide amazing comfort. With Outlast fabric to keep you cool during summer nights, and made in Italy quality, the Magnistretch 9 is perfectly designed for a restful sleep.
Relieves pressure on the body
Improves blood circulation​​​
Washable, Cooling Fabric
American Chiropractor Association Endorsed
100% Made in Italy quality
Not ideal for those wanting a thick, soft mattress
2. Dolce Vita DolceGel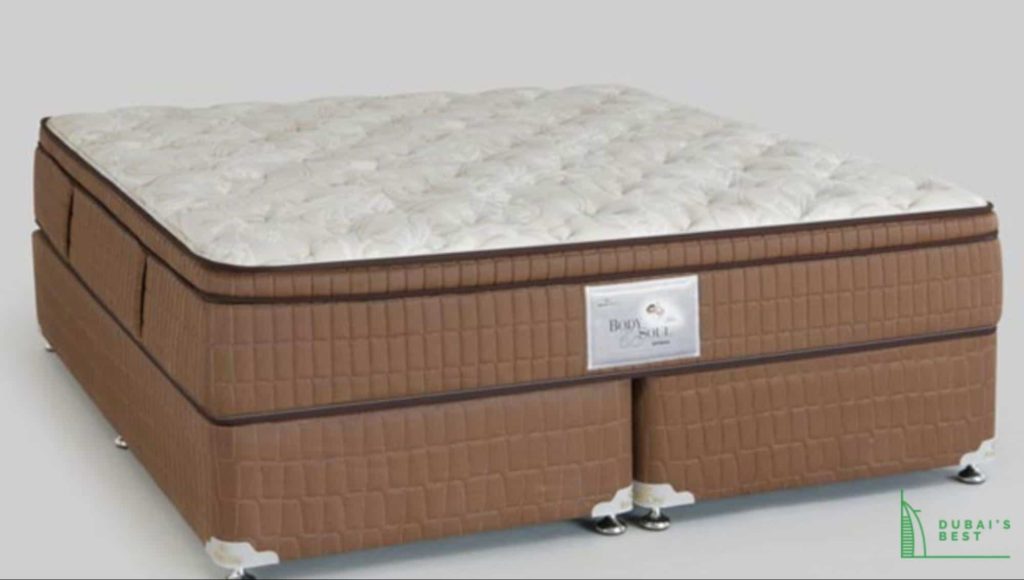 Price: AED1,600 – 2,640
Dolce Vita's DolceGel mattress is made of gel-infused memory foam that helps relieve the body's pressure points.
Its gel property, partnered with its knitted fabric cover, helps reduce heat buildup during sleep. This allows perfect air circulation, helping you get a pleasant night's sleep.
Because it is medium-firm, this mattress is also great for any sleeping position.
Despite these features, what makes the DolceGel one of the best mattresses in Dubai is its pocket springs. This decreases partner disturbance, which means you can sleep peacefully even as the person sleeping beside you tosses around during the night.
Dolce Vita also offers a 10-year warranty, which assures you that they make long-lasting mattresses.
Relieves pressure points
Reduces heat buildup
Suitable for any sleeping position
10-year warranty
Has a chemical odour when new
Heavy
Difficult to deep-clean
3. Royal Foam

Price: Ranges from AED1099 to 4299
Royal Foam does not only offer one mattress but has a wide range of different kinds. From foam mattresses, medical orthopedic, bonnel coiled spring to pocketed spring, gel-infused memory, and mattresses with various layers, they got your back.
They own the brand Royal Rest which is known for providing its users with the ultimate sleep experience. What makes them unique is how their mattresses address individual surface preferences.
We can recommend them because their products are beyond expectation. Additionally, since they have a wide range of mattresses, it is more likely that you will find the perfect one just for you.
In comparison to others, they have a soft, medium, hard, and ortho collection. Under these, they have 3 to 4 products each.
Another reason why we love them is they accept and can make customized mattresses as per your design and specifications.
Offers other services such as furniture, upholstery, packaging, shoe, automotive, and lamination
Only use high-class foaming machines
Can manufacturer different densities of Foam starting from 13kg to 50kg and Rebonded foams of 60kg to 100kg
4. Serta Femme Fatale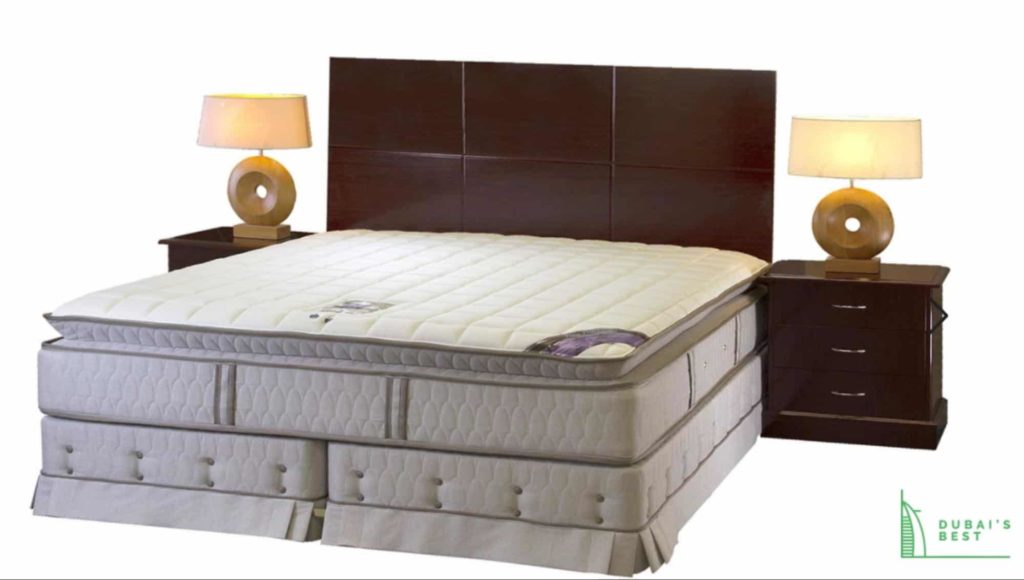 Price: AED8,798 – 17,596
The Serta Femme Fatale has visco gel foam which helps the mattress adjust to your body shape. This enables the mattress to evenly distribute body weight over the surface, easing the effects of sleep on the body's pressure points.
The mattress's main material is also German mega foam which makes for better air circulation. Plus, for uninterrupted sleep, Serta Femme Fatale uses the pocketed spring technology to reduce partner movement disturbance.
The Femme Fatale mattress also features Nanotex fabric which makes the it water-repellant and stain-resistant, allowing it to last longer.
Despite all these features, the mattress is safe to use and environment-friendly, making it one of the best mattresses in Dubai.
While it is made of top-quality materials, Serta offers a 10-year warranty for utmost customer satisfaction.
Even distribution of body weight
Lessens partner movement disturbance
Water-repellent and stain-resistant
Safe and environment-friendly
10-year warranty
5. Restonic 7 Zone Latex Mattress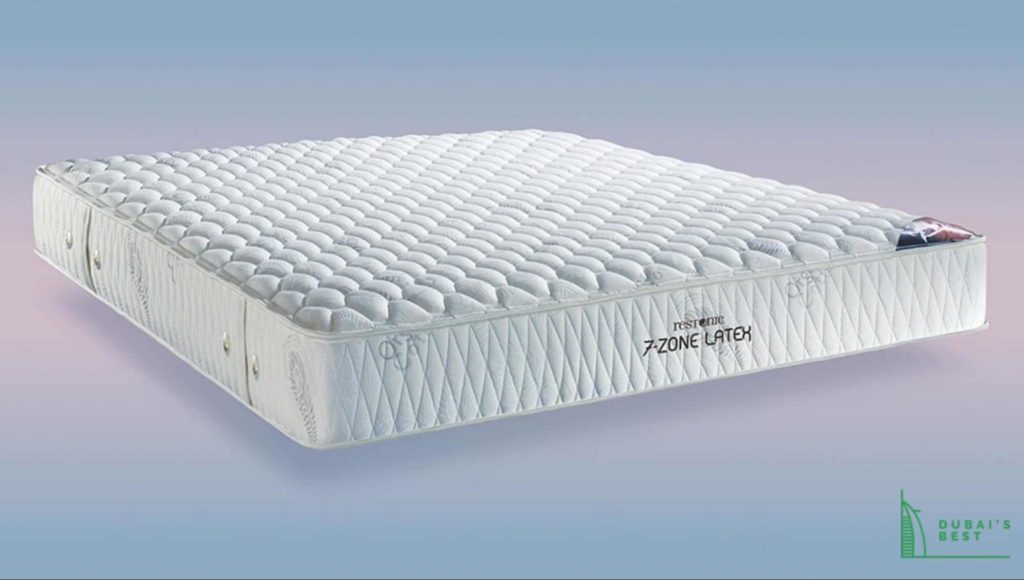 Price: AED4,252 – 8,504
For a non-spring mattress option in Dubai, you can opt for the Restonic 7 Zone Latex Mattress.
Since the mattress has no springs, it is medium in firmness, providing users a natural yet comfortable spine support. Its average height at 24 centimeters also makes it ideal for people who suffer from back pain.
Made of latex, the Restonic 7 Zone Latex Mattress is breathable and is cool to the skin during sleep. The material also makes this mattress free from odors like those commonly found in memory foam mattresses.
Natural spine support
Cool to the skin
No foul odor
6. SpringAir Granada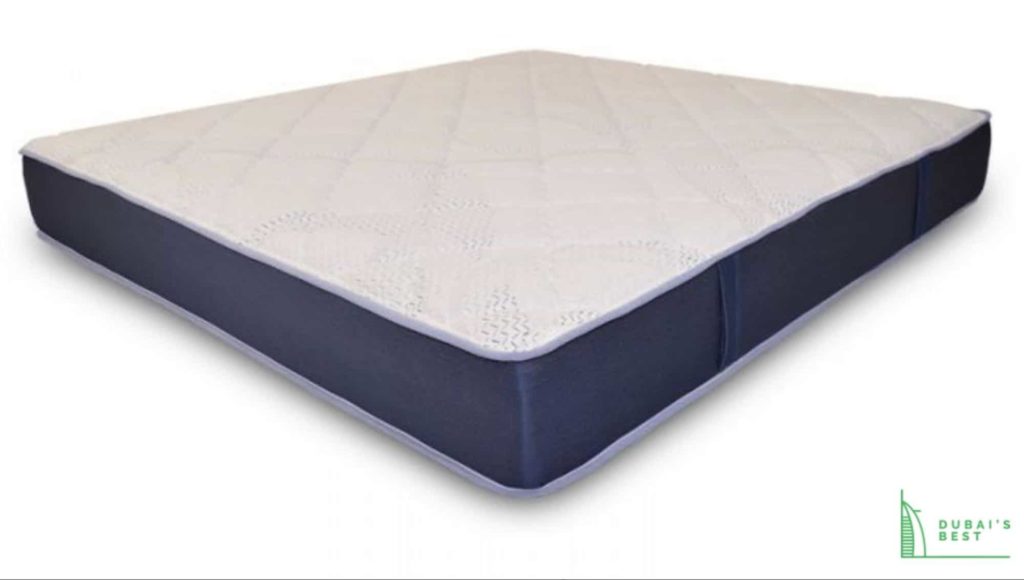 Price: AED899 – 1,469
SpringAir's Granada mattress is the best mattress in Dubai for those who want a good quality mattress at an affordable price.
This mattress is medium-firm which helps relieve pressure points and makes it ideal for different sleeping positions. As it is foam-encased, it also prevents the risk of falling off the bed in the middle of the night.
A spring bed, the SpringAir Granada is bouncy and promises a short break-in period to help you easily settle in your new mattress. Its coil springs with its knitted fabric cover also guarantee a cooling effect.
The product also has a warranty period of 10 years, which further ensures that it is worth every penny you spend.
Affordable
Good for any sleeping position
Short break-in period
10-year warranty
Does not reduce partner disturbance
Sags through time
Tends to squeak
7. Silentnight Studio Mattress- Gel Memory Foam
Price: AED2,921 – 6,431
The Silentnight Studio Mattress has a non-spring memory foam which enables it to provide medium comfort to its users and keep one person from feeling the movements from another person on the bed.
While it is made of memory foam, the gel infusion in its top layer and its soft, breathable knitted jacquard fabric prevents a person from feeling hot at night.
With a depth of 20 centimetres, this mattress is also ideal for people who experience persistent back pain. The mattress is also single-sided, which means you won't have to flip it to get the best results.
This mattress comes with a 5-year warranty that protects you from defective products and saves you money in the event of damage within that period.
Reduces partner disturbance
Breathable
Great for people with back pain
Unpleasant odour when new
Short warranty period
FAQs about the Best Mattresses in Dubai
---
That's it for our list of the best mattresses in Dubai! With one of these options, you'll surely be able to sleep better.
You can also send us a message if you have other mattresses available in the area that you'd like to recommend.
If you're a bit sceptical whether a new mattress can ease your persistent back pain, you can also check out our list of the best chiropractors in Dubai.