The 5 Best Education Centers for Math Tutors in Dubai
Whether you need help preparing for an important exam or you need to catch up on your lessons, hiring a math tutor can vastly help you on the subject.
So we scoured the city for educational centers with the best math tutors in Dubai. We included our criteria in choosing them and also answered some FAQs about math tutors below.
How much does hiring a math tutor in Dubai cost?
The cost of hiring a math tutor varies depending on the level of difficulty, the requirement the student needs for the subject, and the length of the sessions.
To give you a starting point, the average tutor — both home tutors and tutors in an educational learning center — charges between AED180 to AED250 per hour.
The Best Educational Centers for Math Tutors in Dubai
Before we get right into our list of the best educational centers for math tutors in Dubai, here are the criteria we considered in choosing them:
1. Class of Choice
| | |
| --- | --- |
| Criteria | Rating |
| Experience & Mastery | ★★★★★ (5/5) |
| Methods | ★★★★★ (5/5) |
| Range | ★★★★☆ (4/5) |
| Flexibility | ★★★★☆ (4/5) |
Pushing beyond the idea of just achieving academic results, Class of Choice cultivates the love for curiosity and discovery, training students to choose learning throughout the rest of their lives.
Class of Choice currently has 8 math tutors, all of whom are either accredited by national and international organizations or have a career in a related industry.
Anna and Crystal are sisters who have been getting tutored by Mridul. They shared with us that they have a newfound appreciation for math because of her.
Mridul is an engineer by profession and applies math on a daily basis, and the sisters are learning to be able to relate math to their everyday lives, which really helped them practice their skills even outside of school and the tutoring sessions.
We really love that they approach teaching by applying real-life concepts. This not only makes it easier for students to understand concepts better, but they also gain an appreciation for the subject.
Due to the pandemic, Class of Choice is only currently offering online classes.
But when everything gets back to normal, it plans to return to its in-person classes while maintaining an online class option for other students.
What we like about its classes is that it wants to keep it small with only 2-6 students per class, giving the teacher more opportunity to really focus on each student.
It also consistently offers new courses to expand the students' skills and accommodate their passions. Recently, the school added coding to its math and science courses.
One thing we're disappointed with, though, is the lack of courses that can accommodate collegiate math. The courses are limited to grade school and high school math.
Despite that, Class of Choice remains to be one of our top picks because it does more than just help children churn out good grades.
It actually promotes a curious and open-mind attitude that helps children grow into people who will never close their minds to learning new things.
Math tutors are accredited and certified professionals
Offers online and in-person classes
Classes are small
Consistently adds new courses to its subjects
Doesn't offer collegiate levels of courses in its subjects.
Customer Reviews
Dedicated and supportive tutors
"My daughter attends Physics and Maths sessions with Ms. Shika of Class of Choice. She has been my daughter's teacher for two years now. All has been good so far. She takes the time to make sure that children understand the topic and is always open to questions and clarification. Teaching is precise and straight to the point. Thank you for the dedication and support!" —Bettiga Joseph, Google Reviews
The tutors here are very passionate
"Shristi teacher for English, Maths and Hindi is excellent, hardworking and dedicated. She teaches with a lot passion and love. My daughter loved to attend her classes.
For Arabic subject Ms. Shazana also was very hardworking. Even though she had very busy schedules, she always helped us to complete our works with flexible time.
Class of choice is really a good choice if you want a personal attention for your kid in education.
" —Kamal Kasad, Google Reviews
2. The Tutoring Center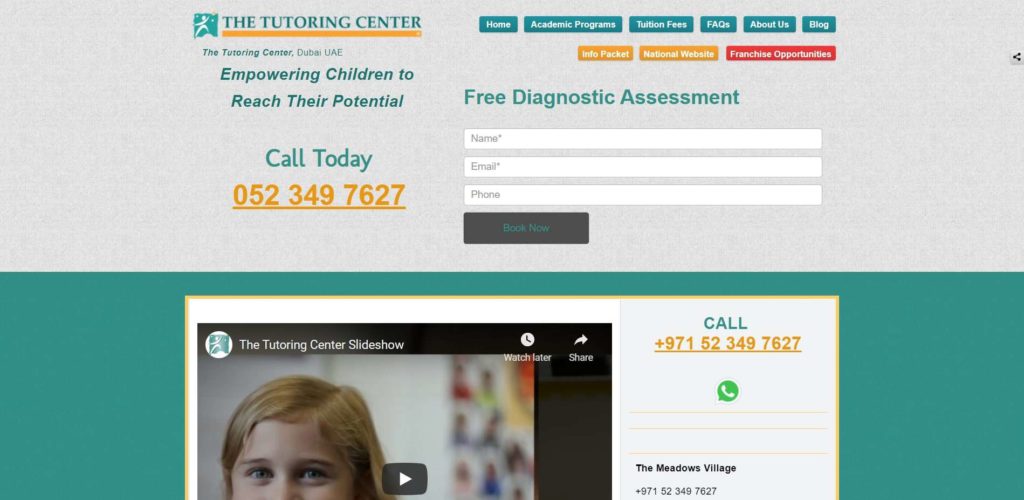 | Test | Info |
| --- | --- |
| WEBSITE | http://dubai.tutoringcenter.com/ |
| ADDRESS | 1st Rd - Meadows Village - Dubai - United Arab Emirates |
| CONTACT DETAILS | +971 52 349 7627 |
| CLASS HOURS | Sunday to Friday: 12 AM–6 PM |
| | |
| --- | --- |
| Criteria | Ratings |
| Experience & Mastery | ★★★★★ (5/5) |
| Methods | ★★★★★ (5/5) |
| Range | ★★★★☆ (4/5) |
| Flexibility | ★★★★☆ (4/5) |
One of the leading after-school programs in North America, The Tutoring Center has expanded into the UAE to offer its intensely-focused learning approach to students.
George's son, Michael, was struggling with school and was recently diagnosed with ADHD, which explains why he had a hard time focusing in the classroom and finishing his schoolwork.
George shared with us that he noticed a vast improvement in Michael after a year of getting tutored at The Tutoring Center.
We love that The Tutoring Center has a unique system of delivery when it comes to teaching difficult subjects like math.
Its method, called Rotational Approach to Learning, helps children increase their concentration, attention span, and focus while strengthening their academic skills.
The great thing about this method is that it builds skills that are applicable outside of math and other academic tasks. These are practical skills that can be applied anywhere.
The classrooms are also designed to be an intense learning environment with the school's innovative system, One-to-One instruction.
The results of empirical research showed that this system rapidly increases academic skills by giving students personalized structured guidance when it comes to studying.
Instead of personalized courses, The Tutoring Center follows its pre-built courses that focus on an aspect or skill needed for a specific subject.
For its math program, the school has the Math Minutes course that helps improve concentration span, and Math Books designed to help students catch up in the subject.
And while we think it's great that its programs have different courses that address skills and problems that students face in the subject, we think that personalizing a course for each student is superior.
To be able to specifically address the problems an individual has is far more effective than addressing a class in general.
The Tutoring Center currently does not have an in-person arrangement because of the pandemic, but it does continue its one-to-one teaching system, lending the experience more focus and attention.
All in all, The Tutoring Center is unlike any other with its unique approaches to tutoring students that are designed to pull them out of struggling with the subject.
Has unique approaches to teaching
Focuses on improving focus and mathematical skills
Courses designed to address students' common issues
Courses do not address individual problems
Customer Reviews
Every session has made a vast difference
"I've been coming here for a few months now and every lesson has had a great impact on me and my grades! All staff members there are very kind and have a lot of patience! There are many subjects for all year groups that teachers can help with! Definitely recommend!"—Lamar Abbas, Google Reviews
My child has never been more confident
"It was a great choice to enroll my daughter. She was very happy during the lessons and she became more confident in school. I highly recommend The Tutoring Center Meadows and definitely Miss Sara." —Nayla Abdelnour, Google Reviews
3. Tutoring Club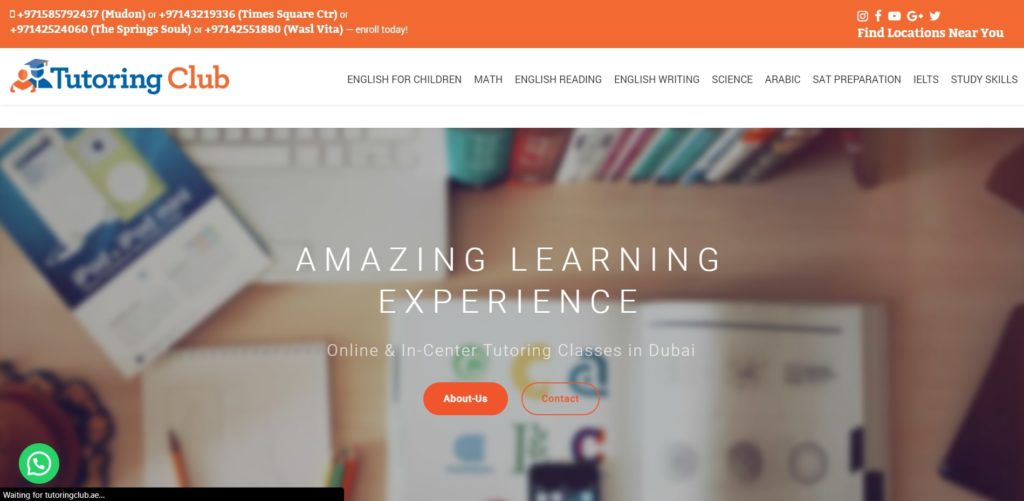 Test
Info
WEBSITE
https://tutoringclub.ae/
ADDRESS
Times Square Center - Ground Floor - Dubai - United Arab Emirates

Has 3 other locations in the city

CONTACT DETAILS
+97143219336
CLASS HOURS
Every day: 10 AM–8 PM
| | |
| --- | --- |
| Criteria | Ratings |
| Experience & Mastery | ★★★★★ (5/5) |
| Methods | ★★★★☆ (4/5) |
| Range | ★★★★★ (5/5) |
| Flexibility | ★★★★☆ (4/5) |
Since its establishment in 1991, Tutoring Club has been helping students in all grades move up and pick skills fast.
Using its in-house developed learning materials and systems and its 25 years of experience in tutoring, Tutoring Club is internationally regarded as one of the most effective educational centers in the world.
Jessica has been getting tutored in math since grade school here. She shared with us that having that extra learning time with her tutors has helped her advance in her math classes farther than anybody else.
And this center is sure to be this effective because its programs like Math, English, Arabic, IELTS, SAT, Sciences, and others are all certified by the Knowledge and Human Development Authority (KHDA).
And while its methods aren't really anything special, as it focuses on preparations and learning concepts in a short amount of time, we do appreciate that its methods include unique in-house learning materials exclusive to the school.
We also appreciate that it offers both online and in-center tutoring classes in Dubai. This gives the students free range of how they want to keep learning, especially in a time when it can be unsafe to be in a close space with another person.
However, having only one-on-one arrangements may not always work for some students who experience anxiety when a teacher figure pours all attention on them.
And once you're starting your tutorial sessions, Jessica also shared with us that she took a diagnostic test to help her tutor identify the specific gaps in her math skills.
And we love that they used this to personalize a study plan for her and help improve the foundations of her math skills required to achieve high grades.
All in all, the Tutoring Club is one of our safest bets if you want to keep building your skills fast with a tutor.
Its one-of-a-kind in-house materials are what give it an edge, and its dedication to providing a personalized study plan that makes it effective.
Has its in-house learning materials
KHDA-certified programs
Offers online and in-center tutorials
Personalized study plans
Only offers one-on-one tutorial arrangements
Customer Reviews
Consistent assistance from them really helped me
"I previously struggled with a few of my subjects before joining Tutoring Club however, I began to exceed in all of them with the help of my tutors, Mr Dwayne, Mr Vahid, Miss Eliza and Miss Hafsa. They consistently assisted me throughout my studies and lead me to getting great results in my exams. The entire community is also very friendly and welcoming as I enjoy every minute I spend there. Overall a very professional and beneficial club." —Aryaan Sarbaz, Google Reviews
Their flexibility is a great plus
"My daughter is registered for Math online class and she is very happy with teacher and the online tutoring methods. She managed to obtain A+ for her school's grade. The flexibility provided by Tutoring Club to use the package for other classes such as Science as and when required is a great plus!" —Wilson Chen, Google Reviews
4. Tutors.ae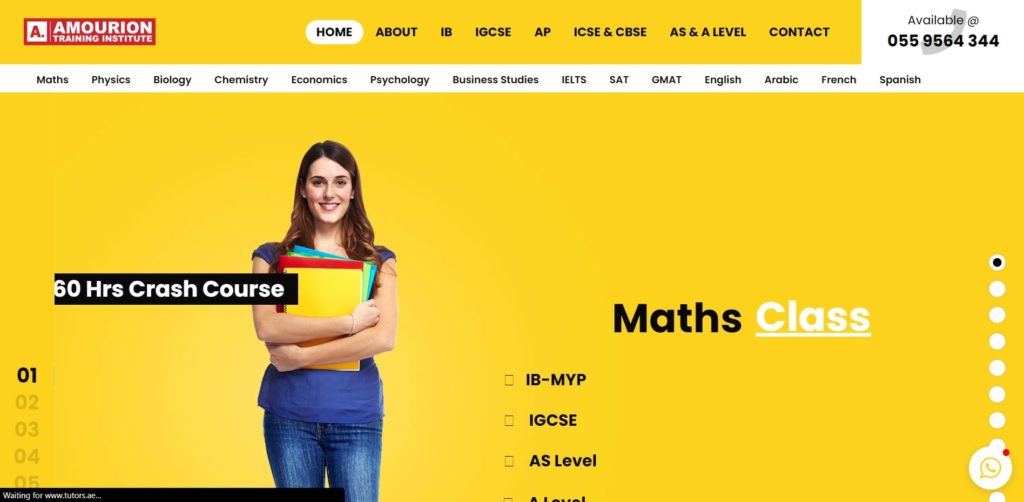 Test
Info
WEBSITE
https://www.tutors.ae/
ADDRESS
Amourion Training Institute, 1803, Al Moosa Tower 2 - Sheikh Zayed Rd - Trade Centre - Trade Centre 1 - Dubai - United Arab Emirates
CONTACT DETAILS
+971 55 956 4344
CLASS HOURS
Saturday to Thursday: 9 AM–10 PM

Friday: 11 AM–4 PM
| | |
| --- | --- |
| Criteria | Ratings |
| Experience & Mastery | ★★★★☆ (4/5) |
| Methods | ★★★★★ (5/5) |
| Range | ★★★☆☆ (3/5) |
| Flexibility | ★★★★☆ (4/5) |
One of the highest-rated course tutoring centers in Dubai and accredited by the KHDA, Tutors.ae simplifies the learning process to make it fun and effective for every kind of student.
Combining proven teaching methods with simplification techniques to help understand technical concepts easier allows students to absorb more knowledge with less stress.
Khamala, who has been getting tutored in math, finds it so much easier when her tutor explains the lesson to her instead.
She shared with us that they always find a way to make the lesson simpler, which makes it easier for her to apply it in her exams in school.
Because of this consistent approach, Tutors.ae has won 24 awards which are mightily impressive.
And while its methods, which are adapted from proven approaches, aren't exciting, they have been proven to be quite effective.
The center also has an impressive range when it comes to its math tutoring, covering almost all curriculums from the IB and AP Curriculum to the IGSCE curriculum and many more.
We also like that after every student finishes their pre-level assignment that judges their subject knowledge, the tutors work with the student to find a class that fits their time and always practice maximum flexibility on the amount of time a student needs to finish their tasks.
The only drawback to this multi-award-winning tutoring center is that it is significantly much more expensive than the others. But we cannot deny the quality of education it provides.
Covers almost all kinds of curriculum
KHDA accredited and has 24 awards
Practices maximum flexibility with students' time
Simplifies lessons for maximum learning with half of the stress
Significantly much more expensive rates
Customer Reviews
They have helped me immensely
"Guys, do enroll with Tutors.ae for the best learning atmosphere! I was a struggling Grade 11 student last year. However, enrolling with Tutors has helped me immensely and my teachers are proud to see my consistent A grades in Math and Science. I look forward to going to the institute every day. It's fun!"—Freda Mcbride, Google Reviews
A must-try
"My daughter went there and we were so happy for the services with Dr. Anil Khare. She is happy too and learning well. I and my husband visit the offices in Sheikh Zayed Road and we liked the place, people, teachers, and their quality. I want anyone parent or child to try this place for it is the best IB tutors in UAE." —Esther Ferguson, Google Reviews
5. Knowledge Quotient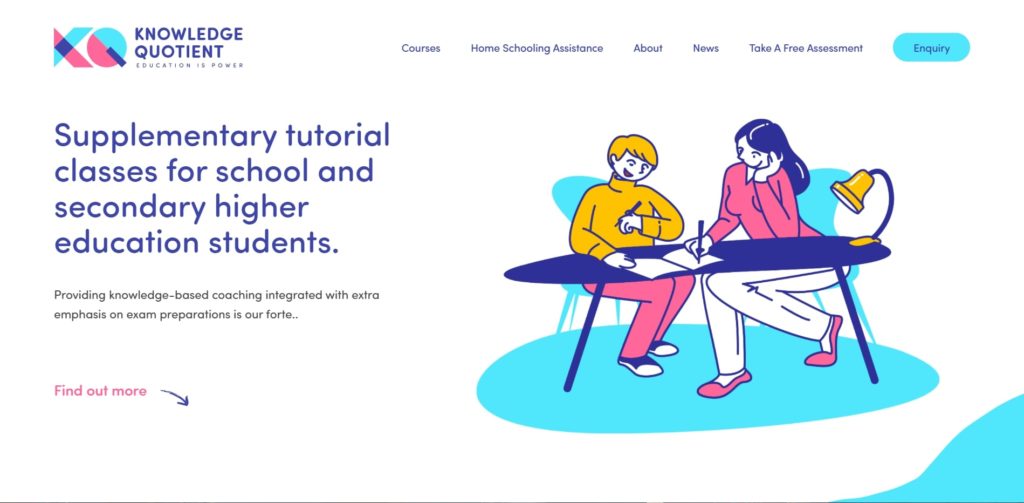 Test
Info
WEBSITE
https://www.kq.ae/
ADDRESS
Block 2, Office F03 Knowledge Park - Al Bourooj St - Dubai - United Arab Emirates
CONTACT DETAILS
+971 4 438 0226

+ 971 (0)50 113 8277

E-mail: 
[email protected]

CLASS HOURS
Monday to Thursday: 11 AM–7 PM

Friday: 10 AM–1 PM

Saturday: 10 AM–5 PM
| | |
| --- | --- |
| Criteria | Ratings |
| Experience & Mastery | ★★★☆☆ (3/5) |
| Methods | ★★★★★ (5/5) |
| Range | ★★★★★ (5/5) |
| Flexibility | ★★★☆☆ (3/5) |
With a focus on exam preparations, Knowledge Quotient takes a unique approach for every child and ensures that its tailor-made learning is effective.
Amir, who had a hard time with math, started showing improvements a month after he started with this center.
He shared with us that Knowledge Quotient understood that he needed more time compared to others to understand math lessons, which doesn't always work out in a school environment.
But Knowledge Quotient was flexible and worked with his pace instead of pushing him to pick things up faster. This way, he learned to be confident in approaching his lessons.
And we love that Knowledge Quotient can take its time with each student because of the private tutors that it provides.
We're big fans of this individualized method of teaching. We think this is very effective because this puts less stress and mental strain on the student.
The effect is they are able to study sustainably and retain knowledge longer, which is key to learning concepts in subjects like math.
We're also big fans of the center practicing past papers to help students seek the highest grade possible on exams.
And it has the credibility to back up its methods, too, because it is licensed and approved by the KHDA and the Dubai Development Authority.
On top of that, its classes are available for the UK National Curricula such as GsCSE, IGSCE, GCE A-Level, American High School, International Baccalaureate, and AP Syllabi.
However, the only problem we have with its methods is that it's too focused on preparing for exams and getting high scores.
There is less focus on cultivating an attitude of curiosity and discovery, and more on just plain preparation and practice.
Despite that, Knowledge Quotient churns out great results in the form of high scores and grades, which makes it the perfect choice for preparing for exams in college and many more.
Works with the pace of the students
Provides private tutors for each student
Practices lessons using past papers
Licensed and accredited by the KHDA and the DDA
Covers all major curricula
Focuses too much exams and preparations
Customer Reviews
Great value for money!
"I went to this institute for about 3 years now. I was very satisfied with the teachers as well as the learning environment, it was great value to my money, as the teachers are understanding and patient while teaching. I went for Math, Physics, Business and Economics all of which were a great experience as I finally received that grades that I wanted and it wouldn't have been possible without the amazing teachers I had. Overall, I WOULD DEFINITELY RECOMMEND KNOWLEDGE QUOTIENT AS IT PROVIDES STUDENTS WITH EXCELLENT SERVICE AND AMAZING TEACHERS."—Chonika Raman, Google Reviews
I love the teachers
"A very safe and comfortable place, knowledge quotient is. I've been taught O'levels from here within 8 months. The teachers are very friendly and humble. Knowledge Quotient is a place where you can actually homeschool from. I have had a recent experience and its a must visit place. I have actually enjoyed studying 🙂" —Arhum Aamir, Google Reviews
FAQs about Math Tutors in Dubai
---
We hope this helped you in picking out a math tutor in Dubai. If you're looking for other educational services, then check out these articles: