The 7 Best Life Coaches in Dubai
It happens to the best of us—life starts to feel like a carousel that's going round and round but with nowhere to go.
Luckily, some of the best life coaches are in Dubai and can give you the push that you need. We searched for them and put our favourites on this list, along with remarks on what we think about their services.
But first, let's talk about life coaching's costs: what is the reasonable price range for this service?
How much does life coaching cost in Dubai?
It's no secret: hiring a life coach, on average, is not for those on a budget.
Now, the amount your life coach may charge you depends on many things, one of which is the length of time they've been working.
A newbie life coach may charge anywhere from $50-$80 per session, which is by the hour, while an experienced life coach can charge $100-$300 per session.
Another factor to consider is whether or not you are hiring this life coach in a one-on-one session or in a group. Coaches typically charge about 30% of their usual monthly rate for one-on-one sessions in a group setup.
For example, if their one-on-one rate is $1000 a month, then you will be charged $300 to be in a group.
The last thing to consider is if you are going for a specific kind of life coaching that is designed more for unlocking your potential and achieving developmental objectives. This is called executive coaching, and it costs more than regular life coaching.
Executive coaches charge anywhere from $200-$500 USD per hour, to be precise. Really in-demand ones will cost even more, but this is the usual range.
The Best Life Coaches in Dubai
Now that you have an idea of what you may have to shell out to get a life coach, let's talk about our top choices. We chose the ones whose services were not only most often recommended to us, but which we found to be structured for best results.
1. Unlocked Potentials Coaching Services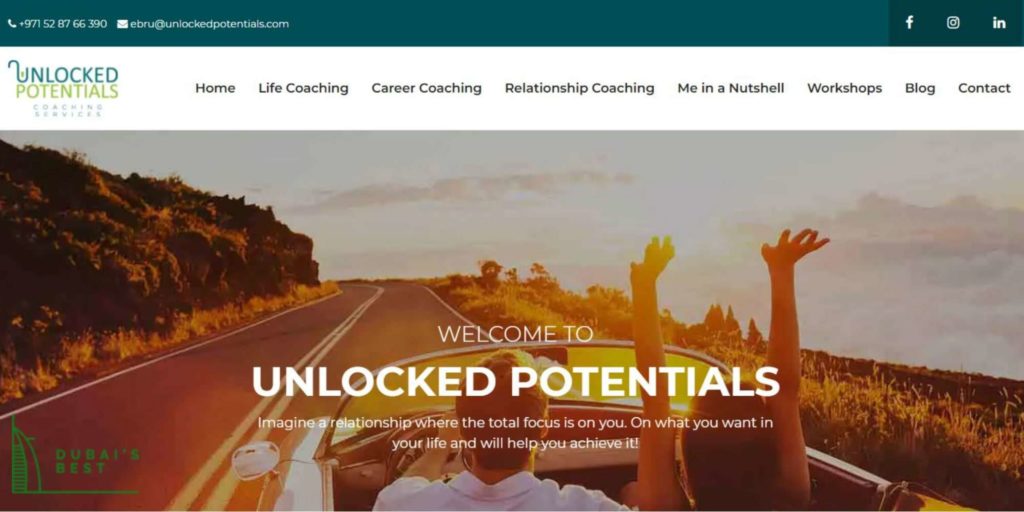 Starting this list is a life coach by the name of Ebru Yildirim who founded Unlocked Potentials Coaching Services. A former marketing expert, she is now a Master Certified Coach specializing in Life, Career, Executive, and Team Coaching.
Her coaching service focuses on positive thinking, finding your purpose, breaking through barriers, and empowerment.
A plan is made by breaking down your goals and objectives into small, manageable steps. This makes it easier to track just how far along you are progressing compared to other types of coaching.
This also makes it easier to see which among the steps pose the greatest challenge, so the life coach can examine the situation and see if an alternative can be found instead.
Apart from having individual clients, Ebru has team workshops that many companies use as a team-building or self-development activity.
The programs or therapy sessions could also be broken down into smaller categories. For instance, her relationship coaching does not appear to be a blanket form of therapy that applies to any romantic relationship struggles.
Instead, she has coaching designed for singles, couples who are in a relationship, pre-wedding coaching, and even for those who are separating.
"Homework" is given after each session. These are tasks designed to keep you committed to your goals.
Each individual who reaches their goal should be able to break away from their limiting beliefs and the damaging cycles that they keep repeating. They should also develop the ability to see when they are self-sabotaging or when they're listening to the voice of self-doubt.
An individual who finishes all of their appointed sessions would learn how to nurture an inner-support system that protects them from habits, ideas, and factors that harm their personal growth.
All in all, Unlocked Potentials seem to be a great place to have coaching from. The only downside to this, as far as we can see, is that Ebru appears to be the only coach it currently has.
This may mean a long wait should you want to book her.
The center offers team workshops
Very detailed in their approach
Ebru Yildirim is the only coach so you may have to prepare for a long wait
Customer Reviews
Today my life is positively changed.
"I have had the pleasure of being coached by Ebru for a short time but I can already tell that this journey will be magnificent. She is a wonderful human being with wisdom that is both ancient and modern. She is compassionate, patient, and tirelessly works to bring out the best parts of you, especially those which are hidden even from you. Her perception is wide but also precise, she can and will look into your soul and give you the strength and guidance when you need it most. I feel grateful that I found her when I did. Today my life is positively changed by her presence in it." –Sharod Dey
Ebru helped me love myself.
"Working with Ebru was the best thing I could do for myself. She helped me love myself and it has helped me make better decisions in my life and handle some very difficult times (professional and personal). She constantly adapts to the need of the day while working on long-term personal development. Thanks for all your help!" –James Erviwes
2. Maria Tansey Master Coach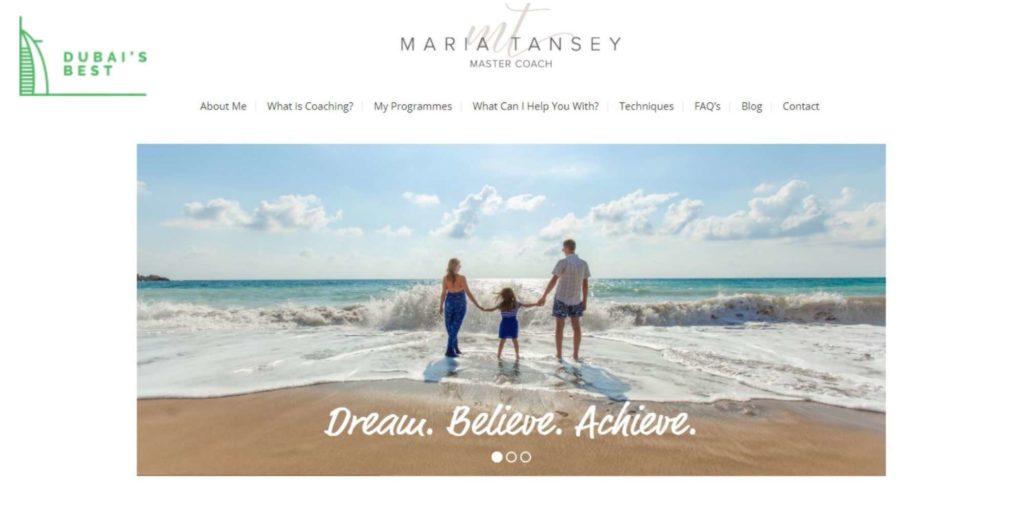 | | |
| --- | --- |
| Address: | The Residences, Marina Gate Jumeirah Living, Dubai |
| Website: | https://mariatansey.com |
| Contacts: | [email protected] |
| Services Offered: | Personal Development Coaching, Business Coaching, Relationship Coaching |
Next on our list is a Master Life Coach and a Clinical Hypnotherapist coming from the UK. Maria Tansey used to be a business consultant in the hospitality industry but is now working as a life coach determined to help her clients gain a better quality of life.
Maria Tansey offers a 12-week Life Changer program designed to change an individual's life in, as the name says, exactly 12 weeks. One can learn how to "set themselves free" and find the passion to chase after the life that they deserve.
The package includes releasing emotional baggage from the past, identifying and then getting rid of fears and limiting beliefs that are holding one back, and then creating new habits that pave the path to a healthy work-life balance, all the while setting goals for the quality of life the individual wants.
Should this not be enough, Maria can always personally tailor a program that suits an individual's needs.
For those who want a more intense approach that promises to deliver results in as fast as 3 days, Maria also has a VIP Platinum 3-Day Program designed for it.
This takes place over 3 consecutive days. The appointments for each day last for about 5 hours which is then divided into 2 to 3 sessions.
We like that Maria offers a unique form of coaching designed only for those who are starting their own business. It helps the business owner overcome their fears about themselves and their business.
Moreover, this coaching program teaches them how to develop marketing strategies and how to take their business to the next level. Maria's previous experience as a business consultant for sixteen years guarantees that she knows what she's doing.
Another thing that sets Maria Tansey apart is that she has just recently incorporated virtual reality into her program. It is especially useful for those who wish to have their phobias controlled by providing a safer alternative than being exposed to the actual source of their fear.
However, like our previous entry, Maria Tansey is the only therapist here. Booking an appointment with her may take a long time.
Offers special coaching for business owners
Has a "virtual clinic" that makes use of virtual reality technology
It appears that Maria Tansey is the only coach. You may have to prepare for a long wait.
Customer Reviews
After working with Maria, I am now sure that my circumstances are for the better.
"An accomplished coach who got me through a significant career change this last year. I was awfully despondent and unsure of myself at the time we met. After working with Maria and re-focussing my confidence I am far more assertive and sure that my circumstances now are for the better. She is highly empathic and genuinely contributed to my current success." –Sandy Gallop
Without Maria, we honestly would not have survived last year.
"How lucky were we to find out about Maria Tansey Coaching. Her talents are endless and as a family, we honestly would not have survived last year without this woman and her support. We live in the UK so consultations are over the phone and when's she's in the UK we always make time to travel and have face-to-face quality time. Sharing and opening up is easy, things are broken down and rebuilt and everything makes sense. ANYTHING is possible!" –Sarah Price
3. Ashmir by Sabahat Ahmed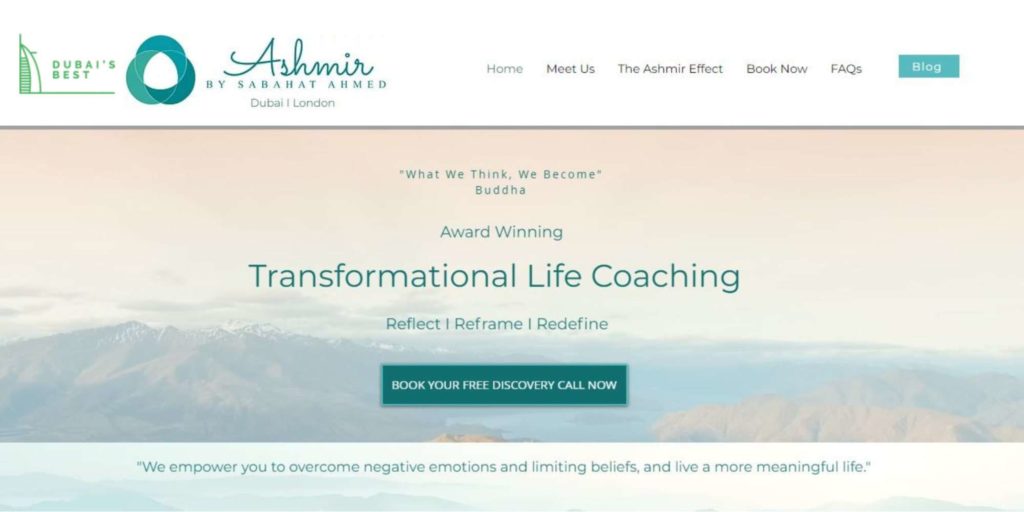 Address:
Villa T28, District 12, JVC, Dubai
Website:
https://www.ashmir.net/
Contacts:
+971-526331973 |

[email protected]

Services Offered:
The Ashmir Method – Life Coaching, Neurolinguistic Programming, Hypnotherapy, NNRT (Negative Neuropathway Reversal Therapy), Reiki Healing, Systemic Constellation
Ashmir, as described on their website, is a collaborative effort by Sabahat Ahmed and Aamir Ali. Together, they created a safe space for people to seek professional support in tackling their setbacks and addressing the state of their emotional and mental health.
Sabahat Ahmed, an award-winning transformation coach and a master practitioner of NLP and hypnotherapy, is also a reiki master and an NNRP specialist. Her wide range of expertise makes her the perfect guide through anybody's journey.
Aamir Ali, on the other hand, is a certified life coach who aims to help clients look at the world as positively as he does.
Ashmir's approach appears to be a combination of psychology, neurology, and spirituality, with the inclusion of Usui Reiki into their program. It is a holistic integrated system that is unique when compared to the other providers.
The Ashmir itself appears to be a combination of 6 individual interventions that, together, form a transformational journey for anyone.
One of the methods they employ is called neurolinguistic programming that helps us shape our realities and perceptions of the world. Through advanced techniques, it creates new neural pathways to remove negative emotions such as anxiety and phobias.
Another method of intervention they employ is Usui Reiki, where the healing is geared towards regaining harmony and wholeness.
Not familiar with it? Reiki is a spiritual practice where an individual's chakra energy systems are manipulated in order to induce healing.
It is an unconventional method with regard to anything that has to do with life coaching… but we think that for spiritual individuals, this may be exactly what they need.
And then, of course, there is the life coaching segment of the Ashmir experience. They offer this to individuals from ages 15 and above.
Incorporates a spiritualistic approach (for those who may prefer this)
Offers coaching specifically for teenagers ages 15 and above
Some could say that their approach is unconventional
Customer Reviews
My experience has been nothing short of revelatory.
"In this day and age in which mental health is becoming an important issue (which has not been addressed for so long), life coaching can play a vital role in setting us on the right track. My experience with Ashmir Life Coaching has been nothing short of revelatory, as I received the professional consultation that I needed to get my life back on track. Highly recommended." –Hatim Salman
I was having trouble sleeping, but with Dr. Sabahat I recovered within a few days.
"Having a conversation with Dr. Sabahat turned out to be a great decision for me. I was having trouble sleeping but with her guidance, I was able to recover within a few days. One thing I loved about her is that even when the sessions are over, she makes sure to keep a check on you and provides additional resources to help you through the process." –Eman Samar
4. Zeta Yarwood Life Coaching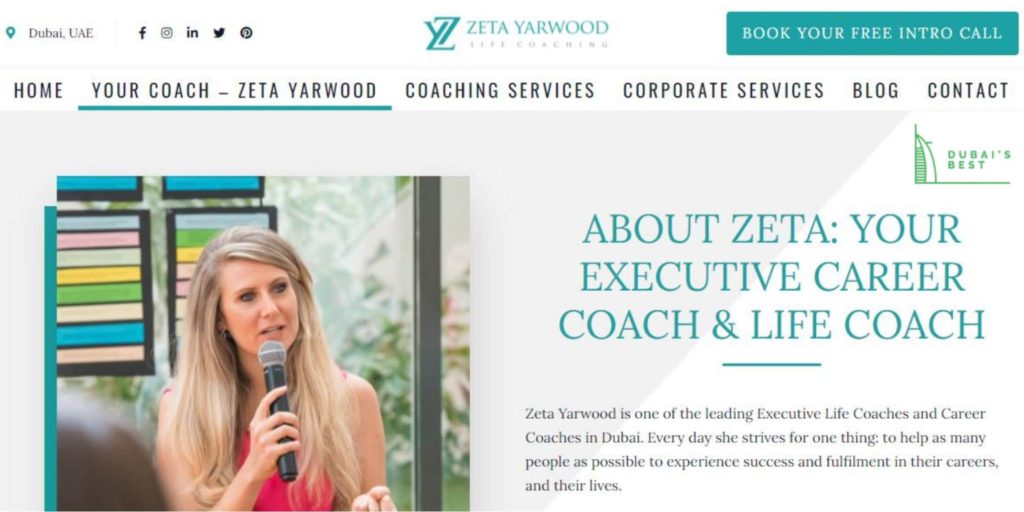 | | |
| --- | --- |
| Address: | Dubai Media City, Plot No. 1, Media 1 Tower 2 الصفوحالصفوح, Dubai |
| Website: | https://zetayarwood.com |
| Contacts: | [email protected] |
| Services Offered: | Executive Coaching, Executive Life Coaching, Career Coaching, Workshops |
A popular life coach with over 270,000 LinkedIn followers and a regular guest in 20 worldwide publications, Zeta Yarwood is an expert in the world of executive life coaching. Her over-15-years of experience means that Zeta knows what it takes to succeed and how to inspire others to take that big step towards making their dreams a reality. She is also a LinkedIn Top Voice.
If you want to begin, all you have to do is take the free consultation they offer.
To start with, one of the most popular programs by Zeta is her corporate coaching workshop, where she delivers sessions that are modified each time to fit the needs of the organization.
Zeta's life coaching process begins by discussing with you—and identifying clearly—the goal that you want to achieve. Only after this is done can you then assess the reality of your situation, and what might be affecting your goals in the long run.
And then, the two of you try to see the resources that are at your disposal. What can you use to propel yourself forward?
Obstacles are identified, solutions are created, and your day-to-day progress will be tracked.
Zeta claims her goal is to equip clients with the confidence that they need and the clarity to know what they really want out of their lives. She seems to be successful at it, given the overwhelmingly positive reviews from her previous clients.
That popularity is a double-edged sword, however. Booking Zeta isn't easy, so you may well have to wait a while just to get a session with this life coach.
Free consultation
Offers corporate workshops
Regularly featured in publications
Customer Reviews
My sessions with Zeta have had a profound and positive impact on my outlook.
"I have been working with Zeta over a period of several weeks with sessions focused on goal-setting, confidence enhancement, and mindset understanding to improve decision making. These sessions have had a profound and hugely positive impact on my professional outlook and have deepened my understanding of how our emotions and mindset are such important triggers for us to make the decisions we do." –Daniel Lee
I found a sense of meaning and purpose in my life.
"I have known Zeta for years now. She is and always will be my life coach. I have had multiple coaching sessions with her and these sessions helped me understand more about myself. Through these sessions, I found my path in life. I found a sense of meaning and purpose in my life. Working with Zeta, I also realized, that we all need some kind of coaching intervention at every important stage in our life. I highly recommend that you work with Zeta if you feel stuck in any aspect of your life. Just within a few months after my coaching sessions with her, I made some big changes in my life. I quit my job, started my own business, made it successful and now I am well on my way to launch my own academy. I could have done all of these years ago, but not until I decided to work with my coach, did I realize that it's time to take the leap. I thank Zeta always and strongly recommend her" –Rohit Musale
5. Self-Driven Life Coaching by Aida Uzunovic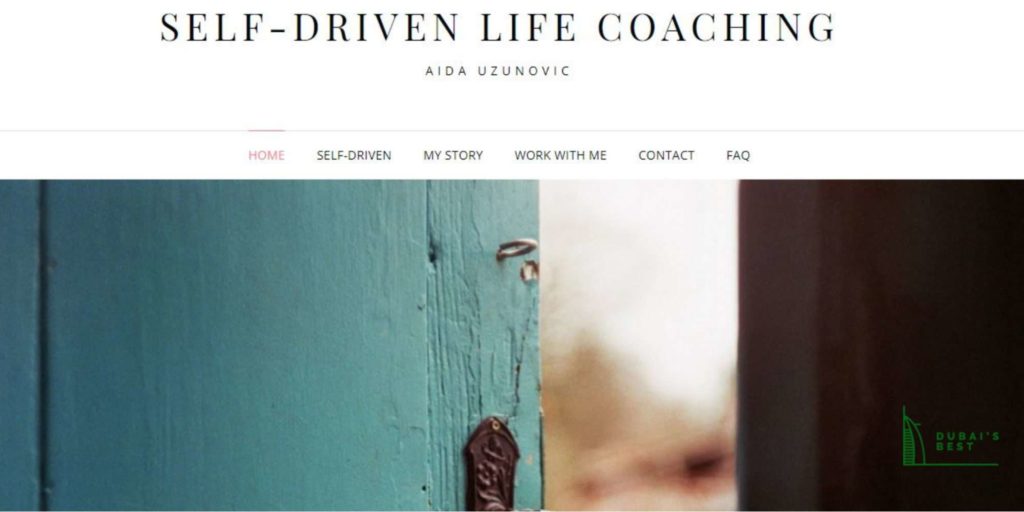 Another entry is a multi-lingual coach from Bosnia whose experience as a social worker and life advisor in charity institutions paved the way for her becoming a personal and business life coach. Aida Uzunovic is driven by a desire to create positive changes in individuals who are struggling.
Employing a number of interventions, Aida can help you remove thoughts that are limiting your potential, or get clarity on your true goals and visions to help motivate you in chasing after them.
Like many life coaches, Aida makes use of neurolinguistic programming in order to help you achieve your goals – along with cognitive behavior therapy, psychodrama, and gestalt therapy, to name a few.
She is also knowledgeable in Hypno-coaching, which is a combination of coaching techniques and hypnotherapy, making both of the methods twice as powerful and effective. With the use of hypnotherapy, regular coaching can reach an individual's subconscious mind and create permanent positive changes.
Her entire program is called "Self-Driven Life Coaching" which, as one could glean from the title, is a program that is centered on the individual. This also means that Aida's programs are one-on-one.
This style of coaching is applied to all three of her coaching types: personal, business, and mentoring. We appreciate it, because it paves the way for more intimate, meaningful interactions and epiphanies, in our experience.
That being said, this also means those who prefer to do their coaching in group sessions won't get what they need here. This is strictly for those who want a personal and individual experience.
Multi-lingual coach: English, German, Bosnian
Focused one-on-one sessions
Aida Uzunovic is the only life coach.
Her method of coaching means that she only entertains private sessions
Customer Reviews
I was always inspired and motivated.
"Aida is a dedicated, attentive, and proactive person. I always enjoyed our time and was afterward left inspired and motivated. Thank you for that and I look forward to more! For sure the right choice for anybody that needs a little support or advice or simply a dialog with somebody who actually listens." –Ena Pasic
Professional. Responsible. Patient.
"I would like to thank you very much for your coaching. Professional. Responsible. Patient. I got to know a really extraordinary person whom I can recommend to others to the best of my knowledge and belief. Thank you, Aida." –Milan Milivojevic
6. Humaira Nasim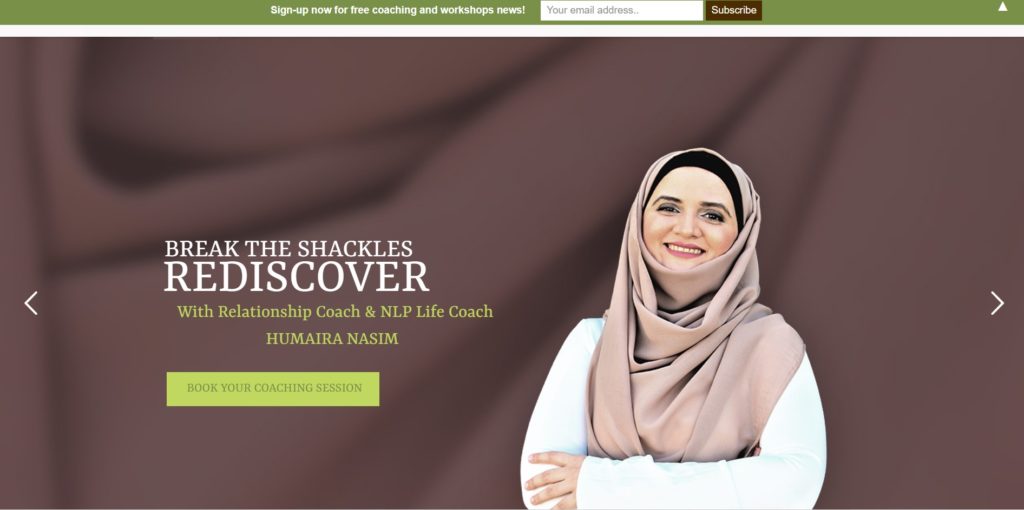 Address:
Uptown Mirdif, Dubai, U.A.E
Website:
http://www.humairanasim.com/
Contacts:
[email protected] | [email protected] | +971 553699857
Services Offered:
Life Coaching Dubai
Neuro-Linguistic Programming Techniques
Cognitive Behavioral Therapy
Inner Child healing
Emotional Mastery
Shadow Work – Self Discovery
Goal Setting
Humaira is a Dubai based certified NLP Professional Coach and Associate Certified Coach (ACC) accredited by ANLP (Association of Neuro Linguistic Programming) and the ICF (International Coaching Federation) and respectively.
She is an international author of two books "Rediscover: The Roadmap to Inner Peace, Balance & Fulfilment in Your Relationship with Life" and "She Dares."
The main objective behind her life coaching is to empower people to reach their highest potential using a hybrid approach with a blend of traditional and contemporary wisdom. She works with a wide range of people from all walks of life, from parents dealing with their children's anxieties to working professionals who are looking for balance in their work-life balance.
Her goal is to empower the people to walk through the journey of their lives with a greater self-awareness and discover the many possibilities that could lead to a more resilient and successful life. She has been an advocate of self-awareness, positive mindset, and healing for the past few years as she is passionate about empowering people to lead better lives.
Her profound knowledge of human psychology along with the gifted talent of sensitivity and empathy has given her an edge to better identify human behaviours and patterns and motivate her clients to bring about the desired outcomes and changes in their lives.
Specializes in one-on-one sessions
Customizes her approach for each patient depending on their current situation
May be hard to book at times
Customer Reviews
Here's what some people have to say about her:
"My session with Humaira was enlightening. The coaching helped me in dealing with my core issues. The exercises I did with her aligned my body and my mind. The feeling was like a lost traveller finally finding its destination. I was at ease after the session and totally in control of my core issues. She re-introduced my body and mind to each other."
"Humaira is a coach who is down to earth and always there to help you. She will always motivate you with love and objective. My coaching with her was outstanding. After your session she will not leave you alone. She will be following you and push you so nicely that you will achieve your goal for sure. Humaira knows where exactly to hit you. Her good listening skills makes her exceptional, she listens and rather pointing out the root cause of any issue herself (that we usually ignore) instead she asks questions which make you realize where the actual problem lies."
7. Transformists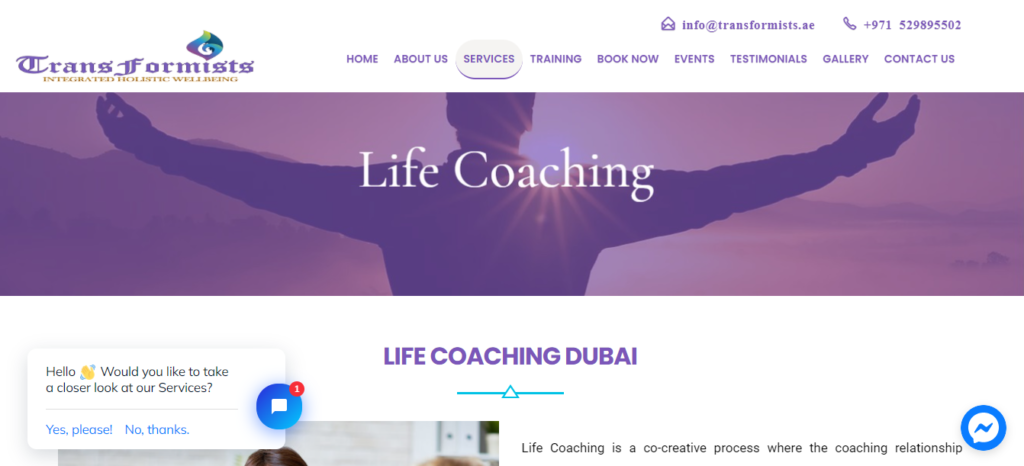 Address:
Murjan 6 Tower, JBR, Dubai, U.A.E
Website:
https://transformists.ae/life-coaching/
Contacts:

[email protected]

|

[email protected]

| +971 529895502
Services Offered:
Hypnotherapy
Life Coaching Dubai
Neuro-Linguistic Reiki Healing Dubai
Theta Healing
Family Constellations
Cognitive Behavioral Therapy
Inner child Integration Therapy
Emotional Freedom Technique
Transpersonal Regression Therapy
The expert behindTransformists is no other than Namraata Gulrajani. She is a hypnotherapist Transformational Coach, and a Mind Sciences Specialist that conducts various services in Mind Therapies and Energy Healing. She graduated in Psychology and second graduated in Law from Bombay University.
On their website is a list of all her certifications and qualifications. Some of these are Associate Certified Coach (ACC), Executive Coach & Life Coach certified from International Coach Federation, Neuro-Linguistic Programming & Hypnosis Master Practitioner certified by The American Board of Neuro-Linguistic Programming, International Advanced Diploma In Clinical Hypnotherapy, Psychotherapy & Counselling Accredited by Association for Professional Hypnosis and Psychotherapy (APHP) and the General Hypnotherapy Standards Council (GHSC), UK, and so much more.
If these are not enough for you to trust them, do not fret because we will give you more reasons why you should consider them as your go-to life coach.
In life coaching, the coach is not an authority over the client, rather they work with the person. With Transformations, they will help you see the resources in you which you may have not identified, overlooked, or disregarded to achieve all that you desire.
With their precise approaches and assistance, they will help you describe yourself and form the life that you have always desired.
Coaches help you focus, find direction, challenge you, support you, motivate you, and celebrate with you
Will help you to understand where you are and where you would like to be
Rates are unavailable on their website
Customer Reviews
Here are some of the testimonials of their previous clients:

"Namrata is by far one of the best therapist and life coach I consulted in Dubai. She is a very compassionate soul and thoroughly understands the needs of her clients. Having a few sessions with Namrata was one of the best decisions I ever made. She is incredibly supportive and has extensive knowledge of various holistic modalities. And she uses these different modalities as per the need of the hour. Namrata is the best!! – highly recommend her!" – Ms S.T.
"I was suffering from constant anxiety and extreme anger issues in my 20's relating from trauma of childhood abuse from a parent that I never healed from. Namraata has helped me go back to my childhood in order to confront them and to finally fight them. She has helped me find the calmness in my heart and life that I couldn't for years. A huge weight of terrible memories and hurt has been lifted from my soul that I have been suffering from years. I feel like I am finally able to live life positively and happily all because of Namraata help." – Miss F.N.
FAQs about the Best Life Coaches in Dubai
---
And that's about it! This is our list of the best life coaches in Dubai. Always remember that challenges are a part of life and that no one needs to go through them alone. We do hope you find the best life coach for you!
Now that you have your future under control, how about working on your physical strength? Check out the best personal trainers in Dubai to help you get back in shape too!