The 5 Best Lebanese Restaurants in Dubai
From the flavorful and filling rice pilaf to the classic favorite hummus, and many more, Lebanese cuisine is a whole orchestra of spices, grains, and vegetables.
And it's especially popular in Dubai where there is an ever-growing Levantine community that has made its mark on the city by sharing its food through restaurants.
We've tried many of these establishments throughout the city and compiled a list of our favorites.
We also answered frequently asked questions about Lebanese restaurants in Dubai.
How We Picked the Best Lebanese Restaurants in Dubai
Before we get right into our top Lebanese restaurants in Dubai, here are the factors we considered for our entries on this list:
1. Cafe Beirut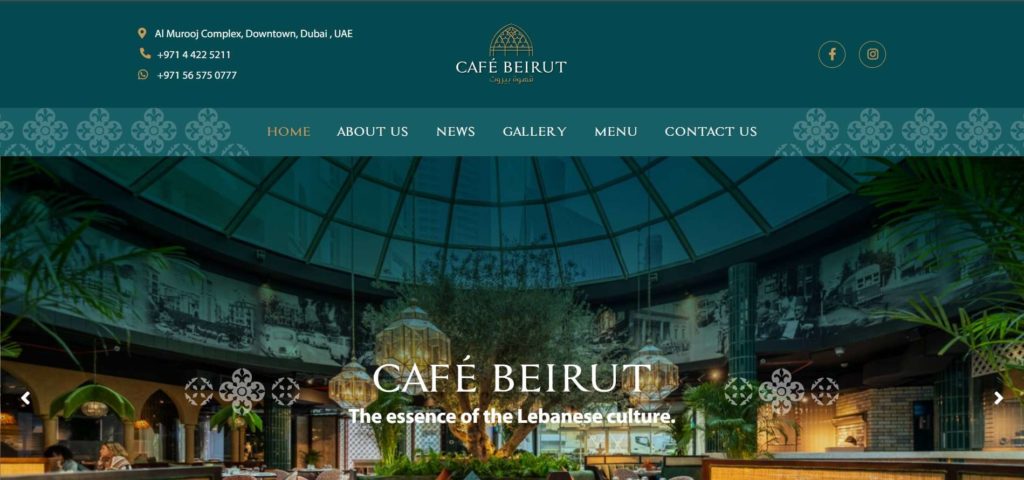 WEBSITE
https://cafebeirutdubai.com/
ADDRESS
Al Murooj Complex, Downtown, Dubai, UAE
CONTACT DETAILS

PHONE: +971 4 422 5211, +971 56 575 0777

OPERATING HOURS

Sunday to Wednesday: 10 AM - 2 AM

Thursday to Saturday: 10 AM - 5 AM
| | |
| --- | --- |
| Criteria | Rating |
| Authenticity | ★★★★★ (5/5) |
| Menu | ★★★★☆ (4/5) |
| Service | ★★★★★ (5/5) |
| Ambiance | ★★★★★ (5/5) |
Calling back to the beauty of 1950s Beirut, Cafe Beirut proudly shows its roots as it brings its food and cultural flair to Dubai.
With the intent of honoring Lebanon's glorious days, this restaurant has evolved into a one-stop destination of the capital's trademarks in its space and food.
And speaking of its food, the menu consists of all-day breakfast items, for sharing lunch dishes, and delectable grilled offerings. From morning to night, we would never run out of something to order from Cafe Beirut.
However, the expansive menu is also its weakness as it has struck choice paralysis. Not a fun experience when many people are eating at a table.
This is made up by the fact that it has employed such a great staff who did not hesitate to offer us suggestions for the table, showing us their deep and enthusiastic understanding of the menu.
And when it comes to its ambiance, we can't say anything else other than it transported us right back to 50s Beirut with its old black and white portraits, traditional ceramic water fountain, and central huge olive tree.
In fact, it is only the view of the looming Burj Khalifa that remains a reminder that we are still in present-day Dubai.
Authentic Lebanese food
Knowledgable staff
Excellent immersive ambiance
Customer Reviews
Will definitely come back
"Another first! This place is highly recommended to me so we decided to give it a try for Christmas dinner 🎄😍 All orders were delectable to our palates. All staff was nice and attentive and the ambiance outdoors at night was amazing! Will definitely come back! 🎉" —Jennifer Ann, Google Reviews
A beautiful restaurant
"A new beautiful restaurant. As soon as you enter you feel comfortable as if you are in the heart of Beirut. A very energetic staff and friendly nice atmosphere and music
Yummy food" —Mouna "Moejana" Ouni, Google Reviews
2. Al Beiruti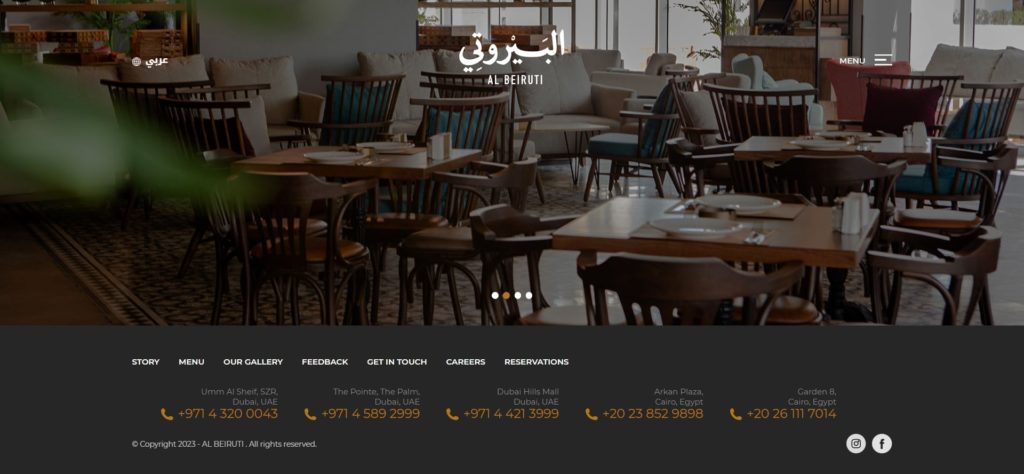 | | |
| --- | --- |
| WEBSITE | https://www.albeiruti.com/ |
| ADDRESS | Umm Al Sheif, SZR, Dubai, UAE Has 2 more branches in the city |
| CONTACT DETAILS | PHONE: +971 4 320 0043 |
| OPERATING HOURS | Every day: 8 am - 3 am |
| | |
| --- | --- |
| Criteria | Rating |
| Authenticity | ★★★★☆ (4/5) |
| Menu | ★★★★☆ (4/5) |
| Service | ★★★★★ (5/5) |
| Ambiance | ★★★★★ (5/5) |
Redefining Lebanese resto-cafes through its cultural and gastronomical flair, Al Beiruti offers an all-day dining spot with a perfectly-crafted shisha menu.
We love Al Beiruti because it manages to capture the soulfulness of its home city and bring it into Dubai while also being a warm and homey cafe.
That being said, Al Beiruti's menu sees Lebanese classics share space with international dishes, which we think is unnecessary — to add dishes that do not coincide with the restaurant's intent and theme.
However, we do appreciate its complete menu with Lebanese breakfast dishes and coffee, for-sharing dishes, and loungey dinners with dishes that complement the Shisha experience.
The staff is very warm and added to the friendly energy the restaurant gives off. On top of that, they were quite knowledgeable about its menu, suggesting dishes that turned out to be our ultimate favorites of the night
On top of that, the ambiance was very welcoming. The chatter of the crowd gives off a familiar buzz when you come in, and the show kitchen adds to the overall flair of the space.
All in all, Al Beirut's charm comes from its earnest and successful attempt to capture the meticulous and warm Lebanese hospitality that shows up in its food.
All-day dining menu options
Friendly and knowledgable staff
Earnest and welcoming ambiance
Menu weirdly has international dishes
Menu tarnishes the restaurant's authenticity
Customer Reviews
Highly recommend for everyone!
"While we visited Dubai we tried this restaurant and were extremely impressed with the food quality and the staff's helpfulness. From the moment we walked in, we were greeted with warm smiles and made to feel welcome. Our server was knowledgeable about the menu and made great recommendations that ended up being some of the best dishes we tried.
The food itself was top-notch. Everything we ordered tasted amazing. The presentation of the dishes was also impressive, with each plate looking like a work of art.
Overall, my experience was fantastic. The combination of delicious food and friendly service made for a memorable meal. I would highly recommend this restaurant to anyone looking for a great dining experience." —Andrei Vidican, Google Reviews
We can never go wrong with Al Beiruti
"One of our favorite restaurants to dine in, host parties, or even takeaways. You can never go wrong with the food at Al Beiruti. Taste, quantity, quality, and presentation are always at par. The staff is amazing. Very professional and client experience is very good." —Shweta Pandey, Google Reviews
3. Karam Beirut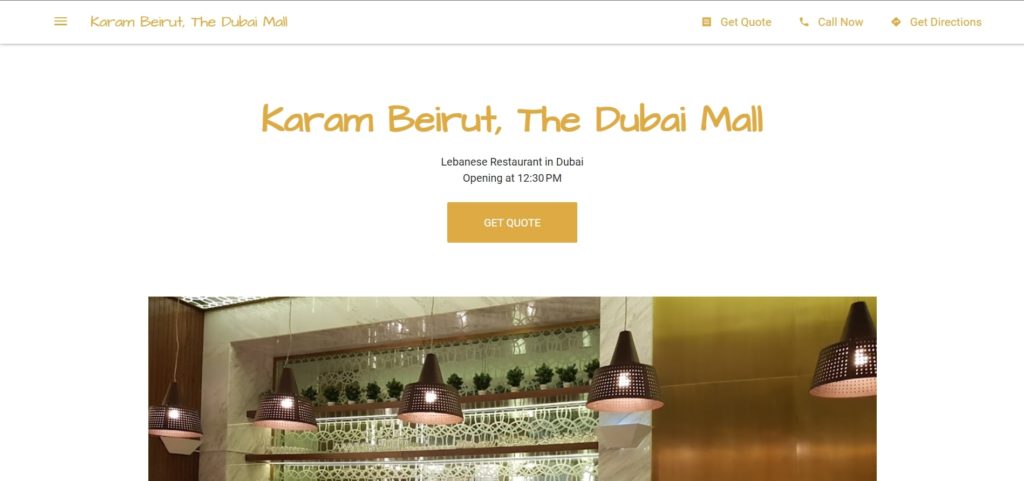 WEBSITE
https://lebanese-restaurant-49.business.site/
ADDRESS
Financial Center Street, Along Sheikh Zayed Road, Next to Burj Khalifa - Dubai The Dubai Mall
CONTACT DETAILS

PHONE: 04 339 9789

OPERATING HOURS

Monday to Thursday: 12:30 PM - 12 AM

Friday to Sunday: 12:30 PM - 1 AM
| | |
| --- | --- |
| Criteria | Rating |
| Authenticity | ★★★★★ (5/5) |
| Menu | ★★★★☆ (4/5) |
| Service | ★★★☆☆ (3/5) |
| Ambiance | ★★☆☆☆ (2/5) |
Lebanese food is not always a high-end dining experience in Dubai. Sometimes, it's a post-shopping casual dining joint that goes by the name of Karam Beirut.
Located inside the Dubai Mall, this Lebanese restaurant is the standard go-to for the Levantine community in Dubai, and we know why.
This no-frills, budget-friendly restaurant has the kind of menu that one would see in many restaurants back in Lebanon, and we are grateful for it.
Its juicy meat skewers fresh from the grill, hearty half chickens, and moreish lamb kebabs offer a meaty menu that is authentic and sure to fill you up.
However, we do wish some of that focus was also put into expanding and improving its vegetable offerings because that would offer the perfect balance that could cut through the richness of the fat and the protein.
When it comes to its service, there is nothing notable about it. It is a casual dining spot, after all, so the service really is not one of its main focuses.
And since it caters mostly to the Lebanese community, the service here mostly relies on familiarity with each other, like a long-time close friend walking into your house.
Its ambiance is probably one of the weakest points, and this is mostly linked to the fact that it is located in one of the busiest malls in Dubai.
The noise leaks into the restaurant, clashing with the music, and the decor is sadly bleak and generic.
Authentic Lebanese casual food
Menu encapsulates the flavors of Lebanese street kitchens
A favorite amongst the Lebanese community in Dubai
Nothing notable about it service quality
Bleak and generic decor
Noisy space
Customer Reviews
Great food and awesome location
"Great food and awesome location if you want to watch the water fountain shows and the lighting show of the Burj Khalifa at the Dubai Mall" – Barcelona Enterprises, Google Reviews
Definitely worth a visit
"Karam was a nice surprise. I had read the reviews on Google maps and decided it might be worth a visit. I have to say that the outside seating is worth the price and the view of the Burj Khalifa and Fountain is the cherry on the cake.
The food was very well made and no complaints about the taste.
The staff was extremely polite and courteous.
Have a go there, to experience a beautiful date with your loved one." – Murtuza Hashmi, Google Reviews
4. Al Hallab Bab El Bahr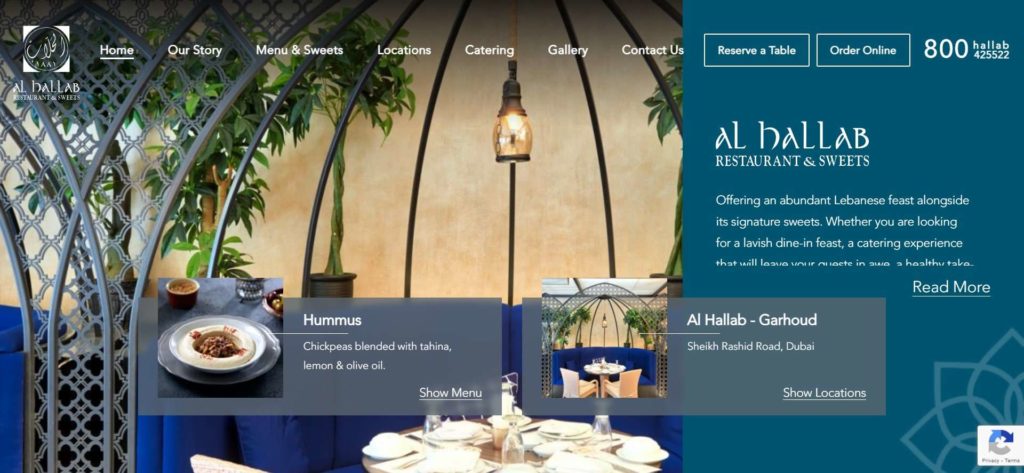 WEBSITE
https://alhallabrestaurant.com/
ADDRESS
29 Burj Dubai Boulevard - Moh'd Bin Rashed Blvd - Downtown Dubai - Dubai - United Arab Emirates

Has 3 more branches in the city

CONTACT DETAILS

PHONE: 04 456 288

OPERATING HOURS

Every day: 12 pm - 1 am
| | |
| --- | --- |
| Criteria | Rating |
| Authenticity | ★★★★☆ (4/5) |
| Menu | ★★★★☆ (4/5) |
| Service | ★★★★★ (5/5) |
| Ambiance | ★★★★★ (5/5) |
Starting as a little bakeshop that welcomed aristocrats, artists, and cultured individuals in a historic town in Lebanon, Al Hallab Bab El Bahr has evolved into a prominent full-service Lebanese restaurant in Dubai.
Its focus on Lebanese coastal dishes, which are often overlooked in Lebanese cuisine, has all the classic comfort food that every homesick Lebanese looks for.
From the carby and cheesy manakish, traditional Kunafa, and grilled fish to seafood pie, and, weirdly, sushi, Al Hallabab El Bahr has a range of fishy and briny delectable dishes on its menu.
And honoring its bakeshop roots, it is also one of the best destinations in Dubai if you're craving or exploring Lebanese sweets.
When it comes to its service, we love how attentive the staff is, always making sure that everything was up to our liking. They were also quite friendly and did not hesitate to give their recommendations when we asked.
Its overall ambiance is also one of our favorite things about this place. Its outdoor terrace is perfect for afternoon coffee and snacking during winter.
This usually ends up with us sitting around longer than we have to as we watched the world pass by us below.
Serves authentic coastal Lebanese food
Has a great range of Lebanese pastries and sweets
Attentive staff
Excellent ambiance
Some menu items do not make sense
Customer Reviews
The vibe and the food were good
"We visited various good restaurants in Dubai as tourists, and we found this our favorite one, we have been here multiple times and we will get back again for sure.
The food is definitely very very good and the price is not as expensive as the location might suggest.
Desserts are amazing, ice cream in the first place: I'm Italian and trust me, an ice cream lover (try the chocolate or strawberry ones).
Fish is fresh and you can get the ones that you prefer.
I could have shot more photos about the dishes, but..my stomach was more impatient… 😅
Waiters are good to check your needs and suggest appropriately, and they were nice with my 6y daughter.
The location is very nice and not noisy as you might expect seeing the street in front of them.
Compared to other "Al Hallab" in the city, this is the best one for service and ambiance.
The only small defect that taller people might find problematic is the table, not allowing you to stretch your legs due to its shape." – Michele, Google Reviews
This is the place to go for cravings
"If you're craving Lebanese and seafood this is the place to go. Unique and delicious seafood dishes with a Lebanese twist. The shrimp Provençal, fish shawarma, and batata harra are my favorites. A spot for a weekend family lunch. Large restaurant with spacious tables and the cleanest bathrooms." – Reem Mouazzen, Google Reviews
5. Al Safadi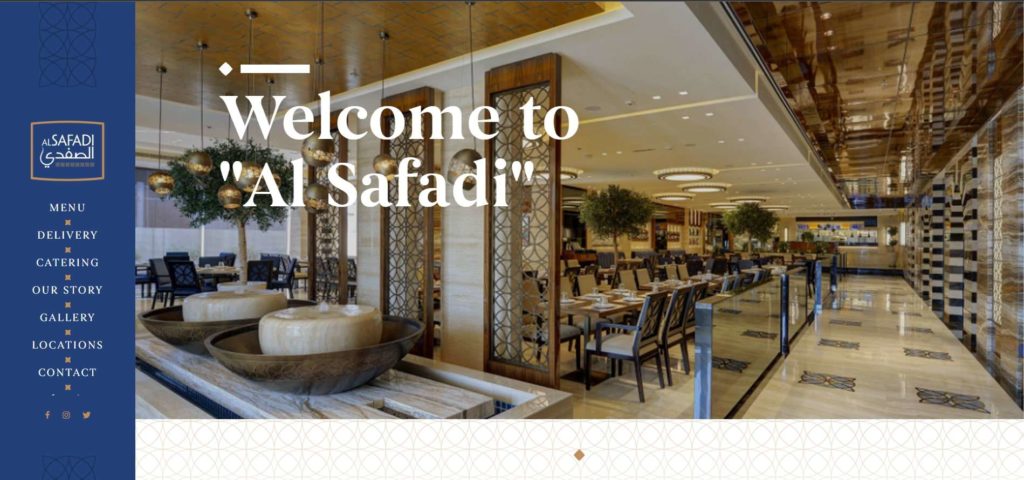 WEBSITE
https://alsafadi.ae/
ADDRESS
The Pointe - The Palm Jumeirah - Dubai - United Arab Emirates

Has 4 more branches in the city

CONTACT DETAILS

PHONE: +971 600 500601

OPERATING HOURS

Every day: 9 am - 1 am
| | |
| --- | --- |
| Criteria | Rating |
| Authenticity | ★★★★★ (5/5) |
| Menu | ★★★★☆ (4/5) |
| Service | ★★★★★ (5/5) |
| Ambiance | ★★★☆☆ (3/5) |
Loyalists of actual authentic Lebanese cooking usually find themselves, along with their friends and family, dining at Al Safadi.
Honoring not just the food of the Levantine region, but also highlighting the influence of Mediterranian cuisine, always makes for a colorful and relaxing dining experience in this restaurant.
And along its breakfast offerings, Al Safadi serves up the best that Lebanese cooking has to offer, from hot and cold mezze and biriyani to grilled meats and classic shawarma.
We love that this restaurant has curated the dishes to hone in on the classics of the cuisine so that it appeals to everyone.
However, we do wish that Al Safadi would venture out of the conventions and offer us something that people would not expect from Lebanese cooking.
When it comes to service, we love that despite the huge size of the space and how busy it can get during meal times, the quality never goes down.
The staff is always quick and friendly, never letting the busyness get in the way of giving a great experience for the customers.
However, when it comes to the ambiance of the restaurant, the decor, and the space feels a bit luxurious but generic and bland.
The tiled floors and walls make the seem place cold for a family restaurant, and the white lighting is not helping.
Serves authentic family-style Lebanese food
Menu has all the classic Lebanese dishes
Excellent service
Nothing special about the menu
Bland and generic ambiance
Customer Reviews
Great authentic Lebanese food
"The best restaurant in Dubai! Though make sure to go earlier because their waiting list took around 40 minutes! The atmosphere and staff were nice! The food was perfection at its best!! The lobster with cheese is a must-try! And the view is breathtaking" —Raya Ghaith, Google Reviews
Great restaurant!
"Al Safadi is a great restaurant to enjoy quality Levantine mezze and grill.
The staff serves warm fresh bread to go with your meal. We visited during Ramadan and were welcomed with complimentary dates and nuts as well as lentil soup.
I warmly recommend trying the chicken liver, hendbeh and falafel plate.
The Shisha service is also top-notch. 🌟" —Getter Moor, Google Reviews
FAQs about Lebanese Restaurants in Dubai
---
We hope this helped you in finding your next favorite Lebanese restaurant in Dubai. Also, if you're looking for other restaurants, then check out these articles: