The 5 Best Beach Clubs in Dubai
A day at the beach is made even better when it is combined with comfort, luxury, and excellent service.
And with Dubai being a coastal city with the perfect hot weather for spending time at the beach, amazing beach clubs are always a stone's throw away.
So we scoured the city for the best beach clubs in Dubai, and share what we think of them in this article.
How much does going to a beach club in Dubai cost?
The cost of getting into a beach club heavily depends on the club's pricing structure. Some of them use a day-to-day pass, others use a membership subscription, and others use a combination of both.
To help you get started, we have made a table of the beach clubs we have included in this article, along with their entry rates.
BEACH CLUBS
RATES
Twiggy By La Cantine
Starts at AED1300 per cabana for 8 people
DRIFT Beach
AED200 per person (on weekdays)

AED250 per person (on weekends)

Nikki Beach Dubai
AED150 per person (on weekdays)

AED250 per person (on weekends)

Summersalt Beach Club
AED390 per person (on weekdays)

AED490 per person (on weekends)

SĀN Beach
AED3000 for 6 people (on weekdays)

AED3500 for 6 people (on weekends)
How We Picked the Best Beach Clubs in Dubai
Before we get right into our top beach clubs in Dubai, here are the factors we considered for our entries on this list:
Amenities – First, it was important for us to look into the facilities and services that are available in these beach clubs as it gives us a sense of what to expect and what we can do during our time here.
Food & Drinks – It was also important for us to factor in their in-house restaurant and bar menus as these are important to have a better time at the beach.
Service- A beach is also only just as good as the service that comes along with it. To feel like an important guest is what the beach club vibe is all about.
Ambiance – Beach clubs can also differ from each other based on the overall atmosphere of their space. Some are meant for relaxing while others are more social and energetic.
1. Twiggy by La Cantine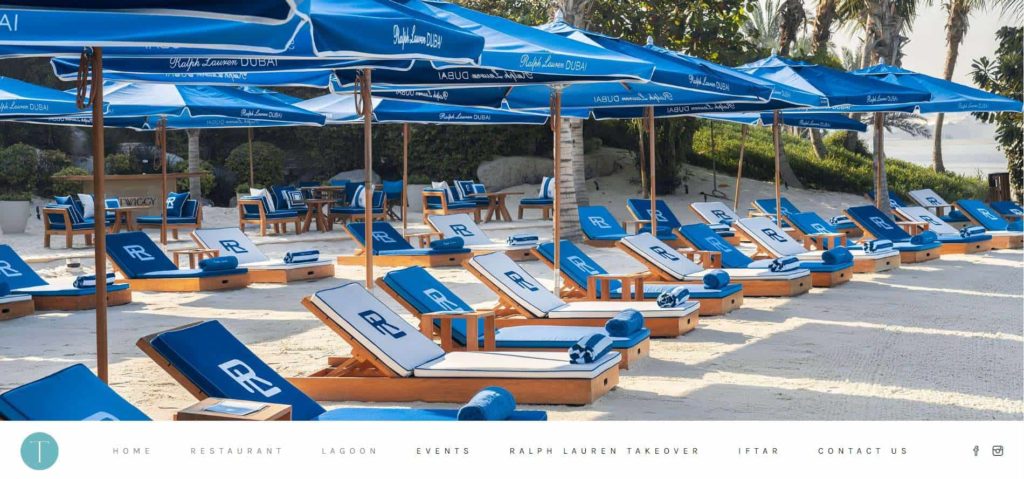 | | |
| --- | --- |
| WEBSITE | https://twiggy.ae/ |
| ADDRESS | PARK HYATT, DUBAI CREEK CLUB ST., PORT SAEED, DUBAI U.A.E |
| CONTACT DETAILS | PHONE: +971 04 602 1105 |
| OPERATING HOURS | Every day: 9 AM - 2 AM |
| | |
| --- | --- |
| Criteria | Rating |
| Amenities | ★★★★★ (5/5) |
| Food & Drinks | ★★★★☆ (4/5) |
| Service | ★★★★☆ (4/5) |
| Ambiance | ★★★★★ (5/5) |
Trailblazing its own path in the beach club scene, Twiggy by La Cantine does things differently with its Riviera vibes perfectly redefining the beauty of Dubai Creek.
It went against the trend of beach clubs populating Dubai Marina and Palm Jumeirah, and now every Dubai beach club list is not complete without Twiggy by La Cantine.
Bringing in the chic style and understated luxurious energy of Southern France, this beach club features one of the best fine dining restaurants in the entire city.
And besides the beautiful beach, it also has a 100-meter infinity pool that is truly what our dreams are made of. Sunbathing here felt like a cinematic experience.
When the time and mood are right, we also love its club events where a DJ is usually present along with some regulars dancing and enjoying drinks.
And speaking of drinks, the food is not the only thing that's gourmet about them. Mediterranean food alongside a well-curated wine and spirit collection, highly recommended by its in-house sommelier, rounds off a perfect beach day.
We only wish it had some cocktail selections.
Another problem with Twiggy La Cantine is that its exclusivity and popularity often contradict each other.
Its Dubai Creek location means that its space is not as big compared to the other beach clubs in Dubai Marina and Palm Jumeirah. Its popularity also means that it is really difficult to get reservations here.
Because of this, the service, spread too thin on weekends, suffers and has trouble keeping up with demanding patrons.
Located in Dubai Creek
Luxurious amenities
Serves gourmet food
Lacks cocktails
Service often spread thin
Customer Reviews
Very unique and great views over here
"Had a lovely day at Twiggy (although hard to get a weekend reservation). The staff are super lovely and accommodating. The sun beds are very comfortable. Their infinity pool has real sand which makes it very unique and great views over Dubai creek. The food and service were excellent and the tunes created a nice atmosphere. Would definitely visit again!" —Sarah Nossy, Google Reviews
This beach club is for people who enjoy the sun and have fun
"Beach Club and Restaurant on another level. This beach club is for people who enjoy the sun and have fun but no party. The music is easygoing and not too loud. The staff is extraordinary, friendly, and competent. Please make sure to book in advance because space is limited. Good food and a great choice of drinks don't leave any wishes open." —Mouna "Moejana" Ouni, Google Reviews
2. DRIFT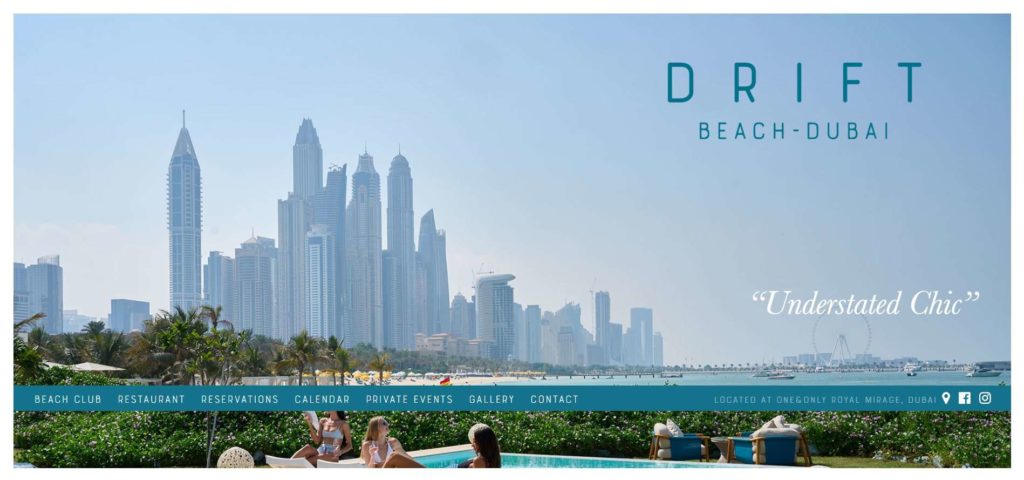 WEBSITE
https://driftbeachdubai.com/
ADDRESS
One&Only Royal Mirage - Dubai - United Arab Emirates
CONTACT DETAILS

PHONE: +971 4 320 0043

OPERATING HOURS

Monday to Thursday: 9 am - 8 pm

Friday to Sunday: 9 am - 9 pm
| | |
| --- | --- |
| Criteria | Rating |
| Amenities | ★★★★★ (5/5) |
| Food & Drinks | ★★★★☆ (4/5) |
| Service | ★★★★★ (5/5) |
| Ambiance | ★★★★★ (5/5) |
With a panoramic infinity pool and a kilometer stretch of private beach, DRIFT caters to a select few. But what it offers is nothing less than luxury rolled into one beach club.
Located at the One & Only Royal Mirage, DRIFT combines effortless luxury with the chic urban vibe of Dubai and has become an award-winning beachfront destination in the city.
We love the understated elegance of the place, from its seemingly minimalistic infinity pool to the exquisite dishes served at its Mediterranean restaurant and bar.
The menu offers up the best of the freshest and finest organic ingredients the restaurant can get its hands on.
The choice to serve up Mediterranean food is smart as dishes from this cuisine are healthy and delicious without feeling heavy.
Although, the high price point left us feeling a bit faint. It would have been fine if the dishes were serving 5-start gourmet, but some menu items were relatively bland and dry.
However, DRIFT's service quality is where we saw why it's an award-winning beach club.
The staff who waited on us were very attentive and had amazing attention to detail. They took great initiative in checking up on us and changing our towels without us even having to ask.
And when it comes it the ambiance of the beach club, we love how relaxing the place is. With views of the city skyline and manicured landscaping, DRIFT beach club has perfectly captured luxury and relaxation.
Luxurious amenities
Award-winning beach club
Attentive service
Relaxing ambiance
Prices for food and drinks are steep
Customer Reviews
Service is excellent!
"Spent the whole afternoon on the sun lounge with great facilities, service is excellent especially shout to the lady called Diamond. She's very attentive, with eyes for details. Thank you for the chat we had and wish you all the best in the future. Live performance in the restaurant. The bar menu had a limited selection of snacks compared to other beach clubs I've been to in Dubai.
A photo identification is required to rent out the sun bed. Reservation is taken for anytime prior to 11:45 am and they will hold the beds till mid-day." —Carol, Google Reviews
This place took my heart
"This place took my heart, I wish I can stay here forever 🙂 The pool view is the best ever, the service is much more than a 5-star and the food is extremely delicious! I like Wednesday's promotion, having breakfast, and getting access to the pool. They provide towels, shampoo, and hair dryer which makes it so convenient and the showers are so clean" —Manal Akl, Google Reviews
3. Nikki Beach Dubai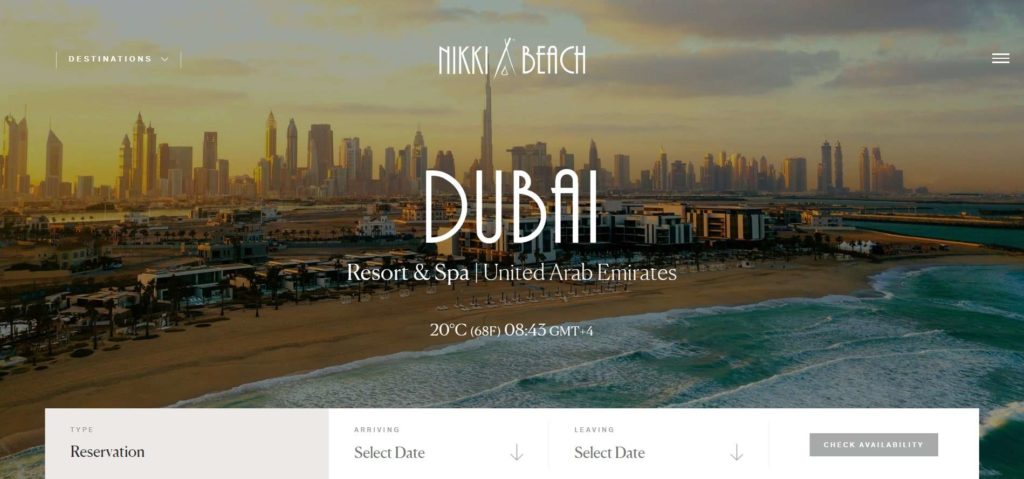 | | |
| --- | --- |
| WEBSITE | https://dubai.nikkibeach.com/ |
| ADDRESS | Pearl Jumeira, Dubai, United Arab Emirates, PO Box 8286 |
| CONTACT DETAILS | PHONE: +971 4 376 6000 |
| OPERATING HOURS | Tuesday to Sunday: 11 AM - 8 PM |
| | |
| --- | --- |
| Criteria | Rating |
| Amenities | ★★★★☆ (4/5) |
| Food & Drinks | ★★★★★ (5/5) |
| Service | ★★★★★ (5/5) |
| Ambiance | ★★★★☆ (4/5) |
Overlooking Pearl Jumeira's gorgeous and iconic coastline, Nikki Beach Club harnesses the energy of the beach and injects it into every party and live entertainment.
Known as the OG beach club in Dubai, it is also known for its super-sized pool and a bar surrounding a raised DJ booth, making it the perfect Instagram spot.
It also has a swim-up bar, enclosed and open cabanas, ultimate VIP cabanas, and a 4-tier shisha terrace.
However, we did notice that its amenities, while undeniably luxurious and beautiful, are not really meant for relaxing. Whether in its design or in how it is placed, we found ourselves restless throughout the day.
Its restaurant has an international menu that gives space for tastes and flavors from many countries around the world.
From healthy salads and creative sushi plates to freshly caught seafood, the restaurant has an amazing selection for beachside dining.
Of course, a beach club this old does not stay in business this long without excellent service.
We enjoyed the staff's presence so much because they were very accommodating, even offering us a discount price for the pass since they ran out of day beds.
And when it comes to the ambiance of the place, we love the energy. Energetic music fills up the space, and the place is bustling with people.
However, if you're looking for a place to lie down and read a book by the beachside, then this place isn't for you.
One of the oldest and most popular beach clubs in Dubai
Great restaurant and bar
Excellent service
Known for its parties and live entertainment
The ambiance is not relaxing
Amenities are not designed for relaxing
Customer Reviews
The best beach club in Dubai
"I think this is the best beach club I've ever been to in Dubai. it is Very very pretty. I wish I had taken more pictures. I love the ambiance, it's quite easy to just relax. Plenty of greenery right from the entrance and wooden statures. It's got a really large pool area and relaxation area. It's really cute and has such a cool ambiance. Different sun beds to suit your budget. it is great to go with friends. The beach is extremely clean. That's because they don't allow you to bring food/snacks in. Everything you eat should be bought there. The only downside is you need to be here by 11 am in order to get a sunbed. I mean who wants to come to the beach that early?" –
Modupe Ol, Google Reviews
A cool secluded place
"Cool secluded place. 150 AED entry fee for nonreserved areas. But nice that it can be converted into food and beverage. Great private beach and welcoming servers. Good food and drink. The crowd is mostly male, but it's still welcoming. The pool is ICE cold." – Josh Shanks, Google Reviews
4. Summersalt Beach Club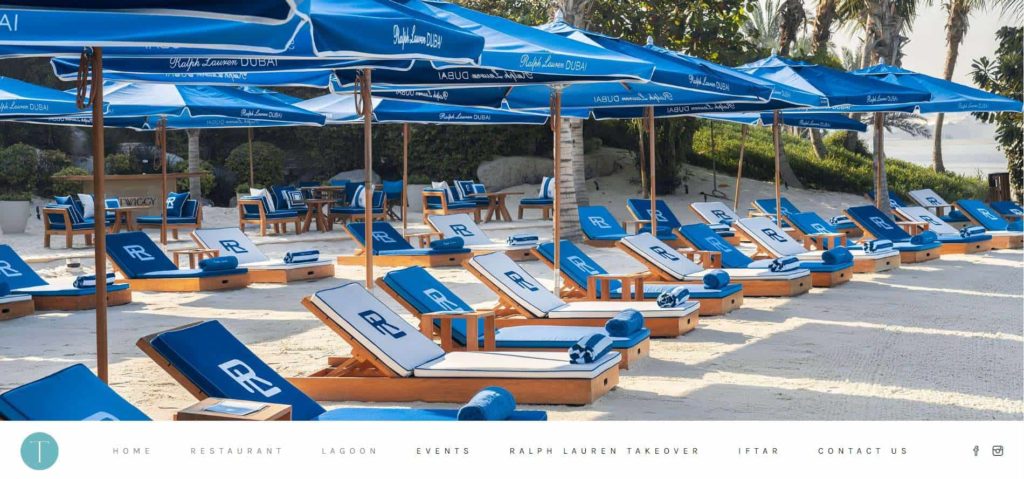 | | |
| --- | --- |
| Criteria | Rating |
| Amenities | ★★★☆☆ (3/5) |
| Food & Drinks | ★★★★★ (5/5) |
| Service | ★★★★★ (5/5) |
| Ambiance | ★★★★☆ (4/5) |
If looking for a relaxing and calming day at the beach is the name of the game, then the exclusive Summersalt Beach Club is the place to go.
Perhaps one of its best selling points is the fact it not only has one but two restaurants on the premises, so make sure to come hungry and ready to eat.
One Peruvian, one Asian, the two restaurants were made to fill you up and activate a food coma, so that everyone can deeply enjoy their afternoon snooze at the cabanas.
However, when it comes to its amenities, we were kind of disappointed, especially since it is an exclusive beach club that promises an alluring relaxing day at the beach.
The pool's design is nothing special, not in its appearance nor in its size at least, the cabanas and daybeds are decent, and there's not much to do here besides lie down and enjoy the sun.
We do like the service that we got, however. The staff was attentive and friendly and had no problem attending to our requests as we settled down for some relaxation by the beach side.
And when it comes to Summersalt's ambiance, we love how calming and serene the place is despite it being located in the city.
However, the lack of amenities or happenings makes the place often feel monotonous. We have no problem with that but it doesn't really entice us to come back for a second time.
Has two great restaurants
Excellent service
Relaxing ambiance
Nothing special about its amenities
The ambiance can get monotonous
Customer Reviews
Highly recommended
"Great spot for dinner. Service quality was at an outstanding level alongside the quality of food.
Clean and light decor make this place ideal for a relaxed dinner on any occasion.
Highly recommended.
Quality of products and execution fully on point.
The music selection is also very good.
Thank you for an amazing dinner." – Cláudio Cardoso, Google Reviews
I love the atmosphere here
"Most probably my favorite beach club.
I love the atmosphere, the beach has a view of the Burj Al Arab but also is wide enough to walk and swim, they have a private pool, and you can also have lunch at the bar (where we had lunch) instead of the higher end restaurant if you are spending the day at the beach.
We had dragon sushi and tacos which were delicious. The staff is super friendly and kind." – Zoé Gotti, Google Reviews
5. SĀN Beach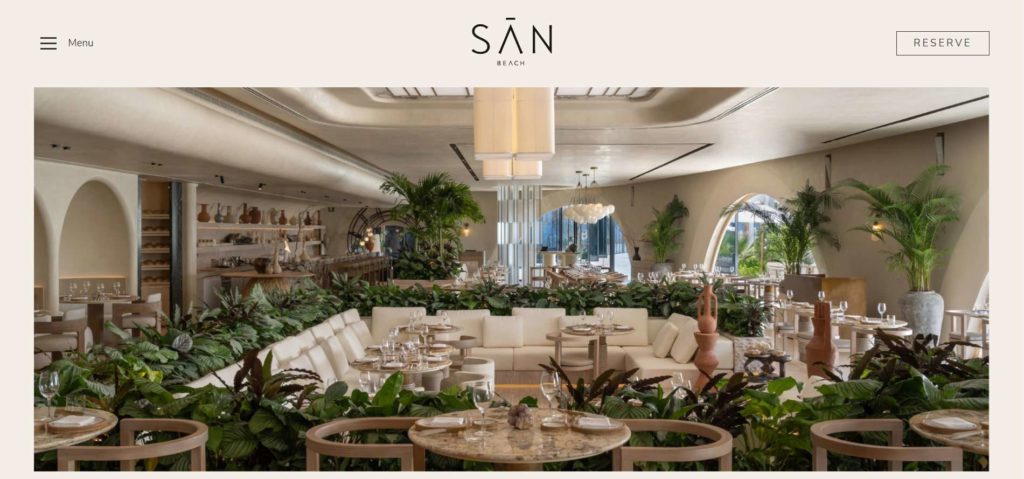 | | |
| --- | --- |
| WEBSITE | https://sanbeachdubai.com/ |
| ADDRESS | The Club, Palm West Beach, The Palm Jumeirah, Dubai |
| CONTACT DETAILS | PHONE: +971 4 458 0499 |
| OPERATING HOURS | Every day: 9 am - 12 am |
| | |
| --- | --- |
| Criteria | Rating |
| Amenities | ★★★★★ (5/5) |
| Food & Drinks | ★★★★☆ (4/5) |
| Service | ★★★★★ (5/5) |
| Ambiance | ★★★★★ (5/5) |
Stylishly mellow and taking inspiration from Ibizan beach clubs, SĀN Beach is all about taking relaxing by the beach into a deeper and spiritual level.
With its cozy daybeds, stunning infinity pool, beautiful pool bar, and an indoor restaurant with an open kitchen, this beach club takes lounging by the beachside seriously and turns out excellent results.
We love how its amenities explore the powerful effects of rhythmic healing energy, all of it designed to help with resting and recharging after a long week of working. It truly feels like a sanctuary from the hustle and bustle of living in Dubai.
When it comes to its indoor restaurant, while the food really isn't anything special when it comes to the flavors, we do appreciate its international cuisine curated to help beachgoers relax easily after eating.
The service is generally friendly and accommodating. We do love how everyone goes beyond to meet our requests, and really delivers on their promise to help us deeply relax and recharge.
And its ambiance is probably its best selling point yet. From its sepia-toned color palette on everything to its seclusion making it feel like you are on a totally different island, SĀN Beach put us in a trance that made our time there feel unreal.
Beautifully designed amenities
Excellent service
Cozy and relaxing ambiance
Nothing special about the menu
Customer Reviews
Great place to spend the day
"Great place to spend the day and have a tasty dinner with a cool view!
The location of the place is really cool, it opens the view of the beachfront and blue waters of the island.
The parking is quite far, but there is a baggy that can take you to the place.
SAN Beach is offering great food and nice facilities such as a pool and beach.
They do have beds and cabanas.
The most amazing thing is the interior of this place, inside the restaurant area you can see a lot of details that make this vibe. Nice music and good service 👌
Feel like an island.
They serve very good seafood dishes and also the breakfasts you must try." —Anastasiia Vlasenko, Google Reviews
I'd give it 6 stars if I can
"If I could give 6 stars to this place I would! Such a warm atmosphere and fun vibes. This place actually has an interesting story behind it with the interior to match, inspired by African culture and the San people. The staff was so friendly, I went here for a last-minute birthday drink and the cocktails were amazing. A special thanks to Trust one of our servers who made my birthday so special by surprising me with a birthday cake! Can't wait to come back and try the food!! 💫" —Ruby Djordjevic, Google Reviews
FAQs about Beach Clubs in Dubai
---
We hope this helped you in finding your favorite beach club in Dubai. Also, if you're looking for other beach articles, then check these out: