The 5 Best Learning Centers in Dubai
A learning center is quite different from a typical educational institution. Unlike schools, a center focuses on a specific kind of service for children with special or unique needs.
If you're on the lookout for a good center for your children's needs, we've got you covered! Here are our top picks for the best learning centers in Dubai!
How Much Does Enrolling in a Learning Center Cost
Learning centers provide varied services. Typically though, they offer early learning courses to help children prepare for school.
Others offer help in specific subjects, extra-curriculars, and more. There are also dedicated learning centers that offer therapy for children with special needs.
We'd like you to be prepared when you start finding the right establishment for your child, so here's an estimate on how much you'd spend in enrolling in a learning center.
Note that this table lists services or courses that you can avail in a learning center:
| Service | Cost  |
| --- | --- |
| Early Learning Courses | AED 3,000 - AED 25,000 / year |
| Subject Courses  | AED 780 - AED 1,600 / course |
The Best Learning Centers in Dubai
Here are the factors we considered while assessing the elementary schools we picked for this list:
1. Maharat Learning Center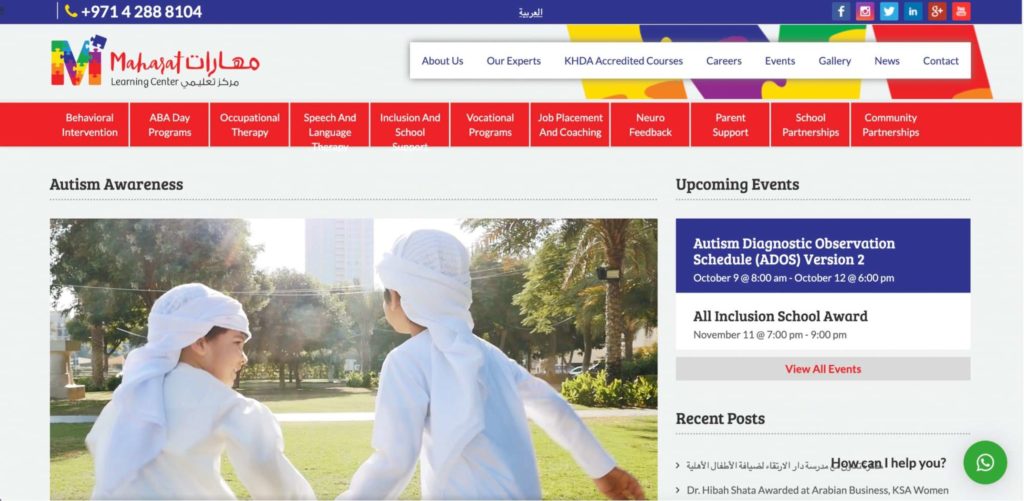 | Test | Info |
| --- | --- |
| SERVICES | Behavioral Intervention, AHA Day Programs, Occupational Therapy, Speech and Language Therapy, and more! |
| WEBSITE | https://maharatlearning.com/ |
| ADDRESS | Marsa Plaza, HP011, Ground Floor, Dubai Festival City - Dubai - United Arab Emirates |
| CONTACT DETAILS | Phone: +971 4 288 8104 |
| OPERATING HOURS | 8:00 AM - 6:00 PM (Monday -  Friday) |
| | |
| --- | --- |
| Criteria | Ratings |
| Expertise | ★★★★☆ (4/5) |
| Facilities | ★★★★★ (5/5) |
| Curriculum | ★★★★★ (5/5) |
| Pricing | ★★★★☆ (4/5) |
Maharat Learning Center mixes medical, educational, and social care services to provide aid to children and young adults. This place is the best match for you if you'd like to enroll your child with special needs or medical issues.
The school supports students with dyslexia, dysgraphia, autism spectrum disorders, Attention Deficit Hyperactivity Disorder (ADHD), and more. The institution serves as a bridge for students with medical needs.
While the school offers other services that can be taken by regular students, we recommend parents enroll their kids here if they are with any of the aforementioned needs to fully maximize the services of the learning center.
We like that aside from helping their students academically, they provide a more holistic approach to learning via their classes that focus on how to navigate through their life. These include vocational and life skills training for their students.
Aside from classes, they also offer aid and treatments for children and young adults with medical difficulties. These services are clinical psychology, cognitive therapy, occupational therapy, and many more.
We've observed that the learning center is like a one-stop shop for education and therapy if the student or patient needs both.
Overall, we think that this learning center is indeed best for children with special needs.
This is because they offer an environment where children can learn the subjects you can find in regular schools easily, and they also offer to teach life and support skills to them!
Has speech therapy available 
KHDA and DHA-certified 
Supports children and young adults 
Appointment required
Encourages contact for more information 
Customer Reviews:
Professional Staff, Caring Teachers
"Very professional place with well organized management have been there for 6 years, friendly,caring staff , everyone is keen to help my son." -Reham Abdehalim
2. Sylvan Learning of Dubai – Al Barsha 
Test
Info
SERVICES
Math Classes, Science Classes, Writing Classes, Test Prep, and more!
WEBSITE
https://locations.sylvanlearning.com/int/dubai-al-barsha
ADDRESS
329th Rd Al Barsha 1 Business Center, Al Khoory Atrium Hotel - Dubai - United Arab Emirates
CONTACT DETAILS
Phone: +971 56 433 7973
OPERATING HOURS
11:00 AM - 7:00 PM (Sunday - Wednesday)

10:00 AM - 12:00 PM (Friday)

10:00 AM - 4:00 PM (Saturday)
| | |
| --- | --- |
| Criteria | Ratings |
| Expertise | ★★★★☆ (4/5) |
| Facilities | ★★★★☆ (4/5) |
| Curriculum | ★★★★★ (5/5) |
| Pricing | ★★★★☆ (4/5) |
Sylvan Learning — Al Barsha is more of an academic support learning center. By that we mean that this location focuses on helping students with their academic difficulties.
This can be seen through the different courses they offer, which range from subject-specific classes, test prep courses, and more. They also offer tutors for those who are in need of them.
What's great is that this center offers customized programs or courses depending on the lessons their students will need. Aside from that, this school is also open and flexible for scheduling sessions.
We like that they consider the availability of their clients as well. Aside from that, the student also has the choice between in-person and online classes.
Usually, classes are one-on-one as they serve as personal tutoring sessions. There are still group classes, but they are held with a limited number of participants.
If you're unsure on how the classes in this school will work, worry not as Sylvan Learning offers a free initial consultation first to help students create the right curriculum that will fit their needs.
We honestly would recommend going to this center for the one-on-one personal tutoring sessions, especially if you're struggling with a particular subject.
Personalized class plans for students
Free consultation available 
Occasionally has sales and promos 
Booking required 
Requires contact for more information 
Customer Reviews:
Accommodating and Helpful Staff, Knowledgeable Teachers
"Sylvan Learning has been extremely helpful and accommodating with providing that little extra assistance when needed. Staff is knowledgeable, friendly and supportive. We highly recommend them and will continue to bring our children through the summer." -Sonny Williams
Quality Education, Satisfactory Results
"Both kids learned English with them. Good results for both. The younger one is going now, in parallel with British school. School teachers noted results after 2 weeks only." – Victoria Boldescue
3. Safa Early Learning Center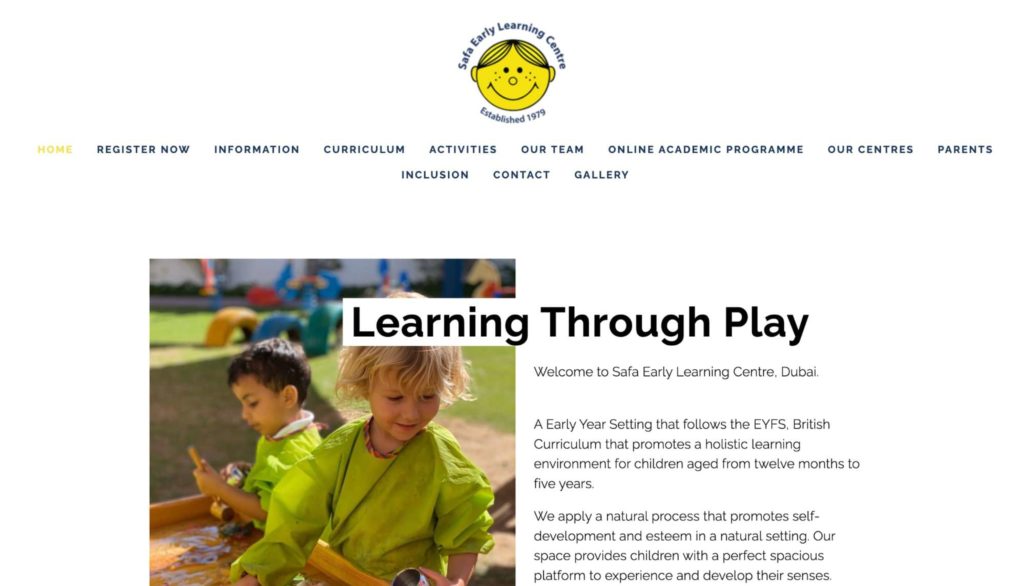 Test
Info
SERVICES
Toddlers I Course, Toddlers II Course, Foundation Stage I Course, Foundation Stage II Course, and more!
WEBSITE
https://www.safaelc.ae/
ADDRESS
1 - 1 53rd St - Al Wasl - Dubai - United Arab Emirates
CONTACT DETAILS
Phone: +971 4 342 9575

E-mail: [email protected]

OPERATING HOURS
7:00 AM - 6:00 PM  (Sunday - Thursday)
| | |
| --- | --- |
| Criteria | Ratings |
| Expertise | ★★★★★ (5/5) |
| Facilities | ★★★★★ (5/5) |
| Curriculum | ★★★★★ (5/5) |
| Pricing | ★★★★☆ (4/5) |
So here's the thing about this learning center: it's solely for children. Specifically, preschool students.
Opened in 1979, Safa Early Learning Center started as a nursery school offering a curriculum based on the one established in the UK.
What's great about this center is that not only is it certified by the KHDA, it is also ISO-certified. Having passed the standard of these two organizations, rest assured that the education your children will be getting from this school is of a good quality.
The school follows the  Early Years Foundation Stage (EYFS) framework, which focuses on the children's creativity, expression, physical and communication skills. 
This means that their courses are less leaning on the rigorous, academic style we see in schools. Students will learn through educational play, singing, music and movement, learning nursery rhymes, and more fun activities.
One thing we do have to note for parents is that this school charges for one odd circumstance. Everytime you drop off your kid early or pick them up late, you will be asked to pay a penalty.
Overall, for the school's holistic and fun learning curriculum, we believe that this is a good early learning center for toddlers and young children who are close to entering grade school!
Utilizes the EYFS framework 
Uses the British curriculum in its courses 
Students can choose from a wide variety of  after-school activities
Allows online and on-site learning 
Parents will have to pay if they drop their kids early or pick them up late
Pre-school students only 
Customer Reviews:
Creative and Innovative Teachers
"My son has been going there for 2 years and loves it – they are creative and innovative and I can't wait to send my 2nd son there too" -Aida Al Busady
Good Environment, Great Staff
"Great staff and environment. Our child has been there for 3 years and has made outstanding progress." -Mario Barili
4. Shamaar Learning Center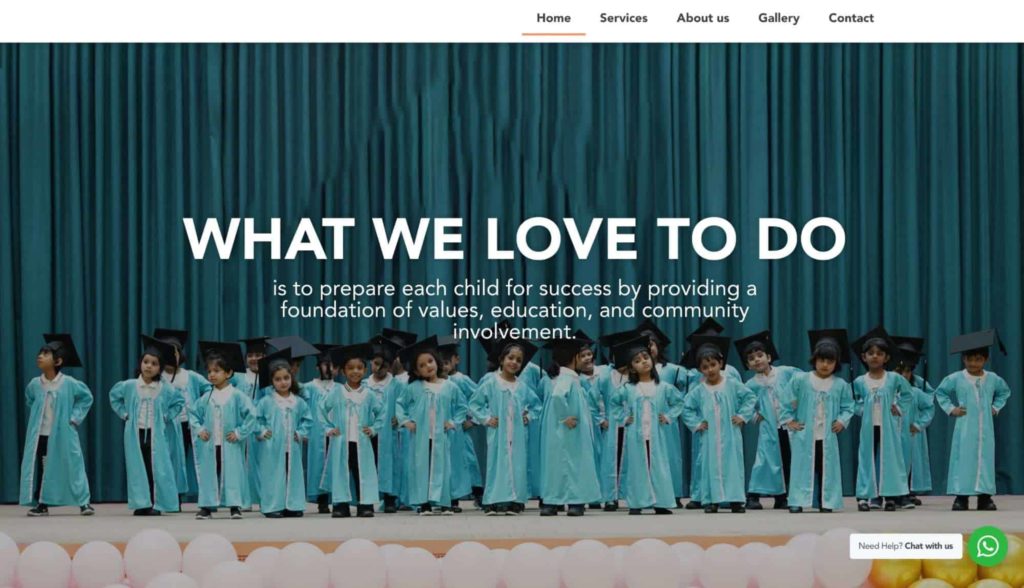 Test
Info
SERVICES
Early Learning, Homework Sessions, Math-Extended Skill Sessions, Arts, Crafts, and Painting, and more!
WEBSITE
https://www.shamaarlearning.com/
ADDRESS
New Al Safiya Building, Office Entrance-B, SM-1-A (opp. to Abu Hail Metro Stn - Dubai - United Arab Emirates
CONTACT DETAILS
Phone: +971 52 554 4736

E-mail: [email protected]

OPERATING HOURS
6:00 AM - 7:00 PM (Monday - Saturday)
| | |
| --- | --- |
| Criteria | Ratings |
| Expertise | ★★★★☆ (4/5) |
| Facilities | ★★★★☆ (4/5) |
| Curriculum | ★★★★☆ (4/5) |
| Pricing | ★★★★☆ (4/5) |
Shamaar Learning Center is an education institution that provides assistance and classes for children. The center primarily focuses on providing early learning services, which helps children to move to primary school.
Aside from that, they also offer academic support through extra classes and tutoring sessions. These range from having extended practices for the different academic subjects to helping their students prepare for exams.
They also have a specific focus on mathematics. While they provide extended class hours for assisting their students in learning more, we noticed that the school offers specific aid for math-related skills.
Outside of the academic classes, this establishment also offers arts, crafts, and painting courses. Also, students of this school can enjoy music classes as well.
We think that while there is a direct inclination towards the heavy academic subjects, we like that to a limited extent, this learning center offers learning through other fields such as art and music.
What's great is that students have the choice in picking how they want to attend the center's classes. They can opt for online or on-site, depending on their availability.
We recommend Shamaar Learning Center for their extended, extra practice classes for different subjects as well as their math course!
Variety of services available 
Spacious facilities 
Offers on-site and online learning options 
Requires contact for more information 
Focus on early learning services 
5. Witty Learning Institute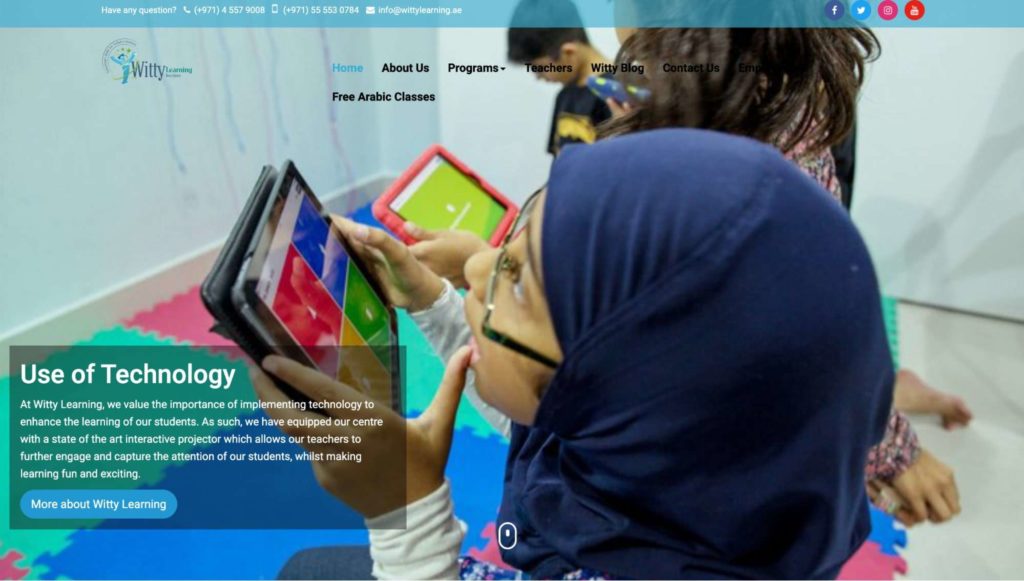 Test
Info
SERVICES
Homeschooling, Educational Support, Adult Classes, Enrichment Programs, and more!
WEBSITE
https://wittylearning.ae/
ADDRESS
Mazaya Business Avenue - Unit 807 BB1 Tower - Dubai - United Arab Emirates
CONTACT DETAILS
Phone: +971 800 94889

E-mail: [email protected]

OPERATING HOURS
8:30 AM - 6:00 PM (Saturday - Thursday)
| | |
| --- | --- |
| Criteria | Ratings |
| Expertise | ★★★★★ (5/5) |
| Facilities | ★★★★☆ (4/5) |
| Curriculum | ★★★★★ (5/5) |
| Pricing | ★★★★☆ (4/5) |
Witty Learning Institute is an educational establishment that offers courses that they call "support programs". The subjects available for this kind of services include Arabic, English, Mandarin, science, and mathematics.
Essentially, these are just tutoring or assistance sessions where students can learn with a group of people or just a one-on-one session with one of the school's teachers.
What's great about this school is that they offer options in how the student can take their desired courses. They can come to the establishment and learn with a group or they can book the teachers for a tutoring session in their very own homes.
Witty Learning also offers adult language classes in Arabic, English, and Spanish. Out of all the centers we've looked at, this is one of the few that offers their services towards adults.
Primarily, the centre offers homeschooling programs that run on a mastery or leveled progression. This means theteacher will ensure that their student is fully knowledgeable before proceeding with more advanced topics.
Homeschooling is more holistic, ranging from science and technology courses to creative courses such as writing, arts, and crafts.
This school ensures the quality of their services via the teachers they employ. From our observation, the instructors here are all experienced, with 5 to 8 years of teaching their courses.
Additionally, the majority of them are also post-graduate degree holders, so you know that these people are very knowledgeable in their fields.
Witty Learning Institute is great if you want to avail their holistic homeschooling programs, or their language courses for adults!
Offers free Arabic courses
Caters to children and adults 
Experienced instructors 
Requires contact for more information 
Primarily offers homeschooling services
Customer Reviews:
Quality Education
"I have been attending maths sessions at Witty Learning Institute for the past 2 years. During this time, not only has my confidence grown within the subject, but my overall knowledge and ability has grown with it. I have progressed from a student predominantly attaining C's to someone pushing on achieving A's during my GCSE's as the sessions have helped with my overall understanding and ability to deduce the task at hand." -Zuhayr Mukkudem
Great Service, Expert Teachers
"Great experience with the Witty Learning. The techniques I've learnt in Mathematics have really helped me to gain confidence in the subject, which I didn't previously have. As a result my grades during GCSE's have improved and I will definitively continue with the learning institute during my A-levels." -Samer Attala
FAQs About Learning Centers in Dubai
---
We hope that any of these learning centers can be of help to you or your family member in need.

Interested in more educational articles? Check out our top recommendations for the best art schools in Dubai!