The 5 Best Pet Sitters in Dubai
Sometimes you need to leave your favorite furry companion at home. A pet hotel isn't even necessary, if you'll only be gone for a short time, right?
But if you still want someone to supervise your pet while you're outside, then we've got the solution for you! Here are our top picks for the best pet sitters in Dubai!
How Much Do Pet Sitters Charge
Now, depending on the company you're dealing with, the prices and the corresponding pet sitting services may vary.
The first type of pet sitters would be of a professional level. Companies that have these kinds of employees usually focus on pet sitting and dog walking services.
The table below lists the average cost of hiring a professional-level pet sitter based on how many minutes you'll be asking them to look out for your pet:
| Pet Sitting Duration | Cost |
| --- | --- |
| 15 minutes | AED 85 - 100 |
| 30 minutes | 99 - 114 |
| 45 minutes | 118 - 136 |
| 60 minutes | 136 - 165 |
The next type of pet sitters are the hobbyists. These individuals are usually just an individual or friend who can take care of your pet for some extra cash on the side.
The table below lists the estimated cost of hiring a hobbyist sitter for your beloved furry companion:
| Pet Sitting Duration | Cost (in AED) |
| --- | --- |
| 15 minutes | 51.42 - 69.79 |
| 30 minutes | 69.79 - 99.86 |
| 45 minutes | 77.13 - 117.54 |
| 60 minutes | 77.13 - 117.54 |
The Best Pet Sitters in Dubai
We've assessed the companies on this list based on the following factors:

1. Pawland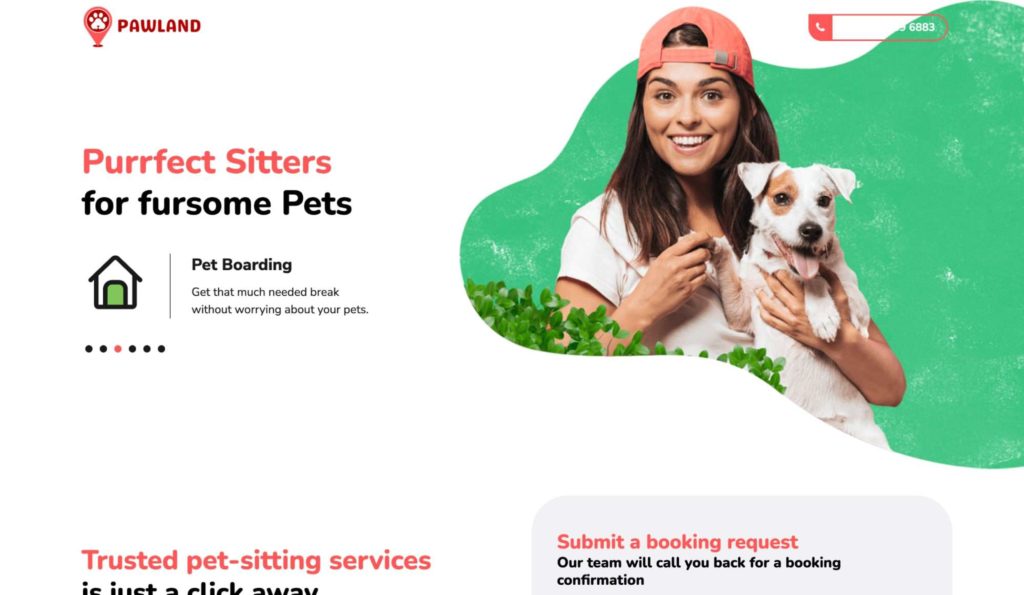 Test
Info
SERVICES
Pet Sitting, Pet Boarding
WEBSITE
https://mypawland.com/
CONTACT DETAILS
Phone: +971 58 289 6883

E-mail: [email protected]

OPERATING HOURS
9:00 AM - 9:00 PM (Sunday - Monday)

10:00 AM - 9:00 PM (Saturday)
| | |
| --- | --- |
| Criteria | Ratings |
| Credentials | ★★★★★ (5/5) |
| Services | ★★★★★ (5/5) |
| Support | ★★★★☆ (4/5) |
| Prices | ★★★★☆ (4/5) |
Pawland is a pet sitting and boarding company that accommodates a wide variety of pets. The first important thing to take note of is that they operate on a "call-first" basis.
This means that they will actually ask you to send a message to them first so you could negotiate the specifics for the pet sitter you will request.
With that being said, before you can actually make the call– let's talk about their pet sitting services!
First of all, there is a minimum number of hours you have to avail before you can hire one of their sitters. You have to book them for at least three hours.
That said, one of the things we liked about Pawland are the services they offer. We like that they will bring a "pet engagement kit" during their sessions, so your pet can have things to do.
Aside from that, part of their pet sitting services are walks. They offer GPS records of these walks to the fur parents for recording or reference (also an added security)!
We would like to note that aside from sending GPS and photo updates throughout the day, we like that the company also has a 24/7 veterinarian in case of emergencies.
This ensures the safety and health of your pet, in case of emergencies!
Looking at the sitters employed in this company, we've observed that they mostly have three to seven years of experience taking care of pets! Each of them are specialised in taking care of a specific pet as well.
Overall, we recommend asking for a quotation if you're in the market for Pawland's variety of additional services offered on top of the regular pet sitting aid!
Sitters can administer medicine
Experienced pet sitters
Quotation required
3-hour minimum bookings only
Customer Reviews:
Professional Staff and Pet Sitter
"I am extremely happy with their service. Starting from answering my questions before booking till last competing service, they were very patient and highly professional. Angelina took very good care of my Cat. She spend much more time than agreed earlier. After asking me, she also brushed him regularly though I forgot to mention. Thank you Pawland team. I highly recommend them. 😀" – Reshma M Kurien
Quality Pet Sitting Services
"I've used their service quite a few times, and all times it was such a breeze! They've always taken such good care of my dog, bruce. He's always having such a great time with them. Definitely recommend Pawland to anyone who wants the best care for their pets." – Pooja Balasubramanian
2. Pet Sitter Dubai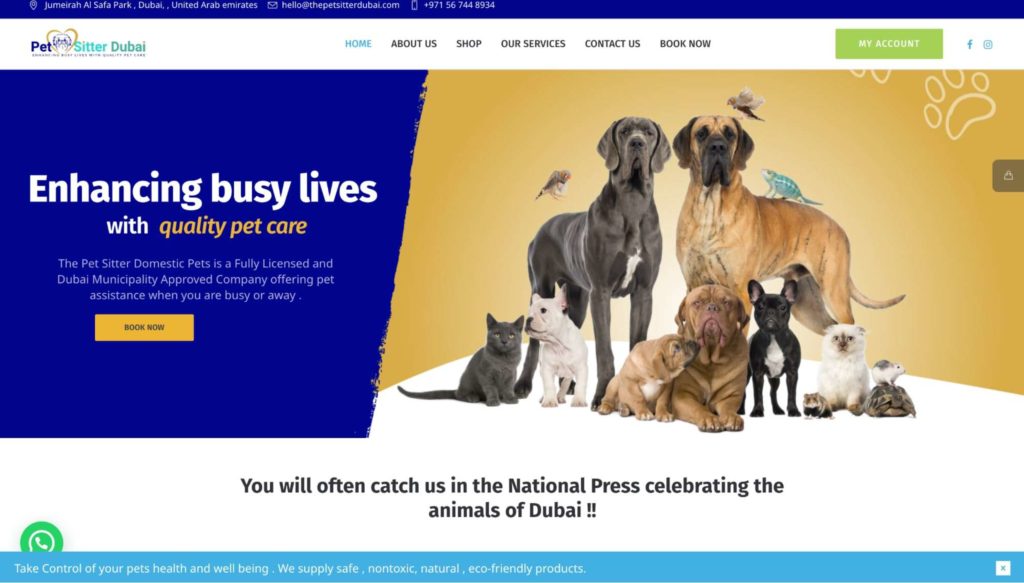 Test
Info
SERVICES
Dog Sitting services, Cat Sitting services, Bird sitting services, Snake sitting services
WEBSITE
https://thepetsitterdubai.com/
ADDRESS
Jumeirah Al Safa Park 32366

Dubai, United Arab Emirates

CONTACT DETAILS
Phone: +971 56 744 8934

Email: [email protected]
| | |
| --- | --- |
| Criteria | Ratings |
| Credentials | ★★★★☆ (4/5) |
| Services | ★★★★☆ (4/5) |
| Support | ★★★★☆ (4/5) |
| Prices | ★★★★★ (5/5) |
Now, Pet Sitter Dubai can take care of pets such as dogs, cats, and even snakes!
If you're looking for a licensed pet assistance and sitting company that can take care of your favorite reptile, then Pet Sitter Dubai (yes, you've read that right), is the one for you!
Let's talk about what services they have on board. First, they offer the regular standard visit which lasts for around 30 minutes or more.

They also offer overnight pet sittings, which start at around AED 220. We have to say, this is one of the most affordable prices we've seen.
Speaking of rates, we've noted that their rates are quite fair, especially if you have more than one pet. This is because they offer the same base rate even if you have three pets in the house, as long as they are of the same species!
The company also offers updates through photos and videos, which will be sent to the owner's phone daily.
Now, an important thing to take note of is that they require at least seven days advanced notice for bookings. So if you need a sitter in a pinch, this company may not be the best option.
Overall though, we recommend this establishment because they can take care of "uncommon" pets like snakes. They also have very good rates!
Can take care of snakes and birds
Provides updates and photos
Offers overnight pet sitting
7 days notice required
Quotation required
Customer Reviews:
Friendly and Attentive Sitters
"I highly recommend The Pet Sitter for anyone looking for trustworthy company with friendly trained members of their team. Paulita and Lana were absolutely fantastic throughout the whole experience. They were always attentive and kept me informed throughout the time they were watching Mr. Little with great pictures and videos of our smiling pup. Our pup took to Lana from the minute they met as if she'd been around him for years which is not an easy feat. So happy we chose The Pet Sitter and highly recommend to anyone." – Manuel Rodrigues
Great Service
"I highly recommend The Pet Sitter as their service and care is unbeatable. Paulita took care of my cats twice already. Last time she had cats under her wings for 8 days and she managed it with ease and my they loved to be with her. Daily video upgrades made my heart smile and assured that all is good at home. Paulita apart of being a beautiful soul, she is a great animal lover and dedicated to their well being. She gave me nutritional advices too, what I really appreciate and now using their Lactose-free kefir to improve digestion system of my cats. Definitely will use their service again. See you soon" -Agnieszka Chojnacka
3. Happy Tails Dubai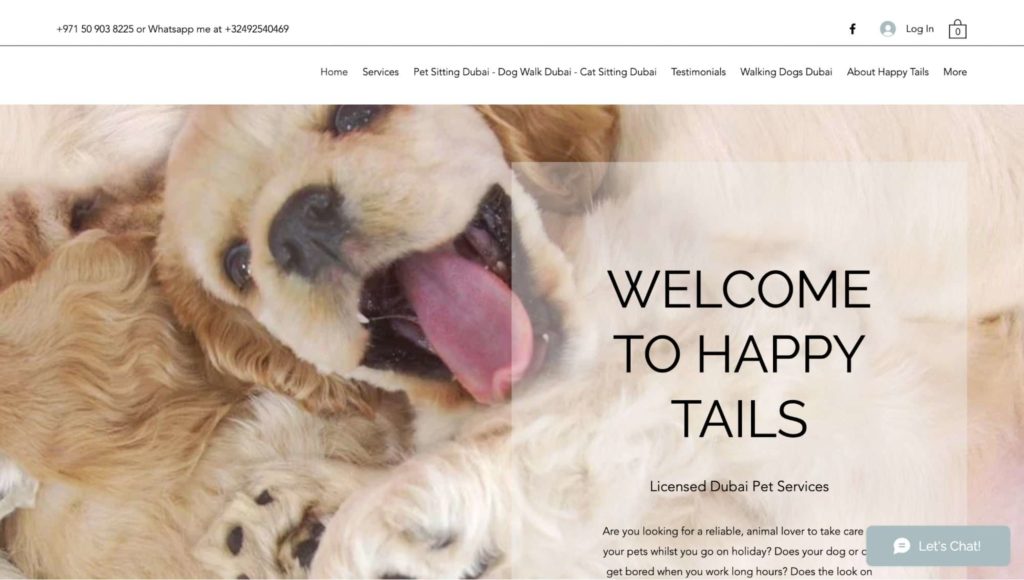 | | |
| --- | --- |
| Criteria | Ratings |
| Credentials | ★★★★☆ (4/5) |
| Services | ★★★★☆ (4/5) |
| Support | ★★★★☆ (4/5) |
| Prices | ★★★★☆ (4/5) |
Happy Tails Dubai is a pet walking and sitting establishment founded and run by Belgium-raised Rabia. Moving to Dubai, she has fostered dogs and cats since 2009.
Rabia has also become a volunteer for cat and dog shelters during the past years in various countries, such as Thailand and Dubai. Her experience in fostering, assisting in shelters has now helped her provide more caretaking services for pet lovers in Dubai.
In terms of the services she offers, unfortunately, there's not much variety. However, interested parties can expect the care and necessary grooming for pets when Happy Tails and Rabia will be hired.
They do offer to take your pets on walks during the sitting period. This is an add-on service, so you will have to shell out an extra AED 80 for it.
The pet sitters for this establishment will only visit your fur baby for around 30 minutes. We recommend asking for extensions in case you believe your pet needs more time.
Do take note that you are required to pay upfront in full after booking. Moreover, in case of emergencies or any extra costs made by the sitter during their stay, this will need to be settled by the customer afterward.
That said, we highly recommend inquiring first for the full breadth and details of Happy Tails Dubai.
We would honestly recommend Rabia for her experience in handling and helping animals around. Especially for her expert handling of cats, as she has one of her own (and focuses mostly on sitting cats as well).
Experienced pet sitter
Cheap prices (relatively)
Offers pet walking as part of their sitter services
Focuses more on cats
Requires contact for more information
Customer Reviews:
Amazing and Quality Pet Sitting Services, Attentive Sitter
"Thank you for taking good care of my two cats during my travels. Nothing but good things to say about Happy Tails and Rabia. Rabia is very professional and caring at the same time. The caregiving went beyond my expectations, she played with cats as if they were her own, cut their nails as she spotted there was no need for it and she also treated my home and me with respect. The service was top-notch, won't go anywhere else!" – Nathalie Cassetto
Patient, Kind, and Caring Sitter
"We recently adopted a saluki mix pup of 8 months old. As we only had him for a month and weren't sure about his past we couldn't be confident that we knew all of his triggers or behaviors. Rabia was happy to take her time with him and her experience, patience, and love of animals shone through. We loved receiving daily pupdates and seeing her son who is equally gentle and natural with dogs out walking and interacting with him in a safe way. This experience was much more than just dog sitting and has been an invaluable part of growing Rocket, our dogs' confidence with people and new enviuronments. He was treated so incredibly well it was certainly a happy tail all the way. We all look forward to his next booking with you. Thank you again for you kindness and above-and-beyond commitment." -Christine Wilson
4. The Dubai Cat Sitting Company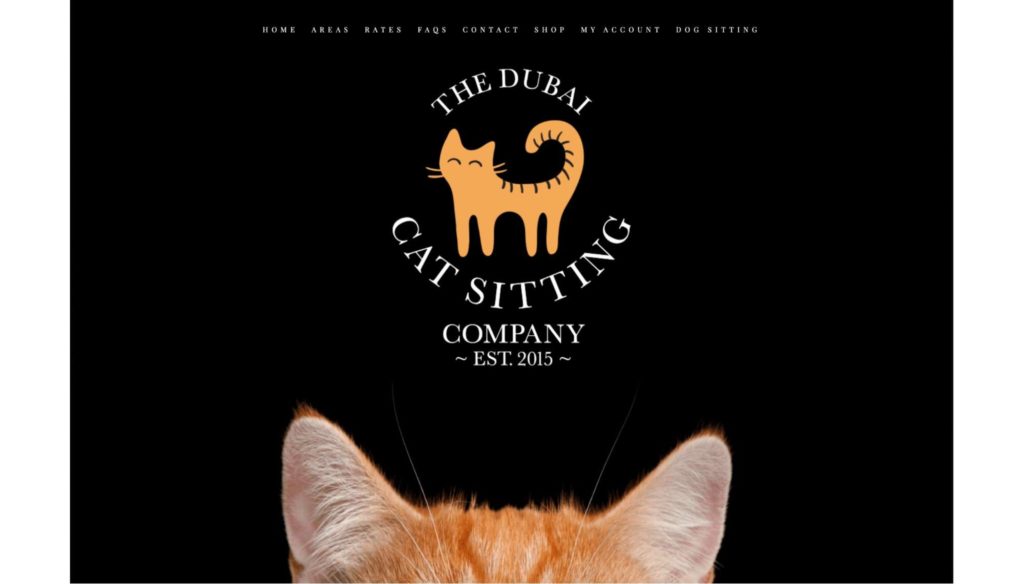 | | |
| --- | --- |
| Criteria | Ratings |
| Credentials | ★★★★★ (5/5) |
| Services | ★★★★★ (5/5) |
| Support | ★★★★★ (5/5) |
| Prices | ★★★☆☆ (3/5) |
The Dubai Cat Sitting Company, founded in 2015, is an exclusive pet assistance and caretaking establishment for cat owners. Now, if your pet is not a cat, this establishment is not for you.
However, if you are looking for a company that focuses only on cats, this is a good option! Let's talk about one of the reasons why: their services.
This company offers a lot aside from the basic cat sitting sessions. Dubai Cat Sitting Company offers a 30-40 minute daily visit, which can cover up to two cats.
During the pet sitting, the owner will be updated via regular pictures and videos via WhatsApp. So if you're the type of person who needs to know their pet is safe all the time, this company is an option worth considering.

An alternative option for your cat would be Dubai Cat Sitting Company's home boarding option. In this arrangement, your cat will be in the sitter's home but take note that it's a much more expensive option, though.
They also offer overnight stays where your sitter will stay in your home until the morning to keep watch over your cat.
While they have definitel have variety of options for pet owners, something that we've noticed is how this company has a lot of extra charges. An example would be a simple "key collection" or "meet n'greet".
This "meet n'greet" session is worth at least AED 50. That's like a big percent of the actual visitation.
Aside from this, extra charges will also be incurred when your cat needs medicine during your travels.
If you have the extra budget and would love an in-depth, detailed, and attentive sitting service for your cat, then we recommend giving this establishment a call!
Offers complementary plant watering services
Can sit up to two cats (extra fee for more)
Registered and insured
Cats only
Can get expensive
5. The Dubai Dog Sitting Company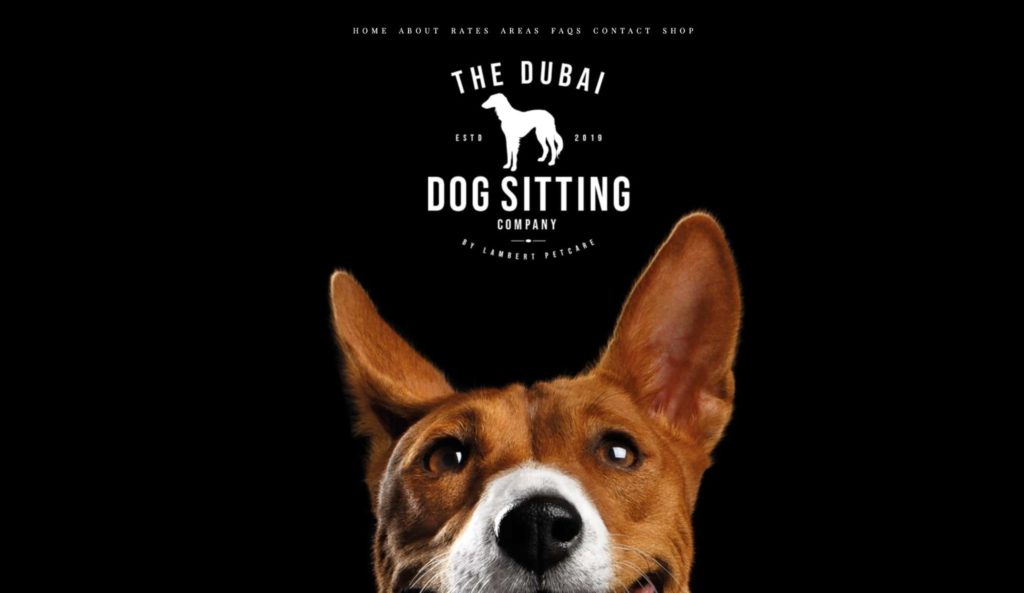 | | |
| --- | --- |
| Criteria | Ratings |
| Credentials | ★★★★★ (5/5) |
| Services | ★★★★★ (5/5) |
| Support | ★★★★☆ (4/5) |
| Prices | ★★★★☆ (4/5) |
One of the common pets in the world are dogs. The Dubai Dog Sitting Company was established to cater to the many pet owners in the city.
As the name implies, they're specialized in solely taking care of canines. If you want a company that can also take care of other pet species, then this may not be the option for you.
One of the things we liked about this establishment are the services that the pet parents can choose from. In terms of actual dog sitting, the company provides 40-minute, once a day visits.
Now, this includes a lot of things. Aside from taking care of the basic needs of your pet, the assigned sitter will also play and take your fur baby out for a walk.
The company also offers a separate package for twice a day visits. One thing to take note of though: if you're officially away, this is the option the company will require you to get.
The other option available is the overnight sitting service, which is relatively much more expensive.
Now, they also offer packages! For dogs who would need weekly or monthly plays or walks, they can send their sitters in for 40 minutes from Monday to Friday.
If you're looking for someone to take care of your pet for an extended time, then you may want to consider someone else. Interested parties can only book their services for up to seven days here.
Overall though, if you're interested in hiring a company that solely specializes in dog sitting, and has various options and packages for you to choose from, then this company is worth hiring!
Offers complementary plant watering services
Can sit up to two dogs (extra fee for more)
Offers playtime packages
Dogs only
Extra charges for medical administration
FAQs About Pet Sitters in Dubai
---
Well, good luck on finding the right sitter for your pet on your next trip! If you're interested in more pet-related services, here's our article on the best dog kennels in Dubai!