The 5 Best Kindergartens in Dubai
Kindergarten is part of the preschool ladder of education. This is usually the transition period where children, aged four to five years old, are slowly being taught how school works.
If you're looking for the right schools to enroll your children in, we've got you covered! Here are our top picks for the best kindergartens in Dubai!
How Much Does Enrolling For Kindergarten Cost?
Here's what we'd like to note about tuition fees: education is actually free for people born and raised as citizens of the UAE. Non-citizens though will have to pay for schooling in the country.
Some schools would offer different payment schemes. Common methods include monthly installments, which means the parents will have to pay a small amount to the school for a couple of months.
The other way to pay for tuition is yearly, which means it's just a one-time transaction. Parents will have to prepare a bigger amount of money to pay for the full tuition fee.
For reference, here are the estimated average school fees for kindergartens around Dubai:
| Tuition Fee Payment Method | Average Cost (in AED) |
| --- | --- |
| Monthly | 500 - 1,000 |
| Yearly | 15,000 - 50,000 |
The Best Kindergartens in Dubai
1. Bright Riders' School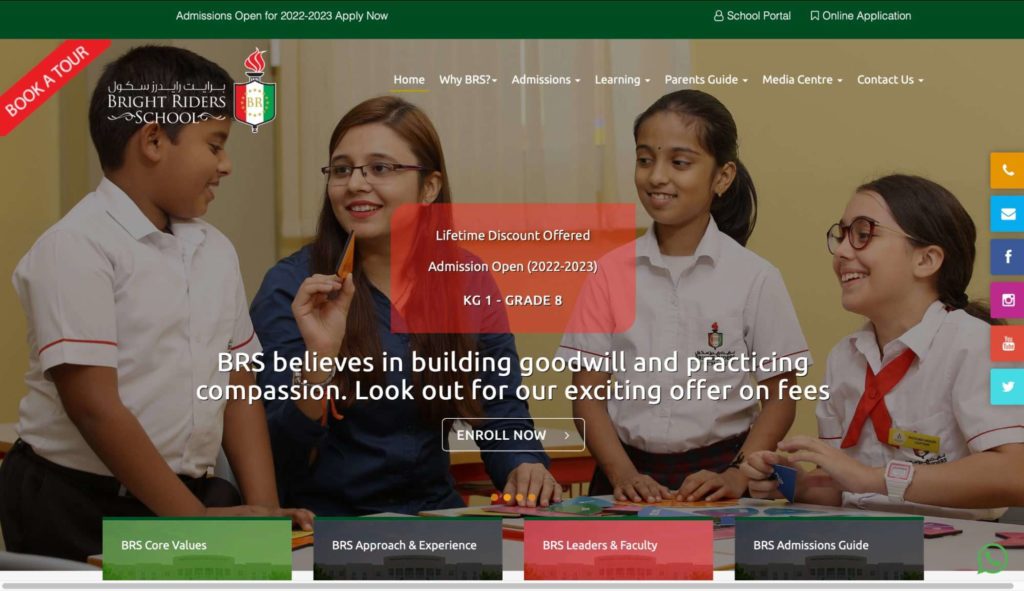 Test
Info
PROGRAMS OFFERED
Kindergarten 1, Kindergarten 2, Elementary, High School (K-12)
WEBSITE
https://www.brightridersdubai.com/
ADDRESS
Dubai Investments Park, Dubai, UAE
CONTACT DETAILS
Phone: +971 4 823 7444

E-mail: [email protected]

OPERATING HOURS
7:00 AM - 2:30 PM (Monday - Thursday)

11:30 AM - 2:30 PM (Friday)
| | |
| --- | --- |
| Criteria | Ratings |
| Expertise | ★★★★☆ (4/5) |
| Facilities | ★★★★★ (5/5) |
| Curriculum | ★★★★☆ (4/5) |
| Pricing | ★★★★☆ (4/5) |
Bright Riders School, opened in 2018, is a K-12 Indian-owned school based in Dubai. Right from the get-go, as an educational institution in India, their curriculum will come as a new educational system for Dubai-born and raised individuals.
For kindergartens, since they aren't really set on taking any exams, the school follows the Early Years Foundation Stage (EYFS) framework. Because of this, the curriculum for their students covers linguistics, literacy skills, emotional development, basic math and numerical skills, creativity, and more.
These points of focus are reminiscent of the stages of learning and development featured in the EFYS framework. Bright Riders using this methodology reassures parents that their kids can learn something from this school that can help them in the future.
What's great about this school, aside from its curriculum, is that they provide multiple payment methods for the parents' convenience. They can opt to pay through an online payment portal or bank transfer.
We did notice that they don't have a cash payment option.
Students who are enrolled in Bright Riders School can expect well-lit and spacious learning rooms. For the children enrolled in their kindergarten program, we've observed that the school provides spacious rooms with enough toys and learning materials for classes.

Overall, if you're looking for a school with good facilities and classrooms and offers a holistic approach to teaching kindergartens, then Bright Riders School can be a good option for you!
Well-designed classrooms and facilities
Offers discounts on tuition fees
Provides paid transport services
Curriculum based on India's educational board
Cash payment not allowed
Customer Reviews:
Good Educational Curriculum
"The Teacher and KG team welcomed our daughter with great warmth. It was her first time settling in an environment as she had been home tutored prior. But, it went very well. Our daughter grew independent over time, she enjoys classroom and play area activities a lot. Dance, Yoga, Art, PE and Construction theme games with her classmates. In KG, they have EYFS curriculum which is great as it focuses on our child's overall development. It's amazing to see her mingle very well and become friends with children from other nationalities too. Though it is a CBSE based Indian School, it is truly international in approach.We are immensely glad and would highly recommend the School based on our experience.We had initially heard great reviews for the flagship BRS School at Abu Dhabi. We are now confident that BRS Dubai School is definitely a great place choice made by us. I'm a parent of KG 1 since Founding year." – Adil Mohimtulay
Affordable Fees, Good Facilities
"Good quality education school with affordable fees. I have taken admission for my son in this school. Good infrastructure, Highly recommended." – Fun with Devansh,via Google Reviews
2. Smart Start Kindergarten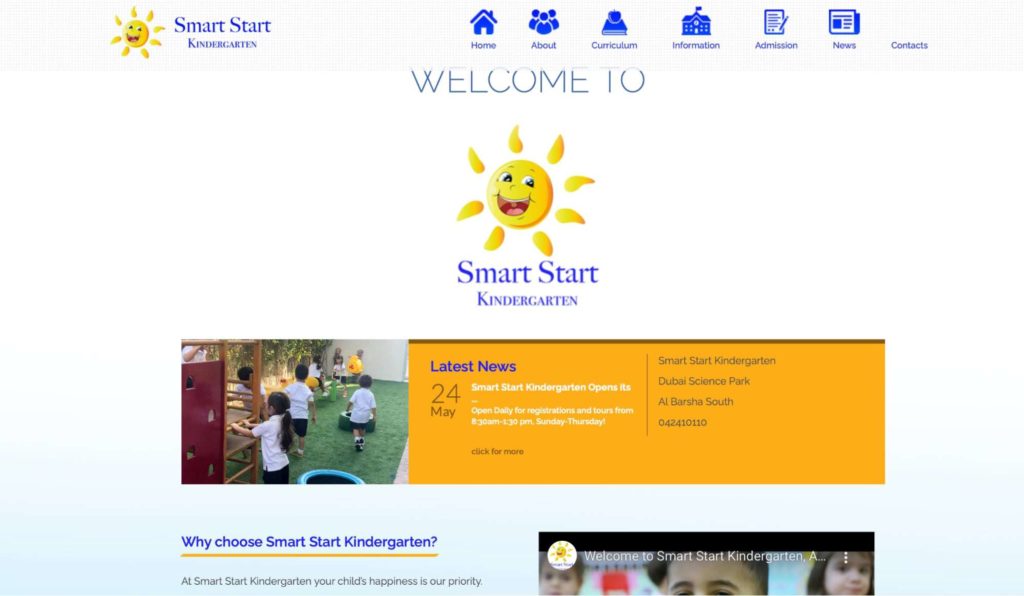 Test
Info
PROGRAMS OFFERED
Pre-Kindergarten, Kindergarten 1, Kindergarten 2
WEBSITE
http://www.sskg.ae
ADDRESS
Dubai Science Park, Al Barsha South 478880 - Dubai - United Arab Emirates
CONTACT DETAILS
Phone: +971 4 241 0110

E-mail: [email protected]

OPERATING HOURS
7:45 AM - 3:45 PM (Sunday - Thursday)

9:00 AM - 1:00 PM (Saturday)
| | |
| --- | --- |
| Criteria | Ratings |
| Expertise | ★★★★★ (5/5) |
| Facilities | ★★★★★ (5/5) |
| Curriculum | ★★★★☆ (4/5) |
| Pricing | ★★★★☆ (4/5) |
Here's a school that specializes only in kindergarten programs!
Smart Start Kindergarten is an establishment that offers an American curriculum for its students. To be more specific, the school actually aligns its programs with Colorado's Early Learning and Development Guidelines, which are based on research and well-accepted teaching strategies for children.
Regardless of their American influence, this school also makes sure to prioritize teaching their students the Arabic language and its culture to provide a sense of community in their region.
In terms of teaching, Smart Start Kindergarten focuses on allowing the kids to explore, create, and play through the activities their teachers have prepared. It is more on the activity-side, which is appropriate for children with low attention spans.
Parents will be glad to know that the school has systems in place to help keep up with their child's progress. For example, teachers will send them daily messages via the school's app on the status of their child's enjoyment in their classes.
Interested parties can actually request a tour around the school to take a glance at the classrooms and other facilities the kindergarten has.
If you're interested in getting an American-based Kindergarten program for your kid, you can definitely ring up Smart Start Kindergarten for their services!
Prioritizes teaching Arabic language and culture
Allows potential clients to tour their campus
Spacious areas for indoor and outdoor activities
Requires a registration fee of AED 1900
Follows American-based educational curriculum
Customer Reviews:
Attentive Staff, Spacious Facilities
"Very attentive staff! They focus a lot of the development of the individual child, and they go over and beyond their roles by ensuring any difficulties / hurdles you may be facing with your child at home can be addressed in the school and they give you advice on how to handle the situations at home. The facility is very spacious and you can tell everyone there is happy! The home room teacher is very good and the Arabic teacher is exceptional in her method of teaching. We couldn't ask for a better place for our kids, they absolutely love coming to Smart Start every morning. I have seen a great deal of improvement in their mannerism and knowledge in such a short period of time. Thank you for all the amazing people who work there. It's incredible how they are so organized in their curriculum considering they just opened! Usually it takes schools some years or so to adjust, but not Smart Start." – Alia Al Ashimi
3. Littleflower Dubai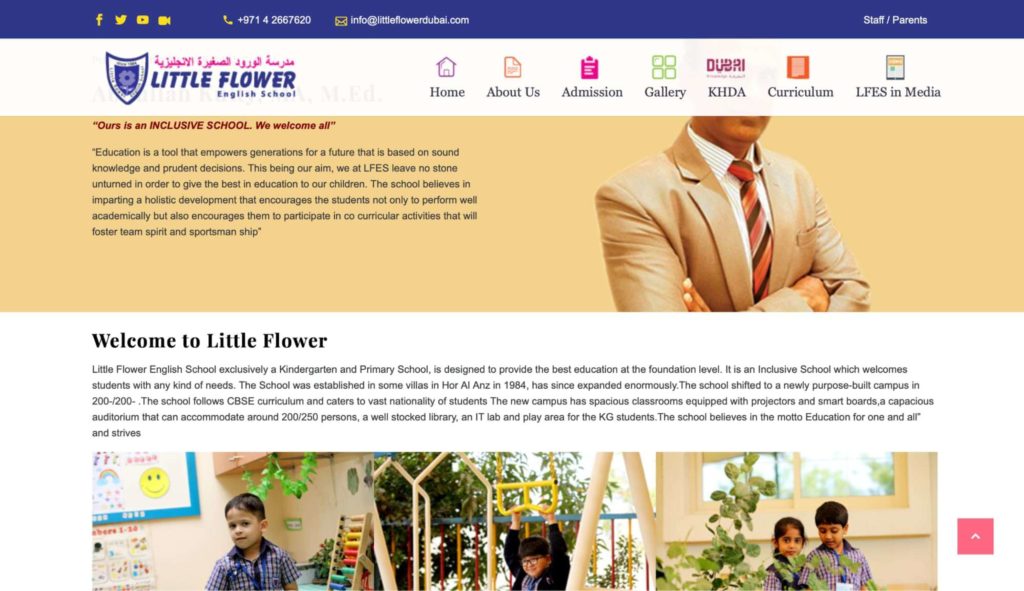 Test
Info
PROGRAMS OFFERED
Kindergarten, Primary School
WEBSITE
http://www.littleflowerdubai.com
ADDRESS
78HQ+RCM - behind Talal Supermarket - Hor Al Anz - Dubai - United Arab Emirates
CONTACT DETAILS
Phone: +971 4 2667620

E-mail: [email protected]

OPERATING HOURS
9:00 AM - 1:00 PM (Monday - Thursday, Saturday)
| | |
| --- | --- |
| Criteria | Ratings |
| Expertise | ★★★★☆ (4/5) |
| Facilities | ★★★☆☆ (3/5) |
| Curriculum | ★★★★☆ (4/5) |
| Pricing | ★★★★☆ (4/5) |
Little Flower English School, initially opened in 1984, is an exclusive Kindergarten and Primary School.
What's interesting about this institution is that in terms of admissions, they actually require their students to take a written entrance test and to attend an interview.
This isn't certainly a new thing for primary to secondary schools, but for kindergarten– that's kind of surprising. Out of all the schools we've looked at, Little Flower is one of the few who actually admit students this way.
Moving on to their curriculum, this establishment is also one of the few institutions that follow India's CBSE curriculum. At the Kindergarten level, we've noticed an emphasis on English and Math.
The teachers do promote and develop an interest in having healthy habits, learning life skills, and the observation of their physical environment. This is done by providing activity-oriented classes to also cater to the fun side that these kids would want.
A cool thing about Little Flower is that they have a dedicated play area for their kindergarten students. Their actual classrooms do look a little bit small in comparison with other schools.
Interested parties can avail their educational programs for as low as AED 12,000 a year. Their rates are pretty cheap compared to the majority we've looked at!
Overall, if you're looking for a kindergarten that can help your child familiarize themself with math and English at such an early age, along with a cheap tuition fee, we recommend looking at Little Flower English School!
Offers transportation services (not for free)
Tuition fees can be paid in 3-month installments
Emphasis on Math and English
Classrooms look very small
Registration fee of AED 500 is required
Customer Reviews:
Reasonable Fees, Good Studying Environment
"Good school.Not giving much pressure on kids to study.fees is very reasonable.But all their communication receiving only through email ,not using any whatsaap communication.I recommend to use admin only accessibility group.so that authorized person can communicate to all at the same.and I never received any event and school program photos of my kid. They should consider this to send their parents." – Nisa K, via Google Reviews
4. Ambassador Kindergarten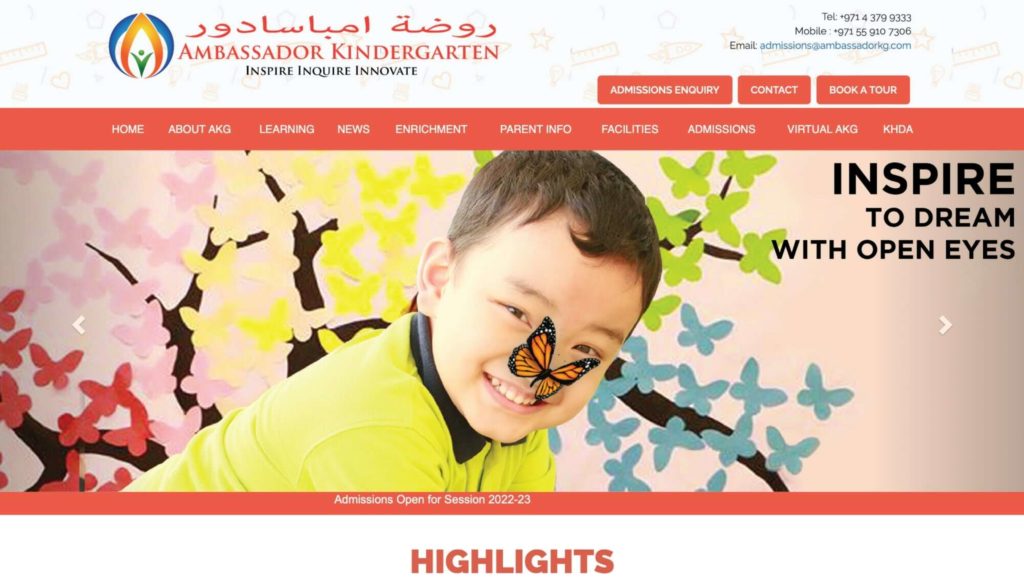 Test
Info
PROGRAMS OFFERED
Pre-Kindergarten, Kindergarten 1, Kindergarten 2, Primary School, High School
WEBSITE
https://www.ambassadorkg.com
ADDRESS
12 12 C St - Al Mankhool - Dubai - United Arab Emirates
CONTACT DETAILS
Phone: +971 4 379 9333

Mobile: +971 55 910 7306

E-mail: [email protected]

OPERATING HOURS
7:30 AM - 5:00 PM (Sunday - Thursday)

7:30 AM - 1:00 PM (Saturday)
| | |
| --- | --- |
| Criteria | Ratings |
| Expertise | ★★★★★ (5/5) |
| Facilities | ★★★★★ (5/5) |
| Curriculum | ★★★★☆ (4/5) |
| Pricing | ★★★★☆ (4/5) |
Ambassador Kindergarten is a school that offers educational programs for children of all levels and ages. Opened in 2011, this institution has been rated very well by Dubai's School Inspection Bureau.
The first thing we noticed about the kindergarten is its wide, spacious, and well-lit facilities. This school has a dance studio, music studio, and yoga room, which encourages students to be more creative and active.
Aside from that, kids also get a lot of play areas with bright colors and toys that allow them to be more imaginative and interactive with the world around them.
Moving on to the school's curriculum, this particular institution follows the Early Years Founding Stage (EFYS) framework, which focuses on the language, communication, and other areas of a kid's mind.
We did notice that the school tends to focus more on teaching language, specifically English, than other aspects (which did not go unnoticed). Aside from that, the teachers employed in the school also encourage their small kindergarteners to study with toys, books, and colorful visuals.
Interested parents can book a free tour around the campus before going through an application.
If you're looking for an institution that has spacious classrooms, colorful and fun play areas, and a curriculum that also helps your kid with English, we recommend giving Ambassador Kindergarten a call!
Allows a tour on its premises
Have multiple policies implemented for the betterment of its students
Has a dance studio, music studio, and yoga room
Admission fee of 500 AED is required
Focuses more on teaching linguistics
Customer Reviews:
Caring and Well-Qualified Teachers
"Ambassador Nursery has been one of the best decisions we have taken for our kids. My elder daughter had completed her kindergarten years in this Nursery and now my younger one is also studying at this Nursery. The staff and teachers here are genuinely very caring and well qualified. The Nursery aims at an overall development of kids and they have a very great campus. They have a structured plan for the week with all activities included like yoga, music, sensory, art and craft. They make sure that kids are learning in a safe and healthy environment. Parents are well informed about the activities and progress of kids. No complaints so far with the Nursery . We are happy with the progress of our kids." – Marilyn Dlima
5. GEMS Legacy School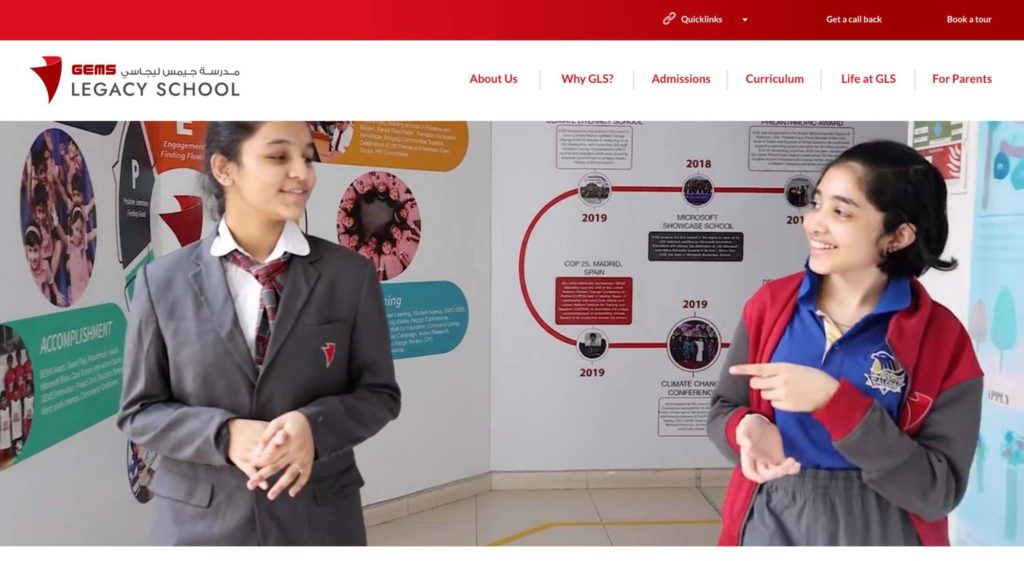 Test
Info
PROGRAMS OFFERED
Kindergarten, Primary School, Middle School, Secondary School
WEBSITE
https://www.gemslegacyschool-dubai.com
ADDRESS
2nd Street، Garhoud - Dubai - United Arab Emirates
CONTACT DETAILS
Phone: +971 4 282 4090
OPERATING HOURS
8:00 AM - 4:00 PM (Monday - Thursday)

8:00 AM - 12:30 PM (Friday)
| | |
| --- | --- |
| Criteria | Ratings |
| Expertise | ★★★★★ (5/5) |
| Facilities | ★★★★☆ (4/5) |
| Curriculum | ★★★★★ (5/5) |
| Pricing | ★★★★★ (5/5) |
Now this school has a lot of things that make it unique from the rest.
GEMS Legacy School is an educational institution that offers various programs for kids and teenagers alike.
The school provides a rare approach in their Kindergarten curriculum. They use the Reggio Emilia inquiry approach, which is a child-led hands-on method where the teacher observes and approaches a student's thoughts and questions.
With that being said, the facilitators of their kindergarten level focus on teaching language and communication skills, so the children can easily express their thoughts.
In addition, they also focus on the basic educational domains such as literacy, numeracy, and creative skills.
Speaking of facilitators, we've observed that they are all headed by people who are armed with educational master's degrees. Some are also affiliated with various non-governmental organizations such as the United Nations.
The school is using a blended e-learning approach to provide its services. This means that they use online interactive learning platforms more than physical meetings.
Overall, we believe that GEMS Legacy School is a good option for a kindergarten for its curriculum and its affordable fees (which start at AED 7,000).
Offers school transportation services
Teaches a wide range of skills
Offers a rewards program for fee discounts
Cheap tuition fees
Offers a school tour
Focused now on e-learning
The transport services can return very late
Customer Reviews:
Good Facilities and Resources
"One of the best schools in UAE,for students in kindergarten to grade 5.With very well wide range of facilities and resources to help students enjoy learning and balance academics and extra-curricular activities." – Joel Abraham
FAQs About Kindergartens in Dubai
---
And that's all that we have for you! We hope that our recommendations can help you narrow down your options at least.
If you're interested in other pre-school institutions, here are our recommendations for the top nurseries in Dubai!