The 5 Best Urology Clinics in Dubai
Our urinary tract plays a vital role in keeping our bodies clean, ensuring that our organs are free of toxins. So, when a disorder in your urinary tract appears, it's important to get it checked immediately.
That's precisely why we went out to look for the best urology clinics in Dubai. We explain the different factors we considered in choosing them and answer some FAQs about urology clinics below.
How much does going to a urology clinic in Dubai cost?
A urologist's fees may vary from one clinic to another. It also depends on the doctor's expertise, years of experience, and professional training.
To give you a starting point, a urologist may charge patients somewhere between AED100 to AED600.
The Best Urology Clinics in Dubai
Before we get right into our list of the best urology clinics in Dubai, here are the criteria we considered in choosing them:
1. Uro Diagnostic Clinic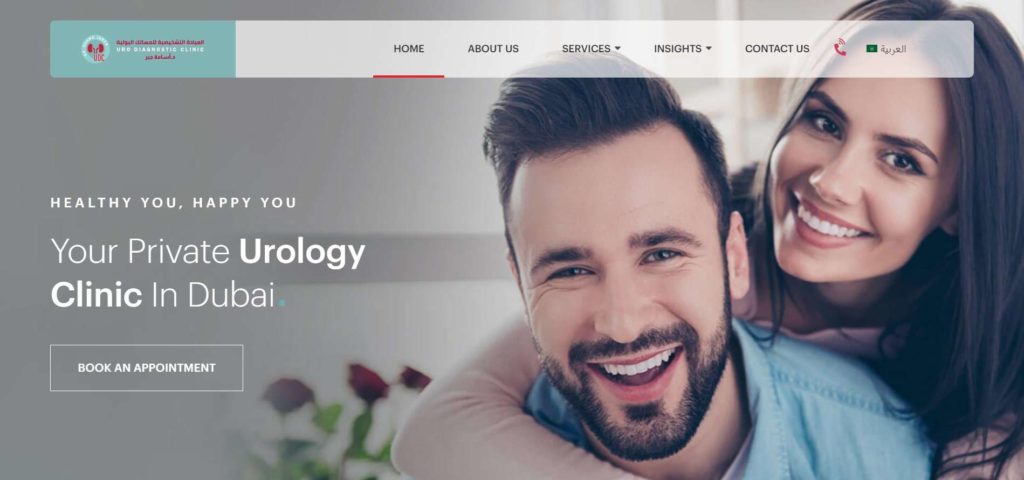 Test
Info
WEBSITE
https://www.udc-uae.com/en/
ADDRESS
Al Biruni Building 52, Suite 202-203, Dubai Healthcare City Dubai U.A.E
CONTACT DETAILS
+971 4 432 5006

+971 50 336 6732

OPERATING HOURS
Saturday to Wednesday: 9:30 AM – 5 PM

Thursday: 9.30 AM – 4 PM
| | |
| --- | --- |
| Criteria | Ratings |
| Experience | ★★★★★ (5/5) |
| Range of Treatments | ★★★★★ (5/5) |
| Equipment | ★★★★★ (5/5) |
| Service | ★★★☆☆ (3/5) |
Led by a German Board Certified Urologist and hailed as one of the best in the country, Uro Diagnostic Clinic is one of the most advanced urology clinics in Dubai.
We love that the team is led by one of the most skilled urologists in UAE, ensuring that the treatment and care you get are of the highest quality
With a highly competent team, we love that this clinic has many treatments. From STD treatments and magnetic incontinence therapy to cancer screening and Priapus shots, Uro Diagnostic Clinic covers a whole gamut of urological problems with ease.
Of course, this wouldn't be possible without its state-of-the-art technological equipment that is meant to provide accurate results with less effort for both the medical team and the patients.
However, where it starts to go down for us is the lack of services that make the clinic accessible.
Besides the presence of online booking through its website, the lack of ambulance transfers, and teleconsultations and being located adjacent to rich districts make the clinic hard to go to.
All in all, Uro Diagnostic Clinic proves that its excellent reputation in the medical community is not hearsay. Led by one of the best urologists in the country and backed by the best technology in the market, this clinic is definitely one of our top picks.
Led by one of the best urologists in the country
State-of-the-art medical equipment
Wide range of urological treatments available
Lacks services that promote accessibility
Customer Reviews
Best staff I've seen in a while
"Excellent service. The clinic is very neat and clean so are the staffs. They are friendly and cooperative. I haven't come across such nice staff in a while. The doctor himself came by and asked about every single patient's health who was waiting there. Highly recommended. Keep up the good work!" —Mohith Manohar, Google Reviews
Outstanding service
"A truly clean clinic with a professional yet friendly team and a passionate doctor who sincerely cares for his patients. What an outstanding service! I was quite impressed with the amount of care and attention Dr. Ossama pays to his patients. Highly recommended!" —Maha Khalid, Google Reviews
2. British Day Surgical Centre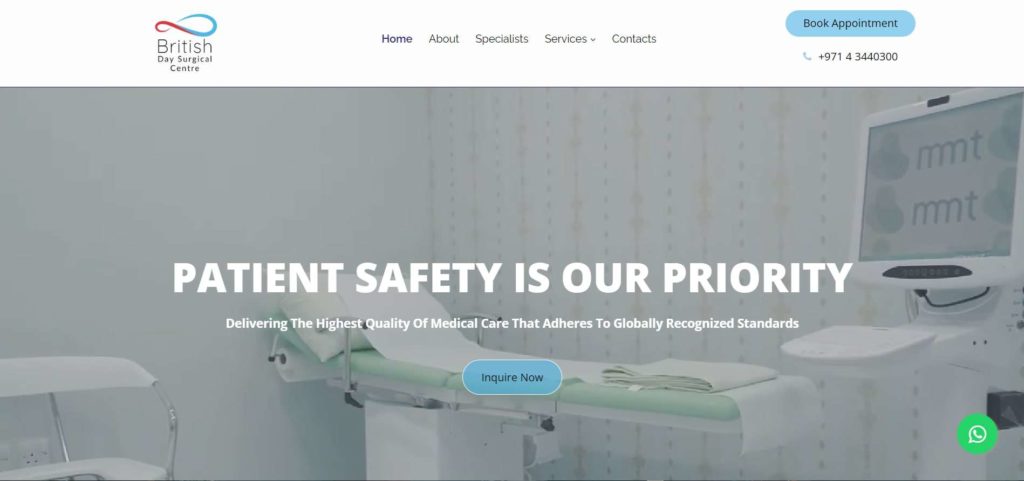 | Test | Info |
| --- | --- |
| WEBSITE | https://www.britishurology.com/ |
| ADDRESS | British Day Surgical Centre Al Wasl Road, Jumeirah 1 |
| CONTACT DETAILS | +971 4 3440300 |
| OPERATING HOURS | Saturday to Thursday: 9 AM – 9 PM |
| | |
| --- | --- |
| Criteria | Ratings |
| Experience | ★★★★★ (5/5) |
| Range of Treatments | ★★★★★ (5/5) |
| Equipment | ★★★★☆ (4/5) |
| Service | ★★★☆☆ (3/5) |
A newcomer to the community, British Day Surgical Center was established in 2019, but has quickly rose up to the ranks thanks to its veteran staff.
Founded by world-renowned urologist Dr. Nabil Mitry, this clinic has vast combined wisdom, accompanied by experience in treating many different illnesses.
As proof, the clinic is accredited by the American Association for Accreditation of Ambulatory Surgery Facilities.
The clinic also covers a wide range of urological treatments, although its offerings lack certain specialized operations that may prove to be critical for some patients.
However, we are impressed with the coverage of sexual dysfunction and fertility, as well as urinary tract issues and STD testing.
Its equipment is also state-of-the-art. What impressed us the most is the laser surgery equipment its doctors use to remove kidney stones.
It operates with precision and efficiency that surgery times are cut in half and are safer than manual techniques.
Another great thing about this clinic is that it does home consultations. The doctors can come to visit patients' houses to collect samples for testing, keeping the patients safe, especially during the pandemic.
While seemingly new, the British Day Surgical Centre provides one of the best urological care that Dubai can provide. With impressive equipment and a world-renowned urologist under it, this clinic offers nothing but excellence.
Medical staff is composed of renowned veterans
Covers a wide range of urological treatments
Impressive state-of-the-art equipment
Does home consultations
Only started operating in 2019
3. Novomed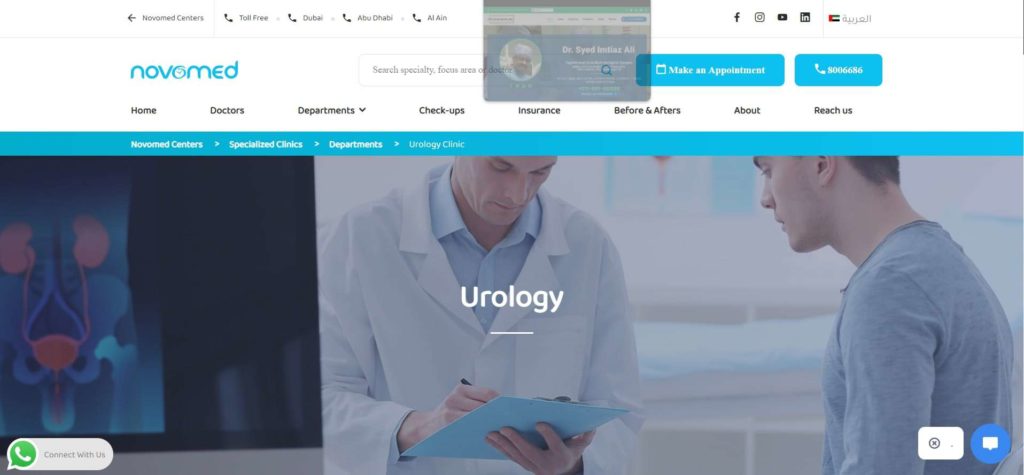 Test
Info
WEBSITE
https://www.novomed.com/
ADDRESS
30th Floor, Marina Plaza Dubai Marina

Has 6 other locations in the city

CONTACT DETAILS
+971 4 247 3100

800 6686

OPERATING HOURS
Monday to Friday: 10 AM – 6 PM
| | |
| --- | --- |
| Criteria | Rating |
| Experience | ★★★★★ (5/5) |
| Range of Treatments | ★★★★★ (5/5) |
| Equipment | ★★★★★ (5/5) |
| Service | ★★★★☆ (4/5) |
A multi-branch, state-of-the-art specialized center in Dubai, Novomed's accessibility is unrivaled.
Having multiple branches has its challenges, like ensuring the quality of staff is proportionate to its quantity — but somehow, Novomed makes it work.
With some world-renowned physicians under its hospitals, Novomed has experienced and highly competent medical leaders always ready to address any kind of medical issue.
Under its urology department is a wide range of common and specialized treatments. From sexual disorder treatments and STDs to infertility testing, cancer, and hematuria, Novomed's Urology department has everything to help its patients.
And when it comes to its equipment, we love that the clinic only uses state-of-the-art multidisciplinary equipment that provides efficiency, effectivity, and versatility for treatments.
However, it does falter a bit when it comes to its service quality.
Maybe the department is understaffed or is too small to accommodate the number of patients it has, but waiting for our appointment was uncomfortable because of the number of patients around us.
It also didn't help that the urology department was a bit separated from other facilities, so we ended up having to walk around before getting to the area we needed to go.
This is the natural challenge when it comes to being a part of a hospital. Sometimes, the department you need is just placed somewhere that's not strategic and convenient enough.
Despite that, Novomed makes up for it with great accessibility services. It has online clinics for teleconsultation, ambulance transfers, and many more.
All in all, this is truly one of the best urology clinics in Dubai because of the sheer access to excellent equipment and highly competent staff.
Multiple branches means great accessibility
Has world-renown physicians
Great range of urological treatments
Hectic hospital
Urology department is not strategically placed
Customer Reviews
Lovely and caring staff
"Wonderful experience with Dr. Louise Montels. She was so lovely, caring & friendly. I never met a doctor that combines such personal touches and cares for a patient. It was so amazing, she managed to solve my ingrown toenails without cutting the nails and the pain totally disappeared after I met her. Dr. Louise, you're so wonderful and made me feel want to meet you every day. Thank you so much!" —Mazir Aziz, Google Reviews
Outstanding service
"Dr. Feruza provided excellent care during the time I was in Dubai. I felt like she went above and beyond what other doctors normally do. She was always readily available, easy to contact, and quick to respond. She listened well and is a truly compassionate doctor. I will miss her!" —Tracy Clark, Google Reviews
4. Dr. Syed Imtiaz Ali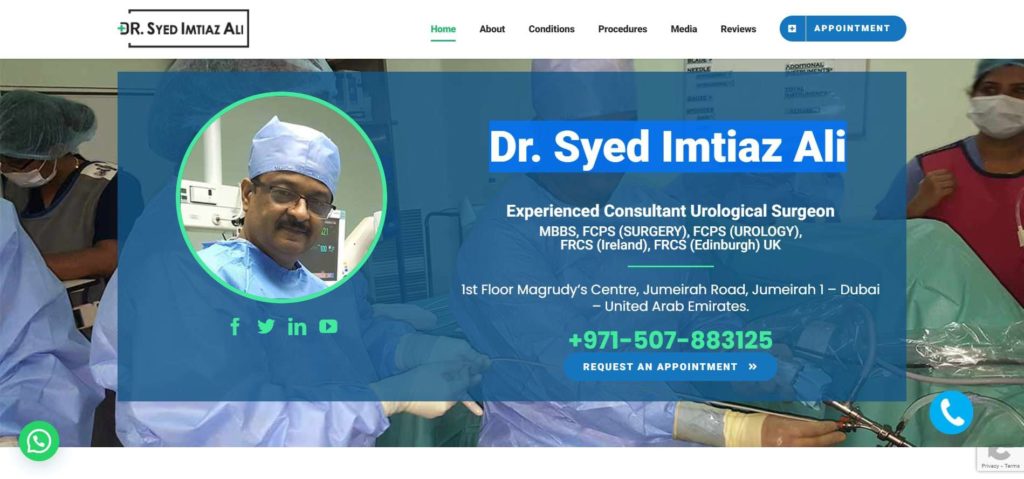 Test
Info
WEBSITE
https://drimtiaz.com/
ADDRESS
1st Floor Magrudy's Centre, Jumeirah Road, Jumeirah 1 - Dubai - United Arab Emirates
CONTACT DETAILS
+971 507 88 3125
OPERATING HOURS
Wednesday: 3 PM – 6 PM

Saturday: 12 PM – 3 PM
| | |
| --- | --- |
| Criteria | Ratings |
| Experience | ★★★★★ (5/5) |
| Range of Treatments | ★★★★★ (5/5) |
| Equipment | ★★★★★ (5/5) |
| Service | ★★☆☆☆ (2/5) |
With fellowships from the Royal College of Surgeons in Ireland (FRCS, Ireland) and Royal College of Surgeons in Edinburgh (FRCS, Edinburgh), founder Dr. Syed Imtiaz Ali has received global training that he has used to treat patients from all over the world.
He is able to treat a lot of common and complicated urological disorders — from cancers, enlarged prostate, and hematuria to infertility, cystitis, kidney stones, and many more.
But what amazes us more is that for such a small facility with a specific specialization in the medical field, Dr. Syed's clinic is equipped with state-of-the-art medical technology for the utmost effectiveness and care.
We love that this equipment allows him to perform common and complicated surgeries, as well as address rare urologic conditions.
Of course, a small clinic also has its drawbacks. The one that is glaring and surprising to us is that it is only open twice a week for 3 hours each day.
We had difficulty even just setting an appointment for a check-up because the clinic easily fills up. It took us multiple tries.
On top of that, other than online booking through its website, there are no other ways to make the clinic more accessible. No teleconsultations to accommodate patients looking for a consultation outside of the few clinic hours, either.
Despite that, those who have managed to keep coming back to Dr. Syed are treated with world-class care and devoted attention.
With high-class equipment and a doctor that has decades' worth of experience in the field, it's easy to get jealous of Dr. Syed's patients whose care falls in his hands.
Globally trained urologist
State-of-the-art equipment
Can treat common and rare urological disorders
Only open 2 days a week for 3 hours each
Difficult to get an appointment
Customer Reviews
Highly recommend this urologist
"I underwent successfully TURP surgery by Dr. Syed Imtiaz Ali and I found him the most professional Urologist in UAE and therefore I highly recommend the doctor for any Urologist issues. With best wishes to everyone!" —Berhane Ghebreweldi, Google Reviews
Outstanding service
"Had a wonderful experience with the pleasant personality of Dr. Syed Imtiaz. Strongly recommended for Urology issues. I am undergoing treatment from Dr. Syed Imtiaz and had a wonderful experience." —Khalid Khan, Google Reviews
5. Westminster Ortho Med Clinic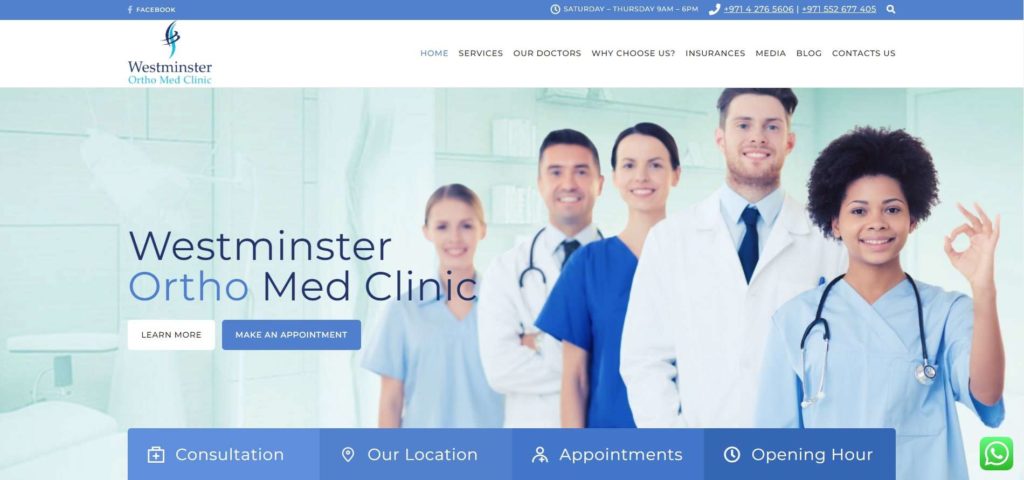 Test
Info
WEBSITE
https://www.westminsterclinic.ae//
ADDRESS
Block A, Suite 203, Ibn Sina, Building 27, Dubai Health Care City
CONTACT DETAILS
+971 4 276 5606

+971 552 677 405

OPERATING HOURS
Saturday to Thursday: 9 AM – 6 PM
| | |
| --- | --- |
| Criteria | Ratings |
| Experience | ★★★★☆ (4/5) |
| Range of Treatments | ★★★★☆ (4/5) |
| Equipment | ★★★☆☆ (3/5) |
| Service | ★★★★★ (5/5) |
While it is primarily an orthopedic clinic, we simply cannot count Westminster Ortho Med Clinic out because of its excellent treatments and services.
While its staff isn't the most renowned in the field, Westminster can boast the fact that its doctors are recognized experts, at least, in their own respective fields.
But besides that, we love that its doctors are not afraid to do some cross-referral to another consultant or specialist when required, which simplifies the process and speeds up treatment.
This shows that the clinic really puts a priority on the patient's recovery over its need to prove that its doctors are the best practitioners in the city.
The clinic and its expert urologists can treat a wide variety of disorders, from simple operations to more complicated treatments. However, we noticed that it cannot address rarer cases, so it's easy to conclude that it does cross-referral for this.
When it comes to its equipment, they're not always state-of-the-art nor the latest model released, but they do work when they need to.
Besides that, the clinic's practices are monitored and accredited through a nationally recognized framework and all members of staff supporting the specialists are trained to the highest standards.
Pros
Urologists are recognized experts in their fields
Does cross-referral when needed
Treats simple and complicated disorders
Practices are accredited
Not the best quality equipment
Customer Reviews
Highly recommend this urologist
"I underwent successfully TURP surgery by Dr. Syed Imtiaz Ali and I found him the most professional Urologist in UAE and therefore I highly recommend the doctor for any Urologist issues. With best wishes to everyone!" —Berhane Ghcannotviews
Outstanding service
"Had a wonderful experience with the pleasant personality of Dr. Syed Imtiaz. Strongly recommended for Urology issues. I am undergoing treatment from Dr. Syed Imtiaz and had a wonderful experience." —Khalid Khan, Google Reviews
FAQs about Urology Clinics in Dubai
---
We hope this helped you find your favorite urology clinic in Dubai. If you're looking for other medical services, check out these articles: