The 6 Best Indian Restaurants in Dubai
If the whole space is filled with the aroma of spices and the menu is filled with a variety of vegan dishes alongside meals with exotic meats, then that means you must be at an Indian restaurant.
Dubai has always been influenced by Indian culture, so it only makes sense that the city is lined with Indian restaurants.
And it can be hard to pick out the best because everyone has their favorites. But we're sharing with you our top picks as well as the factors we considered in choosing, and we also answered some FAQs about Indian restaurants in Dubai.
How much does it cost to eat in an Indian restaurant in Dubai?
The cost of eating at an Indian restaurant may vary depending on the restaurant and the dishes you will be ordering.
To give you a starting point, we've made a table of the average amount of money a pair of customers spend at our chosen restaurants.
| Indian Restaurant | Average Amount of Money Spent |
| --- | --- |
| Rasoi Ghar | AED100 for 2 people |
| Dhaba Lane | AED130 for 2 people |
| Mint Leaf of London | AED450 for 2 people |
| Indego by Vineet | AED640 for 2 people |
| Tresind Studio | AED800 for 2 people |
The Best Indian Restaurants in Dubai
Before we get right into our top picks for Indian Restaurants in Dubai, here are the factors we considered for our entries on this list:
1. Dhaba Lane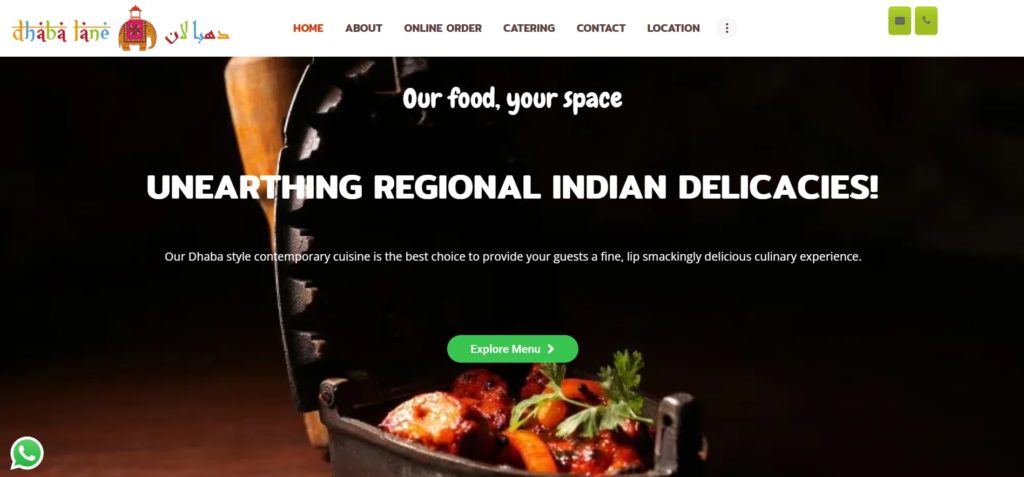 Test
Info
WEBSITE
https://dhaba-lane.com/
ADDRESS
Opposite Spinneys (Burjuman), Behind Park Regis Hotel - 2 B St - Dubai
CONTACT DETAILS
04 358 3554
OPERATING HOURS
Sunday to Wednesday: 12 pm - 3:30 pm, 6:30 pm - 12 am

Thursday to Saturday: 12 pm - 3:30 pm, 6:30 pm - 1 am
| | |
| --- | --- |
| Criteria | Rating |
| Authenticity | ★★★★☆ (4/5) |
| Customer Service | ★★★★★ (5/5) |
| Ambiance | ★★★★★ (5/5) |
| Location | ★★★★☆ (4/5) |
Dhaba Lane is a love letter to the Dhaba-style eateries in India, also known as roadside cafes and food stalls.
We love that Dhaba Lane puts Dhaba delicacies in a casual dining atmosphere while preserving its essence as a part of the cultural tapestry of India.
And they do this by balancing the casualness of Indian roadside food with gastronomic twists and innovations to the presentations and reinterpretations of their dishes for food lovers in Dubai.
This casualness that stems from Dhabas bleeds into their service as well. We love how the servers were very friendly and warm, reminiscent of the beauty of unpretentious low-cost eateries.
And it's also noticeable how they really respect and value both their customers and their dishes with how beautifully presented these are to our table.
You can see that same kind of respect in the styling of the restaurant, too. We think it's thoughtfully designed from the vibrant upholstery to the music playing over the speakers.
The space felt colorful and warm without being too distracting or overwhelming to the eyes.
And we love how the plating of the food adds a whole new layer to the ambiance. It really showed us that making Dhaba-style food look expensive and luxurious is possible for a fraction of the price of a fine dining restaurant.
And while it may only have one location in the city, it is located in a neighborhood known for its Indian community and businesses right in the heart of downtown Dubai.
We love how central it is for a lot of commercial and tourist activities that it's so easy to incorporate into anyone's itinerary.
All in all, Dhaba Lane brings in a part of Indian culture that is so often overlooked and then elevates it to a level where everyone can enjoy the type of cuisine it offers.
It makes and presents food that respects its roots and traditions while also making it palatable for today's foodies, and that's exactly why Dhaba Lane is one of our favorites.
Dhaba-style Indian cuisine
Authentic Indian food with a twist
Thoughtfully styled restaurant
Excellent service
Located in the center of downtown Dubai
Only has one location in the city
Customer Reviews
These guys know what they're doing
"This is my second time coming to this restaurant in one week so far this Restaurant is the Number One on my place to go for Non-Veg Restaurant. I was able to meet Jitender the Master Chef of the Restaurant. These guys knows what they are doing. Must go place. Lots of Love from Houston Texas" —Ayub Maredia, Google Reviews
Everything they serve is perfection
"If you're looking for a mid-range desi restaurant that offers sumptuous food, then Dhaba Lane is your answer. You can blindly order anything from their menu and it will surely exceed your expectations. Their tandoor items are worth trying – juicy, soft, and flavorful till the last bite. The presentation just takes the whole dining experience a notch above! Observing the quantity the price might feel a bit high but quality-wise, it's fair enough. The interiors are well-thought and designed to give you a true Dhaba feel!" —Reema Ahmed, Google Reviews
2. Mint Leaf of London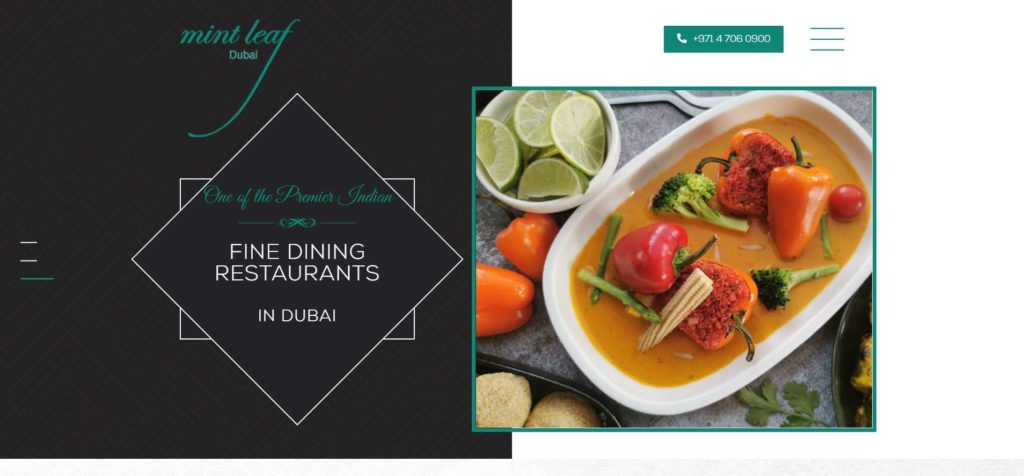 Test
Info
WEBSITE
https://mintleaf.ae/
ADDRESS
Emirates Financial Towers - 15th Floor, South Tower - DIFC - Dubai - United Arab Emirates
CONTACT DETAILS
+971 4 706 0900
OPERATING HOURS
Saturday to Sunday and Tuesday to Wednesday: 12 pm - 1 am

Thursday to Friday and Monday: 12 pm - 2 am
| | |
| --- | --- |
| Criteria | Rating |
| Authenticity | ★★★★☆ (4/5) |
| Customer Service | ★★★★★ (5/5) |
| Ambiance | ★★★★★ (5/5) |
| Location | ★★★★☆ (4/5) |
Mint Leaf of London is one of Dubai's most sought-after luxury Indian restaurants because they are well-known for elevating and modernizing favorite traditional Indian dishes.
Located on the 15th floor of the South Tower of the Emirates Financial Towers, its location truly plays a vital role in its ambiance.
Dining while viewing the city through their floor-to-ceiling windows was truly a memorable experience for us.
And the interior matches the luxury that the view gives. The space is open and beautifully designed to bring a sense of opulence in the details found in the finishings on the wall and the quality of its cutlery.
The soft lighting in this restaurant is quite artistically-designed. We found it to be the cherry on top of a relaxing and intimate dinner.
Their cocktail bar, which is known as one of the best in Dubai, has a comfortable lounge that we found to be perfect for pre and post-dinner drinks.
As for their restaurant itself, we love how their dishes use authentic Indian spices and fresh ingredients that remain true to the traditional recipes.
However, we do think that some techniques used take away the cultural essence of some dishes. In other words, we often found ourselves thinking that this is the Western world's interpretation of modern Indian cuisine.
As for their customer service, excellence is the only word that comes to mind.
They are meticulous and full of style in their plating. They were efficient, professional, and warm throughout our whole dining experience with them.
The Mint Leaf of London exudes Indian luxury through the eyes of the Western world. They took the beauty of Indian cuisine and fused it with gourmet dining.
And with a view of the city in a luxurious space, what more can we ask from a luxury Indian dining experience?
Luxury Indian cuisine
Excellent customer service
Highly acclaimed cocktail bar
Beautifully styled restaurant
Offers an amazing view of the city
The flavors are somewhat Westernized
Only has one location
Customer Reviews
110% excellence!
"The overall experience at the Mint Leaf of London Dubai was extraordinary!! The dishes were filled will flavor and spices that tingled the senses! We enjoyed the non-vegetarian 5-course meal paired with 4 types of wines and they did not disappoint with the variety of flavors! Also, our server Joanah ensured that we were treated with 5-star availability while dining! The chef, Manoj, really put all the hard work into each unique dish we were presented with tonight! We were very impressed with the customer service and professionalism that was displayed this evening! 110% excellence!!" —Danielle Owens, Google Reviews
Superb dining experience
"Superb food, service, and ambiance. This restaurant definitely earns the five-star rating and raving reviews it has. The chef, Mr. Manoj has to be complimented on the food preparation, everything was so perfectly cooked, not less, not more, just perfect. The taste of the fusion Indian cooking was simply superb. Mr. Adnan who waited on us was so very cordial and pleasant and made us feel very comfortable.
Overall a fantastic experience.
We had gone for Lunch, I guess the view from the restaurant will be fantastic at night. Would definitely come back just to experience dinner with a Burj Khalifa view…" —Eapen Thomasl, Google Reviews
3. Indego By Vineet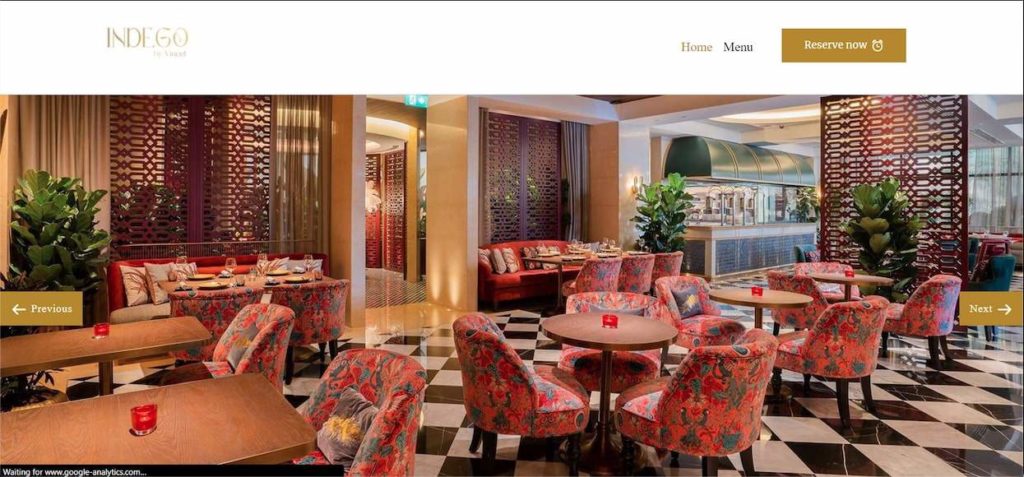 | Test | Info |
| --- | --- |
| WEBSITE | https://www.indegobyvineet.com/ |
| ADDRESS | Grosvenor House, a Luxury Collection Hotel, Al Emreef Street, Dubai Marina, Dubai |
| CONTACT DETAILS | +97143176000 |
| OPERATING HOURS | Every day: 7 pm - 12 am |
| | |
| --- | --- |
| Criteria | Rating |
| Authenticity | ★★★★★ (5/5) |
| Customer Service | ★★★★☆ (4/5) |
| Ambiance | ★★★★★ (5/5) |
| Location | ★★★★☆ (4/5) |
Created by the face of modern progressive Indian cuisine, Vineet Bhatia, Indego By Vineet honors Indian street food by reimagining classics to their fullest gourmet potential.
We love how authentic this restaurant is despite its gourmet acclaim. They are known for preparing their dishes on tawa or griddle, tandoor or clay oven, sigdi or grill, and handi or stew pot.
We also love the principle they follow when it comes to Indian food, and that is preserving the playfulness found in the harmony of spices and flavors and matching it with a playful elegance in their plating.
Their service is just as you'd expect when it comes to a fine dining restaurant—professional and efficient while being friendly and warm.
As for its ambiance, we love that it's found in the Grosvenor House at Dubai Marina. The whole place is opulent and full of class, which complemented its luxurious nautical area.
Their alfresco area provides incomparable views of the city skyscrapers and the marina itself. We are big fans of this backdrop because it elevates the ambiance and it makes for some very intimate moments.
The interior mixes traditional and contemporary luxury, which we found to be quite timeless.
Being located at Dubai Marina, we think this is a perfect choice for dates because not only does it provide a perfect backdrop, but the marina is also great for a night walk after dinner.
However, the area itself is quite inaccessible via public transport, so getting a cab or bringing a car is definitely a must.
Serves gourmet traditional Indian street food dishes
Exceptional service
Beautiful ambiance and backdrop
Area is perfect for a walk after dinner
Location is inaccessible via public transport
Customer Reviews
One of the best Indian restaurants out there
"Indego restaurant is one of the best Indian restaurants in Dubai. The food and presentation are Amazing..we ate the starter and dessert and it was very good; the rest of the food and decoration is also very good; the second thing is the staff and the manager is also very good so I will tell everyone that you must try it out!!! I guarantee that you will enjoy it a lot." —Meena Sharma, Google Reviews
Amazing service, amazing food
"I visited the newly refurbished Indego by Vineet for dinner recently and the venue looks stunning. It is an Indian fine dining restaurant located in Grosvenor Hotel, Dubai Marina. Their drinks and food menu offer great options. We had many dishes along with their signature cocktails. The presentation, the plating, the flavor, and the taste of the food were impressive. And the exceptional service complemented the food and drinks." —Meghana Rao, Google Reviews
4. Rasoi Ghar
| Test | Info |
| --- | --- |
| WEBSITE | https://rasoighar.ae/ |
| ADDRESS | Zainal Mohebi Plaza, Sheikh Khalifa Bin Zayed Road, Opposite Centrepoint, Al Karama, Dubai |
| CONTACT DETAILS | +971 4388 5711 |
| OPERATING HOURS | Every day: 12 pm - 3:30 pm and 7 pm - 11:30 pm |
| | |
| --- | --- |
| Criteria | Rating |
| Authenticity | ★★★★☆ (4/5) |
| Customer Service | ★★★★☆ (4/5) |
| Ambiance | ★★★★★ (5/5) |
| Location | ★★★★☆ (4/5) |
Up next on our entry is one of our favorite spots for vegetarian Indian food with authentic flavors of Gujarat, Kathiyawad, and Rajasthan.
Rasoi Ghar approaches authenticity in the sense that they cook their food the way tradition dictates it—with minimal oil and without baking soda.
But we appreciate that the concept of their dishes is fused with other traditional Indian methods from other regions to fully showcase the diversity of Indian cuisine.
We are big fans of their specially designed menus that are specific to each day. This is their way of honoring the different aspects of Indian cooking.
However, the more we thought about it, the more we think it is to their detriment and the detriment of their customers who will not always have all the choices in one sitting.
Them honoring the traditions of Indian cooking can also be seen in the way they treat their customers.
We love how confident they are in the cleanliness of their restaurant by showing us their busy kitchen through the glass windows.
As foodies, we also appreciate how they serve a sample portion of every choice available for the day, and once we've decided on our favorites, the staff kept our bowls full until our stomachs were full.
However, the busyness of the restaurant and its buffet-style dining often limits the team's efficiency, and we often found ourselves waiting for quite some time for our refills.
Despite that, the busyness actually adds to the ambiance of the restaurant. We love the loudness and busyness of the restaurant because it felt like we are eating at a friend's house.
We can hear the cooking coming from their see-through kitchen mingling with the conversations around us, and the result is a certain sense of warmth that we really couldn't find anywhere else.
And we think being located in the heart of downtown Dubai also adds this sense of vibrant energy to it.
It's also very strategic and a great choice for lunches and dinners during a day's worth of exploring the city or going on errands.
However, having only one location means they're often full during mealtimes.
Rasoi Ghar is probably our favorite that serves the most authentic Indian food out of all of them. We love that their love for Indian food overflows from the kitchen and into the restaurant itself.
Every time we go there, it always feels like going to a friend's house for dinner, and we've never felt more welcome anywhere else.
Serves authentic vegetarian Indian food
Specially designed menus each day
Buffet-style dining
Warm and friendly service
Great ambiance
Strategically located in downtown Dubai
Different menus each day limits food options
Staff needs to work on efficiency

Customer Reviews
Our favorite vegetarian restaurant
"This is our favorite vegetarian restaurant in Dubai. Amazing value for money and this is the place to experience authentic Indian food. You have as well two choices of sitting arrangement, we always like to go for the flowing sitting. Just be aware that the food is a bit spicy. As well you can repeat as much as you wish." —Kristina Gherman, Google Reviews
Fuses Indian food with their own spin
"Luscious food. A very good restaurant to have Thali. It's very nice place to go with family. Very friendly staff and food are really fresh and tasty. We started with the lemon juice that itself taste very differently. Every food they serve is with their own signature to it." —Anish K.S, Google Reviews
5. Tresind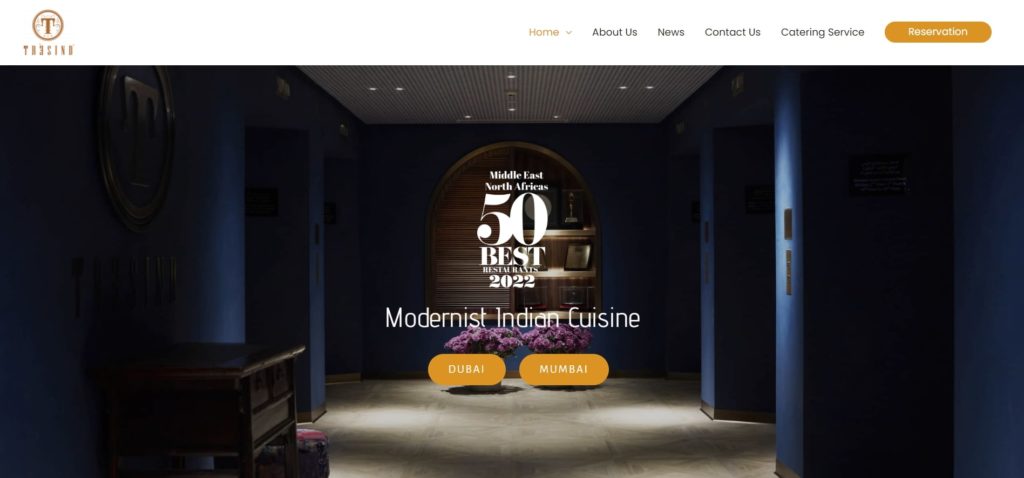 Test
Info
WEBSITE
https://www.25degreesnorth.com/
ADDRESS
Damac Executive Heights Building, TECOM, Dubai, UAE

Shop – 29, The Promenade By Vincitore Opposite to Miracle Gardens, Arjan, Dubai

BB07, Ground Floor, Bay Square, Business Bay, Dubai UAE

CONTACT DETAILS
Damac Executive Heights Building, TECOM, Dubai, UAE

Landline: 044527779

Mobile: 0551428026

Shop – 29, The Promenade By Vincitore Opposite to Miracle Gardens, Arjan, Dubai

Landline: 045690046

Mobile: 0561443790

BB07, Ground Floor, Bay Square, Business Bay, Dubai UAE

Landline: 043607474

Mobile: 0551428031

OPERATING HOURS
Sat to Fri – 11 am to 1 am
| | |
| --- | --- |
| Criteria | Rating |
| Authenticity | ★★★★★ (5/5) |
| Customer Service | ★★★☆☆ (3/5) |
| Ambiance | ★★★★☆ (4/5) |
| Location | ★★★★★ (5/5) |
The beauty of learning the traditions of a specific cuisine is you get to inherit the honor of preserving its legacy, and that is exactly what Tresind is trying to do.
Composed of a young team of Indians, we love that this restaurant is not afraid of paving the path toward reimagining food for today and the future.
So, in a sense, we think that while Tresinde may not be authentic in the usual sense, it does carry on the legacy of Indian cuisine by showcasing its potential to be a part of the contemporary gastronomic industry.
And the restaurant reflects this mission, too. The interior beautifully combines Indian architecture styling with contemporary minimalistic elements to balance vibrancy and intimacy.
However, we found ourselves getting distracted by the lighting. These were weirdly placed, and the cool and warm lights clashed harshly and ruined the sense of intimacy the place has.
Another weak point was the front-end staff of the restaurant. It was disappointing to see the hostess not even bothering to look up at us and say thank you when we left.
The servers were also lackluster. They were ill-prepared when we asked them which dishes they recommend and gave us a scripted answer that included their two most popular dishes.
Despite that, they accommodated all our requests with utmost efficiency, and we enjoyed it when they explained each dish that was placed on our table.
And just like some of our entries, they only have one location in the city, but they do have two other variations of the restaurant with their own menus: Tresind Studio and Avatara.
We like that Tresind is located in a central part of uptown Dubai, surrounded by hotels, museums, and other fine dining options, making it a great choice for dates and celebrations.
All in all, while Tresind lacks the refinement that experience brings when it comes to managing their restaurant, we see the sincerity in pushing Indian cuisine further.
We appreciate the fact that they have built themselves to be at the forefront of innovating Indian food as a way of preserving their culture and identity.
Composed of young Indian chefs
Serves innovative Indian food
Accommodating service
Beautifully decorated space
Located in central uptown Dubai
Hostess was cold
Servers lack knowledge concerning the menu
Badly designed lighting
Customer Reviews
Innovative food
"We went for chefs tasting menu which was a 9-course meal. Every item was delicious and had a unique taste. I was skeptical about the mushroom tea, but it was so tasty!!
The presentation is excellent and they explain everything that is being served. All the food was very innovatively prepared and served on different cutlery. Overall it was an amazing experience." —Arpan Makwana, Google Reviews
Strongly recommend their dentists here
"We had a wonderful experience from the beginning to the end at Trèsind.
Outstanding service, present but not constantly over your shoulder.
We had a vegetarian and non-vegetarian lunch menu: it was delicate, unique, tasty, and felt like traveling to India.
You understand why the restaurant received an award for Top 50 restaurants in MENA, definitely worth it.
The interior is warm, cozy, and fancy at the same time.
One of our best experiences in Dubai, we will come back. Thank you much." —Karl Lehrer, Google Reviews
6. 25 Degrees North Restaurant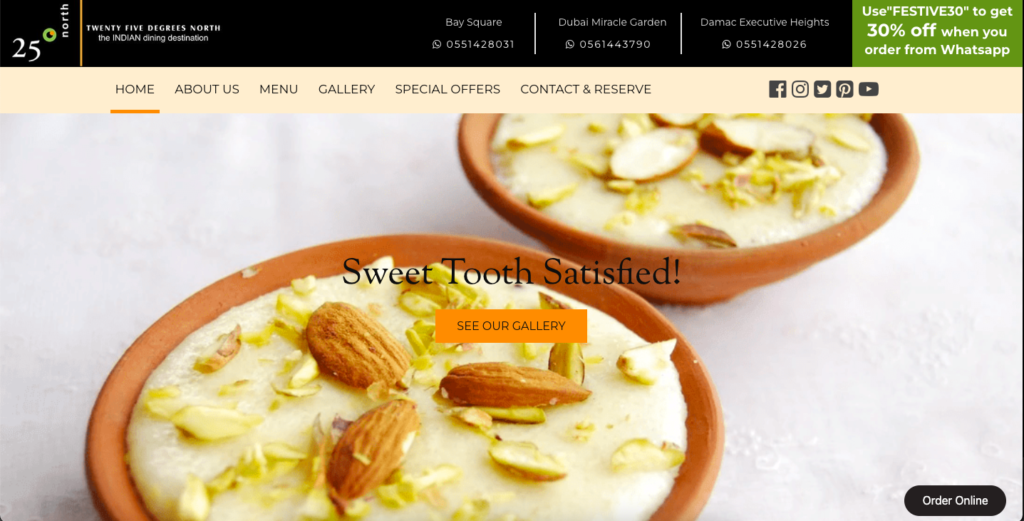 Test
Info
WEBSITE
https://www.25degreesnorth.com/
ADDRESS
Damac Executive Heights Building, TECOM, Dubai, UAE

Shop – 29, The Promenade By Vincitore Opposite to Miracle Gardens, Arjan, Dubai

BB07, Ground Floor, Bay Square, Business Bay, Dubai UAE

CONTACT DETAILS
Damac Executive Heights Building, TECOM, Dubai, UAE

Landline: 044527779

Mobile: 0551428026

Shop – 29, The Promenade By Vincitore Opposite to Miracle Gardens, Arjan, Dubai

Landline: 045690046

Mobile: 0561443790

BB07, Ground Floor, Bay Square, Business Bay, Dubai UAE

Landline: 043607474

Mobile: 0551428031

OPERATING HOURS
Sat to Fri – 11 am to 1 am
| | |
| --- | --- |
| Criteria | Rating |
| Authenticity | ★★★★☆ (4/5) |
| Customer Service | ★★★☆☆ (3/5) |
| Ambiance | ★★★★☆ (4/5) |
| Location | ★★★★★ (5/5) |
25 Degrees North allows their diners to explore the rich history of North Indian culture and cuisine.
We like their extensive menu and we didn't run out of mouthwatering options from their starters to their main courses and down to their desserts.
Not only are their food delicious, but they have generous portions that are reasonable priced.
If you're vegan or vegetarian, you also have a lot of options here.
The place itself sets the perfect vibe and it has great ambiance which adds to the overall experience of eating here.
However, if you go here, be prepared to have a hard time finding parking. We'd say it's nearly impossible.
We've also had some experiences wherein our food was served cold and we had to wait a long time.
But overall, we think that it's still a great place to try out Indian food!
Extensive menu
Options for vegans and vegetarians
Great ambiance
Difficult parking
Food served cold
Long waiting time
Customer Reviews
"This place is a place with a rich history (restaurants, bakeries. ). The place is very tasty, and has a unique atmosphere. A little noisy, but not too much. The food is good in a well done rustic style. The staff is efficient, very friendly and efficient, but our waiter really pushed us to over-order. The wine selection is good and the sommelier was exceptional. The staff here takes pride in bringing a good experience and we enjoyed our food. Our only caveat is to go there with calorie rich and dollar budgets!"
"It was a great experience staff was so nice mr Aman is very humble and loving person must recomended"
FAQs about Indian restaurants in Dubai
---
We hope this helped you in finding an Indian restaurant to try out. Also, if you're looking for other ways to celebrate moments or reward yourself then check out these articles: