The 5 Best Medical Centers in Dubai
Medical centers are a critical aspect of communities. From helping mothers give birth to providing vital treatments and medical services to people of all ages, finding a medical center that works for you can make a big difference.
That is exactly why we scoured the city to give you our top picks for medical centers in Dubai. Along with that, we also included the factors we considered in choosing our favorites and answered some FAQs about medical centers in Dubai.
How much does a visit to a medical center cost in Dubai?
The cost of visiting a medical center can vary from what kind of medical services and treatments you need, the doctor you want to see, and the medicine you need to purchase.
To give you a starting point, we've made a table of the price range of common medical services for you to check out.
| Medical Service | Price Range |
| --- | --- |
| General Checkup | AED240 - AED400 |
| Overnight Stay in a Shared Room | AED1000 - AED3000 |
| Childbirth Delivery | AED4000 - AED6000 |
| Cesarean Section Delivery | AED7000 - AED9000 |
| Dental Check-Up and Cleaning | AED100 - AED200 |
The Best Medical Centers in Dubai
Before we get right into our top picks for medical centers in Dubai, here are the factors we considered for our entries on this list:
1. Zia Medical Center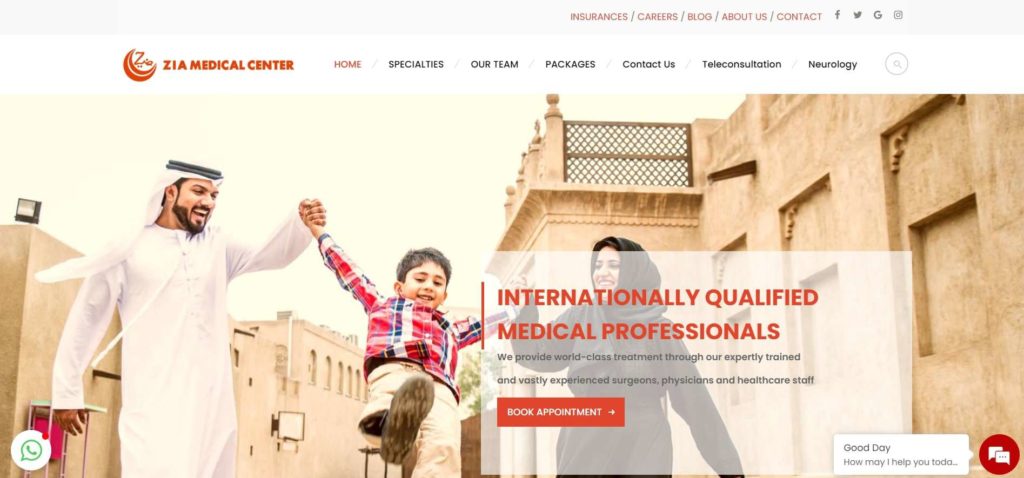 Test
Info
WEBSITE
https://ziamedicalcenter.com/
ADDRESS
Umm Suqiem 1, Jumeirah Beach Road, Adjacent Kite Beach, Dubai, UAE
CONTACT DETAILS
+971 4 315 0555

+971 52 489 0416

OPERATING HOURS
Saturday - Thursday: 9 am - 9 pm
| | |
| --- | --- |
| Criteria | Rating |
| Convenience | ★★★★☆ (4/5) |
| Range of Services & Treatments | ★★★★★ (5/5) |
| Coverage | ★★★★★ (5/5) |
| Accolades | ★★★★★ (5/5) |
One of the most well-rounded medical centers in Dubai is Zia Medical Center. Their 21 medical departments have their own set of services and treatments in one location.
The quality of their treatments and services makes them some of the leading medical clinics in Dubai, and they operate so efficiently that they serve 2000 patients every month.
We also love that their regional labs combine extensive testing capabilities with the convenience and excellent personalized service of a local one—making them stand out among medical laboratories in the region.
Their teleconsultation services can be accessed through their website, and we love it because it really connected us quickly to a doctor in less than an hour.
And this proves to be invaluable for them because they only have one location in the city, and this service makes up for the lack of physical coverage.
Despite having only one medical center, it's strategically located between the Palm Jumeirah and the Dubai Creek, drawing in both locals and tourists around the central part of the city.
As for their insurance network, they're currently affiliated with 20 insurance companies. On top of that, they also have a health checkup package and lab tests package.
Both of these packages are designed to help people save money on expensive tests that are required for jobs and important legal registrations.
And the excellent service and treatments are mostly because Zia Medical Center's doctors are award-winning researchers in their own specializations.
The dermatologist that we went to see, Dr. Maria Thomas, has a national award for Best Original Article from the Indian Dermatology Online Journal & a state award for Best Research Paper.
Their technical staff that is in charge of operating their machines is led by a board-certified pathologist and technical managers who combine many years of experience in medicine.
All in all, Zia Medical Center covers all the bases that make a medical center great and important to its city and even pushes it further with a great insurance network and a teleconsultation service.
Teleconsultation services are invaluable
Has 21 medical departments in one location
Leading medical laboratory in the region
Affiliated with 20 insurance companies
Award-winning doctors and staff
Only has one location in the city
Customer Reviews
Best medical staff I've encountered
"So I went to the Center for a medical and I cannot say enough about how great all the staff was. From Monu who arranged everything to the nurses who assisted in all the tests, but I have to say as a medical professional myself, Dr. Galal, Cardiologist is a credit to the medical field not only as a physician but as a human being. This gentleman and I reiterate gentleman is one of the kindest, most empathetic physicians that I have ever met. They kept me informed of everything throughout my tests and procedures." —Tony Crocock, Google Reviews
My go-to choice for medical centers
"Whoever is looking for a homeopathic medication, I would highly recommend visiting Doctor Rozina at Zia Medical. She is a friendly person with who we can easily get connected, approach, and explain our health issues.
Since 2019 I am visiting her, and my experience with her was always 100% satisfying. Also, the staff who's at Zia treat the patients with hospitality and priority. Easy to locate and access is also an advantage of the Zia Medical Center" —Mohamed Shazil, Google Reviews
2. Prime Hospital Dubai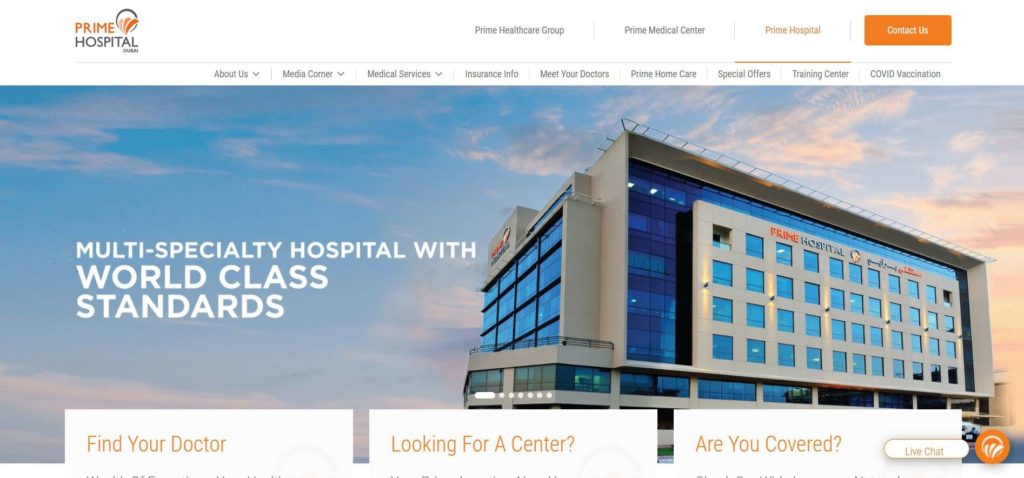 Test
Info
WEBSITE
https://www.primehealth.ae/prime-hospital/contact-us
ADDRESS

No. 203, Shk. Saud Building, Opposite Al Reef Mall, Deira - Dubai - United Arab Emirates


They have 13 other locations in the city.
CONTACT DETAILS
+971 4 7070999

+971 4 2929777

OPERATING HOURS
Every day: 7 am - 10 pm
| | |
| --- | --- |
| Criteria | Rating |
| Convenience | ★★★★★ (5/5) |
| Range of Services & Treatments | ★★★★☆ (4/5) |
| Coverage | ★★★★☆ (4/5) |
| Accolades | ★★★★★ (5/5) |
If there ever is a more present medical center in Dubai, it would be Prime Hosptial Dubai.
With 14 locations all over Dubai, they are the most accessible and convenient medical center we tried out.
And they don't even stop there. Their accessibility can also be found in the design of their website.
We love that it provides visitors access to their list of insurance company affiliates and their doctors.
The directories can also be sorted by departments, language spoken, location, insurance coverage, and gender. We love that it really lets visitors zone into one particular doctor or service that they need.
Besides their 14 locations, they also have 38 different medical services from ambulance services to dermatology, to different kinds of surgeries.
These medical services are also backed up with technology that has been sourced from some of the best suppliers in the industry such as Siemens, GE, and Fresenius.
However, we're not big fans of the fact that some of these services are not available in all of their locations.
We definitely recommend you check out their directory first to find out which of their locations have the medical service you need.
As for patients' insurance coverage, Prime Hospital Dubai has one of the widest networks in the city. They are affiliated with almost every insurance company in the country.
And while not all of their doctors are affiliated with every single insurance company under their network, the fact everyone with insurance can come in and not have to worry if they're covered makes them one of our favorites.
All of these aspects of their excellent medical care are widely recognized throughout the industry.
They were recently awarded at the Annual Health Awards 2018 as one of the most Distinguished Hospitals and Distinguished Clinics in the UAE in recognition of their invaluable contributions to the region's healthcare industry.
On top of that, they also won the award for best diagnostic services at the Annual Health Awards back in 2019.
All in all, Prime Hospital Dubai takes accessibility to medical services to heart, and it's noticeable in the presence they have all over the city and the vast insurance affiliations that they have.
Their dedication to giving Emiratis choices in the medical services they want and need and making it easy for them to avail these is the reason why they are one of our favorites.
Has 14 locations in the city
Website designed for easy navigation
Offers 39 medical services
Has one of the widest insurance networks
Award-winning hospital
Insurance coverage is specific to doctors
Not all medical services are available in all locations
Customer Reviews
My wife and I found our favorite medical center
"We did the gallbladder removal surgery of my wife yesterday and got discharged today. The entire hospital support was excellent. The nurses were very caring and attentive and I give a 5*plus rating to Dr. James for the outstanding approach and care from starting to end. We really feel him as our elder brother by now. Thank you Dr. James Pullimoottil Zachariah and the entire Prime Hospital team." —Jis Sebastian, Google Reviews
Love the personalized approach from my doctor here
"Dr. Usha is extremely caring, very approachable, and experienced in her field. She takes a personalized approach, addresses all concerns, provides the best advice, and is available to answer calls/messages even at midnight! She made us feel safe and comfortable from day 1. I had a normal delivery under her supervision and had a very good experience throughout." —Deepali Mittal, Google Reviews
3. KIMSHEALTH Medical Center Dubai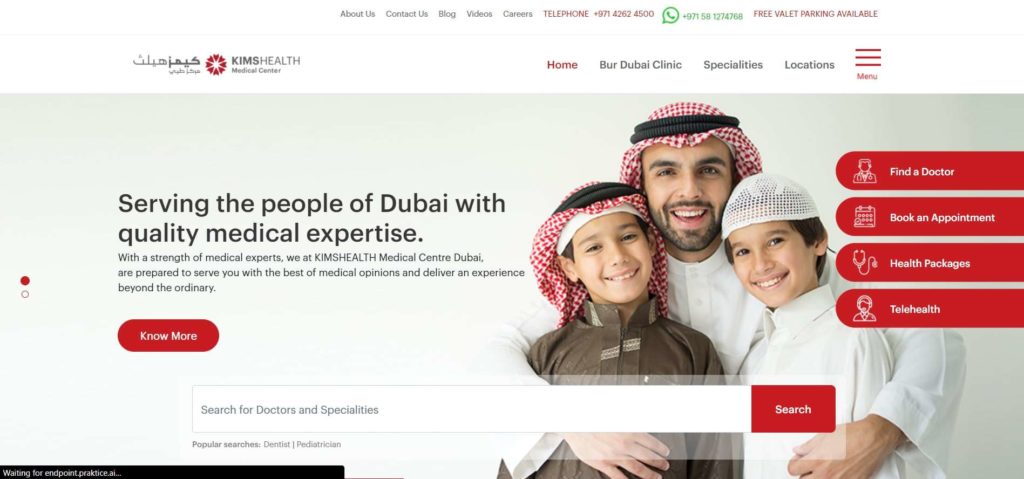 Test
Info
WEBSITE
https://www.kimshealth.ae/
ADDRESS
Post Box 82909 Next to Abubaker Al Siddique Metro Station, Dubai, UAE
CONTACT DETAILS
+971 4262 4500
OPERATING HOURS
Saturday - Thursday: 7 am - 11 pm

Friday: 8 am - 12 pm and 4:30 pm - 10 pm
| | |
| --- | --- |
| Criteria | Rating |
| Convenience | ★★★★☆ (4/5) |
| Range of Services & Treatments | ★★★★☆ (4/5) |
| Coverage | ★★★★★ (5/5) |
| Accolades | ★★★★★ (5/5) |
There are no two of the same medical cases. Each one is always unique from the others, and it takes experts to give you an accurate diagnosis.
KIMSHEALTH Medical Center Dubai just does that. With centers and hospitals in six countries in the Middle East and South Asia, patients can connect to doctors outside of Dubai.
We love this because there are some cases wherein a patient has a specialized case that may need the attention of a doctor from another country, and KIMSHEALTH has a global network of them.
However, this sense of convenience just ends there. When we checked out their website we found it hard to navigate through due to the lack of sorting features and options.
As for their services and treatments, we love that they have 16 medical departments with their own set of services in their Dubai location alone.
And the range doesn't just end there. They are affiliated with 27 insurance companies in the Middle East alone and 33 more companies in India.
We like that both Emirati locals and South Asian tourists won't have any problem being covered by their insurance when they go here.
Being a medical center with a global presence has really boosted them into international acclaim in the industry, and we love that the prestige they offer isn't just localized to one hospital or country.
Their hospital in India is accredited by the National Accreditation Board for Hospitals (NABH) and the Australian Council on Healthcare Standards International (ACHSI) 2006.
This makes them the first Indian hospital with both national and international accreditations.
They are also the fastest growing healthcare network in the world, growing from a 250 bed to a 2000 bed healthcare group, with hospitals in Bahrain, Oman, Saudi Arabia, Qatar, and UAE.
KIMSHEALTH Medical Center Dubai is one of the best in the city because being a patient there gets you access to medical professionals around the world and their own professional opinions.
Has medical centers in six countries
Has 16 medical departments in Dubai alone
Has a wide network of international insurance companies
Acclaimed medical centers locally and internationally
Website is hard to navigate
Only has one location in Dubai
Customer Reviews
I had the most comfortable experience with them
"Amazing experience!!! 🙏🏻
From the Start at the reception desk, they are organized and accomodating. Nurses are friendly and attentive. I had the Best and well experienced ENT Dr. Sudhir Pillai that will feed you information and do his very best to make you comfortable until the healing process. Thank You!" —Klaire Joy Macasero, Google Reviews
Love the personalized approach from my doctor here
"Hello KIMS and community, I have to express my deep gratitude to KIMS. I visited Dr.Syed Shah for my breathing issues, he took a proper history and even read my old medical reports that I brought with me. He discussed it with me related to cough and snoring. And praise be to God, I have followed his medication strictly and now 90% of my sickness has gone away. I have been visiting many doctors in different clinics but I never thought I would meet such a nice doctor with all professional abilities, with a spirit to make the patient better and give a positive hope to the patient as well. I pray for Dr.Syed Shah and I hope he thrives in his career,,, patients/friends that I know and highly recommended me to him, have their prayers and blessing with him too. Many appreciated KIMS we owe you. Thank you." —Dhave Sabolo, Google Reviews
4. Marina Medical Center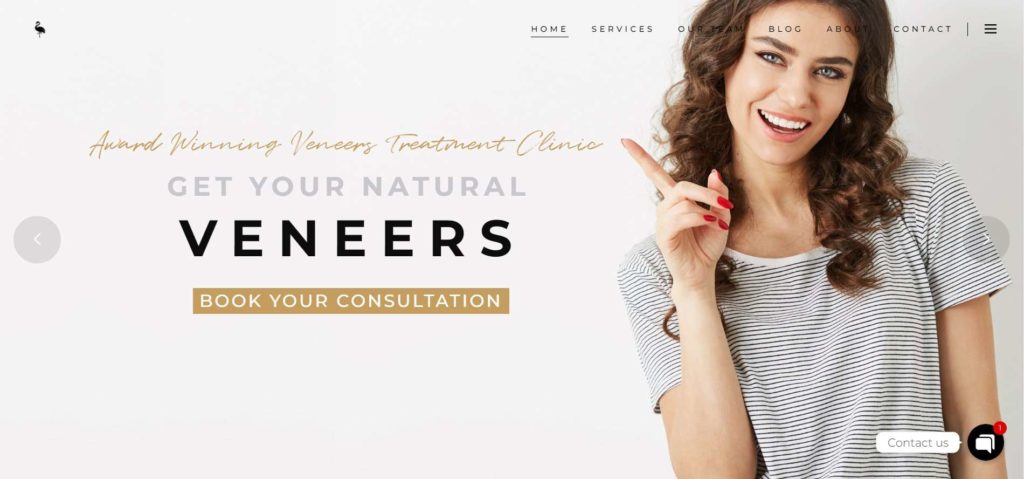 Test
Info
WEBSITE
https://www.mmcdubai.ae/
ADDRESS

King Salman Bin Abdulaziz Al Saud St - Botanica Tower - Dubai Marina - Dubai


Has 1 more branch within the city
CONTACT DETAILS
+971 4 399 9939
OPERATING HOURS
Saturday - Thursday: 10 am - 9 pm
| | |
| --- | --- |
| Criteria | Rating |
| Convenience | ★★★★☆ (4/5) |
| Range of Services & Treatments | ★★★★☆ (4/5) |
| Coverage | ★★★★☆ (4/5) |
| Accolades | ★★☆☆☆ (2/5) |
Including a sense of luxury is always a must in Dubai, and that includes healthcare. Marina Medical Center just does that.
Its main location is strategically located in Marina Dubai, a midpoint for both local and tourist activity, lending its services to a lot more people.
This kind of convenience can also be seen on their website. We love that they have individualized profiles of their doctors detailing their specializations and their educational background.
However, we found it really inconvenient that they don't have a directory of the insurance companies they are affiliated with.
Despite that, they do have a decent number of insurance companies under them. However, these are all only available with their medical services excluding esthetician services.
As for their treatments and services, we like that besides having general medical services such as pediatrics and dentistry, they also provide facial and hair treatments like laser hair removals and mesotherapy.
However, we think that this niche is also their weakness because the majority of their equipment focuses only on this, and the result is they lose the ability to provide surgical services in the same location.

Their affordability, on the other hand, is their strongest suit. For a medical center so beautifully decorated and styled, their services are more affordable compared to other entries on our list.
On the other side of the spectrum, their weakest point is their lack of awards and recognition.
However, their doctors are overachievers in their own fields and graduates of globally renowned medical schools in Europe.
Dr.Abdulrazak went on specialized training in orthodontics at the European University College in collaboration with Malmo University in Sweden.
While Dr. Abdullah has gone through a fellowship in dermatology from St John's Institute of Dermatology – London.
All in all, while Marina Medical Center may not be the most well-rounded entry on this list, it remains to be one of our top picks because of its niche services and low-cost treatments.
Strategically located medical center
Individualized profiles of the team on their website
Provides esthetician services on top of medical treatments
A decent number of insurance affiliations
No directory for their insurance affiliations
No surgical services
Medical center has no awards or accolades

Customer Reviews
Great staff!
"I've been getting laser hair removal at the clinic for the past 12 months and I've had excellent results. My hair has almost completely gone and the technician has been amazing she has made me feel so comfortable every time. The clinic is so clean and professional and a bonus is that it smells beautiful here! The staff is lovely and kind and welcoming. I highly recommend their services." —Elizabeth Kirwan, Google Reviews
My no. 1 clinic in Dubai
"This is my regular clinic. Been here multiple times with my sister and the service and staff are always exceptional! Most important is that they can accommodate me even when I run late due to unforeseen circumstances. Will always be my no 1 clinic in Dubai. Highly recommended." —Debs Personal, Google Reviews
5. Oxford Medical Center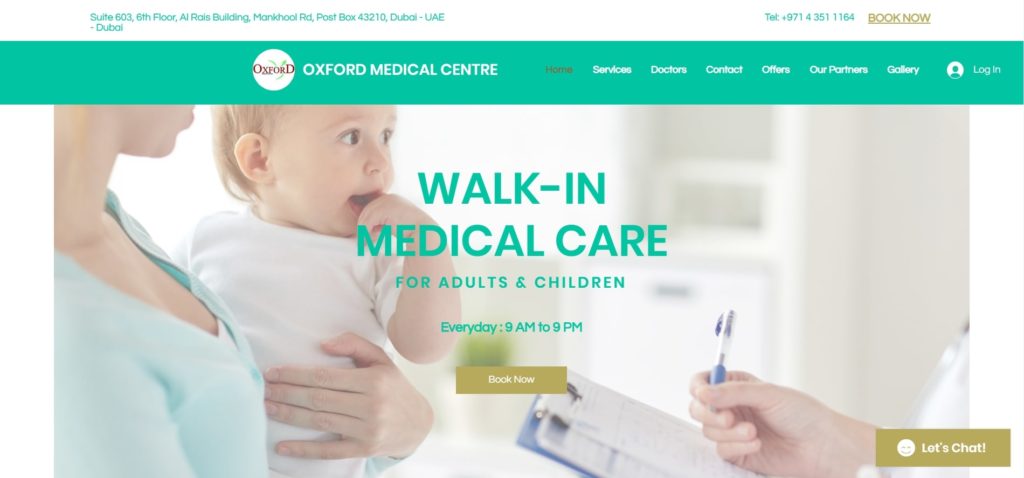 | Test | Info |
| --- | --- |
| WEBSITE | https://www.oxfordmedicalcentre.com/ |
| ADDRESS | Suite 603, 6th Floor, Al Rais Building, Mankhool Rd, Post Box 43210, Dubai - UAE - Dubai |
| CONTACT DETAILS | +971 4 351 1164 |
| OPERATING HOURS | Every day: 9 am - 9 pm |
| | |
| --- | --- |
| Criteria | Ratings |
| Convenience | ★★★★☆ (4/5) |
| Range of Services & Treatments | ★★★☆☆ (3/5) |
| Coverage | ★★★★★ (5/5) |
| Accolades | ★★★★☆ (4/5) |
Located conveniently in between downtown Dubai and Sharjah, is one of Dubai's go-to choice for the best pediatric services, Oxford Medical Center.
Run by three doctors, this small medical center maintains a trustworthy and reliable reputation in the city with Dr. Pradipta and Dr. Pooja.
With 20 years of experience, Dr. Pradipta is one of the most sought-after pediatricians in Dubai, while Dr. Pooja offers excellent dentistry services that have quickly spread because of her patients.
Unfortunately, being only run by three doctors means that they are severely limited with the range of medical services and treatments they can offer.
And these treatments can be checked out on their website, which is nicely designed to give visitors a comprehensive list of their insurance affiliations, services, and facilities that can be viewed at one glance.
Speaking of their insurance affiliations, they have a decent number of connections for their patients.
On top of that, they also have medical offers like RT-PCR tests and dental packages that can help patients save on money.
All in all, Oxford isn't the most prestigious or the biggest medical center in Dubai, but they make up for it with excellent service that you really can't find anywhere else besides the local ones run by your own neighbors.
This medical center has that particular neighborly feeling about them, and we love that it makes them really trustworthy, which is an important quality for pediatricians and dentists to have.
Strategically located
Comprehensive website
Sought-after pediatric services and dentistry
Decent insurance network
Has medical offers and packages
Well-accomplished doctors
Very limited range in services and treatments
Medical center has no awards
Only has one location
Customer Reviews
Great dental care
"Hello everyone. I am sharing my experience with Dr. Haya Siddique from Oxford Medical Centre. I was suffering from Toothache and was afraid of where to go, whether Doctor will be Good or not, and many more confusions. Then I got a reference of Oxford Medical Centre from my Friend. I visited Oxford Medical Centre and was treated by Dr. Haya for my Root Canal Treatment. Treatment was good and full attention was given by Dr. Haya. She is a very good and experienced Doctor. I will suggest all consult, Dr. Haya Siddiqui, for all your dental-related problems, if any. From my side I will give full marks to her and 5 stars from my side to Dr. Haya Siddique." —Ashish Kumar, Google Reviews
Strongly recommend their dentists here
"I have to say that I stumbled across this Dentist early part this year, I have to say that I was so impressed by Dr. Manisha the level of her diagnosis and implemented a program that suited my budget as well. The level of service and aftercare is second to none. I strongly recommend this Dentist who will go the extra mile to make sure you have the right dental treatment at the right prices as well" —Jack Bedesha, Google Reviews
FAQs about medical centers in Dubai
---
We hope this helped you in picking out a medical center in Dubai. Also, if you're looking for specific clinics and doctors, then check these articles: