The 5 Best Medical Centers for a Colonoscopy in Dubai
A colonoscopy is an important checkup procedure to know if there is bleeding, the presence of polyps, and possible signs of colon cancer in our large intestines.
People often refuse to go through with it due to the fear of the procedure, so medical centers must go to some lengths to make it easier for patients.
We scoured the city to give you the best medical centers for a colonoscopy in Dubai. We also included the factors we considered in choosing.
Ultimately, we answered some FAQs about colonoscopies in Dubai.
How much does a colonoscopy in Dubai cost?
The cost of getting a colonoscopy depends on the doctor's professional fees, the medical center's fees, and the amount that your insurance covers.
To give you a starting point, colonoscopies cost around AED700 to AED6000.
The Best Medical Centers for a Colonoscopy in Dubai
Before we get right into our top picks for the best medical centers for a colonoscopy in Dubai, here are the factors we considered for our entries on this list:
1. Digestive Health & Endoscopy Consultants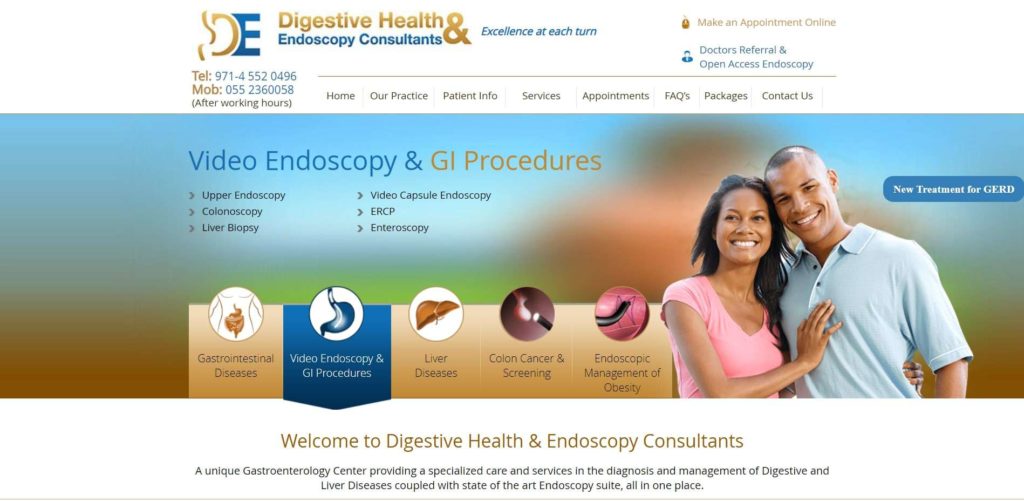 Test
Info
SERVICES

•Colonoscopy

•gastrointestinal treatments

•liver treatments

•endoscopic management of obesity

WEBSITE
https://www.dhec.ae/
ADDRESS
Al Razi Complex, Building #64, Block C, Suite 2012, Dubai Healthcare City, Dubai UAE
CONTACT DETAILS

•Phone: 971-4 552 0496 / 055 2360058 (After working hours)

•EMAIL: [email protected]

OPERATING HOURS

•Monday: 11 AM – 7 PM

•Tuesday: 8 AM – 4 PM

•Wednesday: 11 AM – 7 PM

•Thursday: 9 AM – 5 PM

•Sunday: 8 AM – 2 PM
| | |
| --- | --- |
| Criteria | Rating |
| Credibility | ★★★☆☆ (3/5) |
| Competence | ★★★★★ (5/5) |
| Service | ★★★★★ (5/5) |
| Equipment | ★★★★★ (5/5) |
Providing specialized care and services in the diagnosis and management of digestive and liver diseases, Digestive Health & Endoscopy Consultants provides focused care for procedures in one place.
The medical center is led by Dr. Wael Dahhan, who has extensive experience both in the USA and the UAE.
We also love the fact that he completed his Gastroenterology Fellowship at Yale University and pursued further fellowship training in Advanced & Interventional Endoscopy at BIDMC, Harvard University.
Dr. Fahhan has received training and experience at Ivy League universities and has been practicing in two countries.
However, the clinic itself is not affiliated with any notable medical institutions, which is somewhat admirable, but this means that its connections to other medical experts are limited.
Despite that, Digestive Health & Endoscopy Consultants has proven to break through the stigma of colonoscopies and uses an alternative method for its procedures.
While sigmoidoscopy and colonoscopy are still readily available, this medical center also does virtual colonoscopies and fecal testing, both of which are non-intrusive.
This not only provides a much easier and more comfortable experience, but it also speaks of the equipment this center uses.
It may be small, but its focus on digestive and liver problems has made it easier for it to procure improved equipment.
Head doctor has incredible experience and training
Specialized medical center
Offers non-intrusive procedures
The medical center is not affiliated with notable organizations
Customer Reviews
Wonderful team
"Everyone was wonderful and put me at total ease. I felt I was in extremely safe hands from start to finish and wouldn't hesitate in recommending Dr. Dahhan and his team." – Matthew Black, Google Reviews
Super doctor
"I visited Dr. Dahhan for the pain I have been having in my stomach. When I got to the office I was greeted warmly and respectfully by the front desk and the nurses. Dr. Dahhan was very thorough with his exam and took his time to answer any concerns I may have. I felt very comfortable with his answers and felt like I wasn't being rushed into any unnecessary treatments like I sometimes am with other doctors. He told me to follow a plan and if my pain doesn't go away in a couple of weeks that I should come back and do an upper endoscopy of the stomach. I would recommend anyone to see him as he seems to be very knowledgeable in his field and he knows what he is " – Rania Kayali, Google Reviews
2. Dr. Antonio Privitera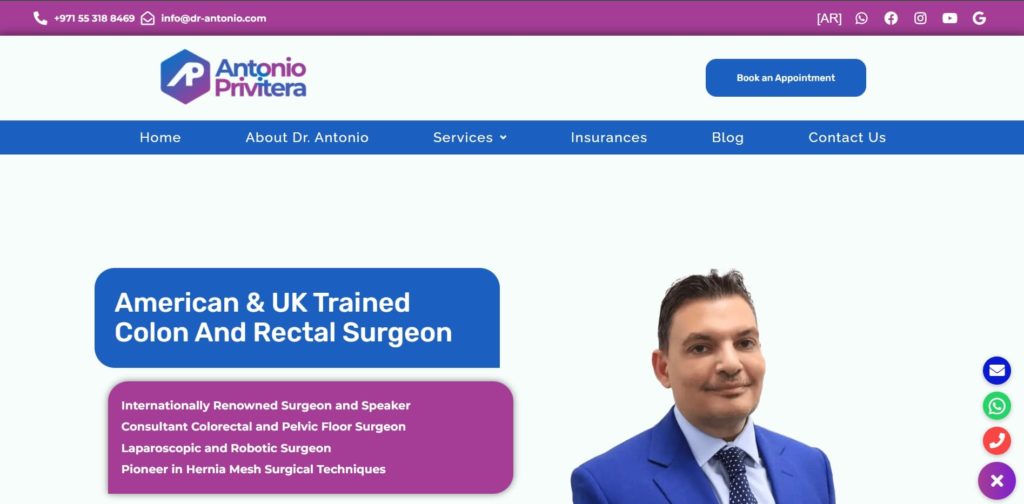 Test
Info
SERVICES

•Colonoscopy

•endoscopy procedure

•hernia surgery

•proctology

WEBSITE
https://dr-antonio.com/
ADDRESS
Aster Cedars Hospital, Jebel Ali, Street No. 2, Dubai, UAE
CONTACT DETAILS

•Phone: +971 4 440 0500

•EMAIL: [email protected]

OPERATING HOURS

•Saturday to Thursday: 9 am - 8 pm
| | |
| --- | --- |
| Criteria | Rating |
| Credibility | ★★★★★ (5/5) |
| Competence | ★★★★★ (5/5) |
| Service | ★★★☆☆ (3/5) |
| Equipment | ★★★☆☆ (3/5) |
A clinic found in Aster Cedars Hospital, Dr. Antonio Privitera offers globally acclaimed procedures and services that involve every patient's digestive system.
Having received training and education from the US and the UK, Dr. Privitera is the only surgeon in the world to have both a Mayo Clinic Colorectal Fellowship and a London Colorectal fellowship.
He is definitely among the elite doctors in the world, and it shows in his skills. Because of other fellowships, he is able to do robotic surgeries and his experience with multiple busy district hospitals all over the world has taught him so much.
On top of that, he is amazingly well-connected with affiliations from global medical organizations such as the Royal College of Surgeons, Dubai Health Authority, and many more.
And while the service is always amazing with Dr. Privitera, it is such a shame that he now operates in a small department at Aster Cedars Hospital.
This means that it is often quite difficult to set an appointment with him, and we don't blame the patients — no one is as competent and well-experienced as he is.
On top of that, his being a renowned surgeon means that the focus of his clinic is on operations and not on the colonoscopy itself.
This is not to discount the colonoscopies his clinic performs, but there is certainly nothing special about the way he does the procedure.
And the equipment reflects this. While his operations are assisted by robotic machines for ultra-accurate movements, colonoscopies are still an intrusive procedure for his patients.
Dr. Privitera is one of the few elite doctors in the world
The clinic is affiliated with global medical organizations
Operations are done with the assistance of robotics
Nothing special in its colonoscopies
Difficult to book an appointment
Customer Reviews
Can't praise Dr. Privitera enough!
"Thank you so much Doctor for the excellent care and support you provided me at the Cedars Jebel Ali. I feel so blessed to know you and have you as my doctor. Once again Thank you so much for the great care and Surgery you performed on me. I can see you work tirelessly towards a healthy outcome. Regards 🙏🙏🙏Bhawna Joshi Pant" -Vrinda Vann, Google Reviews
The best specialist surgeon in all of the Middle East
"Dr. Antonio he is a very highly skilled physician and after I proceed with a consultation with himself, I can definitely notice his international background and experience as clearly shows it. Dr. Antonio has excellent skills in colorectal surgery and I really like the fact that he is very meticulous in investigating deeply, and trying to find the source of the underlying condition! Dr. Antonio, has definitely the ability to connect with the patient in a very friendly and professional approach. I really appreciated the fact that he was very clear and I knew exactly where to start immediately and what next steps I need it to take it to resolve my medical condition. I would like once again to thank Dr. Antonio & team for the great experience….definitely the best specialist Surgeon in all Middle East!" -Andrea Tomeo, Google Reviews
3. Dr. Rami Hamed Center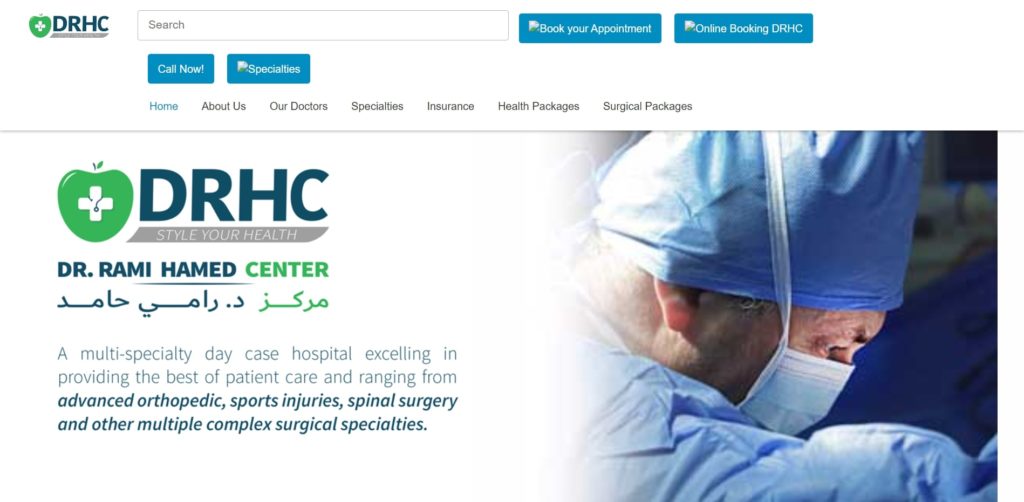 Test
Info
SERVICES

•Colonoscopy

•orthopedic surgery

•general surgery

•urology

•gynecology

•obstetrics, dental

WEBSITE
https://www.drhc.ae/medical-center-in-dubai
ADDRESS
Building 52, Dubai Healthcare City, Dubai, UAE
CONTACT DETAILS

•Phone: +97142798200 / +971524830895

•EMAIL: [email protected]

OPERATING HOURS

•Every day: 8 am - 9 pm
| | |
| --- | --- |
| Criteria | Rating |
| Credibility | ★★★★★ (5/5) |
| Competence | ★★★★★ (5/5) |
| Service | ★★★★☆ (4/5) |
| Equipment | ★★★★★ (5/5) |
Dr. Rami Hamed Center is a multi-specialty hospital that provides great medical care from the simplest of procedures, such as colonoscopies, to complex surgical operations.
Its Gastroenterology department, which deals in anything related to the digestive system, including colonoscopies, is led by Dr. Said Farhat.
He has over 11 years of experience practicing as a gastroenterologist, has gone to school in Russia and Lebanon, and received further studies in Paris, France.
And while this department is not the hospital's flagship, Dr. Farhat ensures that the one leading it has notable and global experience, which we think is excellent.
On top of that, Dr. Rami Hamed Center's gastroenterology department has a staff that is highly qualified and consists of expert specialists that maintain best work practices.
And what makes its service a cut above the majority is that it provides all the related logistics in-house. This means anything that is needed urgently can be addressed and given almost immediately.
But while the department strives to continuously keep up with technological advancements, the hospital is focused on more departments and we noticed that not all of its equipment are the best in the industry.
Doctors have global training and years of experience
Specializes in cataract surgery and management
Excellent equipment and facilities
Nothing special in its treatments
Equipment is not always the best in the industry
Customer Reviews
Got a very good experience!
"I got a very good experience with the hospital and the doctors who gave fantastic care and precise treatment to me and I am blessed the treatment directly by Dr. Rami who is a great person of knowledge and experience. Also, Dr. Said is a great specialist when it comes to Gastrointestinal, he is so perfect and specific. Dr. Miey is a fantastic dental specialist who is so super cool and confident in treating my dental arches. I want to thank all the staffs who take care of me like their own family and I am very grateful for all the help they did. Now DRHC become my favorite wellness center and thank you God for showing me this Great place."- Jameel Moidheend, Google Reviews
Amazing medical center!
"The United States needs to take a page from this medical center in taking care of patients and showing genuine concern for their well-being. The front desk staff is attentive to your needs as well as your health. The Entire staff is professional and very kind-hearted and caring. I can honestly say I really enjoyed being under their care. I highly recommend them." – Caesar Crittenden, Google Reviews
4. Dr. Maher Abbas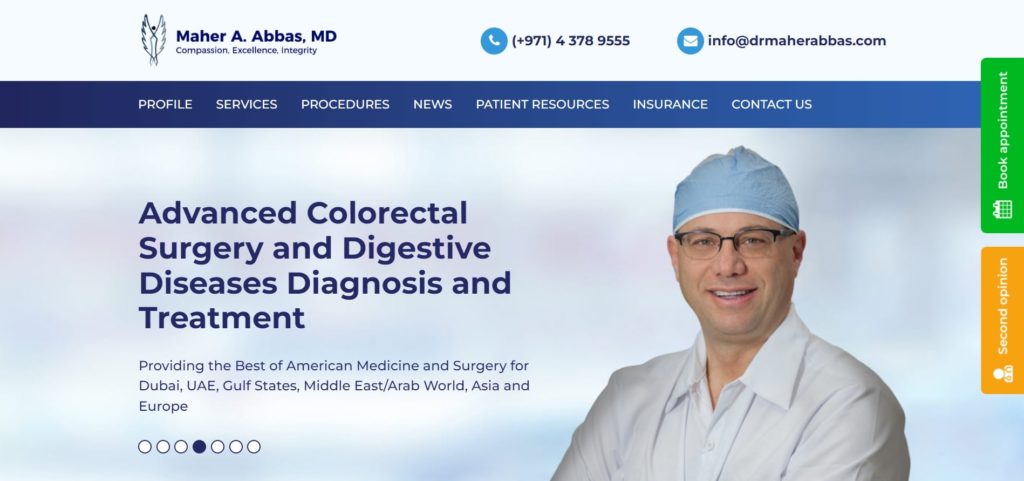 Test
Info
SERVICES

•Colonoscopy

•abdominal pain evaluation

•Crohn's Disease surgery

•diverticulitis treatment

•laparoscopic camera surgery

WEBSITE
https://drmaherabbas.com/
ADDRESS
Villa 32 A, Jumeirah Beach Road, Behind The Village Mall - 4 A St - Dubai
CONTACT DETAILS

•Phone: (+971) 4 378 9555

•EMAIL: [email protected]

OPERATING HOURS

•Monday and Wednesday: 8 am - 3:30 pm

•Tuesday, Thursday, and Friday: 9 am - 3:30 pm

•Saturday: 8:30 am - 12 pm
| | |
| --- | --- |
| Criteria | Rating |
| Credibility | ★★★★★ (5/5) |
| Competence | ★★★★★ (5/5) |
| Service | ★★★☆☆ (3/5) |
| Equipment | ★★★☆☆ (3/5) |
With international patients in over 3 countries and around 15,000 operations done, Dr. Maher Abbas is considered to be one of the best proctologists in Dubai.
Dr. Abbas is an internationally recognized surgeon who is a Fellow of the American College of Surgeons and the American Society of Colon and Rectal Surgeons.
On top of that, he got his medical degree from Stanford University School of Medicine, one of the top 5 universities in the world, and got his surgical training at the Mayo Clinic, which is ranked as the number 1 hospital in the United States.
Needless to say, we love that Dr. Abbas is backed by his global experience and elite training, and his connections to some of the most sought-after doctors in the world.
We also love the fact that he's not just a doctor, but also an author of over 150 scientific publications including books, book chapters, and articles, which have led to his teaching as well.
However, we do think that Dr. Abbas is somewhat old school in his practices, and needs a little bit of modernization in his procedures, especially when it comes to colonoscopy.
He doesn't do virtual colonoscopies, which are done through a CT scan. This is a shame because we think it's important to stay ahead, especially if you're considered one of the best.
Dr. Abbas has one of the best educational backgrounds
He has received training at one of the best hospitals in the US
Internationally renowned surgeon and colon specialist
Procedures need updating
Clinic's equipment needs modernization
Customer Reviews
Highly recommend!
"I could not have had a better choice other than Dr. Maher Abbas. He was clear in my procedure and explained the steps from the very beginning. He did my ileostomy which was superbly performed, and I went home on the 3rd day.
I did scout around in Dubai for the best, but in the end, there was no comparison to be made. He is and will be the best.
If anyone needs any details about my procedure or guidance, I will be glad to help."- Adil Siddiqi, Google Reviews
Hands down the best clinic ever
"Dr. Maher Abbas is one of the best surgeons in the UAE. I have been getting my checkups with Dr. Maher for almost 10 years now and wouldn't complain at all. If you are looking for a Dr that explains your options rather than throwing you into surgeries immediately, then Dr. Maher is the right Dr. for you. Thank you Dr. Maher for all your support, professionalism, and welcoming attitude." – Mazen El Dirany, Google Reviews
5. Lap Surgery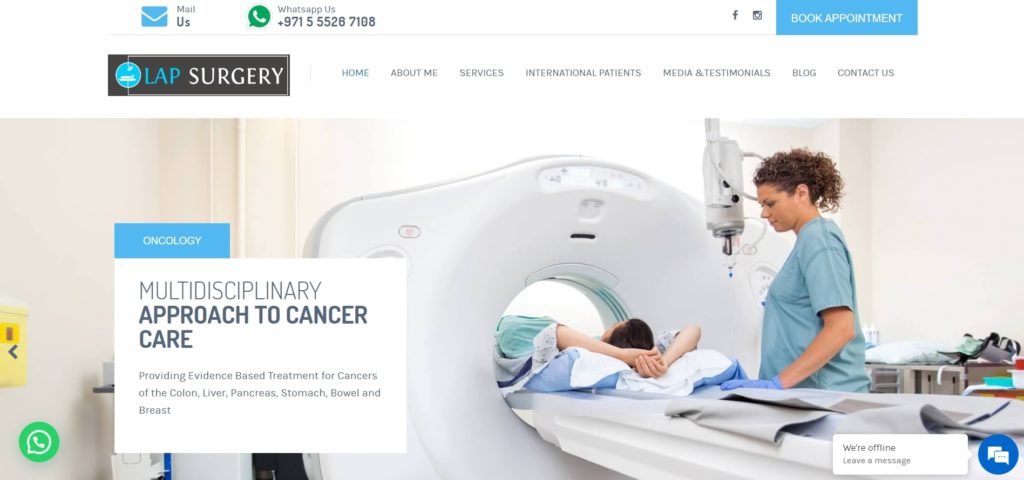 Test
Info
SERVICES

•Colonoscopy

•gall bladder surgery

•weight loss surgery

•hernia surgery

•proctology surgery

•pancreas surgery

•laser surgery

WEBSITE
https://www.lapsurgery.ae/
ADDRESS
Building 47 Dubai Healthcare City - Umm Hurair 2 - Dubai Healthcare City - Dubai - United Arab Emirates
CONTACT DETAILS

•Phone: +971 4 2477777, +971 5 5526 7108, +971 5 5526 7108

•EMAIL: [email protected]

OPERATING HOURS

•Monday to Thursday and Saturday: 9 am - 10 pm

•Friday: 3 pm - 5:30 pm
| | |
| --- | --- |
| Criteria | Rating |
| Credibility | ★★★★★ (5/5) |
| Competence | ★★★★★ (5/5) |
| Service | ★★★☆☆ (3/5) |
| Equipment | ★★★☆☆ (3/5) |
Lead by Dr. Ritu Khare, Lap Surgery consists of a team that specializes in the digestive system, its diagnoses, and procedures.
Dr. Khare is super-specialized in gastrointestinal surgery, from Sanjay Gandhi Postgraduate Institute and holds a certification from the Royal College of Surgeons of Edinburgh.
On top of that, we love that she's also recognized and felicitated by the American College of Surgeons and is a certified colorectal surgeon with added accomplishments from New York and Paris.
Needless to say, Dr. Khare's extensive global training and affiliations with international medical institutions are what really put her on this list in the first place.
We also think it's noteworthy to mention that she received the Young Surgeon of the Year award back in 2012, making her a prominent figure in the surgical community of UAE.
However, her compassionate and caring approach is not enough to make up for the lack of options when it comes to colonoscopies in the clinic.
Besides traditional colonoscopies and the non-intrusive yet relatively inaccurate stool tests, Lap Surgery does not have any other non-intrusive and effective methods for seeking out problems in the digestive system.
And this is reflected in the type of equipment the clinic has. While the best of its kind, the equipment it uses is definitely outdated and has modernized counterparts nowadays.
Global training
Well-affiliated with many international medical organizations
Outdated equipment
Outdated non-intrusive colonoscopy method
Customer Reviews
Very pleased!
"I have known about Dr.Ghosh before also when he was in India for his renowned work in the field of advanced surgeries, but who knew I would actually need him personally one day?
So he is the best doctor one will ever come across, he knows what is best for his patients and how to execute it in the best way.
Wish every doctor could be as sincere as him." – Ritu Pathak, Google Reviews
Grateful for them
"The Surgeon Dr. Arindam Ghosh is the best surgeon I can vouch for because for my GI problem I went to 3 different surgeons in Dxb in very famous hospitals but none of them were able to identify my problem but when I consulted Dr. Arindam in Medeor Dxb within minutes of examination he very accurately not only find my problem but also acted promptly to solve it by arranging for the immediate surgery which no doctor would do and above all the surgery was so efficiently done as it was completely painless and the recovery period was just 1 day and that was amazing.
I am very thankful to the Medeor staff, the Dr his efficient team.
My warm regards to each one of them." -Anila Rashid, Google Reviews
FAQs about Colonoscopy in Dubai
---
We hope this helped you in finding the right medical center for a colonoscopy in Dubai. Also, if you're looking for similar articles, check these out: