The 5 Best Digital Banks in Dubai
There are days when we're too busy to go to an actual bank and handle our financial errands, especially when the lines are long.
Thankfully, Dubai is a pioneer in modernizing its banking systems, so digital banking is as common as going to the bank nowadays.
We scoured the internet to give you the best digital banks in Dubai. We also included the factors we considered in choosing.
Ultimately, we answered some FAQs about digital banks in Dubai.
How much does opening a digital banking account in Dubai cost?
The cost of opening an account in a digital bank varies depending on the type of account, the fees, and the bank.
To give you a head start, we've made a table of the required minimum balance a person has to deposit in order to open an account and the required maintaining balance with each of our entries.
| Bank | Minimum Balance | Maintaining Balance |
| --- | --- | --- |
| Mashreq Neo | AED3000 | AED3000 |
| Liv Bank | AED0 | AED3000 |
| E20 | AED0 | AED10000 |
| YAP | AED0 | AED0 |
| ADIB SmartBanking | AED0 | AED0 |
The Best Digital Banks in Dubai
Before we get right into our top picks for the best digital banks in Dubai, here are the factors we considered for our entries on this list:
1. Mashreq Neo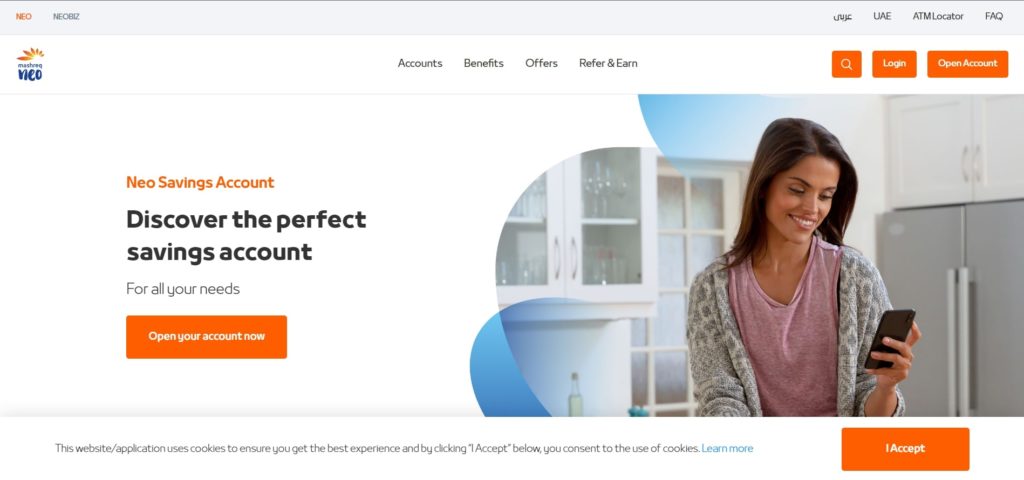 | | |
| --- | --- |
| Criteria | Rating |
| Fees & Profits | ★★★★☆ (4/5) |
| Accessibility | ★★★☆☆ (3/5) |
| Banking Features | ★★★★★ (5/5) |
| Background & Experience | ★★★★★ (5/5) |
Awarded as 'The Best Mobile Banking App' in the Middle East, 2020 by World Finance, Mashreq Neo offers a wide variety of services to that serve your everyday banking needs.
The great thing about this digital bank is that it has great interest rates for MaxSaver accounts, its savings accounts. Currently, it has a 1.1% interest rate.
It's not the highest on our list, but its interest rate is competitive and we think they should always be considered.
We also love the user interface of the app, in general. It has a clean and organized layout, made even more optimized and easier to navigate with color-coded icons.
However, its accessibility is brought down by the fact that its customer support, albeit available anytime, has a very slow response rate that we cannot let go unnoticed.
But worry not, because Neo Mashreq is loaded with advantageous benefits such as AED350 cashback during an account holder's first ninety days with the bank.
The digital bank also has other features that allow users to invest in gold, forex, and stocks in one digital platform.
On top of that, the digital app emphasizes security with its simple enrollment process and advanced security features, making digital banking convenient and worry-free.
And Mashreq Bank is a well-accomplished bank that lets its achievements speak for themselves.
The bank has been named a market leader in the UAE for 3 consecutive years, earning it the Euromoney Cash Management Award.
Good interest rates
Organized and easy user interface
Great range of user benefits
Well-accomplished bank
Customer support has a slow response rate
Not the highest interest rates for savings accounts
2. Liv Bank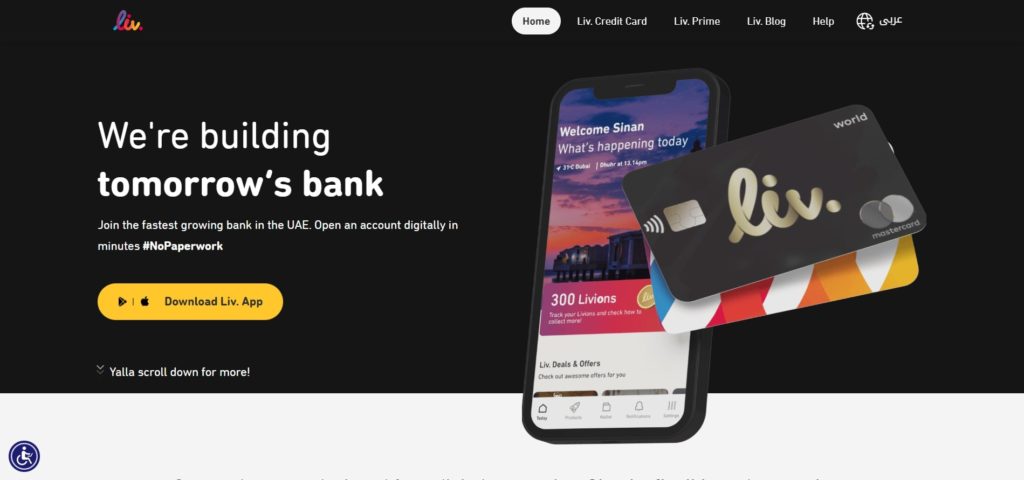 | | |
| --- | --- |
| Criteria | Rating |
| Fees & Profits | ★★★★★ (5/5) |
| Accessibility | ★★★★☆ (4/5) |
| Banking Features | ★★★★☆ (4/5) |
| Background & Experience | ★★★★★ (5/5) |
One of the fastest growing digital banks in the UAE, Liv Bank is geared towards the younger digital generation with great benefits and an amazing platform design.
When it comes to its savings accounts, this digital bank has a 1.5% interest rate, which is actually great for younger people who are wanting to start early with saving their money.
And when users have more than AED5000 in their accounts, the interest rate goes up to 2%, which we think is wonderful because it becomes such a strong incentive for users to keep saving.
When it comes to the app's design, it continues that tangent and turns saving money into a game with its The Challenger feature designed to help users meet banking goals and track expenses.
On top of that, the entire app is colorful and appealing without being cluttered, making sure each icon and every page's layout is easy to navigate.
However, we're kind of disappointed that a premium subscription is needed just to have a decent customer support experience with its priority customer support.
We think that good customer support should be accessible to everyone, and not just to people who can afford to pass through a paywall.
It does make up for it with great benefits, from its repayment tracker feature and spending tracker to exclusive benefits for a great lifestyle.
It is powered by the Emirates NBD, which has earned a total of 721 billion worth of assets and is ranked among the top 20 in the Forbes list of the World's Best Regarded Companies.
Great interest rates
Colorful and easy to navigate app
Run by Emirates NBD
Decent customer support is locked behind a subscription
Benefits are too focused on younger generations' lifestyle
Customer Reviews
4 ⭐️ for the App
"The app is designed really well, good branding, easy to open a bank account, LOVE! the goal account feature, nifty features such as locking cards and adding to Apple Pay from the app, transferring money to "local banks" is easy.
Now, to the cons. Customer service is at an extra low, very poor!! The bot seem to be more useful than the human being who replied to me with something which made no sense at all (after 2 days!). Companies put so much money into technology but neglect hiring and training real people to work for them, which is very important. Also sending money abroad isn't easy or straightforward as other banks.
So Liv. Is a good "2nd" account to have, with features like goal accounts, it's very useful for saving money." -salman84ae, Apple Store
Best customer service!
"I encountered the problem of not being able to activate my card. It was frustrating at first, I even went to a branch of Emirates NBD bank for clarification but was then informed that they didn't handle Liv's problems. I chatted with Liv chatbot and received a reply in 30 minutes. However, the next day I received a call from the worker I talked with at the bank, saying that I would receive another call from Liv about my problem. Then the very next day I did and my card was successfully activated with no hassle!
Since Liv is new and surely requires lots of improvement, I think we should be more understanding and patient with their situation, taking into consideration that they are also doing their best to help us." -Kieu Ha Hai Nguyen, Apple Store
3. E20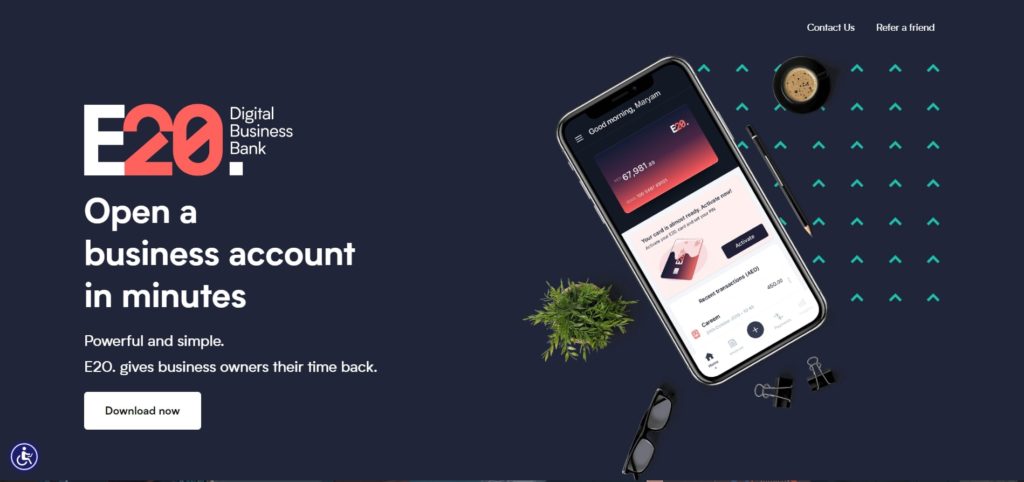 Test
Info
WEBSITE
https://www.e20.me/e20/
ADDRESS
Private Banking, 11th Floor, Headquarters Baniyas Road, Dubai, UAE
CONTACT DETAILS

•Phone: 600 50 33 20

•EMAIL: [email protected]

OPERATING HOURS

•Every day: 9 am - 5 pm
| | |
| --- | --- |
| Criteria | Rating |
| Fees & Profits | ★★★★☆ (4/5) |
| Accessibility | ★★★☆☆ (3/5) |
| Banking Features | ★★★★★ (5/5) |
| Background & Experience | ★★★★★ (5/5) |
A fact that is often overlooked, businesses spend too much time handling their banking needs, and E20 understands this and gives business owners their time back.
While it comes with a subscription fee, charging rates, and a minimum balance requirement, we think that E20 helps businesses earn more with the amount of time and energy it helps save.
Being able to skip the line and finish banking errands in an instant is something that can immensely help businesses get on with this chore and focus on more important things.
Instant card management is also one of its big benefits that allow business owners to freeze or unfreeze their cards in seconds via the app.
On top of that, we love how easy it is to manage expenses, and create and pay invoices.
However, the app layout and features do have a learning curve, especially for older business owners who may have not had an experience with digital banking.
Besides that, we do not like the fact that its customer support is only available from 9 am to 5 pm because that puts businesses that run 24/7 and those that operate in a different timezone at a disadvantage.
Helps businesses be efficient with digital banking
Benefits helps finish banking errands in seconds
Run by Emirates NBD
App may be tricky to navigate at first
Customer services are not available 24/7
Has a subscription fee among other charges
4. YAP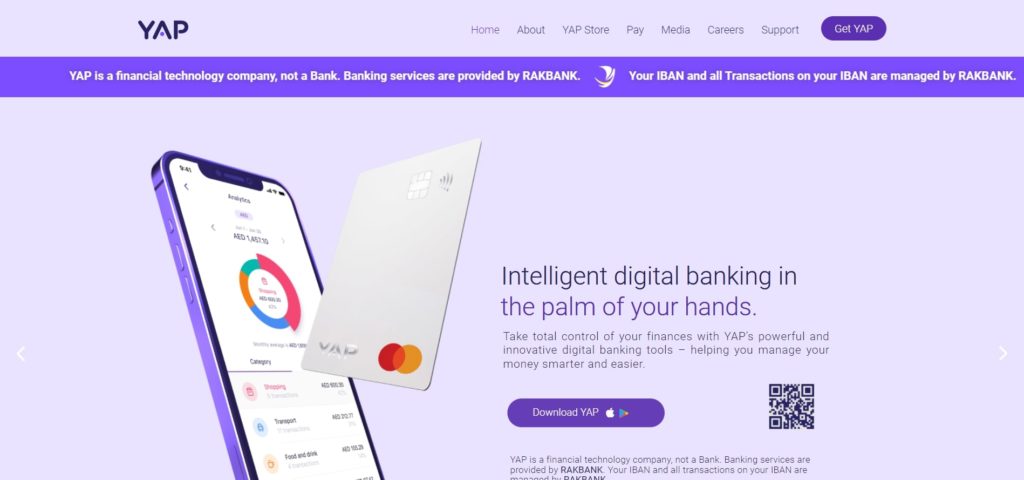 | Test | Info |
| --- | --- |
| WEBSITE | https://www.yap.com/ |
| ADDRESS | Dubai Silicon Oasis - United Arab Emirates |
| CONTACT DETAILS | •Phone: +971 600 55 1214 |
| OPERATING HOURS | •Customer support is available 24/7 via the app |
| | |
| --- | --- |
| Criteria | Rating |
| Fees & Profits | ★★★☆☆ (3/5) |
| Accessibility | ★★★★☆ (4/5) |
| Banking Features | ★★★★★ (5/5) |
| Background & Experience | ★★★★★ (5/5) |
One of the leading digital banks in the UAE, YAP has been in the business since 2001, and its experience shows well, especially for its users.
Unfortunately, one of its biggest drawbacks is that accounts opened with it do not have any interest rates, which drastically limits the potential of this digital bank.
And while it is free, we don't think that is enough to make up for the fact that users don't get to earn passively with YAP.
However, this digital bank is filled with great benefits. One of which is the granular analytics that the app provides for free, making it easier and more detailed to keep track of your spending.
We also love the fact that the app allows users to customize their profiles so that they have full control of how they want to do their banking.
On top of that, YAP provides all of its users an IBAN issued from RAKBANK and a MasterCard debit card for that extra layer of security.
Overall, YAP's set of benefits is probably one of the best we've found for this list itself.
And because the app allows users to customize their banking experience, the organization and the layout will always adhere to what the users need.
However, it's brought down by the fact that customer support can be slow to respond at times.
But we're still pretty confident with this entry as it is run by RAKBANK, one of the leading banks in the UAE.
Run by RAKBANK
Has one of the greatest sets of benefits
Customizable app interface
No interest rates for the accounts
Slow customer support
5. ADIB Smartbanking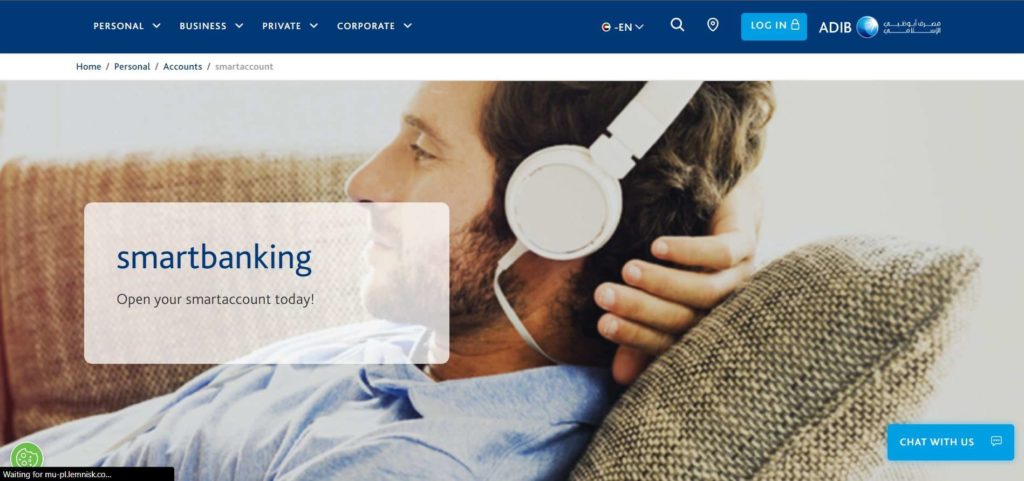 | | |
| --- | --- |
| Criteria | Rating |
| Fees & Profits | ★★★★☆ (4/5) |
| Accessibility | ★★★★☆ (4/5) |
| Banking Features | ★★★★★ (5/5) |
| Background & Experience | ★★★★★ (5/5) |
Created by Abu Dhabi Islamic Bank (ADIB), Smartbanking is this leading bank's take on what a digital bank is supposed to be.
With .5% interest rates for its savings accounts, it doesn't have the highest, but it's enough when the account creation is free and comes with its own debit card.
The app interface is simple, maybe a little too simple that it often borders on looking outdated. That being said, the layout does its job enough without frills and that's good with us.
ADIB Smartbanking does not joke around with its benefits, though. Users get a chance to win rewards just by using the app to do the simplest of banking errands.
From transferring your salary into the ADID Smartbanking app to gaining access to over 1500 deals and discounts, this app is jam-packed with the kind of benefits that are passively earned.
And when it comes to the bank that runs this app, Abu Dhabi Islamic Bank is one of the top leaders in Islamic banking in the world.
Over the last two decades, ADIB has demonstrated a consistent track record of growth with assets now totaling USD 39 billion — if that doesn't show continuous growth then we don't know what does.
Has a great set of benefits and rewards system
Run by one of the best Islamic banks in the world
Low-interest rate
App interface is outdated
FAQs about Digital Banks in Dubai
---
We hope this helped you in finding the right digital bank in Dubai for you. Also, if you're looking for similar articles, check these out: