The 7 Best Cleaning Services in Dubai
Cleaning your home beyond the usual vacuuming can be such a hassle, especially if you're busy. Thankfully, the best cleaning services in Dubai can do this for you at a reasonable price!
Of course, there are so many of them now that wading through your options may only leave you frustrated. To help you out, we've provided a list of the very best ones.
We've also compiled a table of the average cleaning service rates in Dubai right now. Check that out too along with our guide below to choosing cleaners.
How Much Do Cleaning Services Cost in Dubai?
This table shows estimates based on the current average prices. Actual cost may vary, though.
Regular Cleaning
2 hours
AED50/hour
3 hours
AED40/hour
4+ hours
AED35/hour
Deep Cleaning
https://www.bestinsingapore.co/about/
AED349 to 299
1-bedroom
AED399 to 499
2-bedroom
AED499 to 699
3-bedroom
AED799 to 999
4-bedroom
AED999 to 1299
Others
Sofa Cleaning
AED149 to 350
Mattress Cleaning
AED149 to 269
Carpet Cleaning
AED15 to 25/sqm
Laundry
AED49 to 99
How to Pick the Best Cleaning Services in Dubai
Now given the prices above, it's clear that you have to make sure you get your money's worth, especially for more costly cleaning jobs. That means working with only the best cleaning services in Dubai.
Below is a guide you can refer to in selecting a service provider that can help you put your home in order.
1. Read reviews
Prior to getting service from any cleaning service, it is important to look online for reviews.
This can give you an idea of how they work and how previous customers feel about it. This should also help you determine whether their services are worth your money.
It would even be better if you can get referrals from friends and family. If they're the go-to cleaning service of a person you trust, you'll feel assured that your home and personal items will be safe with them.
2. Ascertain their service coverage
Dubai cleaning companies often charge their standard services by the hour.
The standard cleaning services usually include vacuuming, dusting, full kitchen cleaning, full bathroom servicing, and changing linens. Normally, it takes 4 hours to clean a 3 bedroom apartment.
You can still get laundry, carpet cleaning, and other tasks but at additional cost. Sometimes, cleaning companies also charge extra for cleaning products, so make sure to check this with your chosen provider.
3. Check for an insurance
Unexpected things can happen during cleaning. Even careful and expert cleaners sometimes knock vases off tables or injure themselves.
To make sure that the cleaning company will be responsible for any damage or injury incurred in your home during their work, check if they provide insurance.
Taking time to check for this now can save you from a lot of stress in the long run. This guarantees that your belongings are protected and that you won't be held accountable for medical emergencies that occur in your home.
The Providers for the Best Cleaning Services in Dubai
Now that you know how to find the companies that provide the best cleaning services in Dubai, let's get you started with the cleaning services we think you may like.
1. Alomaids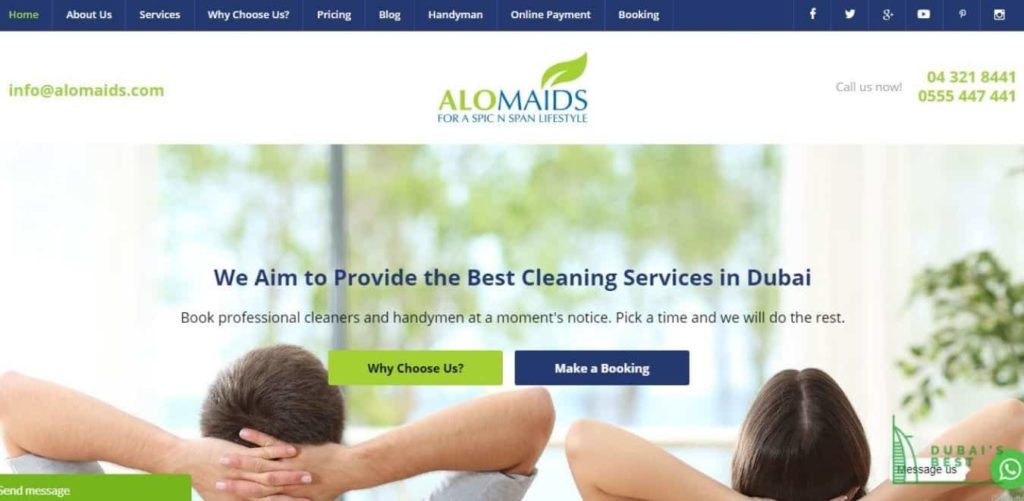 BEST FOR
Wide range of cleaning services
WEBSITE
https://alomaids.com/
ADDRESS
Oasis Center, Office 67, Third Floor, Sheikh Zayed Road Dubai, United Arab Emirates
CONTACT DETAILS
04 321 8441 0555 447 441

[email protected]

OPERATING HOURS
Saturday – Thursday: 7:00 AM – 8:00 PM
For high-quality domestic and commercial cleaning services in Dubai, Alomaids is a good option. They offer a wide range of services to suit just about every need.
For domestic cleaning, they have regular cleaning, deep cleaning, house moving deep cleaning, maid holiday cover, and basic food preparation. They also offer event help and after-event cleaning.
As for commercial cleaning, they offer their services to offices, medical institutions, schools, restaurants, hotels, cinemas and even warehouses as well as construction sites.
They use eco-friendly cleaning products and the latest cleaning tools and equipment. All of this factors into why some consider them the best cleaners in Dubai.
Eco-friendly cleaning products
Latest tools and equipment
Minimum of 4 hours cleaning time
Separate fee for cleaning products
Customer Reviews
Happy customer Asad Niaz left Alomaids a positive review:
"Efficient and trustworthy cleaners. Coordinator Jam has been very helpful in bookings with quick response and fine solutions. Highly recommended."
2. Ecomaid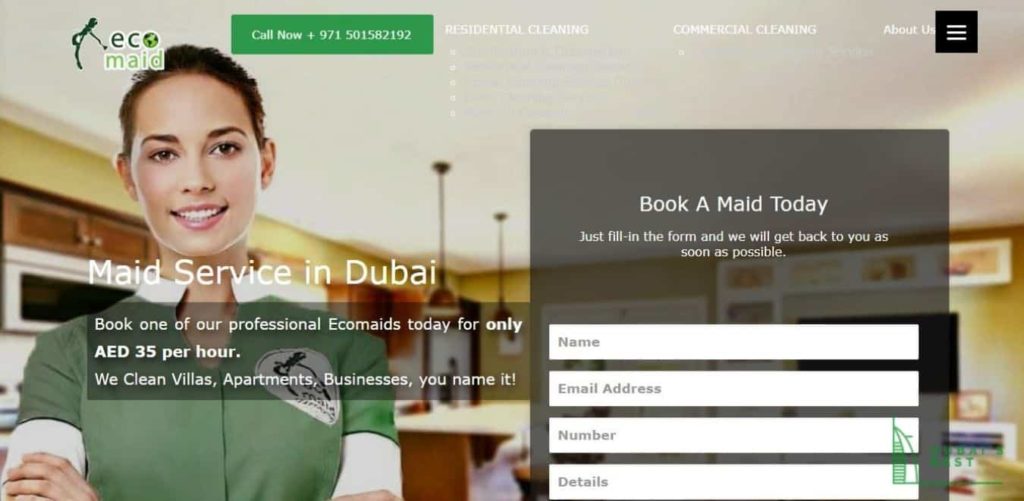 BEST FOR
Flexible cleaning schedules
WEBSITE
https://www.ecomaidme.com/
ADDRESS
Office Number 25, Block A, 124 Sheikh Zayed Road, Dubai, United Arab Emirates
CONTACT DETAILS
+971 50 158 2192 +971 4 388 1292

[email protected]

OPERATING HOURS
Monday – Friday: 0:00 AM – 0:00 PM
Ecomaid is another provider that we think offers some of the best cleaning services in Dubai for both one-off or regular cleaning services.
With them, you can schedule a weekly, bi-weekly, or monthly cleaning and even customise the frequency of their cleans to best fit your hectic schedule. They can accommodate evening and weekend schedules for cleaning.
Besides residential cleaning, their skilled and experienced staff also provide their services to offices, retail spaces, medical institutions and more.
To keep their clients safe, they also use only non-toxic cleaning products.
One-off and regular cleaning services available
Can make adjustments to fit your schedule
Non-toxic cleaning products
Response to messages can be slow
Customer Reviews
Carol Miller, a previous customer, reviewed them here:
"I have been a Ecomaid customer for almost two years now. They are wonderful and professional. The phone is always answered promptly with a friendly voice. My home always looks amazing and I feel great after they are done. Great work!"
3. Elite Maids
BEST FOR
Same-day booking
WEBSITE
https://elitemaids.ae/
ADDRESS
Office 201B, Prime Business Center, Jumeirah Village Circle, Dubai, United Arab Emirates.
CONTACT DETAILS
800258 +971582864783

[email protected]

OPERATING HOURS
Saturday – Friday: 7:00 AM – 11:00 PM
With their same-day booking, Elite Maids may have the best cleaning services in Dubai for busy home- and business-owners.
This provider offers residential cleaning, commercial cleaning, and deep cleaning as well as quality disinfection services that remove bacteria that could cause flu.
Their professional cleaners and even part-time workers are insured, so they take full responsibility for anything that could happen to their staff as they clean your space.
Same-day booking offered
Disinfection services
Insured staff
Constantly changing staff
Customer Reviews
Selma Zein's review of Elite Maids cleaning service reads:
"It's always incredibly easy to book with Elite Maids Cleaning Services, their women are hard workers and clean meticulously well! My house is always spotless, with the sweetest women always smiling and ready to help!"
4. Helpsters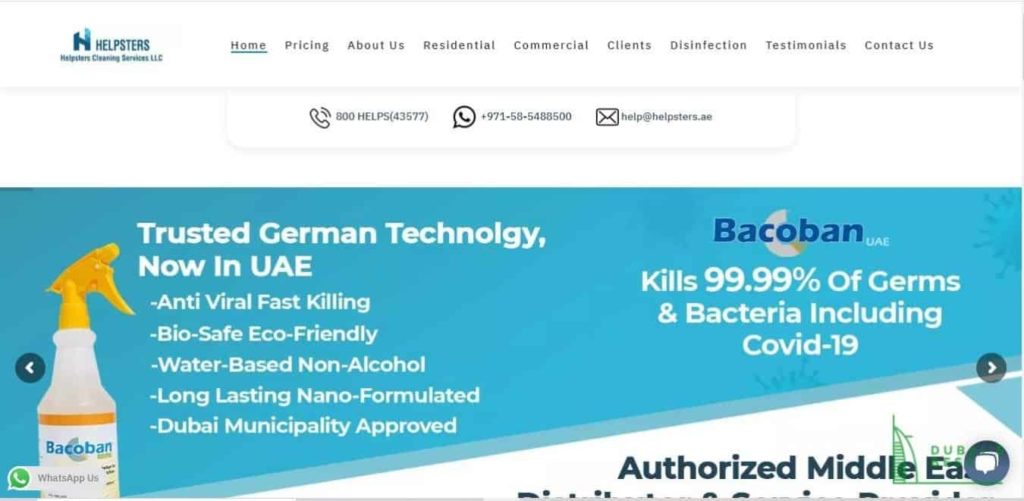 BEST FOR
Retail and corporate cleaning
WEBSITE
https://www.helpsters.ae/
ADDRESS
Office 513, Churchill Executive Tower, Business Bay, Dubai, United Arab Emirates
CONTACT DETAILS
+971 4 351 5775 +971 585488500

[email protected]

OPERATING HOURS
Saturday – Thursday: 8:00 AM – 6:00 PM
Helpsters offers both regular and deep-cleaning for residential and corporate cleaning. Besides these, they can also clean your carpets and sofas to keep bacteria from flourishing in your home.
They provide same-day services as well. You can book right now and get your cleaning done within the day.
Furthermore, they offer deep cleaning and accept various payment methods, including cash, cheque, and online payments through cards.
With them, you can even avail of weekly and monthly cleaning schedules with the same cleaning maid you like. Their service area includes Dubai, Abu Dhabi, Sharjah, and Ajman.
With clients in various industries, they are undeniably among the top providers for the best retail and corporate cleaning in Dubai. They were certainly recommended to us by a lot of business owners when we asked around for tips!
Weekly or monthly cleaning sessions with the same maid
Can make adjustments to fit your schedule
Same-day booking offered
Customer service center open 24/7
Thoroughly screened and trained staff
Can change schedules unexpectedly
Customer Reviews
Sula, who was pleased with Helpster's service, said:
"Irene was absolutely fantastic, I will like to continue to use her services through helpsters. My place is absolutely clean and tidy now. Five stars for the work."
5. Justmop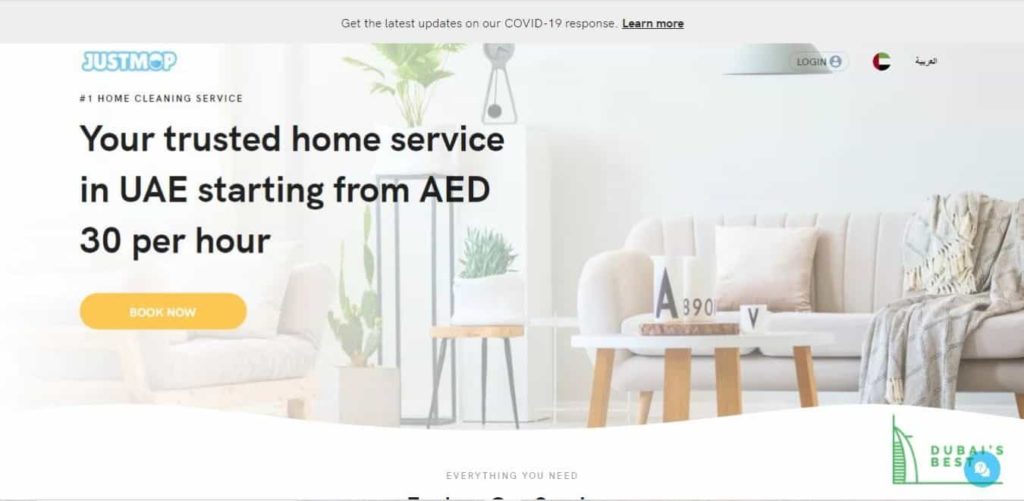 | | |
| --- | --- |
| BEST FOR | Insurance coverage |
| WEBSITE | https://www.justmop.com/ |
| ADDRESS | Indigo Icon Tower, Dubai, United Arab Emirates |
| CONTACT DETAILS | +971 800 5667 |
| OPERATING HOURS | Monday – Friday: 0:00 AM – 0:00 PM |
Justmop offers services beyond your standard cleaning needs. They offer carpet cleaning, mattress cleaning, disinfection services, and carwash services so you only have to book one provider for all your home cleaning needs.
Guaranteeing their quality of service, their staff have also been thoroughly screened and trained to provide the best cleaning services in Dubai.
What's more, Justmop's expert cleaning services in Dubai services come with no additional charges.
Plus, your belongings are insured up to AED1000 with this service provider so you won't have to worry about damages.
Comprehensive range of home cleaning services
Thoroughly screened and trained staff
No additional charges
Up to AED1000 insurance
Does not accept commercial cleaning
Can change schedules unexpectedly
Customer Reviews
Sofia Silva, one of Justmop's satisfied customers, said:
"Best Cleaning Company in Dubai! Just Mop has very good cleaners, very attentive to detail and hard-working. They always follow my instructions very carefully and leave the apartment immaculate. They are very nice, very positive, always with a smile in their face."
6. SMS Cleaning Service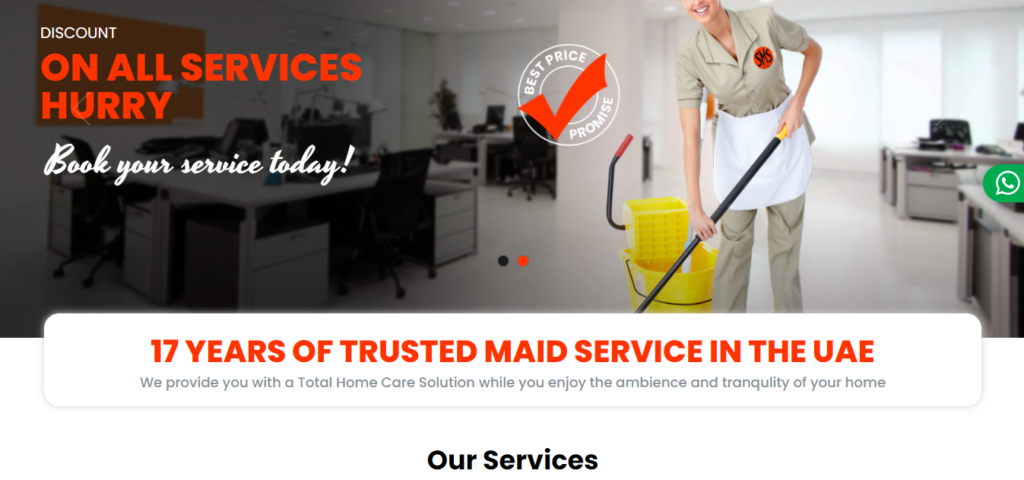 SMS Cleaning Service has services that are suitable for both commercial and residential areas. In comparison to other companies, what we like about them is they offer weekly and monthly cleaning services intervals with long-term contracts.
We think they are great for many reasons. One would be a broad range of services, from cleaning and disinfecting to babysitting and pet-sitting, they can help you.
Booking from them is hassle-free. With their mobile app, you will be able to get a maid in a few clicks.
Unfortunately, they do not accept cash as payment but accept all kinds of credit cards.
Fully insured
Customer service center open 24/7
Have over 200 workforce male & female
Has a mobile app for Apple and Android users
Operating hours are unsaid
Customer Reviews
Here's what their clients say about them:
"The 24/7 Customer Service does a really good job in understanding my needs. Not only in English but they also converse in Arabic & Hindi. I have been using SMS Cleaning Services for the past 2 to 3 years now and the staff have always been pleasant."
"Just Hire SMS Maids", leave your home in their hands and watch the "MAGIC" take place."
""Hiring SMS MAIDS Cleaning Service was one of the best things I have ever done. They are friendly, kind, and courteous. They care for my home and it shows in the job that they do! They are wonderful!""
7. Paradise Cleaning Services LLC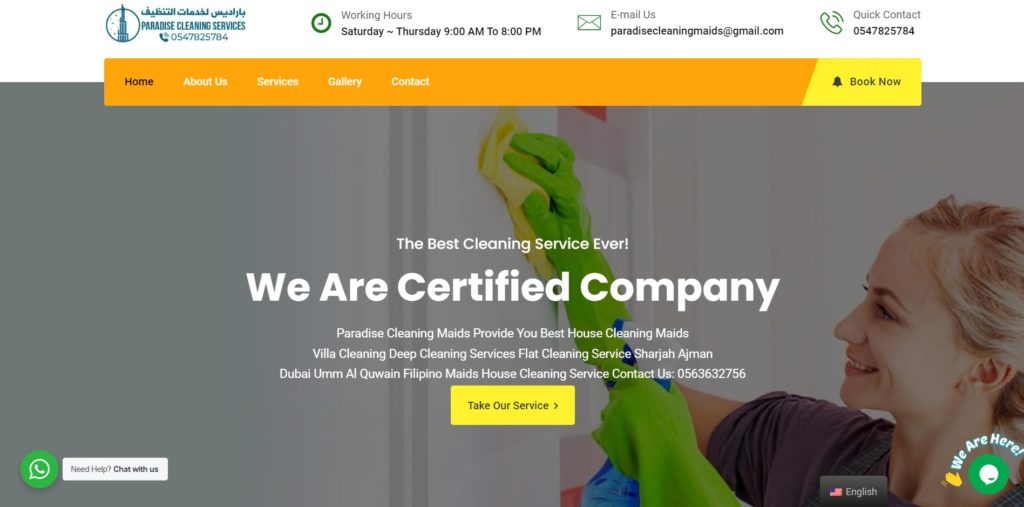 | | |
| --- | --- |
| BEST FOR | Wide range of cleaning services |
| WEBSITE | https://paradisecleaningmaids.com/ |
| ADDRESS | Liwara 1 Mansoor Building – Office No 504 – Ajman – United Arab Emirates |
| CONTACT DETAILS | Phone: +971 56 363 2756 |
| OPERATING HOURS | Monday – Saturday: 09:00 AM – 08:00 PM |
Paradise Cleaning Services LLC is a Dubai-based professional cleaning company that offers full-time and part-time cleaning services in both residential and commercial properties.
We thought it was convenient that they have a 24/7 booking service because it makes their services more accessible. It should be noted, however, that their working hours are only from Monday to Saturday.
What distinguishes them is their warehouse cleaning, which was an excellent addition to their services. This makes them an ideal cleaning company for shipping companies and other businesses with storage sites.
Aside from that, Paradise Cleaning has extensive experience cleaning large spaces such as villas, malls, and flats, making them a one-stop shop for a large customer base.
Unfortunately, they don't have an online booking system, so you have to contact them to set an appointment. However, we liked how they're very transparent about their rates, duration, and inclusions.
Furthermore, many of the customers we've spoken with praise their ability to change times and re-arrange schedules on short notice.
Overall, if you're looking for one of the best cleaning services in Dubai, we highly recommend you check out Paradise Cleaning Services LLC.
Provides full-time and part-time cleaning
24/7 booking service
Warehouse cleaning services available
Extensive experience cleaning large spaces
Closed on Sundays
No online booking system
Customer Reviews
Flexible and punctual
"The cleaners are always friendly, punctual and do a very good job. I've tried a few different cleaning companies in Ajman and these are the best I've found. They are also very flexible- I've changed times at short notice and they quickly rearranged things. Would recommend them!." -Sokrateez S.
Very responsive
"Paradise cleaning was very responsive, sent the lady Jima on time. Jima provided excellent service, hardworking and very polite. Jima did an excellent job with no supervision. We are extremely satisfied and would very much use her and Paradise service again." -Ahnaf A.
FAQs about the Best Cleaning Services in Dubai
---
Were you able to choose a provider for the best cleaning services in Dubai from this article? If not, a simple Google search will lead you to hundreds of other service providers.
If you find that your home is also suffering from a pest infestation, you may also refer to our list of the best pest control service providers in Dubai.