The 5 Best Services for Mold Removal in Dubai
Dubai is a humid city, and humidity is a big catalyst for mold to grow. Mold growth is not only an eye sore, but excess inhalation of its spores can have serious health repercussions.
That's exactly why we went out to look for the best services for mold removal in Dubai. We explain the different factors we considered in choosing them and answer some FAQs about mold removal in Dubai.
How much does getting mold removed in Dubai cost?
The cost of mold services can vary depending on the size of the area with mold, the severity of the growth, and the type of mold growth.
To give you a starting point, having a mold removed can cost anywhere from AED5500 to AED11700 and AED55 to AED110 per square foot.
The Best Services for Mold Removal in Dubai
Before we get right into our list of services for mold removal in Dubai, here are the criteria we considered in choosing them:
1. Judux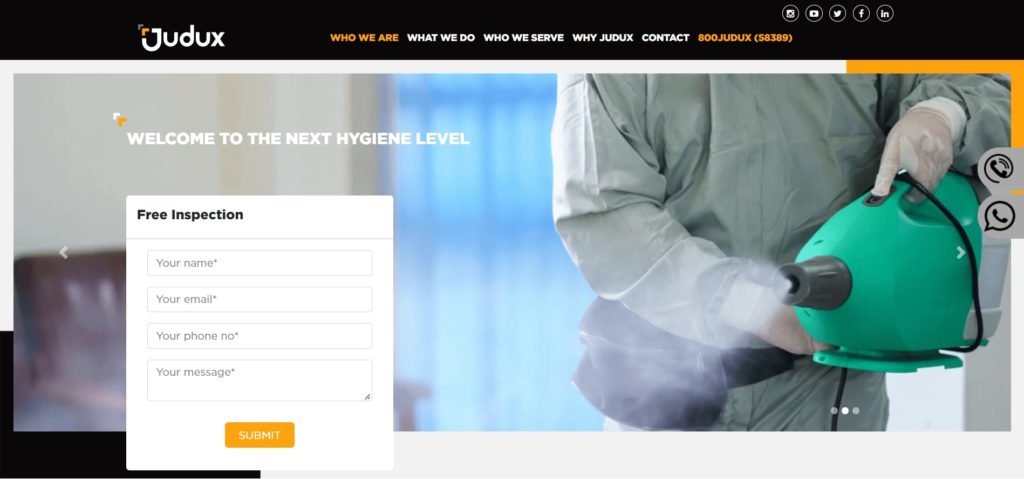 Test
Info
SERVICES
Sanitation

Mold Removal

AC Cleaning

Air Quality Testing

Water Tank and Pipeline Cleaning

Kitchen Hood Cleaning

Deep Cleaning

Furniture Cleaning

Mattress Cleaning

Office Sanitization

Home Sanitization

WEBSITE
https://www.judux.com/
ADDRESS
Al QuozAl - 43 26th St - Al Quoz Industrial Area 4 - Dubai, UAE
CONTACT DETAILS
+971 (0) 4 3411115

+971(0) 56 172 0577

OPERATING HOURS
Sunday to Thursday: 8 AM–5 PM

Saturday: 8 AM–12 PM
| | |
| --- | --- |
| Criteria | Ratings |
| Experience | ★★★★★ (5/5) |
| Methods | ★★★★★ (5/5) |
| Equipment | ★★★★☆ (4/5) |
| Customer Service | ★★★★★ (5/5) |
One of the leading hygiene cleaning companies in UAE, Judux has expanded its presence to offer its service to multiple countries.
Established in 2013, it quickly expanded into an international company because of its undeniable success in the UAE.
This is thanks to its credibility backed by its competence in hygiene-related services, and its commitment to doing an excellent job for every client.
Anika, who had a mold problem growing under her kitchen sink, shared with us that she was briefed and guided throughout the process. She never felt anxious about anything they were doing.
We also love that its process is very forward and ensures transparency with the client every step of the way. The teams always start by assessing the damage and containing the mold before they do an air filtration process to make the area safer.
Then they remove the mold before inspecting and cleaning the affected belongings before restoring the area as per IIRC 5520 standards.
To ensure its process works, Judux only uses state-of-the-art technology. So, its dehumidifiers, air scrubbers, and air movers are constantly being updated to keep up with industry standards.
The solutions it uses are eco-friendly and ensure that a focus of its job is to integrate sustainability in every step. That being said, the high-quality products really do cost a lot more than your usual generic ones.
Another great thing about Judux is that its personnel are industry-certified and thoroughly screened. They're also trained to consistently monitor and evaluate the results of their services after the job has been completed.
All in all, Judux is our most credible and most competent choice on this list. Its experience and presence it has accumulated in a short amount of time is proof that it knows what it's doing.
Has an international presence and credibility
Mold removal process is straightforward and transparent
Utilizes state-of-the-art technology 
Eco-friendly processes and solutions
Industry-certified personnel
It is the more expensive option
Customer Reviews
A service like no other
"Tried different sanitisation companies in Dubai and I believe that Judux provide the best services in here.. professional staff and great customer service. Give Judux a try and I'm sure you won't regret it. —Saad Humaid, Google Reviews
A job excellently executed
"This thorough 2-day service was carried out by a wonderful team of professionals. We were very impressed with their deep cleaning methods of not just the AC ducts, but also any other areas or surfaces in the house that were subject to mould damage. I will definitely have them back again and again. We cannot recommend them enough." —Rania Hawayek, Google Reviews
2. Tanziif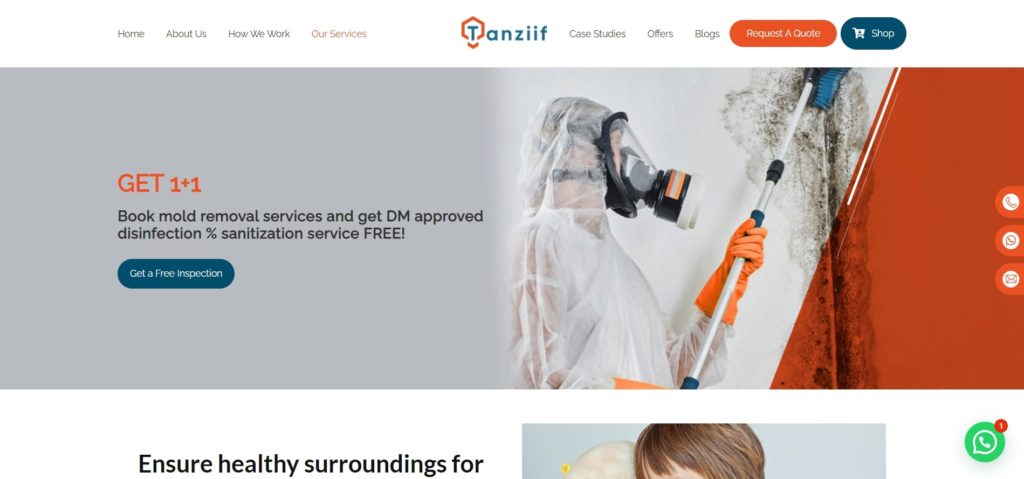 Test
Info
SERVICES
Sanitation

Mold Removal

AC Cleaning

Water Tank Cleaning

Kitchen Hood & Exhaust Cleaning

WEBSITE
https://tanziif.com/
ADDRESS
1102 Clover Bay Tower, Marasi Drive, Business Bay, Dubai UAE,P.O. Box - 391483
CONTACT DETAILS
800 TANZIIF (8269443)
OPERATING HOURS
Open 24/7
| | |
| --- | --- |
| Criteria | Ratings |
| Experience | ★★★★★ (5/5) |
| Methods | ★★★★★ (5/5) |
| Equipment | ★★★★☆ (4/5) |
| Customer Service | ★★★★☆ (4/5) |
Putting an emphasis on being a reliable hygiene services company and treating cleaning as an art, Tanziif has quickly risen up the ranks of the industry in our list, as well.
It is a certified member of many international hygiene organizations such as NFPA, IPAF, the International Society of Indoor Air Quality and Climate, and many more.
We're big fans of the fact that this company is well known in its community and has gone through numerous tests that have helped it earn a coveted spot in the industry.
We also love that it has simple solutions for big and complex industrial problems.
David called in Tanziif to address the black mold growing in the warehouse where he housed goods he uses for his restaurant. He shared with us that he immediately felt he was in capable hands once he got the comprehensive report that Tanziif made for him.
The company's team always starts with conducting an inspection and generating a report for the client's review. When the client approves the report, they proceed with preparation for the execution of the job.
And on completion of the job, they carry out disinfection and ensure that there is a post-job inspection to ensure it's up to Tanziif standards.
As for their equipment, while it's not state-of-the-art quality, it is all NADCA-certified. This means that the tools used can and will execute the job to the designated standards of the industry.
While we think it can stand to improve, having up-to-standard equipment is enough to finish a tough mold removal job.
Another strength worth noting is that the company attends to online bookings, and most of the consultations prior to the execution of the job can be done online, which is not only efficient but safer and more convenient.
Although, David shared with us that the responsiveness of its customer service could be more timely and quick with their replies — especially since he had questions after the team finished the mold removal.
Despite that, Tanziif remains to be the most reliable pick we have on this list. With a reputation supported by certificates and exclusive memberships, Tanziif has proven time and time again that it is at the top of its game.
Certified members of international hygiene organizations
Thorough and comprehensive process for clients' convenience
Attends to online bookings
NADCA-certified equipment
Customer service's responsiveness is slow
Equipment is not always the latest in the industry
Customer Reviews
Won me over with their free consultation!
"I am extremely impressed with Tanziif's team. I suspected I had mold in my home and the team came in giving me a free consultation and indeed found mold everywhere- which is extremely dangerous to live in. So I scheduled them to come back to do mold removal as well as deep clean and disinfectant. The team came at 9 am and worked until 5 pm. They cleaned every single area in the house from inside the vented to my furniture and everything… my house feels fresh and lights now. And I feel healthy! I will be using this service again. Thanks, Tanziif for having such a professional team and making my home clean" —Angela A. Gegg, Google Reviews
Got an amazingly professional service
"I'm super happy I contacted them, they came on time and were very professional, and they cleaned my carpet and left them spotless. And they even cleaned after their work. The staff was super professional and I'm definitely calling them for the sofa cleaning
Highly recommended ." —Zeinab Jaber, Google Reviews
3. Epscoe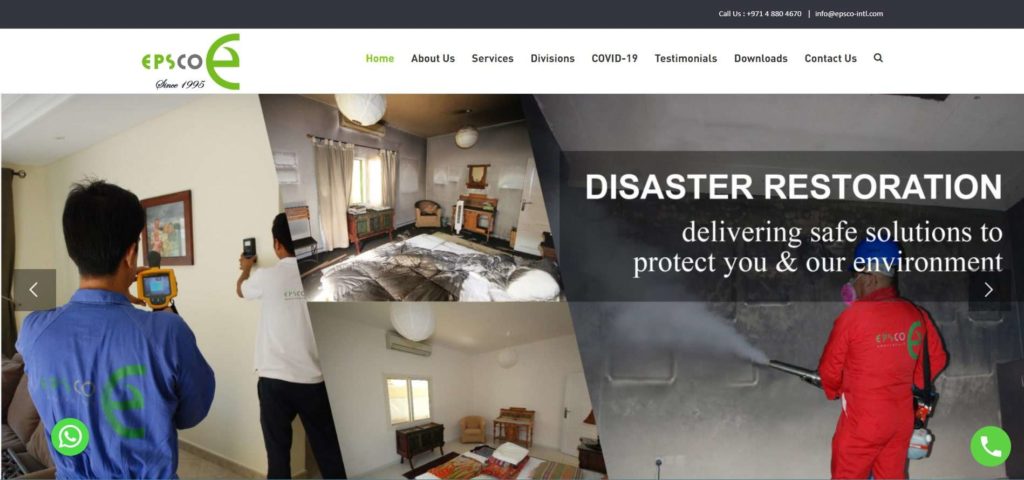 Test
Info
SERVICES
Mold Removal

COVID-19 Disinfection

AC Cleaning & Maintenance

Home Maintenance

Flood Restoration

Air Quality Testing & Purification

Allergy Carpet Cleaning

Fire Smoke & Odor Removal

Kitchen Exhaust & Laundry Duct Cleaning

Anti Corrosion Coil Coating

Asbestos Surveys & Removal

Water Tank & Pipeline Cleaning

Residential/Industrial Water Treatment

Window & Facade Cleaning

Chemical Cleaning

Chandelier Cleaning

Oil Tank Cleaning

WEBSITE
https://epsco-intl.com/
ADDRESS
Jebal Ali Industrial Area No 2 - Dubai - United Arab Emirates
CONTACT DETAILS
+971 4 880 4670

+971 55 4724406

OPERATING HOURS
Monday to Saturday: 7:30 PM - 5 PM
| | |
| --- | --- |
| Criteria | Rating |
| Experience | ★★★★★ (5/5) |
| Methods | ★★★★★ (5/5) |
| Equipment | ★★★★☆ (4/5) |
| Customer Service | ★★★★★ (5/5) |
As an active member of the Indoor Air Quality Association (IAQA) and Institute of Inspection, Cleaning, and Restoration (IICRC), Esco not only follows international standards but also contributes in making them.
Being a critical backbone of the hygiene industry in Dubai, Epscoe has quickly earned its reputation as one of the most experienced mold removalists in the country.
One of the most amazing things about the company is that its methods follow the standard produced by NADCA (National Air Duct Cleaners Association).
This standard is used worldwide to ensure air conditioning systems are professionally cleaned and free of mold contamination.
To complement its methods, it only uses heating, ventilation, and air conditioning (HVAC)-approved technology.
This means that tools for air duct cleaning and mold removal are also built considering the parameters listed in the standard.
But while we appreciate that the company follows worldwide standards, it's disappointing to notice that its equipment is outdated.
Some of the models it uses seem to be too old for the kind of maximum efficiency we'd want for mold removals.
But the outdated equipment is rightfully compensated by its punctual and efficient personnel. The teams move with a distinct organization that allows them to finish jobs quickly.
Distinguished member of the industry's highly regarded organizations
Methods follow the NADCA global standard
Equipment is HVAC-approved technology
Efficient and punctual teams
Some of its equipment are outdated
Customer Reviews
Excellent customer service
"EPSCO team have been very professional, organized, they know their job & accommodating to our requests. they arrived on time & finished on time. they had all the needed equipment and tools needed to clean all AC ducts & areas above the false ceiling. I was happy with their service." —Fadi Hani, Google Reviews
Finished the jobs without problems
"I own a cafe in Dubai and used Epsco upon recommendations from friends, after contacting them they sent their team very fast, finished the job efficiently, left the place super clean. Mr.Boris was attentive to any requests by me and kept following up with me to make sure am satisfied with the job thereafter. I'm more than happy to keep working with them for any hygiene-related services in the future." —Ahmad Albastaki, Google Reviews
4. Healthy Home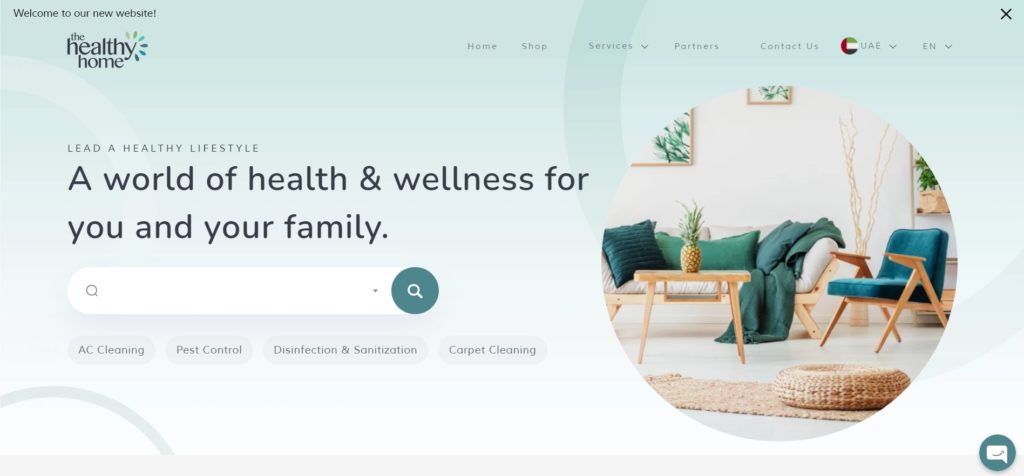 Test
Info
SERVICES
Mold Removal

Mattress Cleaning

AC Cleaning

Safe Pest Control

Carpet Cleaning

Sofa Cleaning

Curtain Cleaning

Water Tank Cleaning

Surface Disinfection

Deep Cleaning

WEBSITE
https://thehealthyhome.me/en/uae/home
ADDRESS
14 Street 1 - Al Quoz - Dubai - United Arab Emirates
CONTACT DETAILS
+97180072648493800 SANITIZE
OPERATING HOURS
Monday to Friday: 7 AM–7 PM

Saturday to Sunday: 9 AM–7 PM
| | |
| --- | --- |
| Criteria | Ratings |
| Experience | ★★★★☆ (4/5) |
| Methods | ★★★☆☆ (3/5) |
| Equipment | ★★★★★ (5/5) |
| Customer Service | ★★★★★ (5/5) |
Armed with cutting-edge technology on one hand and eco-friendly products on the other, Healthy Home believes that the key to a better life starts from a home that is clean and safe.
Its holistic approach to hygiene services has led it to have a strong presence in UAE, KSA, and Kuwait. However, besides its multinational reach, Happy Home doesn't really have any other credible achievements that constitute it is very experienced.
As for its methods, we love that its holistic approach to mold removal is designed and approved by hygiene experts.
And it's straightforward, too. Its specialists identify the root and source of the mold, scrape it off, apply an eco-friendly solution, and then they repaint the area once it is dry.
It's a simple approach to a problem that can get complicated. Because of that, we wished that the company provided us with a comprehensive full report of how it was going to fix the mold growth.
So the simple approach didn't really seem to reassure us, and we wouldn't be surprised if the mold was to come back after some time.
As for its equipment, it was undeniable that what it uses were the latest models. The team's work was carried by how efficient and effective their equipment was.
The dehumidifier they provided worked wonders, and the solution they applied to the mold made us feel good that we didn't have to worry about any unknown harmful chemicals.
As for its service, we like how meticulous and detail-oriented its personnel is. They took the time to assess the situation and didn't waste time getting on with the job.
All in all, Healthy Home is a great choice for mild mold growth problems. Its simple and holistic approach to cleaning is efficient and effective for less complicated situations.
Cutting edge technology
Eco-friendly solutions and products
Detail-oriented personnel
Doesn't have a lot of credible experience
Methods are too simple
Customer Reviews
Very professional company
"A very professional company and team. They came and did a deep cleaning and Sanitization for my villa's central AC. They came with full protection suits and equipment. It took them 6 hours to finish 3 AC, and they were paying attention to every detail. Take pictures before and after for the final report. Doing all that is mentioned in their ADs without faking anything. A special thanks to Sajid and his team who were truly the best and he advised properly.
I know, it is a bit expensive but the quality and the output deserve the amount paid.
I will definitely ask again for their service. And I do really suggest and recommend anyone who is facing issues with allergies or dust to approach Healthy Home. The quotation was given in 30 minutes and my appointment was booked in 2 days so hassle-free." —Hani Jurdi, Google Reviews
The answer to my OCD tendencies
"The team arrived on time and were super professional in explaining what they were going to do, showed me a quick sample of their work, and got right to it. Was super impressed and equally grossed out by what they extracted from my mattress. I'm a pretty clean OCD guy and keep my house in tip-top shape, but extracting this volume of baked-in grossness from my mattress was something I didn't expect to see. Highly recommended, and would definitely call them again in the future. Good job to The Healthy Home team." —Nassib Haddad, Google Reviews
5. Biosweep
Test
Info
SERVICES
Mold Removal

Disinfection

Odor Removal

AC Cleaning

WEBSITE
https://www.biosweepuae.com/
ADDRESS
Office No. 3, 1st Floor, Al Garhoud Center Al Garhoud - 68 Sheikh Rashid Rd - Dubai - United Arab Emirates
CONTACT DETAILS
+97142500516

+971561779641

OPERATING HOURS
Every day: 8 AM–7 PM
| | |
| --- | --- |
| Criteria | Ratings |
| Experience | ★★★★★ (5/5) |
| Methods | ★★★★★ (5/5) |
| Equipment | ★★★★★ (5/5) |
| Customer Service | ★★★★☆ (4/5) |
Globally certified and backed by experts, Biosweep only utilizes international standards and proven methods for its mold removal.
Biosweep has something it calls the Surface Defense Treatment when it comes to addressing mold problems for its clients.
It basically lays a protective shield against the mold's return by repelling and inhibiting pathogen mold and bacterial growth on treated surfaces for up to 6 months.
We like how it pushes beyond band-aid solutions and provides a permanent answer to health-risk mold growth in houses.
Its methods also include a process that utilizes specially manufactured photo-catalytic oxidation systems to eradicate airborne and surface organic molecules and micro-organisms.
We also think it's amazing that the company's equipment is made for this specific method. It has electrostatic sprayers that ensure its defense solution sticks on surfaces for long periods of time.
It also has specific machines that regulate its 5-step process, including UV radiation, concentrated O3, H2 O2, and photocatalytic production of hydroxyl radicals.
The company's customer service was pretty good, as well. Its team came in and finished the job in a timely manner, and explained to us their processes and methods.
We just wish the provider would offer more post-job services that would make maintaining areas at risk of mold growth more convenient for us.
Globally accredited and backed by experts
Specialized treatments and processes
Equipment made specifically for its treatments
Customer Reviews
Professional service
"Very professional service and accurate in their timing from the time of scheduling till they left. They are very clean, fully equipped, and polite. They arrived on time, covered the complete floor and once they were done, they vacuumed the complete place. They take care of each and every single detail. Would definitely use their service again !" —Amir Alhaj, Google Reviews
Updated me throughout the process
"Biosweep had a professional approach to the job at hand. I was timely informed about the process and additionally updated at each stage. All the staff ensured that safety wasn't compromised and that was my main concern. Ms.Kathy, you thoroughly deserve credit for the operational assistance!. Well done Team Biosweep! —Tomsy Thomas, Google Reviews
FAQs about Mold Removal in Dubai
---
We hope this helped you find services for mold removal in Dubai. If you're looking for other ways to maintain your home, then check out these articles: