The 5 Best Chemical Peel Clinics in Dubai
There are multiple ways to improve the condition and look of your skin. One of these is via a chemical solution to remove layers of the skin.
Commonly known as chemical peels, this process can improve pre-existing conditions such as acne, scars, and fine lines.
So, if you're looking to get this kind of treatment, we've got you covered! Here are our picks for the best chemical peel clinics in Dubai!
How Much Do Chemical Peels Cost
Clinics usually charge depending on the type of a chemical peel that the patient will get. This is typically determined during the initial consultation.
The cost will increase depending on how many sessions you need to resolve your skin problems. With that being said, we've listed a few common chemical peels offered in clinics to give you a better idea of costs:
| Peel Type | Cost |
| --- | --- |
| Superficial Chemical Peel | AED 735 - AED 7,000 |
| Glycolic Acid Peel (alpha hydroxy acid) | AED 735 - AED 2,000 |
| Salicylic Acid Peel (beta hydroxy acid) | AED 400 - AED 1,200 |
| Medium Chemical Peel | AED 750 - AED 1,500 |
| ViPeel | AED 1,000 - AED 2,300 |
| TCA Peel (trichloroacetic acid) | AED 1,000 - AED 10,000 |
| Deep Chemical Peel | AED 10,000 - AED 22,000 |
The Best Chemical Peel Services in Dubai
Here is the criteria we've used in assessing these specialists:
1. Aesthetica Clinic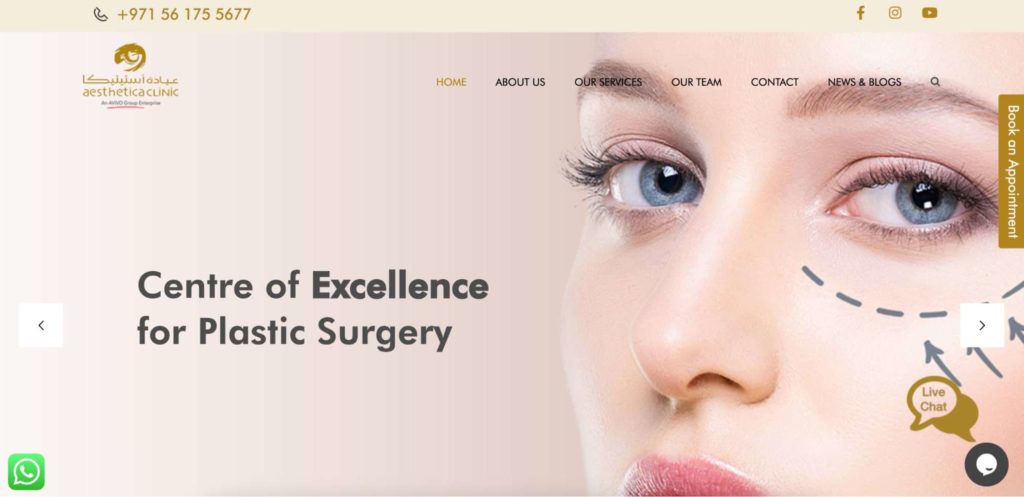 | Test | Info |
| --- | --- |
| SERVICES | Brightening Mask, RF Microneedling, Chemical Peel, Organic Peel, and more! |
| WEBSITE | https://aestheticaclinic.com/ |
| ADDRESS | Building 39 Dubai Healthcare City - 202, 2nd Floor, Al Faris, Building - 39 26th St - Dubai - United Arab Emirates |
| CONTACT DETAILS | Phone: +971 4 429 8533 |
| OPERATING HOURS | 9:00 AM - 9:00 PM (Monday - Sunday) |
| | |
| --- | --- |
| Criteria | Ratings |
| Expertise | ★★★★★ (5/5) |
| Pricing | ★★★★☆ (4/5) |
| Customer Service | ★★★★☆ (4/5) |
| Facilities | ★★★★☆ (4/5) |
The Aesthetica Clinic is a cosmetic and medical dermatology clinic opened in 2002. The establishment mostly focuses on providing anti-aging treatments and skin health procedures.
What's great about them is that they have employed practitioners, such as expert aestheticians and doctors. Looking at their roster, we've observed them to have around 5 to 15 years of experience.
Moving to their chemical peels, Aesthetica Clinic provides various types. These range from medium to deep chemical peels.
After an initial consultation with an aesthetician, the best kind of peel that can solve the worries or skin condition you have will be determined. Mostly, we observed that they focus on treating irregular skin tones and acne.
Additionally, what we like is that they can also add more laser treatments to further enhance the results of your chemical peel. Of course, we have to note that this is a separate charge.
Unfortunately, they don't offer package deals for their chemical peels. Regardless, we recommend getting laser treatments as well if you have the extra money!
If you're interested, we recommend asking or inquiring first via their 24/7 live chat on their platform. Additionally, patients are required to book a consultation first before the treatment.
We recommend heading to Aesthetica Clinic if you want to have a wide option of peels to choose from, as well as having an additional laser treatment for better results!
Offers multiple types of peels
Experienced practitioners
Spacious facilities
Has a 24/7 live chat support
Appointment required
Encourages contact for more information
Customer Reviews:
Clean and Hygienic Clinic, Efficient and Expert Service
"Very clean and hygienic, they provided covers for shoes upon arrival and took my temperature. Doctor Sara was very efficient and asked me all the necessary questions. I felt safe and left very happy. Thank you Aesthetica" – Abeer Agmh
Attentive and Professional Doctors
"Been going for 8 years now and zero complains. Dr. Majd is so attentive to details and cares about natural results rather than over marketing. So nice and refreshing to find doctors who are that professional and caring too! She takes the time to understand what you are looking for and delivers accordingly. 5 stars from me for sure" – Rasha Al Jasi
2. 7 Dimensions Medical Center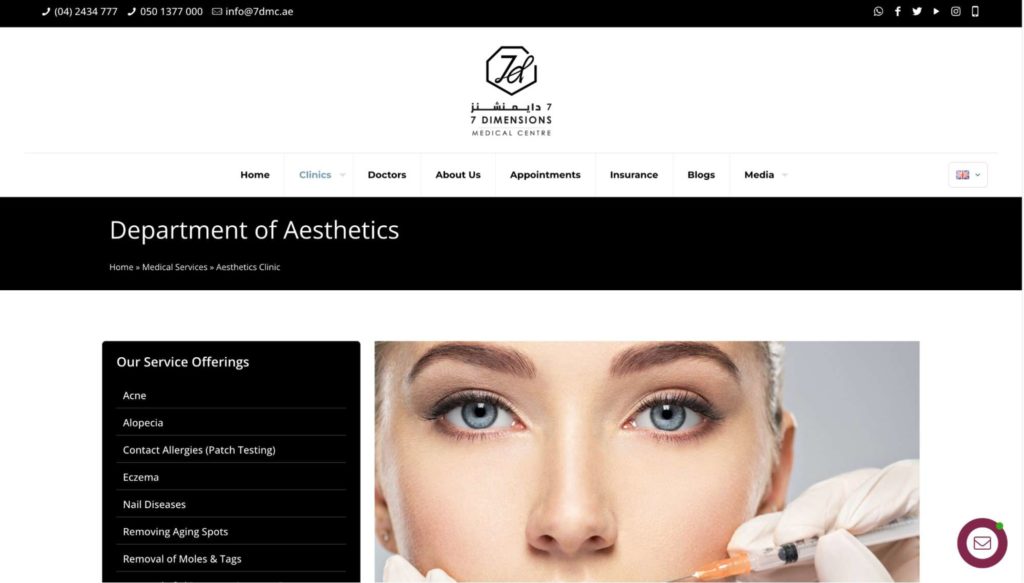 Test
Info
SERVICES
Botox Injections, Botox Lip Lifts, Chemical Peels, Laser Treatments, Facial Contouring, Liquid Rhinoplasty
WEBSITE
https://7dmc.ae/medical-services/dermatology-and-aesthetics/
ADDRESS
Clinic 5, Diamond Business Centre A, 1st Floor Arjan Exit Road, Next to Miracle Garden, Arjan - 3 - Al Barsha South - Dubai - United Arab Emirates
CONTACT DETAILS
Phone: +971 4 243 4777

E-mail: [email protected]

OPERATING HOURS
10:00 AM - 8:00 PM (Monday - Sunday)
| | |
| --- | --- |
| Criteria | Ratings |
| Expertise | ★★★★★ (5/5) |
| Pricing | ★★★★☆ (4/5) |
| Customer Service | ★★★★☆ (4/5) |
| Facilities | ★★★★☆ (4/5) |
7 Dimensions Medical Centre is a multi-specialty institution that offers various treatments ranging from aesthetic to full-on medical care. This establishment mainly leans on aesthetic and cosmetic treatments as well as plastic surgery.
One of the services they offer is chemical peel treatments. Compared to the other clinics that offer the same thing, we noticed that this clinic only has one type available: medium chemical peels.
These peels work best against acne scarring and treat deeper wrinkles. We recommend heading here if that type of peel is what you want.
If you're not sure about it, the clinic does require you to book a consultation first. This is to ensure that the said type of peel is the right one for your skin.
Now, the doctors employed by this clinic have 5-10 years of experience backing them up. In addition, they are all certified by the DHA and have done fellowships to further their expertise.
Additionally, the clinic also accepts insurance policies from various companies. These include Saico Health, Dammana Al Madallah Healthcare, AXA Insurance, ENAYA, and more!
In conclusion, we think that 7 Dimensions is the right option for you if you want to remove acne scars or wrinkles in your skin via chemical peels!
Clinic's aestheticians have more than 5 years of experience
Accepts multiple insurance policies
Establishment offers free parking
Appointment required
Offers one type of chemical peel only
Customer Reviews:
Professional and Knowledgable Doctors
"Would strongly recommend Dr. Branka, highly professional and very knowledgeable. She understands your concerns and the correct approach to make u look ur best. Uses all the best products. Call her to book a consultation." – Lynn M, via Google Reviews '
Great Service, Expert Doctors
"They made me feel comfortable Amazing clinic! Thanks alot Dr. Branka she take care alot of my skin she have amazing treatment with heigh quality products of botox , filler , meso , prp .. I advise all people to try the facial in 7 dimintion clinic .. I love you Dr. Branka … 7 simintion clinic on of the top clinic in taking care of patint starting from the reseption to the Dr.Branka .. Best of luck for all! Thanks a lot." -Meena Aljanabi
3. Biolite Aesthetic Clinic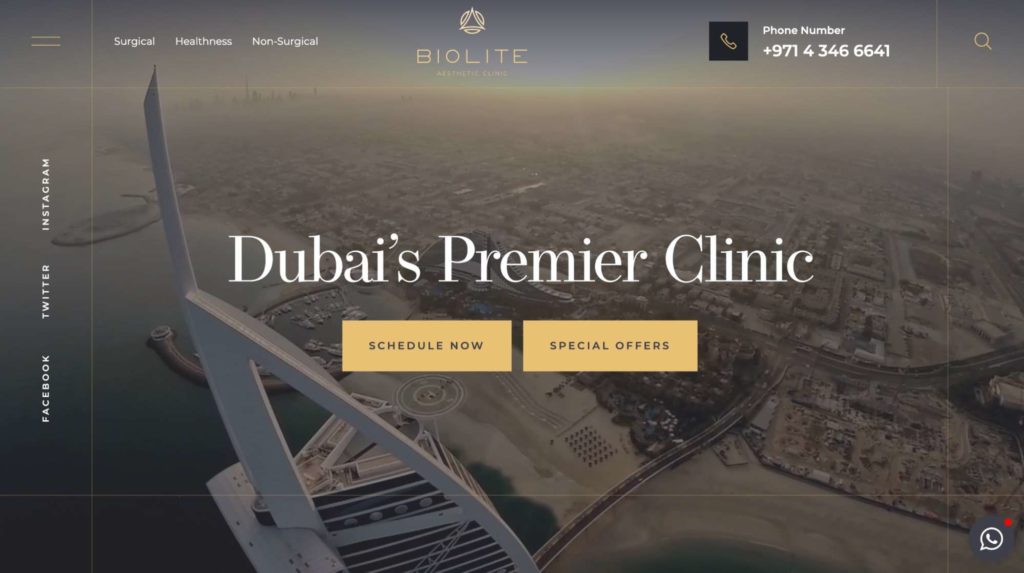 | Test | Info |
| --- | --- |
| SERVICES | Rhinoplasty, Otoplasty, Chemical Peels, Organic Peels, Body Peels, and more! |
| WEBSITE | https://www.biolitedubai.com/ |
| ADDRESS | 57 Al Thanya St - Umm Suqeim - Umm Suqeim 2 - Dubai - United Arab Emirates |
| CONTACT DETAILS | Phone: +971 4 346 6641 |
| OPERATING HOURS | 9:30 AM - 9:00 PM (Monday - Sunday) |
| | |
| --- | --- |
| Criteria | Ratings |
| Expertise | ★★★★★ (5/5) |
| Pricing | ★★★☆☆ (3/5) |
| Customer Service | ★★★★☆ (4/5) |
| Facilities | ★★★★☆ (4/5) |
Initially opened in 2001, Biolite Aesthetic Clinic is a London-based healthcare establishment that provides various treatments and services for their patients. They established a branch in Dubai in 2007.
For their chemical peels, Biolite offers a good range of choices.
The chemical peels available include superficial ones such as Mandelic and Salicylic. For those in need of medium-depth peels, Trichloroacetic acid peel (TCA) is an option in this clinic.
The establishment primarily markets the Vi Peel, which can treat various skin conditions in one treatment. It can handle acne, uneven skin texture, fine lines, wrinkles, and hyperpigmentation.
The Vi Peel is also recommended for people with medium to dark skin tones.
One thing we do have to note about these peels is that they are quite expensive. For the superficial to medium-depth peels, you can spend around AED 1000 – AED 3000.
The Vi Peel, which treats a wide variety of conditions, is priced around AED 2940 to 6300. That's quite pricey.
Even though they don't offer a lot of options, a good thing about their peels is that they can be applied to different areas of the body aside from the face.
Now, what's interesting about this clinic is that they offer a personal concierge for their patients. They serve as direct assistants that can do tasks for you while you avail their treatments in the clinic.

However, you do have to apply for a membership in the clinic to have access to the concierge services.
Overall, we think that Biolite Aesthetic Clinic is the high-end option for all your chemical peel needs. With the variety of peels they have, as well as their coveted Vi Peel, we recommend going here if you have the extra budget!
Short treatment duration
Offers peels for different areas of the body
Has concierge services available
Can be a bit expensive
Appointment required
Customer Reviews:
Beautiful, Spacious Clinic, Polite and Efficient Staff
"I cannot recommend Biolite more! It's such beautiful clinic with amazing services and wonderful hospitality. The ladies were all absolutely lovely, treated me so well and I felt very pampered. If you're looking for the highest quality aesthetic services in Dubai, you have to go to Biolite! My skin feels just amazing and back to it's true health!" – Emily Nicole
Great Therapists and Practitioners, Excellent Service
"Biolite clinic has the best service I have ever encountered. The staff is so welcoming and helpful ! The therapists and facial practitioners there are amazing and have given me amazing results. I did multiple facials and my skin has never felt cleaner and smoother ! This is the only clinic I'd recommend to get facials as their work is so good, consistent and reliable!" -Maitha Al Muhairi
4. Lucia Clinic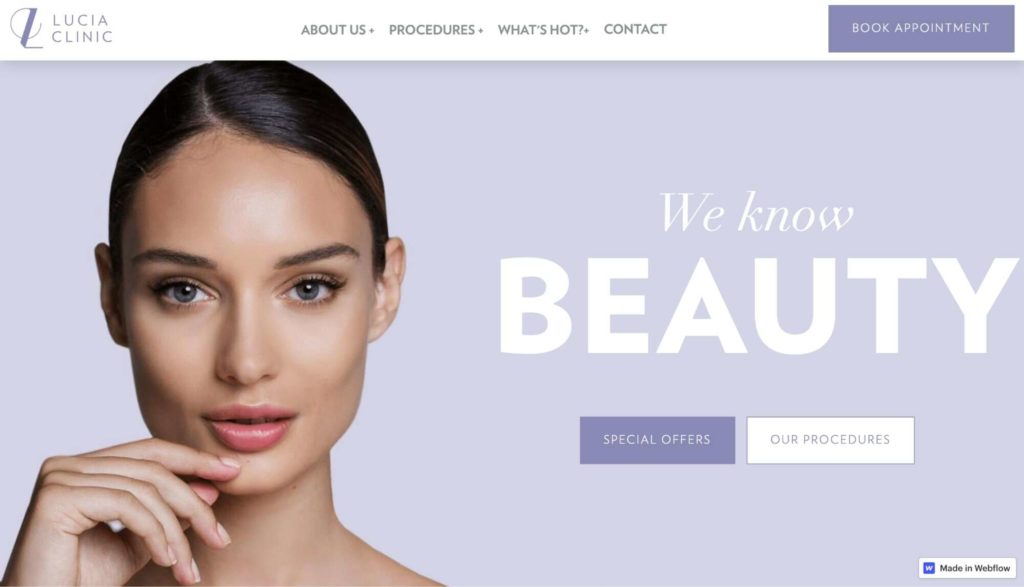 | Test | Info |
| --- | --- |
| SERVICES | Plastic Surgery, Acne Treatments, Chemical Peels, Coolsculpting, and more! |
| WEBSITE | https://www.luciaclinic.com/ |
| ADDRESS | Villa #323 - Jumeirah Beach Rd - Jumeirah - Jumeirah 2 - Dubai - United Arab Emirates |
| CONTACT DETAILS | Phone: +971 4 385 4525 |
| OPERATING HOURS | 9:00 AM - 8:00 PM (Monday - Sunday) |
| | |
| --- | --- |
| Criteria | Ratings |
| Expertise | ★★★★★ (5/5) |
| Pricing | ★★★☆☆ (3/5) |
| Customer Service | ★★★★☆ (4/5) |
| Facilities | ★★★★☆ (4/5) |
Lucia Aesthetic Clinic is an establishment that offers invasive and non-surgical services for all ages and skin types. Their services range from plastic surgery to dermatology.
Looking at their chemical peels, we've observed that they have a lot of options to choose from. In fact, from what we've seen, they have one of the most choices for this treatment.
They offer peels in the light, medium, and deep categories. These peels focus on treating conditions such as hyperpigmentation, sun-damaged skin, wrinkles, and other skin blemishes.
One of the peels you can choose to get is a Cosmelan depigmentation peel, which is for treating dark spots. Another example is the PCA Ultra Peel, which is specifically designed to address skin aging and can reduce fine lines and wrinkles.
Additionally, the clinic also has a special peel for treating lentigo, melasma, or other hormonally-caused pigmentation issues, which is called the Dermamelan peel.
We do recommend heading here if you want your lentigo or melasma treated with their Dermamelan peel, or getting the PCA Ultra Peel for reducing wrinkles.
We do have to note that their peels can be a bit pricey, ranging from AED 1,000 to AED 2,000 per peel.

However, the clinic does frequently offer promotions and discounts, so you can check if they have a particular peel treatment on sale before booking an appointment!
Frequently offers promos
Clinic has a lot of chemical peels to choose from
Establishment has doctors with 15-20 years of experience
Appointment required
Can be a bit expensive
Customer Reviews:
Great Clinic, Friendly and Efficient Staff
"Wow. What a lovely day! Everything about the experience felt comfortable straight from the moment I walked into the clinic. The place is stunning. The staff are so nice and friendly. I hadn't received these types of treatments before but the procedures were all explained before going ahead with any treatments and my skin already feels and looks amazing! The technology these guys use is incredible. They offer so many different services to address different areas and they provide true results. This is definitely my go to place in Dubai! Special thanks to Lia for being so great at listening and understanding the areas of concern…she has a fantastic knowledge on skincare and made everything feel effortless!" – Faris Rai
Quality Service, Expert Staff
"The best Dermatology Clinic you will find in Dubai. Beautiful and kind staff, very nice, clean, chic Place and most importantly: the best results. They are following the Health and Safety Protocols and take care of you all the time and informing you about the procedure.
I needed to remove some Skin tags and get some consultation for my face.
The therapist in charge (Jelena) greeted me from the door, showed me around, asked about my health background and explained to me how they will remove it. After it finished, she told me all about the after care and how to prevent them from coming back. (I find very comforting when they actually educate you on these matters). She explained to me the latest machines and new trends in their industry and what are their services. The rest of the staff were all very friendly and polite, which made the experience very fun and comforting from the beginning till the end. Definitely will go back for more and highly recommending them." – Maryam Farzamifard
5. Kaya Skin Clinic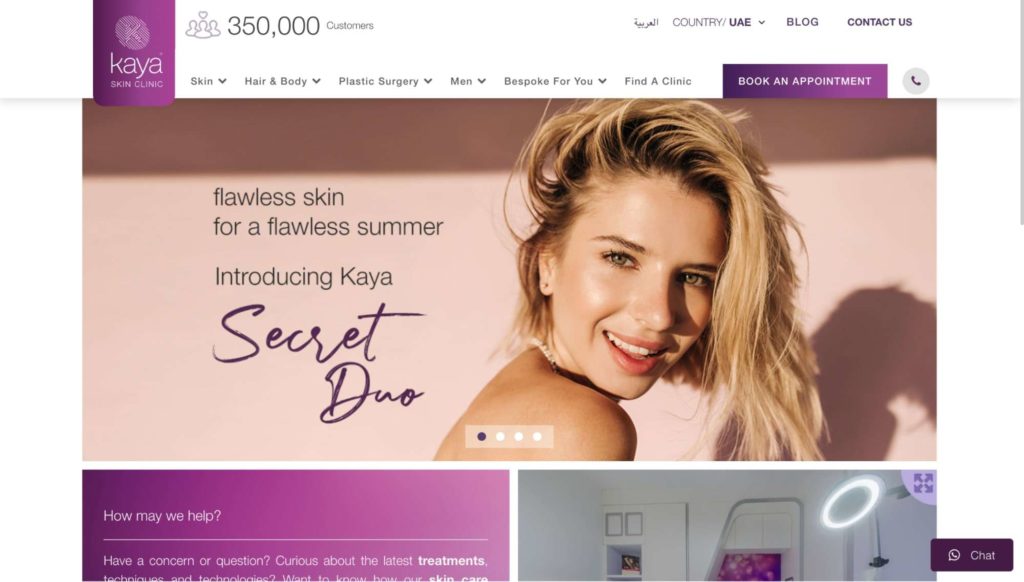 Test
Info
SERVICES
Mesotherapy, Chemical Peel, Liposuction, Tummy Tuck, and more!
WEBSITE
https://www.kayaskinclinic.com/uae/en/
ADDRESS
JBR Walk, opposite The Ritz-Carlton hotel Shop GM11, Al Murjan - Dubai - United Arab Emirates
CONTACT DETAILS
Phone: +971 600 562620
OPERATING HOURS
10:00 AM - 8:00 PM (Monday - Saturday)

12:00 NN - 8:00 PM (Sunday)
| | |
| --- | --- |
| Criteria | Ratings |
| Expertise | ★★★★★ (5/5) |
| Pricing | ★★★★☆ (4/5) |
| Customer Service | ★★★★☆ (4/5) |
| Facilities | ★★★★☆ (4/5) |
Kaya Skin Clinic is an international establishment that specializes in dermatological treatments and services for men and women. They reached the Dubai shores in 2003, and since then, have opened 23 clinics all around the Middle East.
We believe that the most notable aspect of this clinic is the variety of chemical peel treatments available. They have peels of superficial or light, medium, and deep-depth peels.
Some peels we recommend getting in this clinic include Amelan, whcih is a medium-depth peel that is good for removing hyperpigmentations.
Another peel we recommend is Ferulac, which is also known as a "smart peel." This is because it uses controlled release to deliver anti-inflammatory, antibacterial, and sebum-regulating properties.
If you're looking for something that focuses on acne and acne scars, we advise trying Kaya Skin Clinic's Jessner Peel. This medium-depth chemical peel can also treat hyperpigmentation.
Moving on to other aspects of this clinic, we've looked at the dermatologists and other practitioners that will work with you should you visit this clinic, and we've observed them be efficient and have around 5 to 10 years of experience.
What's also nice about this place is that when it comes to payment, they can allow cardholders to pay for their services in installments!
Overall, we recommend Kaya Skin Clinic for its wide range of chemical peel treatments, as well as its flexible payment system!
Offers a variety of chemical peels
Clinic has experienced dermatologists
Frequently offers promos and packages
Appointment required
Encourages consultation for more information
Customer Reviews:
Friendly and Efficient Staff, Quality Service
"The staff is very friendly and nice. And Reeba is awesome. I always had some apprehension towards laser hair reduction but after meeting and talking to Reeba, I regret not doing this earlier. She is not only calm and approachable but also extremely professional, understanding and super efficient. Completely recommend Kaya JBR" – Ipsita Roy
Great Service, Professional Staff
"Very friendly staffs. Genelline (receptionist) and the nurse are always making sure I am doing fine after my treatment by flowing up. My doctor Dr. Maher is just amazing. Highly recommended to every one who are looking for best dermatologist in town." -Losh Nyen
FAQs About Chemical Peels Dubai
---
We hope that any of the clinics we've mentioned can be of help to you!
Interested in checking out more skin care-related services? Check out our picks for the best acne scar treatments in Dubai!