The 5 Best Event Spaces in Dubai
Whether it's for a party, a product launch, a wedding, a concert, or any other corporate event, there are establishments dedicated to providing an area where you can freely host an event!
Dubai is home to multiple rentable spaces, each having its own unique charm and size. If you're looking for a space to rent, we've got you covered!
Here are our top picks for the best event spaces in Dubai!
How Much Does Renting Event Spaces Cost
There are different kinds and styles of event spaces available. In some aspects, their most attractive feature is the amount of space they can allot for guests.
For this piece, we've provided an estimated price range for event space rentals depending on the capacity an establishment can hold. See the table below:
| Capacity  | Cost / Person |
| --- | --- |
| 30 - 100 people  | AED 1300  - AED 1500 |
| 100 - 200 people  | AED  400 - AED 900 |
| 300 - 1500 people | AED 1,000 - AED 4,000 |
The Best Event Spaces in Dubai
Here are the following considerations we've looked at as we assessed the different halls in this list:

1. Warehouse Four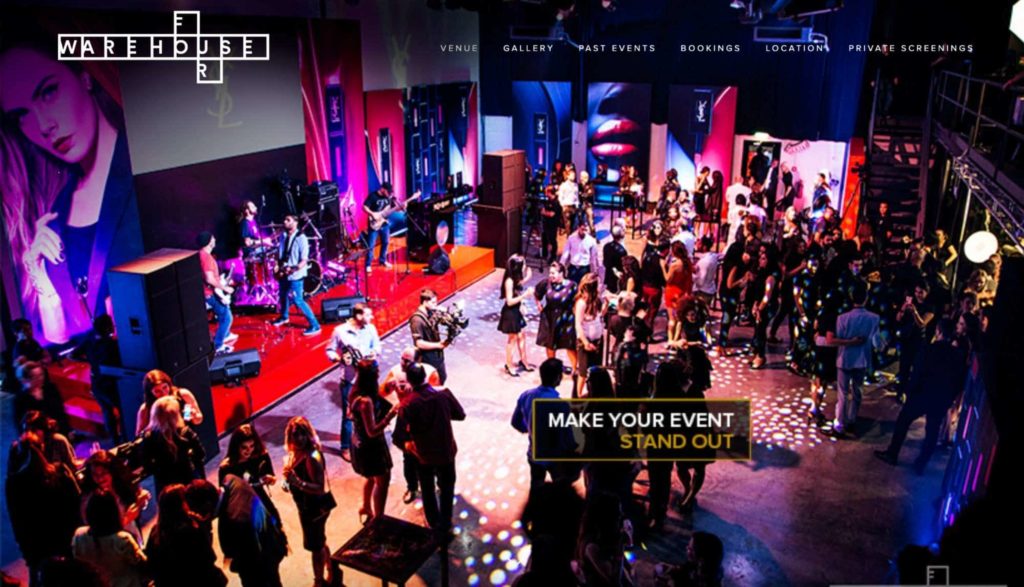 | Test | Info |
| --- | --- |
| SERVICES | Functions, Events, Brand Activations, Meetings, Off-Sites, Lectures, and more! |
| WEBSITE | https://www.warehousefour.com/ |
| ADDRESS | 4B Street, Al Quoz, Next to LED World - Dubai - United Arab Emirates |
| CONTACT DETAILS | Phone: +971 4 221 2160 |
| | |
| --- | --- |
| Criteria | Ratings |
| Venue | ★★★★★ (5/5) |
| Amenities | ★★★★☆ (4/5) |
| Guest Capacity | ★★★★☆ (4/5) |
| Parking | ★★★★☆ (4/5) |
Warehouse Four, opened in 2016, is an indoor dynamic alternative event space that can host a wide variety of events. True to its description, the "dynamic" aspect of it makes it versatile and flexible in catering to different kinds of events.
The location has hosted multiple corporate events, such as the YSL 'Vinyl' Launch. The establishment has also worked with the Dubai government for events, as well as corporations like Adidas, Porsche, and National Geographic.
Mostly though, we noticed that they usually work with brands, holding workshops on product launches. Regardless, we think that Warehouse Four's 4,000 sq. ft of space can be easily converted to what you need.
Additionally, the venue can hold up to 200 people, so it's perfect for small to medium-scale events like product launches, functions, wedding venues, or parties.
Essentially though, it's pretty much just an empty warehouse. However, this makes it a great blank canvas for clients to work their way around.
What's great about Warehouse Four is that aside from renting their space, you also get to hire the help of their team. This additional logistical assistance on their end is helpful because they know how the space already works.
In short, it's a two-in-one deal: you get the space and the staff as well!
We recommend booking a viewing appointment to check the place out or renting the area if you'd like to work on a more empty space for your party or event!
Can hold up to 200 people 
Has flat rates depending on the number of hours 
Flexible space 
Indoor venue only 
Booking required 
Customer Reviews:
Professional Staff, Great Venue Space
"Amazing venue for any small party for up to 200 people. We booked them for my son's birthday party for 5-6 hours. You have to book with the owner Ian via email only. He is super professional with the whole booking and payment procedure along with booking agreement and everything necessary. They have a flat rate of Aed 5,000 for an event of 5-7 hours. You can book it for any kind of party i.e corporate, brand launch, pre-wedding, baby showers, bridal showers etc." – Mehwish Khan
Spacious Venue
"Quite spacious warehouse with a mezenine floor too. The cafe area very good with good ambience and there is an office room also available. It's very good to hold events of upto 200 people" – Zeshan Bashaw
2. Palm Garden of Park Hyatt Dubai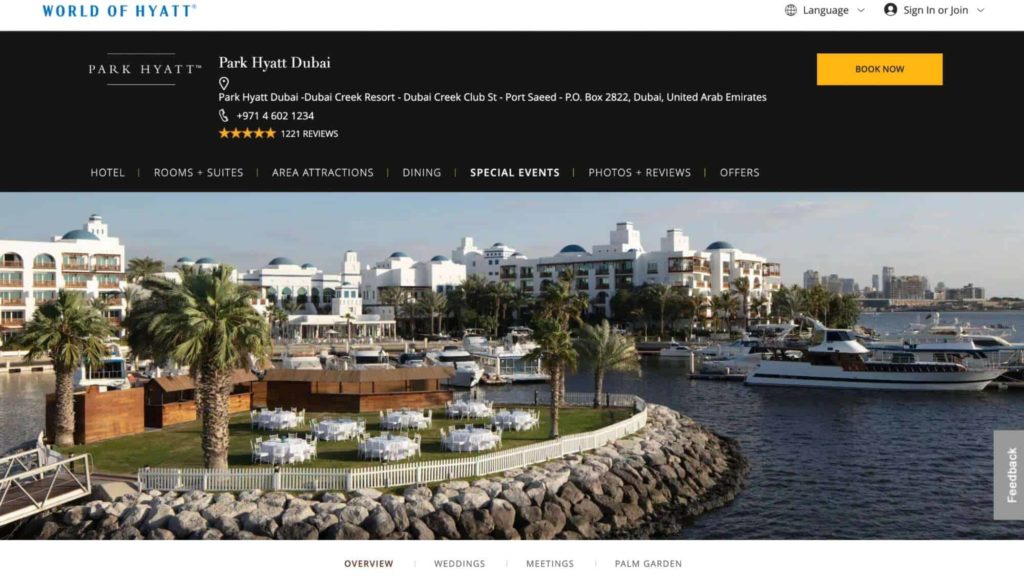 | | |
| --- | --- |
| Criteria | Ratings |
| Venue | ★★★★★ (5/5) |
| Amenities | ★★★★☆ (4/5) |
| Guest Capacity | ★★★★☆ (4/5) |
| Parking | ★★★★☆ (4/5) |
Palm Garden is one of the available venues in the Park Hyatt Dubai, a luxury resort hotel. It's an outdoor location with a total of 672 sq. meters in total size.
In terms of capacity, the said garden can hold 250 people standing, and 160 people in a banquet-style setup. This location is perfect for intimate and small gatherings.
These can include weddings, debuts, birthdays, as well as small parties, and corporate events.
Here's the thing about this venue: it's luxurious and you get nice views, but it's an outdoor venue. You'll need to make sure the weather is on your side and you'll need a backup plan if things turn sour.
However, we believe that one of the good aspects of this garden is the fact that it's attached to a hotel. This means that guests can have access to rooms and amenities if necessary.
Additionally, Park Hyatt Dubai also offers a private dedicated parking area for guests in the Garden venue. This is great, as this means they won't have to interact or co-mingle with people who are just regular hotel customers.
We recommend planning and renting an event in the Palm Garden if you'd like a luxurious, outdoor venue for a small-scale event!
Venue has a private parking area 
Can accommodate up to 160 – 250 people 
Luxurious and spacious garden 
Booking required
Outdoor only 
Customer Reviews:
Ample Parking Space, Great Space
"Nice event area for a party. Ample parking available. The food variety was good but the taste was average. The service was attentive, particularly for the kids." – Ali, via Google Reviews
3. The Agenda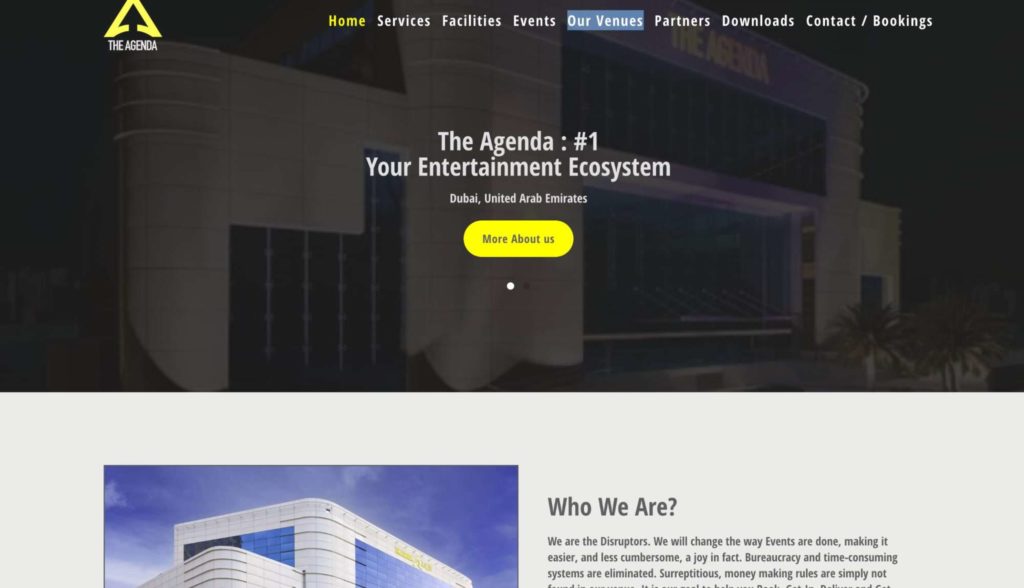 | Test | Info |
| --- | --- |
| SERVICES | Event Venue Rentals, AV Provider, Furniture Provider, Decor and Branding, and more! |
| WEBSITE | https://theagenda.com/ |
| ADDRESS | Abdullah Omran Taryam St - corner Al Jaddi St - Dubai Media City - Dubai - United Arab Emirates |
| CONTACT DETAILS | Phone: +971 4 580 9159 |
| OPERATING HOURS | Open 24 hours. (Monday - Sunday) |
| | |
| --- | --- |
| Criteria | Ratings |
| Venue | ★★★★★ (5/5) |
| Amenities | ★★★★☆ (4/5) |
| Guest Capacity | ★★★★☆ (4/5) |
| Parking | ★★★★☆ (4/5) |
Now this venue is interesting because The Agenda is essentially an entire building. It's often called a one-stop hub for Dubai's Entertainment and Exhibition community.
While this might seem a bit too much on the advertising side, the moniker of the venue seems to be true. They've held various exhibitions and events in their growing portfolio.
The Agenda has been the host of the Middle East Fashion Week 2022, Google and YouTube's Think World Cup 2022, as well as the ITP Awards 2022.
The Agenda has various rooms that can be rented out. These are the auditorium, the foyer, and the commercial space.
First, the auditorium can hold around 3,500 to 6,000 people which is perfect for fashion shows, product launches, graduations, and concerts.
The second area is called the Foyer which can accommodate up to 150 guests. This is more of a "pre-function" space that can serve as a registration or ticketing counter for events.
The last area available is leasable commercial space which is the largest in the Agenda, measuring approximately 100,000 square feet.
The event space also has VIP viewing suites and conference rooms available for rent as an additional part of your package.
Additionally, the company behind The Agenda also offers logistical services for the event. From audio and visual supply to furniture, and other needs, it's perfect for people who are looking for an event and an organizer all in one!
Multiple venues available 
Offers logistical services for event planning 
Big parking space provided
Encourages contact for more information 
Booking required
Customer Reviews:
Easy Access, Spacious Venue
"One of the best entertainment venues in town! Easy access by road and metro. Loads of space inside and parking is plentiful. The staff are professional and friendly. Definitely a venue to consider for your next event." – Elvis John
Efficient and Professional Staff, Great Venue
"Absolutely brilliant venue with the best team running the show. As a wheelchair user it can be a hassle arranging accessible seating for events, but the guys over at the Agenda were extremely helpful, considerate and just all round great guys. Special mention to Damien and Martin for really going above and beyond to get things sorted for me and make attending the event one of the easiest and smoothest I've been to in a very long time. I will definitely attend anything happening at your venue and hope you guys become the premiere spot to host events." -Adrian D'Souza
4. The Fridge Warehouse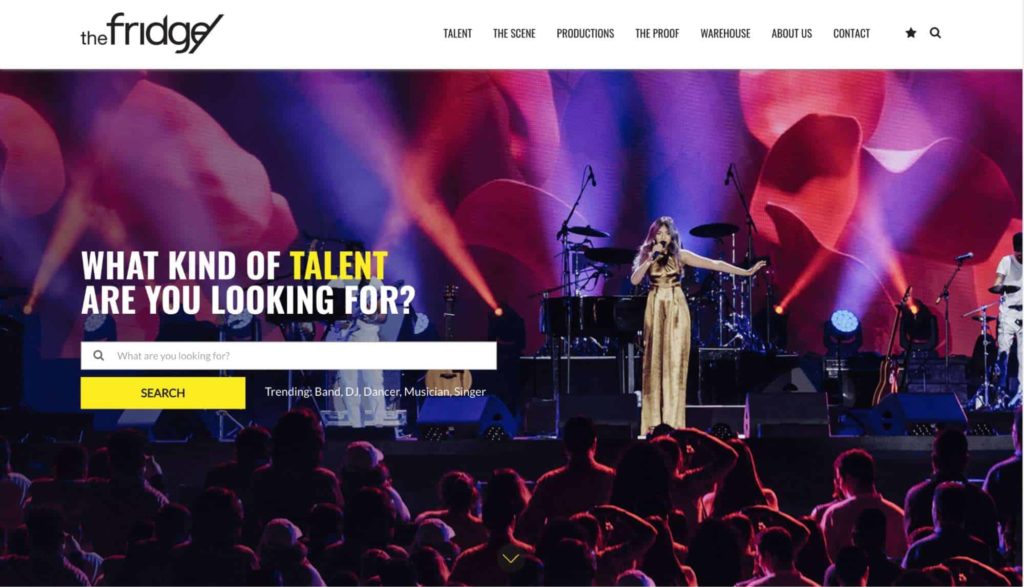 | Test | Info |
| --- | --- |
| SERVICES | Talent, Production Services, Venue Rentals |
| WEBSITE | https://www.thefridgedubai.com/ |
| ADDRESS | Al Serkal Avenue - Warehouse #5 17th St - Dubai - United Arab Emirates |
| CONTACT DETAILS | Phone: +971 4 347 7793 |
| OPERATING HOURS | 9:00 AM - 6:00 PM (Monday - Friday) |
| | |
| --- | --- |
| Criteria | Ratings |
| Venue | ★★★★★ (5/5) |
| Amenities | ★★★★☆ (4/5) |
| Guest Capacity | ★★★★☆ (4/5) |
| Parking | ★★★★☆ (4/5) |
Founded in 2007, The Fridge Warehouse is a venue that hosts multiple entertainment events such as concerts.
This location is 191 square meters and has a seating capacity of 180 people. Additionally, the warehouse also has a standing capacity of more than 250 people.
Its size is great for small-scale events like parties, concerts, and other corporate functions. We do observe that concerts and productions are usually held in this location.
The Fridge Warehouse, regardless of that inclination, can still be customized and re-arranged to host other events. This is mostly because of its base structure.
It can serve as a blank area for event organizers if they so wish. It does come with a stage, lighting, and audio equipment available that they can rent.
Additionally, the Fridge also offers a dedicated loading and parking space for the organizers as well as the guests. We've observed that the said area is ample for the capacity of the warehouse.
Other amenities include a soundproof rehearsal room, a shower and changing room for entertainment acts and free wifi as well!
We also recommend booking this place as it can be rented 24/7, provided that you book in advance, of course.
Overall, we believe that the Fridge Warehouse is a great option for events that can accommodate 150 to 250 people. With its customizable space and great amenities, your event will certainly flow smoothly in this venue!
Has multiple amenities 
Available for rent 24/7 
Can accommodate 150 – 250 people
Flexible, customizable space
Booking required
Focuses on handling concerts 
Customer Reviews:
Intimate and Great Venue
"Not your average concert hall. A bit better. Very hipster and intimate." -Alaa Al-Sa'di
5. Festival Arena of Dubai Festival City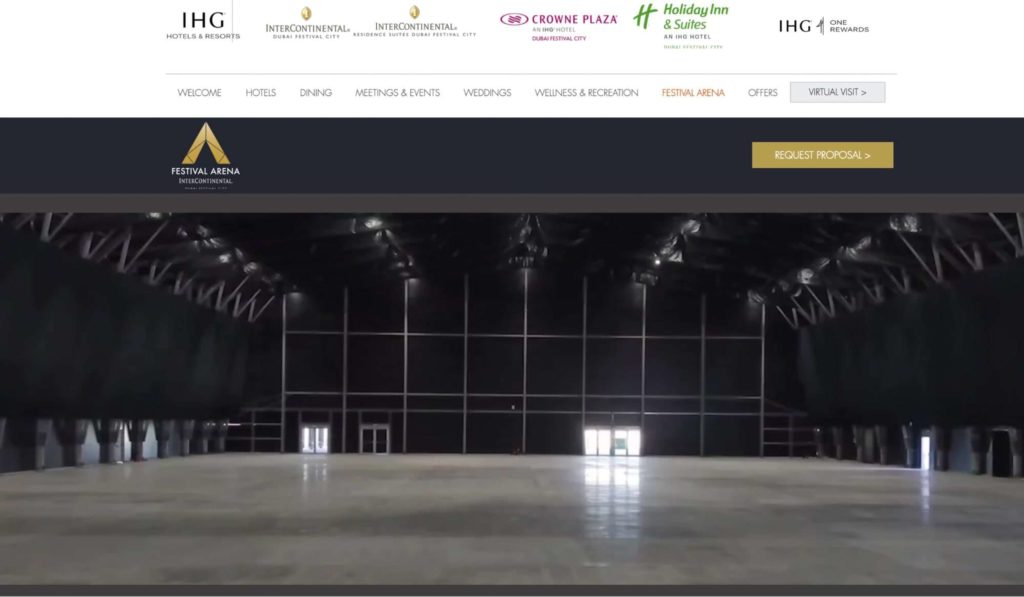 | | |
| --- | --- |
| Criteria | Ratings |
| Venue | ★★★★★ (5/5) |
| Amenities | ★★★★☆ (4/5) |
| Guest Capacity | ★★★★☆ (4/5) |
| Parking | ★★★★☆ (4/5) |
Festival Arena by InterContinental is a 7,200 square-meter event space located in Dubai's Festival City. What's nice is that it's actually near the major roads of the city, which makes the venue very accessible.
There are three different areas available in the Arena. The company managing the venue allows clients to rent one specific area, but we've observed that they encourage companies to rent the entire location.
The first area available is the Arena's main hall, which can accommodate around 4000 to 5000 people. The next section of the arena is the pre-function hall, which can accommodate around 100 to 300 people.
Lastly, the Arena also has an outdoor terrace space, which can host 700 to 3000 people.
We recommend booking the pre-function hall and the main hall if you're hosting an exhibition, concert, or any event that requires pre-registration or ticketing.
One of the best aspects of this Arena is the amenities it has. First, there are separate rooms for organizers and VIPs. There are prayer rooms as well.
There is also a complimentary Wi-Fi service for up to 2,500 guests! This, in our opinion, is quite impressive.
We do have to note that as the Arena is in a very accessible location in Dubai, as well as the additional amenities and areas available, renting this place might get pricey.
Overall, we recommend booking the Festival Arena for large-scale events such as conventions, expos, and concerts.
Big parking lot 
Offers free wifi 
Has various amenities 
Venue has multiple areas available
Booking required
Can get expensive 
Customer Reviews:
Spacious Venue
"Good ana big place for events, lots of parking and it's quite a beautiful area. Went there for the middle east adventure expo. Was cool to try some different electric skateboards with the evolve boards. Also got to see some amazing classic cars!" – Azif Demuynck
Great Space, Can Accomodate A Lot of People
"Decent place for expo and concerts. Big area can accommodate a lot of people. Downside as the is no infrastructure and public access, as this area is still quite new. Parkings are with sand and dust, so your boots will be quite dirty" -Arty S, via Google Reviews
FAQs About Event Venues in Dubai
---
We hope that any of the venues we've listed will be of assistance to your next event.
If you're interested in more options though, here are our top picks for the best banquet halls in Dubai.