5 Options for the Best Car Insurance in Dubai
Image Source: Erik Mclean via Unsplash
Like most cities in the Middle East, Dubai has a booming car culture. There's a definite urge to have the newest, "best" cars and keep up with the latest car customisation trends here.
This makes finding the best car insurance in Dubai all the more important. You don't want to skimp on protection for a car you've already spent a minor fortune on!
Our guide below should help you get started on your search for the best car insurance in Dubai. Let's start with how to pick insurance before we go to the list of top options!
How to Pick the Best Car Insurance in Dubai
1. Select a Type
There are two main types of car insurance. These are the third-party liability-only policy and the comprehensive policy.
Between the two, the third-party liability-only policy is definitely the cheaper option. However, in the event of an accident, it provides coverage only to the other people involved and their property.
In other words, you will still pay for your own hospitalisation and car repairs.
The costlier comprehensive policy, meanwhile, provides wider protection. It covers hospitalisation and repairs for all people and property involved in an accident.
Many of these comprehensive policies even protect you from non-accident damages, such as natural disaster or burglary.
2. Check the Inclusions
Make sure to review your chosen policy's terms and conditions to know the extent of your car insurance's coverage.
Some things to look for are roadside assistance and recovery service, off-road areas, and agency or non-agency.
Agency means your car will be repaired by the authorised manufacturer while non-agency means the repair shop will be the insurance company's choosing.
3. Ask for a No Claims Discount
If you know yourself to be a safe driver, you may think that you don't need car insurance at all. However, nothing is ever certain: there could be unforeseen circumstances that will leave you in debt due to damage or hospitalisation.
This is where no-claims discounts come in handy. You get to save on your car insurance while having the same protection as full-priced insurance.
Asking for a no-claims discount can save you a significant amount of money by cutting the price of your insurance plan by up to 25%.
The Best Options for the Best Car Insurance in Dubai
Now that you know the things to look for in a car insurance policy, below are some of the best car insurance in Dubai you can consider.
1. AXA Car Insurance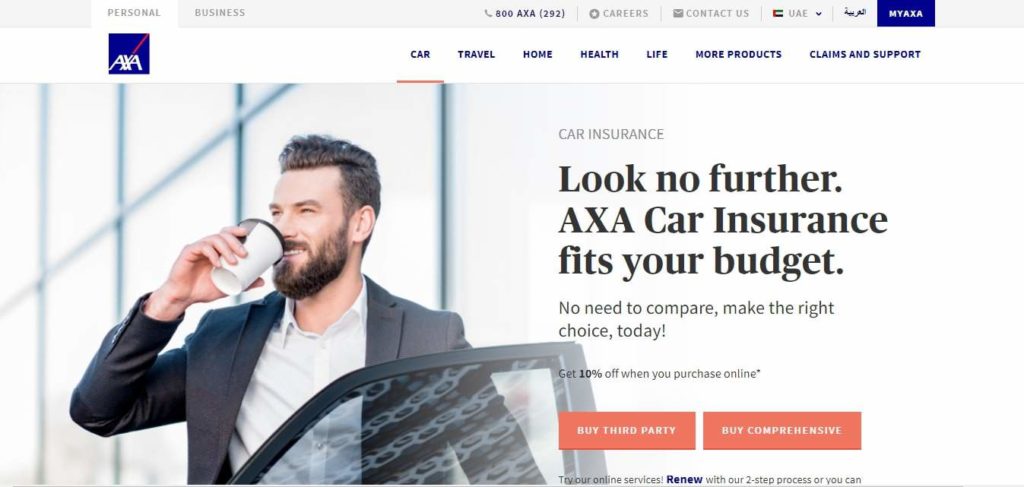 AXA's comprehensive policy gives you the option to protect not only your vehicle but also the driver and passengers. If there are other people involved, it also provides a third-party liability for individuals and property.
What makes AXA one of the options for the best car insurance in Dubai, however, are the additional benefits they offer.
They provide 24/7 roadside assistance and breakdown recovery. They cover car repairs at your car dealership or at their garages. While your car is getting fixed, they also have a pickup and drop-off service.
This option for the best car insurance in Dubai comes with off-road coverage as well as Oman coverage. In case of total loss within 24 months, AXA's car insurance plan even goes as far as covering the entire cost of your vehicle.
Pickup and drop-off service
Off-road and Oman coverage
Covers entire cost in case of total loss
Personal accident benefit for driver and passengers is optional
2. Salama Auto Takaful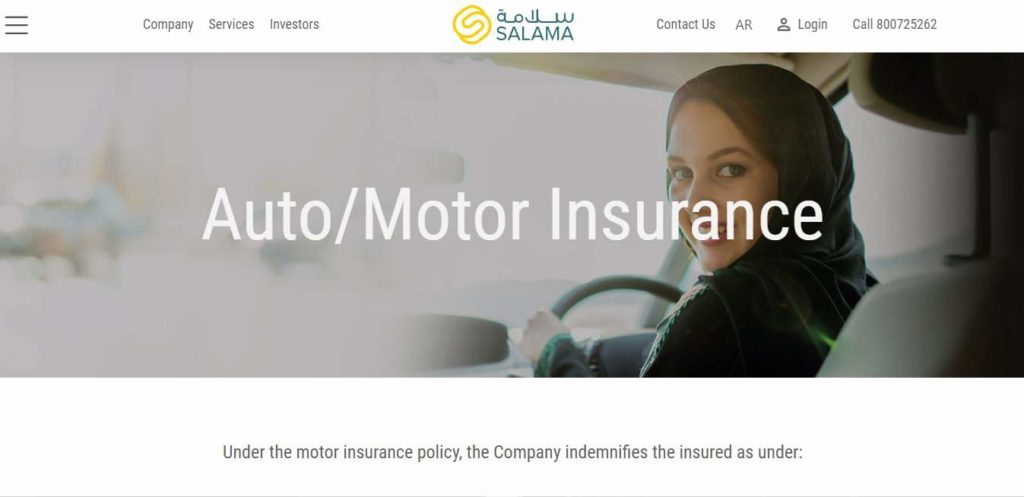 Salama offers a variety of auto insurance options. Among these, however, their motor comprehensive insurance provides the widest coverage.
This option for the best car insurance in Dubai holds the company accountable for the damage or total loss of the vehicle due to accidents. Your vehicle is also protected from theft or burglary as well as damage due to self-ignition, fire, and internal explosion.
Third-party coverage may also be availed of to address third party injury or death and damage to property.
Three car insurance options
Protection from theft and burglary
Protection from self-ignition, fire, and internal explosion
Does not cover indirect losses that occur on the insured and the vehicle
No natural disaster protection
3. Noor Car Takaful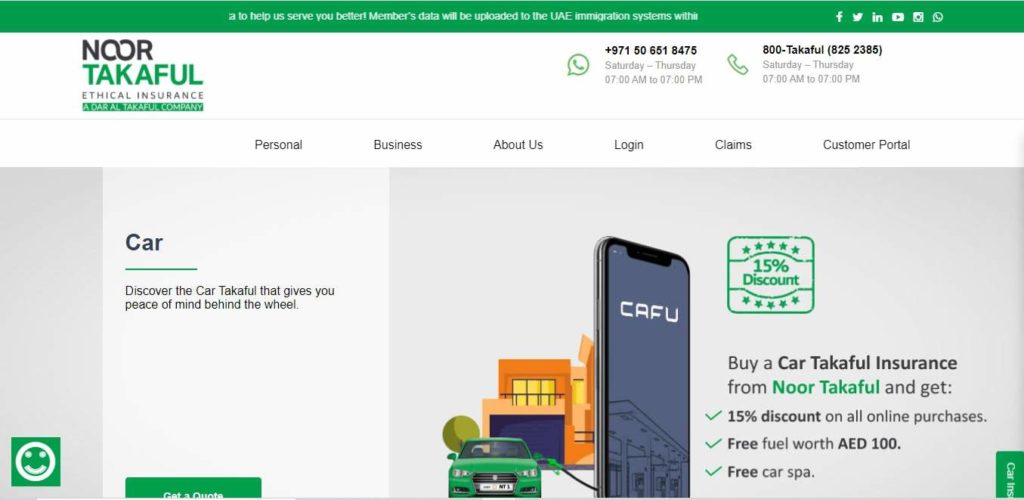 Noor Takaful offers both comprehensive and third-party insurance policies. However, their comprehensive car insurance offers far more benefits than the cheaper option.
It covers loss or damage of your vehicle up to its full value and even provides new car replacement up to 6 months. There's also a natural calamity coverage that protects you from car damage due to events such as earthquakes and floods.
Among its many other benefits, Noor Takaful also offers a no-claims discount to save you some money. Besides comprehensive protection for you, your vehicle, and third parties, you even get more discounts, free fuel, and a free car spa.
Covers car loss or damage to up to its full price
New car replacement coverage up to 6 months
Natural calamity coverage
No-claims discount
More discounts and freebies
Separate costs for personal accident benefit for driver and passengers, Oman cover, off-road cover, and rent-a-car
4. Orient Insurance Motor Comprehensive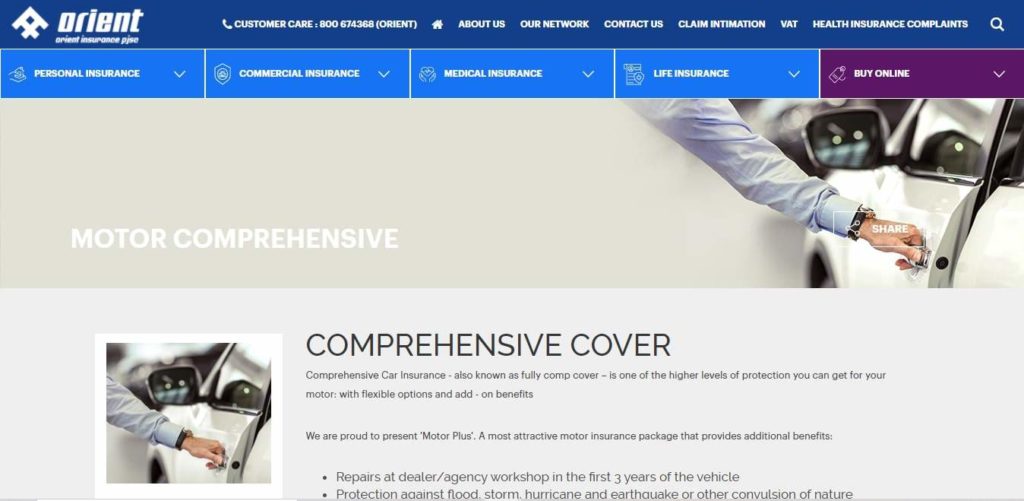 For full-range of protection with flexible options and add-on benefits, Orient Insurance's Motor Comprehensive is the best car insurance in Dubai.
Among their many additional benefits are repairs at your dealer workshop for your car's first 3 years, which ensures that your vehicle is properly maintained.
As for protection, The plan guarantees coverage for natural disasters as well as for riots and strikes.
On top of its many benefits, this option for the best car insurance in Dubai also comes with a free life insurance cover for the individual insured plus legal liability to immediate family members.
Flexible options and add-ons
Repairs at your car dealer
Coverage for natural disasters, riots, and strikes
Free life insurance
No protection for driver and passengers
5. Tokio Marine Car Insurance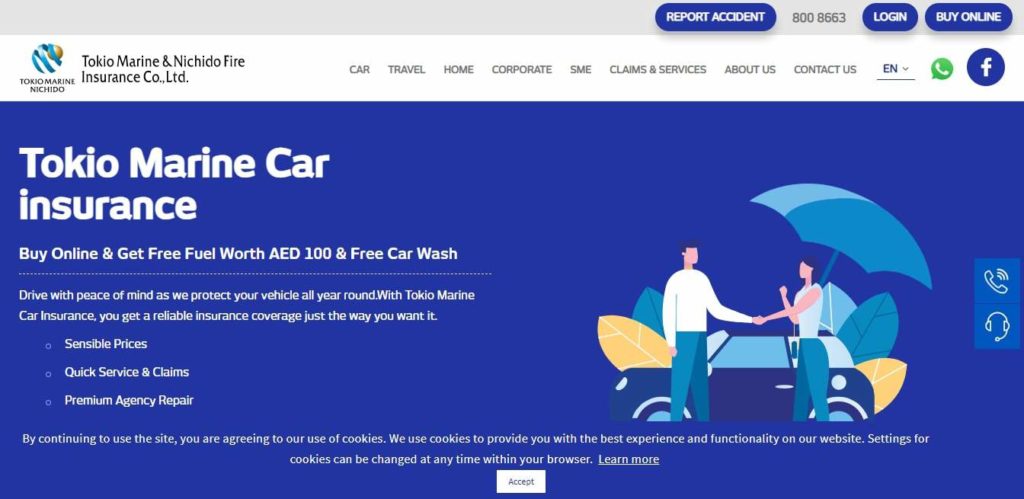 Tokio Marine Car Insurance boasts premium agency. Not only that, but it also covers your personal belongings and vehicle.
If an accident happens within 6 months of the registration of your car that totally damages it, the company pays the whole value of the vehicle.
This candidate for the title of best car insurance in Dubai has many more offerings, which include a very handy unauthorised driver and intrusions coverage in the event that your vehicle gets stolen.
While it offers many perks, the insurance plan is extremely easy to avail of. Just pay online and receive the policy instantly. It even comes with free fuel and car wash when you apply online.
Premium agency repairs
Covers personal belongings
Unauthorised driver and intrusions coverage
Can be purchased online
Separate costs for personal accident benefit for driver and passengers
Limited rent-a-car cover
FAQs about the Best Car Insurance in Dubai
---
Was this list helpful in finding the best car insurance in Dubai for your vehicle? Let us know! If you have other car insurance plans that you highly recommend, you can also share them with us.