5 Spas for the Best Massages in Dubai
Featured Image Source: Christin Hume via Unsplash
Is stress starting to affect your body? In that case, meditation may no longer be enough: your stress should also be addressed physically!
This is where the spas for the best massages in Dubai come in. Having a professional undo the tension in your muscles for a few minutes can not only make you feel better physically but also lift up your mood.
Below, you'll see a list of our favourite massage places in the city. Before that, though, we'll show you how to pick a good place for your needs.
How to Pick the Spas for the Best Massages in Dubai
There are a few key steps that can help you separate the wheat from the chaff when looking at massage places. Here are several that anyone can follow:
1. Read Reviews
To ensure that you're getting the relaxation you need and your money's worth, make sure to check online reviews before booking a massage at a certain spa.
For this, look for people who seem to have much knowledge about massages. People who get massages often have the best insight on a spa's massage service as they are likely to have tried different places before and therefore have higher expectations of a good massage.
Through reading reviews, you will also know if a massage place is clean.
2. Check for a License
A license or certification to provide massages is important. This guarantees that the spa's therapists learned the proper massage techniques from experts.
By ensuring that the spa's therapists are trained to do the massage, you're also keeping yourself from getting hurt even further. Doesn't that just make sense?
3. Know the Type of Massage You Want
There are several types of massages. More often than not, spas have a couple of options for their clients.
The type of massage you should get depends on your needs.
For full-body relaxation, you should go for a Swedish massage. If your problem is tight and bothersome muscle knots, a deep-tissue massage would benefit you the most.
Meanwhile, if you need some energising, Thai is the best type of massage for that.
In addition to the kind of massage, you should also determine how long you want your massage to last.
Usually, massages take 30, 60, 90, or 120 minutes. A 50-minute massage is ideal, but you are free to get a shorter or longer session depending on what you think your body needs.
The Spas for the Best Massage in Dubai
Now that you know what to look for in the best massage experience in Dubai, you can book yourself your much-needed massage.
To make your life easier, here's our own list of some of the best spas in Dubai for massages.
1. Jiva Spa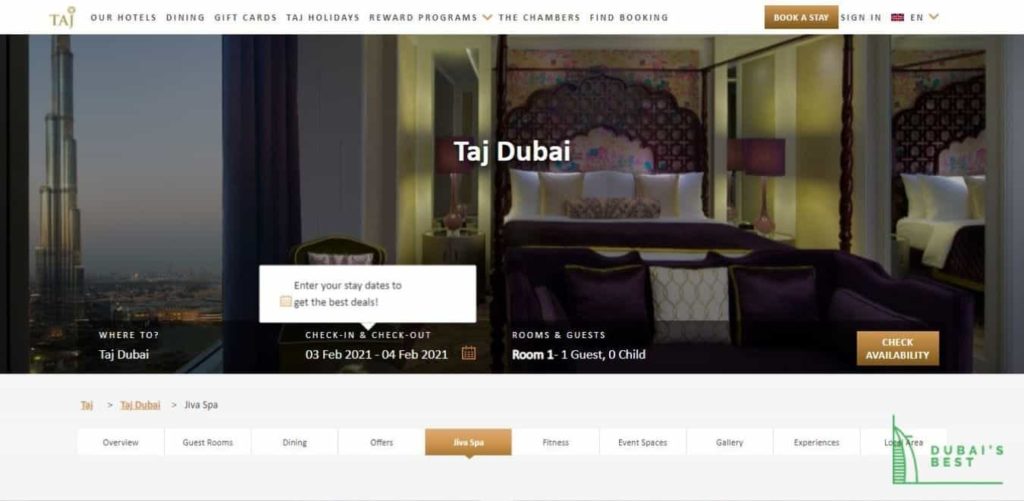 Jiva Spa at Taj Dubai offers a wide range of authentic Indian healing techniques partnered with their signature Taj service.
They use all-natural and traditional herbs, essential oils, and other healing ingredients for their massages.
One of their offerings that's worth trying is the Trupti, a 120-minute head-to-toe massage that is sure to make you feel rested and rejuvenated.
However, their absolute best massage in Dubai would have be the Sammardana. This 60- to 90-minute massage for joint mobility requires an intricate method of massaging that Jiva Spa's therapists have mastered.
Jiva Spa is located near the Burj Khalifa, by the way, which makes it an ideal massage place for tourists.
Offer authentic Indian massages
Use all-natural massage oils
Convenient location
Inaccessible to public transportation
Customer Reviews
Sarah Billy, a previous client of Jiva Spa, reviewed:
"I've tried several Spa in Dubai but the massages at Jiva Spa are by far the best I ever had. It is very relaxing. We came back several times and we were never disappointed. The therapists are very professional. I highly recommend the Spa at Taj Dubai."
2. Timeless Spa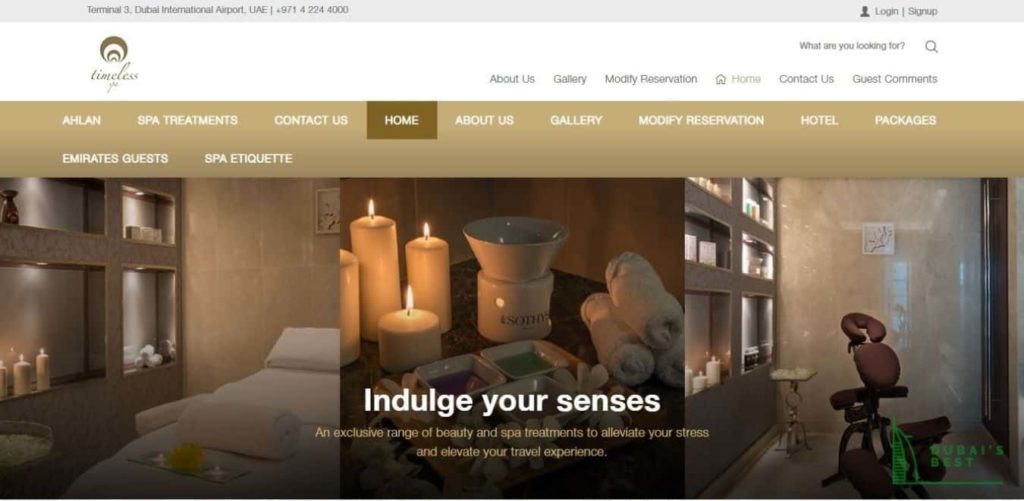 You can relax your travel-worn mind and body during a layover at Timeless Spa. This spa at the Dubai International Airport offers massages from all around the world.
Among their world-class offerings are the 60- to 90-minute Hawaiian Lomi Lomi and the classic Swedish massage.
The Hawaiian Lomi Lomi is a healing massage that improves blood circulation and helps you feel rejuvenated. On the other hand, a Swedish massage aids in the body's absorption of more oxygen and helps release toxins.
However, what truly qualifies it as one of the places to go to for the best massage in Dubai is this: the spa's Timeless Combination massage.
It is a combination of Swedish, Shiatsu, and Thai massage that is perfect for relieving all the tension and stress brought about by travelling. It's highly recommended by travellers!
Offers different massages from around the world
Perfect for layovers
Combination massages offered for those who can't decide on just one type
No option longer than 90 minutes
Inaccessible for those without flights
3. Qua Spa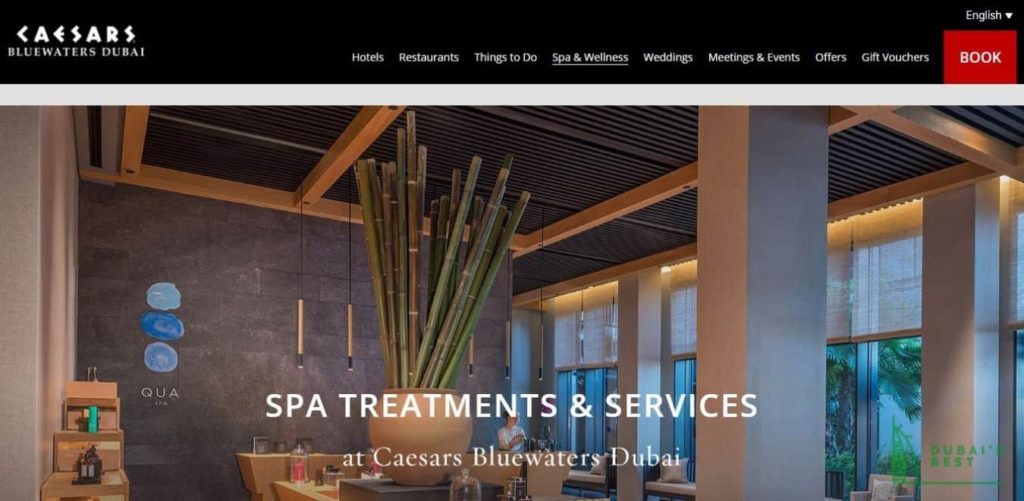 | | |
| --- | --- |
| BEST FOR | Japanese spa elements |
| WEBSITE | https://www.caesars.com/dubai/qua-spa/ |
| ADDRESS | Caesars Palace Bluewaters – Bluewaters Island – Dubai – United Arab Emirates |
| CONTACT DETAILS | +971 4 556 6666 |
| OPERATING HOURS | Sunday – Saturday: 8:00 AM – 9:00 PM |
Qua Spa at Caesar's Bluewater Dubai takes inspiration from Las Vegas, where luxurious and technologically advanced Japanese spa treatments are the trend.
Following their spa's theme, they came up with their Shiatsu Fusion Massage, which combines the traditional Japanese massage with other techniques that enhance the body's ability to heal itself naturally.
For a unique spa experience, they also have their Qua Spa Five Elements massage, an aromatherapy massage that uses special essential oil combinations and advanced massage techniques.
Their Mother-To-Be massage, however, is their best massage in Dubai. This massage is only available for trimester mothers and it renews the body and the spirit, incorporating tension-release and breathing techniques.
Japanese spa treatments
Unique Mother-To-Be massage
4. Talise Spa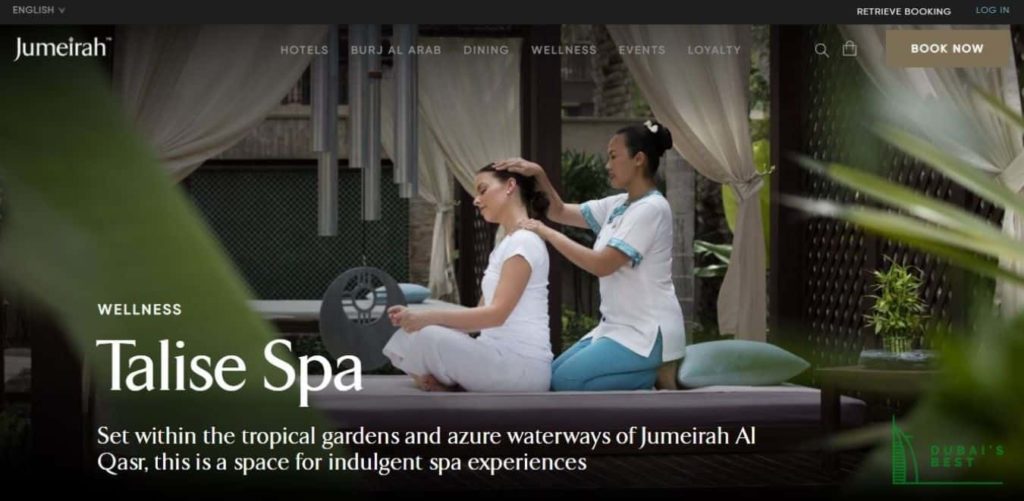 You can get signature treatments and massages in the lush surroundings of Jumeirah Al Qasr at Talise Spa. Here you can truly enjoy a luxury massage with 26 spa villas available.
Among their best massage offerings is their Senses Awakening massage, which helps improve flexibility and relieve muscle tension. We think it's worth trying for those who've been dealing with a lot at work.
It's also worth noting that Talise Spa is dedicated to providing their clients with the most unforgettable spa experiences. Besides the exclusivity of their spa experiences, they use only organic luxury brands for their spa treatments.
A fair number of signature treatments and massages offered
Luxury experience
Uses organic luxury brands for their massage treatments
5. Anantara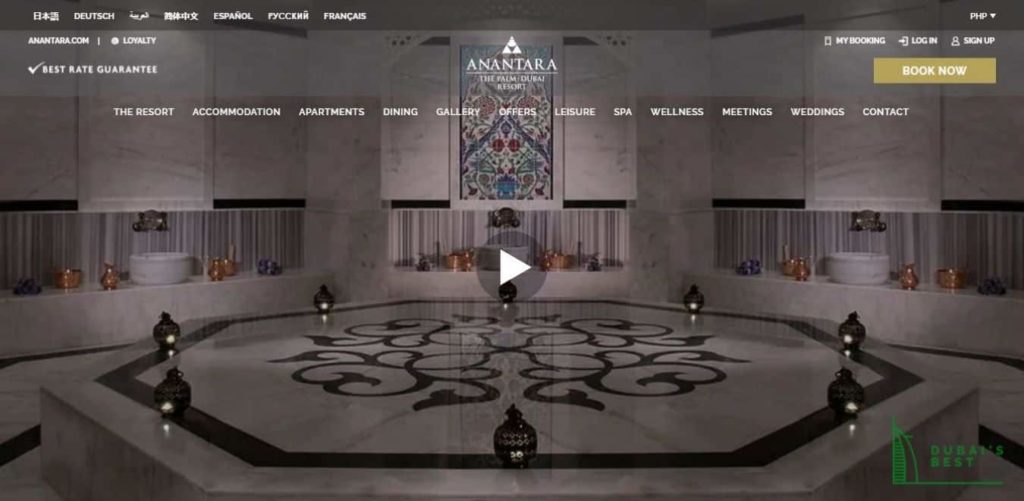 If you're looking into getting a truly lavish massage experience, Anatara gives some of the best luxe massages in Dubai.
Located at Palm Jumeirah, this spa has indulgent amenities. These include 24 treatment rooms, among which are a holistic cocoon room and Ayurveda room.
To give you the best massage in Dubai, Anantara's team of therapists has mastered various specialty massages. Their 90-minute classic dry Thai massage, in particular, is so freeing it will make you feel as if you just did yoga.
For those looking for a Middle Eastern massage style, they also have the perfect offering. Their Arabian Massage involves deep-tissue pummelling using the elbows and will surely loosen the tightness in your back.
Absolutely opulent amenities
Mastery of specialty massages
FAQs about the Best Massages in Dubai
---
Was this article helpful in your search for spas for the best massages in Dubai? We certainly hope so!
If we missed your favourite massage place in Dubai, send us a message and tell us all about them. We'll make sure to check them out!