The 4 Best Business Directories in Dubai
There are various methods you can utilize if you want to expand the reach of your business. One of them is through advertising– this can involve commercials, establishing a wide social media reach, and more.
On the more traditional side of advertising lies the old method of uploading your company information on a business directory. Remember the thick books of yellow pages or directories that had almost every company in your location?
They have now moved online thanks to technological advancements in our society. If you're looking for a place to advertise your business, here are our top picks for the best business directories in Dubai (unranked, of course).
How Much Does Getting A Listing in a Business Directory Cost
Usually, listing companies offer slots in their directories for free. This comes with the bare minimum of their services such as displaying the basic information of your company.
A paid version is definitely going to be offered, with more "priority" in terms of recommendation and being displayed as a top search result for their business directories.
| Listing Type | Average Cost (in AED) |
| --- | --- |
| Online Business Listing | 185 - 367 |
The Best Business Directories in Dubai
The following are the factors we considered while assessing the companies in this article:
1. UAE Business Network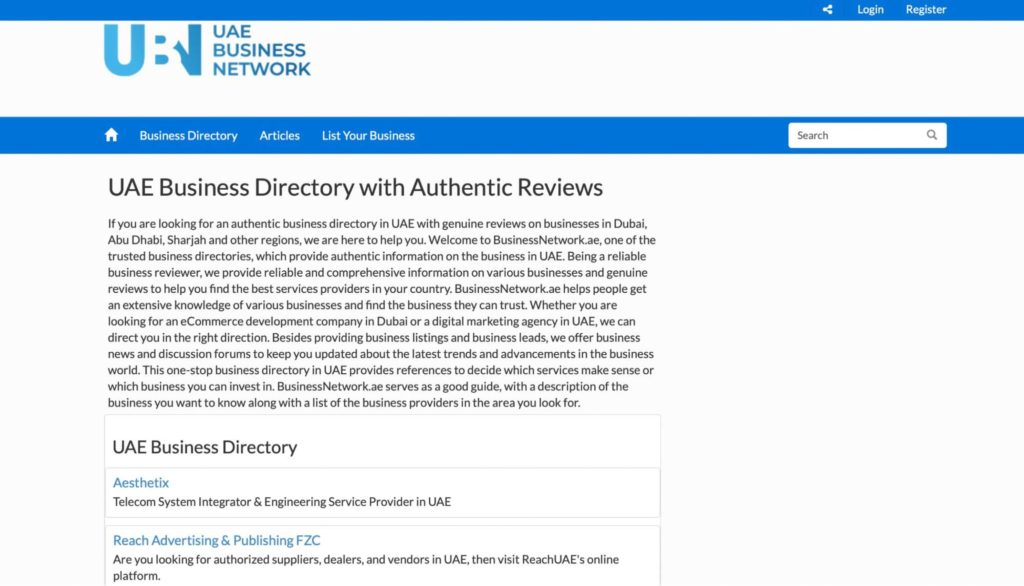 | | |
| --- | --- |
| Criteria | Ratings |
| Interface | ★★★☆☆ (3/5) |
| Services | ★★★★☆ (4/5) |
| Customer Support | ★★★☆☆ (3/5) |
| Pricing | ★★★★★ (5/5) |
Extremely simple. Quite straightforward.
These were our first impressions as we visited UAE Business Network, a directory that aims to be a good platform for companies not just in Dubai, but the entire UAE.
Here's the thing: it's very easy to get a listing here. They offer their services for free!
The interface looks a bit basic and quite old-school, with the very basic HTML elements poured in. However, it does its job of displaying the necessary companies a potential client would search for.
We would just point out that there are some cases where the directory would look odd to most modern browsers. Hopefully, UAE Business Network can update its platform in the future!
Another perk of this company is that they offer an advantage in terms of search engine optimization (SEO). This is because they allow companies to provide a direct link to their official websites.
Some companies would actually charge you for placing your business' official website in their listing.
Now, free things usually come at a cost. For this company, it's their customer support.
We noticed a lack of any contact information, such as a hotline or an email that can be reached for inquiries or concerns. There is a link to an affiliated company's Facebook page, but we are unsure if they would actually entertain concerns related to the directory.
Overall, if you're looking for a directory that offers free slots for advertisement that comes wrapped in a very simple, easy-to-understand interface, we recommend this platform for you.
SEO Advantage
Free listing
Limited customer service
Simple interface
2. Dubai Business Directory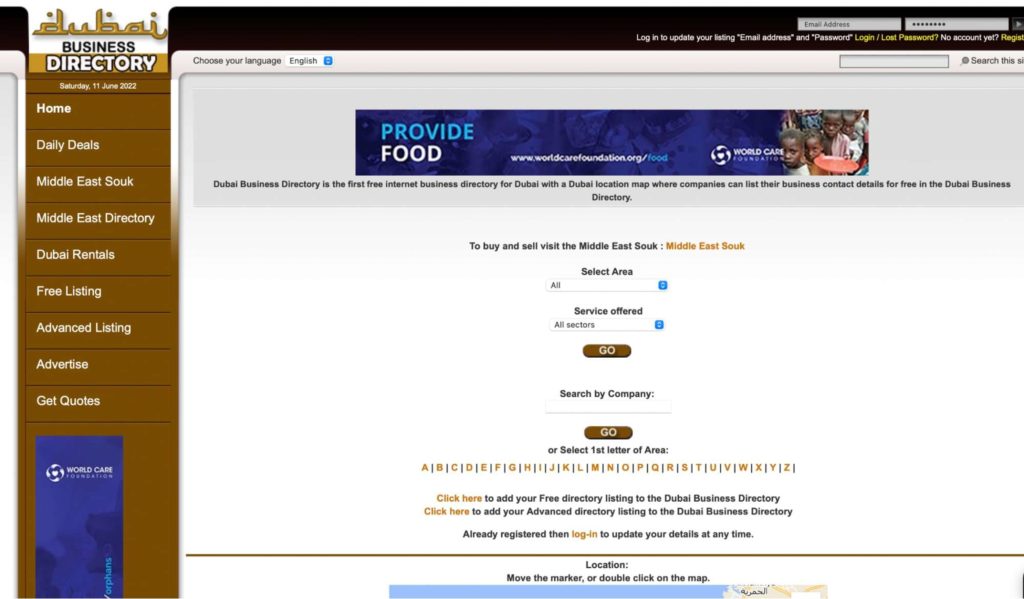 | | |
| --- | --- |
| Criteria | Ratings |
| Interface | ★★★☆☆ (3/5) |
| Services | ★★★★☆ (4/5) |
| Customer Support | ★★★★☆ (4/5) |
| Pricing | ★★★☆☆ (3/5) |
Dubai Business Directory is an online listing platform that gathers at least 1000 impressions a day. This website offers two display options for companies: a free version and a 250 AED per month advanced listing.
Their free listing is definitely a method of encouragement for companies to consider choosing the paid option. Basically, companies can only list their contact details, address, and short description.
That is pretty on par with the other business directories. For companies who would opt for the premium display slot, they can upload images, such as photos and the company logo on the website.
Unfortunately, adding a web link is also locked on Dubai Business Directory's premium version.
Their pricing is on the average side of things, but if we consider the actual platform, we honestly think that 250 AED is a bit expensive.
We noticed that the website is definitely dated in terms of web design and functionality. For a business that pushes clients to pay for more of their services, we think that their platform could be redesigned.
Aside from that criticism, we did observe that what makes this directory stand out is the fact that they offer a location map for the companies on their website.
Overall, Dubai Business Directory is a good second option for people who are looking for another platform that allows business listings for free.
Free listing available
Location map for both paid and free listings
Web link only available on a paid listing
Unimpressive interface
3. Local Search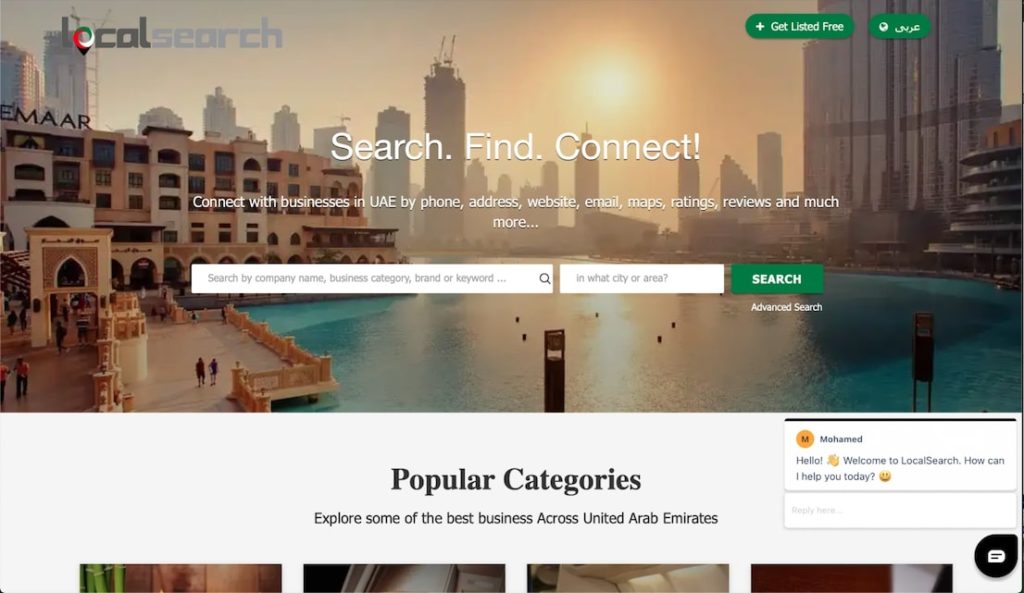 Test
Info
SERVICES
Business Listing

Advertisement

Web Design and Development

Branding and Graphic Design

SEO

Social Media Management

Video and Photography Services

WEBSITE
https://localsearch.ae/en
CONTACT DETAILS
Phone: +971-800-LOCAL (800-56225)

E-mail: [email protected]
| | |
| --- | --- |
| Criteria | Ratings |
| Interface | ★★★★★ (5/5) |
| Services | ★★★★★ (5/5) |
| Customer Support | ★★★★★ (5/5) |
| Pricing | ★★★★☆ (4/5) |
Established in 2014, Local Search is an online business directory that stores and displays a list of available businesses in the UAE.
What's great about this company is that they have an online website and a mobile application for users on the go. We must point out that the app only covers local businesses only.
Regardless, Local Search is definitely one of the first databases you should try to get a listing for your company.
In terms of interface design and functionality, this company has the best of all we've looked at. It's easy on the eyes and everything is well-organized.
The website is also designed to be intuitive, and even people who are not so versed in a computer can learn how to navigate their platform easily.
Now, Local Search offers free listings for companies. We didn't notice any big limitations from them.
Companies can list all their basic information (website link included), so no worries about just availing yourself of a free display slot.
What's unique about this directory is that they offer a review function for the businesses on their database. Users can log in and share their experiences with this company and rate them.
This also allows customers to choose the company with good ratings.
In terms of customer support, Local Search has the usual phone and email channels that can be reached. Aside from that, it also has live chat support where you can easily type in the floating chatbox on their website, and staff can talk to you within a few minutes!
Great interface
Offers free listing
Has a review system
Online chat support
Mobile application for local businesses only
Business listing, not their main focus
4. Etisalat Yellowpages
Test
Info
SERVICES
Advertisement

Business Listing

Job Listing

WEBSITE
https://www.yellowpages.ae
ADDRESS
Dubai Office - 2504, Aspect Tower, Business Bay, Dubai, UAE
CONTACT DETAILS
Phone: +971-80-YELLOW(935569)

E-mail: [email protected]
| | |
| --- | --- |
| Criteria | Ratings |
| Interface | ★★★★★ (5/5) |
| Services | ★★★★☆ (4/5) |
| Customer Support | ★★★★☆ (4/5) |
| Pricing | ★★★★☆ (4/5) |
A classic option. We move to look at yellow pages, but now online!
The Etisalat Yellow Pages is a business directory and an online marketplace on one platform. It is officially categorized as a business-to-business platform.
This means that the company focuses more on fostering transactions between establishments. It doesn't mean that they don't try and make sure to have a well-organized database of companies, though.
Their directory is also available on a mobile application, which is quite convenient. A working internet connection is required for access, though!
At first glance, the website is a little simple aesthetically. It does maintain a well-organized interface that is easy to navigate.
The Etisalat Yellow Pages presents the entries on their directories in categories, with each company containing a good amount of basic information on their services and possible contact channels.
Interested parties can avail their listings free of charge. Now, the fees come in after you get your company listed on their platform.
According to previous customers we've talked to, the Yellow Pages usually reach out and offer a listing with more priority (which means they will be displayed first in search results). Prices usually run on average on that end, though.
Overall, Etisalat Yellow Pages is a good business directory for their online platform and accessibility options, which is through a mobile application.
Organized interface and listing
Allows clients to post job requests
Mobile application available
Extra charges for priority listing (and more)
No live chat support
BONUS. Reach UAE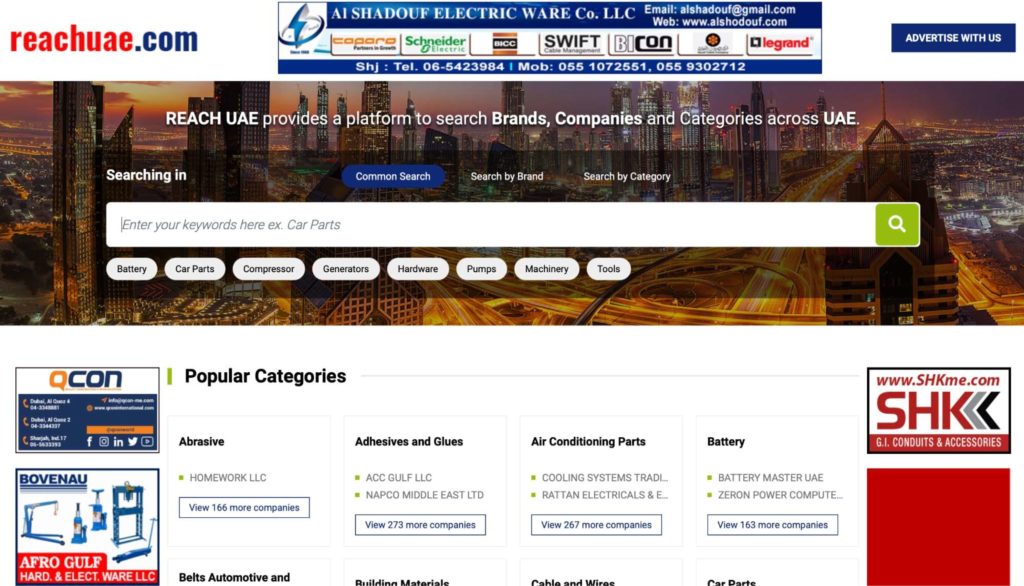 Test
Info
SERVICES
Business Listing

Advertisement

WEBSITE
https://www.reachuae.com
ADDRESS
Sharjah, United Arab Emirates
CONTACT DETAILS
Phone: +971-06-5454500
| | |
| --- | --- |
| Criteria | Ratings |
| Interface | ★★★★★ (5/5) |
| Services | ★★★★☆ (4/5) |
| Customer Support | ★★★★☆ (4/5) |
| Pricing | ★★★★☆ (4/5) |
ReachUAE is an online business directory that covers both local and international companies that have dealings in the UAE.
This platform serves as a business directory and an advertisement site for big brands. The company makes sure to separate the listings for these, so it's easy to look around.
Speaking of easy to look around in, the online platform hosts business listings for free. We didn't notice any limitations that can inhibit a client company from attracting potential customers.
Companies displayed at ReachUAE can add their address, email ID, phone number, website link, and WhatsApp chat option– which is the most amount of information we've seen allowed in the directories we've looked at.
In terms of user experience, we noticed that the platform, while well organized, can look messy and cluttered. This is because of the pop-up advertisements scattered all around their website.
It's not much of a struggle, but it can get overwhelming for visitors to look at their webpage for a long time.
For their customer support, interested parties can easily reach them through their phone number. We've noted that they answer promptly to calls, so there wouldn't be much of a struggle trying to get hold of them.
Separate listing for brand and business
Offers free listing
Sorts listings per category
Office not located in Dubai
Interface a bit cluttered
FAQs About Business Directories in Dubai