The 6 Best Yarn Shops in Dubai
Whether it's for your hobby or for business, yarns are a helpful tool for artisans and people who need them for basic housekeeping.
You can find these small bundles in any general department store or at a crafting store. There are also dedicated stores for sewing that sell them in different types and colors.
Here's our small list of recommendations for the best yarn shops in Dubai, just in case you need a bit of help in your next project!
How Much Does Yarn Cost?
Yarns are fiber strands that are used in various art and craft projects. They are also used in making blankets and other articles of clothing.
With their versatility, they are also made from different materials. Depending on the material, a yarn can be of a different thickness or texture.
With that being said, the following table displays the average cost of yarns based on fiber type:
| Yarn Type | Average Cost/piece (in AED) |
| --- | --- |
| Alpaca | 44 - 50 |
| Angora | 26 - 50 |
| Bamboo | 39 - 40 |
| Cashmere | 42 - 50 |
| Cotton | 18 - 25 |
| Hemp | 35 - 40 |
| Linen | 25 - 50 |
| Mohair | 30 - 100 |
| Silk | 42 - 100 |
| Wool | 15 - 95 |
The Best Yarns in Dubai
The following factors were considered in assessing the shops in this article:
1. Al Washia (CraftMiddleEast.com)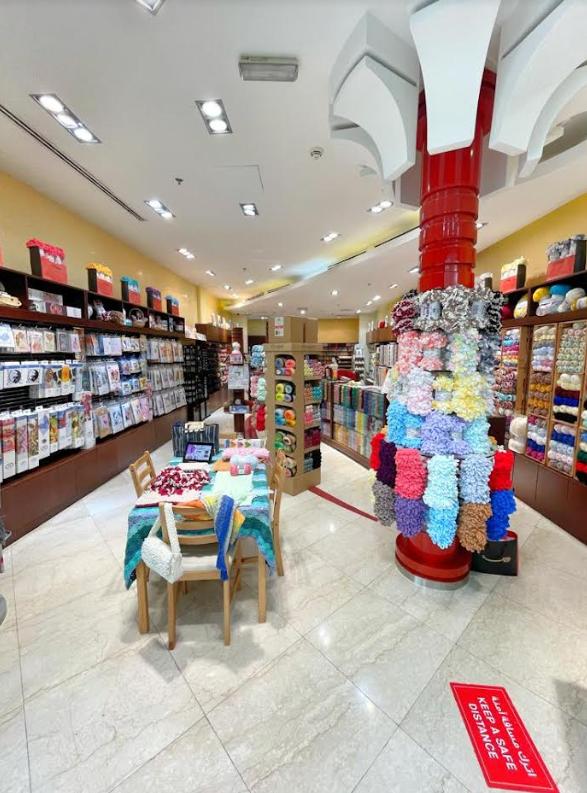 Test
Info
PRODUCTS
Knitting & Crochet Yarns, Accessories, Sewing, RichHobby Paints, Dotting Craft, Knitting Needles, and many more.
WEBSITE
craftmiddleeast.com
ADDRESS
CONTACT DETAILS
WhatsApp +971551779779
+971507396995
OPERATING HOURS
If you want to get a hold on quality yarn materials but don't know where to get them, then get some of the best yarns in Dubai at Al Washia (CraftMiddleEast.com). Upon checking their website, you will be met with a variety of yarn collections from different brands worldwide including Nako, Alize, Kartopu, Himalaya, FibraNatura, Mirafil Yarns, Mocha, and many more.
They truly have it all, and if you're not knowledgeable on which to get, you can always browse their best sellers to see which brand gets sold more often than others. We like how complete their websites are in terms of their item's information.
Their physical stores are highly accessible and showcase everything you need. You can also check out their Instagram to see more of the crafts they have for sale.
You can see their colors and the number of the colors including the price of each one. Do note that the actual yarn color may vary from the color shown in their website. Check them out now and enjoy their benefits including cash on delivery in the UAE, free delivery in UAE for purchases above AED100, and they also offer a 10-day return policy, return is possible within the UAE only.
Reasonable rates
Has a wide variety of quality brands
Free shipping in UAE
Website does not list operating hours
2. Yarns Dubai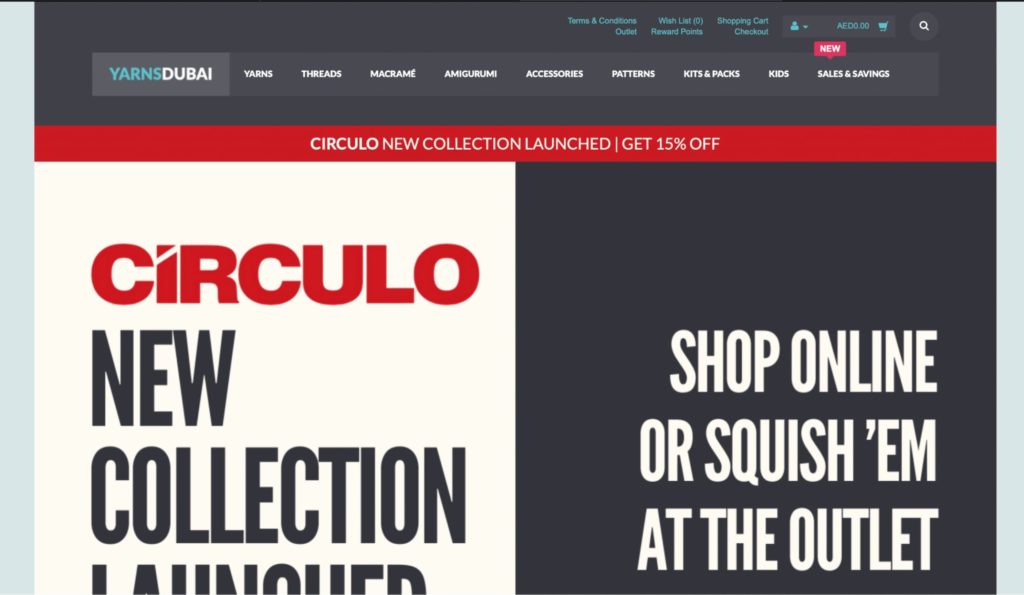 Test
Info
PRODUCTS
Yarns

Threads

Macrame

Amigurumi

Accessories

Patterns

Kits and Packs

WEBSITE
https://yarnsdubai.com
ADDRESS
WENASI Yarns Trading LLC- Warehouse 6 -Mashallah Warehouse Complex - Nadd Al Hamar - DubaiUnited Arab Emirates
CONTACT DETAILS
WhatsApp: +971 56 269 2739
OPERATING HOURS

Online Store: Open 24 hours. (Monday - Sunday)


Outlet:

9:00 AM - 12:00 PM (Monday - Thursday)

9:00 AM - 6:00 PM (Satuday)

(Closed on Fridays and Sundays)
| | |
| --- | --- |
| Criteria | Ratings |
| Variety | ★★★★★ (5/5) |
| Pricing | ★★★★☆ (4/5) |
| Customer Support | ★★★★☆ (4/5) |
| Store | ★★★★☆ (4/5) |
This is a haven for craft makers.
Yarns Dubai, launched in 2016, is a trading company that specializes in selling various types of yarns, threads, and other sewing-related products.
In terms of yarn variety, this company has it in spades. They actually have these fibers in different brands, colors, and materials.
We do have to point out that this establishment deals with its customers mostly through its online shopping platform, which is open 24/7. Customers are free to shop wherever and whenever.
They still have a physical store, which is big and spacious, by the way. Upon seeing the interior of it, Yarns Dubai's outlet store feels like a huge crafting warehouse.
To gain access to their physical store, customers are required to book online in advance. This is because they are only allowing five to six customers to enter at a time.
For purchasing items in their outlet shop, the company only accepts contactless payment options via card. In case that makes you feel uncomfortable, we recommend shopping on their online platform instead.
This is because they have an option for cash on delivery if you buy online.
Overall, we recommend Yarns Dubai for their wide variety of yarns available and their average pricing. Definitely, a store worth checking out!
Product variety
Average pricing
Big outlet store
Advance online booking is required.
Contactless payment options (Visa and Mastercard) only
Customer Reviews:
Product Variety, Helpful Staff
"I was surprised to see a dedicated yarns store in Dubai and i thought i have seen it all until i visited their store. They have the best collection not just acrylic and cotton but wool and silk and others. Very helpful team especially to Roya!" -Amna Muntasem
3. Sadequeen Brothers General Trading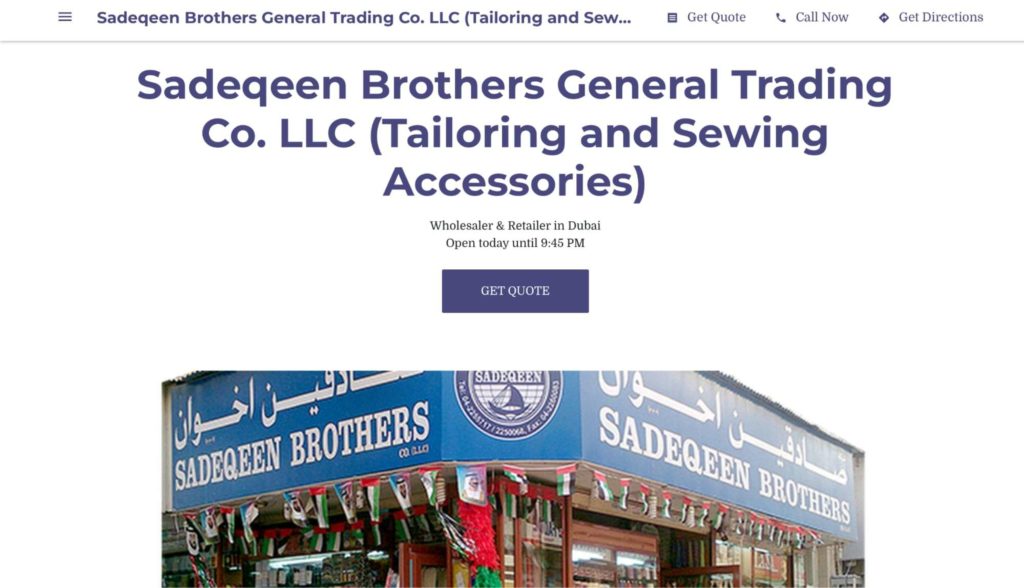 Test
Info
PRODUCTS
Yarn

Threads

Lace

Beads

Buttons

and more!

WEBSITE
https://sadeqeenbrothers.business.site/?hl=en
ADDRESS
Sikkat Al Khail Road - Deira, Dubai - United Arab Emirates
CONTACT DETAILS
Phone: +971 4 225 0068
OPERATING HOURS
8:40 AM – 1:25 PM, 4:00 – 9:45 PM (Monday - Wednesday)

8:40 AM – 1:25 PM, 4:00 – 9:45 PM (Thursday, Saturday)

8:40 – 11:45 AM, 4:15 – 9:45 PM (Friday)

(Closed on Sundays.)
| | |
| --- | --- |
| Criteria | Ratings |
| Variety | ★★★★★ (5/5) |
| Pricing | ★★★★☆ (4/5) |
| Customer Support | ★★★★☆ (4/5) |
| Store | ★★★☆☆ (3/5) |
Established in 1973, Sadequeen Brothers is a general trading company that handles wholesale of tailoring and sewing products.
In terms of variety, they sell yarns in different colors and different fiber materials. We did notice that they usually focus more on wholesale of these tailoring items.
Heads up though, as you can only buy yarns in big amounts from this store. This is great for business owners, who would want to have a steady supplier of yarn for their crochet business or other sewing-related ventures.
In terms of customer support, we noticed that their staff are very hands-on with the clients that come in their store. They are very helpful and easy to talk to!
If you'd like to check their stocks before coming to their store, we recommend giving them a call first. This is because this trading company doesn't have a corresponding online platform for their products, where you can just easily check for stocks.
Stepping into the store, the first thing we noticed is the space. Although organized, expect a bit of a struggle walking around and trying to find the right items that you need.
This trading company is a must-go for business owners or people who are looking to buy yarn in bulk, for a good average selling price!
Average pricing
Helpful staff
Wholesale store
Small store
4. CraftLand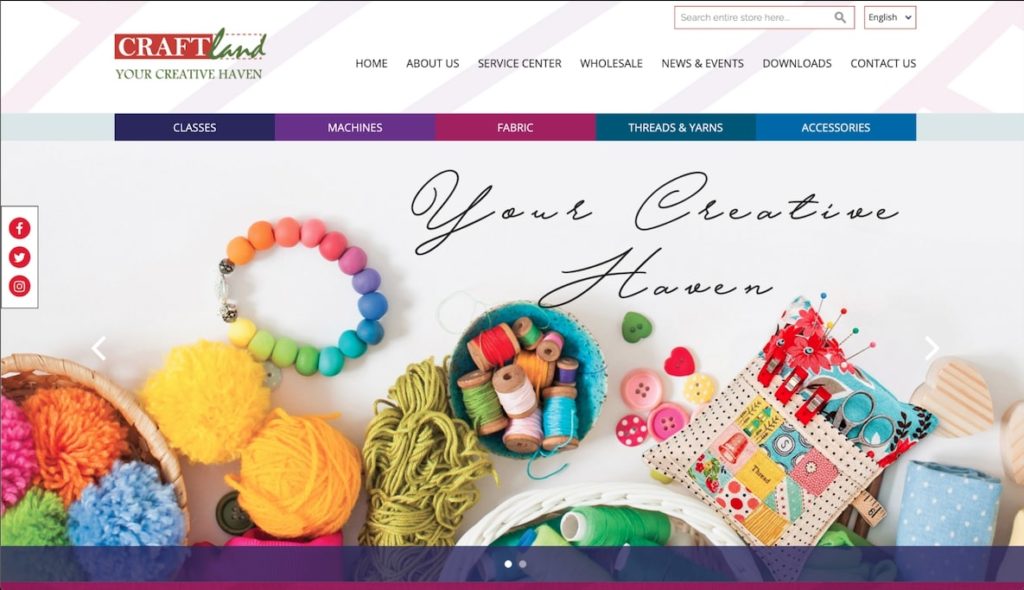 Test
Info
PRODUCTS
Threads

Yarns

Accessories

Buttons

Fabric

Machines

Classes

WEBSITE
https://mycraftland.com/index.php/
ADDRESS
Shop no 8, Town Centre, Shopping Mall, Beach Road,, P O Box 3253 - Dubai - United Arab Emirates
CONTACT DETAILS
Phone: +971 4 342 2237

Email: [email protected]

OPERATING HOURS
10:00 AM - 9:00 PM (Saturday - Thursday)

1:00 PM - 9:00 PM (Friday)
| | |
| --- | --- |
| Criteria | Ratings |
| Variety | ★★★☆☆ (3/5) |
| Pricing | ★★★★☆ (4/5) |
| Customer Support | ★★★★☆ (4/5) |
| Store | ★★★★☆ (4/5) |
Craft Land, true to its name, is more of a general crafting store. It certainly tries to supply the necessary items needed for all types of hobbies.
However, this store is certainly a good second option if your favorite store is closed or running out of yarns in their stocks.
Speaking of yarns, let's talk about what they offer– in terms of yarn variety, there's not much. Honestly, out of all the stores we've looked at, this one has the least amount of yarn types being sold.
They do try to cover most of the basic colors though, so kudos to them for that.
What we like the most about them is their pricing. Yarns here can run cheaply to the average market price. For example, most of their yarns are priced around AED 15 to AED 45.
The other aspect of them that's great is their store. Aside from having an online shopping platform, Craft Land also has a physical location that customers can visit.
Looking at the inside of the store – it's very pleasing to the eyes. The general white motif for their interiors makes their products stand out.
Their organization is also top-notch. Each crafting item is neatly arranged and sorted together, so customers can easily find the items that they need.
Average pricing for yarns
Spacious, well-organized store
Small amount of yarn variety
Focuses more on selling general crafting materials
Customer Reviews:
Excellent Customer Service
"A store that answers unsolved doubts of a growing crafty or professional tailor. Customer service was excellent. To mention Bobby was real good in helping me out to choose what was suitable for me. This store have all range of sewing machine starting from AED 450 moving upwards. Needless to say their sewing kits, accessories, etc was a highlight. Thumbs Up!" – Noeline Bruce
5. Ribbons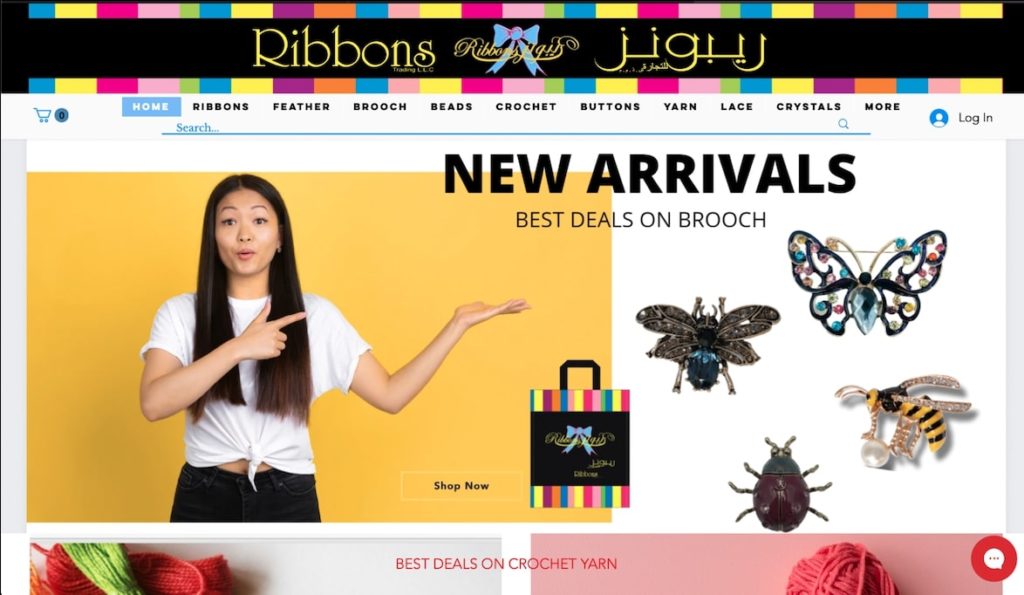 Test
Info
PRODUCTS
Ribbons

Feathers

Brooches

Beads

Crochet

Yarns

Buttons

Lace

Crystal

WEBSITE
https://www.ribbons.ae
ADDRESS
Al Bada'a - Dubai - United Arab Emirates
CONTACT DETAILS
Phone: +971 4 358 8200

E-mail: [email protected]

OPERATING HOURS
9:00 AM - 11:00 PM (Saturday - Thursday)

4:00 PM - 11:00 PM (Friday)
| | |
| --- | --- |
| Criteria | Ratings |
| Variety | ★★★★☆ (4/5) |
| Pricing | ★★★★☆ (4/5) |
| Customer Support | ★★★★☆ (4/5) |
| Store | ★★★☆☆ (3/5) |
Ribbons is a small trading store that focuses on selling various products related to tailoring and sewing.
In terms of yarn variety, it's quite limited. They have yarns in different colors and fiber types, but they're a smaller range compared to the rest of their competitors.
Stepping into the store, we noticed the space. First and foremost, this place is a bit small.
It's not too small to not allow walking around, but clients would have a bit of struggle trying to navigate the area as they get the items they need.
Products are neatly organized together and displayed very well. Even from afar, you can see the yarns they have available in a color display.
Aside from its physical store, they also have an online shopping platform. It seems that this site is currently in progress, as there are a lot of categories that are still empty.
We recommend only trying out their platform should you want to have products delivered to your home. Our main advice is to just visit their physical store to have a full idea of what they have in stock.
Overall, we believe that Ribbons, regardless of some of their limitations, is a good option for a yarn shop. It's definitely a good second option or just a general potential store to look into if you're browsing for shops to consider when it comes to yarn supply!
Friendly and helpful staff
Offers deliveries
Online store available 24/7
Average pricing
Limited yarn variety
Online store displays limited selection
Customer Reviews:
Good Product Variety
"I give it a 5 star rating on variety. You will find everything you need to embellish your projects at a good price. My only con is that the staff is a bit harsh some times ( they are super busy most of the time, dealing with us indecisive customers…so it's understandable). You can easily be overwhelmed by the many options they have. The best way to tackle a visit to Ribbons is by taking a materials list of what you want, otherwise you will feel you are drowning in sequins, embroidery thread, and tassels." – Alicia Trelles
6. Craftbox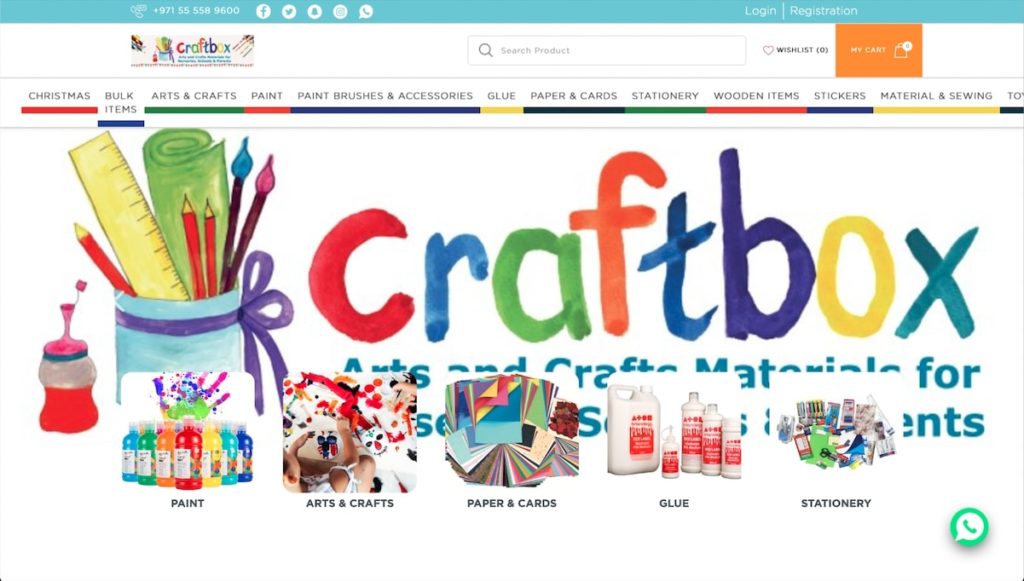 Test
Info
PRODUCTS
Yarn

Paint

Paint Brushes

Glue

Stationery

and more!

WEBSITE
http://craftbox.ae/index
ADDRESS
Al Quoz 3 - Dubai - United Arab Emirates
CONTACT DETAILS
Phone: +971 55 558 9600
OPERATING HOURS
8:00 AM - 5:30 PM (Monday - Saturday)
| | |
| --- | --- |
| Criteria | Ratings |
| Variety | ★★★☆☆ (3/5) |
| Pricing | ★★★★☆ (4/5) |
| Customer Support | ★★★★☆ (4/5) |
| Store | ★★★★☆ (4/5) |
Founded in 2013, Craftbox is a local supplier of stationary and crafting materials to schools and nurseries across the UAE. In addition to that, they also sell a range of various supplies to regular individuals.
We did notice that they focus more on selling a wide range of various types of crafting items. Usually, you can find the basic variations and brands for each of the products they have on sale.
When it comes to yarns, Craftbox has them in individual packaging and in bulk. They also have them in various colors.
However, we do have to point out that the only yarn they sell is made of cotton wool. If you're looking for a fiber that's made of a different material, better look at another store!
Visiting their store, we noticed that their location is pretty spacious. It's also well-lit, and well-organized.
You can find the crafting items sorted by category and stocked into the shelves they have. With a lot of walking space, customers can navigate the shop with ease.
Speaking of ease, they also have an online store for customers who don't want to drive to their location. They accept various methods of payment, such as credit cards and cash on delivery!
Overall, if you're not particular about a yarn's fiber material, then we recommend shopping at Craftbox for their customer support and their average pricing!
Offers pack and individual amounts of yarn
Spacious, well-organized store
Helpful and friendly staff
Only cotton wool yarn available
Focuses more on providing more general craft items
Customer Reviews:
Excellent Customer Service
"So happy to shop from your craft box store. Excellent customer service and high-quality products. Will definitely shop again soon. A vast range of craft supplies." -Latika Rathore
FAQs About Yarn Shops in Dubai