The 4 Best Bus Tours in Dubai
Even without a personal car, you can now travel with ease thanks to public transportation! Moreover, you no longer have to worry about driving yourself to popular tourist spots!
One of the options travelers have is availing of tour bus companies in the city. If you're looking to take the wondrous sights in Dubai, here are our top picks for the best bus tours in the city.
How Much Do Bus Tours Cost
Bus touring companies usually offer their services in a package. Some of them would provide opportunities for passengers to hop off in a specific location to roam around for a while.
The estimated general pricing scheme, depending on the type of ticket clients would want are listed on the table below:
Ticket Type
Offered Services
Cost/ ticket (adults)
Cost/ ticket (kids)
Basic
1-day tour of popular sights

• One free admission to a tourist spot (aquariums, museums, popular buildings)

AED 253.4 - 282.82
AED 191.00 - 257.11
Premium
2-day tour of popular sights

• One free admission to a tourist spot (aquariums, museums, popular buildings)

AED 293.84 - 330.57
AED 198.34 - 220.38
Deluxe
5-day tour of popular sights

• One free admission to a tourist spot (aquariums, museums, popular buildings)

AED 348.93 - 404.03
AED 227.73 - 257.11
The Best Bus Tours in Dubai
We've assessed the companies on this list based on the following criteria:
1. Big Bus Tours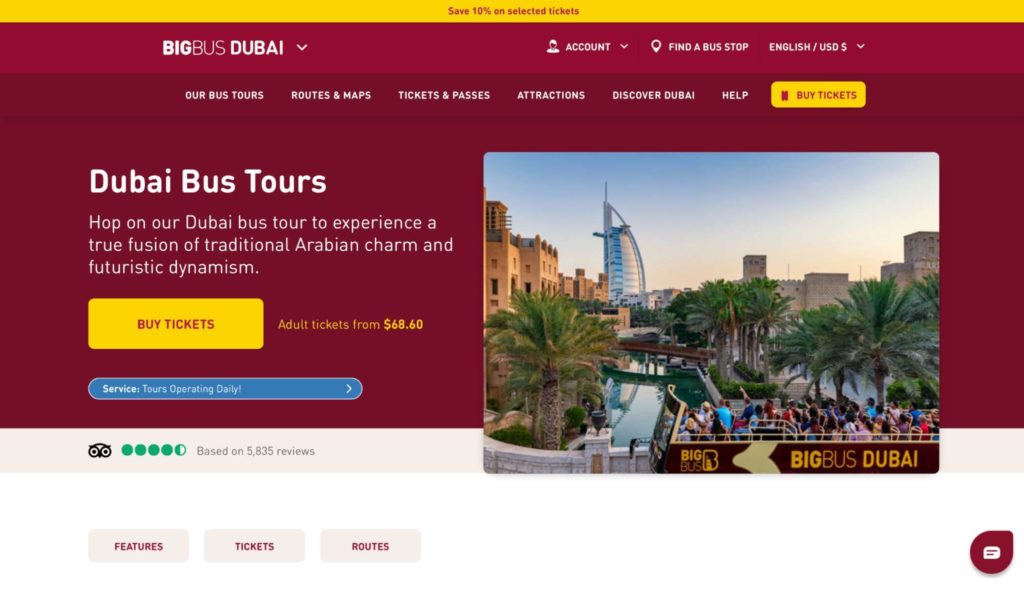 Test
Info
SERVICES
Classic Bus Tours

Premium Bus Tours

Deluxe Bus Tours

Night Tour

WEBSITE
https://www.bigbustours.com/en/dubai/dubai-bus-tours
ADDRESS
Dubai Mall (outside main entrance) - Financial Center Rd- Dubai- United Arab Emirates
CONTACT DETAILS
Phone: +971 4 340 7709
OPERATING HOURS
8:00 AM - 7:00 PM (Monday - Sunday)
| | |
| --- | --- |
| Criteria | Ratings |
| Routes | ★★★★★ (5/5) |
| Amenities | ★★★★★ (5/5) |
| Customer Service | ★★★☆☆ (3/5) |
| Pricing | ★★★★☆ (4/5) |
Big Bus Dubai is a sightseeing bus tour company that was established in 2011. The company is a franchise of a bigger company called Big Bus Tours, which was a merger of two establishments that had a combined 20 years of experience in the industry.
For sightseeing tours, this company utilizes its open-top double-decker buses. We recommend bringing a fan with you especially if you move to the upper section of the transport.
The chairs are nice and comfortable to sit on for long periods of time. It does function as a regular bus – we noticed that there aren't a lot of extra amenities inside.
What's great about their tours is that they allow you to just hop in and out at their designated bus stops. You're not required to meet them at the very start of their tour.
Their transportation will bring you to various iconic areas in Dubai. These include the Burj Khalifa, Jumeirah's Mosque Burj al Arab, and give you the chance to shop in various market areas as well.
Interested parties can head to an information kiosk located in Dubai Mall. You can purchase a ticket there and just head to their designated bus stop during your scheduled tour.
However, they do recommend booking on their website or with a third-party travel agent.
Overall, if you're really looking for a bus tour that lets you get out of the route at any time, we recommend getting a ticket from Big Bus Dubai.
Average pricing
Tour commentary available in multiple languages
Routes cover popular, scenic areas
Free passes to aquariums for high-tier tickets
Comprehensive mobile app for tours
Hop on, hop off anytime allowed
Offers night tours
Only an information kiosk available
Upper deck of bus dependent on the weather
Customer Reviews:
Great Customer Support, Fantastic Landmarks in Route
"First of all BIG credits for employee Monsi who have us outstanding support!! That would have made a 6th star if possible at all. The 5 days ticket let us visit all the landmarks we wanted to see. The busses ride on time and the extra tickets for the Aquarium, river cruise and Sahara are a bonus." – Hans Beks
2. City Sightseeing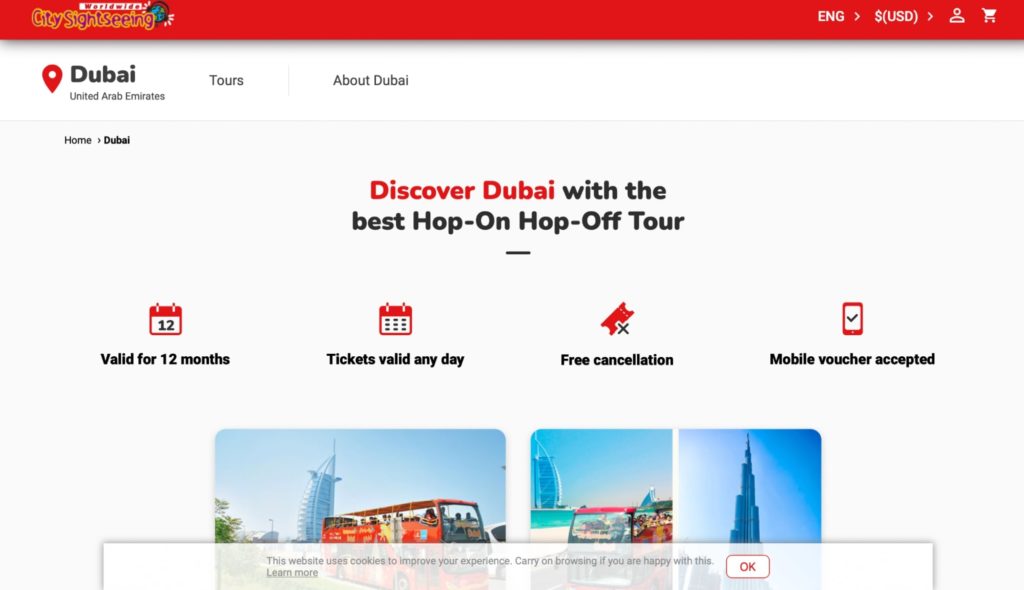 | | |
| --- | --- |
| Criteria | Ratings |
| Routes | ★★★★☆ (4/5) |
| Amenities | ★★★★★ (5/5) |
| Customer Service | ★★★★☆ (4/5) |
| Pricing | ★★★★☆ (4/5) |
City Sightseeing Dubai is a tour company that specializes in providing bus routes for travelers. They mostly offer a "hop on and off anytime" system for their bus tours.
This kind of system means that tourists can arrive at a designated bus stop for the company's tour buses. After that, they can wait for a bus to take them and see the scenic sights on the vehicle's route.
They are also allowed to get out of the bus at a stop or a location if they want to further look around or purchase something.
We do have to note that should you drop off at some point in the tour, looking for their designated bus stop might be a little difficult. We noticed that their signages aren't really easy to spot as the print is quite small.
City Sightseeing takes you to various locations in Dubai. From Burj Khalifa to the Dubai Aquarium to the Dubai Museum – you will certainly get a chance to visit all the well-known tourist spots in the city.
We noticed that the areas included in their route are mostly basic tourist spots, which is definitely not bad for the average traveler. But if you are looking for something more unique and off-the-beaten-path, their tour will not cover that.
Interested parties can buy tickets on their website or their physical office. Now, here's the great thing about their tickets: it's valid for twelve months!
If you change your mind, you can also cancel your tickets anytime within three months of purchase without any penalty fees.
We advise hitting up City Sightseeing Dubai for their flexible tickets and their hop-on and hop-off tour system.
Open 24 hours for most days
Free cancellation
Tickets valid for 12 months
Can accommodate one wheelchair
Hop on, hop off anytime allowed
Tickets provided for Burj Khalifa visit are non-refundable
Cancellation within three months only
Bus stops or signages are not easily visible
Customer Reviews:
Amazing Customer Service
"This is the best private bus transport in Dubai, driver always on time. If you're new in Dubai, he shows you round town and suggests places for you, they never disappoint. Thank you for been there for my team and I. Cheers!" – Menna Sani
3. Orient Tours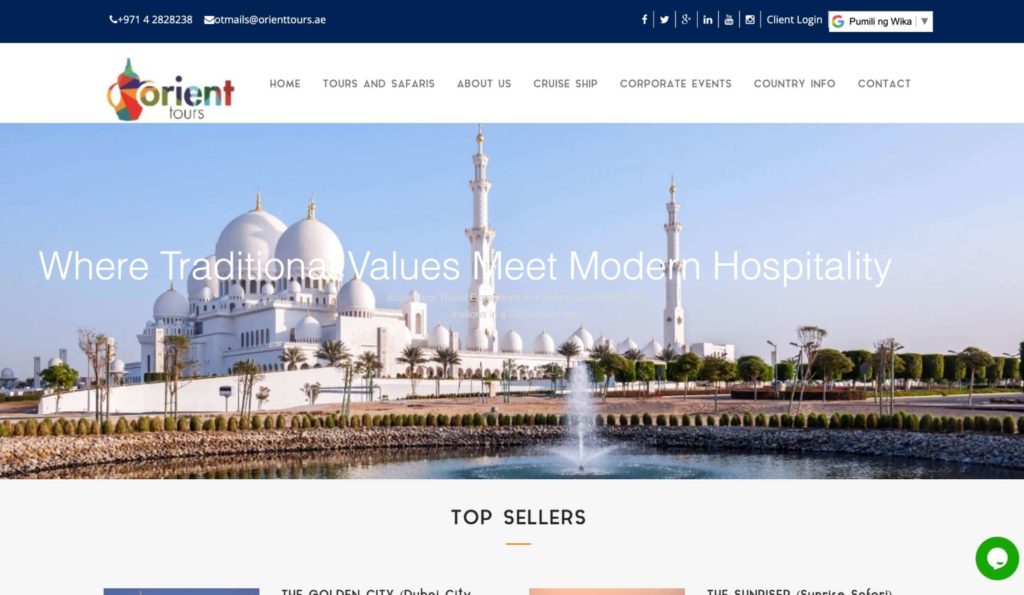 Test
Info
SERVICES
Bus Tours

Tour Packages

Vehicle Transport

WEBSITE
https://www.orient-tours-uae.com
ADDRESS
248 Emarat Atrium, Sheikh Zayed Road,PO Box 61790, Dubai, UAE
CONTACT DETAILS
Phone: +971 4 2828238

E-mail: [email protected]

OPERATING HOURS
Open 24 hours. (Monday - Friday)
| | |
| --- | --- |
| Criteria | Ratings |
| Routes | ★★★★☆ (4/5) |
| Amenities | ★★★★☆ (4/5) |
| Customer Service | ★★★★☆ (4/5) |
| Pricing | ★★★★★ (5/5) |
Orient Tours is a tour operator in UAE that offers various programs that guide and take travelers around various cities in the country, including Dubai.
In Dubai, they have various tour types that focus on specific locations in the city. For their bus tours, Orient Tours offers one service for tourists who would want to roam around the city.
Called Golden City Tour, this program mostly involves a strict, straightforward tour. This means clients are not allowed to just get off and roam on their own.
Their route involves visiting famous sights such as the Burj Al Arab Hotel, the Jumeirah Mosque, and the Al Fahidi Fort. Clients are also taken to one of Dubai's most popular markets, the Gold Souk.
We noticed that their route is quite limited compared to the rest of their competitors. There are other tours available that go to other parts of Dubai, but they aren't really considered bus tours.
Their limited scenic route does come in with their cheap prices. Tourists can avail of tickets at around AED 109, which is one of the cheapest we've seen thus far.
Interested customers can avail of their air-conditioned tour buses around the city if they wish to just go on a short tour. Also, their prices are quite cheap!
Cheap prices
Refunds available for cancellations 24 hours before the schedule
Can be booked on a private basis
One tour option available
Limited tourist spots visited
Customer Reviews:
Organized Tour, Good Experience
"It was a very organised tour. Highlights of the tour were the visits to the spice souk, and the Jumeira Island and also the abra ride. I travelled with my 1 year old son, husband and nanny. It was a great experience. We learnt a lot about Dubai and it was great day to pass the day. I will definitely recommend." -MaameAba_W, May 2022, via TripAdvisor
4. Surprise Tourism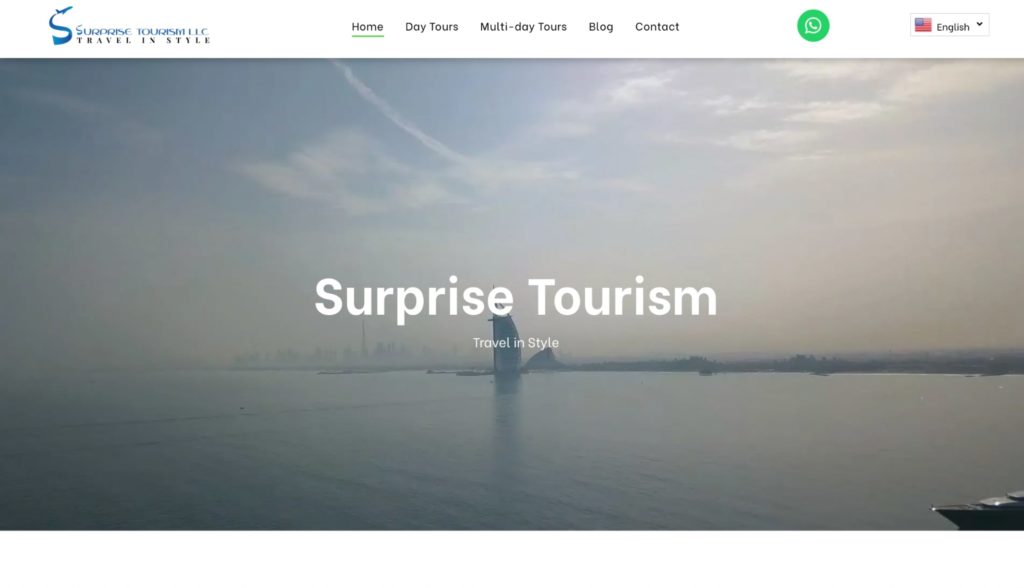 Test
Info
SERVICES
Day Tours

Multi-day Tours

Bus Tours

WEBSITE
https://www.surprisetourism.ae
ADDRESS
Al Etihad Building, office 504 - Dubai - United Arab Emirates
CONTACT DETAILS
Phone: +971 4 370 2205
OPERATING HOURS
9:00 AM - 6:00 PM (Saturday - Thursday)
| | |
| --- | --- |
| Criteria | Ratings |
| Routes | ★★★★★ (5/5) |
| Amenities | ★★★★☆ (4/5) |
| Customer Service | ★★★★☆ (4/5) |
| Pricing | ★★★★☆ (4/5) |
Surprise Tourism offers various packages to discover the iconic locations in Dubai with their services.
They offer a half-day bus tour around the city for five hours. It is quite short, compared to the rest of its competitors, but they do make the best of it.
The company will take you on a ride to iconic tourist spots in the city. The itinerary includes Burj Al Arab, Burj Khalifa, and the Dubai Mall.
Clients are also taken to the Souk Al Madinate for some quality shopping time. This is just a short trip, and mostly covers the basic tourist spots in Dubai.
If you're into a more in-depth tour of the city with the underrated or unknown locations, best to look for another company for that.
We do have to note that they operate on a strict path system. This means that clients cannot get on or off any stops on their trip.
What's great about their services are their vehicles: they are fully air-conditioned and come in with comfortable seating. Also, they can fit wheelchairs and strollers inside their buses, which is great for people with limited movement and those who have babies.
Their tours, while under covered buses, are dependent on good weather and a minimum number of travelers. Get ready for your scheduled tour to be canceled or moved because of bad weather or the company not getting at least 10 travelers on your chosen date.
Overall, we recommend Surprise Tourism for their accessible and spacious buses. In addition, if you're looking for just a short tour around the top tourist spots in Dubay, they will definitely have you covered!
Air-conditioned buses
Wheelchair and stroller accessible
Covers popular tourist spots
Hop on, hop off not allowed
Can be canceled due to lack of passengers
Will be moved or canceled due to poor weather
Customer Reviews:
Helpful Guide, Amazing Services
"The tour was amazing. The guide was very helpful and informative. We visited one of the beautiful mousque in Jumeirah. Abra ride was very nice. Old dubai Gold souq and spice market was very different good to have the idea of where Dubai begins." – Raja Bilal
FAQs About Bus Tours in Dubai
---
Remember, there are other types of tours you can choose from. This is just one of the possible options for you.
If you're looking for a more dedicated agency to handle everything for you during your travels, here is our short guide on the best travel agencies in Dubai!